A/B/n tests
Server-side experiments
Objectives for experiments
Personalization
Page editor
Parameters for URL and UTM targeting
Reporting and diagnostics
Heatmaps
INSTAPAGE
Intuitive, drag-and-drop landing page builder
GOOGLE OPTIMIZE
A responsive, easy-to-use visual editor
Expert professional services
Global Blocks
Real-time collaboration
500+ templates
Invisible reCAPTCHA for forms
Dynamic text replacement
AdMap®
120+ integrations
Level up your personalization and experiments
Instapage is the all-in-one platform that has everything you need to improve your landing page conversion rates and create relevant ad-to-page experiences.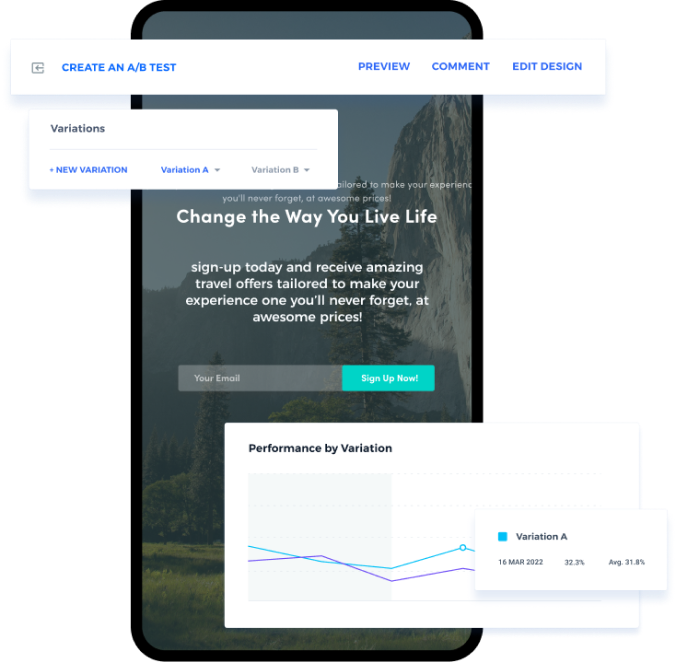 A/B testing
Optimize your landing pages for conversions with A/B testing capabilities on both our standard landing pages and AMP pages. Track visitor behavior, test variations with new elements, layouts, and designs, and increase your conversion rates.
AI Content Generation
Harness the power of AI to create content variations and test for different audiences and ad groups. Launch pages faster with recommendations for headlines, buttons, and more.
Insights and efficiencies
Gain valuable insights to inform your ad strategy with our analytics dashboard. Access heatmaps that show more precise on-page experiment data. Use AdMap® to visualize your ad account structure and connect ads to landing pages for cohesive campaigns.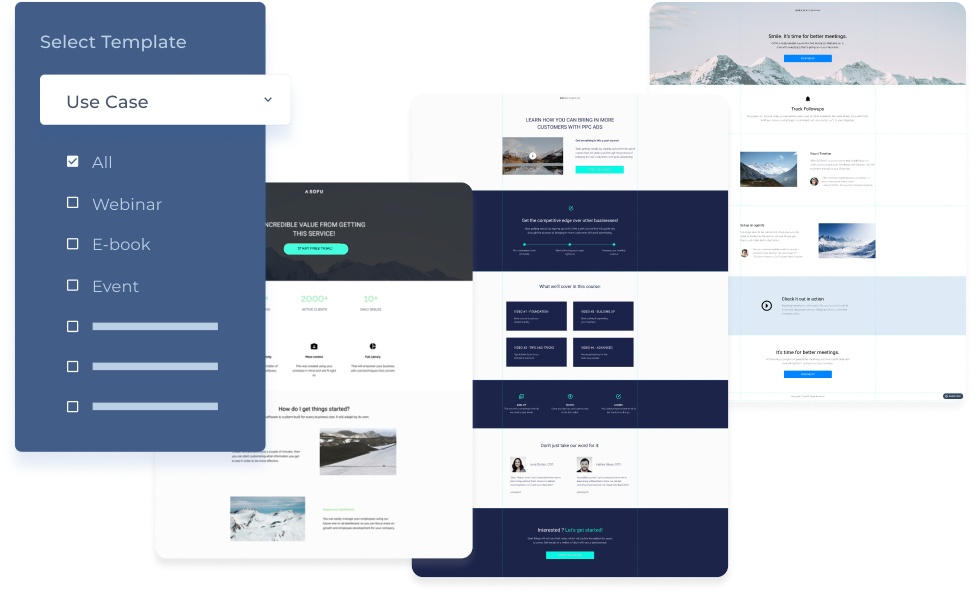 Landing page builder
With over 500 templates to choose from, our drag-and-drop landing page builder makes it easy to quickly create personalized landing pages. Use individual page blocks that you can customize, save, and reuse to build hundreds of personalized landing pages.
Instapage leads the way in the G2 Spring 2023 Awards


Test & optimize to improve ROAS
Understand visitor behavior
Get the insights you need to determine which page elements to A/B test.
Speak to your audience
Test and optimize content to ensure you're delivering the right message to the right audience.
Validate what works best
Run fast, server-side split tests with no page load delay.
Try Instapage now
Don't wait until Google Optimize goes away! Book a demo today and we'll show you how Instapage works as your new page optimization platform.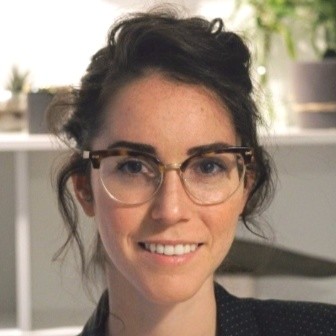 "Instapage gives us the ability to tailor our landing page content and layout to tell a unique story for each geographical target. The platform also enables us to create different variations with content that performs well for each unique channel. Every marketing team needs this!"
Tamar Friedland
Sr. Director of Global Paid Marketing

"Instapage has truly maximized our digital advertising performance by enabling us to offer matching, personalized experiences for every ad and audience. Now we can scale our landing page experiences as efficiently and effectively as we scale the ads themselves."
Darren Lepke
Marketing Director

"If we have to wait on a developer, our creative velocity plummets. But Instapage has made it possible for us to exponentially grow our advertising programs and convert more customers"
Alex Kracov
Head of Marketing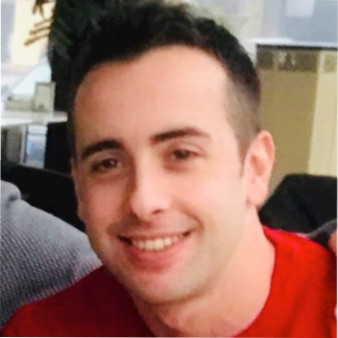 "Instapage has the products we need to meet our ambitious goals of flexibility, speed, optimization, and localization of post-click landing pages that has resulted in increased advertising conversion. With Instapage, we're able to easily adapt the events on our post-click landing pages to a personal message for every market."
Stefano Rigoni
Digital Optimization Specialist


"A reality we often face is that design and review processes are far too fragmented, especially when you're managing multiple collaborators, campaigns, clients, and deadlines. Instapage has taken that insight and created a landing page platform that all teams will need if they want to improve their workflows."
Liz Coppinger
Business Analyst
September will be here before you know it. Get your experimentation solution ready in advance. Book a free Instapage demo today.