Where Do You Use Your Landing Page?
Creating a landing page is not enough. In order to promote your offer you need to first promote your page. To do that, you have two main options: Paid channels and unpaid (free) channels.
Paid Landing Page Campaigns / Pay-Per-Click (PPC)
PPC ads is an internet marketing model where advertisers compete in an auction and pay a specific fee every time a user clicks on their ad. The fee paid depends on many factors, one of which is the keyword's bid amount.
There are two main PPC programs that allow advertisers to show ads: Google AdWords and the Yahoo Bing network.
What is Google AdWords?
Google AdWords is Google's online advertising program that expands your customer reach in hopes of growing your business. AdWords helps you reach your target audience when they search for specific keywords or keyword phrases.
The program allocates space for ads to appear in the top of search results. Ad rank and fee charged are heavily dependent on the ad's quality score.
Quality score is the measurement of how relevant the ad copy is to the landing page, keywords, historical performance of the ad, geographic performance, and the devices being targeted. The higher your quality score, the lower your cost per click can be, plus a higher ad position in Google search results.
Quality score is measured with the help of the following 6 metrics:
Click-through rate
Landing page relevance
Ad text relevance
Device (whether you page/ad is mobile-optimized)
Historical performance
Keyword relevance
Ad rank is measured with the following formula:
Maximum CPC + Quality Score + Ad Extensions = Ad Rank
The higher your ad rank, the better your visibility on Google – and the easier it is for your potential customers to click on your ads.
For your Google AdWords quality score to be high, it helps to create an optimized Google AdWords landing page.
The landing page that you set up for your Google AdWords campaign must use message matching and a conversion ratio of 1:1.
Per Google AdWords, there are three main steps marketers need to understand for how AdWords work:
Create your ad
People see your ad on Google
You get more customers
Selecting the most relevant keywords in your Google AdWords account are crucial to your PPC success. Keywords, and the modifiers applied to the keywords, are the phrases you choose to determine when your ad can appear.
AdWords matches your ads with the search query that visitors input into the search engine. Keywords that closely relate to your ads should be selected so your potential customers can find your ad easily.
The keywords need to be specific so that you're only charged for the most relevant landing page traffic when your ad is clicked.
After you've selected your keywords, you then need to set up a maximum cost-per-click (CPC) bid for your ads. The maximum CPC bid is the highest price you're willing to pay when a potential customer clicks on your ad. The higher your CPC bid and the more relevant your keywords match the search query, ensures that your ad is given a high ranking in Google search results.
To be certain that your campaign performs well, it is recommended you create different ads with different headlines and calls-to-action. For best results, your ads should be relevant and engaging. This way you can determine which variation is performing better and modify other variations accordingly.
Google displays PPC ads in the following way: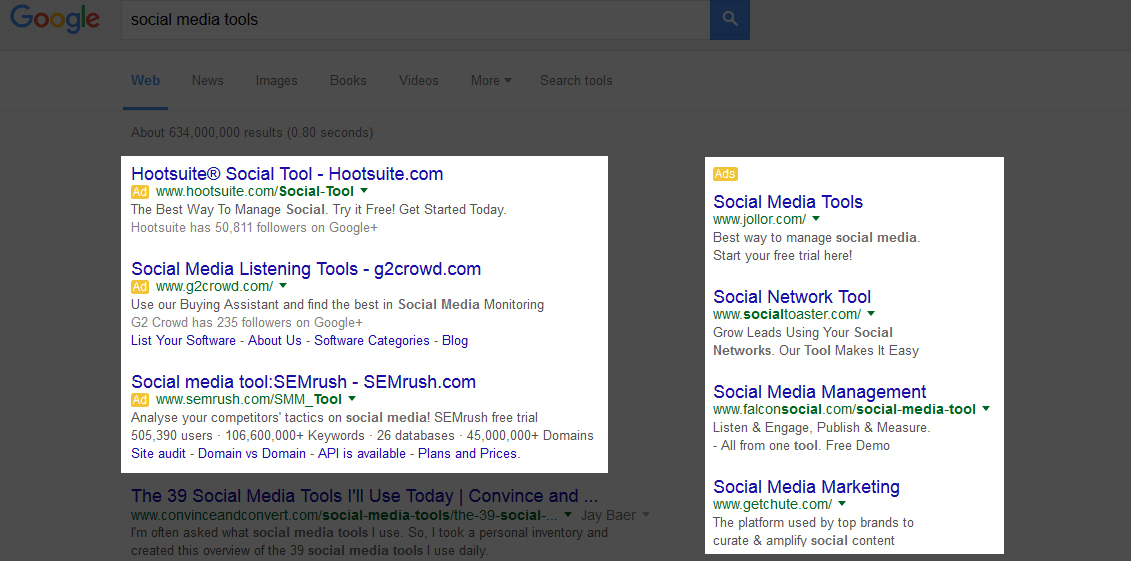 The landing page you connect with your PPC ad should utilize message matching and have no navigation links. It should also have an engaging headline, a large CTA button, one goal in mind, encourage visitors to perform one action, and describe the benefits the user will receive when they convert.
Yahoo – Bing Network Campaigns
The biggest advantage you enjoy advertising with Bing Ads is you instantly receive double the exposure on two networks (Yahoo and Bing). There is no need to set a minimum budget for this network because you are only charged when your ad is clicked on.
This is an overview of how Yahoo Bing Network ads work.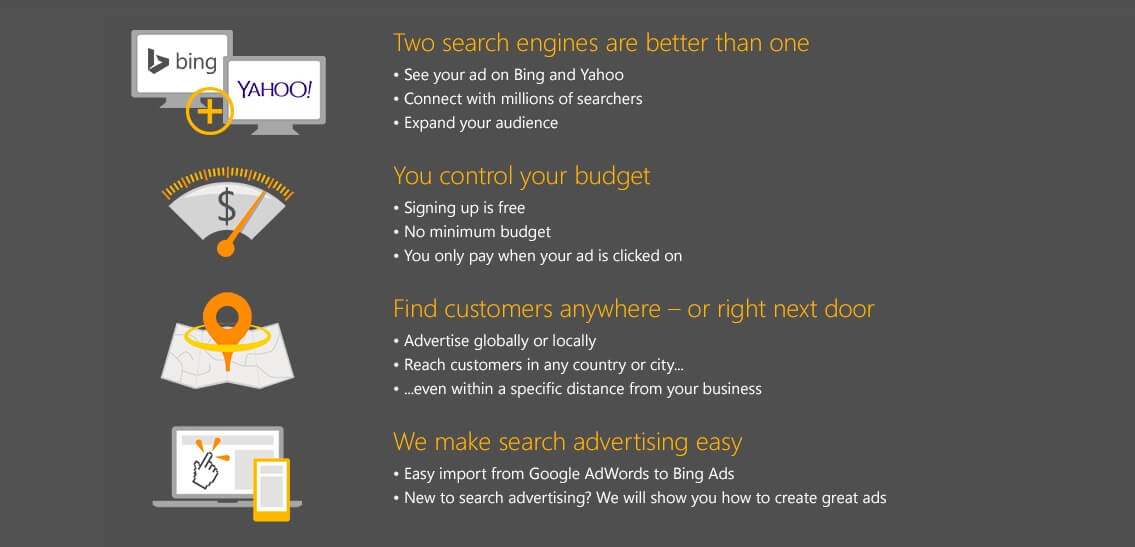 Bing Ads even makes the account setup process easier, providing you the option of importing your AdWords campaigns into Bing Ads with three simple steps:

Creating ads on the Bing advertising platform is very similar to Google AdWords. The more relevant your keywords and ads are to the search query, the higher your ad can rank, more visibility, and potential for customers to find you.
Social Media Ads
The main purpose of creating ads for your campaigns is to connect with potential customers in places they already hang out – like social media networks Facebook, Twitter, and LinkedIn. Each of these networks' advertising platforms allow you to target your audience by demographic, geographic location, interests, behavior, hashtags, product preferences, and more.
With social media advertising, advertisers can greatly expand their reach of potential customers, while experiencing higher click-through rates. To this point, Marketing Land found that Facebook desktop ads have 8.1 times greater click-through rate and mobile ads have 9.1 times greater click-through rates than normal web ads.
Promoted tweets on Twitter have shown promising results as well with engagement rates averaging between 1-3%. This data is rather high when compared to typical banner ads.
This is what a promoted landing page looks like on Twitter: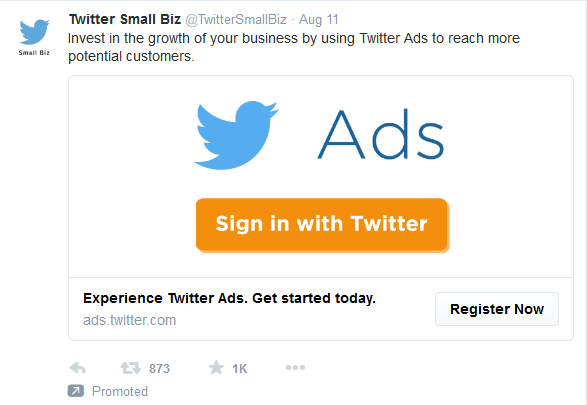 Facebook ads give you the opportunity to target your users based on their location, age, gender, and interests. This level of segmentation is great for advertisers because it allows you to target your ads to the most relevant users who are more likely to become customers.
Here's how Facebook advertisements work in a nutshell:

To start advertising with Facebook, you determine a maximum bid amount you are willing to spend to have your ad shown to your desired audience. Facebook uses an ads auction system to do this. You have the choice of setting your maximum bid in the auction based on two options: Cost-per-click (CPC) of your ad or the cost-per-impression (CPI) of your ad.
A nice feature that Facebook offers is the option to pause your ad campaign at any time. Your ads appear in front of your audience on both mobile and desktop devices. With mobile ads, you can choose to narrow your target as much you want, to places you deem the most relevant to your app.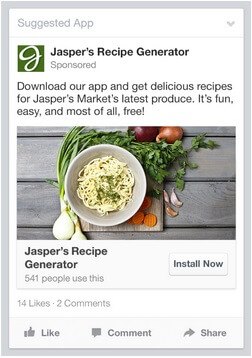 Finally, ads can be shown in users' newsfeed or in the right-hand ads column, like this example: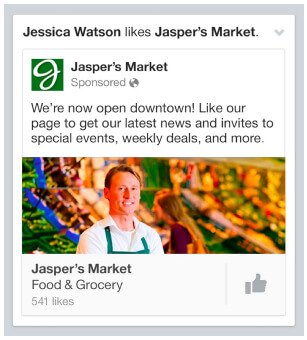 Paid campaigns give you additional ways and the freedom of targeting and attracting the right visitors to your landing pages. This also gives you the opportunity to optimize your landing pages in the most appropriate way for your visitors. In the end, make sure the visitors coming to your landing pages are leaving as your customers.
Free (unpaid) Landing Page Campaigns
Paid landing page campaigns can seem intimidating when you're just starting out. So it's a good idea to spend some time promoting your landing pages through unpaid channels while you learn all the recommended and non-recommended strategies of PPC campaigns and social media ads.
Start Sending Emails:
Email marketing is a legitimate way of staying connected with your audience. You may already be sending out consistent emails to your subscribers, why not take advantage of this platform and promote your landing page in your emails?
Another way to get free landing page traffic from email sends is to have your landing page link in the signature line of all your staff members. Here's an example:

Doing this is a quick and easy way to get more exposure without having to pay for traffic. It's also a subtle way to promote your page without being too aggressive to the recipient.
Guest Blogs:
Guest blogging on other websites not only gives you an opportunity to build authority in your niche, but they also give you a valuable and easy way to share your landing pages with a larger audience.
It may not always be ideal to link to your landing page in your guest post. However, it may be acceptable to add a link to your landing page in your author biography, which is generally placed at the end of a guest blog article. Check with the blog host for their accepted practices.
If the readers enjoy your article, they may be more encouraged to click the link you have included in your biography and find themselves on your optimized landing page.
Social Media & Forum Engagement
Not all engagement on social media requires paid advertising. There are many services that provide automatic blog publishing and scheduling of social media posts, including Hootsuite and Buffer to name a few.
You can also do this manually by sharing your blog posts on social media that includes a CTA at the bottom of the post – leading to your landing page. This strategy can be used with all landing pages you may have, regardless of your landing page's goal (generate sales leads, webinar signups, blog subscribers, etc.).
Start hosting or participating in Twitter chats. Many companies around the world host Twitter chats each week to educate and learn more about their followers as well as increase their brand awareness. There is almost always a specific hashtag attached to each respective Twitter chat so users can follow along during the conversation as well.
During Twitter chats, attach a link to your landing page or a blog post that has a CTA leading to your landing page. You can take the same approach with LinkedIn discussions.
Join forums such as Reddit and Inbound.org to have meaningful discussions about relevant topics. Share your landing page in discussions where you think the page adds value and will help you get leads.
Word of caution: Be careful about being too self-promotional in any social media network or forum. Participants may perceive you as being "spammy" and not contributing worthwhile information to the discussion.
Generating free landing page traffic may not be as highly targeted as paid channels can be, but they still serve as additional – and valuable – ways to get prospects to your landing page.