Landing pages remain the most effective way to increase conversions and nurture prospects down the funnel towards purchasing your product or service. Since they are standalone pages from your website, they contain no distractions and therefore entice your visitors to act.
While landing pages are meant to increase conversions, they can take a lot of resources to create and optimize, especially when dealing with multiple custom landing pages for different campaigns. That's why landing page software exists.
What is landing page software?
Landing page software enables you to create goal-oriented, high-converting landing pages without any technical knowledge. This user-friendly technology makes it easy for non-experts to build, optimize, and publish post-click landing pages without requiring HTML code or a developer.
Most landing page creation software includes features such as the following. Keep in mind, these are the bare minimum features and not unique to any software:
A drag-and-drop builder and WYSIWYG editor to design pages from scratch
Pre-designed templates based on the use case and/or industries to help you build a page that aligns with your campaign requirements
Integrations with other martech software (email marketing tools, CRM, analytics tracking, etc.), so all resources are compiled in one interface
Built-in A/B testing to discover what features are performing well or poorly and make the appropriate changes
Many brands require more than the minimum, and determining the right software depends on the stage the business is in, use cases, price, available support, and how much control and functionality is required.
Below, we look at 17 of the best options–some are dedicated landing page software that focuses exclusively on page creation and optimization. Others are all-in-one software that don't specialize in any single area of marketing but still have landing page creation.
17 Best landing page software tools
"The world's most advanced landing page platform."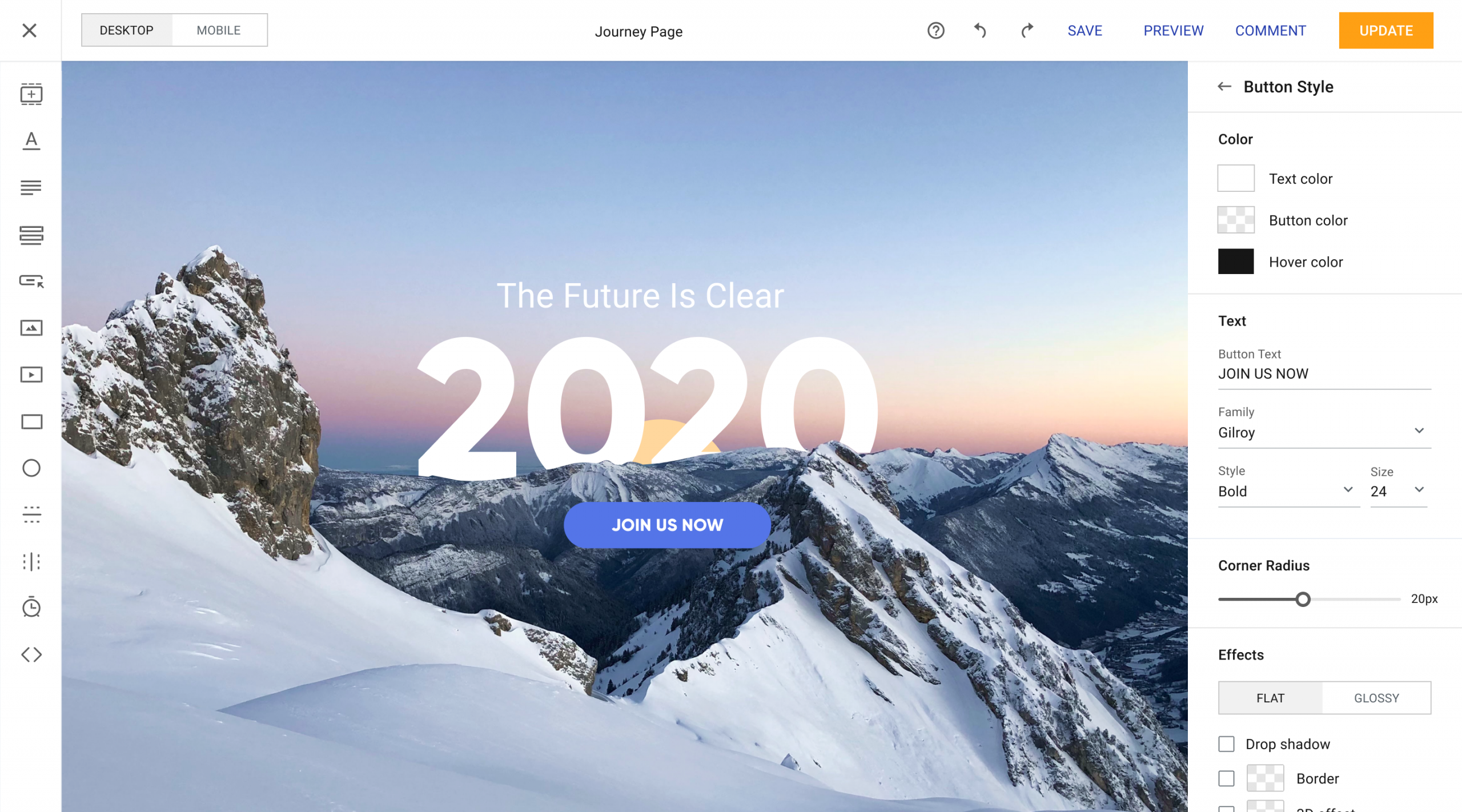 Instapage was designed for digital advertisers looking to maximize advertising conversions. While typical landing page tools have the standard features above, Instapage is the world's most advanced landing page platform because we provide six separate products bundled together and provide functionality for both SMB and Enterprise. Aside from being the only landing page platform to achieve SOC Type I & Type II certification, we provide the following enhanced functionality:
Unlimited conversions–No penalties for getting more conversions.
Instablocks®–Scale landing page production by creating and saving page blocks that can be reused quickly without any duplication of creative work. Then, manage and update all pages with a single click using Global Blocks.
Built-in team collaboration—Collaborate in real-time, centralize communications, eliminate time-consuming bottlenecks, and establish a seamless user experience.
Experimentation–Combines A/B split testing and heatmap functionality into dedicated product workflows for a better understanding of how visitors engage with your pages, and to encourage new experiments.
1:1 Ad-to-Page Personalization–Create and optimize unique experiences for each target audience, increasing conversion rates and maximizing ROI
AdMap®—Contextually visualize a list of your campaigns to determine where personalized pages are needed with automated two-way sync
Postclick Score–A percentage of unique experiences compared to the total number of ad groups and ads to indicate how close you are to achieving 1:1 ad-to-page personalization
AMP–Allows users to build landing pages with faster page load speeds, directly from the Instapage platform
Thor Render Engine®–By changing the HTML structure, JavaScript and CSS Refactoring, and CSS Responsiveness, the Thor Render Engine ensures your post-click landing pages load lightning fast without any additional effort
Once you've researched the market if you think Instapage is the best software to fit your needs, sign up for a free trial here, or request an Enterprise Demo. See how our conversion-focused landing page software can scale your production and provide your audiences with unique post-click landing pages.
"The legacy landing page builder & platform."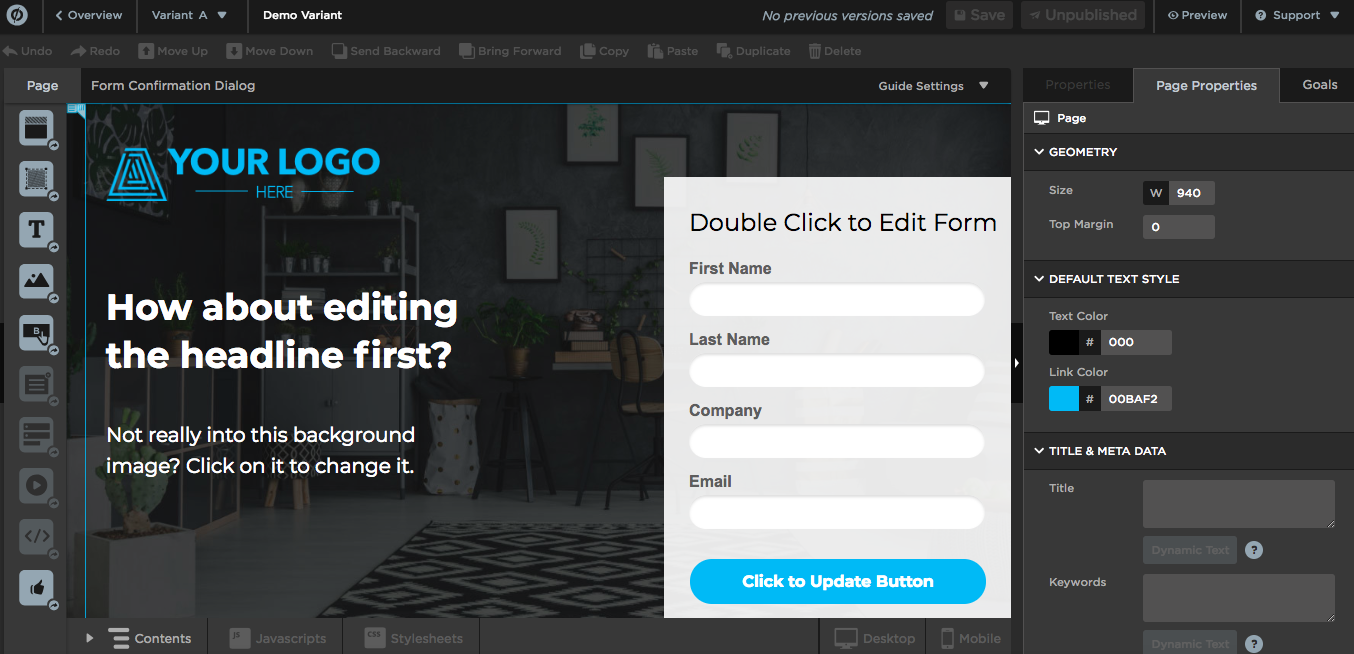 Unbounce is likely one of the first names that come to mind with landing page builders. Although it offers some advanced features, it may not be the best choice as it takes time to maximize its full capabilities fully, has become quite legacy, and now penalizes customers for getting more conversions (see pricing).
Pros:
A/B testing
Popup and sticky bar creation
Dynamic text replacement for SEM campaigns
AMP-ready mobile pages (not with all plans)
Аutоmаtеd ЅЅL еnсrурtіоn
Custom dоmаіns
Cons:
You are penalized for getting conversions
All plans limit the number of visitors
Only 100+ templates
No 1:1 ad-to-page personalization
An easy solution for scalable creation does not exist
No automatic sync between Google Ads and landing pages
Team collaboration for page designs and heatmap functionality not available
Dedicated Launch Specialist only provided with Concierge
Audit logs only with Concierge
Pricing:
$200/month for Accelerate (capped at 2k conversions)
$300/month for Scale (capped at 3k conversions)
3.