Videos of proposals gone wrong make me cringe more than any other kind. Whether they happen at half-court in front of 10,000 people, or at a food court (really?) in front of Sbarro's, as a marketer I can't help but think the same thing every time I see one:
This relationship wasn't nurtured properly.
The same thing happens to businesses every day. They pop the question too early: "Will you buy mine?", and visitors scramble for the "X" in the upper-right corner of their browser. The blunder might be less damaging to their ego, but not to their bottom line.
To earn new customers — to get that "yes" — you have to nurture relationships properly with the right post-click landing page and the right content at the right stage of the marketing funnel.
What is a marketing funnel?
Your marketing funnel is a representation of the journey your prospective customers take from the moment they find out about you to the last transaction they make with your business. It can be separated into many stages, but the most basic is broken down into three:
The awareness stage
This is at the top of your funnel when your prospect has a problem they need solved but doesn't know about your business. In a human relationship, people in this stage would know they wanted to date, but not who, or what their "type" was.
The consideration stage
In a real-life relationship, this would be like dating. It starts when your prospective customer has identified you as a possible solution to their problem. As you get to know each other, they determine your knowledge, authority, and trustworthiness to narrow down their list of potential choices.
The decision stage
This is where customers are made. In the decision stage, your lead has to do just that: make a decision based on what they've learned about you thus far. Can your business meet their needs better than any other? Is it you they're looking for?
In a human relationship, this would be a little like marriage, but with much less commitment. It takes a lot to gain a customer, but only a small mistake to lose one.
What follows is a trip through the marketing funnel in the form of a story that may look familiar. Keep track of the offers and pages used at each stage of the funnel, or risk losing a lead and bruising your bottom line with a proposal made at the wrong time.
The top of your marketing funnel
You always dreamed of finding the one — the perfect customer. Your business partners told you no such thing existed, but you paid no attention.
Instead, you spent late nights developing buyer personas and researching the demographics of as many online channels as you could — all the way from Bing to Yelp.
You've optimized your traffic, and today you begin your search by drawing prospects to your website with the help of a paid ad. With a squeeze page or lead capture page, you put yourself out there, like this: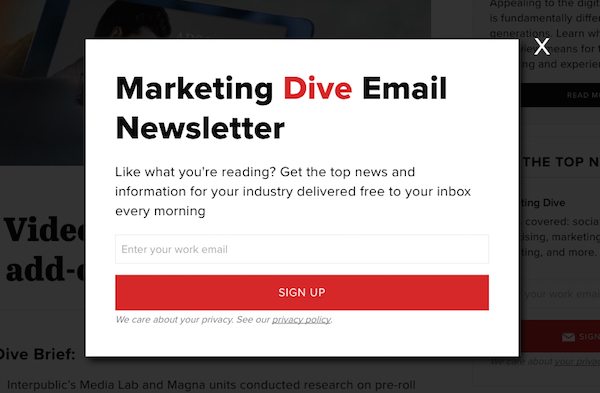 You don't want to pry — after all, this is your first official interaction — so you ask for email and possibly name. In return, wanting to make a strong first impression without seeming overeager, you offer weekly expert marketing tips.
"Hey, maybe I could send you a newsletter sometime?", you ask.
One intrigued prospect thinks, "Why not, it's just my email address. If they're creepy, clingy, or uninteresting, I can just mark them as spam and be rid of them forever."
They enter their email in exchange for the promise of some valuable insight. You show your gratitude genuinely with a "thank you" page, and let them know when they can expect to hear from you.

As they go back to browsing, you try to keep your cool, but inside you're dancing to Tom Jones like Carlton from the Fresh Prince of Bel-Air.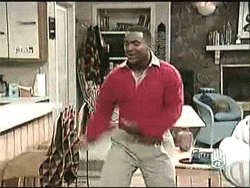 You have their awareness. They like you too.
Almost immediately, though, that excitement turns to panic when you realize you have to follow through with the promise you made. What if they don't find you interesting?
(For more information how to use post-click landing pages at the top of the marketing funnel, check out our guide.)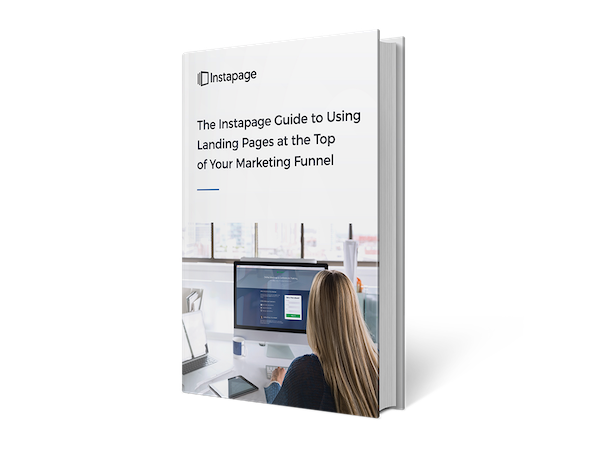 The middle of your marketing funnel
Now you're sweating in front of your laptop, hoping as you punch each key that your new lead is going to swoon over their first batch of expert tips. Luckily, you use Google Analytics, so you know which of your web pages they spend the most time on:
"Easy Reading Ain't Easy: post-click landing page Copywriting Tips to Keep Readers Engaged"
"Your Words Matter: 5 Tips to Better post-click landing page Copywriting"
"16 Ways to Write a Better Business Proposal"
"Okay," you think to yourself. "They like writing. I'll send them expert writing tips."
After adding the finishing touches to your first email, you send it off. If it's possible, you're somehow more nervous than you already were. You hold your breath for what seems like an eternity as you stare at your email analytics dashboard.
Will they open it? Will they click through to your content? You close your laptop to find a distraction.
Hours that feel like days go by, and you return to find that… yes! Oh, yes! They clicked through to your blog post and even followed that call-to-action in its conclusion to your lead capture page, which looked something like this: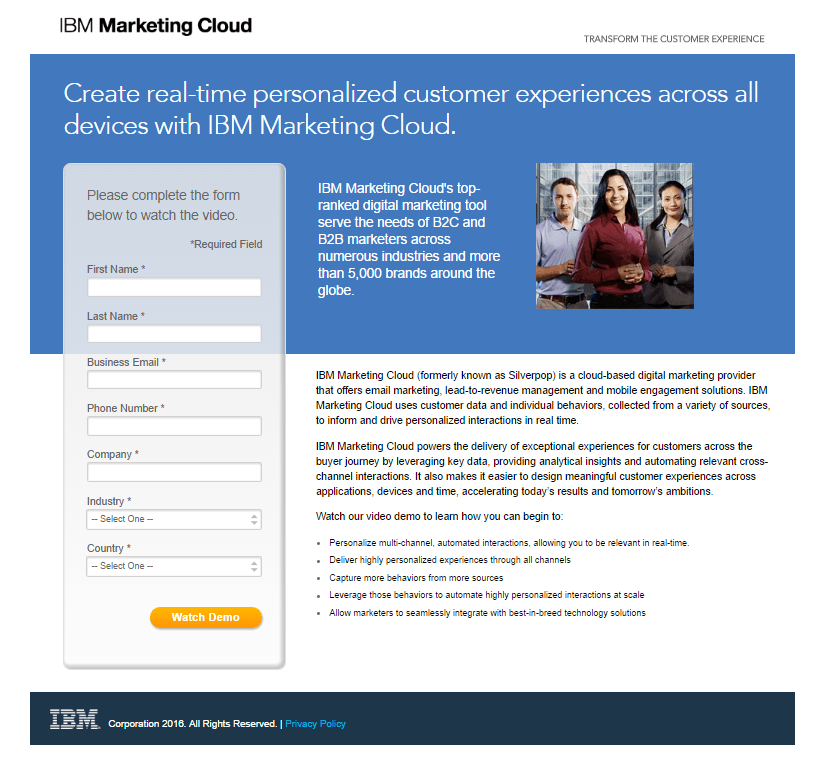 But… hold on. They didn't fill out your form. What went wrong?
It might've been something you said (or asked)
Look, we've all been there. Maybe you overshared, or asked a question that was a little too personal. Was your form 15 fields long? Did you ask for salary, phone number, and job title?
That was presumptuous of you. It's a little too early for that.
It wasn't what you said, it was how you said it
You're no Ryan Gosling or John Caples, but you consider yourself a pretty smooth operator. Your new lead, on the other hand, might not have been so impressed.
Did you emphasize the benefits of your offer with compelling copy? Did you make it easy to read by using bullet points and subheadings to create a visual hierarchy? Did you craft an irresistible call-to-action?
Even the font you use gives off subtle signals. Make sure they're the right ones.
You were just getting to know each other. They weren't ready to spend a full hour on a call with you. The time wasn't right for a trial of your software. And they certainly weren't ready to buy.
Conversions like those take weeks, months, and sometimes years to elicit. Be honest with yourself — were you moving too fast?
You're disappointed, but not discouraged. After all, you believe in happy endings, glowing testimonials, and the kind of customer lifetime value that's worth fighting for. You're not giving up so easily.
With the help of A/B testing, you optimize your post-click landing pages, and next week you make another offer in addition to expert tips: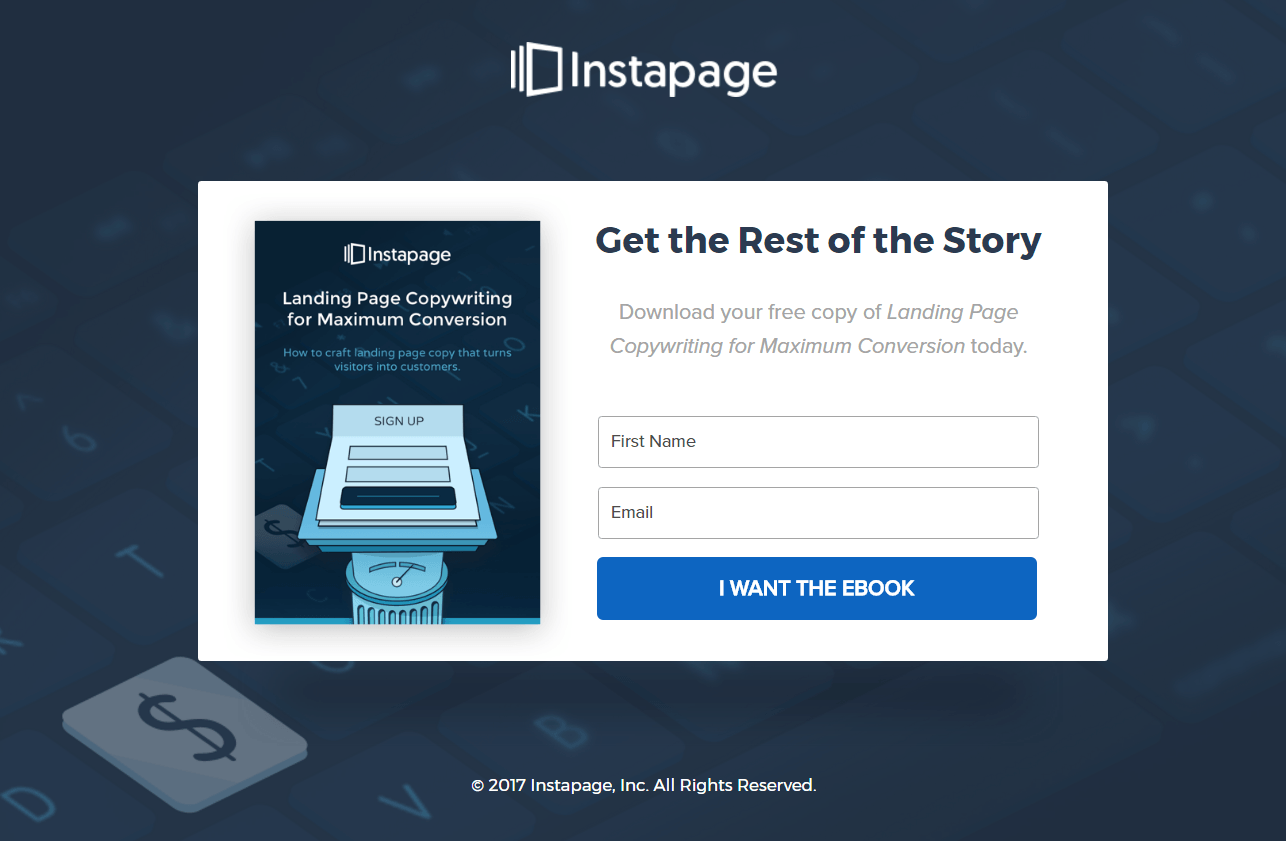 "post-click landing page Copywriting Tips For Maximum Conversions" reads the subject line of the email. Curious, your lead clicks through to your ebook post-click landing page and decides to give you a second chance. As they read it, they're glad they did.
"Hey, maybe I was too quick to judge," they think. "Maybe they are right for me."
Feeling a renewed sense of trust, your lead starts to take some initiative. They navigate to a few more of your resources. They visit a white paper post-click landing page, an ebook post-click landing page, and with each form they fill out, they open up to you a little more.
Slowly with the help of your CRM, you begin to form a picture of this lead. You learn their marketing budget, and their goals and challenges. Officially, you discover, your lead identifies as a "content strategist."
Weeks go by, and you personalize their content even further while doing your best not to smother them with too many emails. At this point in your relationship, you realize your lead prefers white papers, ebooks, and reports.
"They're in the 'consideration' stage," you remind yourself. "I need to prove myself as a trustworthy authority." To do so, you pack your content full of expert insights, original research, and best practices from professionals to ensure it's always worth claiming.
Eventually, your efforts are rewarded. Today, your lead attended their first webinar, and they remained engaged for the entire hour. They even stuck around for the Q&A portion to ask your speaker a question.
Things are getting serious.
As the relationship blossoms, your lead takes note of how thoughtful you are. You consistently direct them to content they might like, show unfailing gratitude with "thank you" pages, and your webinar post-click landing pages always feature the date, time, and duration so they can adjust their schedule to attend.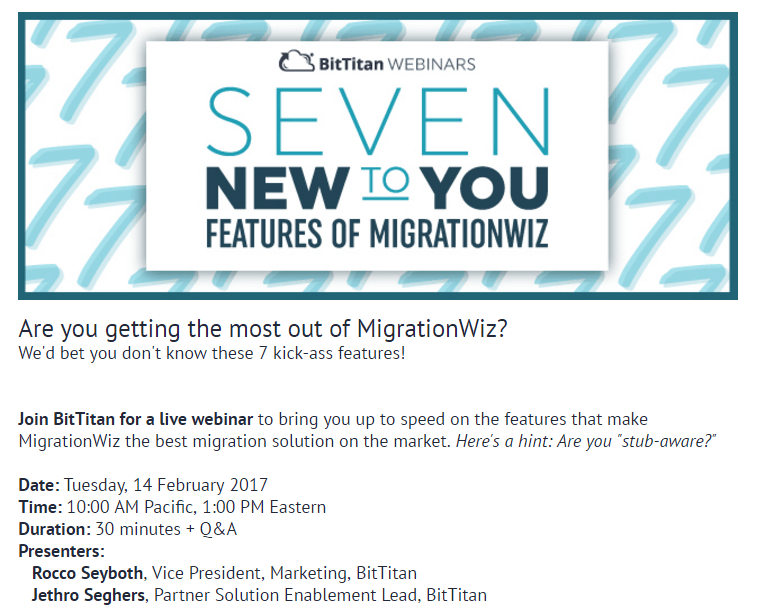 You notice that the more valuable resources you offer, the more your lead consumes. And they notice that the more they consume, the more they trust you, and the more they consider you might be the one.
Three months have passed since that fateful day your prospect became a lead, and it seems like nothing could go wrong between you. "My lead will always be here for me," you think. "They love my content."
But soon, as it happens in so many relationships, you get comfortable — maybe a little too comfortable.
You publish post-click landing pages with CTAs that read "Submit," "Download," and "Register." You start recycling old content. And your "thank you" pages look like this:

The result is predictable. Your lead stops opening your emails. They don't come around to your post-click landing pages anymore. You fear the worst — they've left you for another business that doesn't take them for granted. And they did it without so much as a "goodbye."
The bottom of your marketing funnel
Distraught, you spend the next few weeks in sweatpants, binge-watching B-list horror movies on Netflix as you weep over KPI reports. You've generated some interest from a few Twitter followers since your lead split, but nothing compares to the relationship you two had.
Just when you're about to throw in the towel — to give up building post-click landing pages and creating content forever — you remember something that gives you hope:
Your lead hasn't unsubscribed from your email list yet.
You're going to win them back.
With newfound determination, you purchase a membership to some industry research sites. Over the next month, you create content that your leads can actually use instead of just read, and you construct a marketing stack that offers your visitors personalization at scale.
"Come back, I've changed," you say with a retargeting ad that offers a master class copywriting course as part of your new Marketing Academy. As a copywriter turned content strategist, your stale lead can't resist clicking through that PPC ad.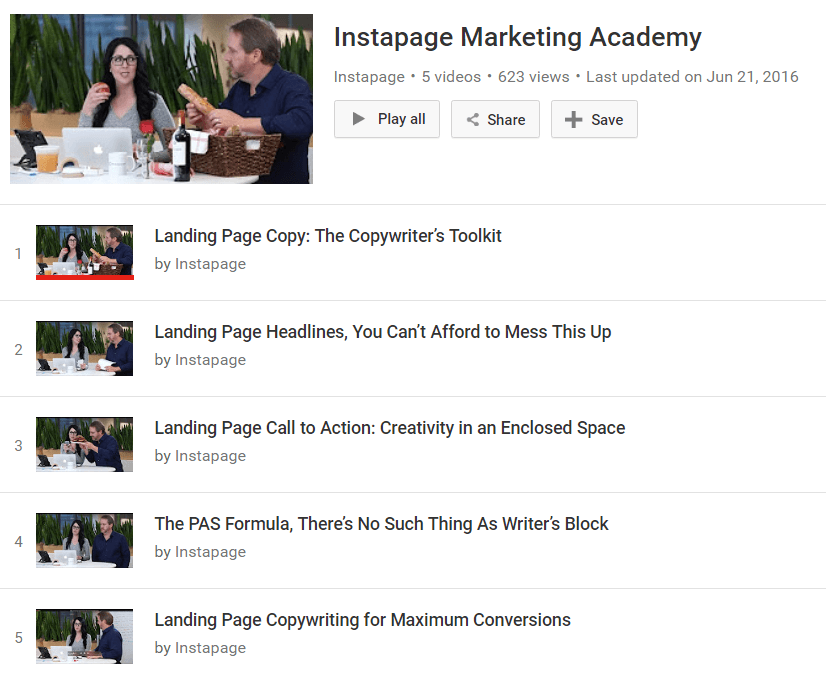 As they watch video after video, they reminisce about the quality content you created back when you two were just getting to know each other. Quickly, though, they return to reality.
Your lead already gave you a second chance. Getting a third one is going to take some grand gesture conjured with marketing magic.
Fortunately, you're prepared for that.
The new you can prove the two of you belong together, with a step-by-step case study that shows your product grew the ROI of a similar business by 500%. You send it out in an email and wait anxiously for metrics like you did months ago.
"Please," you plead with the cap-wearing monkey staring back at you from the MailChimp analytics dashboard, "if you help us make it through the decision stage together, I swear I'll never take another lead for granted."
And so, impressed by the new you, your lead re-enters your marketing funnel — albeit skeptically.
Little by little, you regain their trust by offering industry-wide research, blueprints and tools, and webinars taught by the biggest marketing influencers in the business. You dig into Google Analytics to offer personalization like never before.
Data says your lead views most of your post-click landing pages on mobile, so you optimize them for every device with responsive design. It says that your lead's favorite time to open emails is in the morning, so you schedule them to send at 7AM.
"You make me want to be a better marketer," you tell your lead by investing in qualitative feedback tools like heat maps and surveys. "How can I improve?"
With that insight, along with the help of not only A/B testing, but multivariate testing as well, you create post-click landing pages your lead loves.
Before you know it, things are better than they've ever been. Email open rates soar, post-click landing page conversion rates are through the roof, and your confidence is just as high. So, you offer a demo with a page like this: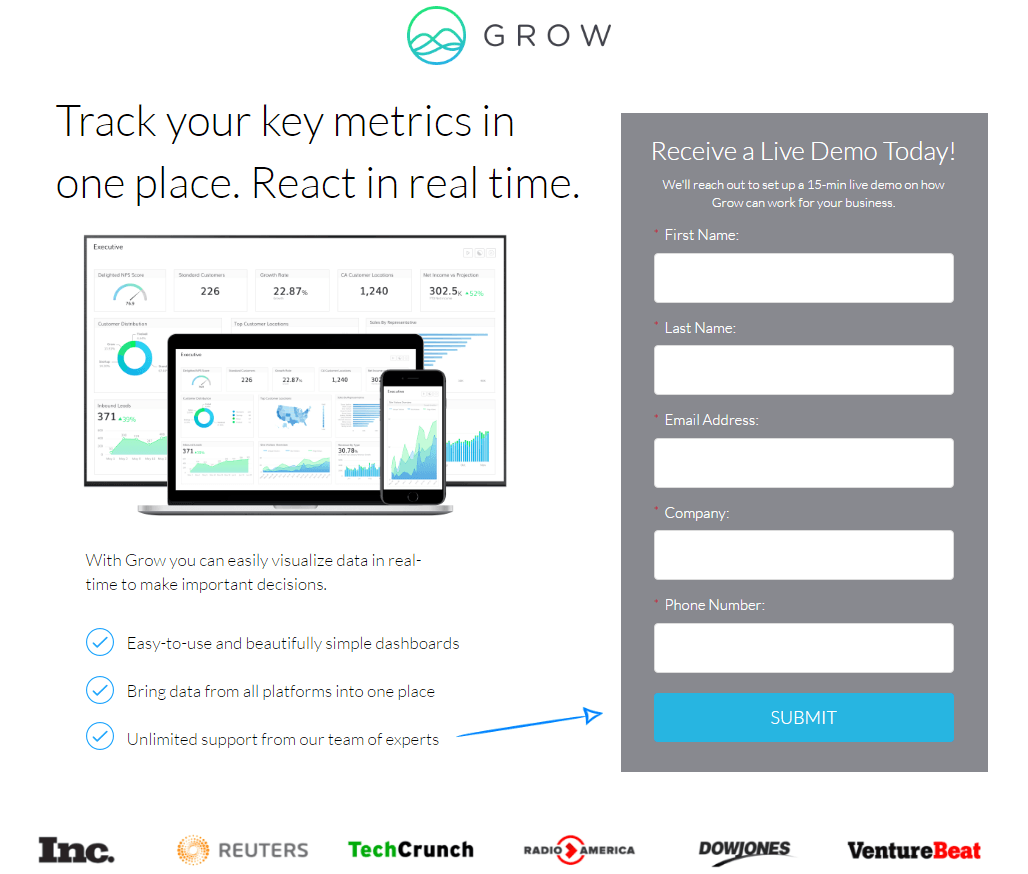 And it goes so well, you're thinking of popping the question.
You know what you need — a click-through post-click landing page. Luckily for you it won't cost three months' salary, but it will require a lot of work. As the final step in the decision stage, click-through post-click landing pages often pre-empt the sales page, on which the last obstacle to partnership sits:
The dreaded credit card form.
So you design one that looks something like this: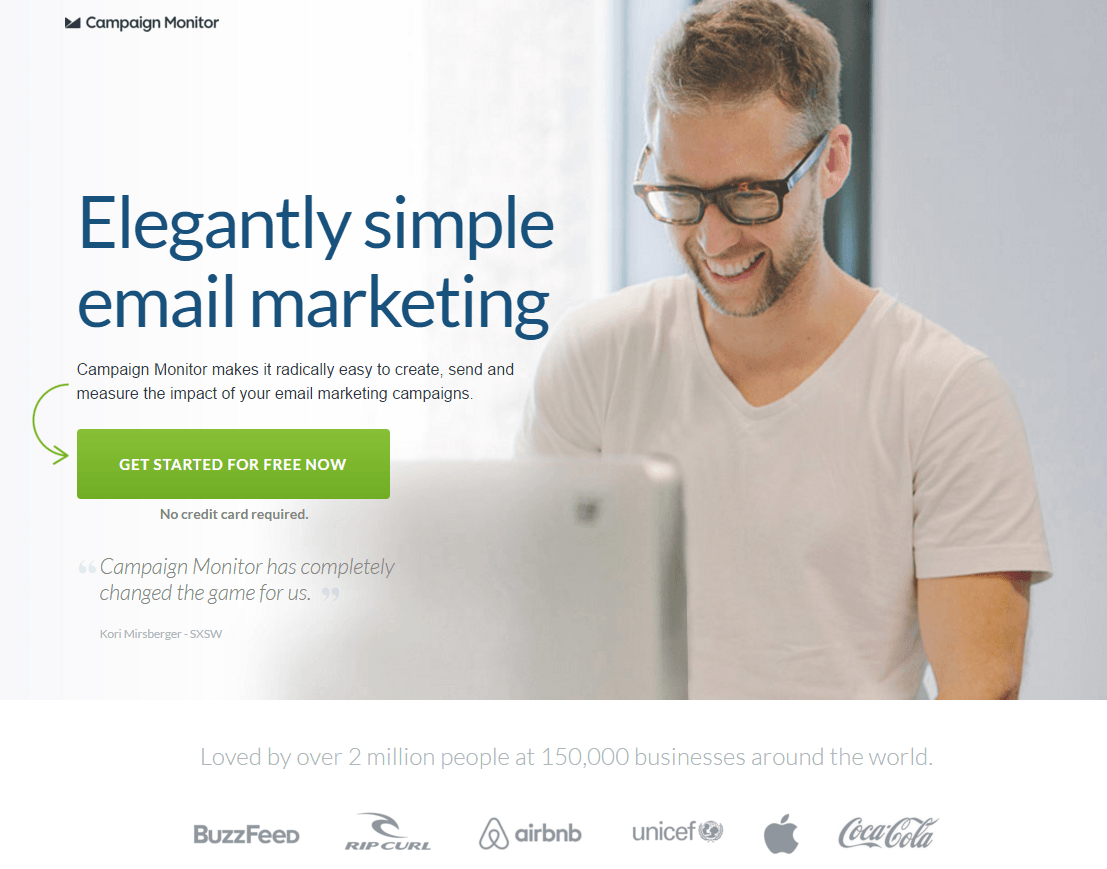 You reinforce your USP in your headline and remind your lead why you're perfect for them with benefit-oriented copy.
You use social proof like logos and tickers to showcase your popularity, and testimonials to highlight other successful relationships.
You feature hero shots that help your lead imagine what life would be like as your partner, and use infographics pulled from real case studies to prove that you can deliver on all your promises.
You offer them a guarantee that you'll help them overcome the challenges and meet the goals they shared with you back in the consideration stage. And you even let them start using your product without entering a credit card number.
"What do I have to lose?" your lead thinks. And the longer they trial your product, the more it becomes clear you two could share a future that lasts a customer lifetime. With each feature they test and integration they try, they discover hidden depths to you they couldn't have imagined.
"Even three weeks into my trial and months into our relationship, I'm still learning new things about you," your lead thinks fondly.
Thirty full days pass before the trial concludes, and on day 31, your lead gets an email: "Will you buy mine?"
As they click through to your sales page they recall the sadness they felt at the sight of an error message on your login page this morning: "Email/Password not valid. Your free trial has expired."
They miss you dearly, but looking down that long credit card field to the "Buy" button at the end of it, they wonder if they're ready to take the plunge, or if they'll become another runaway lead.
Suddenly panic-stricken, they look around but find no easy escape routes. There's no navigation menu, no sitemap in the footer, nor a logo hyperlinked to the homepage. If they want to leave you, they'll have to do it for good by clicking the "X" in the corner of their browser.
They take a deep breath and remember all the valuable content you've offered, the enterprise-level features of your software, and the guarantees you made on your click-through post-click landing page. And then, a "Norton Secured" badge catches their eye.

Your lead smiles, trustingly. "Oh, you had me at 20+ integrations!" they think as they complete the form and hit the "Buy" button.
One last "thank you" page officially pronounces you "business and customer." They may now use the software.
This isn't the end of your marketing funnel
At this point, too many businesses believe the marketing funnel ends. It doesn't. Once your lead makes the decision to purchase, they have to make the decision to purchase again.
This isn't a happy ending; it's a new beginning for you and your customer. They trust you now, until you give them a reason not to. Never forget the lesson you learned in the consideration stage: Keep proving yourself worthy and never get too comfortable. All it takes is one slip-up to lose a customer.
How do you keep your customers coming back for more? What kind of loyalty programs have you put into place?
To turn ad clicks into conversions, create dedicated, fast-loading post-click pages for every offer. See how to provide all of your audiences with unique post-click landing pages by signing up for an Instapage Enterprise Demo today.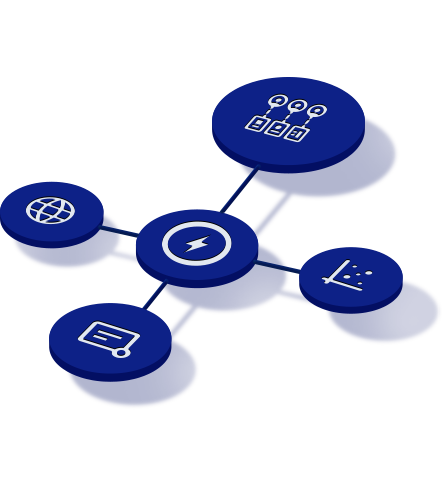 See the Instapage Enterprise Plan in Action.
Demo includes AdMap™, Personalization, AMP,
Global Blocks, heatmaps & more.