Information overload, analysis paralysis, Hick's law — they're just a few phenomena that prove it's tough to make decisions when you're presented with a lot of information. And a lot of information is what you'll get access to when you start a 14-day trial of Instapage.
Log in to find countless professional-grade design features, millions of photos, A/B testing tools and audit logs. At first, things can look a little overwhelming. So where should you start?
How to maximize your Instapage 14-day trial
To know if Instapage is right for your business, you have to test its capabilities to their fullest in just 14 days. Before you begin your trial, get an idea of what you should do from days 1 to 14 to get the most from your two weeks:
Days 1-2
As soon as your free trial starts, you'll be tempted build a page immediately. First, lay a foundation for success by taking the following steps:
Absorb as much expert advice as you can
At Instapage, our content team works hard to make sure you have all the expert information you need to create high-converting post-click landing pages, even if you've never built one before. If you haven't already explored our content when your trial begins, there are a few resources you'll want to check out before you start building:
The Instapage Blog: You're already here, so you're one step ahead of us. But, have you explored the rest of the blog? Click the "Categories" drop-down on the main blog page to see all the topics we write on at Instapage — from product updates to marketing agency tips and conversion optimization hacks. Whatever it is you're looking for, chances are you'll find it here, in a readable post filled with actionable insight that you can incorporate into your next marketing campaign.

Case studies: How are other Instapage customers using the platform to generate their highest advertising ROI yet? Find out in our case studies, which highlight a particular customer and the exact techniques they used to accomplish their marketing goals. Swipe ideas from high-performers like Kingsway Real Estate, who generated millions in sales with Instapage, or from the SF SPCA, who racked up 224 hours of video view time using an Instapage post-click landing page. If you're looking for lots of value in as few words as possible, case studies are where you'll find it.
Videos: Are you the type of visual learner who prefers seeing expert marketing techniques laid out in front of them? You'll enjoy all the valuable content our video team crafts on a regular basis. Hop on an upcoming webinar to get acquainted with the Instapage platform, or sift through our 200+ videos on YouTube to learn everything from building your first post-click landing page to conquering writer's block.
Guides: If you're the type that likes to immerse yourself in a particular subject until you know it inside and out, you'll want to check out Instapage guides. Each one is a deep dive into a topic that will satisfy even the most knowledge-hungry digital marketers. Start with the "What is a post-click landing page?" guide — a 17,000-word, comprehensive look at what makes a high-converting post-click landing page, capable of taking any designer from novice to expert in under an hour. Then, find out how to use other expert techniques — like event marketing and post-click landing page optimization — to send conversion rates soaring.
The Advertising Influencers Podcast: The Advertising Influencers podcast is where industry titans go to discuss their tips, strategies, and secrets to building a highly successful business. Find out how to generate demand for your product from Wade Foster, the CEO, and co-founder of Zapier, or how to amplify early-stage marketing with Wynn White, former VP of Marketing at Oracle. If it's new trends and proven tactics you're after, the Advertising Influencers podcast should be your first stop.
Ebooks: Want to learn even more about a topic you read in a post, saw in a video, or heard about in a podcast from Instapage? In our ebooks, you'll find supplemental information on nearly any subject our content team has covered, from post-click landing page publishing tips to psychological secrets you can use in your marketing campaigns. Discover all there is to discover in the "ebooks" section of the Instapage website.
Once you've learned all you can about building high-converting post-click landing pages, it's time to organize your dashboard for optimal productivity.
Organize your work with workspaces
When you're creating pages for multiple clients or campaigns, it's easy to mix up designs if you're not careful. Getting organized with workspaces should be a top priority before your team starts building out designs faster than you can track them.
From the Instapage dashboard, click the "+ workspace" button to add a workspace from which your team and designs for each individual project or client can be managed.

Invite your team members
post-click landing page creation is better together. To take advantage of the industry's only collaboration tool, you'll need to invite team members to collaborate with. Do that by navigating to the particular workspace you want to add a team member to, then clicking the gear button in the upper-right corner and selecting "Add new." From there, manage permissions to easily control the actions your team member should and should not be able to perform.
Determine the goal of your campaign before you pick a page type
Every post-click landing page performs a different function. Ebook post-click landing pages are ideal for capturing visitor information at the top and middle of your funnel, while click-through post-click landing pages are best for warming up your prospects at the bottom of it.
The page you use will depend on the goal of your campaign. Match yours with the page types available in the Instapage platform:
Lead generation post-click landing pages: Pages that feature a form, used to collect and qualify leads with different fields. These are the most versatile type of post-click landing page, effective throughout the entire funnel. Choose this type if you're trying to learn more about your prospect to determine whether they're a good fit for your product or service.
Click-through post-click landing pages: Form-less pages used to persuade a visitor to convert without scaring them away at the sight of a lead capture form. These can be used throughout the funnel, but they're most valuable at the bottom for getting prospects to click through to a long form or a credit card field on the following page.
"Thank you" post-click landing pages: Pages used to show gratitude to a newly converted lead with a sincere "thanks," and to direct that lead to the next stage in the marketing funnel. They're best used throughout the funnel as a follow-up page after each conversion.
Webinar post-click landing pages: Pages used by marketers to compel visitors to attend a webinar, a form of content that research shows are one of the most engaging. They can be used effectively at all stages of the marketing funnel.
Ebook post-click landing pages: Pages that offer an ebook — a versatile resource used by leading marketers at the top and middle of the funnel to earn prospect information in exchange for a download.
Event post-click landing pages: Pages that offer visitors entry to a company event. Because events can interest visitors at all stages of the marketing funnel, these post-click landing pages can be used effectively during the "awareness," "evaluation," "decision" stages and beyond.
App post-click landing pages: Pages used to convince visitors to download an application. They're most effective at the middle and bottom of the funnel.
Not sure what your goal is, or where your visitors are in the marketing funnel? Learn more about the buyer's journey here and what your prospects expect at each stage.
Days 3-12
Once your whole team is organized and up to speed, day three (at the latest), is when you'll dive headfirst into the Instapage builder. It's here you'll get to put your newfound knowledge to practice with professional-grade tools that designers of any level can use.
Pick your post-click landing page template
Now that you've matched your campaign goal with the post-click landing page types available in the Instapage platform, it's time to pick from one of 200+ responsively designed templates proven to convert.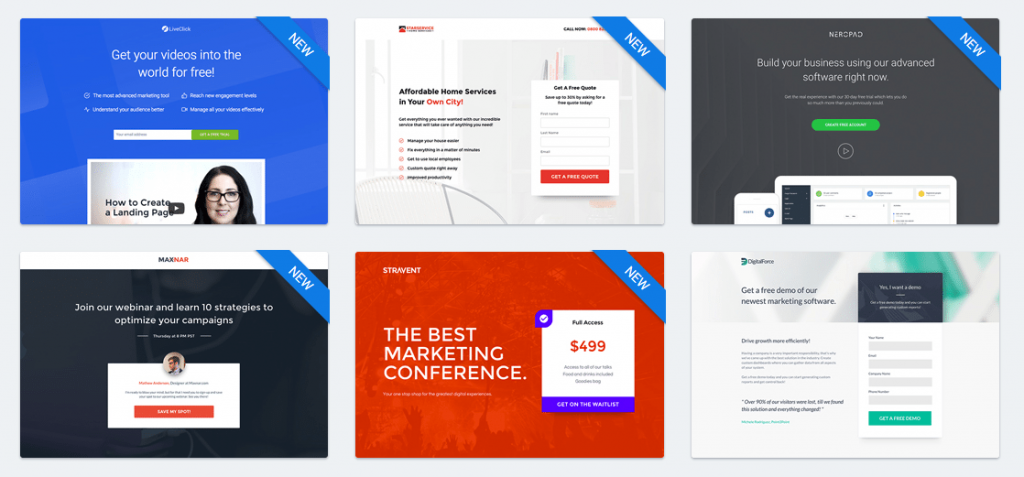 Once you've done that, give your page a descriptive name that will help you differentiate it from your others. Then, start building.
Start building your first post-click landing page
… with an AMP page
Creating a positive mobile post-click experience is essential to engage users and convince them to act. Visitors don't have the patience to wait for a mobile page to load, because Google research shows if load time is longer than 3 seconds, people bounce. So it makes sense to create an AMP page early in your trial and be mobile-ready.
AMP pages enable you to create more compelling mobile user experiences through near-instantaneous load times and smooth scrolling, while still supporting some styling and branding customizability.
Unlike regular mobile pages, AMP pages are automatically cached by Google AMP Cache for faster load times on Google search.
To create an AMP page, click "Create New Page", and then "AMP Page:"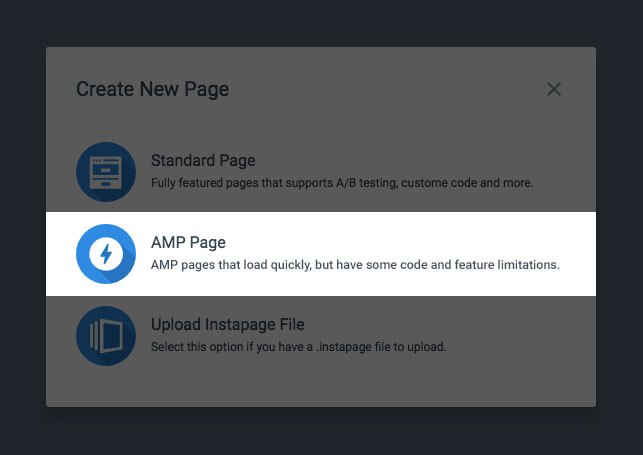 Begin creating the page by adding any elements you wish, as long as you stay within the allowed file size (50 KB) required by the AMP framework. As you continue to build a page, a validator operates in the background to ensure the page doesn't exceed the 50KB limit.

Validate the page to confirm it is within acceptable limits, if it passes validation, publish the page by inserting your domain and subdomain.
Then, even with the traditional Instapage builder, once you get started building your first page it won't be long before you finish. Editing at its most basic level is as easy as clicking to alter text blocks and adding elements from the top menu to place them anywhere in your design.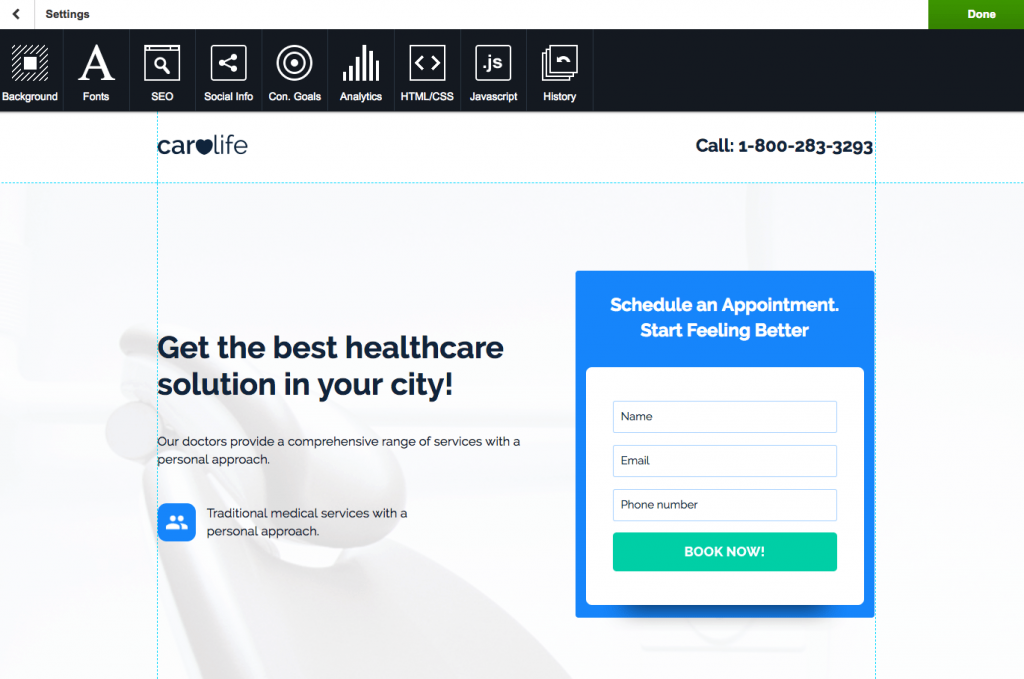 Set up your landing page production with Instablocks™
Instablocks™ is unique to the Instapage platform because it allows you to build hundreds of personalized post-click pages by using page blocks. Each block can be customized, saved, and reused for use later — making sure you can easily create post-click pages at scale.
Simply choose from a selection of pre-designed block templates, like headers, footers, testimonials, and more, or create your own custom blocks from scratch. Gone are the days of building pages element by element. Create blocks instead and insert into pages quickly and easily.
Access the Instablocks manager by editing your page design, clicking insert block, and you will see a window that looks like this: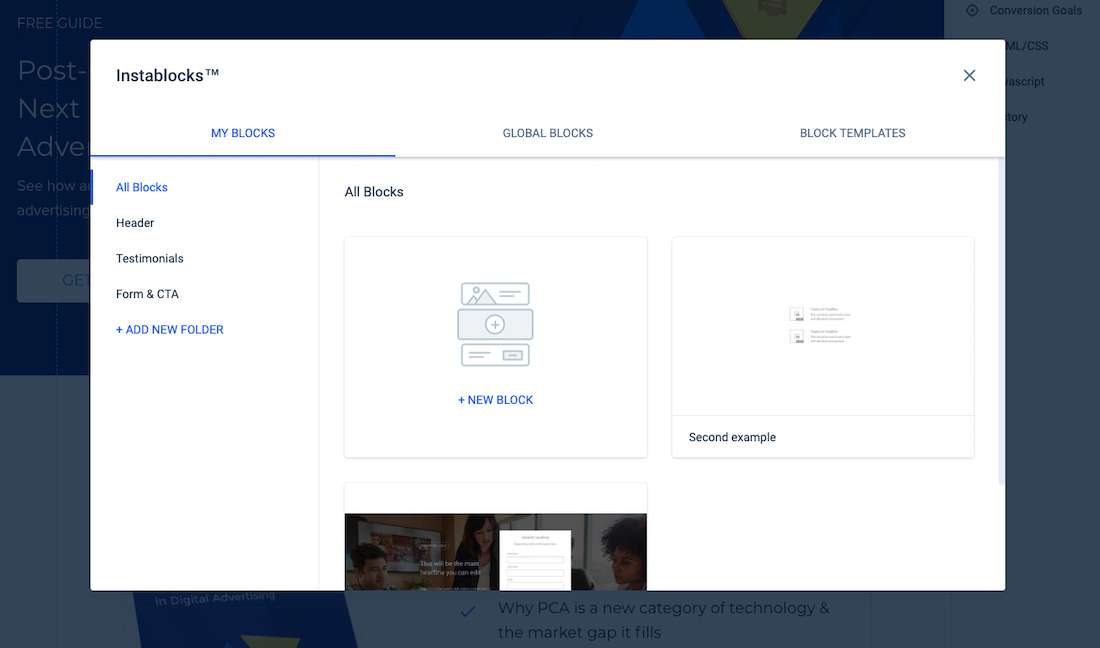 The left column contains the folders you set up to categorize each page block. Use the device toggle to see how the page will look on both desktop and mobile: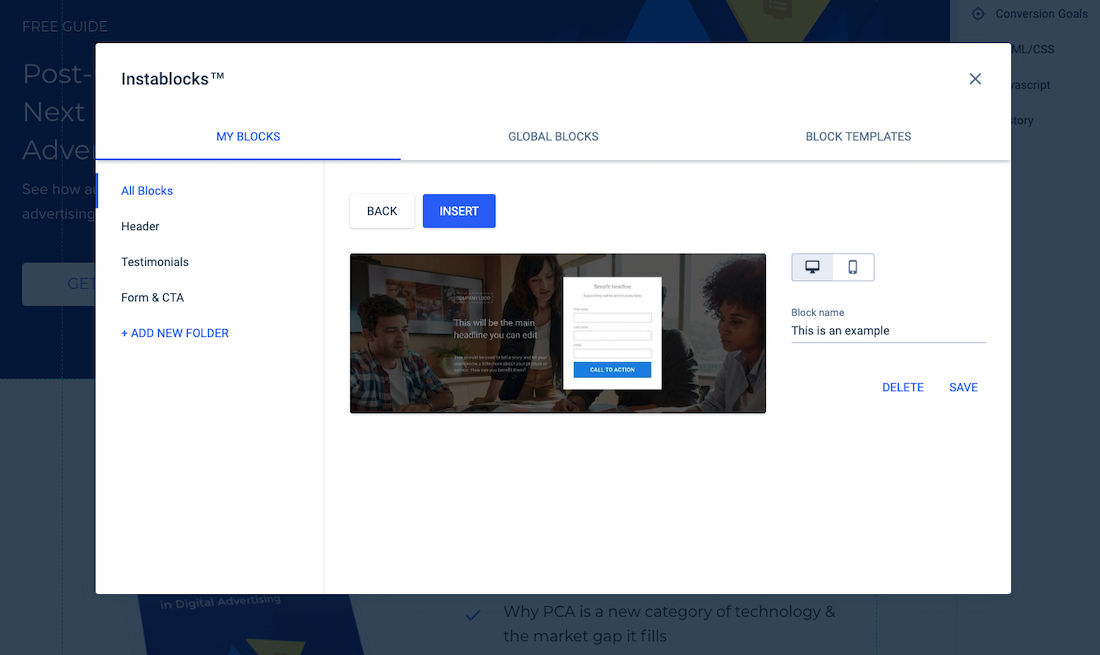 Use Global Blocks for updating pages en masse
With Instablocks as the foundation, Global Blocks takes it one step further because this feature makes it easy for you to manage and update all your post-click experiences in a single click. Both Instablocks and Global Blocks improve your workflow because you eliminate duplicate creative work and manual updates:
Simply create a custom Instablock and use it globally across all of your pages, and make updates to all those pages with one click. This helps you manage high-volume, high-velocity campaigns.
Whether you want to add a testimonial block, CTA block, or more, Global Blocks allow you to personalize, test, optimize, and update branded content to continually increase conversions. If you need some inspiration, go here to see 16 use cases.
But to get even more from the Instapage builder, take advantage of advanced features like:
Edge Measurement and Axis Lock: Don't settle for anything less than a pixel-perfect design. With the Edge Measurement feature, you can find out the exact coordinates of your post-click landing page elements. And with Axis Lock, you can lock those elements along the horizontal or vertical axis to easily keep them in-line when it's too tough to do manually.
The Collaboration Solution: Streamline the design process by getting your team working on the same post-click landing page in real-time. Simply click to comment on design elements, view all feedback in a convenient feed, and invite key stakeholders to evaluate your design with the "share" button.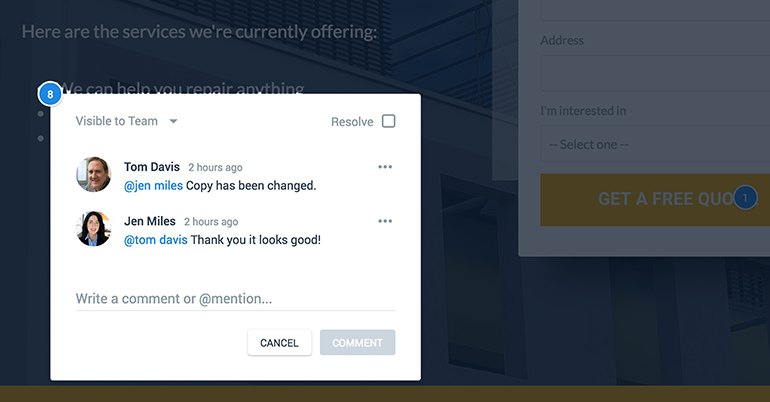 Adobe Typekit and Google Fonts: Brand consistency is a major driver of buying decisions. Ensure your page stays on-brand, right down to the serif, with countless available typefaces from Google Fonts and Adobe Typekit.
Keyboard shortcuts: Scaling post-click landing page creation can get tedious, which is why we've created keyboard shortcuts that streamline repetitive tasks. Now you can add, delete, group, and layer objects with just a few keystrokes. Here's a look at just a few of the 30 actions we've created shortcuts for: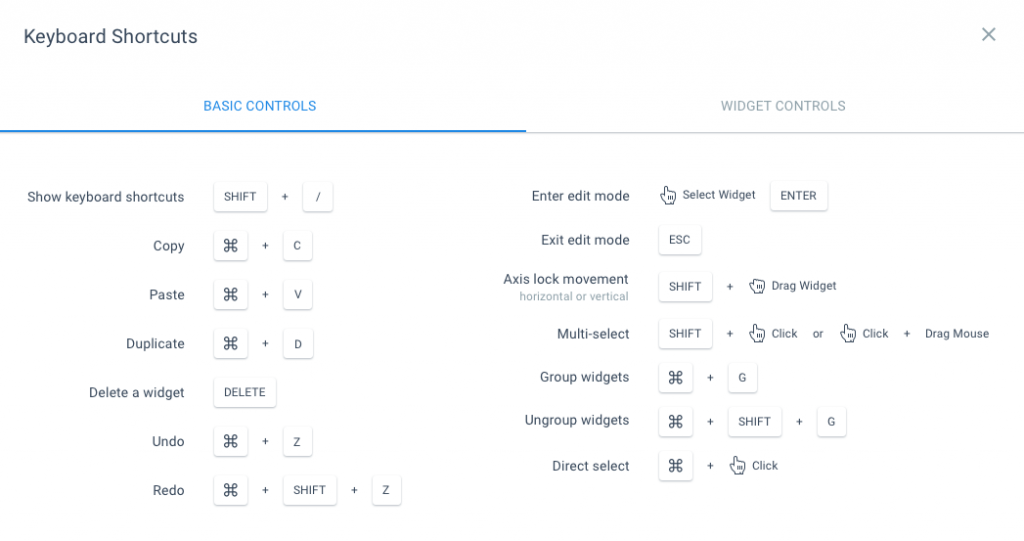 Bigstock partnership: Our partnership with Bigstock allows you access to 31 million photos to feature on your post-click landing page. So, no matter what you're offering, it won't take long to find a photo to represent it.
A robust CSS editor: Experienced designers will be happy to know that every post-click landing page can be fine-tuned manually. There's no level of customization you can't reach between our builder and robust CSS editor module.
Personalize all your expriences
Another unique to Instapage feature, personalization allows you to create 1:1 ad-to-page personalized experiences by dynamically delivering relevant post-click experiences to any target audience:
This means you can create any number of unique page experiences for a post-click landing page and attach experiences to specific audiences. As a result, you serve the correct experience in real-time to the right audience. You can even create variations to split test within a certain audience and identify high-performing ones in the process.
To provide those unique experiences, you identify the UTM parameters so that every audience receives a dedicated post-click experience, and gives you the best chance at conversions: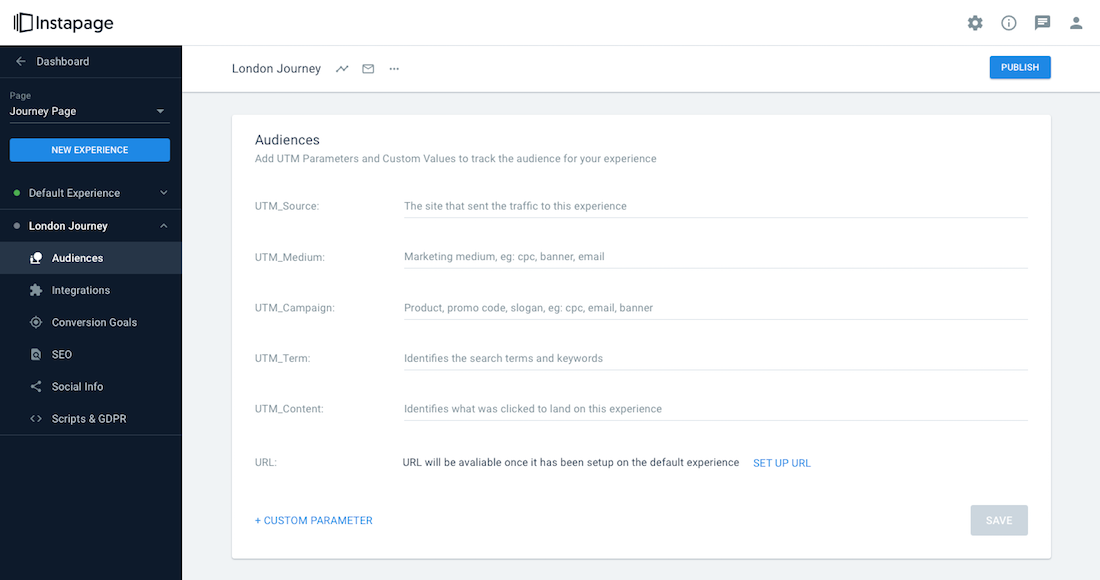 Once you set your parameters, only people who match the criteria will see the new experience. Instapage data shows that customers who provide unique experiences to audiences generate up to 4.2x the average conversion rates with the Instapage Personalization solution and post-click automation.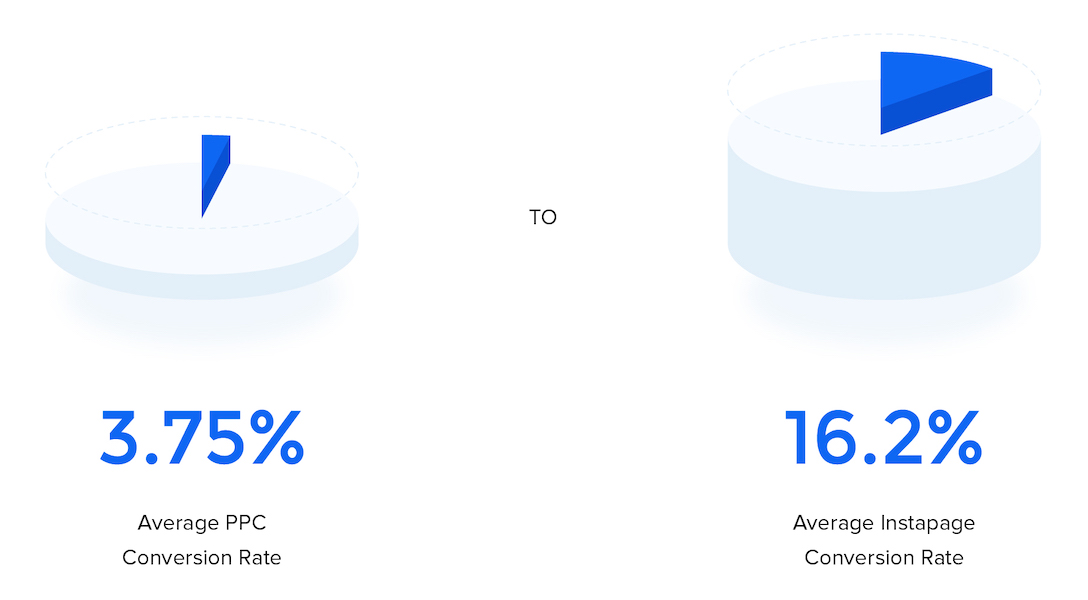 Once you and your team have put the finishing touches on your design, and it's been ok'd by key stakeholders, it's time to create another one to test against.
A/B test for the global maximum
A/B testing involves testing your original page against a variation to see which performs better. It's one of the easiest and most effective ways to improve post-click landing page conversion rate. That said, a lot of people get it wrong.
They test the control headline vs. the variation headline, or they test one featured image vs. another. But, multivariate testing is the better method for making fine-tuned adjustments. A/B testing, on the other hand, is a better method for finding the global maximum — aka a higher-performing, drastically different version of your original page.
To find the global maximum with A/B testing, click the "Create an A/B Test" button in the upper-left corner of the page. Then, create a drastically different version of your page that tests an alternative way of getting your message across. If your original page features video, then try communicating your message with long-form text. If your original features long-form text, then try communicating it with shorter copy and some images.
Once you've created your original and your variations, it's time for publishing. Be warned, though — there's a lot more to A/B testing than creating a different page and hitting "publish." Before you run any tests, read through the all-inclusive Instapage guide to A/B testing.
Review and publish your page(s)
Does your page look stunning across all screens? While it'll be automatically optimized for mobile, we recommend giving it a second glance with the "Preview" button in the upper-right corner of the builder.
If your design looks the way it should, click "Publish," for options to publish via a custom domain, WordPress, Drupal, or the Instapage demo server: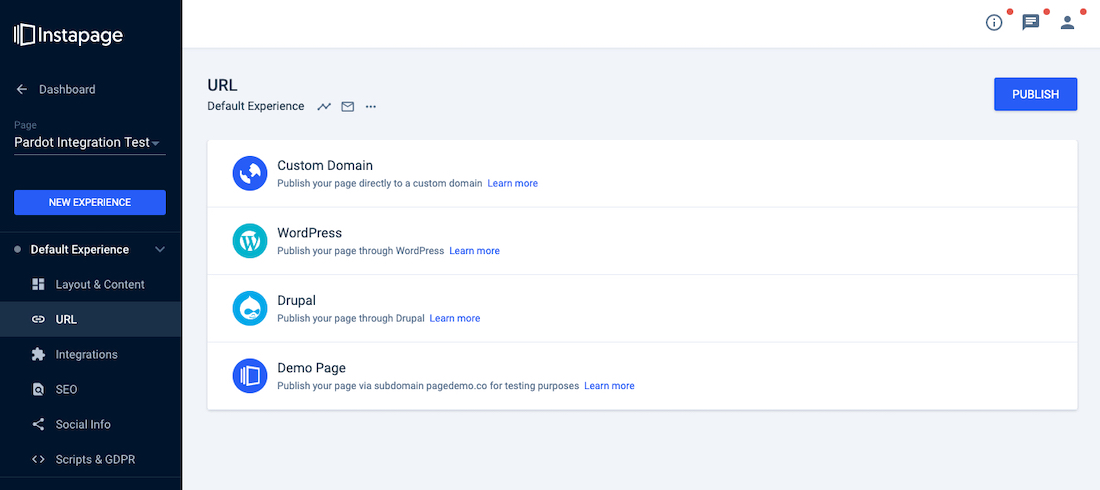 Integrate with the rest of your tech stack
A key to providing personalization at scale is an integrated technology stack. "Integrated" means that your platforms need to be able to talk to each other. For example, post-click landing page software needs to be able to pass lead information through to a CRM, then that CRM needs to pass data along to an email marketing technology, and it all needs to feed into an analytics platform.
Instapage allows you to connect 20+ popular marketing tools you already use to get a better sense of who your customers are and to allow you to provide the personalization that they expect to see now. Before you set anything live, make sure Google Analytics, Salesforce, or any of the other technologies you see on this list are connected to your Instapage account.
Set up branded email notifications
For teams and agencies, securing more budget comes down to proving your worth. Prove yours by sending managers and clients automated email notifications of every conversion you generate.
Add your logo, create a custom subject line, adjust the "From" field, and even modify the HTML code to make sure every notification represents your brand accurately. Learn more about setting up branded email notifications here.
Set your campaigns live and collect data
Once your post-click landing pages and their corresponding campaigns are live, it's important to give them time to collect visitors who will, in turn, provide you with data. How many converted? Which page was more successful? Which traffic sources were the most valuable? From that data, you'll be able to make key decisions about how to move forward.
Days 13-14
The end of your trial should be about review and reflection. You'll be able to determine what you accomplished using the Instapage platform by looking back at a few things:
Review your analytics dashboard
All great campaigns come from data — and the industry's most advanced analytics dashboard can give you plenty of that. View conversion rates and visitors by channel or date, and compare page variations to see which converted better at the end of your trial.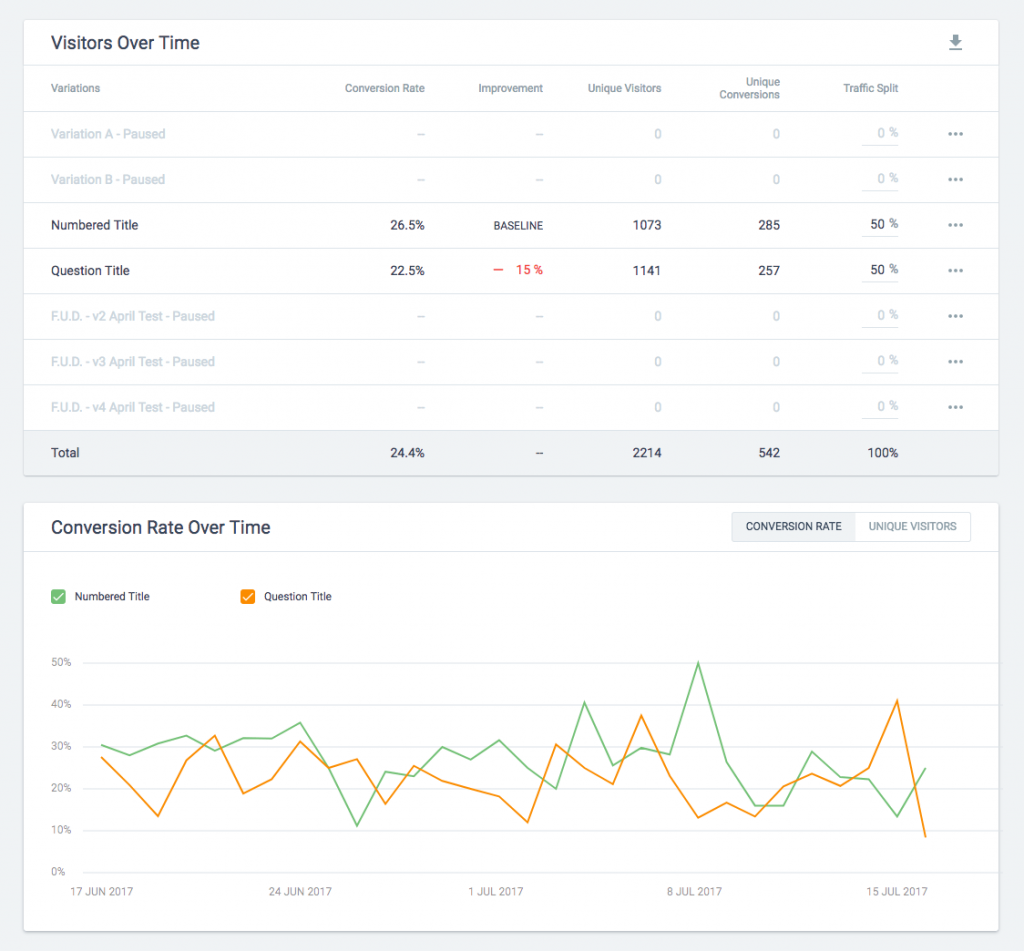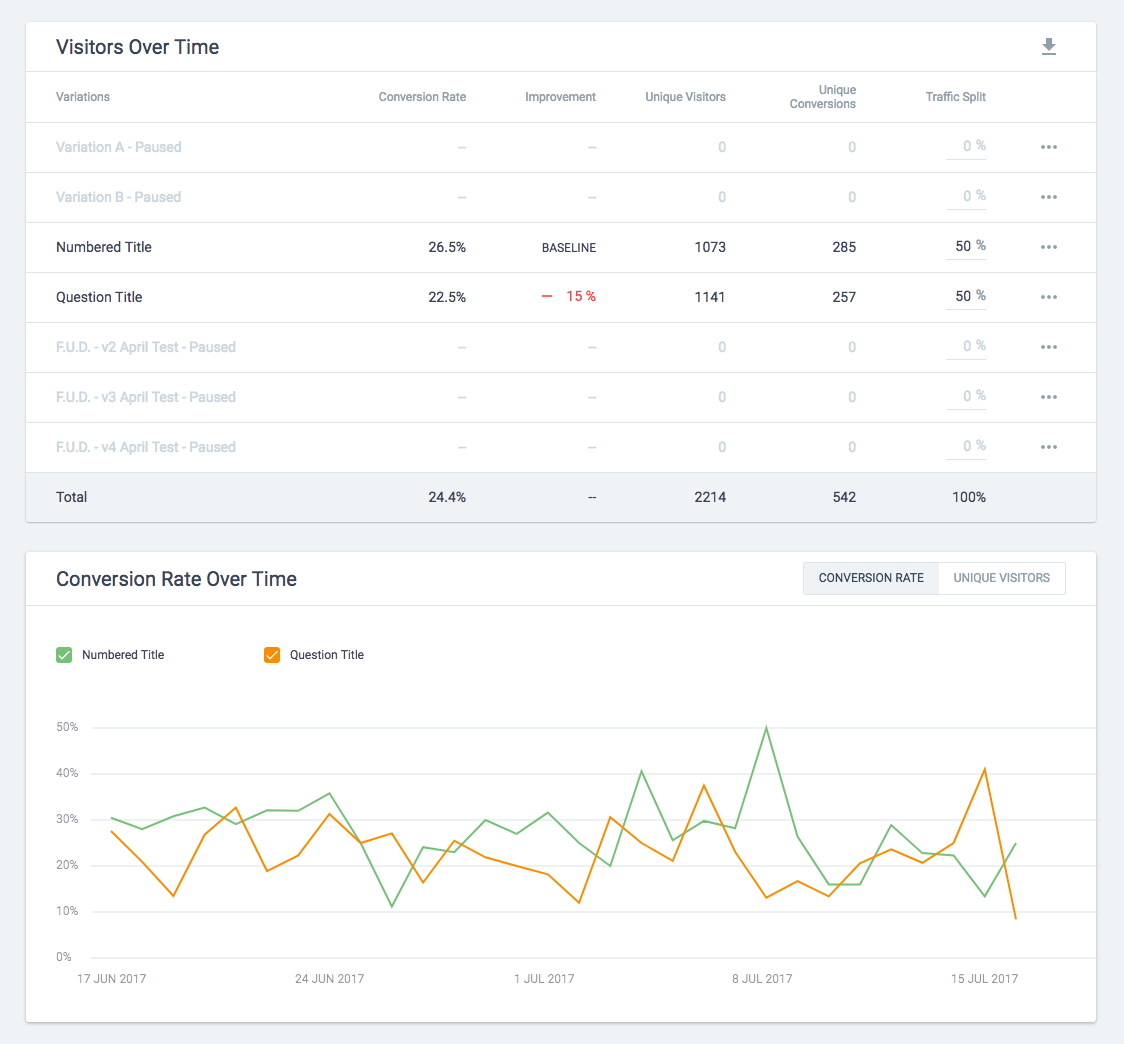 Keep in mind; it's important not to conclude your A/B test until you've generated enough visitors to reach at least 95% statistical significance (here's a calculator to help). If you're not there by the end of the trial, you'll need to continue gathering data (and if you don't know what statistical significance is, read our A/B testing guide!).
Look back at your audit logs
Keeping an audit log should be a key part of your design process. Documenting every action can help you figure out whether protocol is being followed, and what your most and least productive processes are.
With Instapage, audit log software comes built-in, so you'll have peace of mind knowing that if anything ever goes wrong, you'll be able to pinpoint the cause with a detailed report of the actions leading up to the mistake: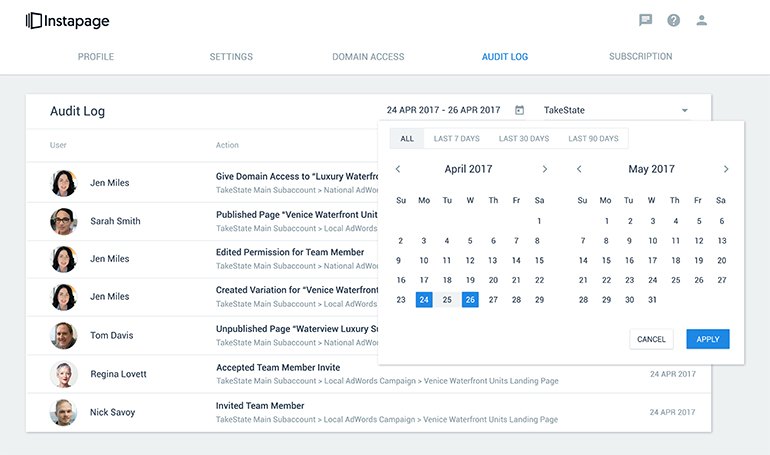 Look back at your audit logs at the end of your trial and try to identify any trends. Who had access to your highest performing pages? What mistakes were made on the way to campaign finalization? What processes resulted in your fastest-built post-click landing pages?
If you notice anything glaring, set new protocol based on those logs to maximize your future successes and minimize failures in your design process.
Review your heat maps
Now, Instapage automatically tracks how your visitors behave using powerful heat mapping technology. While in "Preview" mode, simply click the "heatmap mode" toggle in the menu bar to see where people clicked, hovered, and scrolling on your post-click landing page throughout the 14-day trial.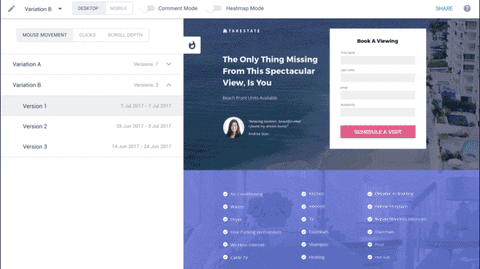 Heat maps are a particularly helpful way to visualize data that can aid in conversion rate optimization. Use them to find:
Elements that are getting clicked like buttons but aren't actually clickable.
Where people stop scrolling on your long-form post-click landing page.
Distracting elements that might be stealing attention from your call-to-action.
Keep in mind, though; heat maps aren't data — they simply display data in a visually digestible way. To figure out the "why" behind what visitors are clicking or how far they're scrolling, you'll need to do hypothesis testing. Learn everything you need to know about using heat maps on your post-click landing page here.
Consult your team
Before you make any decision regarding our platform, it's important to reach back out to your team and get their input. What did they like? What didn't they? How fast are they creating pages now compared to before Instapage?
Gathering feedback from your staff isn't just our recommendation — it's proven to be an important factor in technology adoption among teams. According to research, forcing a change in the workplace can result in higher instances of quitting, hostility towards managers, and increased employee apathy. So it's important to make sure that everyone who'll be using the software gets a say in the decision.
Make the most of your 14-day trial
All the professional-grade tools, add-ons, and features don't have to cause information overload. Now, you know what you're getting yourself into, and armed with this roadmap; you'll get the most from your 14-day trial.
Ready to get started? Sign up for an Instapage Enterprise demo here.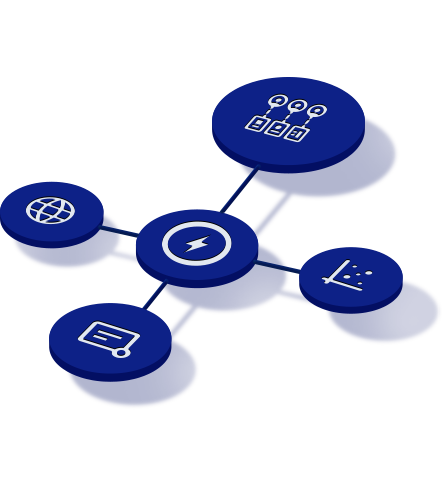 See the Instapage Enterprise Plan in Action.
Demo includes AdMap™, Personalization, AMP,
Global Blocks, heatmaps & more.