Study after study confirms it: online searches drive offline phone calls to businesses. From SEO to text-based search ads to Google Shopping ads, companies are seeing an increase in call conversions from search.
One primary reason is the emergence of smartphones as our de facto device for product research. Most searches take place on smartphones, and mobile searchers often call a business's call center, store, dealership, branch, or other location to ask questions, book appointments, or place orders.
Google says that mobile searchers are 39% more likely to call a business, while analyst firm BIA/Kelsey estimates that mobile searches will drive 61 billion calls to businesses this year — a 113% increase from 2014: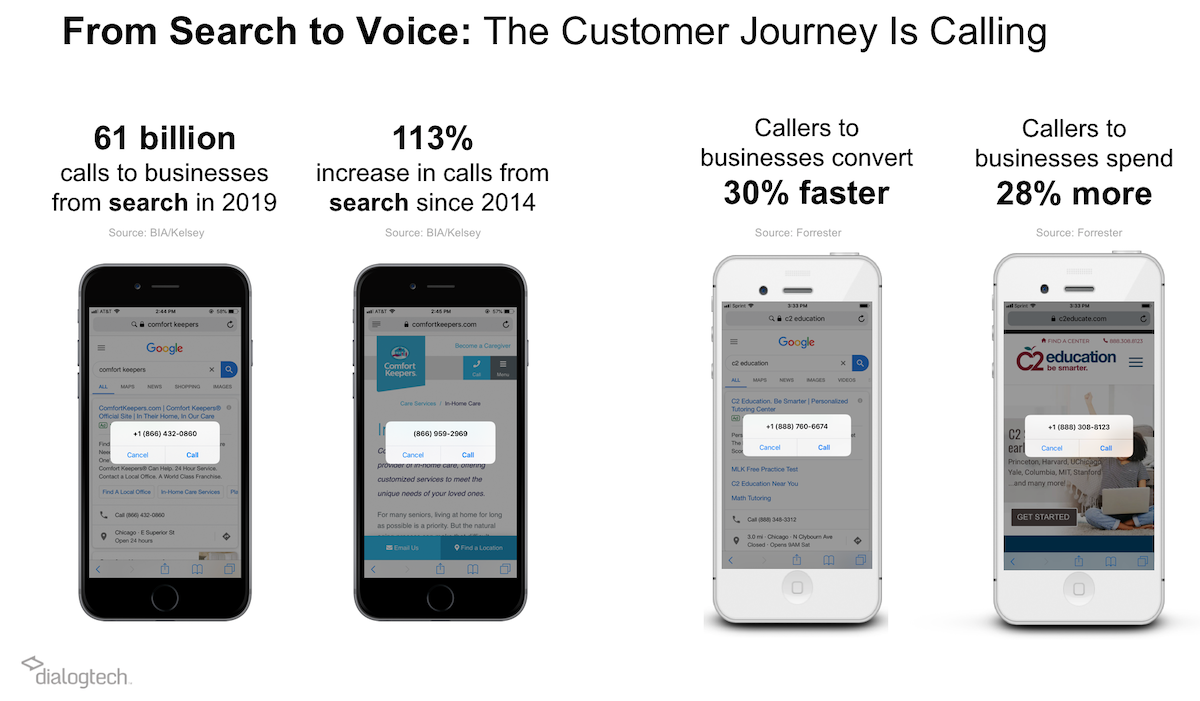 Phone calls are an essential part of the customer journey for industries with complex, expensive, infrequent, or urgent purchases. Consumers prefer to call and speak to a real person, regardless of the device they use to research a product or service. For marketers in these industries, your ROI often hinges on your ability to drive high-intent callers to your locations and call centers: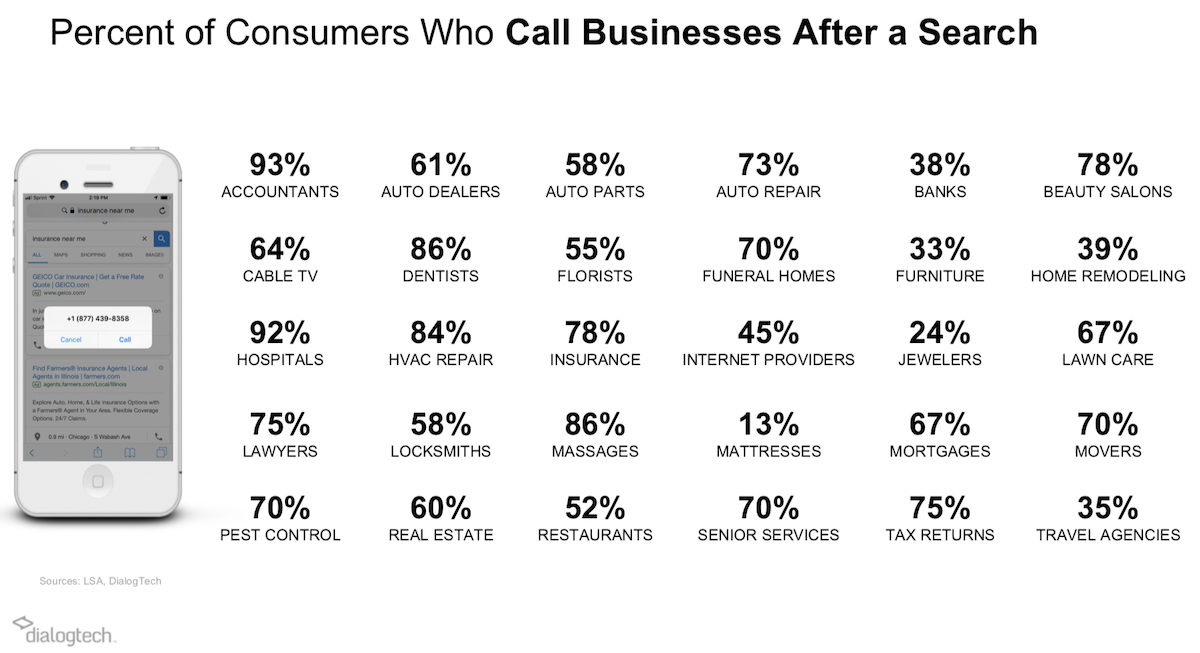 Call tracking helps you make better data-driven decisions
For advertisers in those industries, it's important to take the same data-driven strategies for offline calls as you do online clicks. Call tracking and analytics solutions like DialogTech can help. They make calls as measurable and optimizable as clicks, so you know what calls from each marketing source drive leads, opportunities, and revenue to your business and can make smarter optimizations to drive the best return — both online and over the phone.
So what does a data-driven strategy for calls look like? Based on DialogTech's experience with many of the world's biggest brands for industries that want calls, here are six of the most common actions leading marketers take for the calls they generate to their business.
1. Attribute calls from marketing source to sale to prove ROI
First, you can use call tracking and analytics solutions to understand how your channels, campaigns, ads, search keywords, and pages on your website drive calls that convert, whether that's to a sales opportunity, appointment, purchase, or other KPI. This enables you to link your marketing activities better and spend on business outcomes. You can prove your true ROI and more accurately forecast the results of future marketing initiatives.
For example, Arbor Memorial, one of Canada's largest cemetery and funeral service providers, uses DialogTech to attribute calls to their 150 business locations. That attribution data on callers is integrated with their CRM system, connecting calls from marketing to resulting sales. It enables Arbor Memorial to attribute 150% more revenue on average from their marketing spend than if they only attributed online conversions.
2. Use what's said on calls to improve audience targeting
When consumers call, those conversations are a rich source of insights into that caller's intent, urgency, product interest, preferences, and value to your business. Some call tracking and analytics solutions use AI to analyze phone conversations at scale, enabling you to add each caller to the best search, Facebook, YouTube, display, and other audiences based on what happened during their call:
For unconverted callers who are good leads, retarget them with a special offer for the product/service they called about across your digital channels and bid more for them on paid search.
For callers who converted to customers, put them into the most relevant upsell or cross-sell ad campaigns. You might also decide to add them to lookalike campaigns to extend your reach and find new business resembling your best leads.
You don't want to waste budget retargeting a website visitor who already purchased over the phone — or who called looking for a job or soliciting your business. Add these callers to your exclusion lists so you don't serve them ads that aren't relevant.
Building audiences from conversations is an effective strategy for Comfort Keepers, a leading senior care provider with 450 locations. When a prospect calls a Comfort Keepers location and converts to a customer, the marketing team adds that caller to lookalike campaigns. They can then find new quality audiences that resemble those good callers and target them with display ads encouraging the consumer to call Comfort Keepers. This strategy generates 16x the conversions than the next best targeting tactic: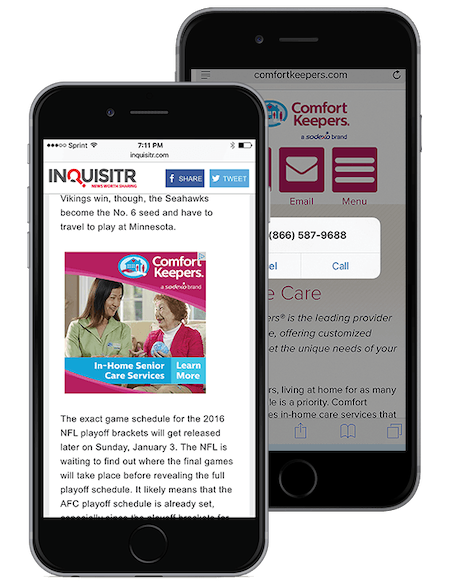 3. Route callers based on their data to provide better experiences
The experience when someone calls should be as frictionless, relevant, and as personalized as the online experience. Studies show that 84% of callers would cease doing business with a company after a negative call.
When consumers call, they expect to receive the right assistance right away. It's important to connect them in conversation with your most appropriate agent or location immediately. Some call tracking and analytics solutions enable marketers to set up rules to dynamically route callers based on a wide range of criteria — including the campaign or webpage the person called from, their location, day/time of the call, and more: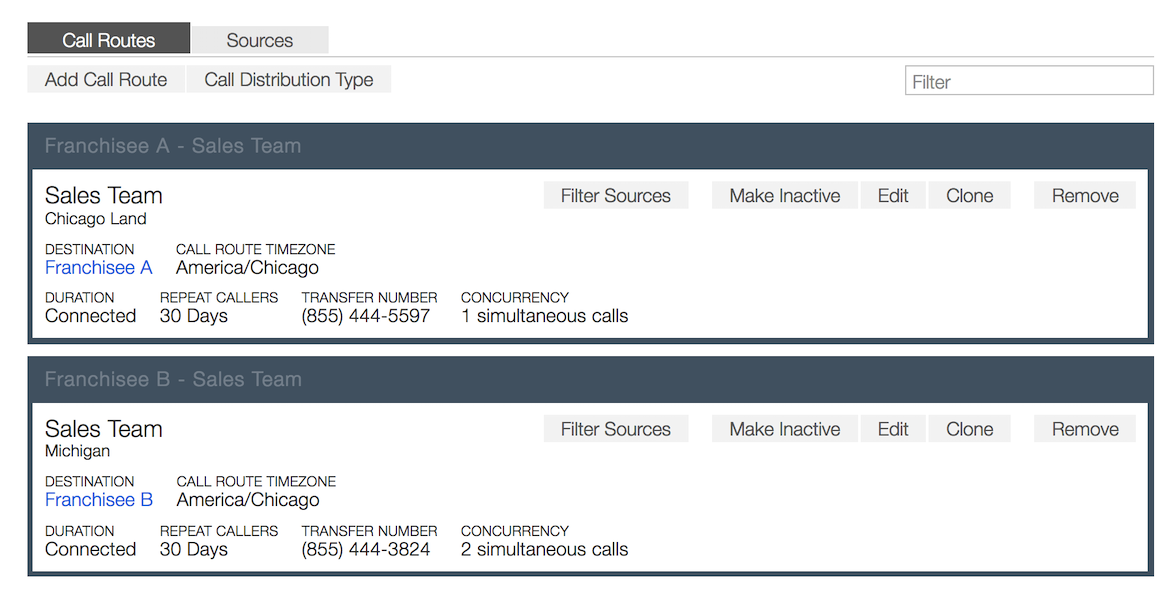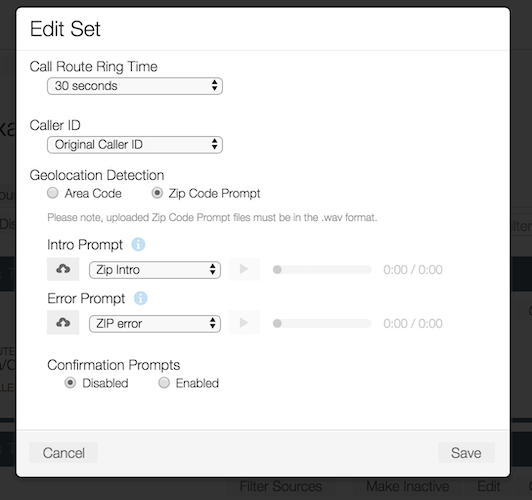 One dealer with 27 locations started using DialogTech's analytics and routing and increased answer rates on service and parts calls by 50%. Their service department, which takes 1,000 calls daily, saw a 10% increase in monthly revenue from callers.
In another example, a large retail brand uses the call channel to support its online store. If a consumer is shopping on the retailer's site, begins the checkout process, but calls the retailer's contact center before finalizing a purchase, the retailer uses DialogTech to route that caller directly to a live agent to assist. By bypassing the standard IVR and call queues, these callers receive the immediate assistance they need to complete the purchase.
4. Answer caller questions on your site to increase visits and conversions
Calls provide marketers access to the questions that consumers have — in their own words — for each of your products and services at each stage of the customer journey. They reveal the answers your business gave to those questions and whether it helped win or lose the customer. By optimizing post-click landing page or website content for the important questions callers ask — and the answers that won their business — you can show up for those search queries that have real buying intent and better convert the consumers on your post-click page: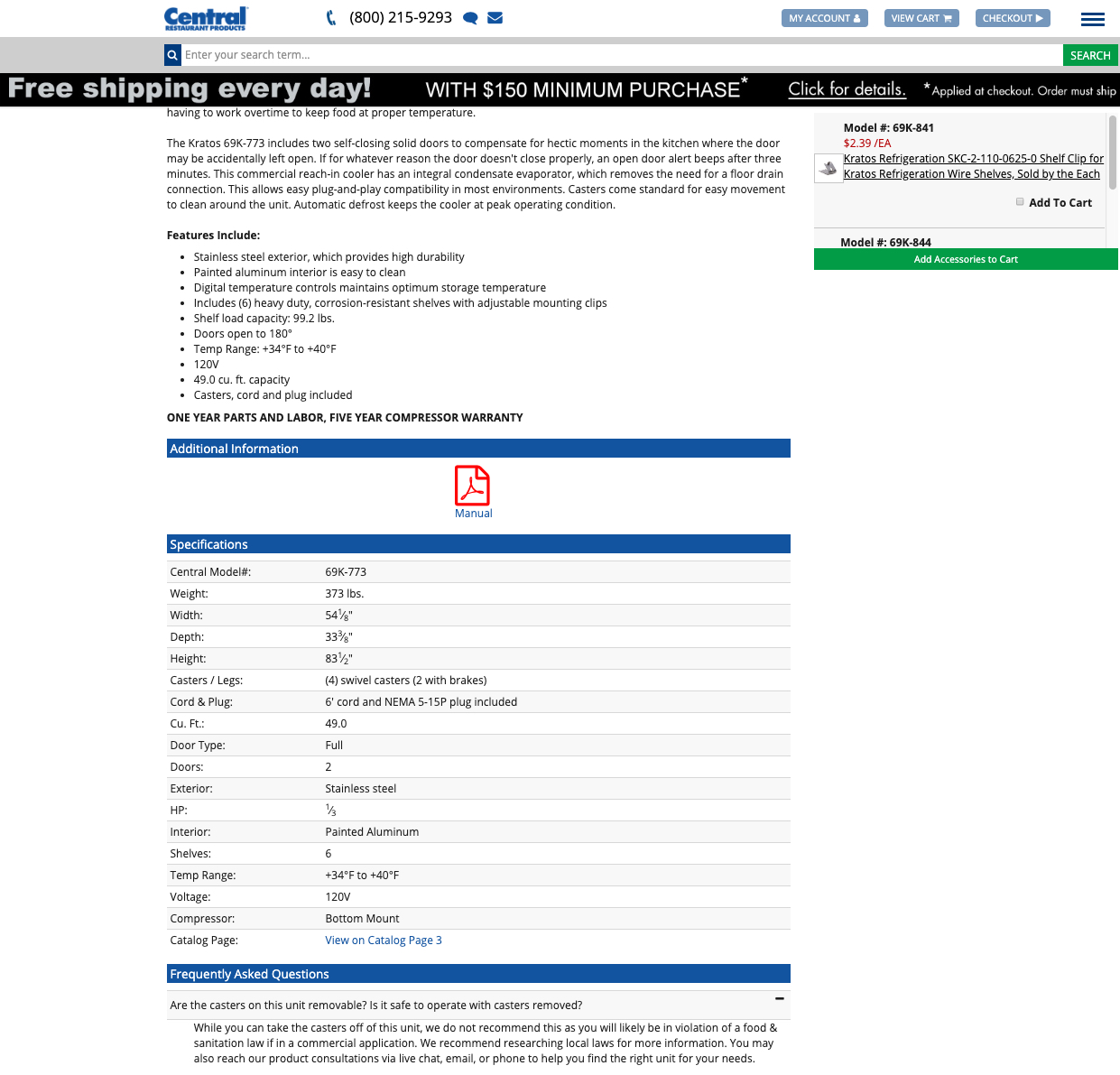 5. Use calls as coaching tools to improve call-to-sale conversion rates
Driving high-intent, high-value callers from search is only the first step. Your sales agents and locations still need to convert them for your ROI to increase. Marketers should analyze what happens on the calls they send to their call centers (and locations) to see why some convert and others don't. Are underperforming agents struggling to explain a new product? Do your more successful agents use terms like "easy installation" or "money-back guarantee" to increase conversion rates?
Call tracking and analytics solutions give marketers the answers. First, look at reports for each agent and location to see if callers are on hold too long, going to voicemail, or abandoning calls altogether.
Is your IVR too complicated?
Is the call center or location understaffed at key times?
Are you sending callers to locations when they are closed?
Next, use your call tracking and analytics solution to pull up a list of quality phone leads that did not convert to customers. Then pull up a list of ones that did convert. Share the recordings with locations and call center managers so they know what tactics are working best — and which avoid — and can train their staff to improve close rates.
6. Share call tracking data with the rest of your tech stack
You should also pass your call tracking and analytics data into Instapage and other digital marketing tools like Google Ads, Facebook Ads Manager, Adobe Experience Cloud, Salesforce, and more. Together, this online and call data will give you a complete understanding of which strategies, channels, ads, and webpage variations drive the most valuable conversions – both online and over the phone. That way, you can make smarter optimizations to increase revenue and decrease cost per acquisition.
One of North America's largest pest control companies uses search advertising to generate service appointments. Besides attributing conversions made online through their website, the company also passes call conversion data from DialogTech into Marin and Google Ads. By optimizing for the search ads, keywords, and days/times driving the most online requests and calls that converted to customers, the company drove a 12% increase in revenue from paid search spend.
To learn more about how to take a data-driven approach to calls from search, you can download The Search Marketer's Playbook for Offline Conversions.
Get an Instapage AMP Demo
See how quick and easy it is to create AMP
post-click pages in Instapage.