If you're an advertiser who wants to start capitalizing on the astronomical number of searches that take place on Google daily, and quickly earn the attention you need to grow your bottom line, there's no better way to start than by signing up to use Google Ads.
What is Google Ads?
Taken directly from our all-inclusive guide to Google Ads:
Google Ads is Google's online advertising program, the program allows you to create online ads to reach audiences that are interested in the products and services you offer. The Google Ads platform runs on pay-per-click (PPC) advertising, i.e. you have to pay every time a visitor clicks your ad.
But there are so many advertising mediums and methods out there. It can be hard to determine which is a good fit for your business. Influencers and salespeople are always telling you to invest in this and invest in that without actually explaining why.
10 Google Ads benefits
So you want to know the answer to "Why use Google Ads?"
There are plenty of big benefits. Here are just a few.
1. Google's massive reach
Today Google has elevated itself beyond a brand to a verb. The term "Google" is actually defined in the Merriam Webster Dictionary

And that's because, now, when people have a question that needs answering their first stop is usually Google.
Want to know if there's a solution for that back pain you've been having?
Google it.
Want to know if there's a tool that makes collaborating on a landing page easier?
Google it.
The search engine handles an obscene 2+ trillion searches like these per year. That's over 5 billion searches per day.
Among those are people looking for solutions to problems that your business can offer. If they've ever used the internet, chances are they've Googled the answer to something. And if you can help them find the answer, even if it's with an ad, they're more likely to choose you than your competitor.
2. Capabilities that allow for a range of targeting
With Google, there's something for every business and every prospect at every stage of the buyer's journey.
Bidding on broad keyword search terms like "accounting software" will show your ad to prospects at the earlier stages of the product research process and allow you to fill the top of your funnel with two really simple but powerful techniques:
Capture their information with your landing page and start sending them informative content that proves your authority.
If they don't convert, use retargeting software to draw them back until they do.
Another powerful technique for adding to your customer base is bidding on long-tail keyword search terms like "accounting software for freelance marketers." These generally are less expensive, and they're worth it for capturing the attention of people who are looking for exactly what you offer. Most times people who search long, specific strings of keywords have more intent. And intent is what makes the people you reach on Ads so valuable (more on that next.)
3. Harness intent
The biggest difference between the people you're reaching with Google Ads and the people you're reaching with other forms of advertising is their intent.
On social media, for example, people aren't looking to be advertised to. They're not looking for solutions to the issues that plague their everyday lives. They're looking for baby pictures and vacation photos and family updates. And when you advertise to someone who doesn't want to be advertised to, there's a better chance you get tuned out.
On the search network, though, you're not advertising to people who don't want to be advertised to. You're advertising to people who are looking for something specific, like the best landing page platform for agencies:

And when your ad appears, it helps them find the answer instead of interrupting their online browsing experience.
Some experts even consider search ads a form of inbound marketing as opposed to outbound advertising because they assist someone who has taken the first step to look for it. Using Ad, let prospects come to you, then help them find answers, and you'll position yourself to earn their business when they're ready to pull out their wallet.
4. Maintain full control of your campaigns at all times
You used to have to jump hurdles and bust through thick red tape to run ad campaigns that reach as many people as Ads can. Beginning and ending those campaigns would take time and resources that could be better used elsewhere.
On the other hand, buying ad space with software — also known as "programmatic advertising" — is easy for even one properly trained employee to do. With some education, they'll be able to start and stop campaigns, reach the right people for the right price, and do it all instantaneously. That way, you can allocate your resources and your time to other pressing initiatives.
5. Bring any budget to the table
Winning a click can cost some businesses hundreds of dollars. In the legal industry, there are long-tail keywords reaching around $1,000 per click: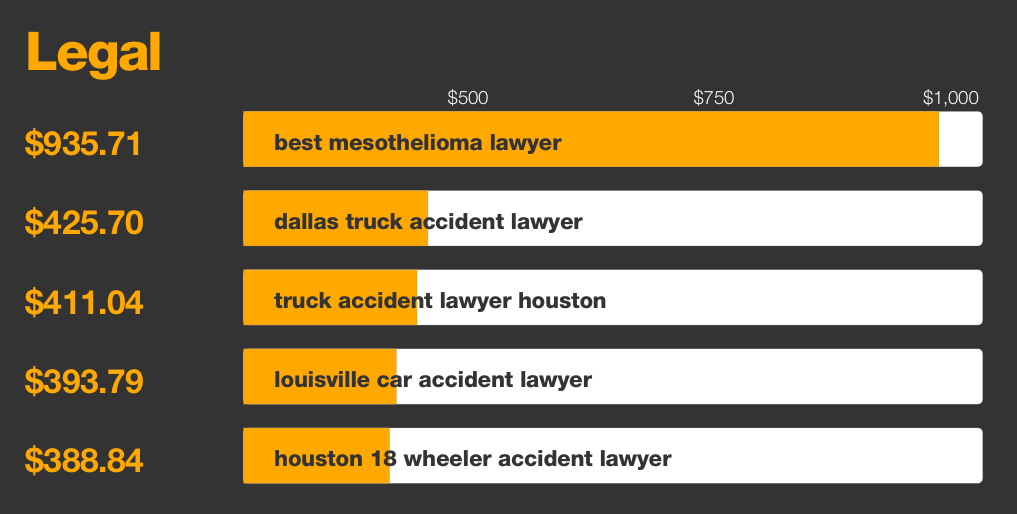 But most keywords don't cost so much. And even if they do, an advantage to using Ads is able to put constraints on your daily budget, maximum bids, and more. That way, you can be confident that even if you're not monitoring your account like a hawk, you'll never spend more than you want to. Says Dinesh Thakur:
You have full and thorough control over the budget of your Google Ads campaigns. Where you can control everything starting from the maximum bid on the ad to the daily budget of the campaign.

You can also decide how much you want to spend each month and adjust the budget based on the performance graph. When an ad is performing extremely well, you can increase the ad spend on it to increase the desired results. It works in reverse to decrease ad spend on an underperforming ad. But you can also stop it instantly before losing another dime.
6. See results laid out in an easy-to-understand format in Google Ads
You'll have no idea how to improve if you don't know what you're doing wrong. Some analytics dashboards make it near impossible to figure out what that is.
Luckily Google makes everything straightforward and easy to understand. Find out basic information like clicks, impressions, keywords budget, etc., or get even more granular with a Google Analytics integration. It allows you to see exactly how visitors are behaving on your website — right down to what they clicked, where they went next, and how long they're spending there. Analyzing your campaigns is a paramount for Google Ads optimization, using which, you'll be able to find the proper way of doing paid ads for your business.
7. Get quicker results than with SEO
Search engine optimization is still the backbone of most highly visited sites. The posts and pages you see on page one aren't just well-written with carefully researched keywords; they're also on sites that have amassed a large number of backlinks over time (still the number one ranking factor for web pages).
It can be years before you get to see one of your own pages in the coveted first position for a broad keyword search term. Some businesses will never see it.
When you get started with Google, though, your chance of leapfrogging all the organic results on a search engine results page grows exponentially, and it grows easier too. There's no endless search for links that will bump your page up just a little bit; there's no poring over keyword density on your landing page. Start running ads and boost the odds people see you first thing, on a page like this, where organic results don't even appear until below the fold: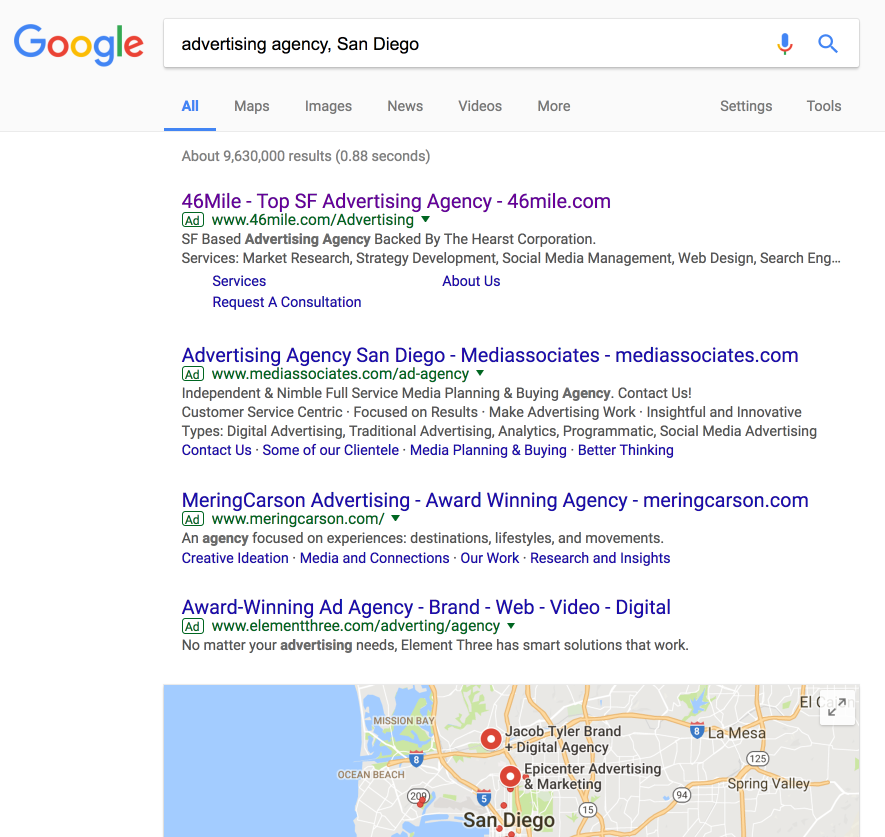 8. Build brand awareness
When people hear "Google Ads," they think mostly of driving traffic through pay-per-click ads on search engine results pages. But, Google's ads are more versatile than that. They can also be a great tool for building brand awareness — something that research shows is what the highest performing marketers prioritize: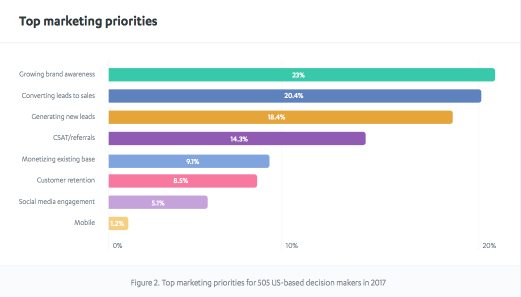 Before we explain, let's explore briefly what the word "brand" means. Decades ago, David Ogilvy offered maybe the best definition:
"The intangible sum of a product's attributes: its name, packaging, and price, its history, its reputation, and the way it's advertised."
Reinforcing your brand name, personality, reputation, etc., are all necessary to build trust with your visitors. The more you repeat these things consistently, the stronger your brand becomes, and the more trust you earn with prospects. And trust is what will ultimately earn you purchases and loyal customers.
Through the Ads search network, even if potential customers aren't clicking, they see your brand, your tagline, what you offer, and whatever else you use your copy and extensions to showcase. And through the Ads display network, you can even prioritize brand awareness by choosing to show your ad to more people. Than focus on clicks or conversions (more on bidding strategies in a bit.) Both strategies allow advertisers to reinforce their business's critical attributes, and in turn, strengthen its brand.
9. Earn more conversions
When Google decides which ads get seen by browsing prospects, they take landing page experience into account. According to a Google Ads support page:
landing page experience is Ads' measure of how well your website gives people who click your ads exactly what they're looking for--quickly and effortlessly. Your landing page is the URL people arrive at after they click your ad, and the experience you offer affects your Ad Rank and therefore your CPC and position in the ad auction. Your ads may show less often (or not at all) if they point to websites that offer a poor user experience.
Ad networks that don't prioritize landing page experience will let you direct internet users to any old page. It can be a homepage, an "about" page — and that will drain your budget quickly since visitors do not want to hunt for what you promised them in your ad.
But to even get your ads seen on Google's network, you'll need a highly persuasive landing page behind them. And when you build a highly persuasive landing page, you'll maximize ad spend because of two things in particular:
Message match
Focused design
Learn more about them in chapter 2 of the most comprehensive landing page guide on the web.
10. Maximize ROI with different bidding strategies
A persuasive landing page built to appease Google isn't the only thing that will maximize your advertising ROI. To help you reach specific marketing goals while draining your budget the least, the Ads team has created several different bidding strategies:
CPC bidding is what Google recommends if your goal is to drive website traffic.
CPM bidding, which stands for "cost per thousand viewable impressions," is what Google recommends if you're trying to build brand awareness. With this strategy, you choose an amount of money you're willing to pay for 1,000 people to see your advertisement in full view. It's only available on the Google Display Network, not the search network.
CPA bidding is what Google recommends advertisers use when they're focused on conversions like purchases or sign-ups.
This way, if your primary goal is to boost brand awareness. You'll be able to show your ads to more people than you would if Google was trying to serve your ads to only people that have the best chance of clicking or converting. And it works the other way around, too.
If your goal is an action further down the funnel like a click or a conversion. You can bid for that, and Google will cut down on spreading your ad to the masses and instead show it to people who will be more likely to convert.
Why use Google Ads?
If you were asking "Why to use Google Ads?" right now you should be asking "Why not?"
The network has something for businesses of all sizes with different budgets and different advertising goals. Different target audiences — most of whom have used Google at least once in their life to find the answer to a problem. So in a sea of seemingly endless searches — 2+ trillion per year — why wouldn't you drop a bucket in to see how much revenue you could bring up?
Additionally, Instapage has just added an all new Advertising Attribution Solution, where you can track the cost per visitor and cost per lead within Instapage, on each variation.

Start leapfrogging the organic search results and earn clicks and conversions with the help of Google Ads and a delightful landing page experience. Sign up for an Instapage 14-day free trial today.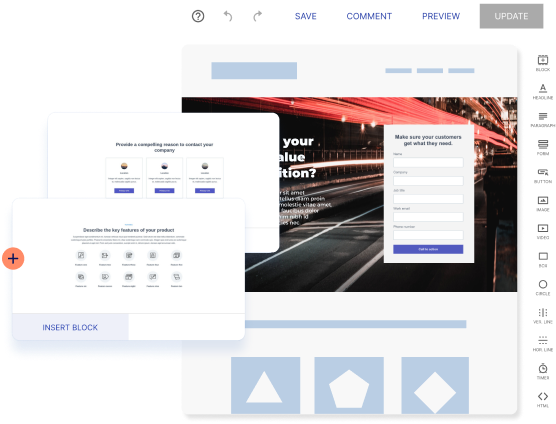 Try the world's most advanced landing page platform with a risk-free trial.