The Instapage story of growth and innovation continues, and the 2016 chapter has been an especially enjoyable one to "write."
In a year full of achievements, the biggest and best has been the growth of our team. At the start of 2016, there were 48 Instapage team members, now there are over 79 between our San Francisco, Poland, and Romania offices. The diversity of our team has increased as well. We now boast having talented individuals from India, China, Italy, Canada, Serbia, Pakistan, Ethiopia, and Guam.
Other of the more "high-profile" updates you may have noticed is we refined the design of our logo and enriched our color palette. We also revamped our entire user interface to reflect these stunning changes. These improvements, we feel, better reflect who we are as a brand: approachable, passionate, supportive and real.
Together, these efforts speak to our audience's level of intelligence and sophistication and better convey the power of our intuitive product. All of which empowers you to create professional, personalized post-click landing pages that maximize your advertising spend and lower the cost of customer acquisition.
Think it, then make it. So we did.
Our software already offers a clean and easy-to-navigate user interface with the ability to create pages quickly. But our product team knew there was more to us than just a powerful builder and a pretty interface. So they went to work and developed numerous updates to our builder, the analytics dashboard, integrations, and more.
The industry's most advanced analytics
We kicked off 2016 by introducing our new analytics dashboard. This January announcement showed marketers that you could now:
View conversion rates over time
See how many unique visitors your pages have received
Learn how your post-click landing pages are performing on desktop and mobile devices
Split your page traffic based on each variant's performance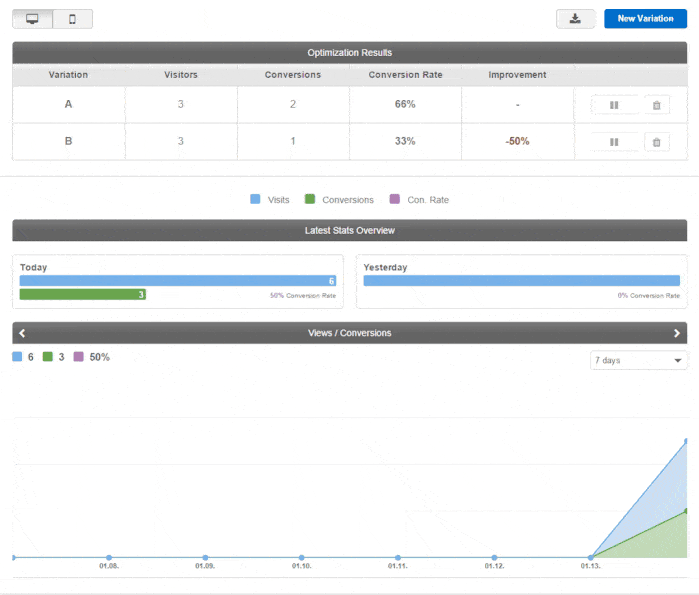 And since the announcement, it has proven to be the most advanced analytics in the industry.
Alignment, grouping & mobile regeneration
One of the biggest pieces of feedback we hear from marketers is their necessity to create and optimize post-click landing pages at scale, quickly. And with mobile usage dominating desktop, building mobile responsive pages is even more paramount. So we set out to solve those issues.
In August, we launched alignment, grouping, and mobile regeneration:
With these three new features you can create high-converting post-click landing pages quicker that automatically respond to mobile — helping you scale much faster than before.
This release significantly improves your ability to organize design elements and reduce the time to launch. No more hacky workarounds, browser extensions, or tedious eyeballing to precisely arrange all the elements on a page. Our alignment and grouping features enable you to select and move multiple page elements and resize them — while keeping their aspect ratio. Get the full details here.
No other post-click landing page platform can offer you this level of design precision.
Create pixel-perfect post-click landing pages with our CSS Editor
During UX research interviews, our product team repeatedly heard that Instapage power users would appreciate the ability to make fine adjustments to their post-click landing page elements. Specifically, to directly adjust CSS styling and make the final 1% of visual design tweaks necessary to make their post-click landing pages pixel-perfect.
Now, you can do exactly that.
In July, we announced our Inline Style Editor, which allows you to edit, create, and delete any CSS property. Now, Premium users can make fine-level adjustments that will more accurately reflect their brand (and their client's brand, too). The CSS editor is unique because it enables users to isolate CSS styling to individual page elements, as opposed to the entire page.
Start gaining a higher level of control of your post-click landing pages and ensure your pages are designed on brand and as perfect as you want it to be — down to the very last detail.
Advanced workspace permissions and privacy
The bigger your team and the more clients you have, the harder it can be to manage all of those workflows, and the permission levels you grant various team members. But it doesn't have to be so difficult and overwhelming.
With our October release of advanced workspace permissions and privacy, you gained more control over your team's permissions and publishing ability. These changes facilitate the use of workspaces by compartmentalizing team-based workspaces with increased privacy and access permissions:
Team Members, Domains, and Integrations are now connected to, and managed directly from individual workspaces.
Each workspace has a unique authorization token to allow secure publishing access to external content management systems (WordPress, Drupal, etc.).
These features allow for private, team-based workspaces and were designed to facilitate real-world workflows of teams and agencies with global offices.
This capability does not exist in the market today, making Instapage the only post-click landing page and conversion optimization solution for teams and marketing agencies.
Branded email notifications
You designed, optimized, and are continually split testing your client's post-click landing pages. But the client may not know how well the post-click landing pages you designed for them are converting. That is until you send them branded email lead notifications.
Developed in May, and built with agencies and consultants in mind, branded email notifications serve as a constant reminder to how well your post-click landing pages are performing. Every time your client receives a new lead email notification (branded with your agency's name and logo), they'll have a positive association with you.
Take more credit for each conversion you help your clients earn with our branded email notifications:
SSL certificates for post-click landing pages
A lot goes into creating an optimized post-click landing page to get that coveted conversion. Sometimes the last missing piece is to guarantee your prospects that their information is 100% protected and secure.
To help round out 2016, we began offering SSL certificates in December to post-click landing pages published to any custom domain. The new SSL feature enables customers to secure all interactions on their post-click landing pages, thereby complying with security policies such as PCI-DSS and HIPAA, improving their customer experience, and helping increase conversions. This means any personally identifiable information that is transferred via a form will be encrypted.
To start providing an even better post-click landing page experience for your visitors, secure your post-click landing pages with SSL.
Zapier integration
With so many business applications available today, it's important to be able to integrate with your client's preferred software. To do that, a central "hub" makes this easier, such as Zapier. Starting in June, Instapage now integrates with Zapier allowing marketers to set up "Zaps" and integrate with over 750 business applications.
Zapier is essentially the "if this happens, then do that" for business applications based on triggers and actions. For example:
Trigger: For every new lead your post-click landing pages receive
Action 1: Have Salesforce create a record with that prospect's email
Action 2: Add the prospect's email to your list in MailChimp
Unleash the power of your post-click landing pages and integrate with Zapier because it will help you save time and money — allowing you to focus on more important tasks (like generating traffic and A/B testing)!
Custom fonts integration
When you create a post-click landing page, you want it to match your brand (or your client's) as much as possible. That includes colors, imagery, tone, typography, etc. You shouldn't have to compromise on your font, or your client's font. Fortunately, in March, we launched our custom fonts integration with Google Fonts (gif 1 below) and Adobe Typekit (gif 2 below).
You don't have to settle anymore. Now you can create on-brand post-click landing pages for you and your clients with a few clicks. With our custom fonts integration you'll get fonts that conform to your needs, not the other way around:

Bigstock integration
Sometimes you may not have the design resources to create a perfect illustration. Other times an illustration doesn't match up with your post-click landing page's offer. That's when a stock photo is the best option, but not just any stock photo. I'm talking about Bigstock's photo database.
Starting in February, Instapage began integrating with Bigstock providing you access to over 31 million high quality stock photos. This photo database can help make your post-click landing pages look even more professional and increase your conversion rates:
We are the stories we tell
We see a lot of companies exceed their campaign goals with the Instapage platform because of our intuitive builder, advanced A/B testing capabilities, and rich integrations ecosystem. Autopilot may understand this better than anyone because once they sent all of their paid advertising to a keyword, message-matched post-click landing page created on Instapage, they saw these results:
254% increase in free trial conversions
3.67% to 13% conversion improvement
50% cut in cost per conversion
Watch the full story here, as told by Autopilot's Director of Marketing, Anne Fleshman, and Chief Marketing Officer, Guy Marion:
The Autopilot case study was the culmination of a series of things the Instapage marketing team produced in 2016. We launched a variety of new tools to help you become a better marketer, starting with the announcement of the Instapage Marketing Academy in April, complete with a five-part video series on post-click landing page optimization best practices. And in June, we hosted a group of digital marketing influencers to discuss the latest industry trends:
That was just the beginning.
Advertising Influencer's podcast
We launched our Advertising Influencer's Podcast featuring some of Silicon Valley's leading companies, including CMOs, VPs and venture capitalists. With episodes ranging from advertising personalization, sequential advertising, post-acquisition personalization, and more; there's sure to be something for every brand advertising online.
Advertising Personalization webinar
One of the biggest problems with online ads and post-click landing pages is that brands don't infuse personalization into the conversion process. Aside from our weekly "Mastering Instapage" product demo webinar, we introduced an Advertising Personalization webinar in August. In it, our Lead Marketing Educator walks attendees through exactly how to use personalization in your ads and post-click landing pages to get higher conversion rates and more engagement.
Marketing dictionary
After talking with countless customers and monitoring the industry; we quickly noticed the need for a marketing dictionary to explain a variety of marketing and post-click landing page related terms. So in June we introduced the industry's most comprehensive marketing dictionary. We've since added to it — which brings the dictionary total to more than 230 marketing and post-click landing page related terms:

New: Advertising Personalization Classification System
Personalized advertising is not just the future, it's right now and marketers who fail to recognize that will struggle to find success. But with consumers exposed to an abundance of content and ad messages every single day, how do they devote their attention to ads that are of value to them? And how can brands continue to present ad messages that speak our language?
Introducing the Advertising Classification System.
There are six levels to the system with increased targeting and advertising personalization at each level. For more details, go here.
Comprehensive educational resources
2015 saw our marketing team produce our first series of educational guides — starting with defining each post-click landing page type. This year, we continued the series, adding these five to our library:
Our full list of educational resources can be found in the website footer along with our blog, demo webinar, and marketing dictionary: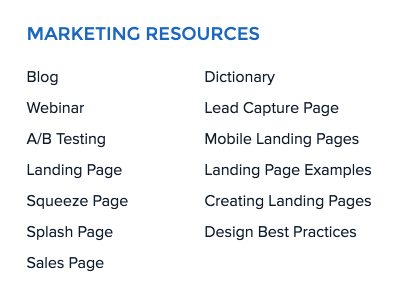 We then supplemented our written guides with this 9-part video course in July. In the videos, our Marketing Evangelist, Jamarie, taught the basics of post-click landing page structure and how the different types of post-click landing pages work:
All of our videos are located on the Instapage YouTube channel and encourage you to subscribe so you'll be the first to know when a new video is available.
It's all about you
One of the biggest reasons for our success is our support team. Without them, Instapage would not be the same. They constantly look for new ways to improve and provide a better user experience for customers. For example, more than half of our support team is now Google Ads certified. Not only that, the customer support team:
Began 2016 with 10 support agents and grew to 18
Solved 63,142 total support requests
Fielded 18,585 live chats
Responded to 14,054 requests within 2 hours
Averaged a first reply time of 3.3 hours, Monday through Friday
Received a 98% satisfaction rating on live chat
Those statistics are significant considering live chat now accounts for over 30% of total interactions (compared to phone and email). Go ahead and put them to the test… If you're experiencing any issues with your post-click landing pages, please reach out to our customer support team here.
What others are saying…
Everything we do, we do it for you. We listen to customers, monitor the competitive landscape, and pay attention to marketing trends. So it's nice to get some industry recognition from time to time, like we did with G2 Crowd being named #11 on this list of business software products and a "Leader" in conversion rate optimization with the highest overall satisfaction score: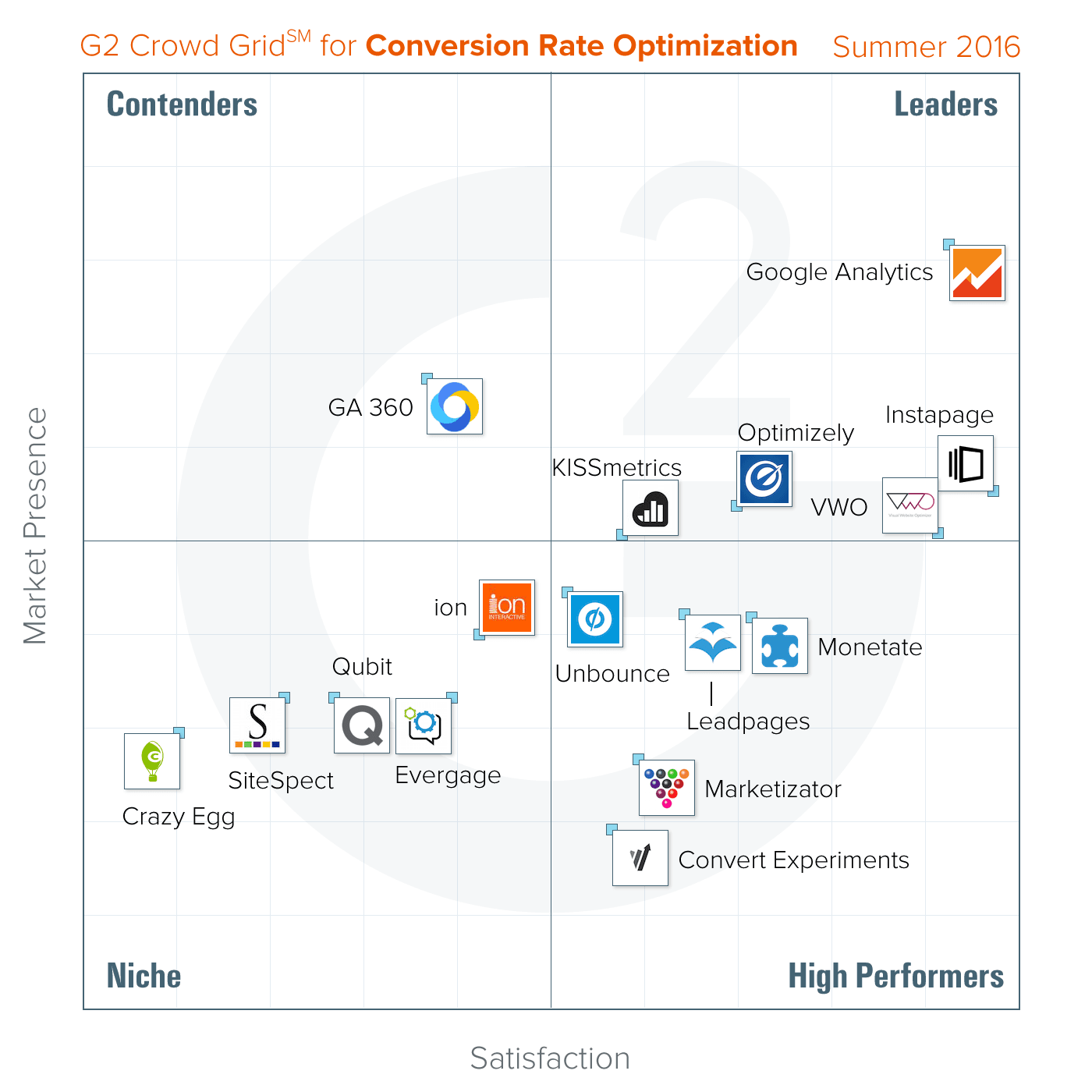 Instapage fun
In May, we announced the Instapage Employee Exchange program. When an employee reaches their one year anniversary with Instapage, he or she has the choice to work for 2 weeks in a different office location. This allows our team to collaborate even more while experiencing a different culture.
We're proud of the exchange program considering our offices are located in San Francisco (headquarters), Timișoara, Romania, and Białystok, Poland. As of this article's publishing in December, 22 employees have participated.
Our global team is extremely dedicated to providing you with the best post-click landing page platform in the world. But that doesn't stop us from having fun along the way. From white water rafting, scavenger hunts, ropes courses, bubble soccer, hiking, ping pong tournaments, wine competitions, and Halloween costume contests; we certainly know how to let loose.
For more on our fun office outings, take a look at each team below:
San Francisco office celebrates in South Lake Tahoe
Our San Francisco office is where the product, marketing, and human resources teams are located. We've added a bunch of extremely talented individuals to our headquarters and are looking to add more in 2017. As our 2016 product announcements indicate, we've been very busy, so we like to celebrate with a variety of activities.
The highlight of the fun came when we spent a weekend in July in beautiful South Lake Tahoe. While there, we celebrated some recent product launches by going to the lake, enjoying a few extravagant dinners, and some breathtaking hikes overlooking the lake: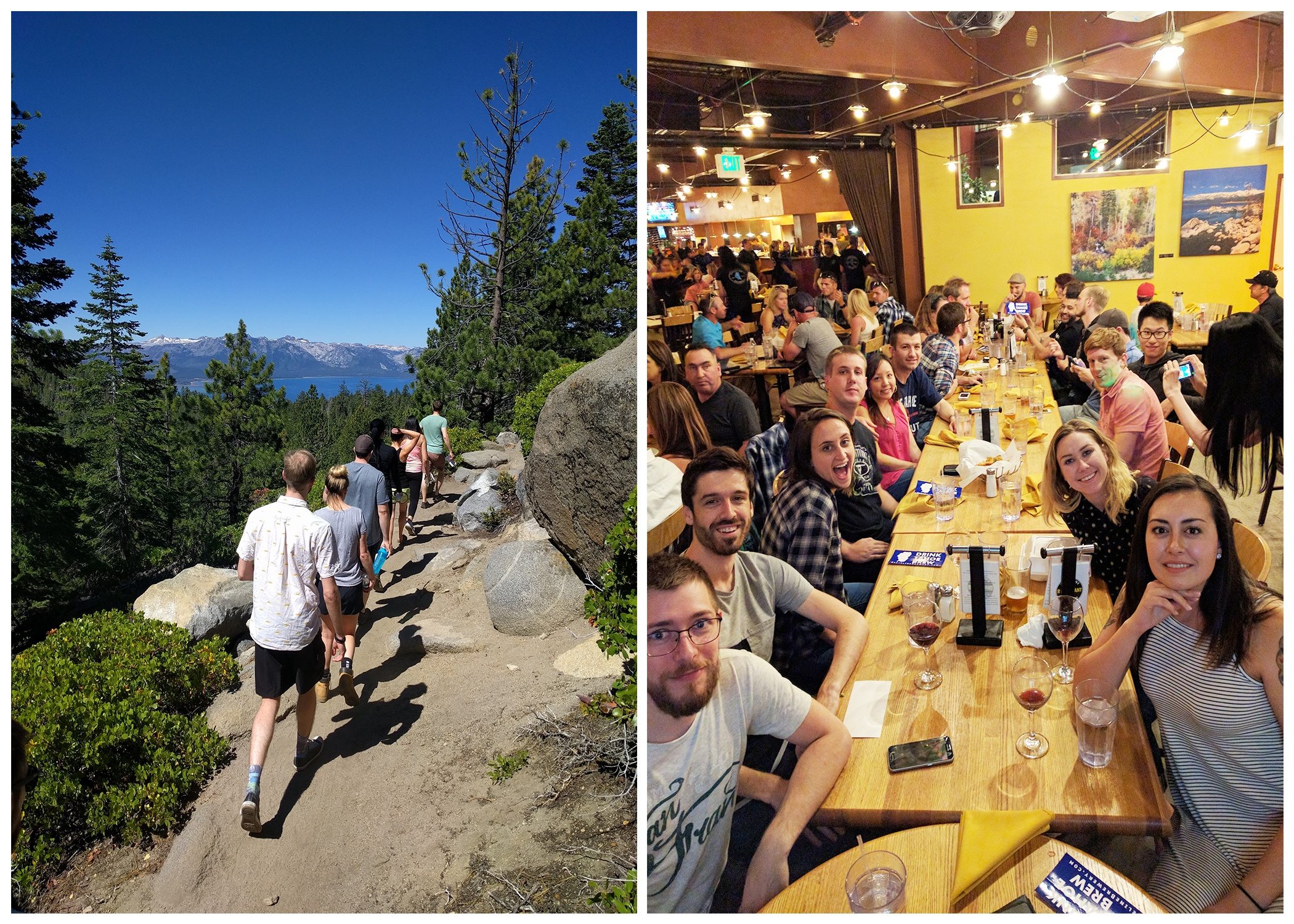 Poland office plays on the ropes course
Our Białystok, Poland team is home to our engineers, quality assurance, graphic design, and human resources teams. With such an ambitious department and company goals to accomplish, they deserve to have all the fun they can.
Here is a small sample of our Poland team after enjoying an afternoon on the ropes course: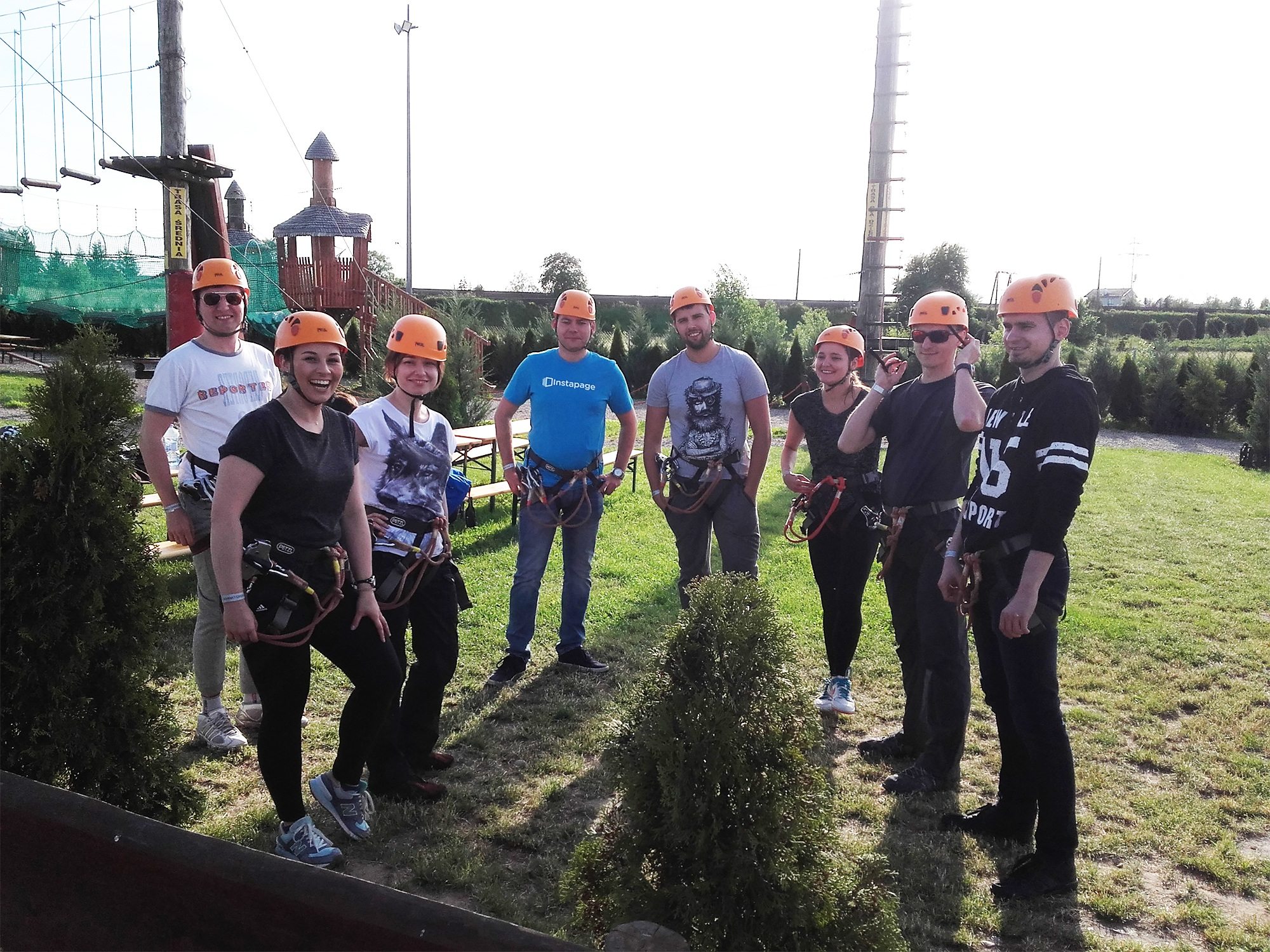 Romania office hikes through the Nera Gorges
Our Timișoara, Romania office is home to our customer support team, graphic designers, and operations. And with every new customer we earn and each new product release, our Romanian team is called upon to help users get acquainted with a new feature and troubleshoot any issues that arise. But man, do they know how to have fun, like when they went hiking up the mountain to go white water rafting through the Nera Gorges: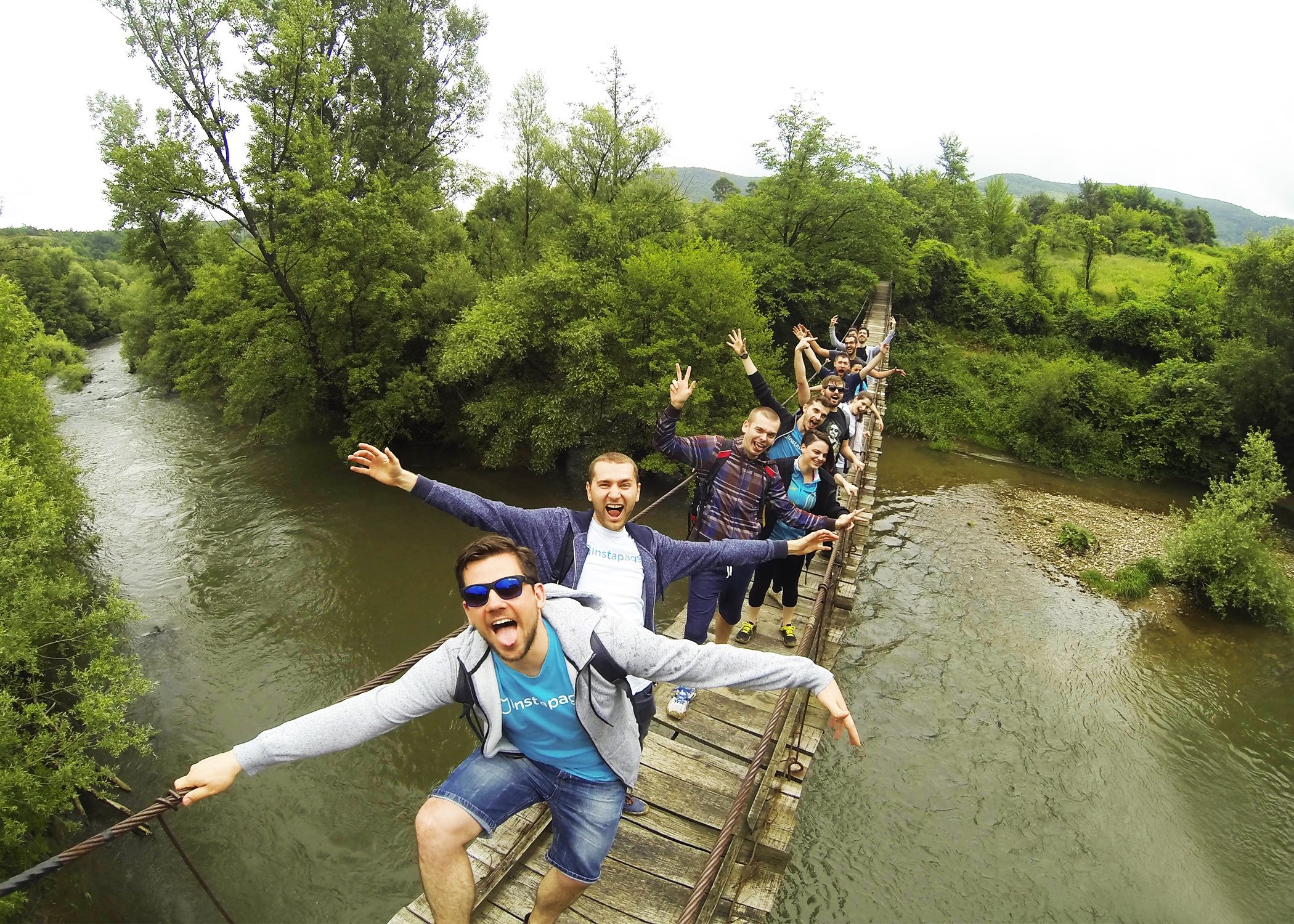 And to top it all off, here are the Poland and Romanian teams saying hello during a recent project in our Białystok office: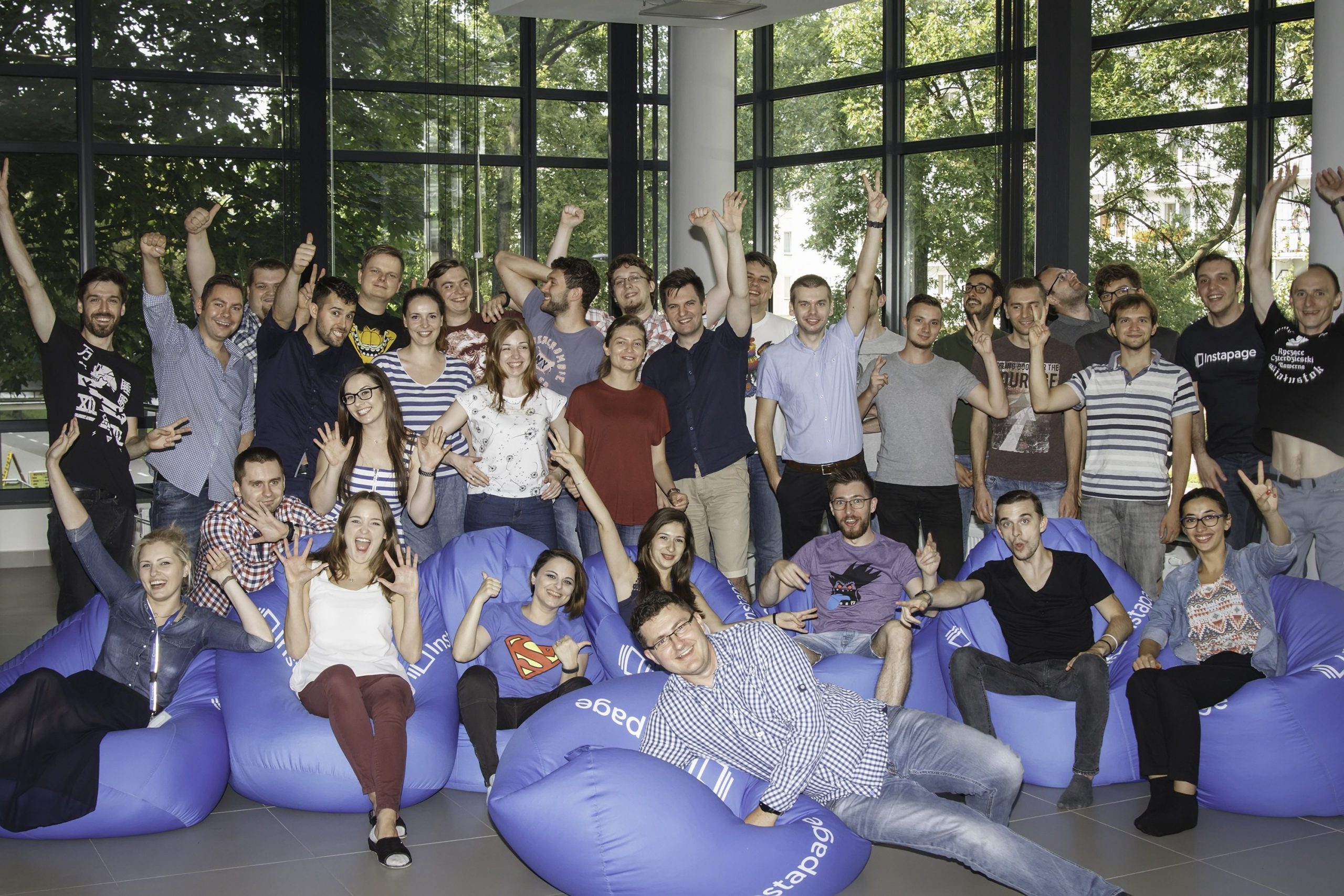 Want to be part of all the fun and help us continue to build an awesome product? We're currently hiring in all three offices for a variety of positions!
Stay tuned for more in 2017!
2016 was an incredible year for us. We've established some great momentum that is carrying us into 2017. We have no intention of slowing down, though.
We have many more announcements to come that will optimize your paid advertising campaigns and improve your team's workflow. On behalf of everyone at Instapage, thank you for reading and being a part of the Instapage story. Without you, none of this is possible.
To even higher conversions in 2017,
Tyson Quick – Instapage Founder & CEO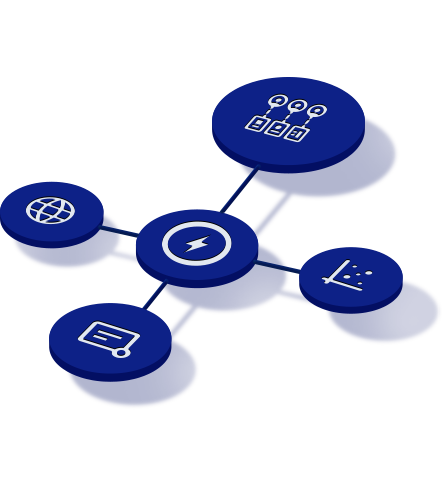 See the Instapage Enterprise Plan in Action.
Demo includes AdMap™, Personalization, AMP,
Global Blocks, heatmaps & more.