Not all landing pages are created equal—or created for the same purpose.
Whether your landing page "goal" is to get ebook downloads, free trial users, or visitors to put down $1 reservations, its success hinges on one metric—the conversion rate.
This metric varies drastically between industries because users respond differently to offers depending on the industry. Higher-priced offers have lower conversion rates because buyers are more cautious about making purchasing decisions that involve a more significant investment and commitment.
For example, the average conversion rate for the real estate industry is generally lower than the average conversion rate for the DTC industry because buying a house is a much more significant commitment than buying a toothbrush.
So knowing your landing page conversion rate (CVR) is not enough to understand how you measure up against the competition in your market.
To really assess if your page is doing well, you need to know the average CVR for your industry.
Landing page conversion rate averages across industries
According to recent data, the average conversion rate for Google Ads (search network) is 4.45%, while the average conversion rate for Facebook Ads is 7.44% across 11 industries.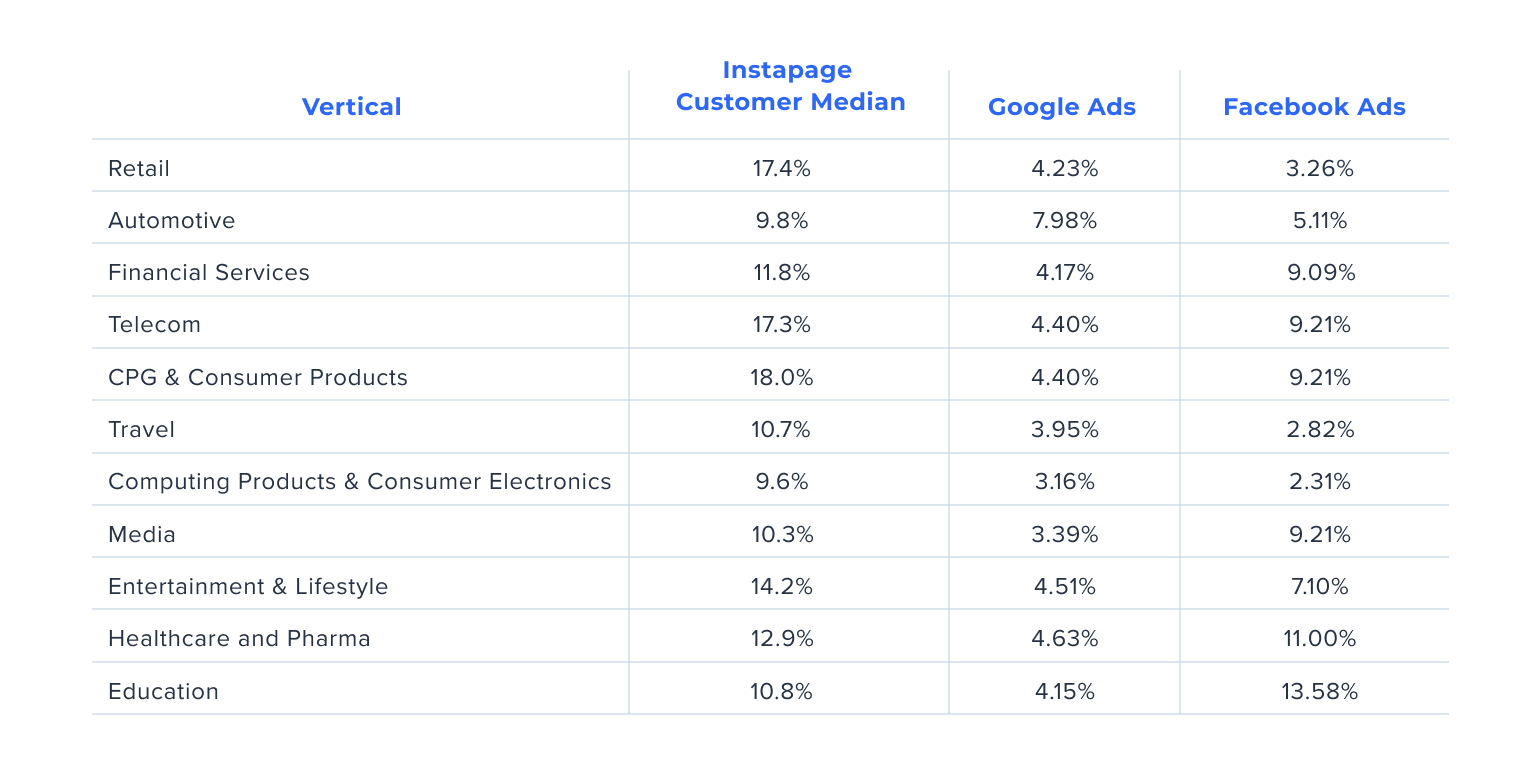 The average landing page conversion rate for Instapage customers is 12.97%—which is 292% higher than Google and 174% higher than the Facebook average.
So, what sets landing pages created with Instapage apart from the competition? Let's find out.
Featured below are Instapage client landing page examples for your campaign inspiration that have higher CVRs than their industry averages. We'll examine the pages for what they're doing right in terms of convers
The Instapage landing page examples breakdown
Plymouth Rock Assurance (CVR: 17.97%)
Plymouth Rock Assurance is "more than just insurance." The company offers users affordable rates on car insurance and home insurance.
Their "Get a quote" landing page has a 17.97% conversion rate, which is much higher than the industry average for both Google and Facebook Ads.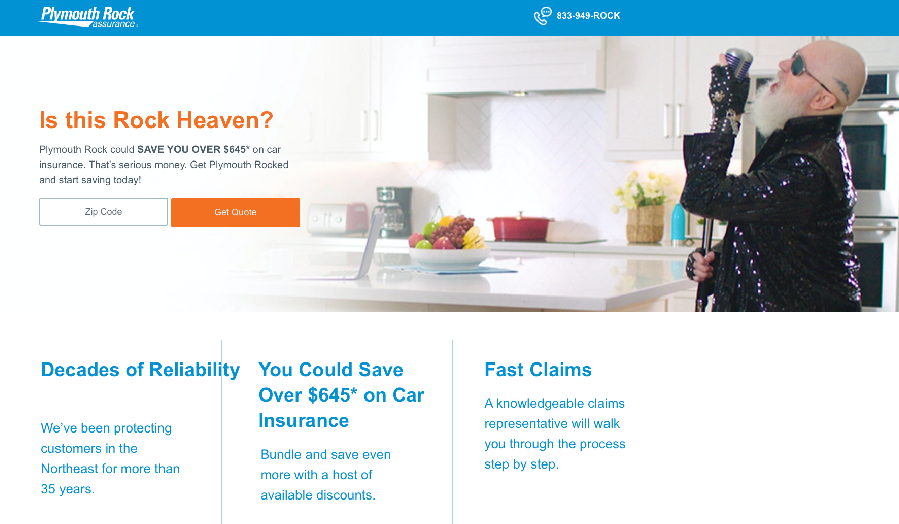 Right off the bat, the quirky headline grabs user attention and solidifies the fun messaging in their mind
The hero image matches the creative and funny brand messaging
The offer includes an exact dollar value, "Save over $645 on car insurance," which persuades more visitors to get a quote by entering their ZIP code
Separate sections showcase the benefits of using Plymouth Rock Assurance with credibility statements, such as "We've been protecting customers in the Northeast for more than 35 years"
The phone number on the landing page also establishes trust, which is paramount for an insurance brand
SVGator (CVR: 44.5%)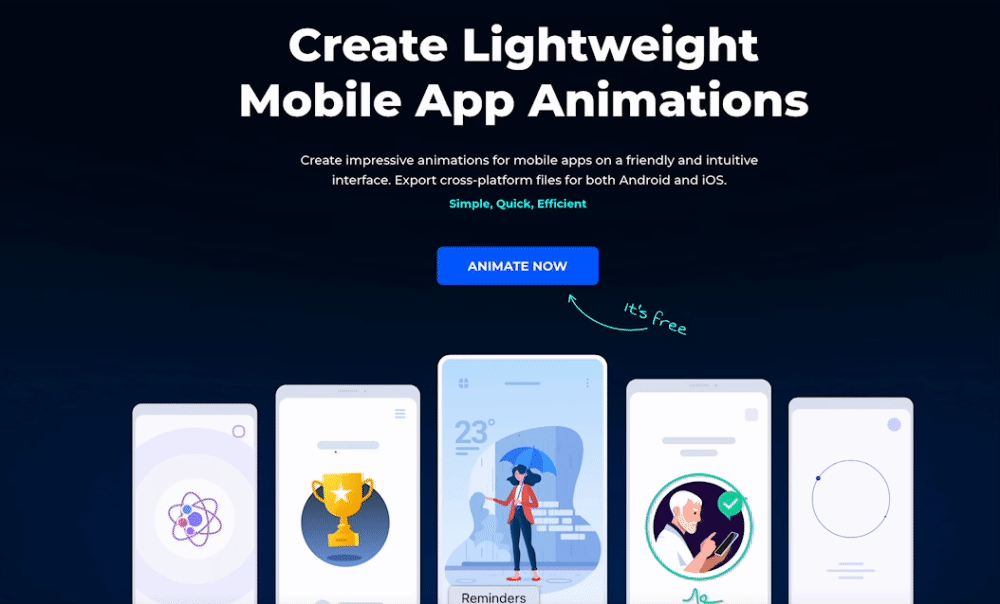 SVGator is the ultimate SVG animation generator. The platform provides users with a thoughtfully designed, intuitive interface.
The SVGator free account landing page gets visitors to sign up and try the tool for free. Here's everything that works for the page.
The headline focuses on the platform's ultimate value proposition, and it helps users visualize what they can do with the interface
A visual cue points to the CTA button to get visitors to pay attention to it
Animated images showcase what the user can achieve with their animations when they use the tool
The "How to create animations" section gives users step-by-step instructions on what to do with the interface
The FAQ section addresses any potential user questions and objections to convince them to sign up for the free account
Oxford University Press (CVR: 33%)
The Oxford University Press' Oxford Languages landing page promotes a free report on "the language of vaccines."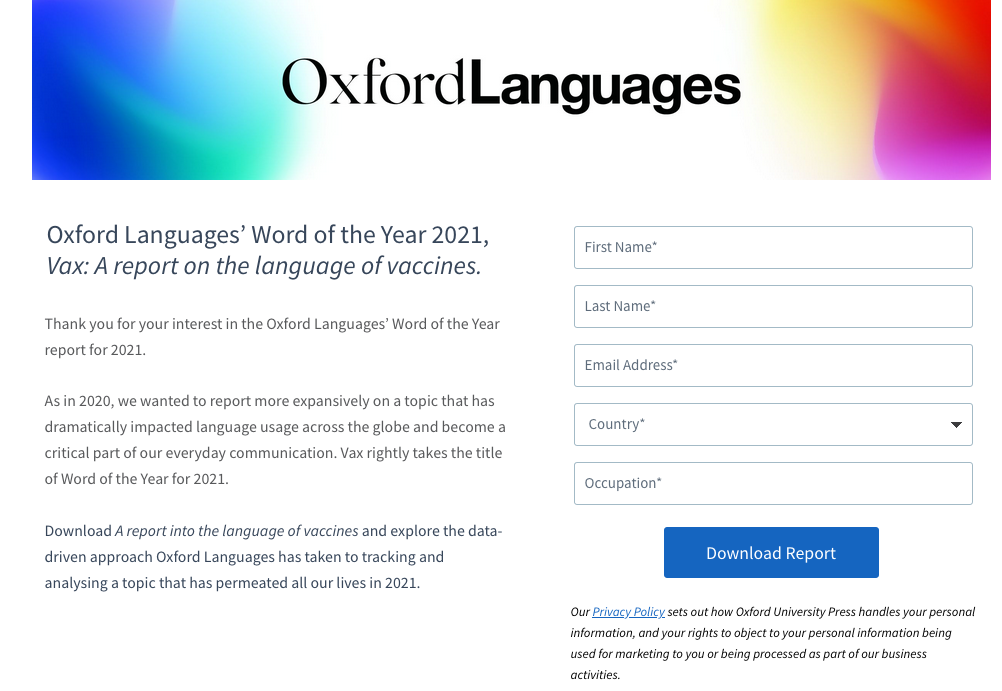 Here's everything the page does right.
The page is minimalistic and straightforward. It features a snippet of what visitors will learn from downloading the report.
The form is easy to fill out, with an action-oriented "Download Report" CTA button under it.
The link to the privacy policy on the page helps visitors see how Oxford University Press will handle the data they've entered on the form.
Using landing page optimization best practices such as a benefit-driven headline and user-centric copy helps improve the likelihood of getting higher landing page conversion rates. However, you still need the right platform to help you implement and monitor everything. Instapage gives you this edge.
How Instapage can help get a high conversion rate
Instapage includes six primary products and hundreds of features built specifically to help our clients increase landing page conversion rates and their ROAS.
Create landing pages with a better builder
Instapage allows you to create relevant, on-brand, mobile-optimized landing pages without a developer.
With the Instapage builder, you get:
An intuitive and powerful user interface
The only landing page builder with built-in collaboration
Scalability with Instablocks® and global blocks
Over 500+ layouts built and optimized for conversion
Near-instant page loads, with or without AMP
1:1 ad-to-page personalization
You can now dynamically deliver relevant landing page experiences to every audience segment, which increases conversion rates.
Create as many unique audience experiences as you want for each landing page
Test audience experiences and variations to optimize for conversions
Dynamically pair visitor intent to a relevant landing page for each ad
Match copy to visitor-level data like keywords, firmographics, and demographics
Effortlessly connect your ads with landing pages using AdMap®
Instapage doesn't only help you create better-performing landing pages. You can also visualize your ad campaigns and effortlessly connect ads to relevant landing pages all in one place with AdMap®.
Evaluate the post-click stage for ad-to-page relevancy
Intuitively connect your ads to relevant landing pages
Publish real-time updates to live, connected experiences to match ad changes
Automatically push connection updates between Instapage and ad platforms
Accelerate page speed with the Thor Render Engine® and AMP
Get the opportunity to capture visitor attention right away with responsive, lightning-fast landing pages
Enhance the mobile browsing experience with speedy AMP landing pages
Deliver landing pages that load three times faster with the Thor Render Engine®
Improve Quality Scores, increase conversions, and decrease CPA with responsive pages
Perform seamless experiments
You can now take full ownership of your landing page experiences by optimizing conversion rates with precise A/B testing, analytic insights, and personalization.
With Instapage, you can consistently test, learn, and improve.
Test without compromise with server-side experimentation
Understand visitor behavior with heatmaps
Choose whether to run A/B or multivariate tests
Gain real-time insights with robust analytics dashboards
Easily send data to the rest of your marketing stack
When you sign up for Instapage, you get access to the most powerful way to create, personalize, and optimize
landing pages at scale. Want to try Instapage? Sign up for the demo here
When you sign up for Instapage, you get access to the most powerful way to create, personalize, and optimize landing pages at scale.
Want to try Instapage? Sign up for the demo here.