Too often, personalization is viewed as a technique for a specific tactic at a specific part of the funnel. For example: One business might rely heavily on personalized email during nurture, while another may prefer Facebook retargeting in the purchase stage.
In reality, personalization can and should be used throughout the entire customer journey, across platforms and channels. Research shows that personalizing across channels specifically can boost consumer spending up to 500%. From marketers big and small, here are some great use cases for personalization throughout the funnel.
1. Personalization use cases in demand generation
Before you can generate leads and nurture them to sale, you must first generate demand for your product or service. You have to get prospects to your web properties: site, social media, blog, post-click landing pages, etc. And, while once, companies approached demand generation by attempting to fill their funnel with the most prospects possible, today, that's not the case.
On the SnapApp blog, Justina Logozzo elaborates:
It's no longer about getting the most leads into the pipeline, it's about getting the right leads into the pipeline. It's not just the shift toward better leads that's shaping demand generation efforts today, either. Modern prospects are expecting more from the brands vying for their attention, forcing marketers to rethink how they go about raising awareness and demonstrating value.
Today's marketers are putting more of a priority on quality over quantity. So how are they demonstrating value with personalization?
Improving message match
When it comes to personalization, there are few things worse than advertising an offer and making your prospects hunt for it on the following page. Still, it's something many advertisers make their prospects do, and it costs them.
When you, as an advertiser, offer a product in an ad, you're setting the visitor's expectation. Here's an example from Pardot: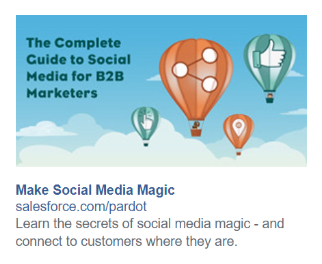 On the next page, we expect to see the complete guide to social media for B2B marketers. What we don't expect is to be driven to a resources page, or the homepage, where we have to hunt for this resource. We should land on a page where we are delivered exactly and only what we were offered in the ad. Does this Pardot post-click landing page accomplish that?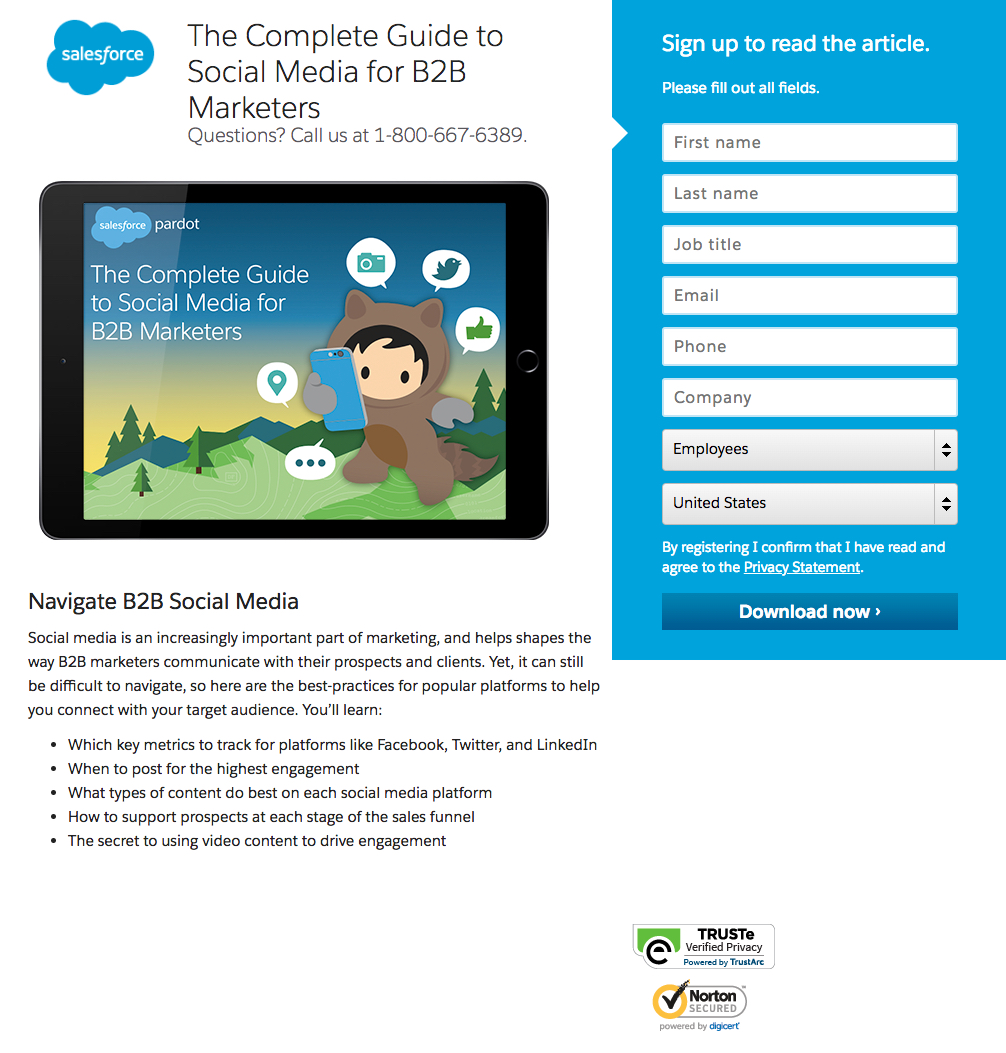 Yes, it does, with certain specific properties that reinforce message match:
Headline: The post-click landing page headline matches the headline in the ad's featured image.
Logo: The logo on this post-click landing page matches the brand name in the ad's URL. When a visitor arrives, they immediately know it's a Salesforce page when they see the logo in the upper-left.
Brand colors: The colors in the ad match the colors on the page. This subtle cue reinforces user trust that they're in the correct place.
Ebook image on the ipad: While this image could be better by matching the ad identically, it still does its job of matching the message of the ad by using the same copy as the post-click landing page.
Together, these elements contribute to an optimal post-click landing page experience, which Google uses in its measure of Quality Score. And, higher quality score has been correlated with better campaign performance.
Also contributing to that Quality Score is a 1:1 conversion ratio, which refers to a page's number of offers compared to conversion goals. You'll see, above, that Salesforce only offers one asset on its post-click landing page and only one conversion goal. This keeps the visitor focused on the offer, increasing the likelihood they convert.
On the other hand, if this ad directed visitors to a homepage or a resources page where they had to search for the ebook, the likelihood of a download is far lower. That's why every promotion, to be truly personalized, needs its own page. The rewards are not only a better user experience but in turn, better treatment from Google, which greatly contributes to how often your ad is seen.
Homepage personalization
It's 2019, and some websites still make visitors choose their country from a dropdown before they begin shopping. Some retailers still make visitors choose the gender they're shopping for. With all the personal information available to businesses today, it's unacceptable.
Steps like these only add friction when other websites can get visitors to what they're looking for quickly and easily. Consider Amazon, which, if you navigate to its homepage, will display the products you've recently browsed, previously ordered, and recommendations for others based on those.
Others, like Optimizely, have followed a similar approach after facing problems with traditional lead generation. Digital Marketing Manager, Tekashi Young, says:
Although many visitors would create accounts, lots of them were unqualified, with incomplete lead data. This created problems further down the sales funnel, like issues with lead scoring and a low conversion rate to first conversations and sales opportunities. This meant our marketing spend on ads and other campaigns were driving visitors to become leads that weren't good candidates to become paying customers. Like any business, we want to improve the quality of our leads to maximize the impact of our marketing spend.
So, what did they do? They created 26 versions of their website for different audiences. According to Young, those audiences were:
Named accounts: Current and prospective customers that are part of a target account list.
Industries: Visitors from target verticals which have strong use cases for A/B testing and personalization.
Geography: North American vs. European vs. APAC and so on.
Customers: Visitors who are known Optimizely customers using a variety of current and legacy plans.
Engaged visitors: Return visitors who have engaged with one or more of Optimizely's digital properties in the past (blog, website, community, knowledge base, etc.).
Created to reinforce their account-based marketing strategy, these two for Adidas and Microsoft target employees of those companies alone: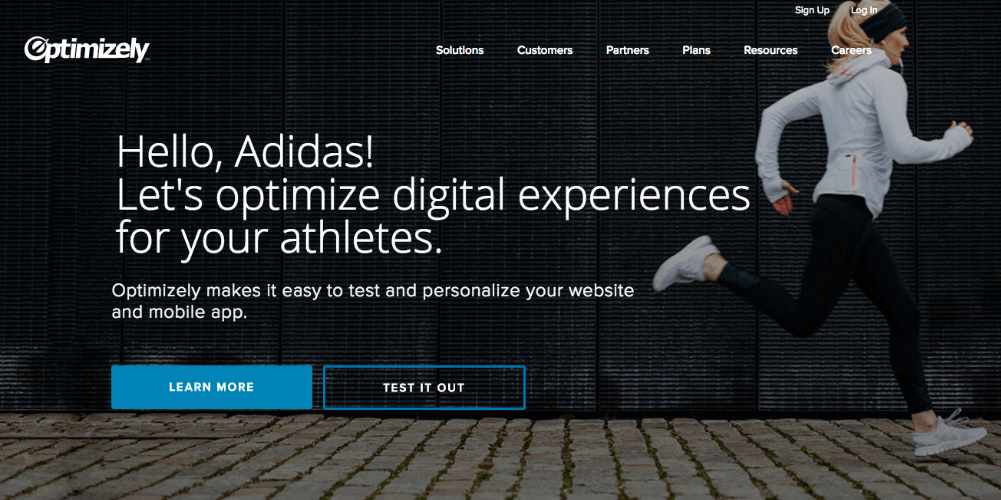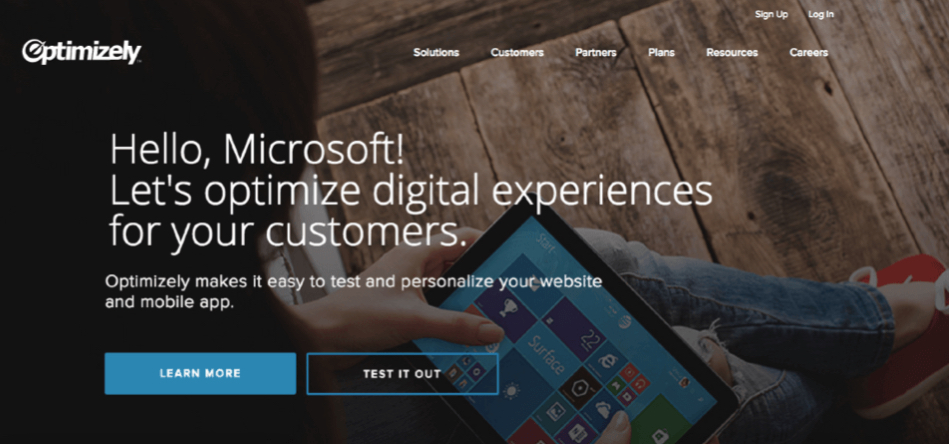 This one below is displayed to visitors from the travel industry: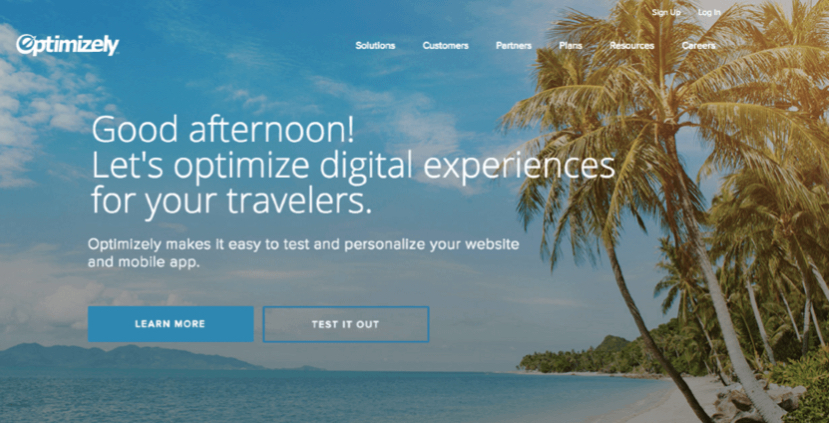 You might say this is only vanity personalization, like a name in an email. However, based on the results, it clearly had some positive effect. After they implemented this strategy, Optimizely saw:
1.5% increase in engagement
113% increase in conversions to their Solutions page
117% increase in conversions to the account creation process
While name in email may not have a similar effect, real-time personalization is seen so little on homepages that, likely, it still impresses visitors. In the future, that may not be the case.
Dynamic text replacement
As the number of devices continue to grow, the ways in which we use the internet grow with it. Today, offering solutions to customers isn't simply about content. Neil Patel elaborates:
Let's say someone is searching for kids basketball shoes.
Typically, if someone is at their house and typing in "Kids Basketball Shoes," it most likely means they're simply browsing around.
The language they're using is vague and general, which indicates that they're probably somewhere in the middle of the customer journey still. They're comparing brands, stores, or prices but not yet ready to pull the trigger.
However, what if you knew a little more about that person? What if they were searching for that on their mobile device, for example?
Such behavior may, Neil goes on to say, indicate the buyer is currently and actively shopping for shoes at brick and mortar stores. With dynamic text replacement, it's possible to cater to targets in both contexts with the same ads. That may look something like this: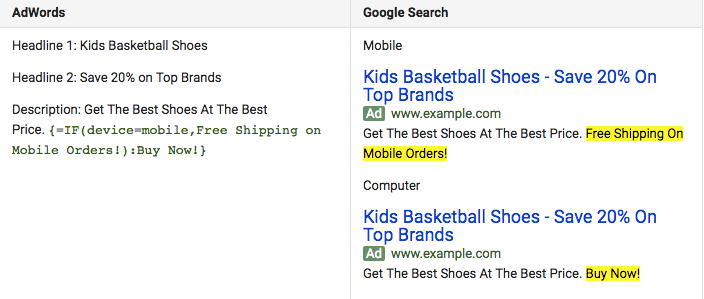 Here, if the user is on mobile, a discount for mobile orders may better entice them to click through and purchase. If that's not the case, the text may read simply "Buy Now."
Another variation of the ad might offer a discount for mobile users at a nearby location, under the assumption they're on the go, shopping currently. The possibilities are myriad for users of dynamic text replacement.
2. Personalization use cases in lead nurture
With so many stops in the buyer's journey, lead nurture has never been more difficult. Users will navigate the journey to sale on their time, in their own way, which makes catering to each seem an impossibility.
In this stage, it's crucial for marketing and sales to agree on the definition of qualified leads for both departments. And, arguably, the best way to qualify leads in stage is through…
Lead capture post-click landing pages
What makes lead capture post-click landing pages so valuable is that they can be used at all stages of the funnel — the top, middle, and bottom.
At the top, they offer light content in exchange for email to begin the nurturing process. At the bottom, they can earn the sale when combined with the click-through sales page. In the middle, though, is where they really shine, for one specific reason:
The lead capture form.
Lead capture forms are still one of, if not THE most popular way to collect information for personalization and qualification throughout the customer journey. They're added to, adjusted, and combined with gated content to give marketing teams more information on their prospects.
What kind of information they deliver is based on the definition of a qualified lead. What do you really need to know at each stage to determine whether your lead is likely to become a customer?
Traditionally, the smaller the form, the more likely your visitor is to complete it. So, identifying key pieces of information you need, and asking for them a little at a time, can inform your personalization strategies, and help you figure out how to target them next.
Dynamic emails
Email is still marketers' most valuable tool for nurture. However, a simple name in an email is no longer an effective method of personalization.
Though, when you consider how time-consuming it is for marketers to personalize email content, it becomes easy to see why name in email still the most-used email personalization tactic out there. In a blog post for Instapage, Kevin George offers some insight:
Let's say you have your email list segmented into 'x' number of email segments based on location. The number of email copy variation needed will be 'x.' If you further customize the copy as per the gender, the email template variation becomes '3x', i.e., 3 to the power of x (for male, female, and other responses). Factor in 4 different lifecycle stage and the variation becomes 43x. You can see this quickly becomes a time-consuming and unnecessary waste of resources.
Such an arduous process is exactly why dynamic email has become so popular throughout the industry. According to one survey, 65% of marketers rate dynamic email as their most valuable marketing tactic. Specifically, 60% say that contextual signals like location or weather are effective for driving action.
With data like that, it's easy to interpret that consumers aren't asking for much. They want recommendations that are relevant to very basic personal information, like location, gender, and weather.
Here's a great example from Nordstrom of what a weather-based recommendation combined with location may look like: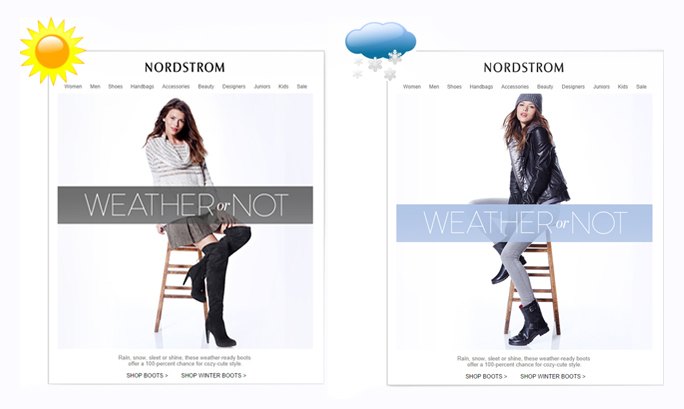 If the customer is located in an area with sun, they see the image on the left. If they are somewhere it's snowing; they see the recommendation on the right. These are simple combinations that are easily accomplished with dynamic email, and they're actually valuable forms of real-time personalization, as opposed to first name in the header.
3. Personalization use cases in acquisition
Boosting revenue isn't just about earning a customer after customer. It's about keeping them, too. The more loyal they are to your business, the more likely they are to refer more customers and spend more per purchase, and to keep purchasing after that. That's only accomplished by a team that not only acquires customers but focuses on ensuring they're continually using the product to its full potential.
A/B testing sales pages
For marketers delving into post-click optimization, A/B testing is still their most valuable tool. Helping teams discover the higher-performing of two or more pages, this testing method can take into account data from heat maps, Google Analytics, eye-tracking studies, and more.
It's particularly valuable at the bottom of the funnel, where even a small increase in conversion can have a big impact on the bottom line. Once you've determined a reason to test — say, a high bounce rate — you might test different ways to lower that. Your hypotheses might include:
Removing images to speed up load time
Segmenting your copy into more easily readable chunks
Replacing your copy with a video
Changing the kind of video you're using
Or, say you visit your company's FAQ and find that people are wary about your different pricing tiers. You might…
Include more content about them on your post-click landing page
Explain them differently, like with an infographic instead of text
Include testimonials from customers who found value in your product despite the pricing
By segmenting your traffic and testing different versions of your pages, you may discover that one target group prefers one approach over another — whether it be hero shot or infographic, explainer video or case study, etc.
Onboarding
After a customer is acquired, the onboarding process sets the tone for all future interactions. And there's no better way to create ideal customers than by reverse engineering them. Stefano Mazzali, Head of Marketing Operations at Instapage, looks at two things when determining how to reverse engineer the perfect activation sequence during Instapage onboarding:
Subscription data: By analyzing user profiles over their previous six months, the Instapage team gained insights into which features drove the most engagement. Then, they communicated the value of these features during the onboarding journey.<br>
Casual Conversations: By talking to new subscribers in-person, in-app, and via email, the team learned more about customers' real needs.
What they found from those two sources was this: Free trial users who published at least one page on a custom domain, and started A/B testing immediately, were 15 times more likely to upgrade to a paid plan compared to typical users.
When you examine your customers — dig through NPS surveys and have conversations with them — you can determine exactly what they want during onboarding, and offer it to them. It's hyper-personalization. And by identifying what predicts a great customer later, like custom publishing and A/B testing, you're able to work these triggers into the process to create engaged users.
Personalization should be used throughout the funnel
Despite all the tools available to marketers, many are still getting personalization wrong. Some emphasize artificial intelligence development, chatbots and more, while others continue to settle for the old "name in X," whether it be an advertisement, an email, or a post-click landing page.
Consumers desire something in the middle. "Name in X" isn't true personalization, and most chatbots are aren't relied upon for anything more than very basic tasks.
Consumers want practical things like recommendations based on their history; they want to be remembered so they don't have to input the same information on your next lead capture form; they want to be able to start a process on desktop and seamlessly transition to mobile; they want to arrive at a web page where they don't have to sort through countless categories to get what they want, whether that be gender, country, or anything else. In 2019, this is not too much to ask.
Start personalizing the post-click landing page better today with Instapage.
Get a Personalization Demo
See how easy it is to create unique experiences for any audience you target.