Selecting the right platform is paramount to the success of any digital ads campaign. While it would be convenient if every channel and platform provided great results for every company, it's not that simple. Each has its own pros and cons.
Businesses like yours may be weighing the benefits of two or more advertising platforms — and Google Ads vs. LinkedIn Ads is a common comparison. Both are great choices, but they serve very different purposes.
Comparing Google Ads vs. LinkedIn Ads
User intent
Google Ads is best for targeting very intent-driven searches — delivering relevant ads to users who already know what they're looking for, at the exact right moment.
The reason for this can be seen in these two graphs, showing that Google represents just over 75% of the desktop search engine market share and about 89% of mobile search:


With numbers this high indicating Google's dominance, it's easy to see why Google Ads is ideal for targeting people searching for something specific.
But what about online users who are unsure about what they need until it's right in front of them? Like the popcorn and soda ad right before the movie at the theater. Or the Barbie playhouse that your child didn't even know existed before seeing a commercial for it, and now needs it.
This is where LinkedIn takes the lead over Google.
With LinkedIn Ads, you can catch people before they've shown intent — before they even know they need your product or service — by showing particular ads to a clearly defined audience that meets your exact buyer criteria.
For example, a company who uses similar landing pages for each different offer might reconstruct the entire page every time, just changing some of the offer-specific elements (headline, product image, descriptive copy, etc.). Since they don't know there's a more efficient way to manage those experiences (like Instapage Global Blocks) they're not actively searching for 'landing page templates' or 'landing page block tools'.
In the case of Google vs. LinkedIn Ads, this is where LinkedIn provides more value. Even if an audience doesn't show intent because they don't know they need something, refined targeting on LinkedIn allows you to make the need known to them.
Audience
Google Ads has a much broader reach than LinkedIn and other social media and search advertising platforms. This could be a good thing since you can reach your target audience easier whether you are a B2C or B2B marketer. However, without optimizing your ad with the right targeting settings, you could end up spending your entire budget without producing meaningful results or qualified leads.
LinkedIn, on the other hand, is ideal for B2B marketers. Its primary purpose is to connect businesses with other businesses and professionals. Therefore, most LinkedIn users engage on the platform to develop social relationships, collaborate with like-minded people, represent their company, or seek new business opportunities.
So if you're a company (like Pandora below) looking to grow your brand presence among other industry leaders, or gain qualified B2B leads, the Google Ads vs. LinkedIn face-off declares LinkedIn the better platform to advertise: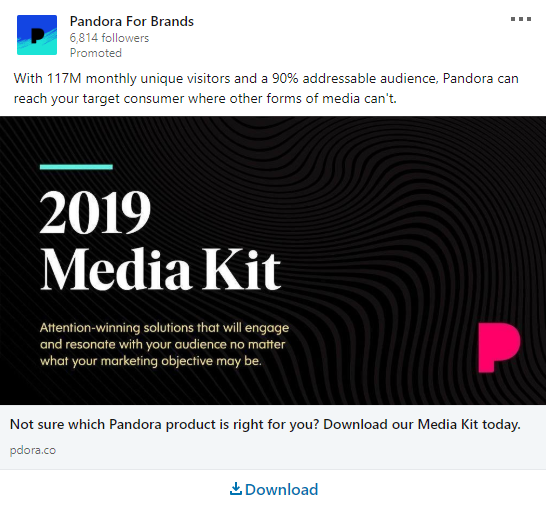 Targeting options
One of LinkedIn's biggest advantages is account based marketing implementation. When people sign up with LinkedIn, they provide information on exactly who they are professionally: job title, industry, company name, company size, and more. Advertisers can then use all of that relevant data to target specific accounts, from higher-level job titles to small startup brands, like Lighter Capital does: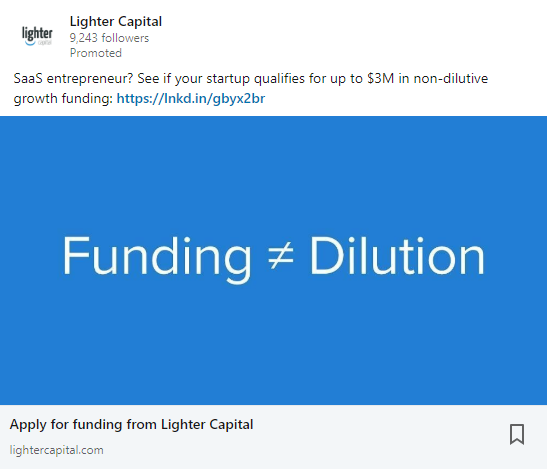 A complete list of LinkedIn targeting options include: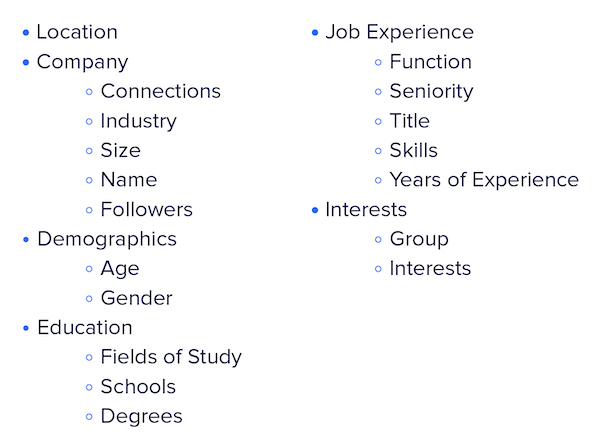 In addition to those, LinkedIn also offers:
Audience templates — Pre-populated with various targeting options to help advertisers reach desired audiences more easily and efficiently
Matched Audiences — For advertisers to match their website visitors, company lists, and email lists with LinkedIn members
Comparable to LinkedIn Matched Audiences, Google offers Customer Match. This allows advertisers to use their online and offline data to reach customers — and others like them — across Search, Shopping, Gmail, and YouTube.
In addition to Customer Match, other Google targeting options include: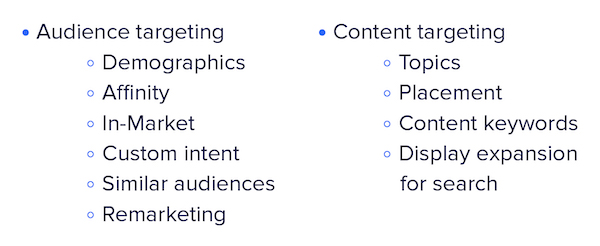 Ad types
Google offers a wider variety of ad types than LinkedIn. However, both offer their own unique formats.
Google ad types include:
Text — Word-only ads that reach customers searching on Google
Responsive — Text or image ads that automatically adjust size, appearance, and format to fit available ad spaces
Image — Static or interactive graphics to reach customers on Google partner websites
App promotion ads — Used to drive app downloads and engagement on Google, Google Play, and websites and apps that partner with Google
Video — Standalone or in-stream ads that reach customers on Google partner websites
Product Shopping Ads — Used to show consumers a photo, title, price, store name, and more details about your product
Showcase Shopping Ads — An image and description that expands when clicked to show several related products and information about the store
Call-only ads — Direct click-to-call ads that appear only on devices that make phone calls
LinkedIn ad types consist of:
Sponsored/Direct Sponsored Content — Native ads directly within the LinkedIn feed
Sponsored InMail — Personalized advertising messages sent to highly targeted recipients
Text Ads — PPC ads that display in the side margin or inline
Dynamic Ads — Dynamically generated, personalized ads appearing on the right rail on desktop only
Lead Gen Forms — Ads with pre-filled forms that are available in Sponsored Content & Sponsored InMail, only on mobile
A major commonality between the two platforms is display ads, enabling advertisers to expand their reach by targeting audiences both on and off the platform.
Google display ads vs. LinkedIn display ads
Google display ads help advertisers reach audiences while watching YouTube, checking Gmail, using mobile devices and apps, and browsing other sites online such as news pages, blogs, etc.
Here's a Taboola banner ad above an Entrepreneur article: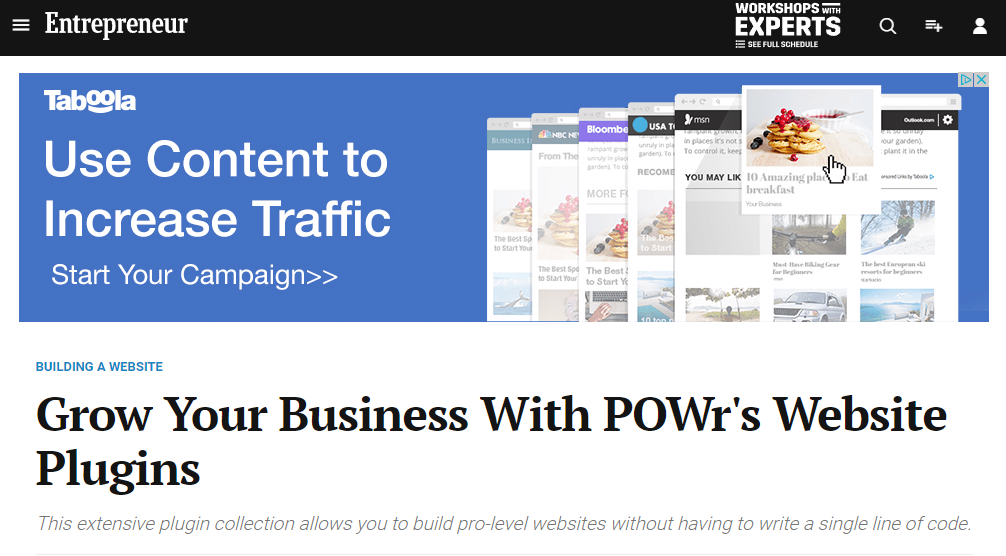 And a State Farm Insurance display ad in the right side margin of The Weather Channel website: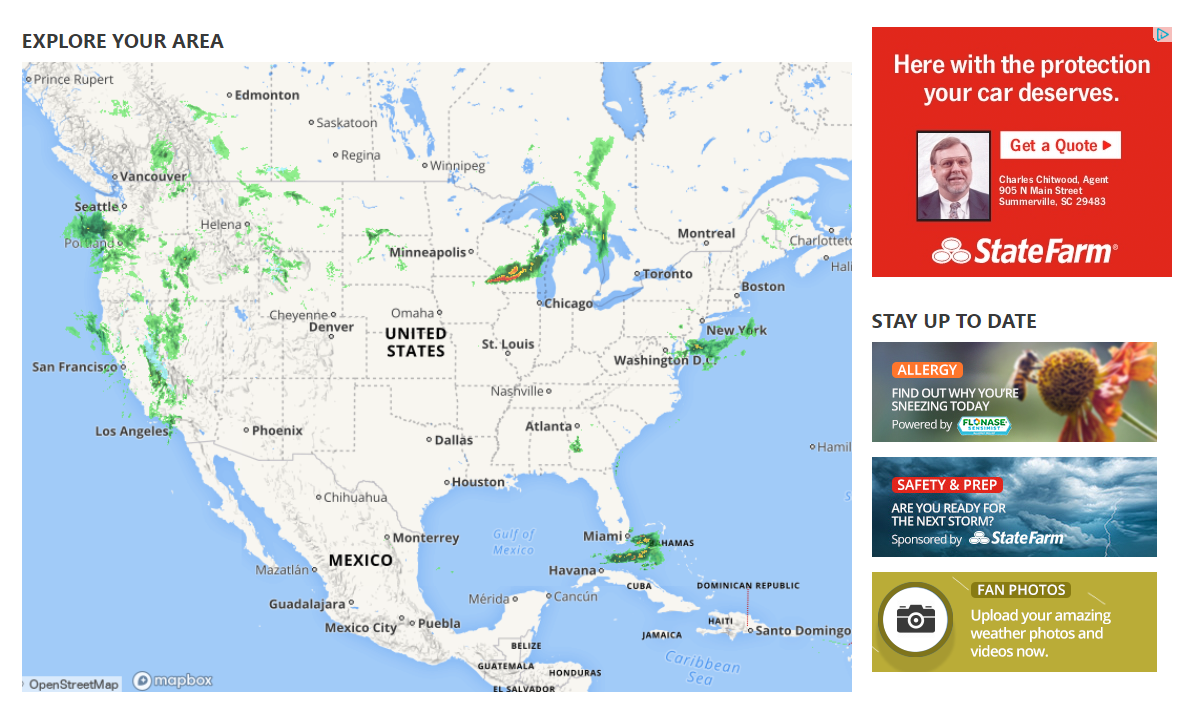 With these ads, you can select from image or rich media ads with interactive elements and animation, simple text-based banner ads, custom ads in Gmail, and image ads in mobile apps. Optimization options include keywords, demographics, location, remarketing, and more.
LinkedIn display ads are available in two formats: LinkedIn onsite display and Network display.
With LinkedIn onsite display, advertisers can accurately target members with IAB-standard ads, as well as LinkedIn-unique formats such as Spotlight Ads, Join Group Ads, and Follow Company Ads: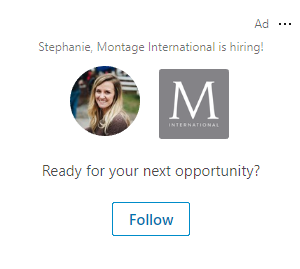 Network display advertising leverages LinkedIn data to precisely target audiences wherever they are online, similar to Google display ads.
Analytics
The three primary sections of Google Analytics are:
1. Acquisition — Where are your visitors coming from?
2. Behavior — What are visitors doing on your site?
3. Conversions — Statistics on how your campaign is performing — sales, lead generation, etc.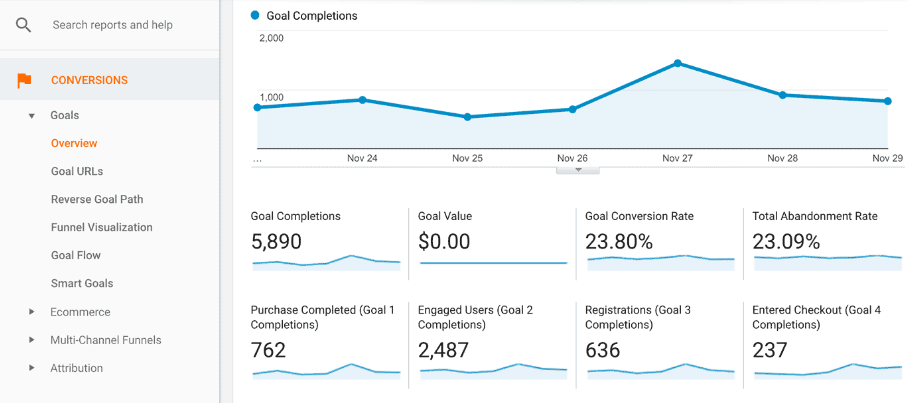 Additional sections include:
4. Home — Shows an overview of your stats at a glance
5. Customization — Enables you to create custom reports for your specific business needs
6. Real-time — Shows the visitors on your site at that exact moment
7. Audience — Audience demographics info (if you've set it up)
8. Admin — Allows you to adjust settings, including who can see and edit your campaign
LinkedIn Analytics are split up into three sections:
1. Updates
A table showing recent updates and specific data on those updates (audience, impressions, clicks, interactions, followers acquired, engagement, etc.)
A graph showing trends on the number of times updates were seen daily, both organically and paid
A graph showing the number of clicks, likes, comments, and shares of content in both organic and paid campaigns
2. Followers
Total followers (updated once daily)
Organic followers
Acquired followers
Follower demographics (seniority, industry, job function, company size, etc.)
Follower trends over time
Number of followers compared to other companies
3. Visitors
Page views
Career page clicks
Unique visitors
Visitor demographics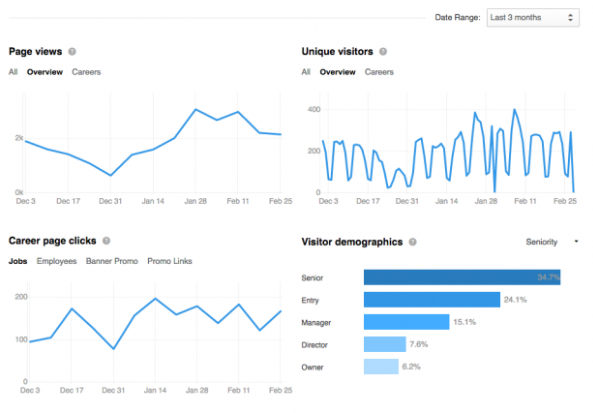 Which is better: LinkedIn Ads vs. Google Ads?
There isn't a straightforward answer. Both platforms offer great exposure and neither one is a one-size-fits-all solution. Selecting the best platform depends on your specific brand and unique campaign strategy and goals.
Before running a campaign on either channel, it's critical to know the ad specs involved on both. Refer to the Instapage Digital Advertising Reference guide for the most up-to-date ad specs, targeting options, examples, and more. Then be sure to complete your campaign with a personalized landing page with Instapage — the most robust landing page building platform. Sign up for an Instapage 14-day free trial today.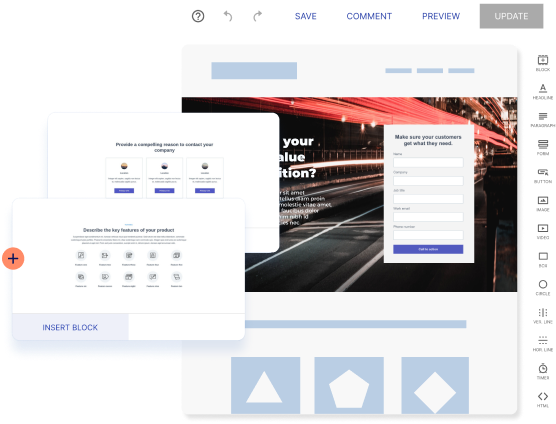 Try the world's most advanced landing page platform with a risk-free trial.