Forms
Last updated on November 28, 2017
Lead capture forms help you collect information from your visitors on post-click landing pages, which automatically makes them an essential page element. The form is the only place on standalone pages where you ask visitor to give you something. The rest of the page elements (such as the headline, copy, or testimonials) all represent things you are providing them.
Your form, however, is where you ask visitors to trust you with their information.
This is why lead capture forms can be a cause of conversion friction. To ensure that your forms don't give visitors second thoughts or hesitate in providing their information, design your forms with the following aspects in mind:
Form Length
Form length depends on where your visitors are in your marketing funnel. If it's the first time your brand and visitor are interacting; placing a long, intimidating form is only going to scare them away. For top of the funnel, design lead capture forms that don't ask for too much and are easy to complete.
This is why many free trial post-click landing pages don't have long forms. Look at WalkMe's post-click landing page form as an example: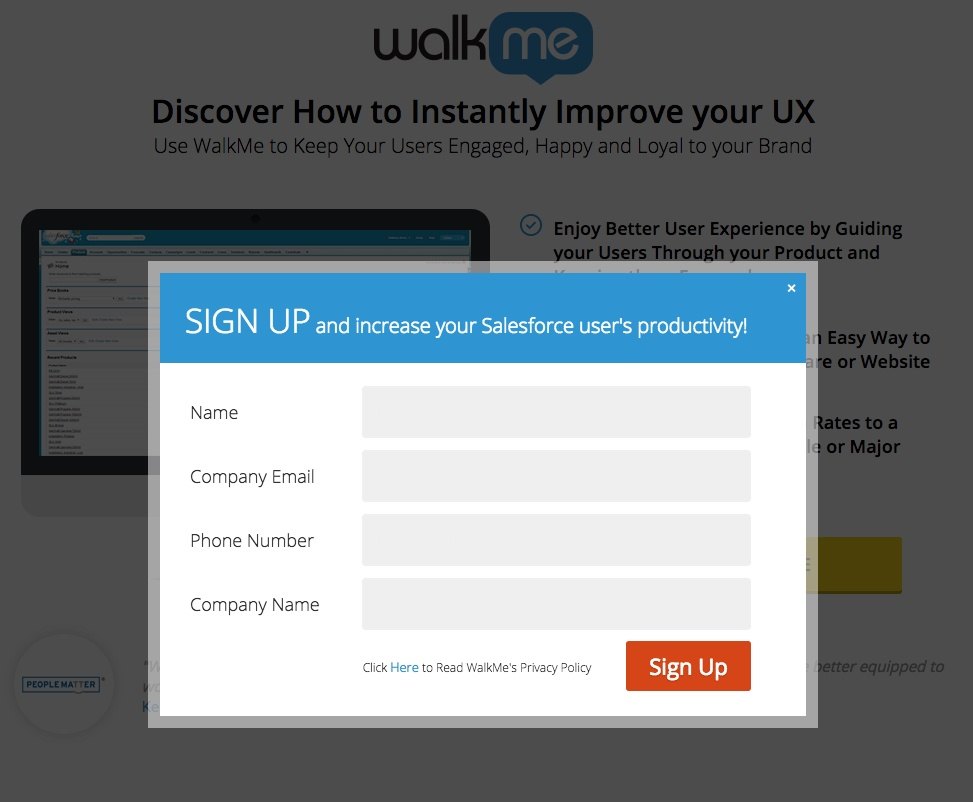 The HubSpot post-click landing page, on the other hand, has a longer form for visitors who aren't new to their offers: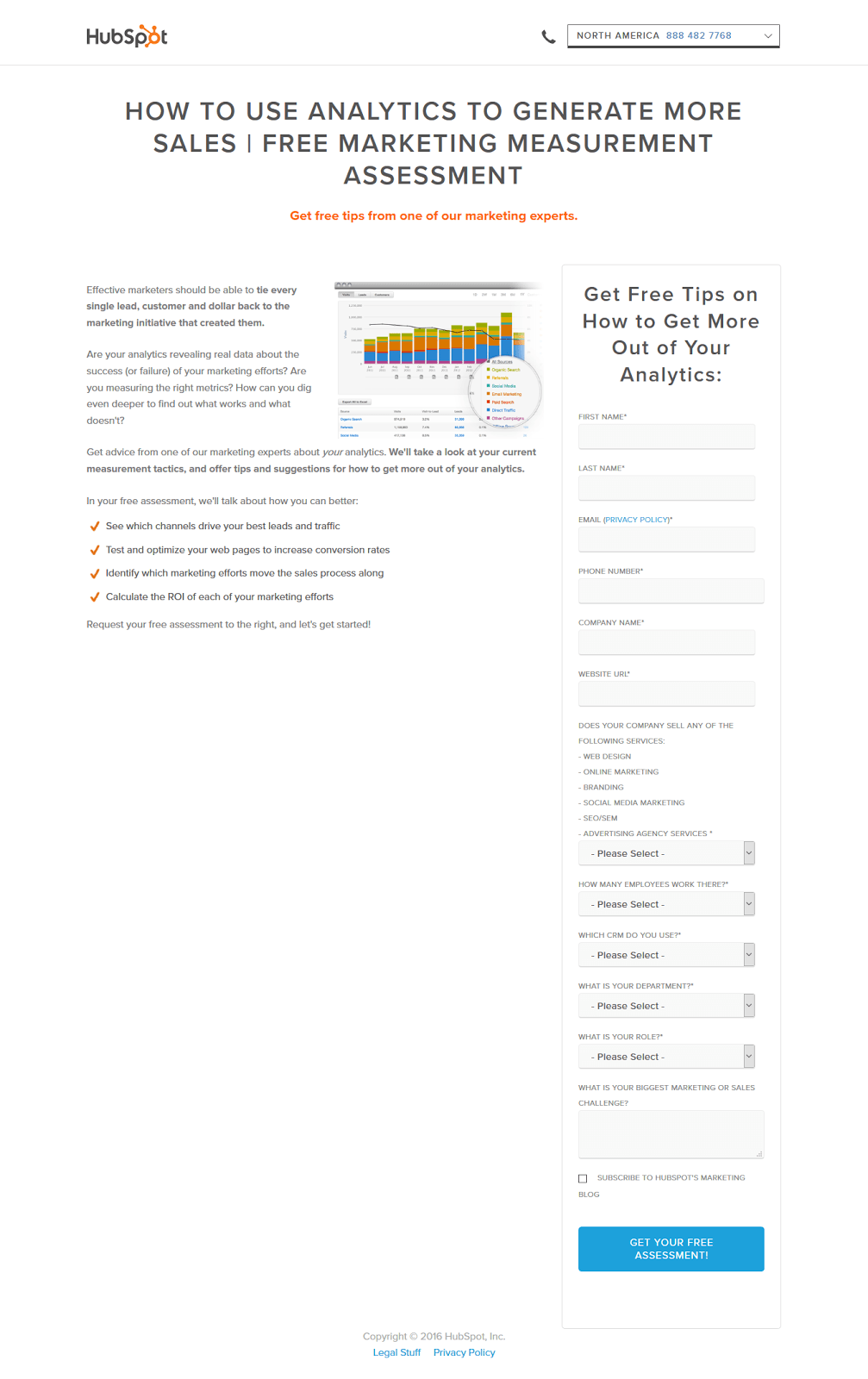 Form length also depends on your offer. The more high-stakes the offer, the longer the form can be.
The length of the form also depends on where your visitor is in your marketing funnel. You can't risk putting too many fields for top of the funnel visitors, but you can increase the number of fields as the visitor descends.
It's important to focus your visitor's attention on lead capture forms, which is why it's important not to have more than a single form on a post-click landing page. Even if your post-click landing page has a secondary CTA button, make sure the page doesn't have a secondary form because you can't expect visitors to fill out two forms to redeem a single offer. Plus, you don't want to confuse them as to which form should be filled out to redeem the offer.
Another reason why there shouldn't be additional forms on a post-click landing page is that integrating them with other tools can become increasingly difficult.
This brings us to multi-step forms.
Multi-step forms
Multi-step forms are broken down into parts so that the visitor isn't overwhelmed by a single lengthy form.
Bills.com utilizes a multi-step form on their post-click landing page. The form progresses to the next step as you enter the necessary information. Here is the first step:

This is the second step:

Here's the third step:

And this is the final step and form on the post-click landing page: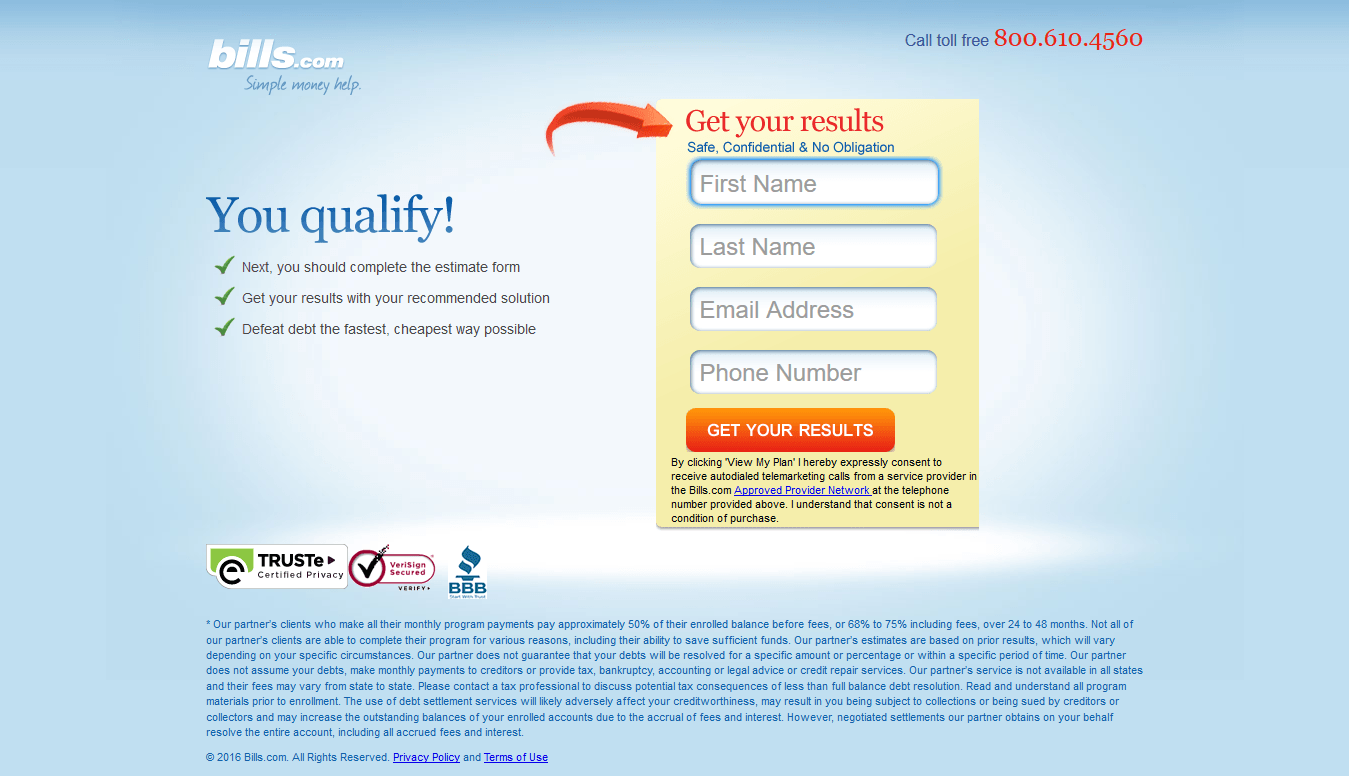 Two-step opt-in forms are one type of multi-step forms. Contrary to a standard lead capture form, a two-step opt-in form isn't displayed on the page until after visitors click the CTA button.
This way, the form only appears for visitors who have the intention to fill it out. Another benefit of a two-step form is that it doesn't cause conversion friction because only motivated visitors will see it.
The Instapage post-click landing page uses a two-step opt-in form: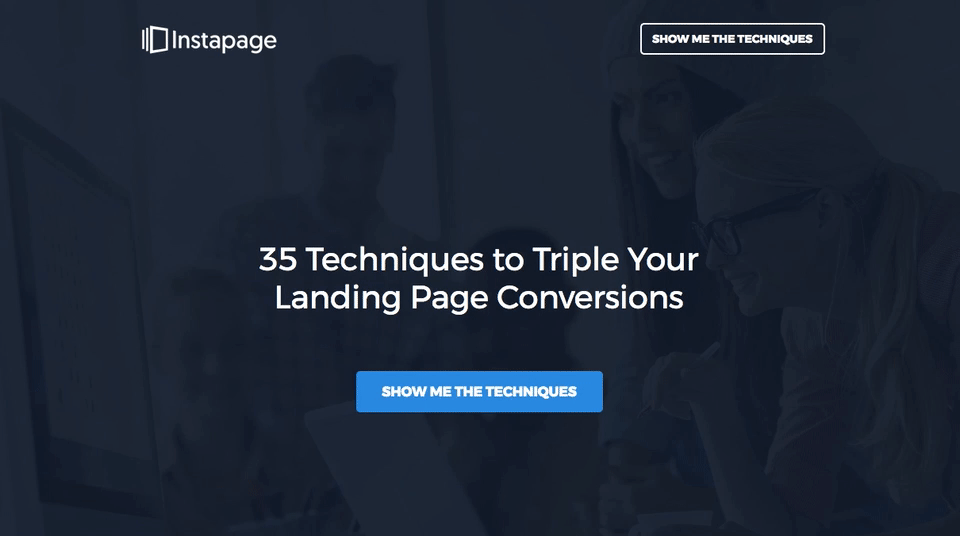 You can also trigger forms to appear when visitors are about to exit the page. These exit intent forms can make visitors reconsider their decision of leaving without clicking the call to action button. You can also take this opportunity to offer them something else, so they do convert. If visitors aren't ready to buy your product yet, you can offer them something free of charge, like an ebook, whitepaper or a simple "subscribe to blog."
ThriveThemes does this by placing an exit intent form that offers visitors a chance to subscribe to their newsletter when they're about to leave the page: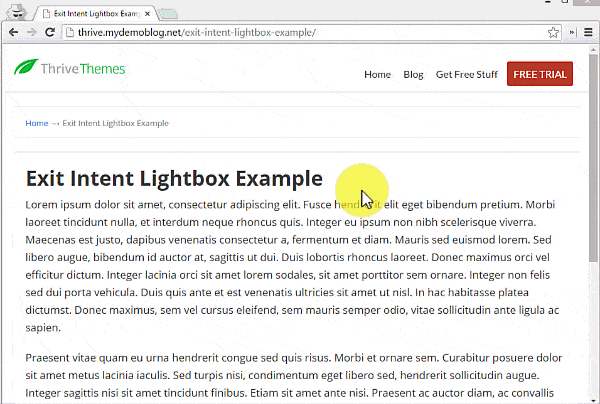 Exit intent forms can annoy visitors who just aren't ready to click the call-to-action button, so it's best to use them only as a last resort.
You can create exit intent forms for your post-click landing pages using tools such as OptinMonster, Sumo List Builder, Bounce Exchange and even with Instapage using the custom code option.
Lead capture forms are the most important page element that can turn your visitors off so make sure this doesn't happen when designing your forms.