First, it was Periscope and the now defunct Meerkat. Next the bigger players joined, including Snapchat, Facebook, and Instagram. And, after five years of only dipping its toe into live streaming video, the biggest video platform has joined the group. YouTube has finally launched mobile live stream capability to publishers.
Didn't YouTube already have live streaming video?
Technically yes, YouTube started allowing Google+ live hangouts to be published on YouTube and eventually opened live streaming to a very select group of publishers. In fact, live streaming has been on YouTube since 2011 and has broadcast some major events, like the Royal Wedding in 2011 and the Red Bull "leap from space" in 2012. But, the YouTube mobile app didn't allow users to go live in the moment from a mobile device.
Until now, that is.
More recently the video platform has opened live streaming to more users. But, seeing the success that Facebook has been having with user-generated content they had to start feeling the heat. Either give all users the ability to post live streams or risk falling behind the Facebook/Instagram duo in video content. That wouldn't be a good look for a website that only provides a platform for video consumption.
What is new with mobile live streaming?
While it's not a complete roll out quite yet, YouTube opened live streaming on mobile to all content publishers with 10,000 or more subscribers earlier this year. This is still an exclusive group, but it opens the door to the publishers who are creating a large share of the quality video YouTube wants. These users already have access to go live directly from the YouTube mobile app on both Android and iOS.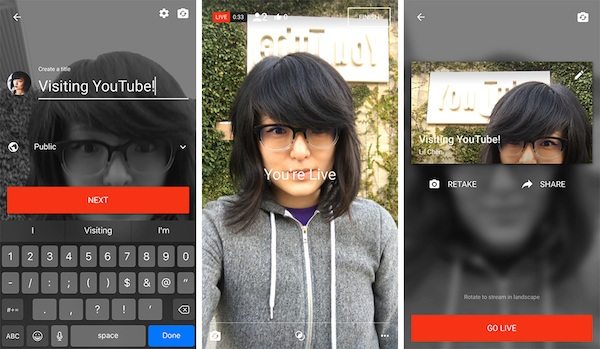 More recently YouTube live streaming functionality became available to users with fewer than 10,000 subscribers, but still not everyone quite yet. The catch, though, is that those users must have a channel enabled for advertising-share revenue. The question remains, though:
Why such a slow roll-out when the platform is already 2 years behind the other major live stream players?
It would seem that YouTube wants to push for more higher quality content than the average user is publishing on Facebook and Periscope right now. That means fewer selfie-style videos and late-night jam sessions in a dorm room in exchange for more breaking news and real-time events from quality broadcasters.
The most obvious answer, however, seems to be money. YouTube currently offers a hefty cut of ad profit to high-quality publishers, and it will continue that with live stream video as well. As stated, channels must have advertising-share activated to be included in the live stream rollout. Plus, YouTube is still the leader in video content despite the recent rise of Facebook, so it has a cushion to make sure the video being streamed is in line with what the company (and its advertisers) would like to see published.
YouTube is betting that quality will trump quantity in the live stream race, especially when it comes to ad revenue. Casual viewers will consume video on Facebook while the big YouTube publishers will stick to YouTube because their audiences are there.
What features are included in YouTube live video streaming?
Chat
As with any YouTube video, a publisher can enable or disable comments. They appear as chat bubble overlays, much like Periscope. YouTube has also stated that it will slow down the rate at which the comments come in, especially for more popular publishers so that creators can respond to them more easily. Doing this, as YouTube explains, will help the quality of the stream as well:
Super Chat
To drive more revenue for publishers, YouTube is giving commenters the ability to pay for exposure. Other small streaming services have similar capabilities, such as "tips" on YouNow. Users can leave a comment and, with the "super chat" feature, pay to push their comments to the top of the feed. The comments will also be brightly colored to stand out and potentially be pinned for up to five hours on the video.
What does this mean for your business?
There is now one more channel for your company to experiment with live stream video. As viewers continue to crave and consume more and more live video, the possibilities continue to expand. Of course, if you haven't been granted access yet you'll need to be patient, but that gives you a chance to plan and refine your strategy.
Are you already live streaming to other networks, like Periscope and Facebook? If so, how can you incorporate YouTube into your streaming strategy? Maybe you will try to match your video content to the way other content is consumed on each network.
For example, Twitter-owned Periscope is a real-time, in-the-moment source for what is happening now. There is less focus on evergreen content and more on capturing the moment. Facebook is a catch-all for all consumers.
YouTube, on the other hand, is a library and search directory for video content. All of your live videos will be searchable, remain in your channel video library, and can be added to playlists. Think about how your company can create great live video that will be valuable both in the moment and in the future.
Every industry has an opportunity, including:
Q&A or interviews live from a conference
Giving a tour of your real-estate property
Tutorial for using your consumer product
Walk-through of the farm where your ingredients are grown
Hosting a townhall meeting with customers
YouTube Creator Academy, a channel by YouTube aimed at educating publishers so that they can create higher quality content, published a video with advice on producing a good live stream:
While YouTube does not allow for annotations on live videos like they do non-live videos, there is still an opportunity to drive visitors to your website or a post-click landing page personalized for your YouTube audience.
Before going live, think about the topics you'll cover and some likely questions or comments that users will have. Build a list of links to relevant blog posts and post-click landing pages you would like your viewers to visit. At appropriate times throughout the video and as replies to relevant comments, leave a chat message with the link.
How are businesses using YouTube Live Stream?
Some of the earliest adopters have been sports and gaming brands. Platforms like Twitch gave eSports and gamers a place to watch and provide content of live streaming gaming experiences. Maybe gamers and brands that promote gaming have migrated to YouTube.
Live sports, such as NBA and Champions League soccer, have also started showing experiences to complement traditional broadcasts, streaming press conferences, and interviews live. Both have also partnered with YouTube to broadcast full games as an alternative to traditional television. Other lesser known sports, such as billiards and softball, recognize YouTube as a way to broadcast games that would otherwise not be shown to a wider audience around the world.
It's not all about the entertainment industry, though. Samsung used YouTube to live stream its Galaxy S8 launch event. News organizations such as The Young Turks and JTBC News broadcast news live to YouTube. And in one of the more clever pairings, Toys "R" Us partnered with Animal Adventure Park to show a live "Giraffe Cam." (Click through on the picture to view the cam.)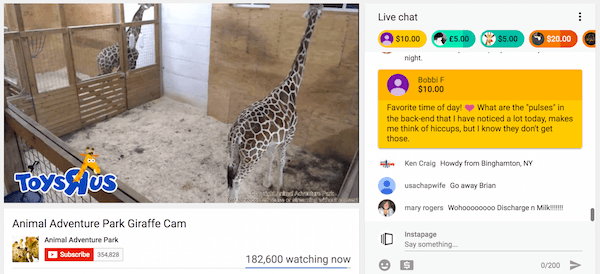 What will you live stream to YouTube?
The next time you're heading to an industry event or have a real-time video conversation directly with customers, think about if that content is a fit for YouTube. Now is the time to begin planning your YouTube live video strategy, even if you don't have access yet. And, as always, think about how you can drive those viewers to a targeted, personalized post-click landing page through dialogue, chat, and the description section of the video.
Do you have access to YouTube mobile live yet? If not, are you working on a strategy to prepare for when it is open to all publishers? Sign up for an Instapage Enterprise demo today.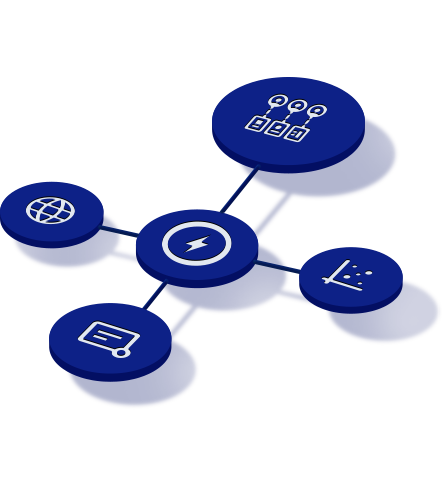 See the Instapage Enterprise Plan in Action.
Demo includes AdMap™, Personalization, AMP,
Global Blocks, heatmaps & more.