Want prospects to become customers? New research shows you should promote your products and services with user-generated content (UGC). The content comes in many forms, including images, videos, reviews, and testimonials, and allows you to leverage real users' word of mouth to engage and persuade prospects to trust your product.
One TikTok video by Trinidad Sandoval, showing the effects of Peter Thomas Roth's eye cream, went viral on TikTok and Twitter. Because of that one simple video, the skincare brand sold out of eye cream in less than a week, which usually would take six months to sell.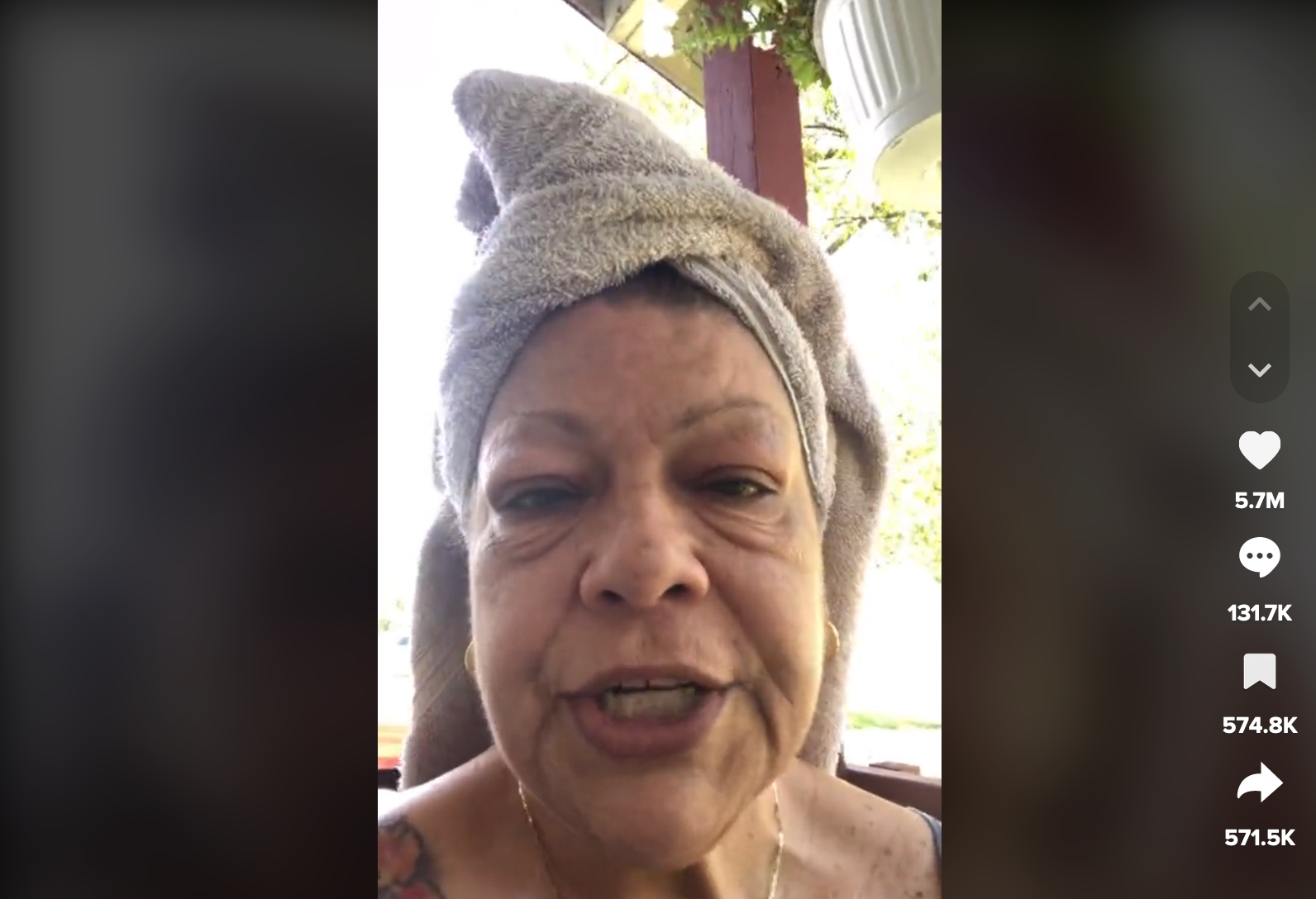 There were no special effects in that video, no fancy production budget, or a famous brand ambassador, just a real user sharing their views about how the product helped them.
This is the power of user-generated content, and this post will teach you everything you need to know about it.
What is User-Generated Content (UGC)?
In marketing, user-generated content (UGC) refers to content created by someone who is not an official representative of your business. It could be a social media update, review, video, podcast, etc. If the content involves your brand, and none of your employees or affiliates created it, it's user-generated content.
What makes user-generated content so effective?
Unfortunately for us, marketers and advertisers are inherently seen as untrustworthy. When positioning products and services in their best light, and in the process, we may omit details or enhance images to impact consumer buying decisions.
For example, making fast food look more appetizing: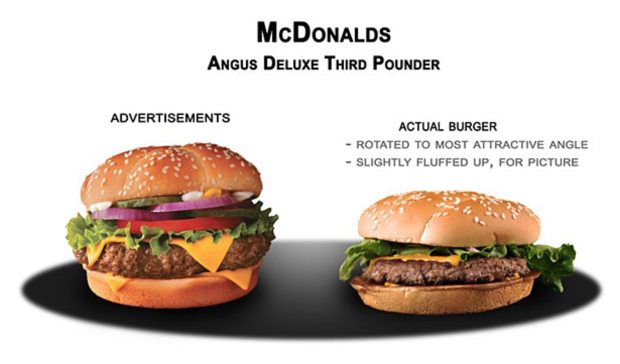 According to the State of UGC 2023 Report, 93% of marketers agree that consumers trust content created by customers more than content created by brands. People trust people.
That's why marketers need to incorporate UGC into each step of the customer journey, not just the product page. If you have yet to do that, here are some tips from brands that successfully use UGC.
User-Generated Content examples
Samba UGC examples
While UGC can be used effectively throughout the customer journey, one of the places it has the most impact is on your main website. Samba bedding features user videos on their website to show potential customers the impact better sleep (thanks to Samba) can have on their lives.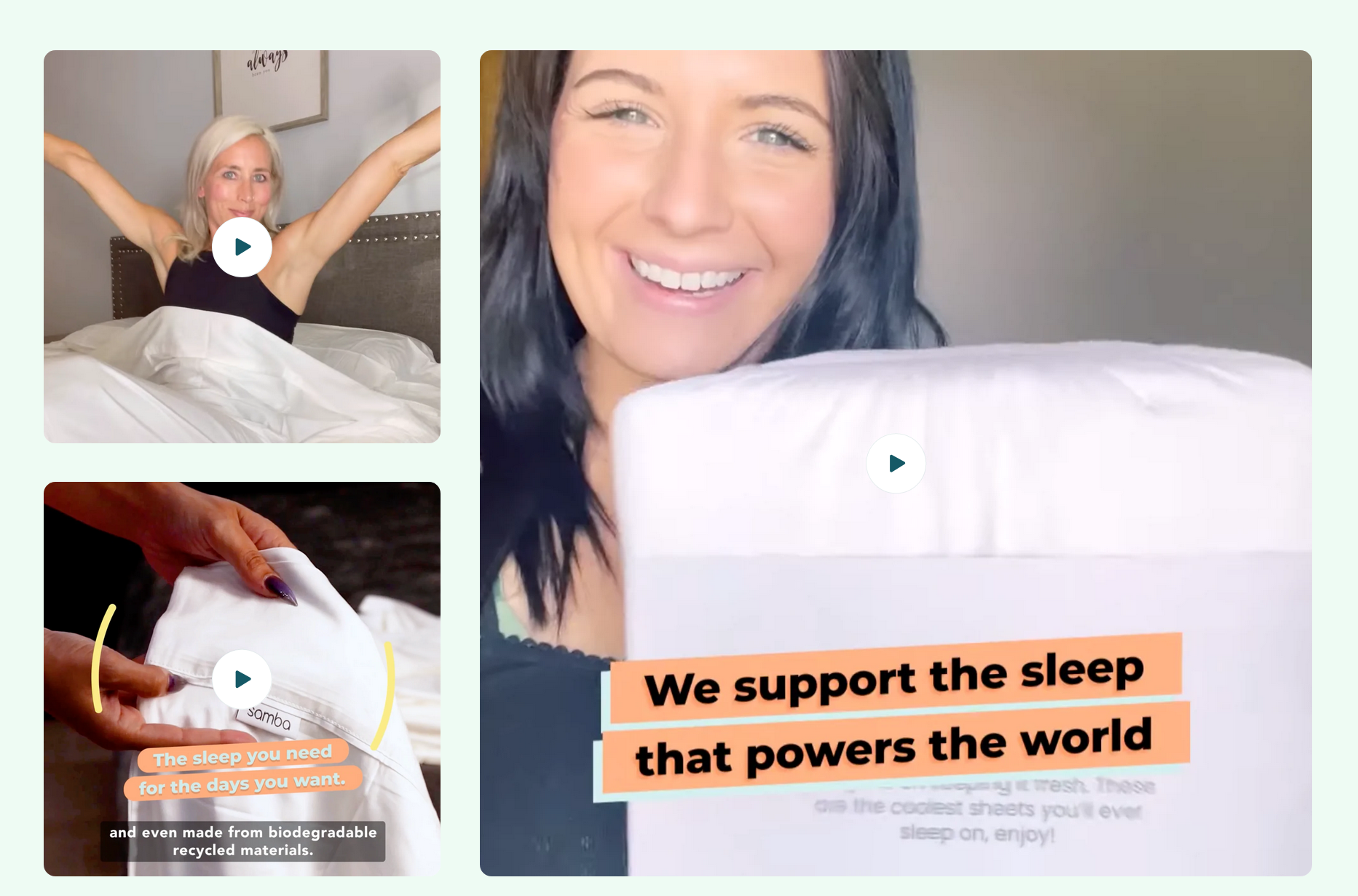 Warby Parker's #warbyhometryon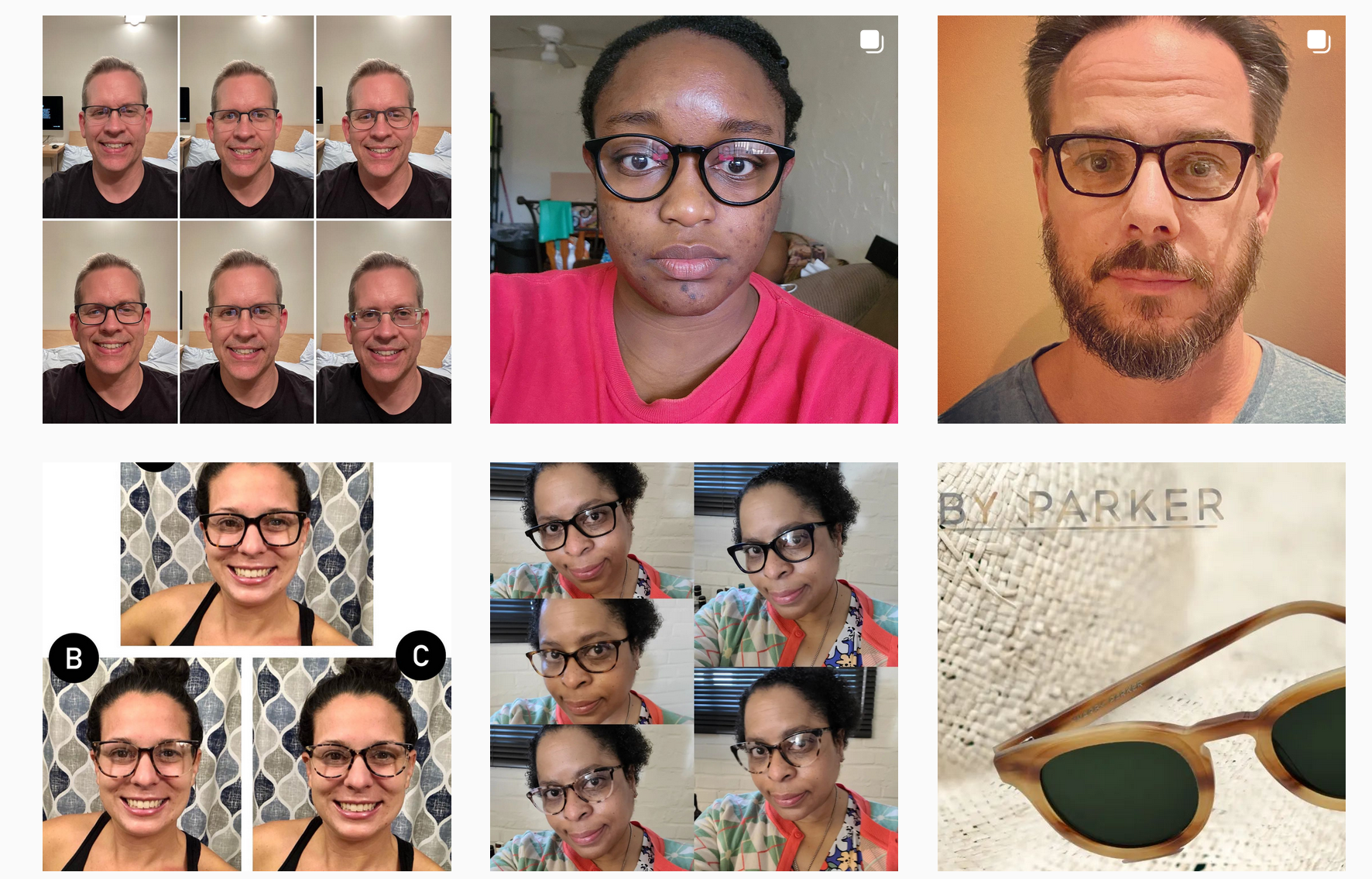 Buying eyewear online can be challenging, so Warby Parker allows customers to try on five pairs of glasses at home. Customers can then keep the pair/pairs they like, pay for them online, and return the rest.
Before they buy, Warby Parker encourages trial wearers to post photos of themselves to social media with the hashtag #warbyhometryon. The result is 23,934 Instagram posts (to date) featuring people looking for and giving advice on which Warby Parker frames to choose.
GoPro's YouTube channel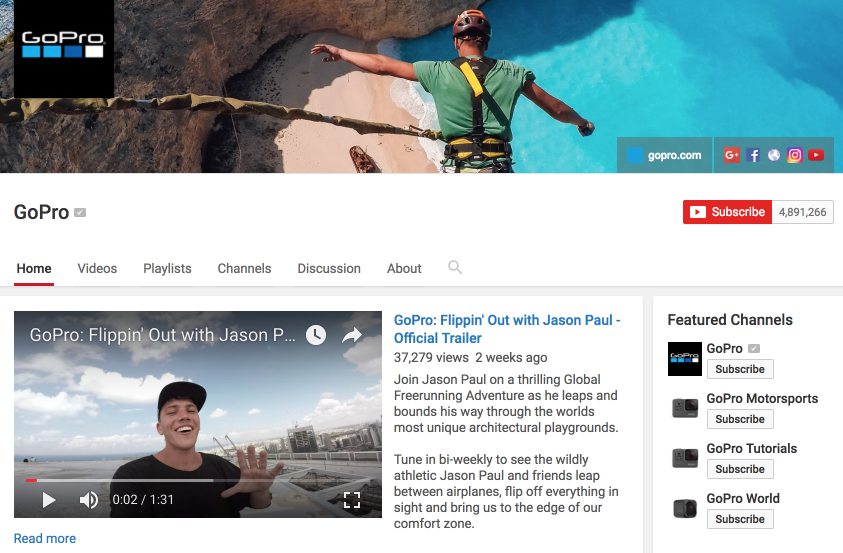 Several years ago, GoPro helped kickstart the UGC movement by working their customers' content into their marketing strategy. In 2013, it was estimated that 6,000 GoPro videos were uploaded to YouTube per day.
Today, a search for "GoPro" on YouTube yields 40 million results. The brand is one of YouTube's most popular channels, with over 10 million subscribers.
This UGC pioneer now has its own channel on Virgin American Airlines and Xbox consoles. Viewers can watch as world-class skiers descend mountains, base jumpers leap from towering landmarks, and pelicans learn to fly.
The content is so entertaining it'll make you forget you're watching one big continuous ad for GoPro.
T-Mobile break-up letters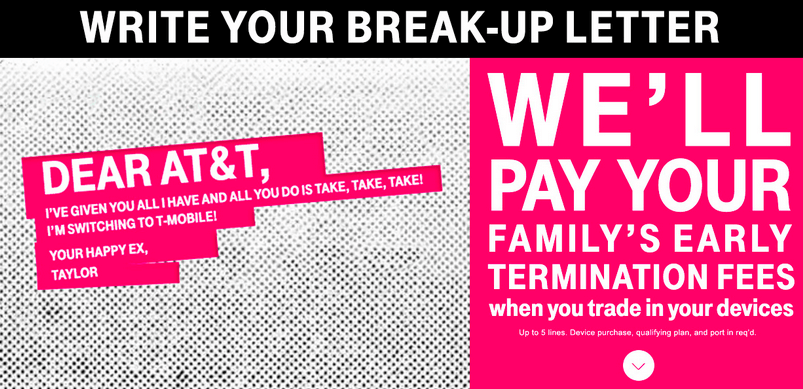 When frustrated cellphone users feared switching carriers because of high termination fees, T-Mobile invited them to submit "break-up letters" detailing their reason for leaving their current provider. In exchange, the company would pay the costs associated with switching from their current carrier.
Through a branded app, users submitted their letters, and many also shared those letters to social media.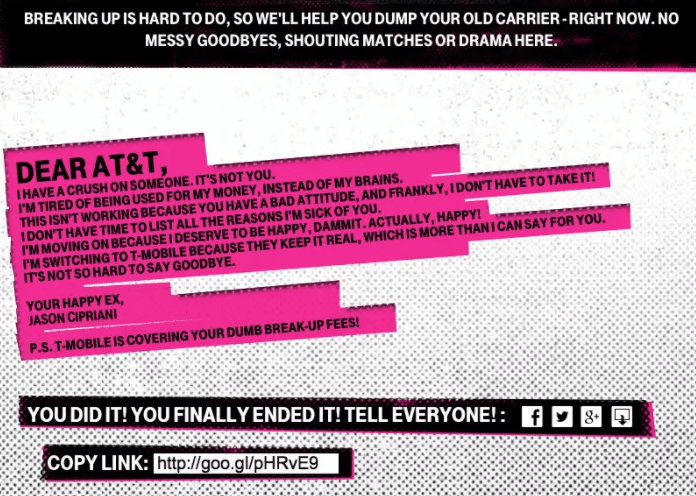 At latest count, over 113,000 letters have been written and the campaign has garnered more than 67 million social impressions.
Lululemon Sweat Collective

Ordering activewear from a website is never easy. Not only does the clothing have to fit, but for wearers of Lululemon's line, it has to fit while you're contorting your body into a human pretzel.
The company's Sweat Collective campaign encourages customers to share photos of themselves in action while sporting the brand's gear, which ultimately does two things:
Reflects the company's mantra of "sweat once per day" by inspiring internet users to work out
Showcases what the products look like in a variety of athletic positions
How to incorporate different types of UGC into your marketing
As with any marketing method, it's essential to have a plan for collecting and using UGC. As many as 86% of marketers claim they've attempted to incorporate UGC into their campaigns, but only 27% say they had a strategy for doing so.
You'll want to figure out a few things before launching your UGC campaign.
Determine the goal of your UGC campaign
UGC's effect on your business depends on what kind you plan to collect and how you'll use it. If your goal is to boost brand awareness, a hashtag campaign like Loews Hotels' #TravelForReal on Instagram can help create buzz about your product or service.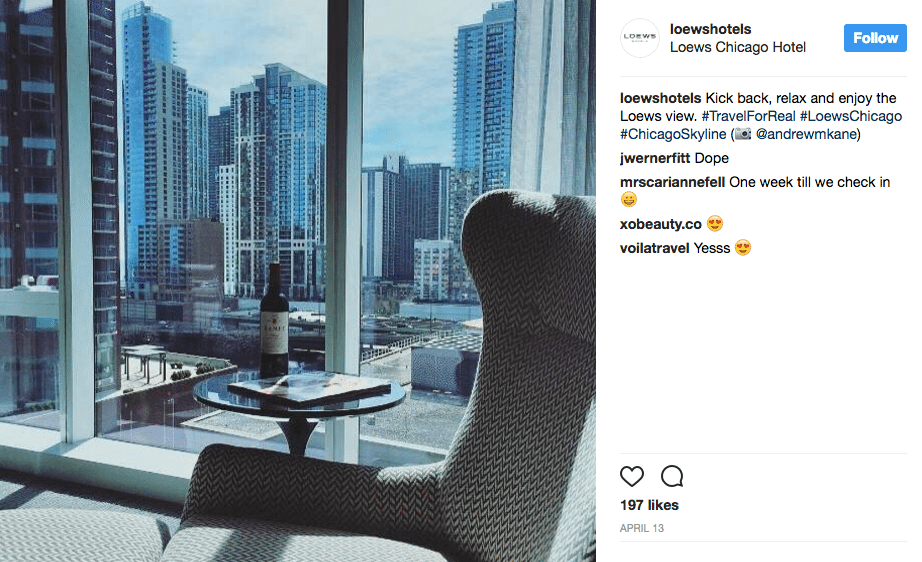 If your goal is to boost website conversions, a campaign that solicits customer reviews, like this one from Amazon, can help you earn the social proof you need to make the sale.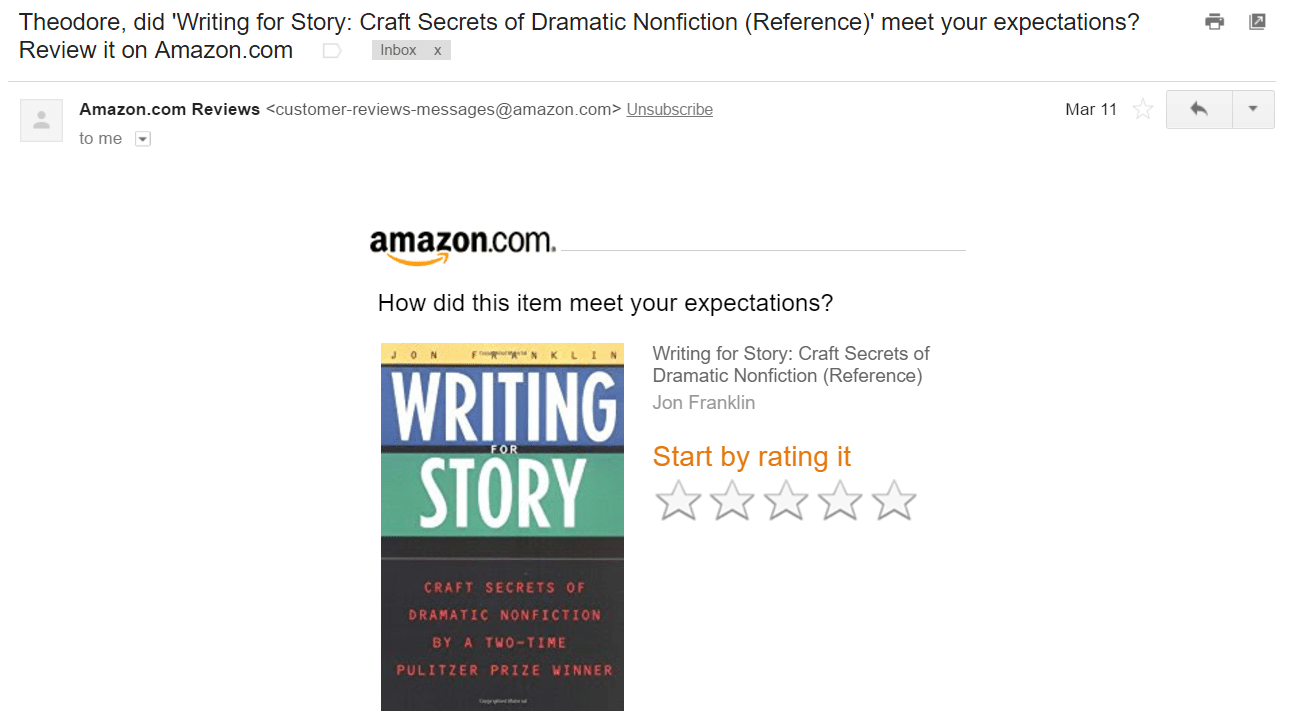 Remember that UGC campaigns aim to generate content that will positively inform your customers' buying decisions. You want more than pretty pictures uploaded to Instagram. For example, GoPro's YouTube channel effectively illustrates all the different ways the product can be used. T-Mobile's break-up letters showcase all the various reasons for dropping your current carrier.
Make sure you know what you want to accomplish with your UGC before you start creating hashtags and calling for content.
Create a system to collect UGC
T-Mobile received over 100,000 break-up letters by the end of its campaign. To use them effectively, the company needed a system to collect and organize it all.
Before starting their campaign, T-Mobile's marketing team decided to use a branded app that integrated with Facebook.
Your collection method doesn't have to be highly technical—many companies simply use a branded hashtag. However, collecting UGC on social media with a branded hashtag can be a little tricky since ownership rights over photos and posts can be harder to earn. By collecting user-generated content via an app or portal, companies ensure the content can be used in official advertising campaigns without legal issues.
Be clear about what you want and what you're willing to offer
Some companies, like GoPro, are breeding grounds for UGC. This type of content is built into their product design.
But for most brands, earning user-generated content requires an offer in exchange. If you run a campaign to collect UGC, make sure the rules are clear to your audience, and you offer a reward proportional to the effort involved in creating the content.
Consult legal specialists
Running a UGC campaign is can be complex from a legal standpoint. Rules surrounding giveaways may be complicated, depending on your location and medium of collection, as are your rights to any content generated by your users. You should consult legal specialists before using any UGC in your marketing.
Learn from negative UGC, but showcase the positive
UGC allows consumers a more authentic buying experience, but at the end of the day, you're still a marketer. Content that criticizes or your brand, product, or service may be shared with internal teams if they can learn from it and improve your product, service, or process, but not spread externally.
Monitor your submissions closely and pick only the best pieces of UCG to work into your company's marketing campaigns.
Get started with User-Generated Content
Collecting valuable user-generated content takes more than coming up with a hashtag. Good UGC adds value to the brand. UGC can show people the capability of a particular product or service, spread awareness, and boost social proof during the purchasing process.
Always connect all your ads to personalized landing pages to lower your cost per customer acquisition. Start creating your dedicated landing pages Sign up for a 14-day trial.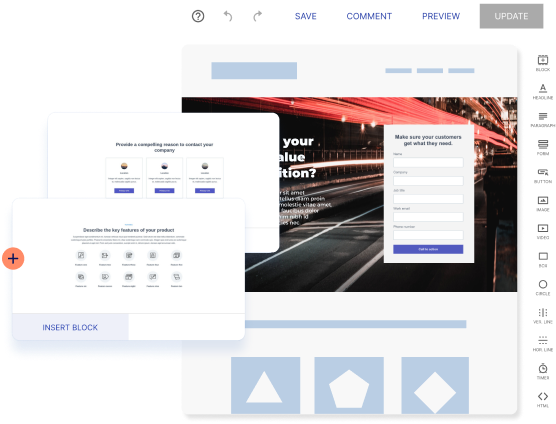 Try the world's most advanced landing page platform with a risk-free trial.