Many internet users can recall the days of irritating pop-ups bouncing around their screens or even taking over the screen entirely. While those annoying pop-up ads haven't completely gone extinct, another form of advertising has emerged: native advertising.
Native ads have become one of the most sought after and influential trends in recent years — experiencing continuous growth.
Native advertising defined
Native advertising, according to Outbrain, is defined as "any paid content that is in-feed and inherently non-disruptive." It is considered "native" because it is formatted specifically for the platform that is hosting it, making it blend in with all other content on the platform. It's not openly promotional — but is more engaging, information-based, and highly targeted.
With native advertising, there's native video that is in-feed video uploaded to, or created on, various social networks. Native video mimics the other content on the platform and doesn't interrupt or negatively interfere with user experience. Therefore, it's more difficult for most web users to identify a native video ad versus an organic video post.
And then there's native video advertising.
What is native video advertising?
Native video ads can be placed on a number of social networks, including Facebook, Twitter, Pinterest, and Instagram; video platforms, such as YouTube; and content discovery networks, like Outbrain and Taboola. They are generally click-to-play or autoplay (muted), and most are at least 30 seconds in length.
Most importantly, though, native video ads are more about education and entertainment. They're more research-based and focused on storytelling as opposed to product-centric or sales oriented. This combination makes them more engaging and shareable among viewers.
Native video ads vs. pre-roll ads
The biggest areas where native video ads differ from pre-roll ads are video length and the level of disruption they cause.
Video length
Pre-roll ads are restricted in length while native video ads are not. This means that while advertisers are limited to what they can include in a pre-roll ad, they can fill native video ads with as much useful information as they want.
Disruption
The most notable difference, though, is that web users are not given a choice to avoid pre-roll ads (unless a skip feature is enabled, e.g. YouTube). Instead, pre-roll ads act as a barrier to what the user intended to see and are automatically displayed before the desired content.
Conversely, native video ads aren't disruptive to the user experience; people can choose to scroll right by them without being disrupted. Because of this added control, users are more likely to stop and watch.
Comparing the two
Sharethrough and Nielsen conducted a joint study to demonstrate this idea that "choice beats interruption," by showing the brand-building effectiveness of native video ads versus pre-roll ads. Researchers worked with five different advertisers, all with their own specific campaigns. Each brand created their own message but made it identical for both advertising platforms (native video ads and pre-roll ads).
The study found that all five campaigns, resulted in higher brand lift when using native video ads instead of pre-roll. One campaign even generated an 82% increase with native ads, compared to only 2.1% with pre-roll: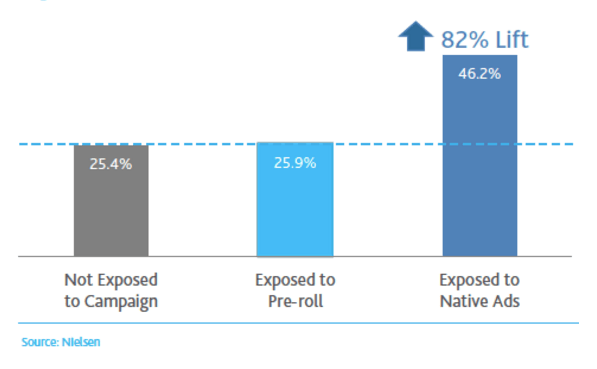 Results also showed that users were "more likely to have negative brand opinions after being exposed to the pre-roll creative than the native ads." This makes sense because users were interrupted with pre-roll ads but with native ads, they had to stop and pay attention willingly.
How does native advertising apply to social media?
Social media networks encourage engagement, and native videos are designed to be engaging, so naturally, they're a perfect match for native video ads.
Native video ads can be placed on numerous social networks and can take the form of:
Let's take a look at some of the distinct benefits of Facebook native video ads, in particular.
1. Videos ads are stored on Facebook
Facebook allows you to store native video ads in the photo gallery, just like other images you post to the platform. It also creates a separate gallery for your videos so that their lifespan is extended and you can access them easily at any time.
2. You can select a featured video
Facebook provides users with the option to choose a featured video to display on their Facebook page, like this one from MailChimp: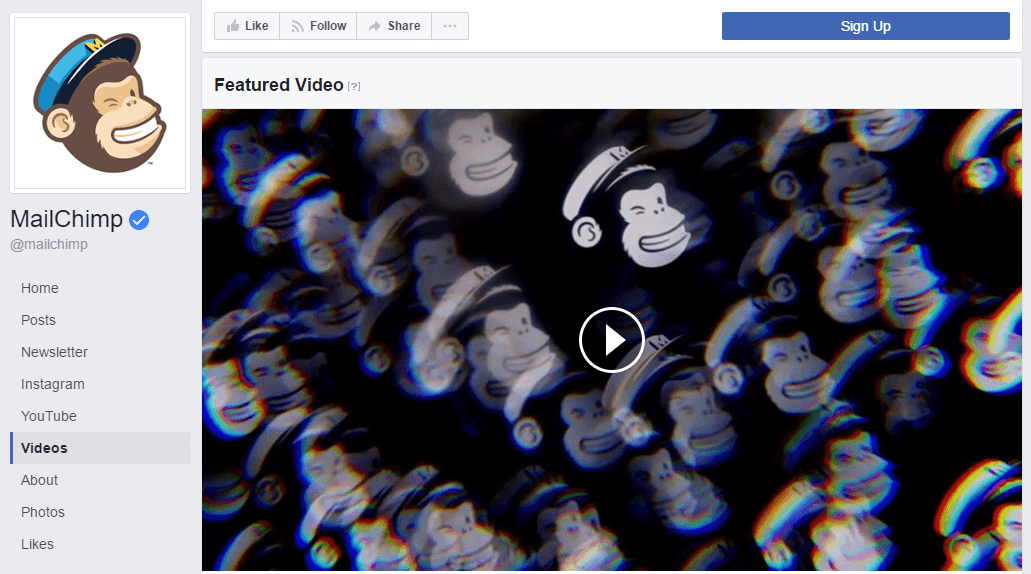 This gives advertisers more control over what users see first and foremost from their collection of videos.
3. Native videos receive better reach and more engagement
When you upload a Facebook native video, as opposed to videos that are hosted on other platforms and shared via a link, it appears larger on the platform — making it more enjoyable and engaging for the viewer.
AdParlor ran an A/B test on the two video ad methods and determined that the Facebook native videos performed better on a variety of metrics:
2.5x higher click-through rate
3.5x lower cost per click
5.5x lower cost per video play
10% lower cost per engagement
30% more video play clicks
Another study performed by Quintly found that Facebook native videos received 4x more interactions than those shared from other video platforms.
Taking these stats into consideration, it makes sense that more and more brands are turning to native video advertising.
How brands use native video advertising
Some brands are replacing their display ads with native ads, in order to grow brand awareness and engagement. Some reasons why include:
Native ads yield 308x more attention than banner ads
Brand recall with native ads is 2x more than with banner ads
Engagement with native ads is 53% more likely than with banner ads
Between October 2016 and December 2016, the use of native video grew 3.75x
Along with growing brand awareness, trust, and engagement; brands can also use this type of marketing to drive post-click landing page traffic and generate sales. By including a compelling call-to-action in a video ad, or in the description of their video post, brands can link to an external link, such as a post-click landing page designed for conversion.
Native video has grown to be the most engaging type of video with the highest click-through rate to a post-click landing page.
Below are some native video advertising examples that demonstrate this in action.
Infusionsoft
Infusionsoft created this Facebook native video ad to promote its step-by-step guide to Facebook Live. Notice that it includes a headline and a subheadline, a description above the video, and a link to the post-click landing page at the video's end. The "Download" CTA button is also available at all times so that viewers can click it at any point: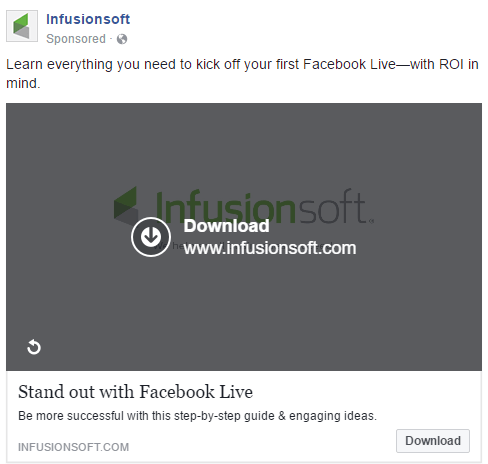 Once a viewer clicks the on-screen download link or the CTA button, they arrive at this post-click landing page to download the free guide: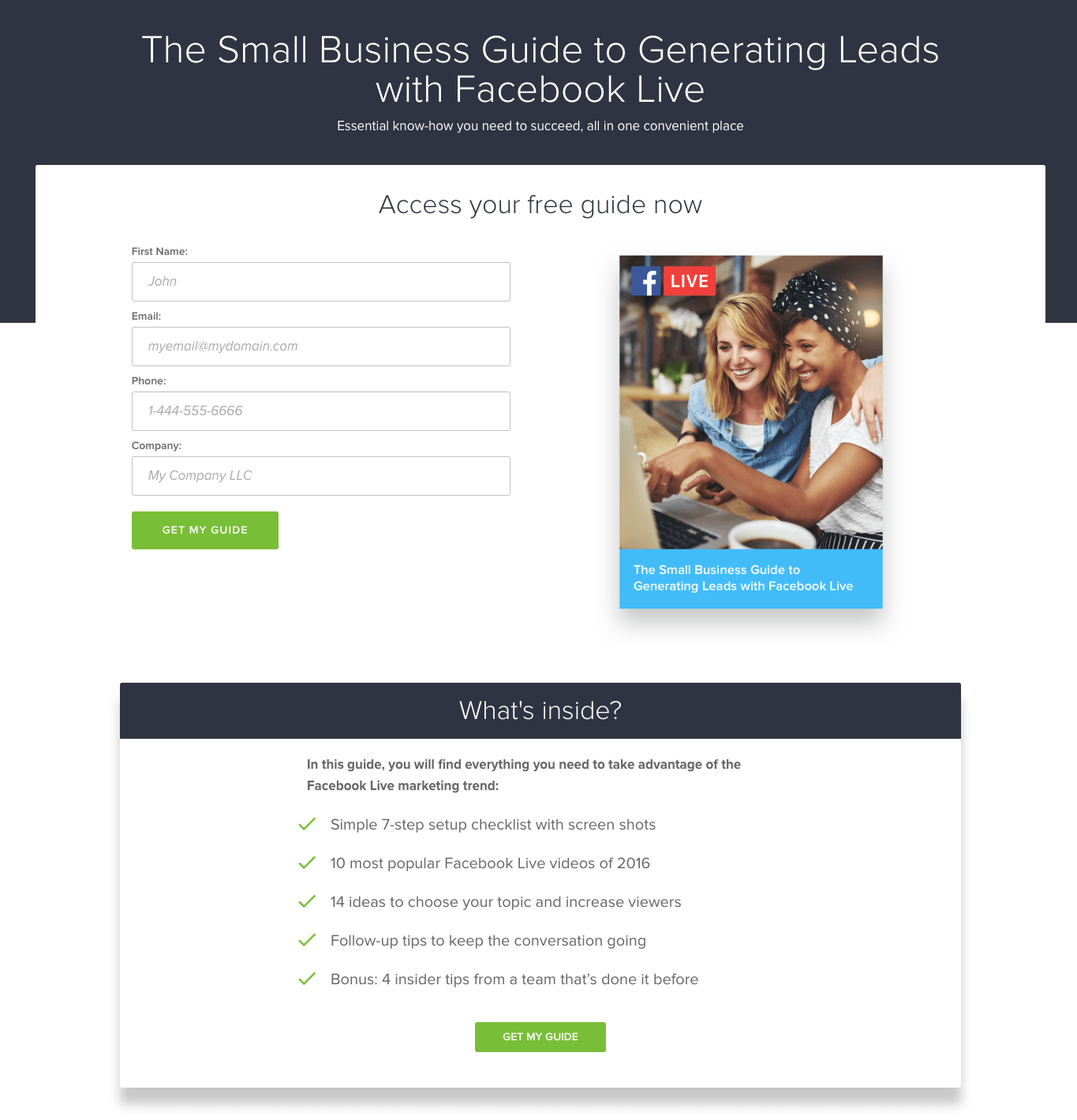 HelloFresh
HelloFresh's Instagram video ad promotes their healthy food delivery service. The description copy is compelling and urgent — letting prospects know that if they order today, they will receive 50% off their first order: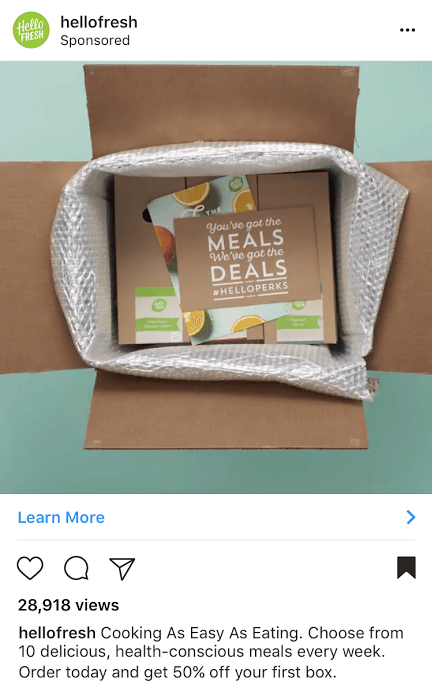 When viewers click "Learn More," they're directed to this HelloFresh click-through page. Notice how well the brand uses message matching from ad to post-click landing page to promote their offer effectively: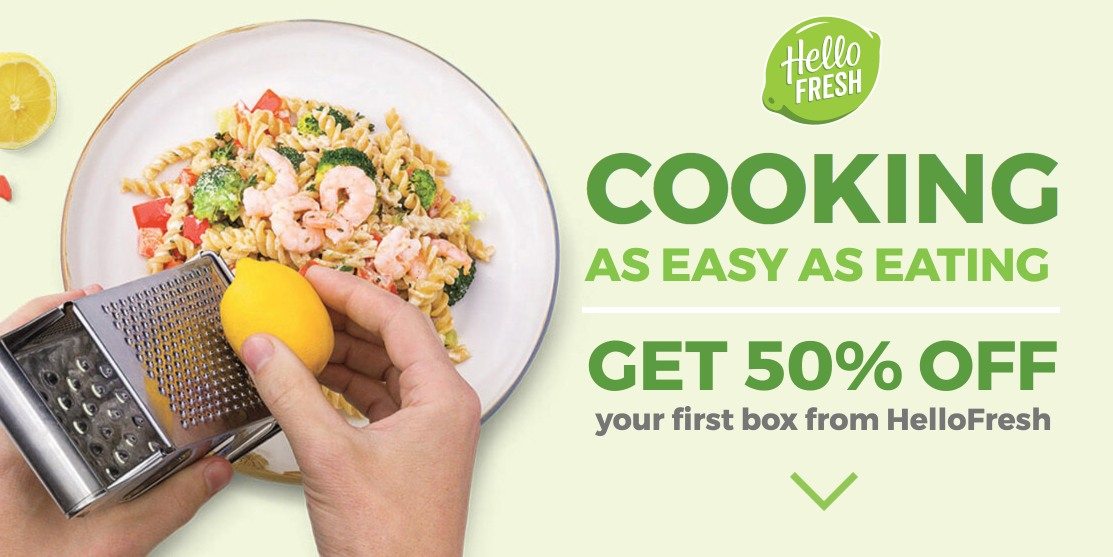 Aha!
Not all ads must be static images or video, as demonstrated by Aha! They use a gif to demonstrate their product roadmap software and promote their free 30-day trial. Since it's a gif, the only option to click-through to the post-click landing page is via the description link: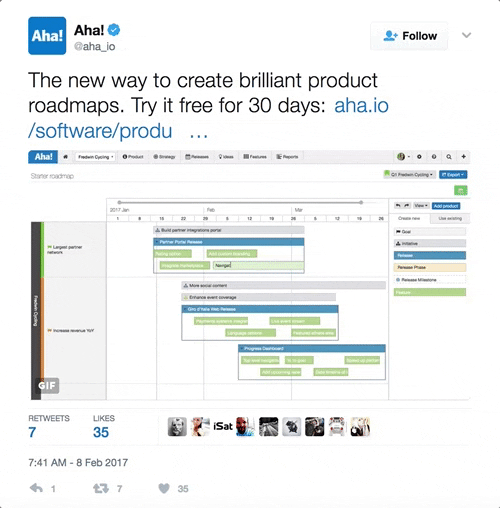 Upon clicking the link, prospects are brought to this post-click landing page to sign up for a free trial: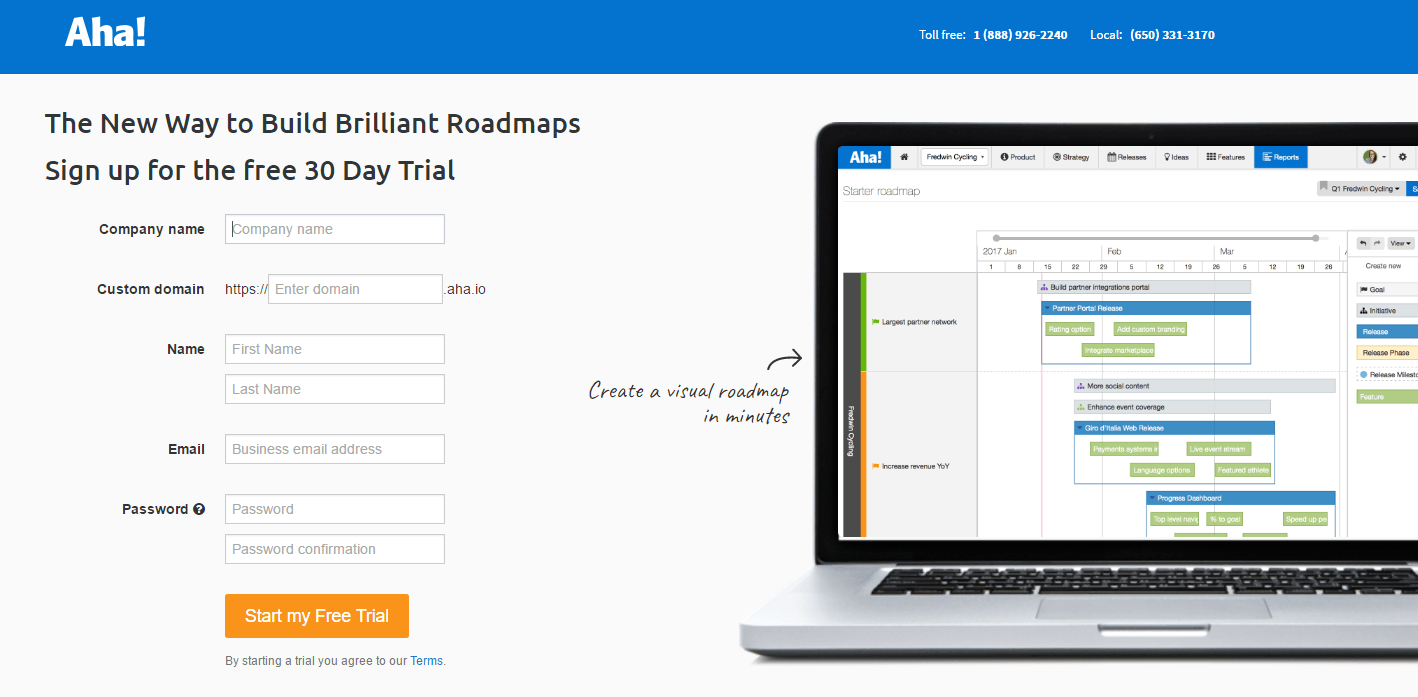 Microsoft Office
Microsoft Office published this native video ad to persuade Facebook users to register for their free Small Business Academy webcast. In this example, users can click the link at the end of the video, or the CTA button underneath the video at any time: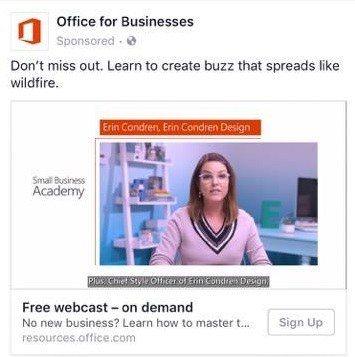 When viewers click through, they see this post-click landing page where they can register for the webcast: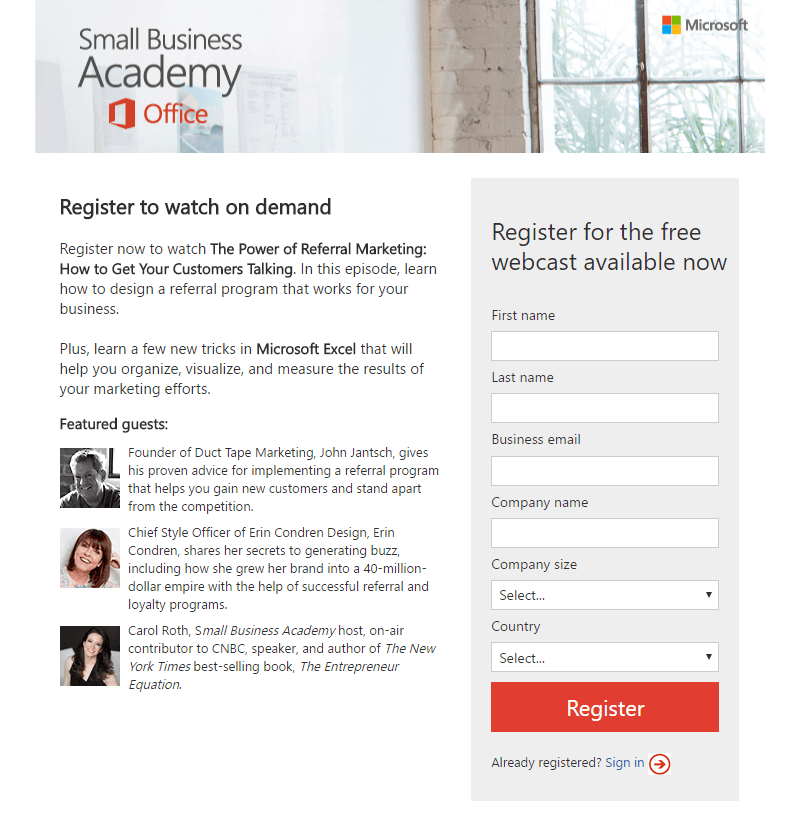 Make the most of your native video ads
Now that you've read the facts and seen the evidence, it's time to incorporate native video advertising into your team's marketing strategy.
Although native video ads can take your brand to a whole new level, it doesn't stop there. Native ads are only one part of the conversion equation. To seal the conversion, make sure to connect all your ads to personalized post-click landing pages. Start creating your dedicated post-click pages by signing up for an Instapage Enterprise demo today.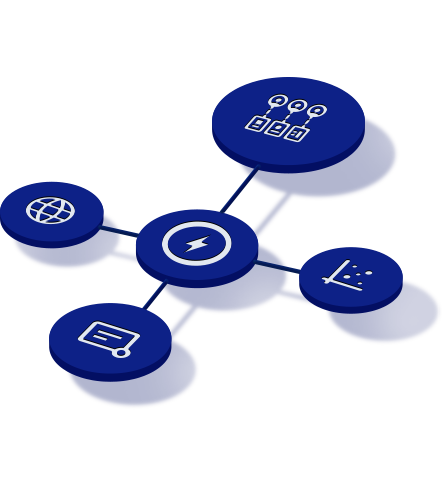 See the Instapage Enterprise Plan in Action.
Demo includes AdMap™, Personalization, AMP,
Global Blocks, heatmaps & more.