The nurturing process doesn't stop after acquiring new customers. To transform buyers into loyal advocates, you must prepare your team to provide value throughout the lifecycle journey.
Sending trigger emails based on customers' behaviors is an effective strategy to retain the attention and wallet of your audience. It also helps create a personalized experience for the recipient. Similarly, Kickbox's Marketing Director, Jessica Martinez states:
By engaging customers with triggered emails, you can provide them with the information they need, exactly when they need it. "This type of marketing automation can help motivate your customers to take a specific action, the ultimate goal being a sales conversion.
Triggered email marketing centers around delivering relevant messages every single time. It helps your team focus on what matters most—retaining your customer base.
What are trigger emails?
Trigger emails are delivered to your customers' inboxes as a result of their behaviors. Most trigger based emails are divided into two categories: event and segment.
In event-based emails, messages trigger by actions performed by customers inside or outside your application that occur at a specific time. For instance, every time customers make a purchase they receive a confirmation email.
Segment-based emails are sent when customers fit a defined set of conditions, like attributes or activities. If a customer enrolls in your "Enterprise Plan," you may choose to send the customer only email campaigns geared for enterprise brands.
Let's dive into more detail. Here are five trigger email examples:
1. Act as a tour guide
Trigger emails are effective for nurturing customers to receive the full benefits of your product. Onboarding may feel overwhelming and these helpful messages nudge newbies to the Aha! moment.
"Personalized, timely user onboarding emails are great at moving users to the next step," says Ashli Norton, co-founder of Kuia. "To deliver those kinds of context-aware emails, they need to be trigger-based."
Be a resourceful tour guide to your customers. You can send targeted emails to customers who haven't activated a specific feature. Or you can deliver a celebratory message after they complete a step in the onboarding sequence.
These trigger emails support your customers in the journey. So avoid sending too many emails that hold no significance. Instead, focus on the actions that cement brand loyalty.
Below is an example from Customer.io. After a user creates a specific campaign, she is congratulated and given additional information about her triggered messages: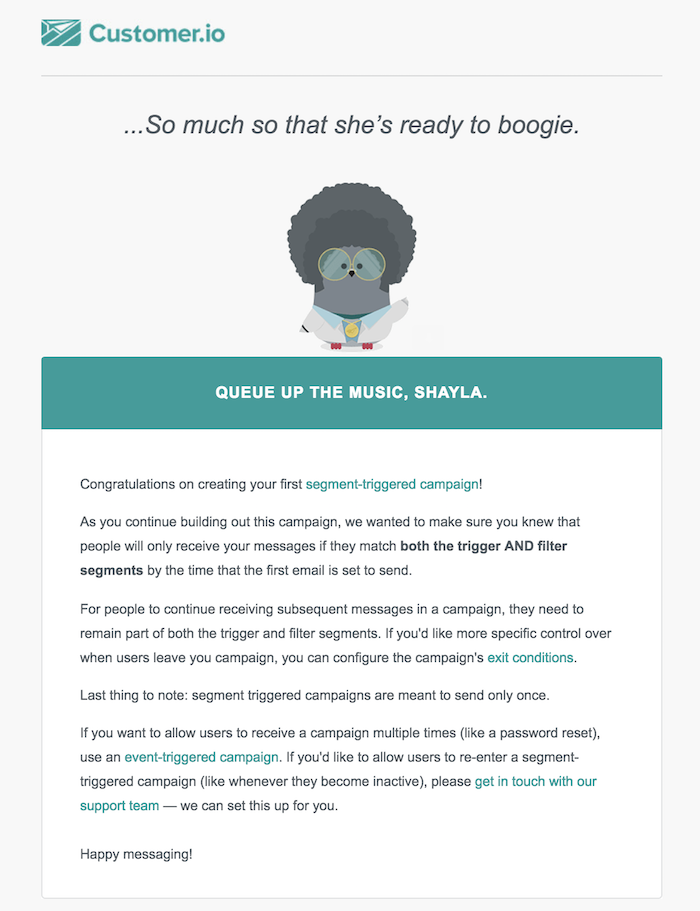 2. Continue the conversation
When a prospect converts into a customer, some companies make the grave mistake of ceasing communication. They send emails back-to-back for 30 days, followed by radio silence.
The period right after a purchase is the moment your team should continue the conversation. It's an opportunity to really understand how you can help the customer succeed with your product. Dashlane's "quick tips" email series is a good example of this as it details how new customers can simplify the login process for any website by storing credentials in their app: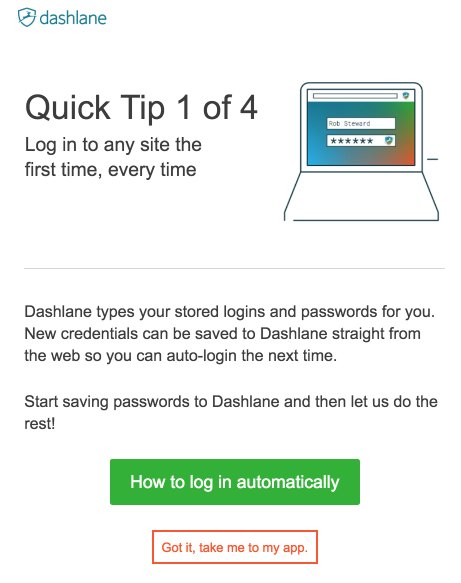 Another way to continue the conversation is to offer additional value. For example, let's say your SaaS app sends an in-app notification to new users about a valuable resource. The customer is then directed to an ebook post-click landing page offering "The Top 10 Ways to Max Your ROI."
The customer enters his email address and receives a trigger email with a copy of the ebook. Rather than just delivering the ebook, your team can use this message to ask relevant questions:
Sending an ebook about Instagram? Ask customers if they need guidance with converting leads on the channel.
Sending an ebook about sales? Ask if they need help hiring a sales rep.
The point here is you want to invite customer input. Trigger emails make it possible to inquire with pertinent questions.
3. Contact about important details
Triggered email marketing helps the customer receive the best possible experience. Therefore, these messages can expand into customer service activities as well.
Customers need updates about important details happening in their accounts. Considered transactional emails, you can trigger a message about an upcoming renewal or a cancellation notice on a recent order. That way they are not surprised if their account is suspended or shipment is cancelled. In the case of renewals or cancellations, the emails also create urgency for them to act before the stated deadline.
Trigger emails notifying customers about their account activity provide an inherent value. Your customers have the right to communications regarding their order shipments and account security. It gives them peace of mind and shows that your brand cares.
Plus, this type of trigger email makes you a better marketer. Knowing how and when customers interact with your product allows you to adjust to your customers' needs.
Here is a payment reminder email from our friends at Thinkful. This message informs the customer about her subscription service. Notice how the email makes it abundantly clear in bold lettering the recipient must take action if they want to change or end their subscription: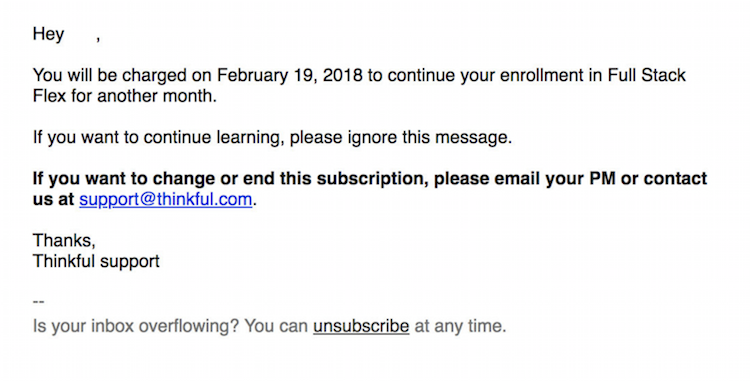 4. Respond to inactivity
Your customers live active lifestyles. Between juggling job duties and family responsibilities, it's easy for customers to forget about your product.
It's your team's job to think creatively to win back the attention of these customers. While it would be great to pick up the phone and talk to each customer, that's not a feasible plan.
Trigger emails serve as a more practical solution. You can create re-engagement campaigns that deliver messages when a user doesn't login to your app after 15 days or when a customer fails to purchase from your ecommerce store in 60 days.
Venngage uses trigger emails to pull customers back into their infographic platform. In the example below, their team offers compelling reasons for the user to login and complete her infographic: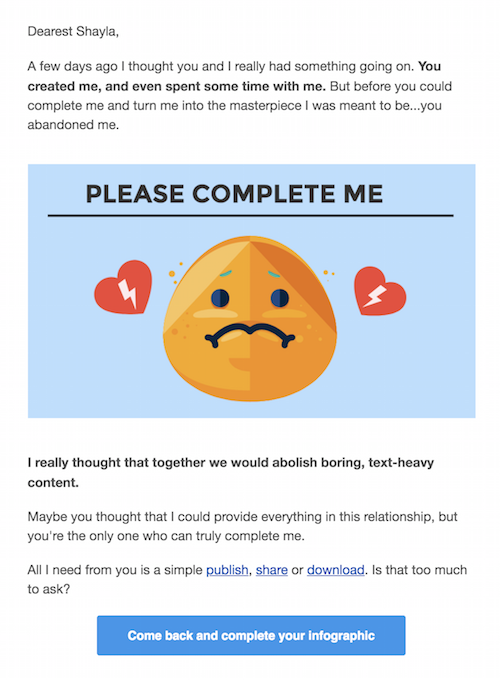 You also can persuade dormant customers with an incentive. Pawel Grabowski, a contributor of WisePops, offers his expertise:
Instead of just sending a once-off offer to encourage someone to come back and buy from you again, add a deadline for them to do so. Make your offer valid for a specific time only, after which the discount code will expire.
Email and in-app customer behavior are a powerful combination for your marketing efforts. Use it to your advantage to re-engage with customers.
5. Reward positive behavior
When nurturing your customers, stick to your goal of transforming them into brand advocates. To do so, it's key that you motivate customers for their positive behavior.
The habits of a loyal customer depend on your business type and audience. You may consider a Net Promoter Score above 7 as an action of positive behavior or when a customer gets three of her friends to redeem a coupon code.
Once you identify the positive behavior, trigger emails can help you reward these highly-engaged customers. A personalized message shows your appreciation and continues the loyalty loop.
Retailer TOMS executes this strategy in their trigger emails. Their Passport Rewards members receive a message with a discount on their anniversary as part of the program.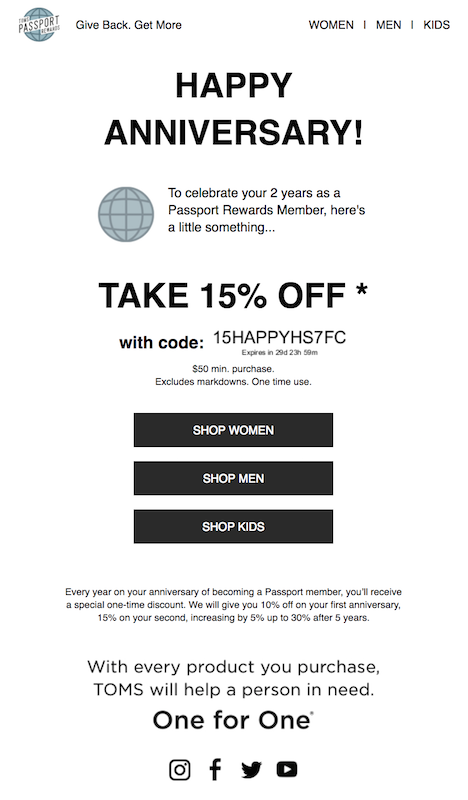 Take advantage of trigger emails
Even after the purchase, it's critical that you continue to nurture customers. Trigger emails give you the power to tailor the customer experience to every recipient. Work with your team to determine how to keep customers engaged across the lifecycle journey.
One thing that keeps customers engaged and persuades them to convert is a dedicated post-click page. Turn ad clicks into conversions, create dedicated, fast-loading post-click pages for every offer. See how to provide all of your audiences with unique post-click landing pages by signing up for an Instapage Enterprise demo today.
About the author
Shayla Price is a marketer who positions products for growth. Whether it's content, email, or good ol' public relations, she strives to delight customers and increase company revenue. She also champions access to remote work opportunities.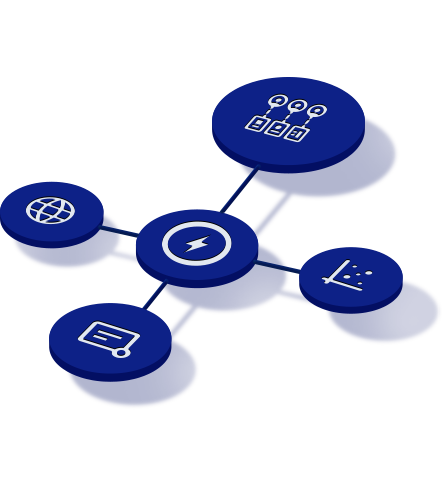 See the Instapage Enterprise Plan in Action.
Demo includes AdMap™, Personalization, AMP,
Global Blocks, heatmaps & more.