Relevant ads can earn more clicks, show in higher positions, and bring advertisers like you more success compared to showing irrelevant messages to the wrong audience. They can also lower cost-per-click, saving you money with each click. Not only do irrelevant ads tend to earn fewer clicks — but they might not even show up at all.
All of these factors make focusing on ad relevance critical when creating your campaigns.
What makes an ad relevant?
This looks different depending on your advertising strategy — your chosen ad platform or network, who you're targeting, the ad type, and more. So, to know what makes an ad relevant, it's necessary to break it down across several major mediums.
For example:
On the search network, a relevant ad is one that closely matches the user's search query.
On the display network, an ad is most relevant if the user has already visited a company's website or engaged with the brand in the past on any channel.
On mobile, relevance comes primarily in the form of mobile optimization and providing a great mobile user experience (scrollable content, clickable buttons, cropped images, responsiveness, etc.)
On social media, ad relevance comes from targeting users with an ad creative based on user activity, personal information shared during signup, etc.
Now let's analyze some real ad campaign examples to show what a relevant ad looks like in a variety of different locations.
Paid search ads
Google
The search phrase "email templates for real estate" generated this Constant Contact ad on the Search Network: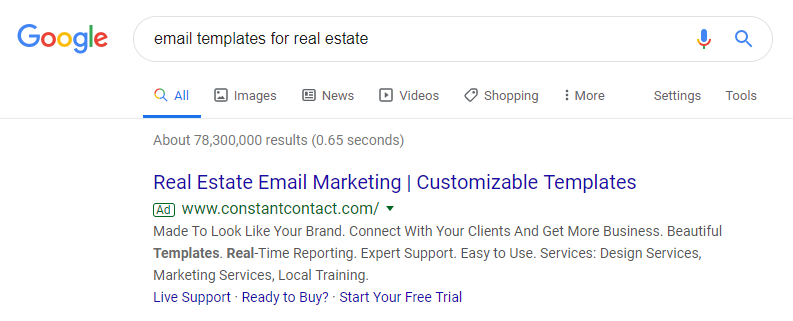 What makes the ad relevant?
Keywords in the headline make it clear that the ad promotes exactly what the user is looking for.
Dynamic keyword insertion is used to provide users with more relevant ad text while using a single generic ad for multiple keywords. So "real estate" was probably inserted into the original ad text for users to see this distinct ad for their keyword search.
The ad copy continues to use keywords from the search phrase, highlighted to indicate relevance.
What makes the ad irrelevant?
Ad extensions typically provide users with more navigation options, but in this case, they don't match the search phrase very well.
Next are the search results for "social media content calendar" on Google's mobile app: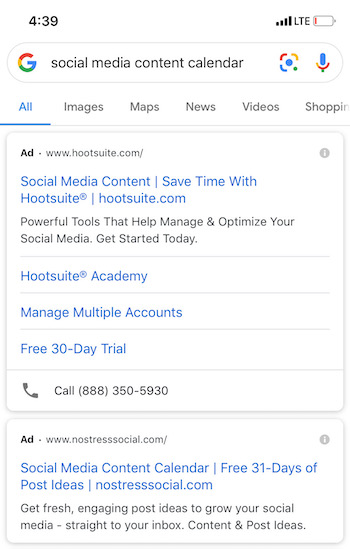 What makes both ads relevant?
Both ad headlines match the search terms (the second one includes the exact search phrase) to let users know they can find what they're looking for by clicking each respective ad.
Hootsuite and No Stress Social likely used long-tail keywords to attract searchers rather than short-tail keywords like "content calendar." Doing this could produce more relevant and qualified leads.
Search terms in the ad text — "social media" in the Hootsuite ad, and "social media" and "content" in the Nostress Social ad — continue to show people that the ads match their search.
Ad extensions in Hootsuite's ad increases relevance even more and provides users with additional options for clicking through.
What makes the ads irrelevant?
Adding a keyword to the display URLs would be another way to persuade the searcher to click through each ad.
No CTA in either headline takes away some of the relevance and urgency to click.
Bing
On Bing, someone researching their "student loan consolidation" options might see these two PPC ads: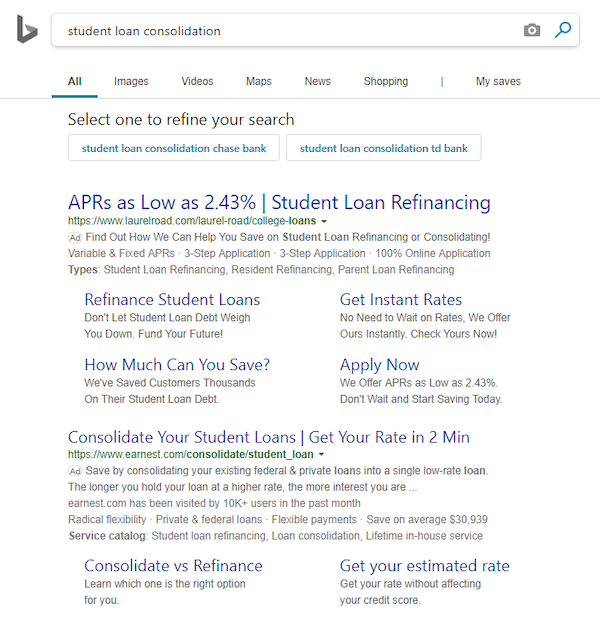 What makes the ads relevant?
The headlines both include a variation of the search phrase so users immediately know the ads are relevant to their needs.
The ad text also includes variations of the search terms to continue showing people they can find what they're looking for by clicking the ad — "student loan" and "consolidation" in the Laurel Road ad, and "loan consolidation" in the Earnest ad.
A CTA in the second headline lets users know exactly what they can expect by clicking: an estimated consolidation rate in just 2 minutes.
The ad extensions in both cases are closely related to the search terms and headline.
Keywords in the display URLs indicate that prospects will be directed to a page related to the search phrase and ad.
Sticking to the financial services theme, this Bing ad shows for "mortgage calculator:"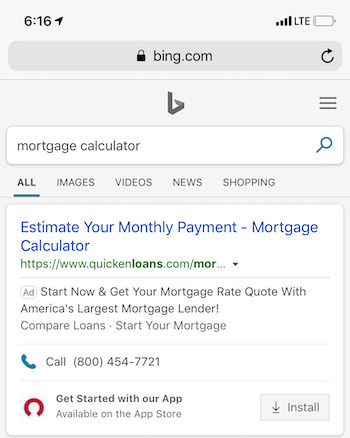 What makes the ad relevant?
A headline with the exact search phrase immediately signals that Quicken Loans offers a mortgage calculator tool.
The display URL also contains the keyword and shows prospects where they can expect to go after clicking.
Call and app install extensions improve the user experience even more, allowing prospects to call the company or download their mobile app.
Display ads
Google
On Weather.com, this Drip display ad appeared on the right side of the page: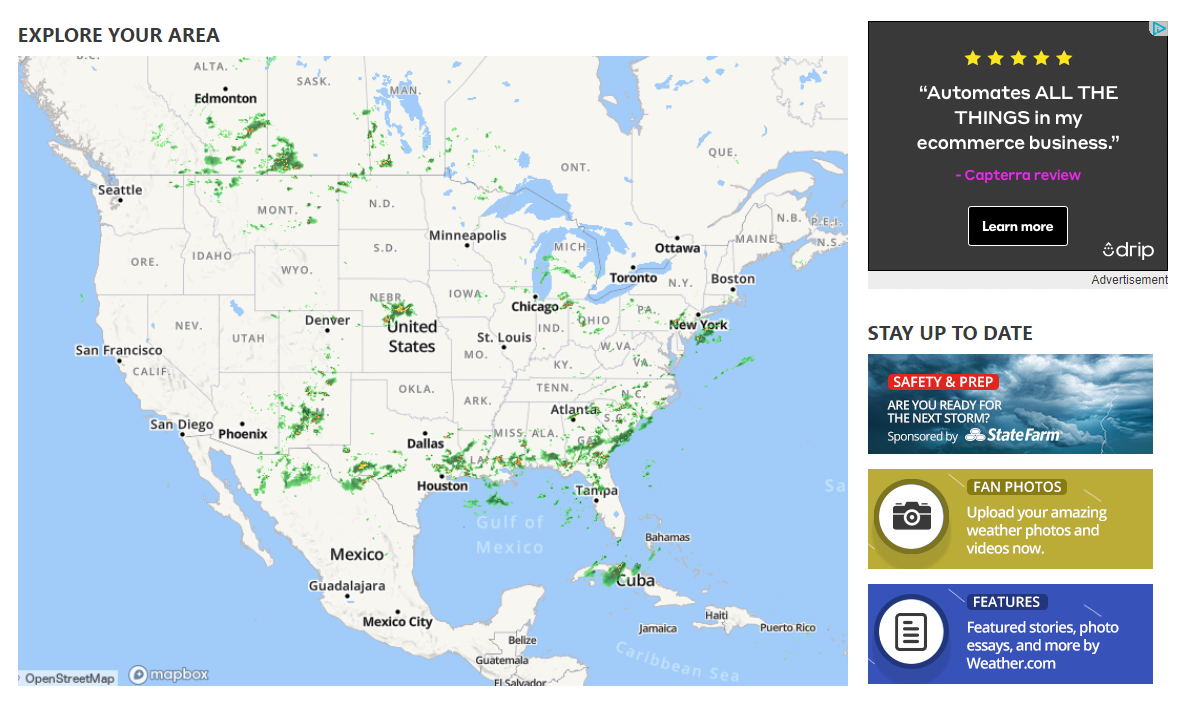 What makes the ad relevant?
It's retargeting me after visiting Drip's website several times last week.
Part of the ad copy is also relevant, stemming from my recent advertising automation research.
What makes the ad irrelevant?
The ecommerce mention in the testimonial makes the ad feel less personalized because I wasn't researching ecommerce automation at all.
Changing the CTA button to say what exactly prospects can expect from clicking through (i.e.: "Set up a demo today") would let them know whether or not the ad is actually relevant to what they're looking for.
Here's a second example of a retargeting ad on Entertainment Weekly's website: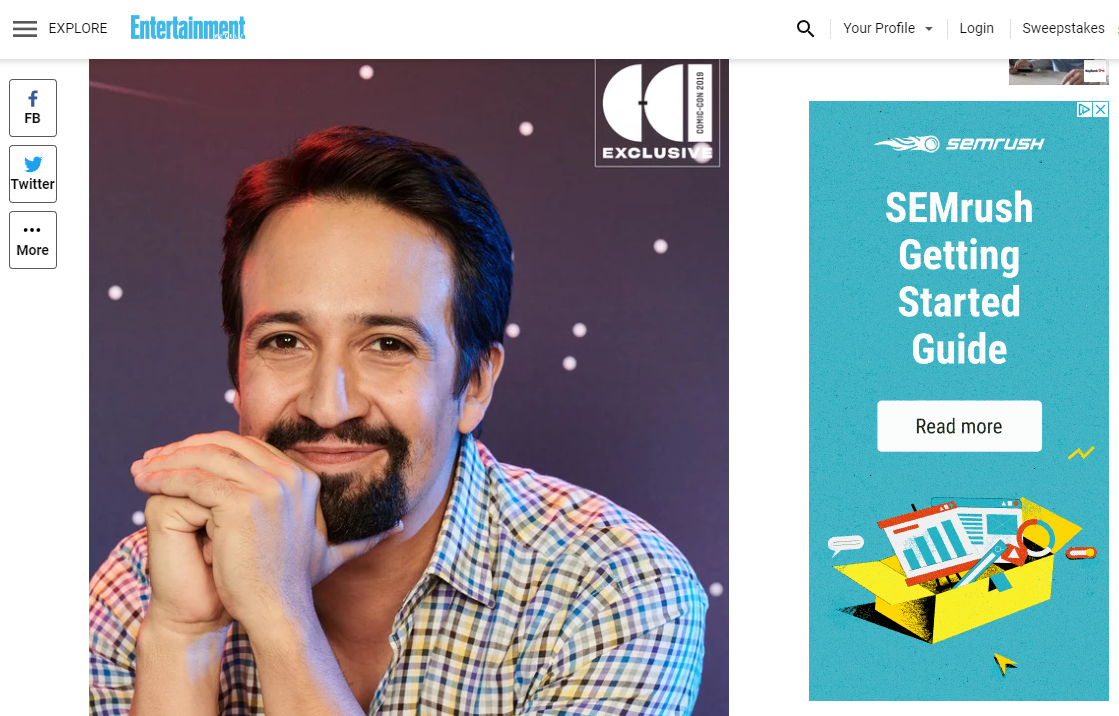 What makes the ad relevant?
SEMrush retargeted me after visiting their website multiple times last week.
The offer is relevant to my interaction with their brand because I didn't navigate the site or stay on it long, so a "Getting Started Guide" is an applicable resource to start with.
YouTube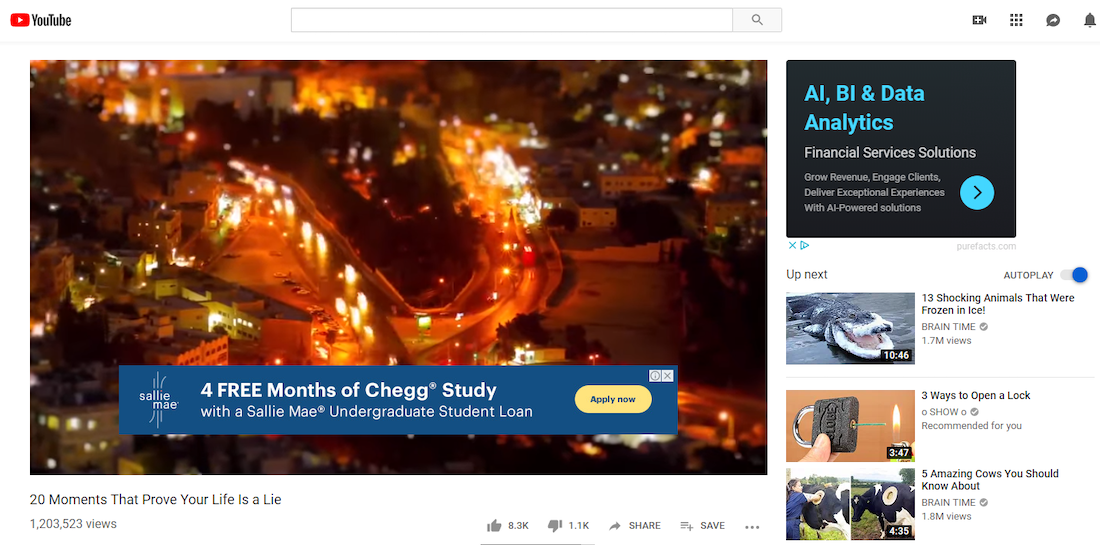 What makes the ads relevant?
Both of these ads likely targeted me because of the student loan Bing search and overall financial services research from above.
The display ad in the right margin could also be showing due to my recent research on data analytics, some of which was also on AI-powered solutions.
What makes the ads irrelevant?
The Sallie Mae ad isn't relevant to me because I'm 30 years old and already completed my undergraduate degree, so I wouldn't be interested in an undergrad student loan.
Facebook ads
In this section, we'll look at several examples of different Facebook ad formats to show you how to make Facebook ads more relevant and improve your relevance score.
This first screenshot shows one native ad in the Facebook newsfeed and two more ads in the right column: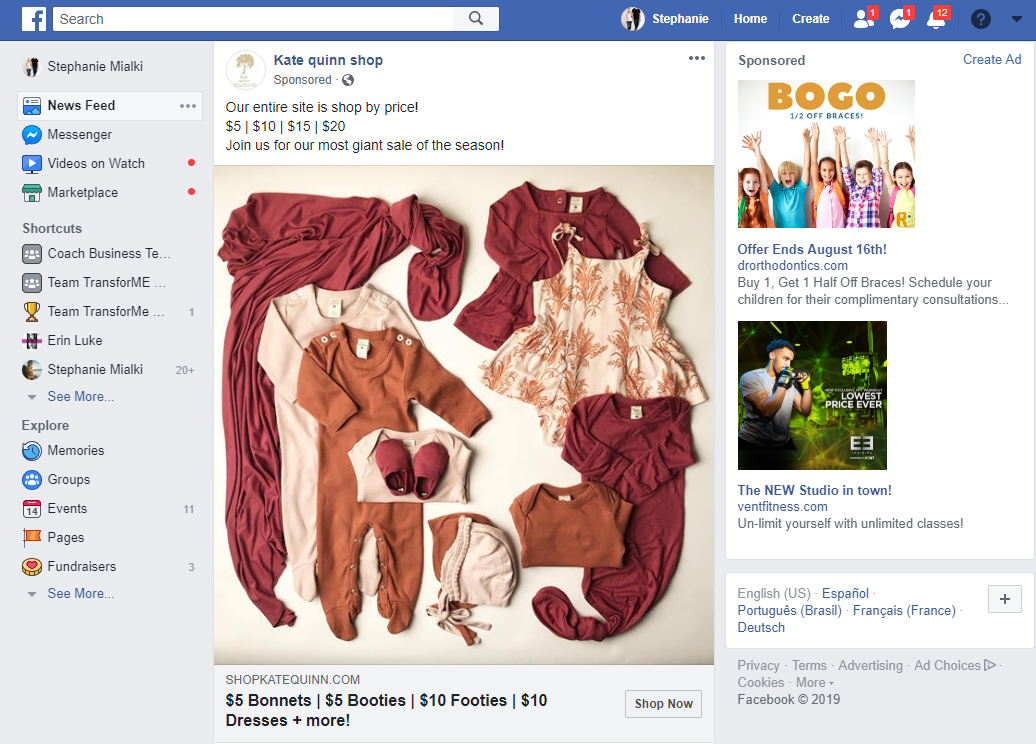 What makes the ads relevant?
The Kate Quinn ad is extremely relevant because I've clicked the company's ads before, visited and follow their Facebook page, and even purchased baby clothes from their website.
The bottom right display ad isn't quite as relevant as the Kate Quinn ad, but it could still be targeting me based on my age, location, and interest in fitness.
What makes the ads irrelevant?
The top right display ad isn't personalized to me because none of my children are old enough for braces. So a current BOGO sale wouldn't appeal to me. However, if the ad promoted a consultation to discuss future options for my kids (or even an ad targeting adults who might need orthodontic care), it would seem more personalized.
Below is another Facebook retargeting ad, this time on mobile: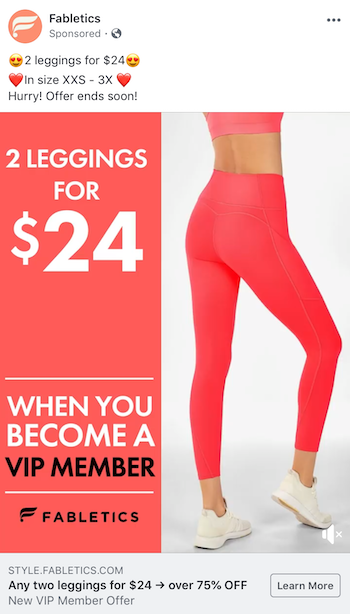 What makes the ad relevant?
After recently ordering athletic wear from their website, Fabletics retargeted me with several Facebook ads.
Multiple purchases from the website make the ad even more relevant, because I could start saving on my semi-frequent orders if I signed up as a VIP member.
Get the most out of your ad spend with relevant ads
All of the examples and analyses in this post demonstrate that pre-click strategies (ad extensions, keyword insertion, retargeting, etc.) can significantly increase ad click-through rates.
See more examples, ad specs, and targeting options in the Instapage Digital Advertising Reference guide, and be sure to create optimized campaigns where your ads are likely to be most contextually relevant.