While advertising rules and trends may change, one fact remains constant.
Personalizing advertising campaigns is where success lies. Providing fully personalized experiences to every audience segment in the advertising funnel gets you conversions, and eventually, a high return on ad spend (ROAS).
Personalization isn't a new phenomenon, it has been used in the pre-click stage for years—from dynamically inserting names into emails to programmatic advertising. However, advertisers still aren't using personalization in campaigns to the strategy's full potential, specifically in the post-click stage.
Let's change that.
Enter Google and Facebook.
How Google and Facebook can help with personalization
Facebook and Google are powerful advertising platforms designed around personalization.
Both advertising giants gather data about their users and show them content based on their actions and preferences. Information learned by the platforms is used for data models that progressively make advertisers' campaigns "smarter."
Advertisers can learn a lot about personalization from looking at Google and Facebook. In this blog post, we'll examine some of the personalization practices used by these two advertising platforms—and how to implement them in your own ad campaigns.
Google personalized search
Google introduced personalized search in 2004. The primary purpose of personalized search is to increase the relevance of the results for a particular user. Arguably, this is where the trend towards online personalization, browser cookies, and search engine optimization (SEO) truly began.
The Google search results a user sees aren't just based on the traditional ranking factors—such as the relevance of the web pages to the search term or their authority—they are also sorted based on the information that Google has collected about the user with browser cookies. The information includes the user's location, search and browser history, device, other Google products they use, demographics, and interests.
Google shows users what the platform expects they're searching for, based on what they've searched for in the past. Since Google owns 92% of the search engine market worldwide, audiences have grown used to this kind of online experience over time, signifying personalization is not a marketing fad, but it is here to stay.
Advertisers now need to segment and personalize experiences based on users' demographics, interests, and devices to create an enjoyable user experience and a smooth transition from the initial ad click to the post-click experience.
Google ad personalization
In late 2021, Google gave users more control over personalized ads and opt-outs. This shift was likely inspired by Apple's iOS 14.5 update, which requires app developers to explicitly ask for permission to track the user's information for personalized ads.
After much criticism of Google's privacy procedures on Android, the company has also invested heavily in enhancing Android's privacy capabilities. After the release of Android 12, when a user opts out of interest-based advertising or ads personalization, the advertising identifier will not be available. Developers will see a string of zeros in place of the identifier.
Google's new stance on user privacy indicates that the pre-click stage of the ad funnel isn't immune to change. The next decade will be pivotal for the future of privacy online.
This is why advertisers shouldn't bet all their chips on the pre-click stage. Advertisers need to create targeted narratives that drive advertising conversions through landing page experiences, so you can convert a more significant percentage of your traffic.
Facebook audience segmentation
Facebook has gone further than almost any other platform in giving advertisers the reach, data, and algorithms needed to target the perfect audience.
The platform allows advertisers to create multiple audience lists for specific campaigns with the help of different audience pools. For example, you can use custom audiences to get back in touch with people who have engaged with your business, online or offline. And if you want to reach new people whose interests are similar to those of your best customers, you can create lookalike audiences to ensure your ads are seen by new, relevant users.
Facebook Ads gives users access to an extremely high level of granularity in audience targeting focused on intent. The platform aims to be one of the only options available for scaled digital advertising. They have developed highly effective targeting tools to improve conversions and accuracy in order to get advertisers to rely on Facebook's specialized audience targeting and data tech.
The lesson advertisers can learn from Facebook's audience segmentation is that focusing on carefully defined audience segments on the behavioral level leads to higher conversion rates.
When running Facebook ad campaigns, it is essential to not just create personalized ads based on audience insights and data, but to connect those ads to personalized post-click experiences that leverage that data and continue the same narrative.
While personalizing an ad gets you clicks, personalizing post-click experiences significantly increases advertising conversions and improves ROAS.
Facebook ad personalization
Your Facebook News Feed is unique. The platform shows pages and creators you may want to follow, groups to join, and products and services you are likely to buy. Facebook powers this content via personalization, which helps people discover products, pages, and groups that align with their past behavior. It's also how the platform allows advertisers to reach their most likely audience for a reasonable price.
In 2021 Facebook announced their Good Ideas Deserve to Be Found initiative to celebrate people finding businesses they love on Facebook and Instagram. The initiative highlights why personalized ads are essential for audiences to discover small businesses and how these ads help businesses grow from an idea into a livelihood.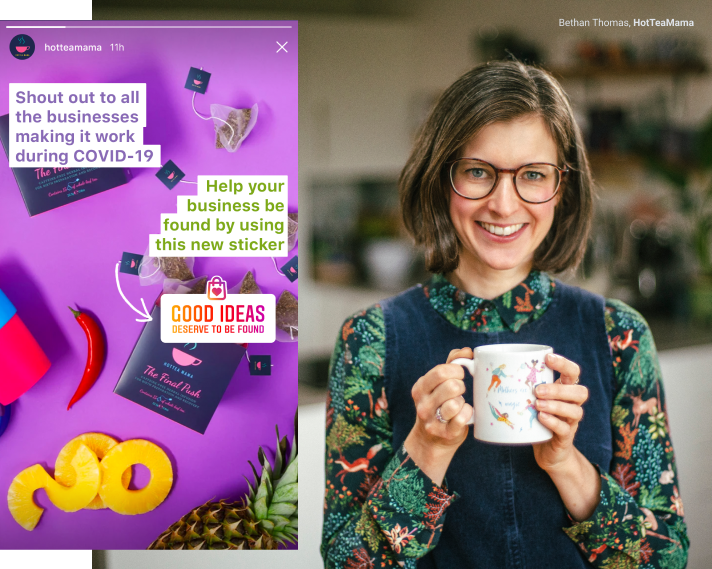 Along with the initiative, Facebook also introduced product updates, such as simplifying the Ads Manager and updating the Business Resource Hub.
While Good Ideas Deserve to Be Found centers around SMBs, Facebook updates from the previous year, such as Facebook Shops and Facebook Business Suite, show that the advertising platform is doubling down on personalized ads. This means that you need to do the same with your post-click experiences. When you connect all of your ads with personalized experiences that help visitors find the solution to their problem, you greatly increase advertising conversions.
Since every campaign has a unique audience, each one also needs a unique destination that continues the narrative presented in the ad.
Are you guilty of only personalizing the pre-click stage? It's not too late. Start personalizing your landing pages today. And if you don't know where to start, Instapage can help.
The platform empowers you to start creating personalized and optimized landing pages to generate higher advertising conversions. Find out how to skyrocket conversions while decreasing your cost per click—with scalable advertising personalization. Schedule an Instapage demo today.