Should you add more marketing services to your suite of services or focus on your core resources and skills?
Many agency owners face the same question every single day. A lack of focus can lead to a disorganized agency, and hiring in-house is expensive, but losing clients is even more costly in the long-term.
As market knowledge increases and new services appear, your current clients may ask themselves why you don't offer similar services. While some services will always be needed in one form or another (e.g., copywriting, PR, SEO, etc.), it's important to adapt to market changes and fulfill the demands of your customers.
In this article, you'll learn how to offer new marketing agency services without losing your focus, hiring in-house, or having to manage freelancers.
You'll also discover:
The typical services that agencies offer
Overlooked services that agencies don't typically offer
How white labeling services come into play
How to promote a new service
Typical digital marketing services that agencies offer
Some digital marketing services are unlikely to disappear regardless of how promotion methods change. Among the most typical services that agencies offer, you will find:
Digital Advertising
Content Marketing
Public Relations
Search Engine Optimization
Some new approaches sometimes work as "helpers" to these traditional services.
For example, conversion rate optimization (CRO), a concept coined in 2007, focuses on creating a better experience for the user. This translates to making tweaks across the board and determining what prevents web page visitors from becoming customers. As a consequence, your content marketing strategy may require changes, and so might your SEO strategy and advertising.
Even Google created a free tool (Google website optimizer) to help you have a better understanding of how your website pages should be optimized.
To sum up, certain digital marketing practices won't go out of style. They might change (such as the shift from written content to video content), but traditional services will continue to stick around.
Don't worry about shaking the core of your agency. Instead, add services that enhance your current services and that earn your agency or clients more revenue.
Overlooked services that agencies don't typically offer
Perhaps overlooked is a stretch, but many marketing agencies can't afford to keep up with the latest marketing trends or provide wholesome solutions to their client's problems because the technological changes are hard to keep up with.
For example, a marketing agency that focuses heavily on delivering content and web copy but doesn't offer web design leaves itself vulnerable to losing clients. These clients are then forced to find another agency that can meet all their needs or hire a freelance web designer to create their web pages and post-click landing pages.
Not only is that inconvenient for the client, but it might cost more to hire a web designer separately. Additionally, web design plays a big part in how a post-click landing page will perform. A web designer and a copywriter failing to collaborate on the same project raises another question: How will the design fit the copy without the input of the copywriter? (There is a solution for this, the Instapage Collaboration Solution.)
More money is spent and more time is wasted in making two hires. And the end result might not be properly optimized.
post-click landing page copywriting, analytics, design, and A/B testing
As mentioned above, one of the most common mistakes marketing agencies make is providing an incomplete service. The client will be left with two options: hire someone to put together the missing pieces or find a company that can provide a complete solution to meet their needs.
But the example described above is incomplete. Copywriting and design are only two marketing vendors that go hand-in-hand. You must also be capable of tracking how each post-click landing page performs and make tweaks to each one when needed.
Let's take a look at the graphic below to find out what testing and tweaking for performance looks like. A/B testing is also applicable for post-click landing pages and the most successful digital marketers test their pages regularly (full infographic here):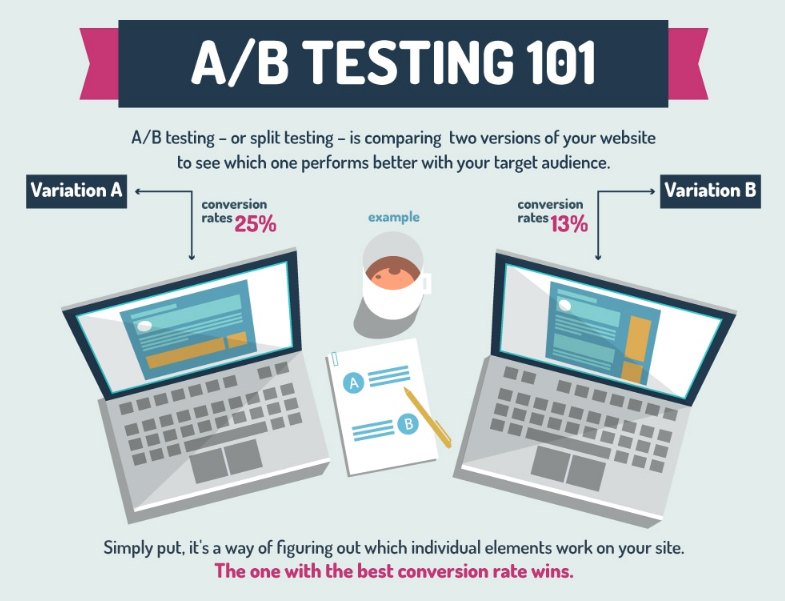 There are other factors to consider too. Each post-click landing page type will require its own layout, design, style, and optimization. These types include:
Mobile post-click landing pages
App post-click landing pages
post-click landing pages play a huge role in conversions and sales numbers because that is where conversions happen. Without them, prospects are not incentivized to claim an ebook, request information about your services, or buy from you.
Most marketing agencies lack these services, despite there being significant demand.
For example, any time you've seen a popup requesting your name and email in exchange for a piece of content, you've seen a squeeze page. Search Engine Land is just one of millions of sites using the strategy: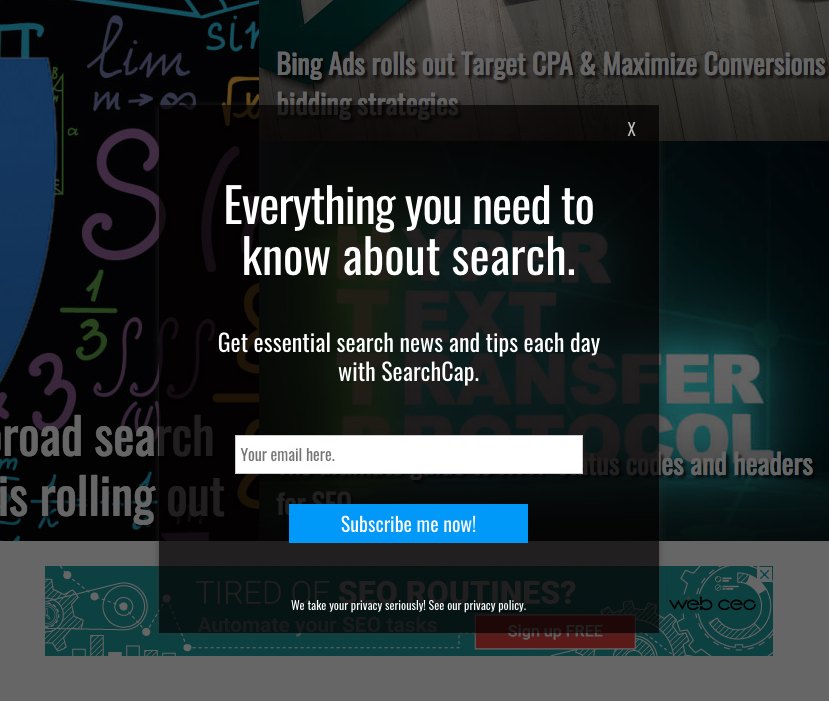 Digital marketers around the world employ squeeze pages because they are highly effective lead gen tools. Knowing that, you should consider adding post-click landing page design/optimization to your list of services as well.
Conversion rate optimization (CRO)
CRO may seem like nothing new. You might say, "don't we already check for flaws and try to optimize when we A/B test post-click landing pages?"
But CRO isn't just about A/B testing; CRO is about the big picture, and the small tweaks you make to your website are barely scraping the potential of this practice.
You may have clients that ask you to find out what stops visitors from converting. This is where CRO comes in handy.
CRO enables you to look at all the elements that influence the conversion decision. There is no way to find the answers unless you review:
Bounce rates
Heatmap analysis
Usability testing results
A/B testing and multivariate testing results
Which pages capture more leads and which don't
Survey responses
Web copy
The list goes on. But the point is that CRO looks at both the big picture and at the micro level with one purpose: identify the troublemakers and put together a battle plan.
How do white-labeling services come into play?
You might be thinking now, "How am I going to add these services and scale my company while maintaining low costs and keeping the focus on what I excel at?"
Many business owners face the same hurdle. They want to scale, but the hiring process for something you aren't an expert in can be tricky. Not to mention, overhead costs come into play and you must deal with the fact that you now have more services to focus on.
Jeffrey Pfeffer, one of today's most influential management thinkers, was right when he said:
"You are more likely to acquire power by narrowing your focus and applying your energies […] to a limited range of activities in a small number of domains."
Fortunately, there is a solution to this. You can focus on your clients and core services by using white-label services to expand your business.
For instance, let's assume you own a copywriting agency. You're able to write post-click landing page copy but can't actually design and setup that page. In this case, partnering with a company that offers web and/or landing design so you can deliver a complete solution is the logical decision.
The graphic below further breaks down the pros and cons of using white-label agencies (versus hiring freelancers or in-house employees):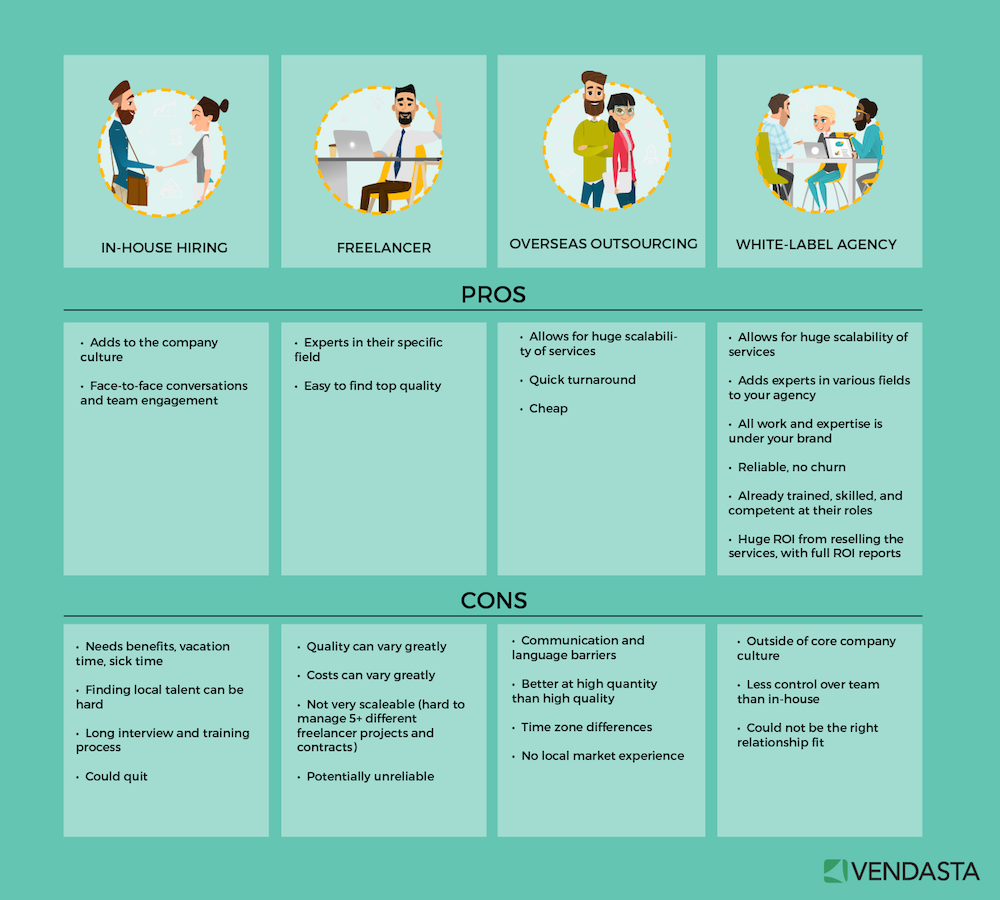 The main advantages of white-label services include:
You can scale quickly and add services that you don't have experience in
Reduced costs (when you consider the costs of hiring a full-time employee such as salary, benefits, vacation days, etc.)
You can focus on your core resources and skills
All the work will be done under your brand
Less worry about managing new teams and projects
The disadvantages are:
Less control on how team members work
Having to deal with a different team culture, different work ethics, etc.
You might have to test out a few different white-label services until you find a company that delivers on your expectations
To sum up, you can provide expert services to your clients without having to hire in-house or relying on freelancers. White-label service providers, unlike freelancers, provide a complete solution: designers, coders, writers, and marketers — all working on your project as a team.
How do you promote a new service?
To generate leads for a new service, the possibilities are endless, but one of the best ways to promote a new service is to market to your existing customers. For them, you can send an email with a discount code for your new service and a short description of how it can help their business.
Other examples include hosting a webinar about the pain points of your customers and educate them on what the solution can be. You can also organize meetups, or if your budget is limited, advertise on social media and participate in discussions within relevant groups.
Additionally, you can:
Offer an upgrade to your current customers with your new service
Attract media attention (charity, controversy, etc.) to get free traffic to your website
Write an ebook to build authority in your field
Offering new services is a great way to expand your agency
When your agency is looking to expand, finding another that you can white-label their services is one of the most cost-effective and time-saving ways to do so. Hiring in-house is expensive and by teaming up with another company, you can focus on what you do best.
Turn more of your ad clicks into conversions with the Instapage Advertising Conversion Cloud. With AdMap, 1:1 Personalization, built-in collaboration, pixel-perfect designs & more, no other solution can compare. Sign up for an Instapage Enterprise demo today.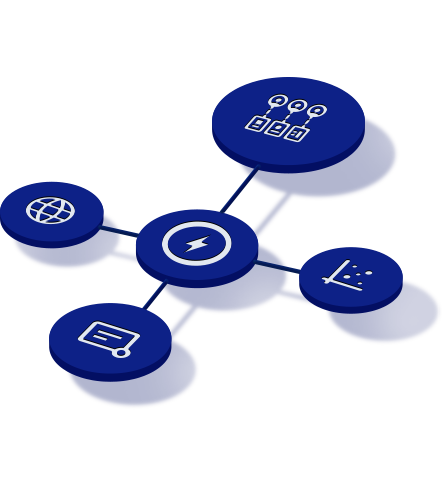 See the Instapage Enterprise Plan in Action.
Demo includes AdMap™, Personalization, AMP,
Global Blocks, heatmaps & more.