There's no shortage of lead capture page examples on the internet. There is, however, a lack of lead capture pages that are optimized to do what they were created to do (capture leads!).
What most marketers forget when creating lead capture pages is that just slapping a form on a page doesn't make it a lead capture page. To make it a viable lead capture page, there are necessary elements that you must include converting visitors into leads.
So, what are these elements that help jumpstart your revenue cycle?
We've hand-picked four lead capture page examples to show you how an optimized lead capture pages should look.
Before we begin, it's important we discuss what post-click landing page friction is because it plays a huge role in your lead capture process.
Friction is resistance — the first law of post-click landing page physics
Friction is any element on your post-click landing page that causes your customers to resist clicking on the CTA button.
Marketing Experiments describes friction as "psychological resistance to a given element in the sales or sign-up process… friction is the aggravation factor." Because your post-click landing page conversions take place in your customers' minds before they do on your page, it's vital that your page is free of any of those elements that cause psychological resistance.
Friction confuses your visitors. It creates anxiety and frustration in their minds, so much so that they abandon your post-click landing page!
On lead capture pages, the element that causes friction is usually the form.
Visitors aren't particularly eager to enter their personal information on post-click landing pages; especially if they don't trust the company that is asking for their information. So, for starters establish trust on your post-click landing pages by either linking to your privacy policy (below the form) or including trust seals on your pages.
Another thing your visitors may not like is filling out a long form that asks for too many details. You can remedy this by removing unnecessary form fields based on where they're at in your funnel. When Expedia tried this by removing one form field and earned $12 million in profit: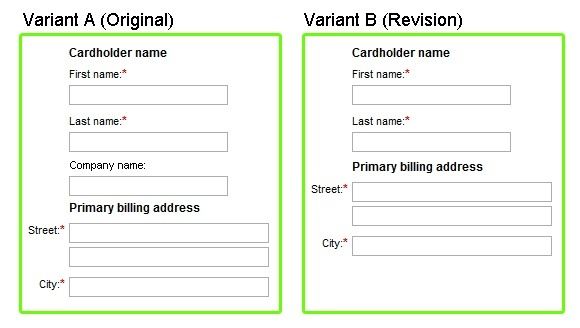 Why did such a minor change have such a major impact?
That single field created significant friction by breaking the flow of their entire user interface. A lot of visitors were confused by the "Company" field. Most visitors thought they should put in their bank name — causing them to enter their bank's address in the billing fields, which led to failed transactions and higher customer abandonment.
Make sure your form only asks relevant and close ended questions because open-ended questions take up too much of your visitors' time and energy to fill out. Want to know your visitors' biggest marketing challenge? Give them a few options to choose from instead of having them write everything themselves.
Frictionless lead capture page examples
Zoho CRM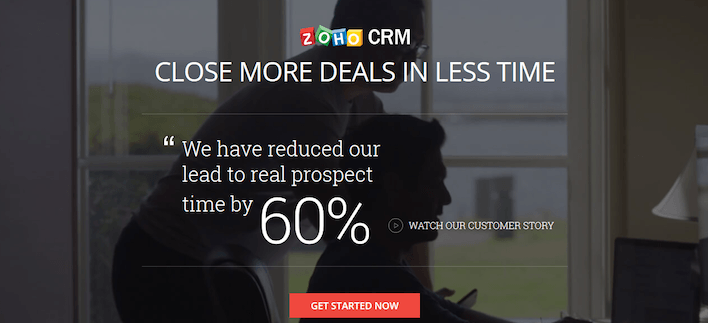 The Zoho CRM lead capture page starts off with a headline that's right on the money: "Close more deals in less time." After you're hooked by the headline, you have the option of watching a happy customer story — that reduced one particular customer's lead to real prospect time by 60%.
The page features a lengthy list of benefits that come with the tool, along with a graphic showcasing their CRM integrations. In the end, you have the lead capture form (including links to their Terms of Service and Privacy Policy at the bottom) coupled with a bright CTA button.
What's the one thing that makes this page special?
The lead capture form isn't the first thing the visitors see, so one of the major psychological barriers that create friction is eliminated. Only after the service is explained, do the visitors see the form. For those that are convinced just by watching the video, clicking the CTA button above the fold takes them straight to the form: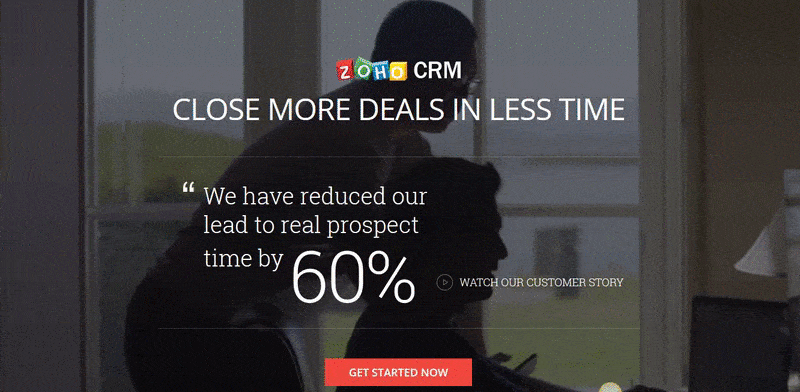 Kapost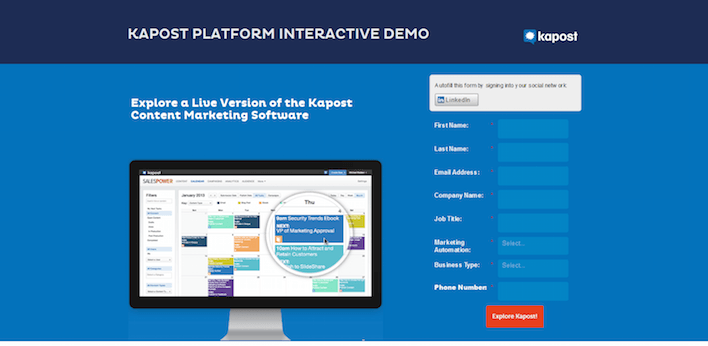 The Kapost page is simple and minimalistic. The form is one of the first things visitors see. The live demo headline is clear. The image showcases the dashboard of the tool, and when you scroll below the fold, you'll notice a more magnified look at the software. The copy gives visitors an introduction to Kapost and its value proposition.
The form is longer than most (and all fields are required) but people converting on this page are likely further down the funnel — so they can get away with requesting so many required fields. However, the one thing that makes this form and this page special is this tiny section here: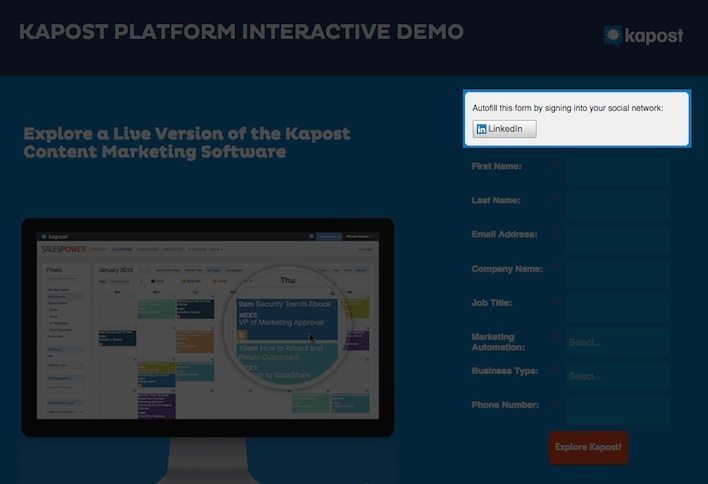 Kapost eliminates all form friction by allowing their visitors to automatically fill in the form by signing into their LinkedIn account. (This is pretty unique page for that reason alone.)
Finally, the CTA draws attention to itself because it uses a contrasting red color encouraging visitors to "Explore Kapost."
Salesforce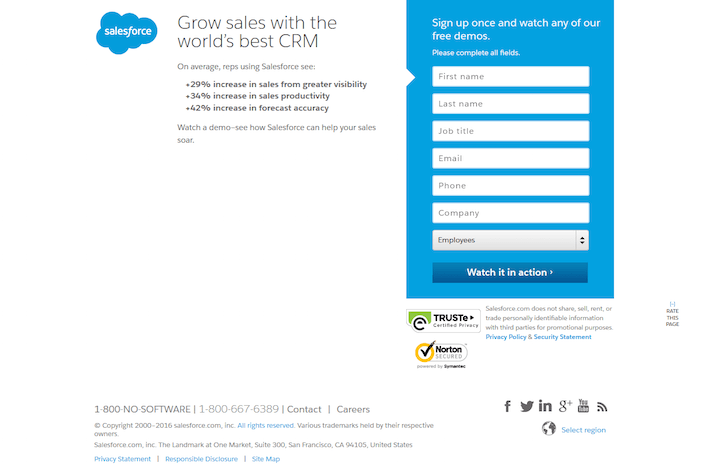 The Salesforce page is another example of a simplified page designed right. The form is the hero of the page because there is no other element to distract visitors from fulfilling the post-click landing page goal.
Below the form the trust seals of two notable companies are visible next to the Privacy Policy and Security Statement. Salesforce clearly understands how important the trust factor is to conversions and reducing psychological resistance.
The three numerical bullet points are enough to convince visitors to submit their information and enjoy a free demo of Salesforce's software.
This brings us to the CTA…
"Watch it in action" is good copy, but in our opinion, it's not great. To strengthen it even more, it should be more personalized. "Show me the demo" would most likely convert at a higher rate (but they won't really know unless they A/B test). Furthermore, even though it's a different shade of blue — it's still blue — almost blending in with the form's border. Changing the button to red or orange, for example, would make it shine on the page.
GetResponse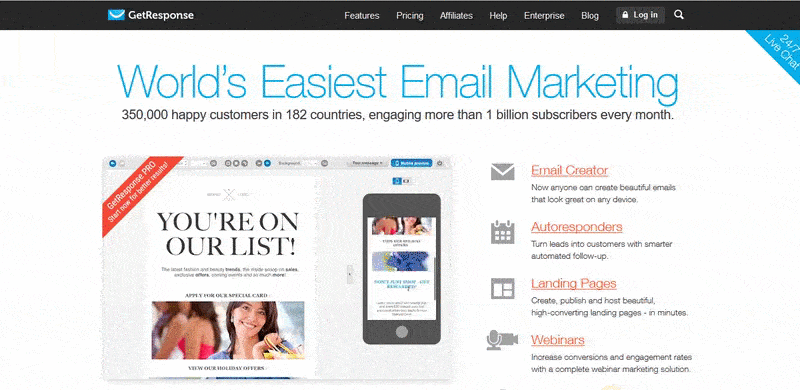 GetResponse's page is a long-form page that takes the visitors on a virtual tour. It showcases a gif that explains their tool, benefit-oriented bullet points, and customer testimonials from well-known marketers Neil Patel of Quick Sprout and Peep Laja of ConversionXL.
The CTA is big, orange, and informs visitors there is no credit card required to test out the product. It only seems to be missing one critical element: the form!
Actually, GetResponse utilizes a two-step opt-in. Clicking the orange CTA opens up the form: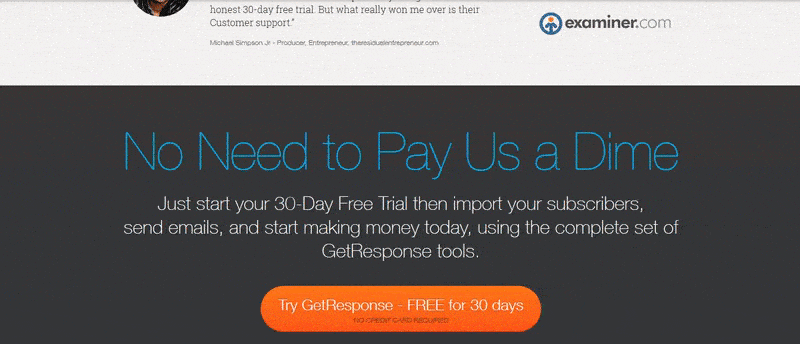 This strategy helps eliminate post-click landing page friction because prospects must show initiative by clicking the button so they can be one step closer to earning a free trial.
What's even more unique about this page is the fact that they have a pop-up on the page for visitors who are a flight risk: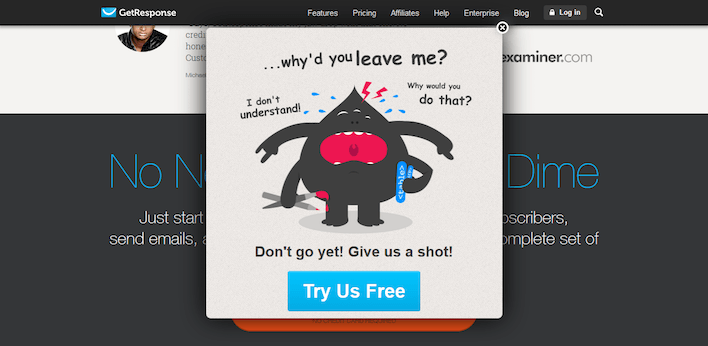 Nice personal touch, right?
Now it's your turn
Your lead capture page doesn't just have to be about a form. Consider adding some personal touches and surprise your visitors. Get them excited to convert and start their marketing relationship with you!
P.S: Instapage allows you to create customized two-step opt-in forms effortlessly. Start creating your dedicated post-click pages by signing up for an Instapage Enterprise demo today.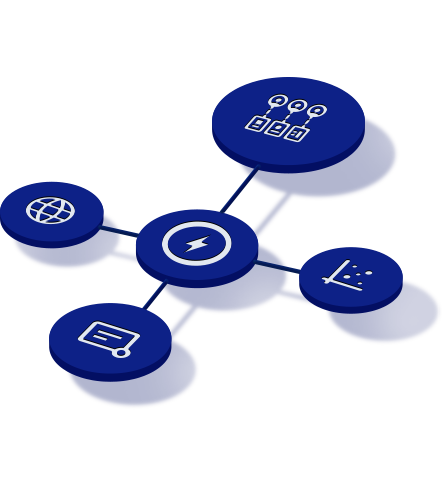 See the Instapage Enterprise Plan in Action.
Demo includes AdMap™, Personalization, AMP,
Global Blocks, heatmaps & more.