Landing page best practices aren't universal. Your ability to create knockout campaigns depends on how well you meet a person's expectations once they've clicked on your ad—you need the right post-click experience.
And the right post-click experience for a person reading an editorial site, like articles or videos from news sites, niche blogs, and well-known content creators, is different from that of social media or search.
We're picking on search and social for a reason—these are the channels most advertisers typically know and love, whereas the rest of the web can feel a bit nebulous.
Out there, campaigns often fall into the native advertising bucket, and the right post-click experience depends on catering to that particular mindset. Those people are in content consumption mode, and they're ripe to discover something new.
If they're meeting you for the first time, romance them a bit. Scrap your traditional landing pages with the minimal bulleted text and forms above the fold—sticking with editorial content, if done right, is what's going to make this crowd fall for you.
To nail down the nitty-gritty of exactly what that means for performance marketing
goals, we analyzed thousands of advertiser landing pages in the finance, e-commerce,and education verticals to define what converts. We found:
Exactly where to put the calls to action
Surprisingly effective CTA designs (spoiler: They're not buttons!)
Content elements you need to include and exactly where to put them
Copy tips for higher conversions
Finally, we'll end with a workable template for you to use as a basis for any landing page you might create for your next campaign outside search and social.
Design Best Practices
We've mentioned that editorial content is the way to go, but that could cover a wide range of bases. The top-performing types of editorial content we saw in our analysis were advertorials, blog articles, and long-form landing pages.
Their design played a significant role in their performance—specifically, each page's general layout, technical elements, and CTA design.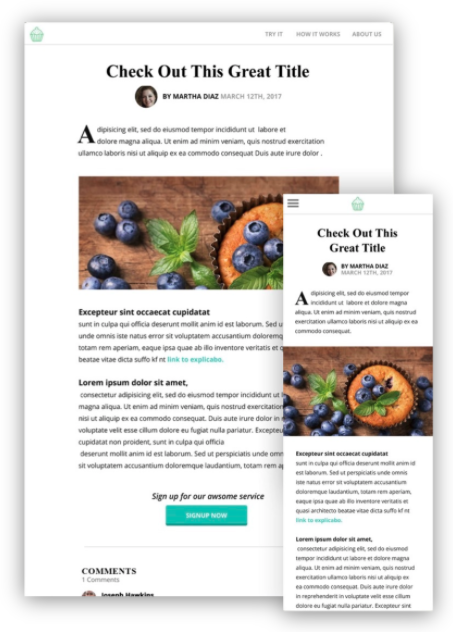 Layout
Your layout should follow these general rules:
Your title should come before your header image. We found people who'd clicked on an ad were more likely to stick around once they saw that the title on the landing page matched the ad—so put it front and center.
Your header image should not span the width of the page on desktop, but on mobile environments, it's OK. When images span the whole page in a desktop layout, it's a signal that the article is over and discourages people from continuing to scroll.
Articles with one or two images performed best. However, there were many exceptions to this rule when we drilled down by vertical, so always A/B test.
Your article should include multiple eye-catching section headers. Specifically, we mean bold headers with text that's larger than the body text.
Your page should have a white background and black text. This formatting provides credibility and trustworthiness for new visitors.
Technical Elements
When it came to the technical stuff, two techniques rose to the top:
Any in-line links should open in a new tab. This small courtesy allows users to return to the original article quickly if they need to, and increases the chances they'll eventually convert.
Pop-out CTAs weren't helpful. In this context, they feel spammy and aren't worth the trouble.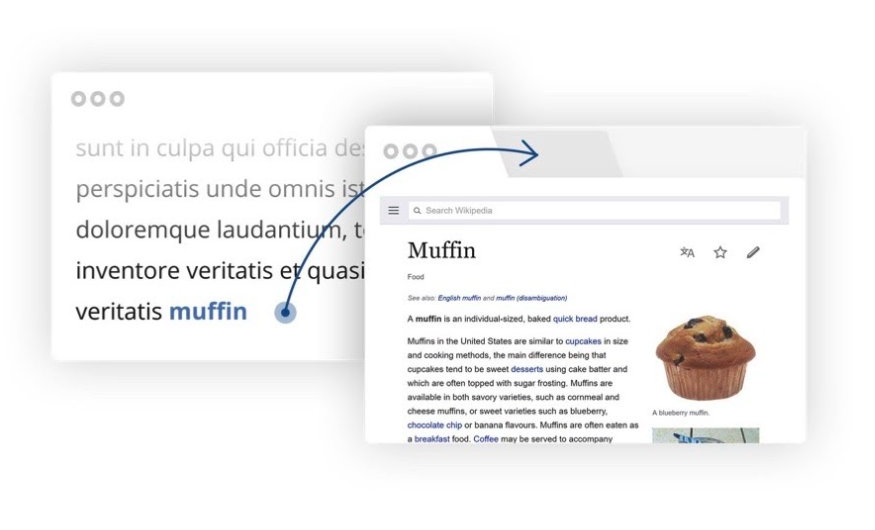 CTAs
To create CTAs that convert, throw the traditional rule book out the window.

Include at least three CTAs, at one-third, two-thirds, and the end of the page. The goal here is to give people multiple opportunities to convert.
The first two CTAs should be in-line text. Contrary to more traditional landing pages, in-line text in the body of the article performed better than colorful buttons. It's less disruptive to the user experience.
Save the button CTA for the end. Here's what they might look like (we've faded out the CTAs we think you should avoid):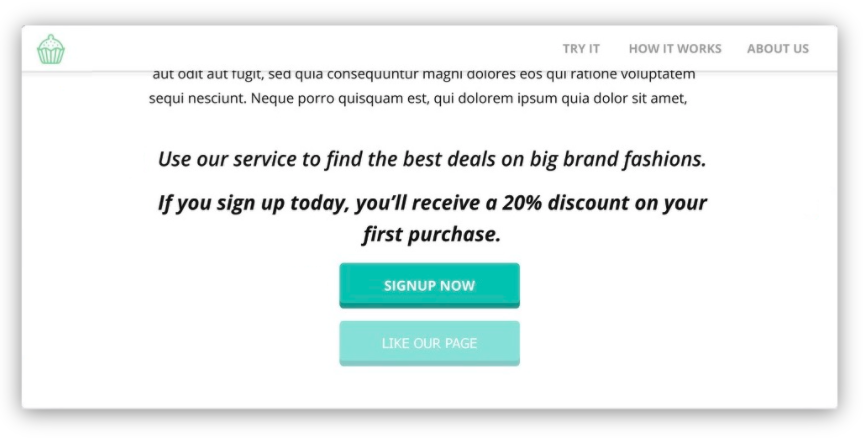 Stay away from right-rail CTAs and bottom-of-the-page banners. People tend to ignore these as a side effect of banner blindness.
Don't put CTAs below the comments section. Not every user will get that far, and you don't want to miss the opportunity to capture their conversion.
This illustration includes an in-line CTA and proper end-of-article button, while also fading out what we mean by right-rail and bottom-of-the-page banners: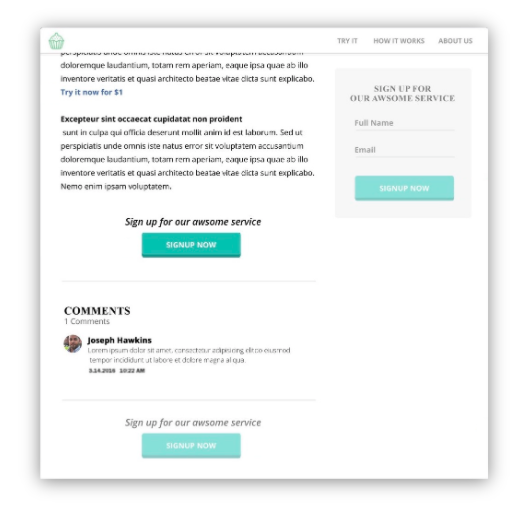 If you can, make your CTA interactive. Pretty much anything gamified or personalized will work. Calculators, quizzes, or simple questions capture more conversions.
Don't give your CTA a background. Putting a background or box around your CTA makes it more invisible. It becomes victim to banner blindness instead of standing out.

This mockup includes a question-based CTA and has faded out the ineffective CTA with the background: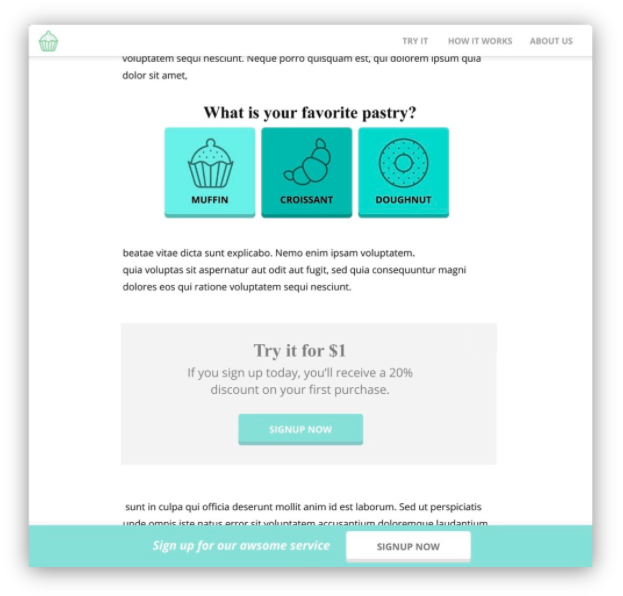 All these recommendations come down to making the visitor experience the least disruptive it can be—they're there to consume content, and when you try to force a different experience on them, your campaign might not perform as you'd hoped.
Examples of Editorial Landing Pages
These examples from our core verticals have taken these best practices from theory to success.
Fintech Example: Wikibuy
Wikibuy from Capital One is a free, downloadable browser extension that lets consumers compare prices at checkout. They use blog posts to encourage more users to download their extension.
We found this example landing page on cnbc.com. When you first arrive, the page is clean and not distracting. The title is above the image, which doesn't span the width of the page.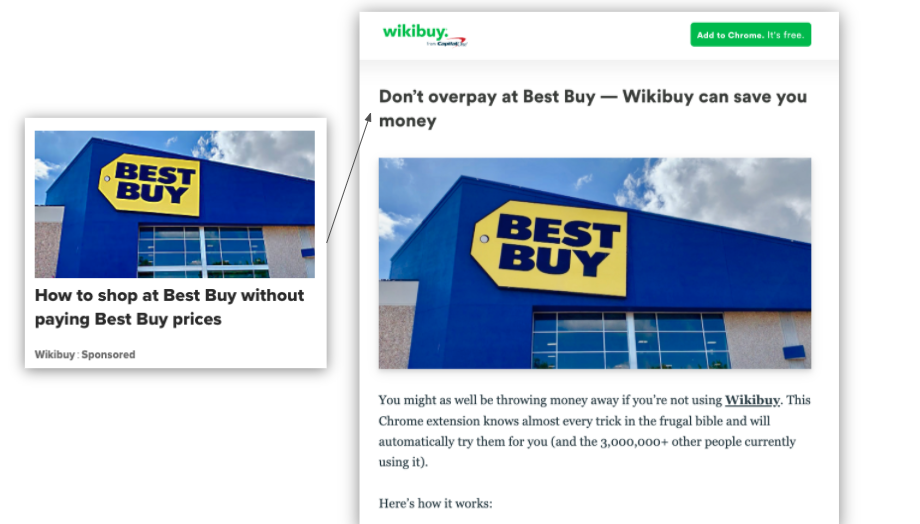 As you scroll, you see an engaging image that showcases their product. Further down, in-line links open a page in a new tab, where you can download the extension. The in-line links aren't intrusive or misleading.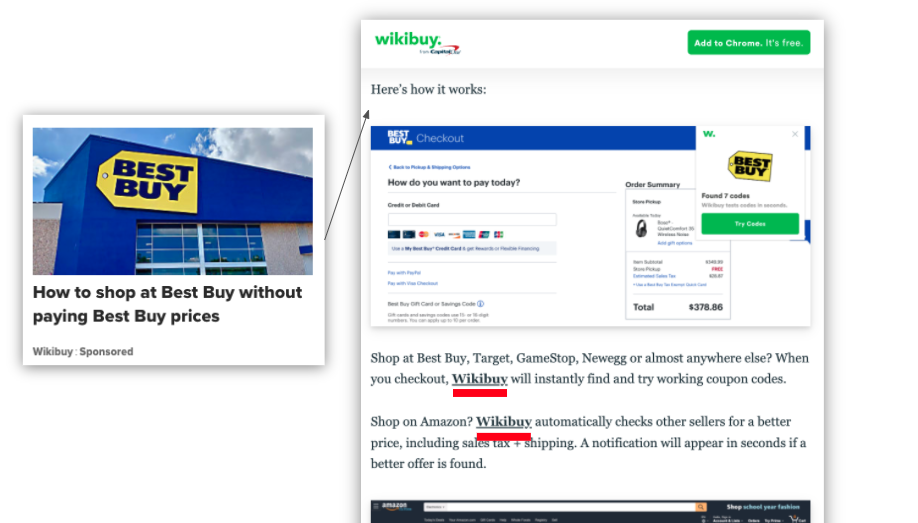 As you complete the article, you encounter a more prominent in-line CTA, as well as a button that prompts you to download the free extension. There's also relevant social proof, including the extension's Chrome Web Store Rating, and the logos of well-known publishers that have reviewed it.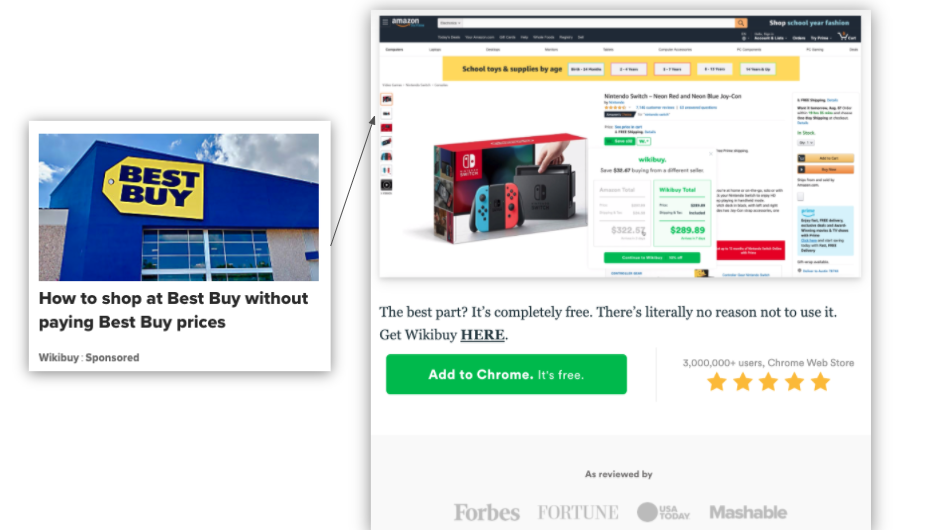 E-commerce Example: Koretrak
Koretrak is a fitness watch that supports people in their health and wellness journeys. An advertorial on Consumer Bags is promoting this watch.
When you land on the page, the title is the first thing you see. Koretrak also chose to provide social proof before the main article image, which is a tactic we've seen be effective in other cases.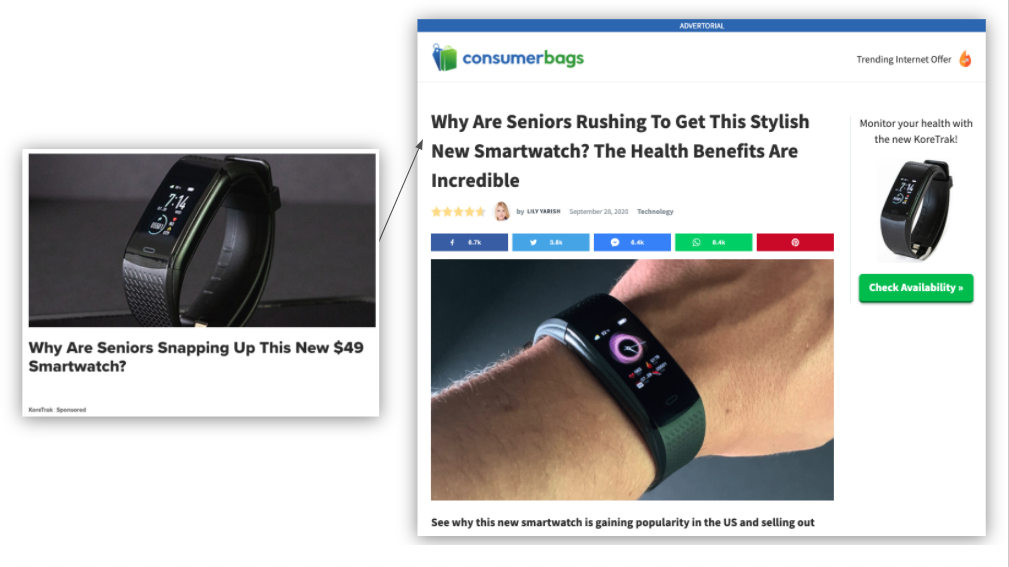 As you scroll, you see prominent headers throughout the article, as well as an nondisruptive in-line CTA.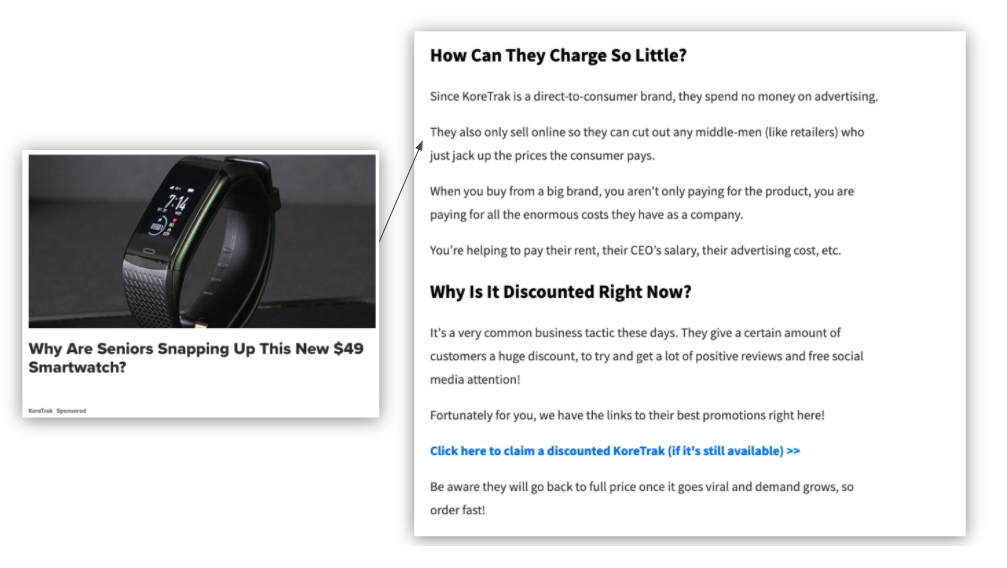 Koretrak also embeds data-driven support of its health benefits throughout the article in the form of quotes from the World Health Organization.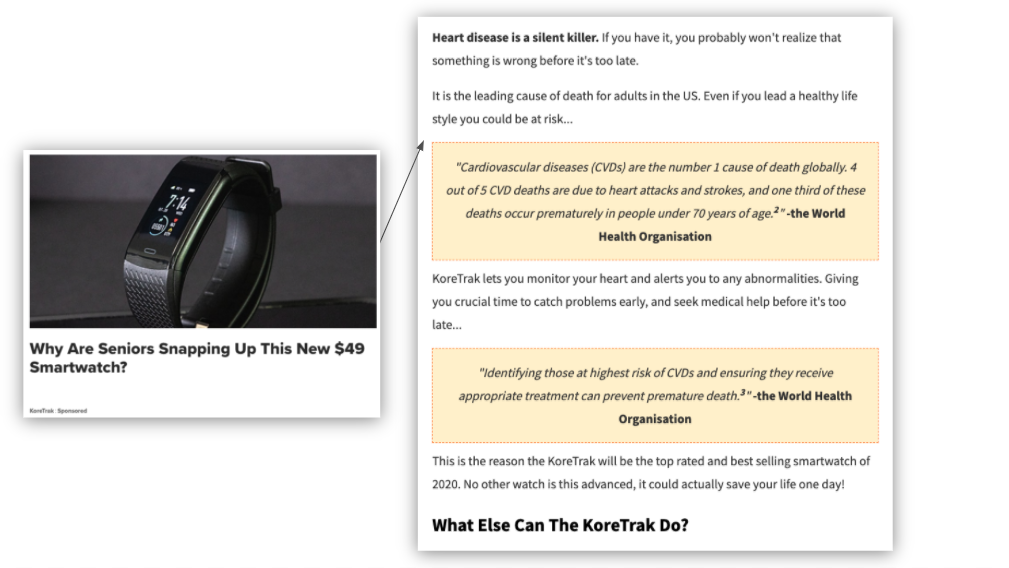 And while this isn't an official recommendation, they also replace traditional bullet points with check mark emojis, which is an engaging touch for skimmers.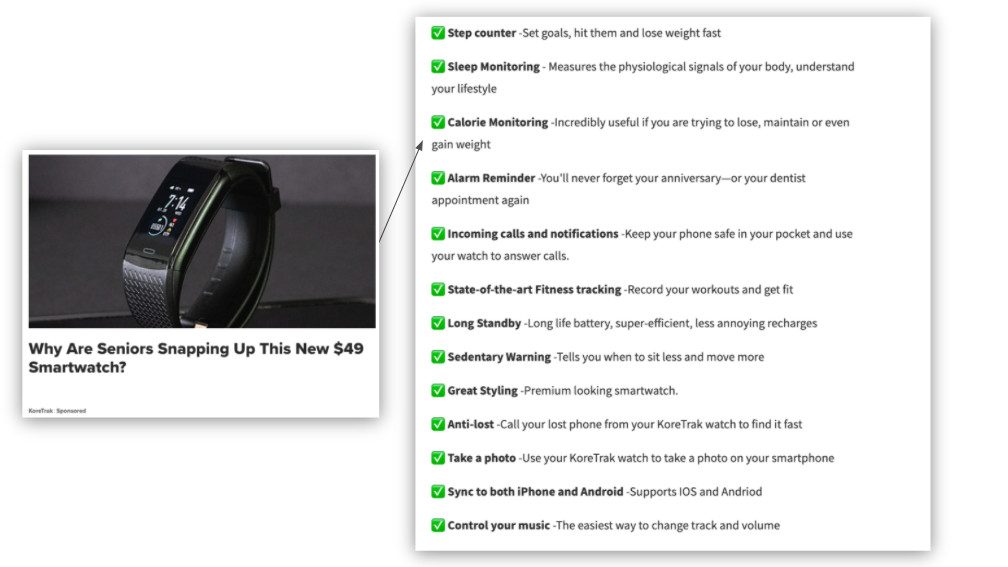 Finally, they wrap it up with a large button CTA that offers a discount for those who convert.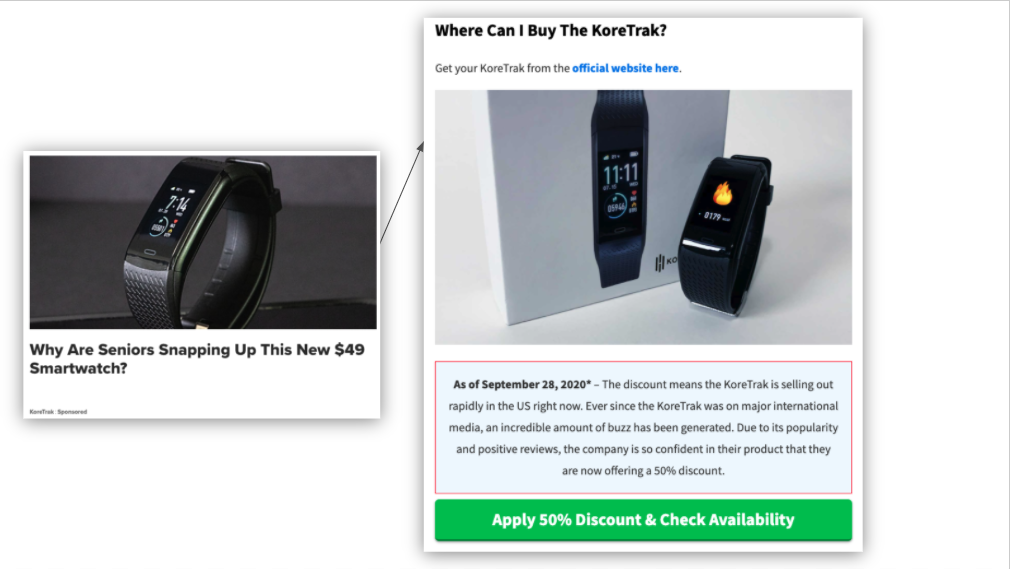 Education Example: Connections Academy
Connections Academy is a K-12 education program that offers virtual learning from home. They use articles like this one hosted on their resources center to market their services to parents looking for at-home instruction.
In this case, the image is above the title, but includes text that acts as a title, which can be an effective workaround.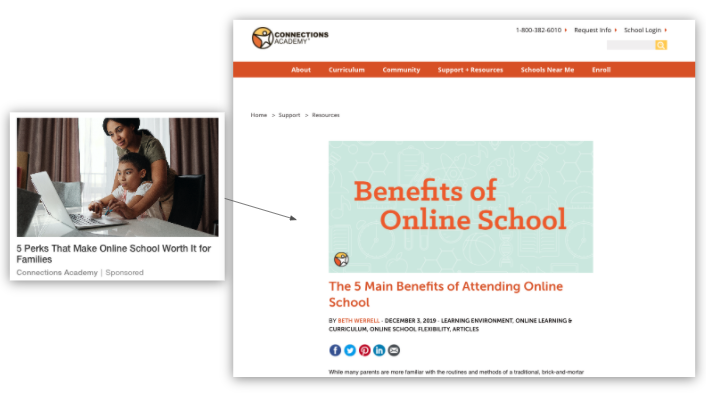 As you scroll, you see valuable information about the benefits of online schooling, as well as multiple in-line CTAs that lead you to service pages with more information about Connections Academy.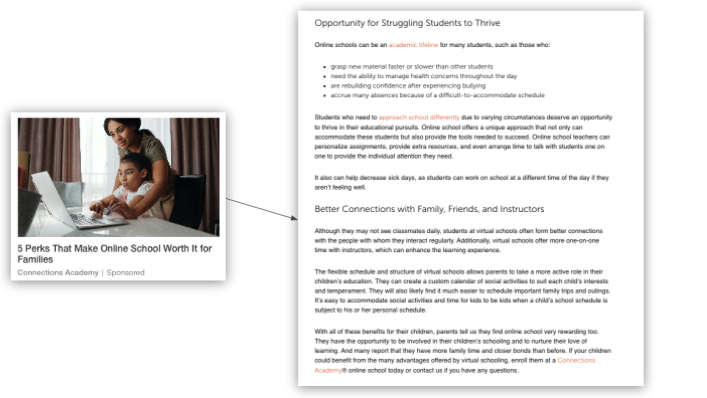 Copy Best Practices
Design is vital, but it's only half the battle—your copy has to work equally hard to engage those who've made it to your landing page in the first place.
While the specific landing page copy itself varied widely in our analysis, the top-performing pages all followed these rules.
They used titles that matched the ad before them. If the ad's title is wildly different from the title of your article, your visitors will feel like they were just clickbaited and bounce. Keep the message consistent.
These are a good match:
Ad title: How to Invest Like a Professional, Starting Today
Article title: This Investment Platform Turns Novice Investors Into Pros Quickly
These are mismatched:
Ad title: 3 Tips to Get Started with Investing
Article title: This Investment Platform Turns Novice Investors Into Pros Quickly
An engaging hook that fulfills the promise made in the title. In the very first paragraph, you need to reference the claim in your title, but this is a hook, so aim to grab attention.
Engaging hook: If you're going to learn to make smart investments quickly, you need insights from the pros—and a peek into their portfolios. Some of the best use our platform, and are here to share their insights with you.
Non-engaging hook: People who invest could become wealthier than those who don't if they play their cards right.
Our first example is both engaging and answers the promise made in our title, whereas the second may be engaging in some contexts, but is irrelevant to the reader's intent.
A summary paragraph, called a nut graph, that clearly communicates your article's value. We often see articles try to withhold information or lead the reader on, assuming this will encourage them to finish the article. In reality, this tactic is annoying, and if people don't see what they're looking for right away, they'll bounce.
Good nut graph: In this article, we'll break down the top skills our users learn from investment pros, including how to properly set your purchasing budget, how to assess a company's potential value before purchase, and how to monitor your portfolio to keep your funds safe.
Bad nut graph: In this article, we're breaking down tips from investment pros that you need to get started.
A CTA right after the nut graph. When you've finished your intro, include a CTA. This CTA should be descriptive and a bit longer than a typical CTA—you'll need to do more convincing for a person to click, since they haven't yet finished the article.
Good CTA: Sign Up for Our Platform to Get Customized Professional Investment Advice
Bad CTA: Sign Up for Our Platform
Descriptive section headers throughout. It's all about mindset—on news sites, people are browsing, and won't always be sure they want to read your whole article when they click. We see people scroll to the bottom of the page, back up, then start reading to determine if an article is right for them. Your section headers should work to capture attention.
Good section header: Our Pros Recommend Not Investing More Than 5% of Your Monthly Income—Here's Why
Bad section header: How Much to Invest
Final CTA at the end of the article. Flip the advice we gave for the first CTA. Now's the time to get to the point.
Good CTA: Sign Up for Our Platform
Bad CTA: Sign Up for Our Platform to Get Customized Professional Investment Advice
Copywriting Examples
As a savvy marketer, you stay on top of best practices, but sometimes you need inspiration. Here are some landing page examples from our key verticals to illustrate the basics behind compelling copy.
E-commerce Example: FirstLeaf
Firstleaf ships custom wine boxes based on their customers' taste—and for a lot cheaper than you might pay at the store. Their campaign's article illustrates both these points.
Though the ad and article titles are different, their user intent matches.Their opening paragraph also intrigues the reader with the concept of "cutting out the middleman" in wine sales, and immediately answers the promise made in the title by explaining that these intermediaries are the reason you're overpaying for wine.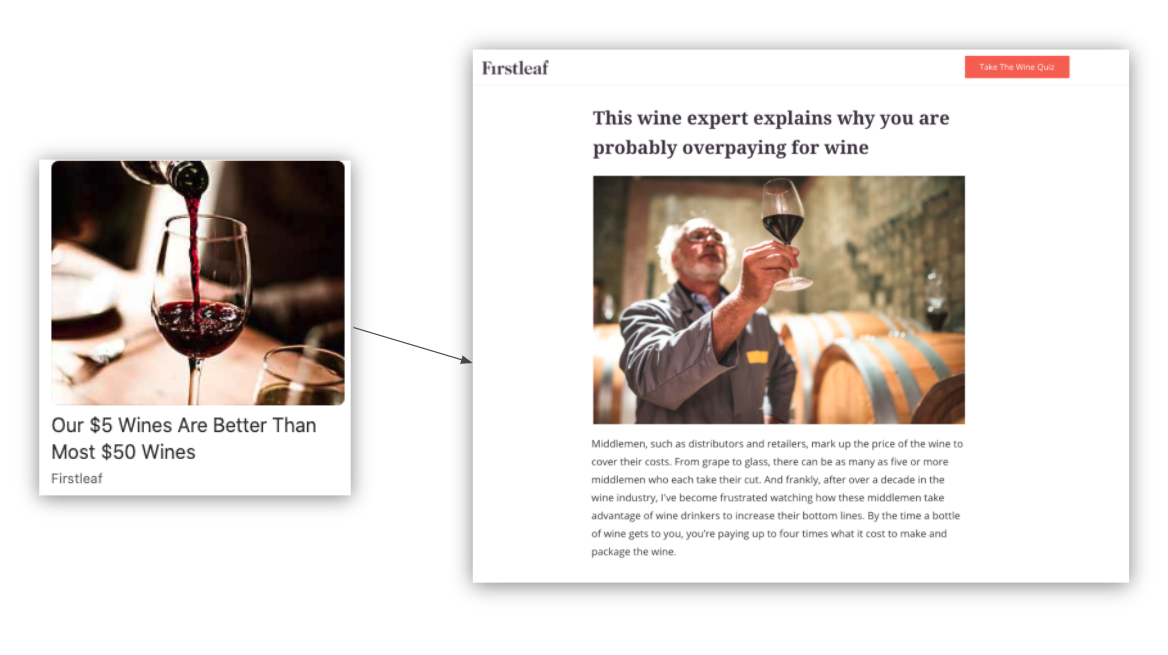 After a short introduction, a nut graph cuts to the chase—Firstleaf will ask readers to take a short quiz to determine their wine tastes and reveal their product's price point. After the nut graph, we see our first engaging in-line CTA to take the quiz.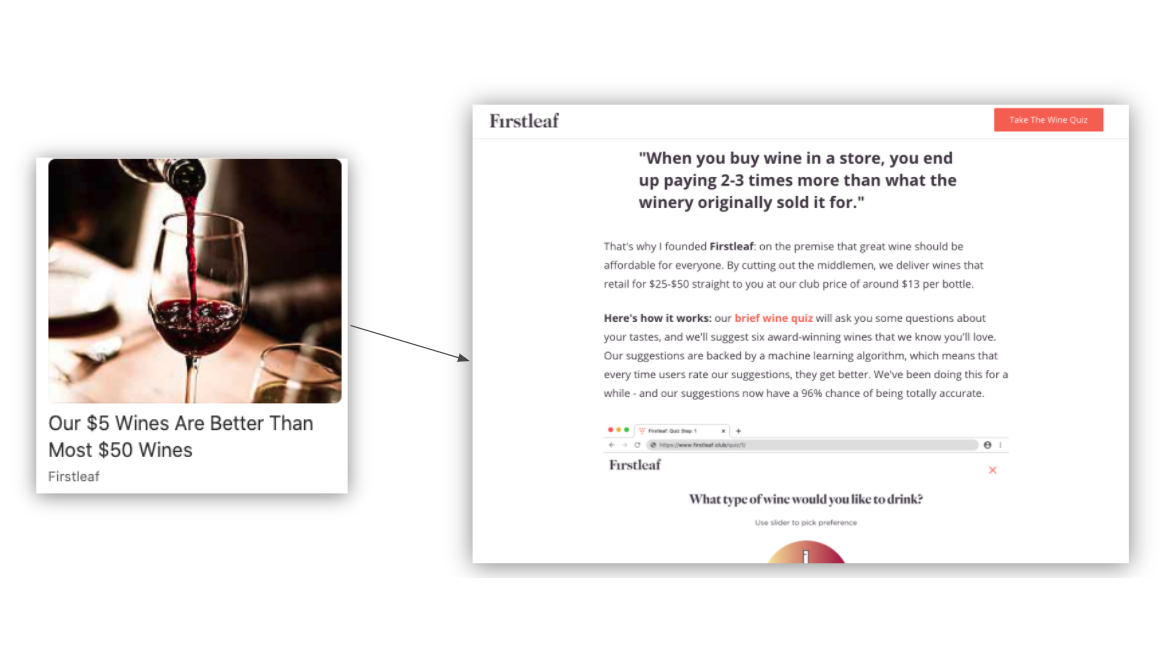 In this case, Firstleaf uses blockquote callouts in the place of headers, but they work just the same. They're descriptive enough so that they're easily scannable when someone's determining whether they want to read more.
When we wrap up, there's a brief, button-style CTA prompting visitors to take the quiz again.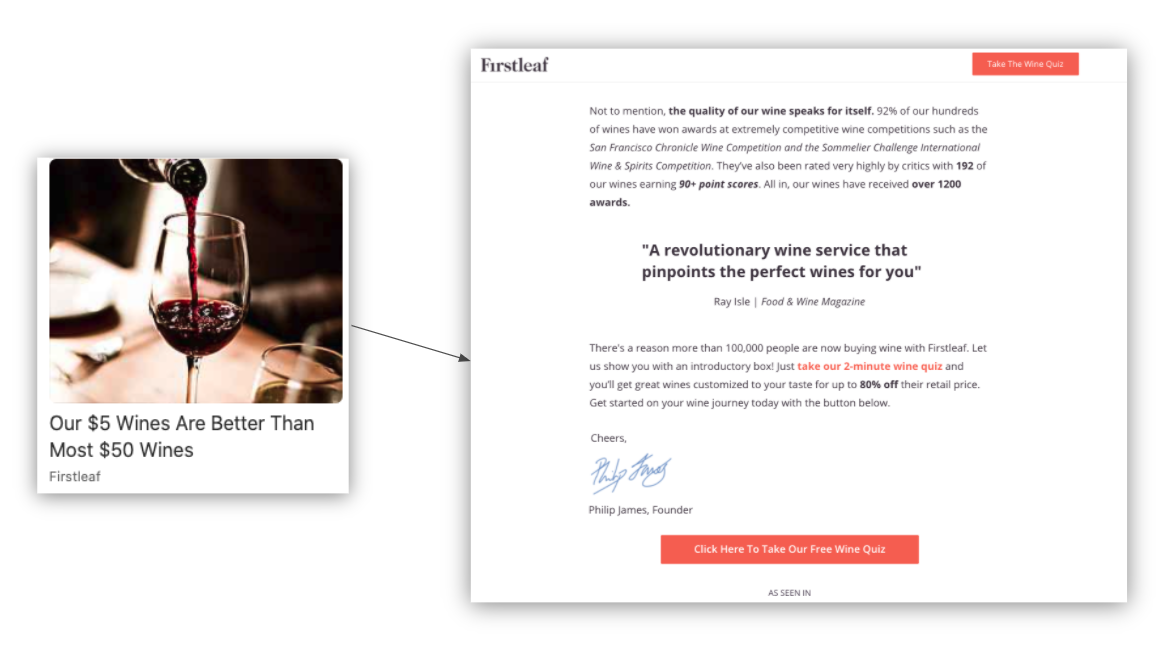 Fintech Example: Lemonade
Lemonade is a fintech platform that simplifies the process of buying and managing homeowners insurance for those in the market. Their campaign and respective landing page focus on the reduced cost of their offer over others.
The titles clearly correlate with that of the ad, even though they're not exactly the same.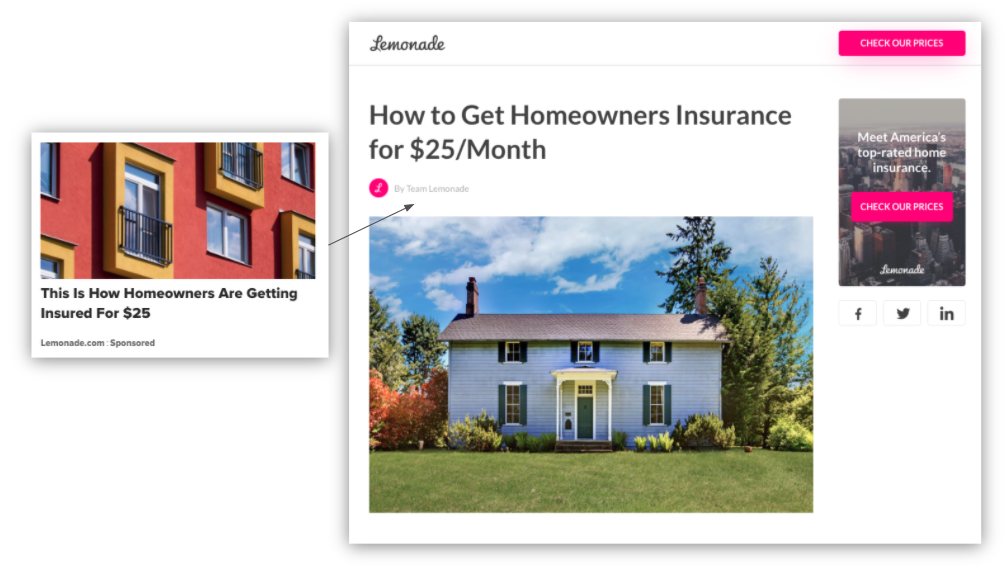 Lemonade gets to the point quickly, citing the projected cost of unplanned expenses or natural disasters. Their nut graph walks the reader through what they will get from their $25-a-month coverage, accurately describing the information in the article.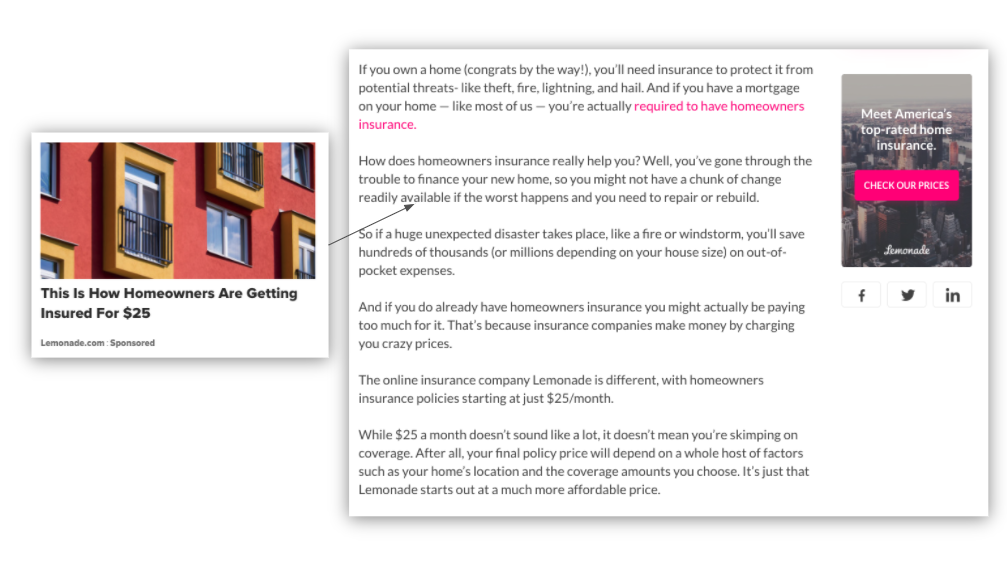 After their nut graph, there's an in-line CTA prompting users to check prices. They're also testing a hybrid CTA that includes both in-line text and a button. The in-line text thoroughly describes the offer, while the button delivers the punch.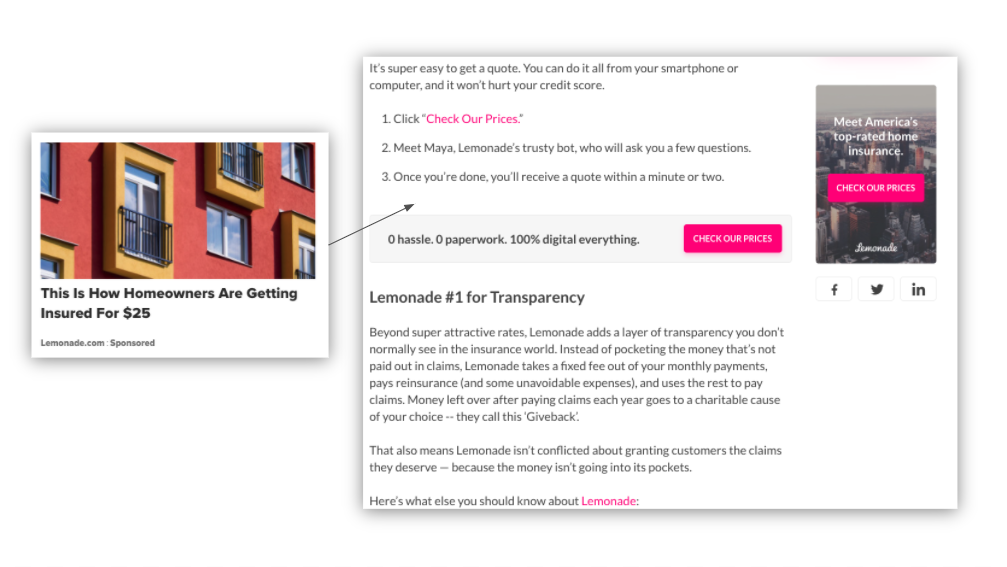 Their first section header defines Lemonade's claim to be an industry leader in transparency, and uses bullet points to increase readability. The article wraps up their final section with another hybrid CTA, including a button CTA that's short, sweet, and to the point.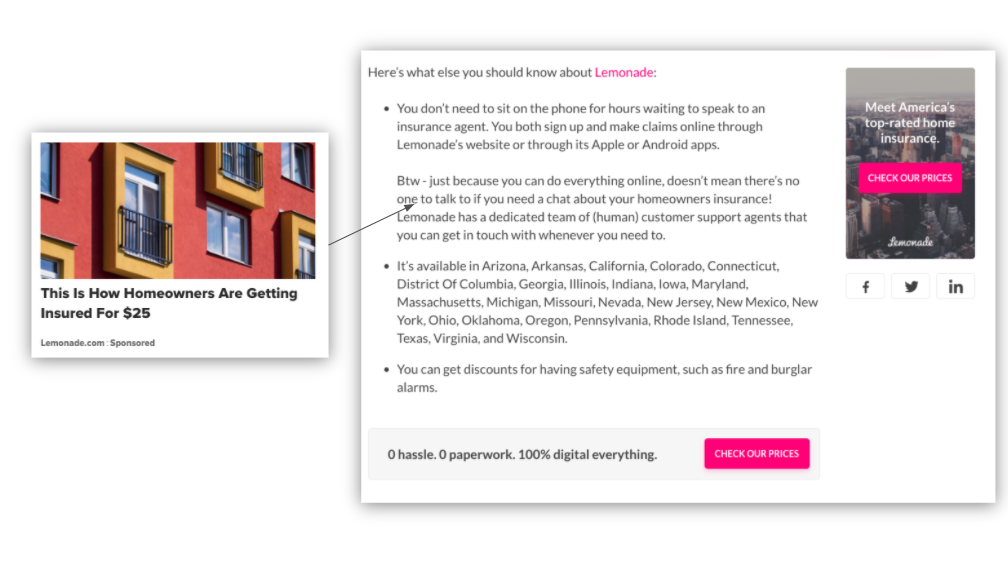 Education Example: Grammarly
We've been focusing quite a bit on articles and advertorials, but long-form landing pages were another type of content we saw perform well in campaigns on editorial sites. These landing pages can differ widely in terms of structure and copy, but those that include all the essential elements we've mentioned can convert well for advertisers.
Grammarly's campaign used a long-form landing page to accurately visualize and describe their offer, with copy throughout that was ripe for conversion.
This landing page is an excellent example of how headlines can be different in the ad creative and on the landing page, but still match user intent. First, campaign creates urgency by encouraging people to double-check their emails, and closes the deal by promising to simplify the process.
In place of a descriptive nut graph, Grammarly chose to visualize their product value proposition using a GIF that demonstrates exactly how their tool catches writing mistakes and provides tips for improvement.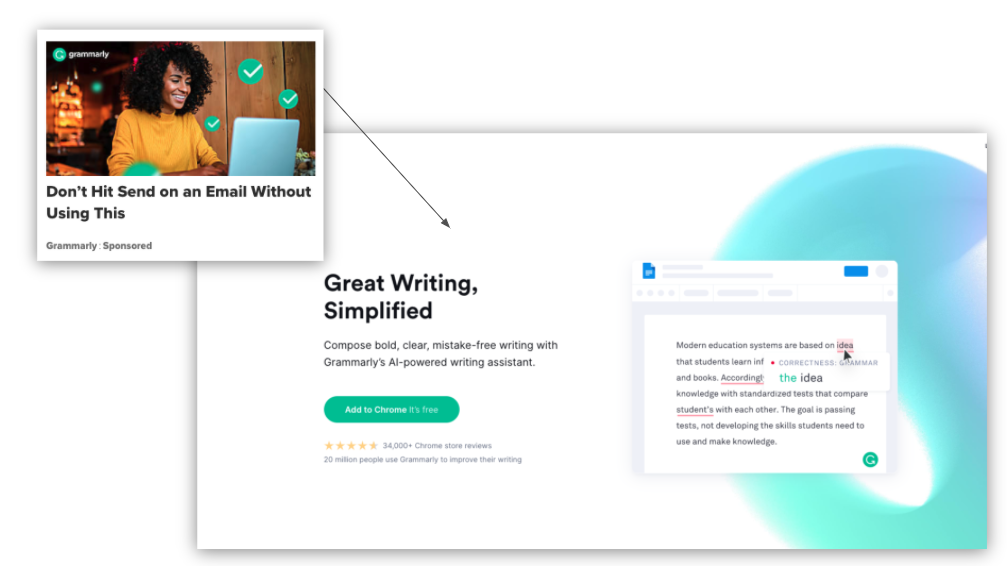 As you scroll, you see descriptive section headers and subtle in-line CTAs that encourage users to learn more about the extension.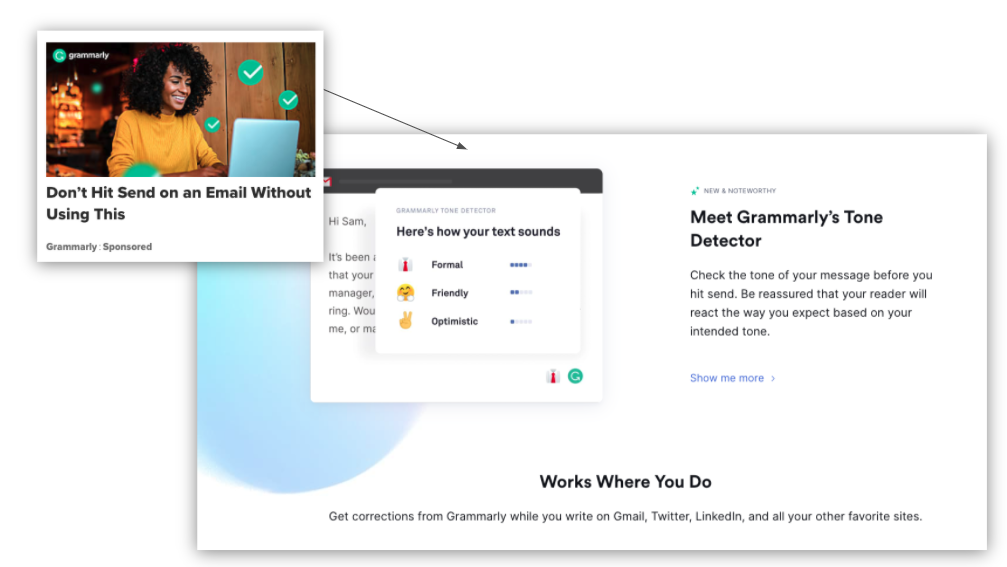 This page's first form of social proof includes a list of integrations to show they're not only about email—you can improve your writing across various platforms using their extension.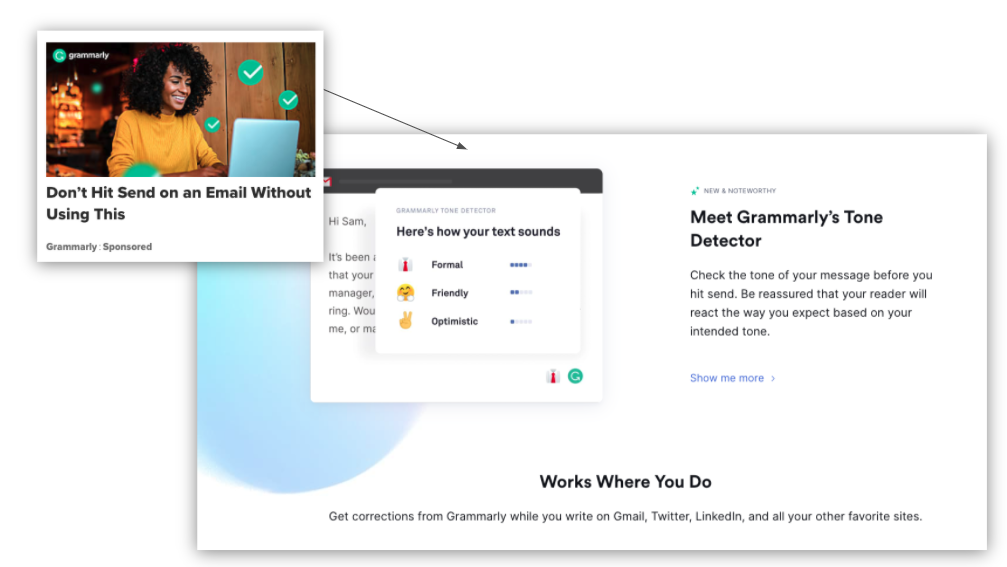 We haven't pictured them all here, but throughout the landing page, Grammarly includes multiple easily scannable section headers and paragraphs that specifically describe each use case for their extension.
Finally, they wrap up their landing page with a quote from a happy customer and a final CTA.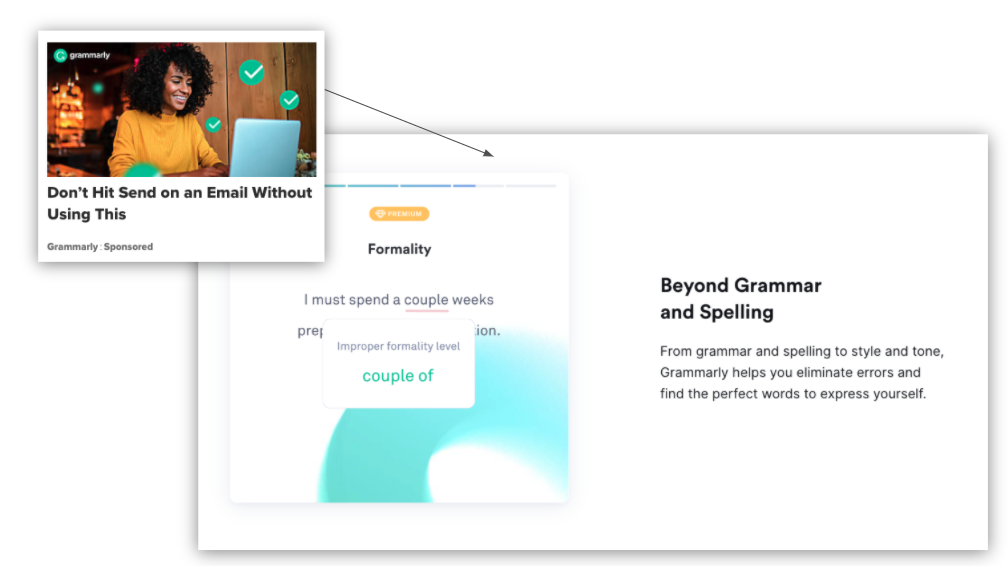 Real-World Landing Page Fundamentals
Editorial-based landing pages are the most successful approach advertisers can use for campaigns on editorial sites. These specifically include articles, advertorials, and long-form landing pages.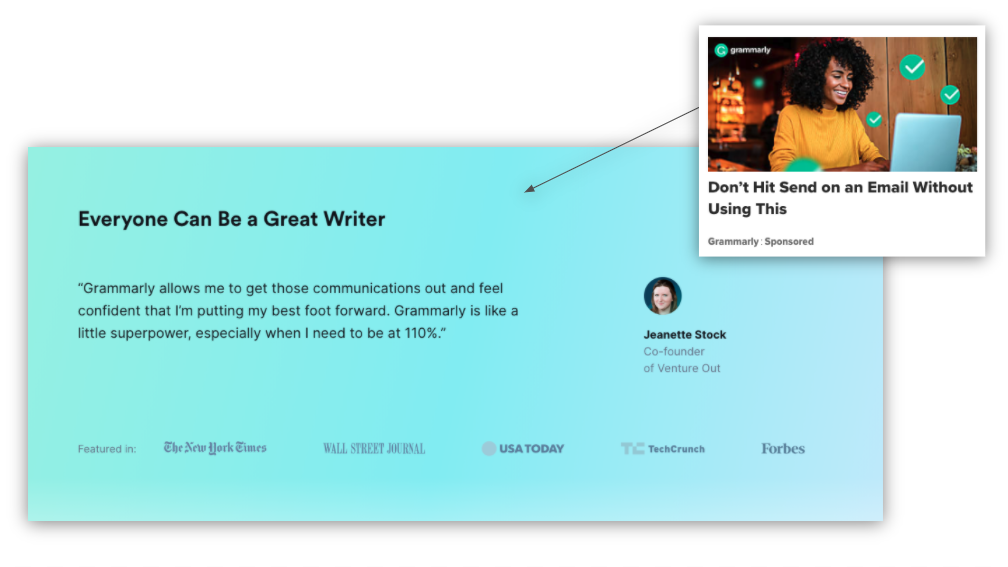 When you're building your landing page, keep these essential elements in mind:
CTAs should be nondisruptive. With an editorial landing page, you don't want to disrupt the reader's flow. Use in-line CTAs throughout to encourage more conversions.
Set your page up for scannability. Before people read a page, they scroll to the bottom and back to the top again to determine whether they want to dive in. Use descriptive section headers to grab their attention.
Get to the point quickly. Don't drag a reader through the end of your article to make your point—do so in the introduction with the use of a strong nut graph.
Describe your value. When you're writing your copy for CTAs, describe your offer's value before you ask a visitor to take specific action.
To make workshopping your copy a bit easier, use this Google Doc template, which includes a guided walkthrough of all our suggestions above.
We encourage you to keep A/B testing individual elements to see what clicks with your audiences, but these best practices are a great start to any native editorial campaign.
About the author
Megan is the Sr. Content Marketing Manager at Taboola and proud iced tea addict. She's also written articles for sites like the Content Marketing Institute, Vox, and SEMRush. You can find her online writing, tweeting, or crunching a set of marketing data. Tweet her at MeganRoseM, or reach out on LinkedIn at Megan Morreale.