How much would you pay for a peek into the future? $30,000? $50,000? How about $75,000?
A subscription to trend-forecasting platform CB Insights will cost you that, and in some cases more. Fees can reach over $100,000 for access to the venture capital database that, according to the company's website, will help you "see tomorrow's opportunities today."
To small business owners, that may sound like a hefty sum of cash — but to goliaths like Salesforce and Cisco, the return is more than worth the investment.
It does make you wonder, though. How do you convince some of the industry's savviest decision-makers, including ones from automation giant Marketo, to part with a chunk of their budget that could be used for so many other things?
It all starts with a killer product and tools like Instapage tucked into a carefully constructed marketing stack.
What is a marketing stack?
In marketing, a "stack" refers to a grouping of independent technologies that helps marketers optimize their digital efforts. It's just a fancy term for all the software you use together to perform complex marketing tasks.
These could be email tools like MailChimp combined with CRM technology like Zoho to help you better nurture your email subscribers. They could be content management systems like WordPress used together with analytics tools like Optimizely to improve your website. With over 3,800 marketing technologies available today, there are countless combinations.
(Here is Scott Brinker's brave attempt at fitting the entire 2016 martech landscape on one graphic):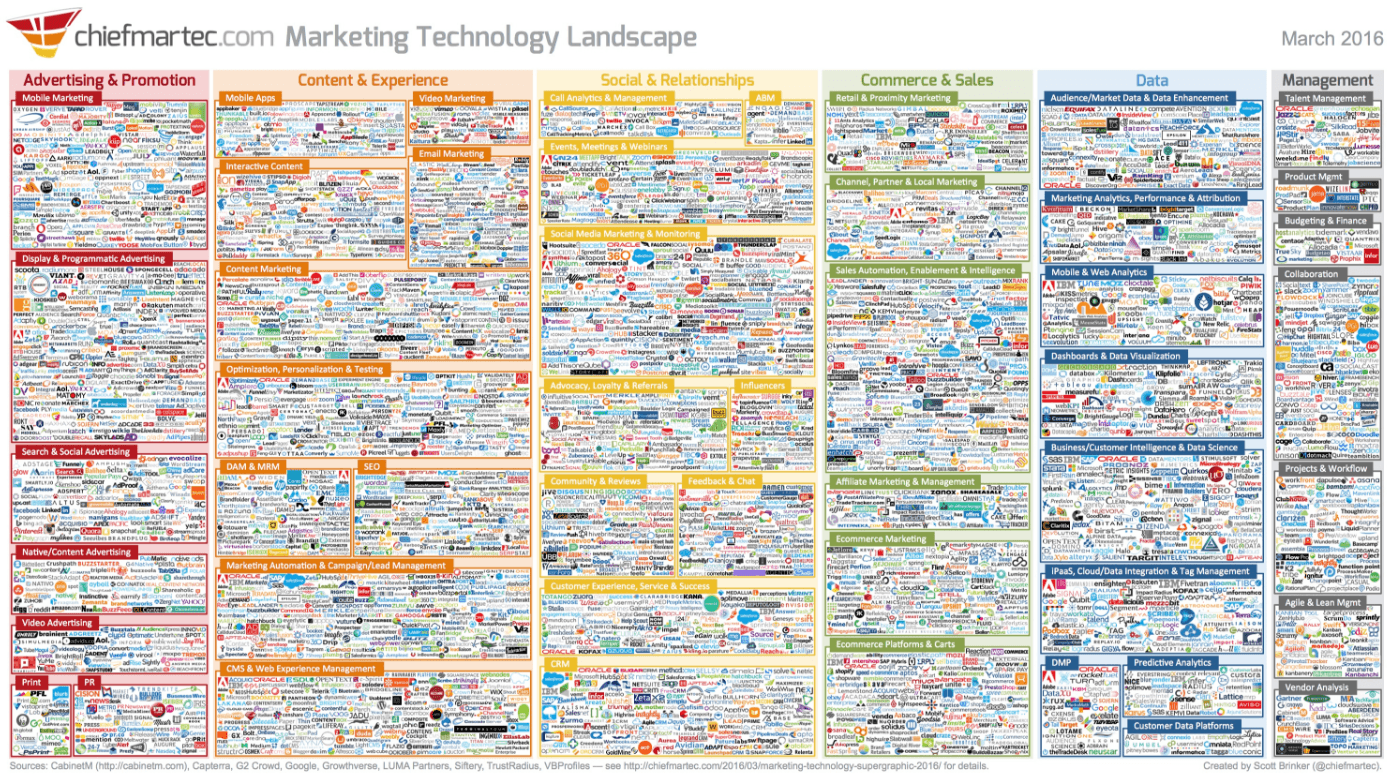 So how do you know which ones to pick, and where they fit into your marketing stack?
According to HubSpot's 2016 State of Inbound, that question represents one of the biggest problems facing marketers today: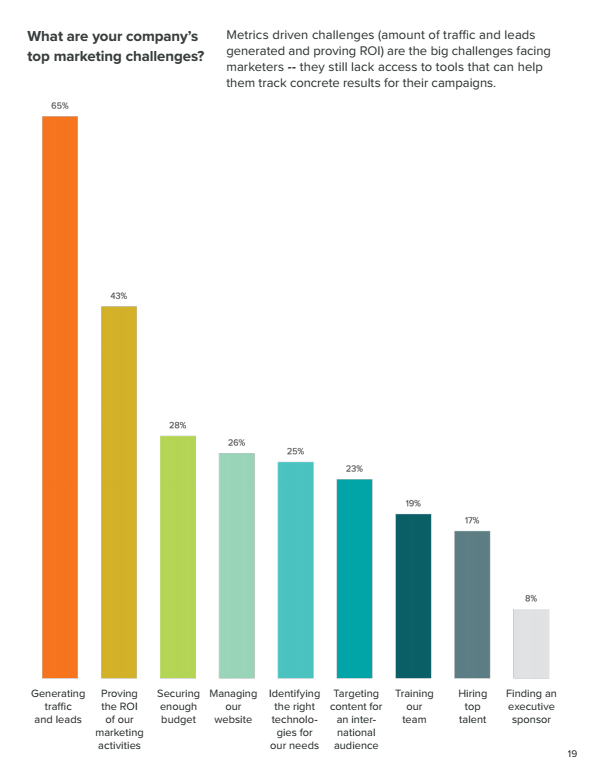 "Identifying the right technologies for our needs" comes in at number 5, just 3% behind number 3. When figuring out which marketing tools to use is nearly as problematic as "securing enough budget," you know the issue is serious.
Developing your marketing stack
The first step to solving that issue is to ask yourself, "What are our needs?"
Do you want to nurture leads to a sale? Are you trying to improve your influencer marketing? Starting backward from an end goal will help steer you toward the right class of software.
For CB Insights, that need was to get prospects to request a demonstration of the platform:
"A demo is a key step in the path to becoming a CB Insights client, so as you can imagine, we're very focused on getting more demos. What we've realized is that we can use automation to increase the likelihood of a potential customer taking a demo with our biz dev team.
Our Marketing Stack is the set of technologies/software we use to enable this automation, and it has a few primary goals:
Generate more leads for the business development team
Educate a huge volume of potential customers to move them closer to demo
Reduce our cost of customer acquisition"
From there, the company followed a process similar to the one outlined by Conrad Wadowski at GrowHack:

They knew they needed to generate demos (goal setting), so they came up with some ways to do it (growth ideas) and tested them (test). Here's what they found…
Most of their leads came from inbound channels
After evaluating a mix of inbound and outbound solutions, the team realized its highest ROI came from channels like email, social, and search. So, they moved along Conrad's growth model to steps 4 and 5 by optimizing each, then investing in tools for automation.
Outbound marketing channels can't be ignored
To supplement their inbound traffic, CB Insights uses a combination of Google Ads, paid Twitter promotion, and Facebook ads. While the downside of outbound tools is that you have to pay to play, their quick and easy scalability makes them worth the money…
That is, as long as you can convert that traffic into leads. So, how does the company do that?
post-click landing page technology
While their blog, homepage, and other public pages are the primary destination for inbound visitors, CBI's outbound traffic gets directed to dedicated post-click landing pages.
"Using Instapage's WYSIWYG editor, pages can be spun up by our marketers with little to no time investment from our development team whose time should be on product priorities. As you can imagine, this involves lots of trial and error, A/B testing and a variety of tweaks to ensure we're serving up the stickiest, most convincing post-click landing pages possible."

The team chooses Instapage with MailChimp integration for its "super flexible templates, A/B testing, and no engineering resources needed."
According to Aberdeen's 2016 State of Marketing Technology Report, they're among other best-in-class marketers who find post-click landing page platforms to be a useful addition to their arsenal:
post-click landing page or optimization/testing platform: Best-in-class: 45%, All others: 32%
Content marketing platform: Best-in-class: 45%, All others: 30%
Visual editing/design tools: Best-in-class: 42%, All others: 38%
SEO services & solutions: Best-in-class: 42%, All others: 47%
Social listening/analytics solution: Best-in-class: 42%, All others: 22%
Event marketing/management solution: Best-in-class: 42%, All others: 21%
Contact data/business intelligence solution: Best-in-class: 33%, All others: 27%
Banner/display ad solution: Best-in-class: 33%, All others: 29%
Project management technology: Best-in-class: 33%, All others: 26%
Retargeting ad solution: Best-in-class: 30%, All others: 19%
While more is better (businesses with 40+ post-click landing pages generate 12x more leads than those with 5 or less), no post-click landing page is perfect. When visitors don't register here, CB Insights uses another powerful part of their marketing stack to draw them back in.
For more information on selecting the most appropriate post-click landing page platform for your business, check out this guide: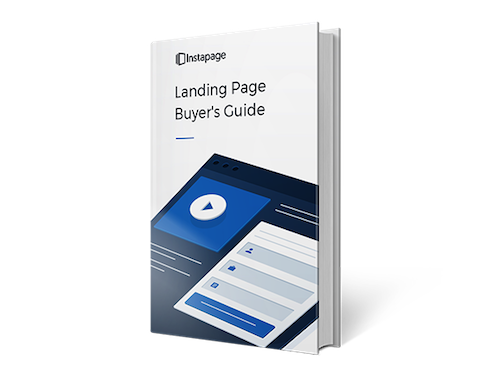 Remarketing technology
According to Search Engine Journal's State of Digital Marketing Report, 91% of experts use remarketing, and claim it's an effective tactic: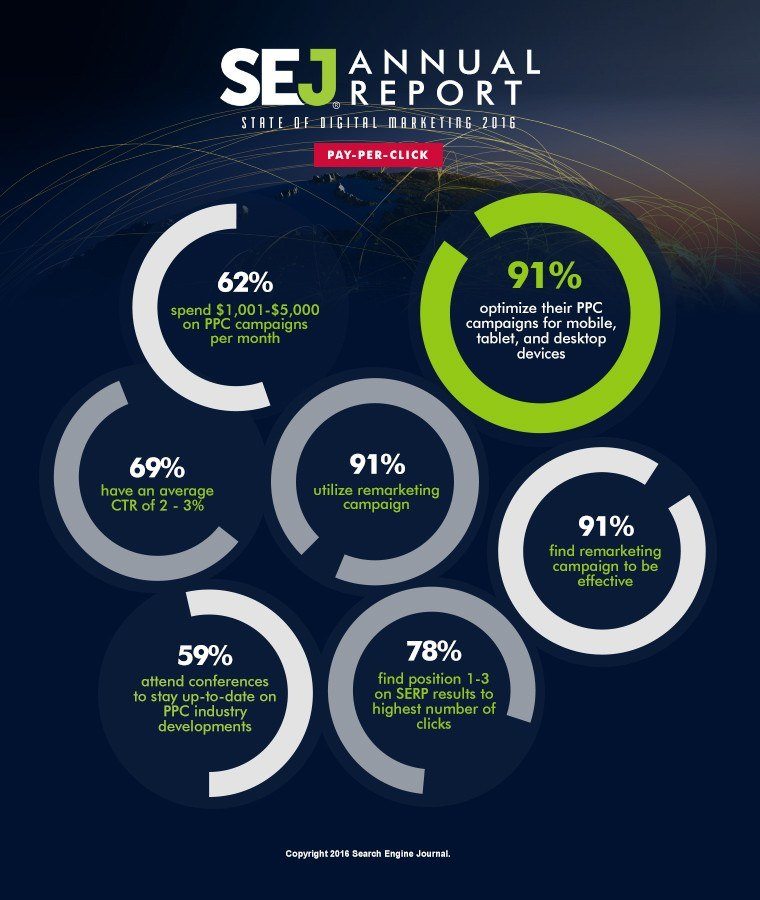 Tools from Google like the dynamic remarketing tag and software from AdRoll (used by CB Insights) allow marketers to cookie users and lure them back into the marketing funnel with ads tailored to prospects' behavior. That behavior could be abandoning a shopping cart, or, in CBI's case, visiting a specific web page. The company's co-founder elaborates:
"When a lead visits two healthcare blog posts and doesn't sign up for our newsletter, we want to make sure to serve them ads that are super relevant to their interests. For example, our Global Healthcare Exits Report, or a digital health white paper. The general "Come back and check us out," messaging is important for branding, but the conversion magic happens when we get specific."
Since as many as 96% of people who visit your website aren't ready to buy, nurturing them to sale (or any conversion) becomes much more effective with the use of retargeting tools. The more personalized and relevant a marketing message is, the better response it's likely to produce.
That positive response — in this case, signing up for a free trial — drives prospects even further down the company's marketing funnel.
Activation emails
Smooth sailing from here on out, right? Once they've signed up for a free trial, it won't be long before leads request a demo of the platform.
Not so fast, says Sherry. Onboarding new signups via email isn't as easy as you'd think. In fact, it became a major point of friction for CB Insights' new trial subscribers.
"Between email deliverability and the work required to click and activate, we sometimes lose good prospects — especially those with strict spam filters (which often happens to be enterprise employees who are among our best clients)."
To ensure emails aren't buried in spam folders, the team relies on the inexpensive and powerful MXToolbox to monitor deliverability metrics. When it comes to building those messages, they opt for a combination between SendGrid and Mandrill.
These transactional emails, triggered by the user after clicking a call-to-action, nudge prospects closer to the company's goal. The next few technologies take them the rest of the way.
Automated drip emails
For CB Insights, automated drip marketing bridges the gap between activation emails and the demo itself. This is where things get tricky.
Anytime you take the "set it and forget it" approach, there's the possibility that things get impersonal. Impersonal means cold and often irrelevant, which ultimately translates to lost prospects.
That's why the company's marketing team took great care in customizing artificial intelligence to keep messaging meaningful and on-target. A few things they take into account during the automated onboarding process:
Email domain: if the user's email domain matches one in the company's database, it's matched to an industry and content is delivered based on that industry.
Onboarding preferences: users enter their area of interest along with their geography, industry, and profession upon signup — which can also guide the content they receive.
Events: when users take a specific action on the company's website, CBI's automated system suggests others that might be valuable based on that initial behavior.
For its ability to seamlessly integrate with the company's web application and interact with customers through email, the team chooses Intercom's live chat, marketing, feedback, and support platform to get the job done.
When they need something a little more powerful, they hook up Zapier to their MySQL database and combine it with SendGrid. "The Zapier route tends to require a bit more work than Intercom," says Sherry, "but in many instances, there's a strong case for it due to the desire to share real-time data entering our system."
The drip campaign continues for the entire trial. If the user responds, they're pulled from the drip and referred to someone in the business development department. Then…
The demo
Mission accomplished. With join.me and WebEx as a backup option, the company's team wow's leads with a platform demonstration.
Do all marketing stacks look like this?
Absolutely not. Every marketing stack differs depending on the business and its goals. Here's one from BILLSHARK that looks nothing like CB Insights':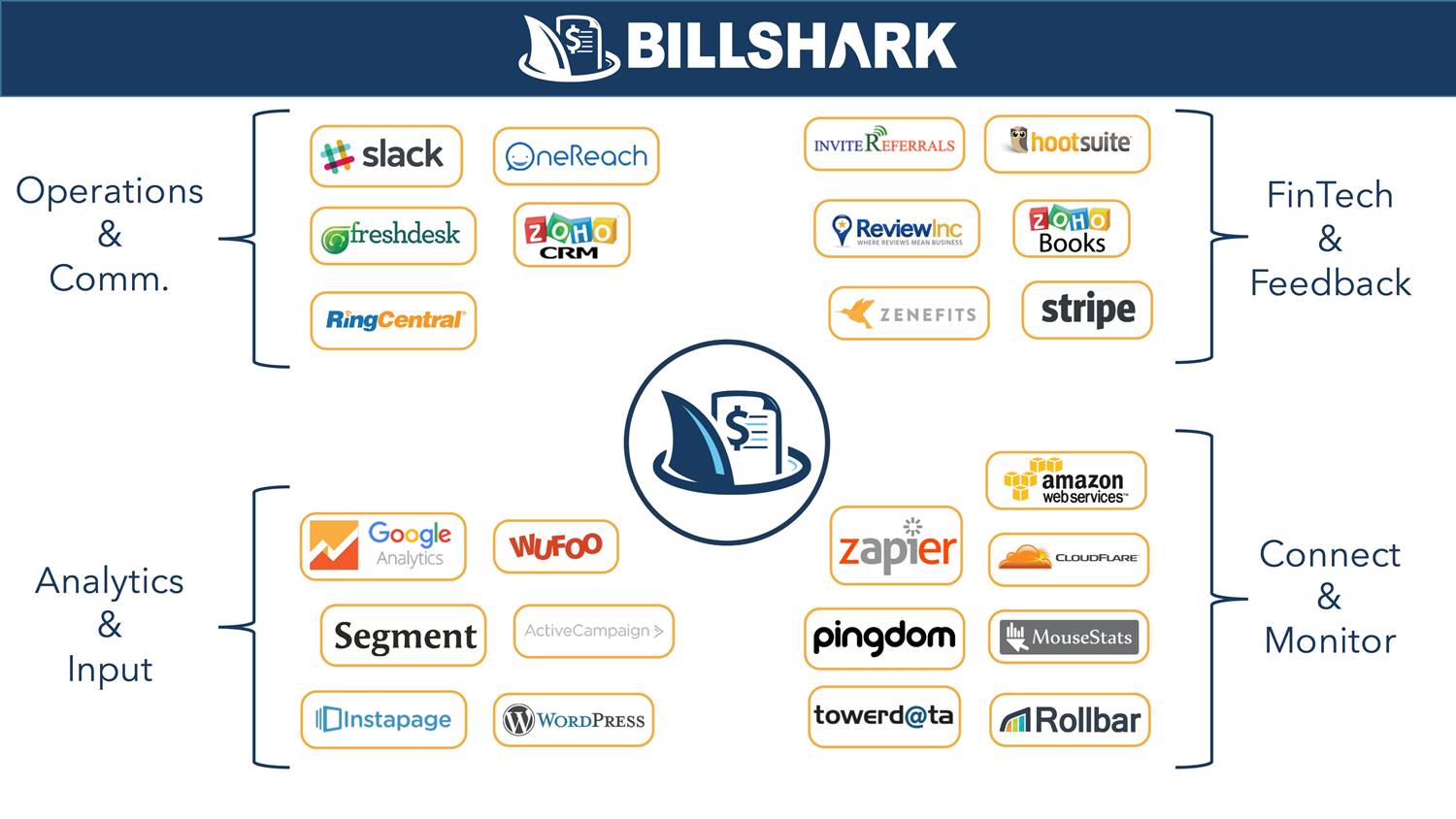 Here's another from Acrolinx that uses a completely different grouping of software: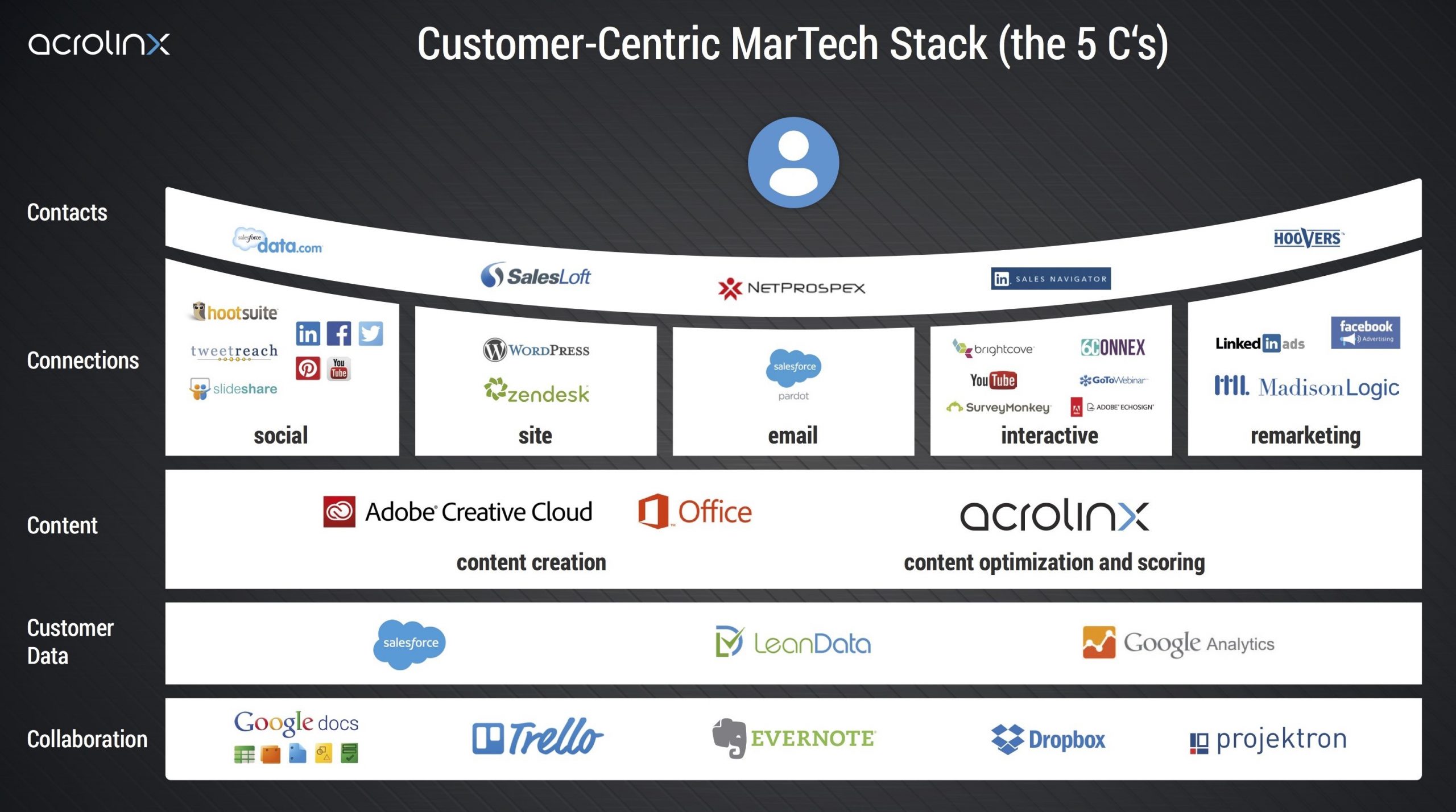 There's no right or wrong way to arrange your stack, there's no optimal number of technologies to use in it, and there's arguably no "best" tool in each category. Everything depends on what you're trying to accomplish.
(For more marketing stack inspiration, check out the entrants to Chief Marketing Technologist's 2016 Stackies Awards.)
A few things to remember when building your marketing stack
Make sure the technologies you choose align with your business goals.
The purpose of your marketing technology stack is to help you help your customers through the buyer's journey. Whether you're using influencer marketing software to identify brand advocates who can drive meaningful traffic to your website, or a communication service that allows your team to collaborate on a product update, at the end of the day, it's to turn your prospects into customers and then maximize their lifetime value to your business.
Still, each of those technologies has its part to play in your stack. To ensure they do what your business needs them to, Scott Brinker recommends you play out hypothetical situations your tool will have to handle:
"Write down specific scenarios for things you want to do with the software. Map it out, so when you get into the demo you can ask the salesperson, 'Can you walk us through this scenario?' Evaluate several vendors through this same objective lens. It's not just about what features they have, but how would those features work in practice for our organization?"
This way, you won't get distracted by a demonstration of all the cool things software can do, only to purchase it and find out what it can't do, is what you need it to.
Your tools should integrate with each other.
The appeal of marketing stacks comprised of several independent technologies is summed up well in Lane Bernes' response to a comment on a CB Insights' blog post: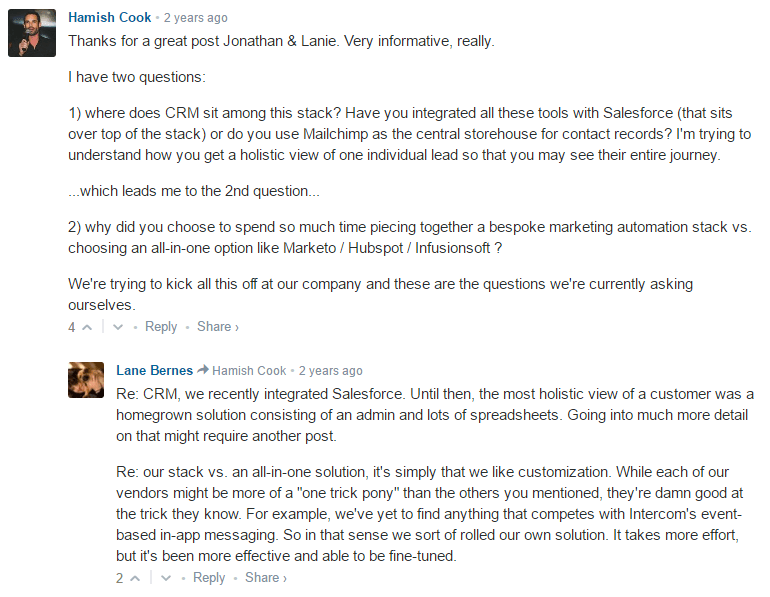 Years ago, marketers were forced to either use individual best-in-class tools (as Lane says, one-trick ponies) that couldn't integrate with each other, or sacrifice quality and features by going with a jack-of-all-trades, all-in-one platform to provide a smoother customer journey.
Today, most software works together with a lot of popular marketing tools already used by many teams. For example, Instapage integrates with Google Fonts, Autopilot, Salesforce, and over 20 more.
That means top marketers, like the ones at CB Insights, can now customize a marketing stack with some best-in-class solutions while providing the same seamless customer journey that an all-in-one technology would.
According to Aberdeen, leading marketers are 74% more likely to have a mostly integrated system of marketing technology solutions compared to all others (40% to 23%).
A collection of specialized but unconnected solutions: Best-in-class: 13%, All others: 34%
A collection of specialized solutions with some integrations: Best-in-class: 33%, All others: 34%
A mostly integrated system of complementary solutions: Best-in-class: 40%, All others: 23%
A highly integrated system or "cloud" of complementary solutions: Best-in-class: 14%, All others: 9%
Make sure that when you're evaluating tech for your own business, they integrate with the tools you already use, or ones you're planning on investing in. The result will be a better overall view of your marketing funnel and a more effective way to escort your prospects through it.
Analytics software should be a part of every stack.
"What have you done for me lately?" You should be asking that about every tool in your marketing technology stack regularly, and you should have the numbers to back up the answer.
According to Andrew Moravick, leading marketers are 58% more likely to use analytics solutions compared to all others (52% to 33%). He says, "It's no coincidence that the one sphere or marketing technology that is used to review and optimize all other marketing activities is also the technology with the widest margin between the best-in-class and all others."
CRM: Best-in-class: 76%, All others: 76%
Video conferencing solution: Best-in-class: 67%, All others: 59%
Email service provider: Best-in-class: 64%, All others: 61%
Marketing automation platform: Best-in-class: 58%, All others: 50%
Print materials & solutions: Best-in-class: 52%, All others: 50%
Data visualization solutions: Best-in-class: 52%, All others: 33%
CMS: Best-in-class: 52%, All others: 51%
Without an analytics tool to evaluate your marketing, how will you know whether your stack is working?
Technology won't accomplish anything for you if you don't know how to use it.
This should go without saying, but if you don't have a knowledgeable and well-trained team to work your technology, you won't reap maximum benefits from your stack. Brinker again explains:
"You want to spend on the software, but you also have to spend on the support people. Avinash Kaushik, the analytics expert, years ago proposed a 90-10 split — you should spend 90 percent on teaching your people how to leverage analytics and 10 percent on the tools. We could quibble over the exact numbers, but I agree that the money invested in the actual software should be the smallest part of the equation."
What does your marketing stack look like?
Do you stack individual technologies or use an all-in-one solution? Which do you prefer?
Add a powerful post-click landing page solution to your marketing stack and download the Advertising Stack for $1M Ad Spend, sign up for an Instapage Enterprise demo today.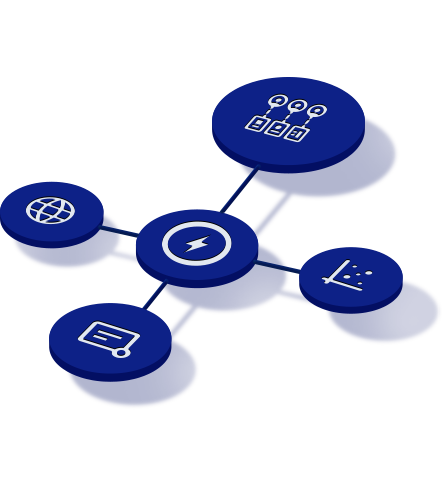 See the Instapage Enterprise Plan in Action.
Demo includes AdMap™, Personalization, AMP,
Global Blocks, heatmaps & more.