People have become so overloaded with ads that they develop mechanisms (like banner blindness) to ignore them. To avoid this hurdle, digital marketers must rethink the way they interact with their target audiences. Creative advertising ideas are mandatory to cut through all the noise and preserve the effectiveness of commercial messaging.
One of the best ways to do this is with interactive ads.
What are interactive ads?
Interactive ads invite consumers to physically engage with the ad in an immersive way, turning traditional advertising into an activity. They are a great way for marketers to engage with consumers directly, encouraging them to act, rather than passively view an ad or ignore it altogether: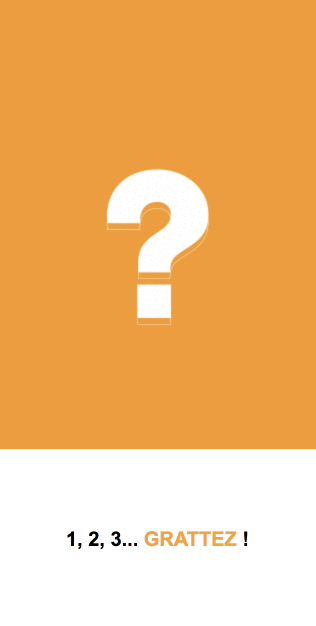 You can find these ads on desktop, mobile, and tablet; but mobile interactive ads show the greatest results.
What is interactive advertising and why should marketers practice it?
Interactive advertising helps brands tell stories, enhance personalization, and create lasting impressions on audiences, among other benefits. It can be used by marketers in any industry looking to:
Create brand awareness
Generate leads
Boost sales
Gain customer insights
Increase social sharing
Four advantages of the best interactive ads include:
1. Heightened brand awareness and recall
A study by Magna, IPG Media Lab, and Tremor Video DSP found that interactive video ads can drive a 47% lift in time spent with the ad, compared to non-interactive video ads. This makes the ad type 32% more memorable than standard ads, with 9x higher impact on purchase intent.
In addition, 88% of marketers find that interactive advertising is great for brands to differentiate themselves from competitors.
2. Improved performance rates
Comparing interactive and traditional static ads showed that the former are viewed more:
Fun (+91%)
Engaging (+70%)
Stimulating (+66%)
Creative (+52%)
They've also proven to generate these impressive results:

With those numbers, brands need to take advantage of the post-click landing page by linking their CTA directly to a post-click landing page because it leads to higher conversion rates. In fact, interactive ads deliver up to 3x the conversion rate of a conventional video ad (and as high as 7x for playables).
3. More data
Interactive ads offer more (and more in-depth) data than other ad types. They provide granular information on:
How long people viewed your ad
What they clicked on
If they answered any questions
If they replayed the video
Whether they shared it with others
All of this data can help marketers formulate a more refined advertising approach, improving the performance of future campaigns.
4. A push for interactive ads from leading advertising platforms
Google and Facebook are pushing interactive ads on marketers to improve the customer experience. While marketers have limitless options for implementing this type of advertising, here are a few of the best ideas.
Best interactive advertising examples
Note: Many of the following examples overlap with each other. For instance, an interactive video ad can be a mobile playable ad on Facebook.
Digital
Social media
A wide variety of Facebook interactive ads makes the social network one of the best options for sharing immersive, engaging content including:
Instant Experience (formerly Canvas Ads), so people can watch videos, swipe through carousel photos, complete forms, etc., all on a full mobile screen: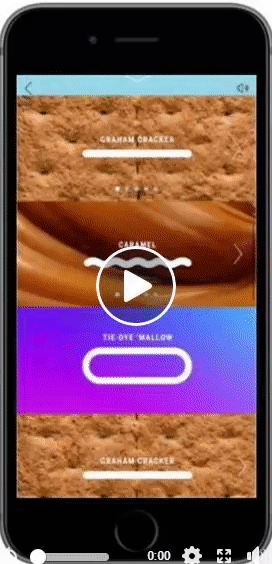 Playable ads give users an interactive preview of apps and trial of games before downloading: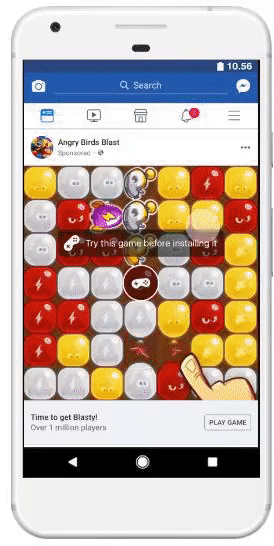 Lead ads allow prospects to complete a contact form right in the ad: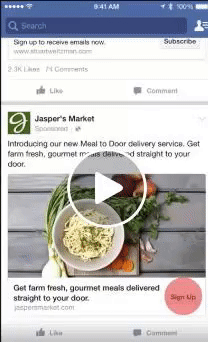 Video
Video ads are one of the best-performing advertising mediums with 64% of viewers ultimately buying a product after watching a video ad. Combine this with interactivity and they are even more effective because they transform a normally passive viewing experience into one that actively engages with viewers.
Honda is a great example of how to use interactive video advertising (click here to watch):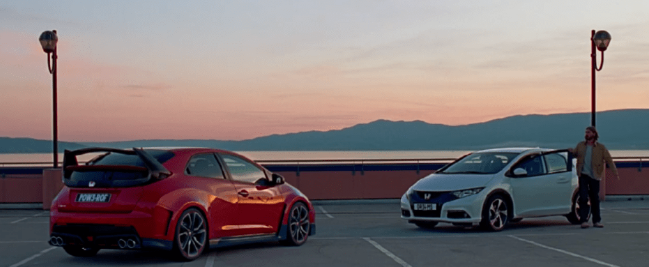 Naturally, there are interactive ads on YouTube since it's a video-based platform. Here's an example from Boursin that takes viewers on a journey through a full refrigerator, packed with fresh ingredients, like the brand promotes:
Display
Interactive display ads are rich media like videos, audio, gifs, and other elements that make it stand out from a standard, static display ad. They are created with HTML5 technology allowing multiple content formats to be in the same ad (for instance, an ad can play a video and conduct a poll simultaneously).
One of the best examples of a rich media display ad is Nissan's 2016 World T20 tournament campaign, when Nissan saw the opportunity to help people on the go keep track of live scores. With a series of rich media banner ads that kept track of live scores for them, the interactive component asked users to vote for their favorite teams before a match started: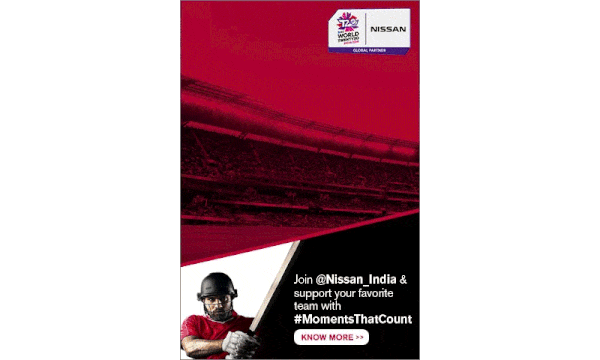 The campaign delivered 10x higher interaction rates compared to industry standards and a 4x increase in website visits.
Another commonly used form of interactive display ads is Lightbox ads, developed by Google. These ads generally end with a link to your website or post-click landing page.
When you click or hover over a Lightbox ad like this one...

… It expands to fill your entire screen, play a video, or display a carousel of images: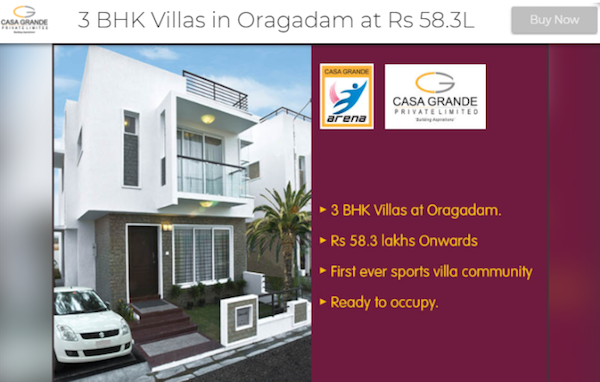 Mobile
Although mobile interactive advertising has already been mentioned (Facebook playables, for example, are mobile), there are many other ways businesses use them such as:
Quizzes
Surveys
Calculators
QR codes
Contact forms are another popular mobile interactive ad format, like this one from BMO Harris Bank: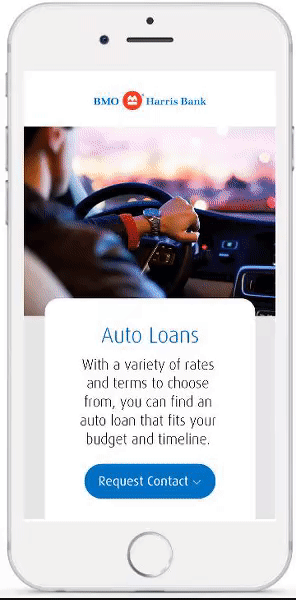 TV
Advertisers must keep up with changing viewer behaviors (think: people walking out of the room, fast-forwarding, or muting their TVs during commercials). Interactive TV ads are one way to counteract those behaviors.
BrightLine faced the problem head-on by creating this BMW ad for Roku users so viewers could engage more readily. While the ad plays, viewers can use their Roku remote to toggle between different colors of a BMW X1 in the lower third of the screen: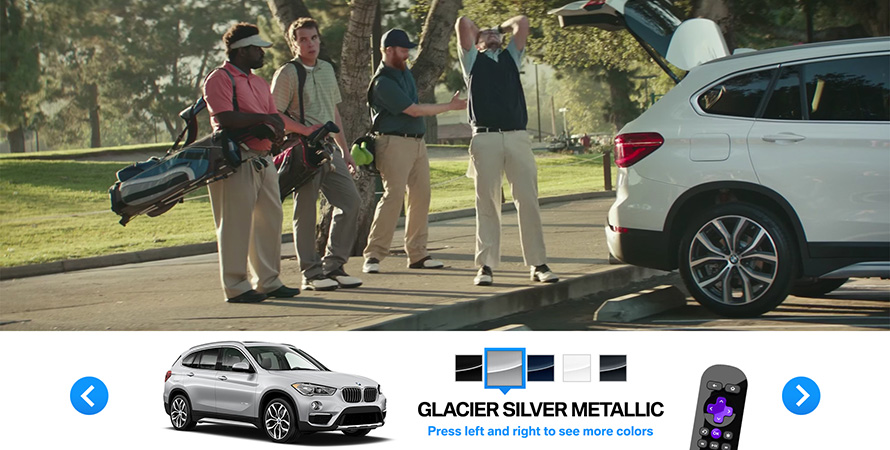 Hulu interactive ads have also become extremely popular, running with or in place of commercials. Examples include photo galleries, video overlay, quizzes, and polls, all of which enable interaction and encourage viewers to keep watching instead of ignoring. Here is one from the state of Texas that uses photo galleries and video clips: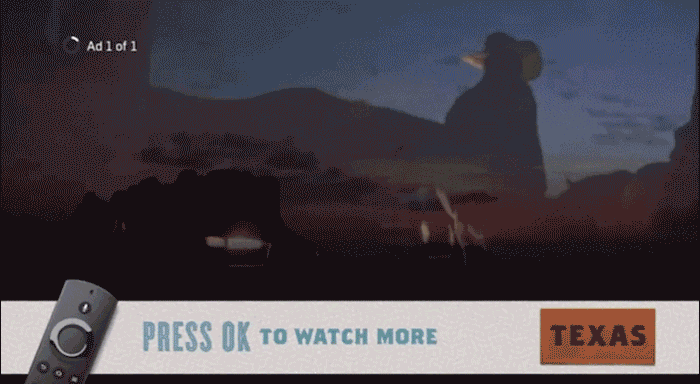 Viewers can press OK on their remotes to watch more on Texas tourism. By clicking through an image gallery, they can watch short video clips about different things to do in Texas: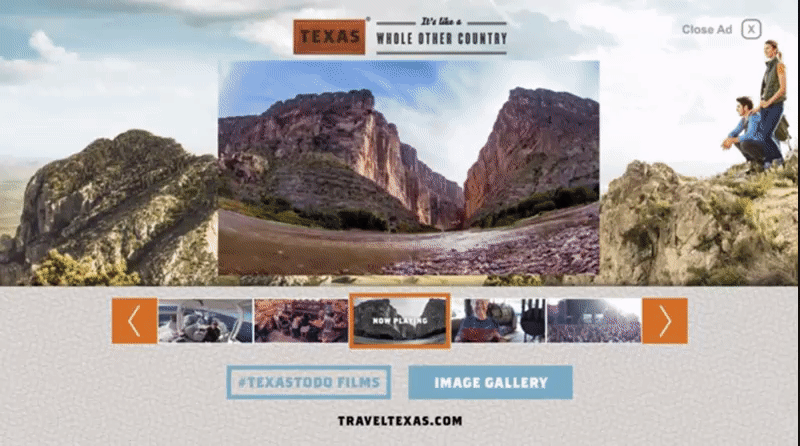 Print
Not every interactive ad is digital. Consider interactive magazine ads and outdoor ads.
Peugeot created a one-page interactive print ad with a front view of the car that asked people to hit the ad:
Many outdoor ads use augmented reality (AR), allowing the viewer to interact with virtual items using a camera and screen (often a billboard or other outdoor display) to superimpose them onto the real world.
Reebok developed an outdoor interactive ad campaign in Sweden. Using a combination of a speed cam and shoe display, they gave away a free pair of shoes to the person who ran past the billboard the fastest:
Keep prospects engaged with interactive ads
Interactive ads provide marketers with countless opportunities for creative campaigns, generating higher conversion rates, more engagement, and heightened brand recall.
For more details on digital ads across all platforms, download the Instapage digital advertising reference guide. With this guide, you'll have the most updated ad specs, best practices, examples, and more.