Instagram has added a number of ad formats and options since it's launch, making the social network an increasingly valuable space for advertisers:
Single photo and video ads
Carousel and Collection ads
Most recently, Instagram Explore ads were added to the mix, making the platform even more of a necessity for advertisers to get in front of their target audience.
What are Instagram Explore ads and why do you need them?
These ads are found under Instagram's Explore tab, where more than 50% of users go to discover photos and videos related to their specific interests from accounts they may not already follow: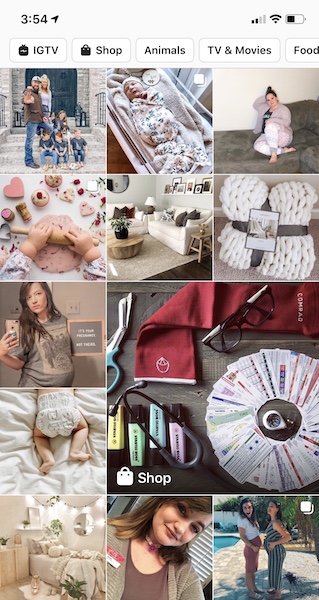 Since users scrolling the Explore section are already in a discovery mindset — and most receptive to advertising — it's an ideal place for businesses to show their ads.
They also provide advertisers with several unique benefits:
The opportunity to be part of what's culturally relevant and trending, while reaching new audiences actively looking to discover something new.
The ability to reuse existing feed ad creative in Explore, with the same people-based targeting.
Easy extension of standard feed campaigns using automatic placements with a simple opt-in to reach audiences in Explore.
How do Instagram ads in Explore work?
To understand how these ads work, you must first know that the Explore grid is extremely customized to each user's individual interests.
According to Facebook, Explore is a discovery surface where Instagram sources content from across the platform based on a person's interest. For instance, my Explore feed is filled mostly with baby content, home decor, and fitness because that's what Instagram's algorithm determines (appropriately) to be valuable and personalized to me: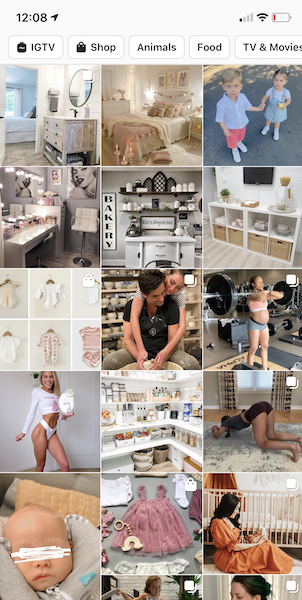 Instagram Explore feed ads don't appear in the Explore feed, though.
Instead, ads only appear after a user taps an Explore photo or video. That photo or video then expands to full-screen. Next, the user can scroll through another contextual feed of content similar to the post that was tapped on. This feed is where Explore ads appear, in the same format as standard Instagram feed ads: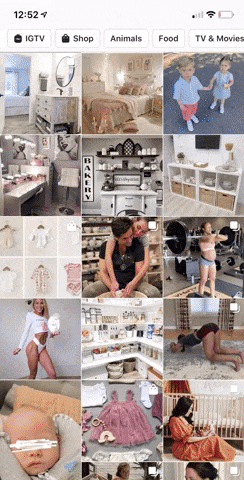 This prevents Explore ads from being intrusive and overwhelming to Instagram users directly in the grid, which is another one of their main benefits.
How to set up Instagram Explore page ads
Explore is not available as a standalone placement, so ads must run in the main feed to appear in the Explore feed. Therefore, the steps to create Instagram Explore ads are the same as creating regular Instagram newsfeed ads:
In Facebook Ads Manager, create a new ad by selecting +Create, or edit an existing ad.
Choose an objective that supports Instagram Explore as an ad placement (all major objectives are supported), and select Continue.
Complete the details for your ad set.
Under Placements, Instagram Explore is available as an Automatic Placement. If you choose Edit Placements, check the box for Explore under Instagram.
Select Continue.
You can preview your ad before submitting for review — and after review, you'll be notified of its approval or disapproval. If approved, you can see where people are viewing your ad in the results section of Ads Manager.
Instagram Explore ads specs
To ensure you're creating high-quality Instagram ads, consider the following design recommendations and requirements:
Image size: Depends on the ad format you select (Note: When creating your ad, you can use the Crop Image feature to ensure your ad looks the way you prefer)
Square: 600 x 500 pixels to 1936 x 1936 pixels
Landscape: 600 x 315 pixels to 1936 x 1936 pixels
Vertical: 600 x 750 pixels to 1936 x 1936 pixels
Video file size: Up to 4 GB
Video length: Up to 120 seconds
Caption length: Up to 2,200 characters
Aspect ratio: Depends on the format
Square: 1:1
Landscape: 1.91:1
Vertical: 4:5
Website URLs in captions: Avoid using URLs in your ad text, as they are not clickable
After the ad click
Since Explore ads are highly personalized to each user, it's important that the post-ad click experience continues that same level of personalization. When the landing page stage doesn't deliver the same message that the ad introduced, conversion rates suffer the consequences.
Tease your offer with an Instagram Explore ad like Imperfect Foods does: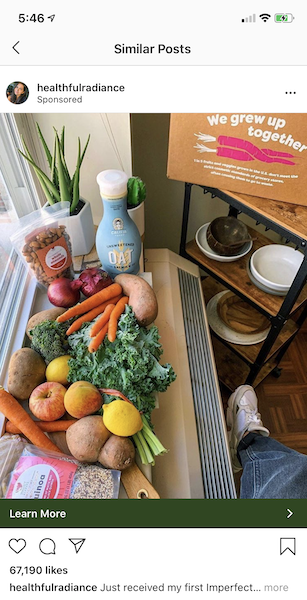 Then, seal the conversion with a landing page that's equally as segmented and personalized: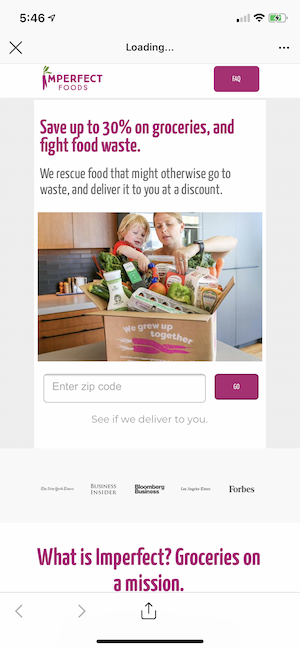 By providing prospects with a relevant landing page destination, you ensure a better overall user experience, and therefore increase their chance of a conversion.
Complete your Instagram Explore ads with landing pages
Present your ads among customized, culturally relevant, and trending content in Instagram Explore where users are already in a discovery mindset and most receptive to advertising.
To complete your campaign, be sure to segment and personalize beyond the ad. Tell the same story narrative from Explore ad to landing page step, for more sign up for an Instapage 14-day free trial to see how Instapage can help you do that at scale.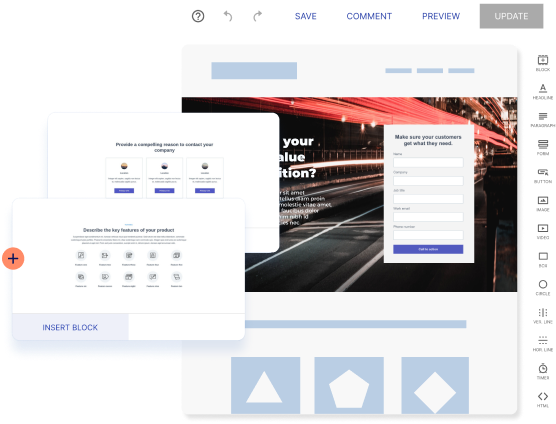 Try the world's most advanced landing page platform with a risk-free trial.