Tell me if this sounds familiar … you log into your Google Ads account every day to review the previous day's performance, but you don't see as many clicks as you hoped. Alternatively, you may find your daily budget spent entirely on clicks that delivered far fewer post-click landing page conversions than expected.
I've experienced both scenarios and I imagine you have, too.
Online advertising is very competitive and businesses will do anything to get an edge on the competition. This is especially true with PPC advertising. After all, each search results page only allows a limited number of PPC ads, so qualified clicks are valuable.
Google offers advertisers a variety of ad extensions to help increase ad rank and click-through rate. Extensions effectively give you more space on the search results page if your ad qualifies. Or, as Google Ads states, "extensions create more reasons to click your ad."
Google Ads gives priority to the top ad positions when displaying extensions, positioned on the left side above all organic listings: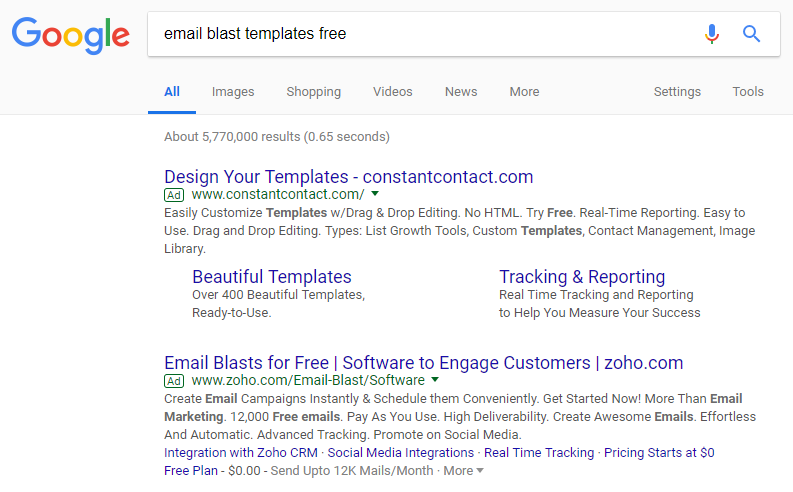 To grab one of the top positions, bid competitively, implement keyword modifiers, and increase your quality score.
It's worth mentioning these extensions don't cost you anything extra. They are built-in features that help you increase your visibility, click-through rate, and post-click landing page views. Therefore, any time an extension is clicked, you pay the same amount that you would if a user clicked your headline. Some extensions are clickable with hyperlinks, others are not. But they all offer a chance for your ad to be more enticing for users to click if you use them correctly.
How to set up Google Ads extensions
Once you log into Google Ads, use the following sequence to set up extensions:
1. Select your campaign or ad group
2. Click the "Ads & Extensions" tab on the left, the "Extensions" tab across the top, and then the large + sign to create a new extension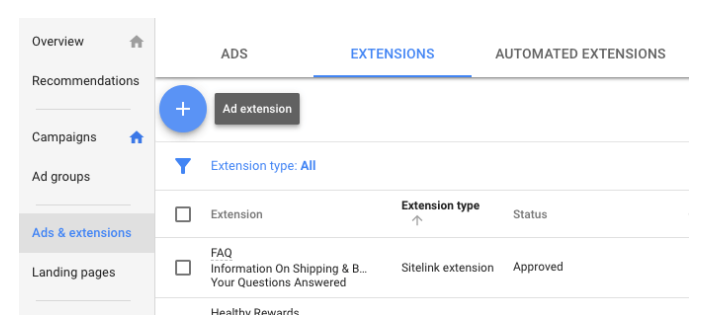 3. From the drop-down menu that appears, select the extension you want to create (hovering over each extension will show a brief description of what it does)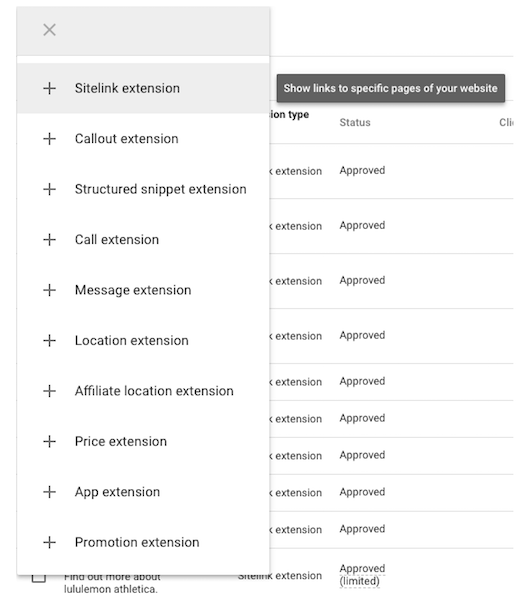 Customize each type of extension you wish to set up (Google will provide a preview of your ad as you create it) and then click save.
Google offers both manual and automated extensions. The process above outlines how to set up manual extensions, while automated extensions add automatically like the name implies. The lists below include all extension types separated by category.
Manual ad extensions
Manual extensions require a bit more setup, but are recommended for every advertiser using text ads because of their customizability and reporting simplicity.
Sitelink extensions
These extensions are clickable and it's best to link them to specific pages thematically related to the text. For example, a pricing page, testimonials, or a free demo work very well here. As an example, this is a sitelink extension when you search for "Philadelphia SEO agency:"

Simply adding and enabling sitelinks has shown to give advertisers about an 8% uplift in CTR. This may not seem like much, but when you consider extensions improve your quality score, lower your costs, and help improve position – why wouldn't you use them?
Location extensions
These are also hyperlinked and clickable, which naturally draws more attention. A location extension is listed on its own separate line – effectively increasing the entire ad's size. Plus, on mobile they provide a link with directions to your business.
As of July 2015, these extensions can also show rating stars, as shown by the 4.8 rating from 16 reviews for the Boise tattoo parlor below:

Affiliate location extensions
If your products are sold through retail chains, affiliate location extensions can help you reach consumers as they're deciding what and where to buy. This type of ad extension works by helping people find nearby stores that sell your products.
Call extensions
This is exactly what it sounds like.
Include a number in your ad that people can click-to-call. Call extensions on mobile devices will have a phone icon for users to click-to-call (picture 2 below). Either way, Google offers call conversion tracking in order for businesses to track their call extension data.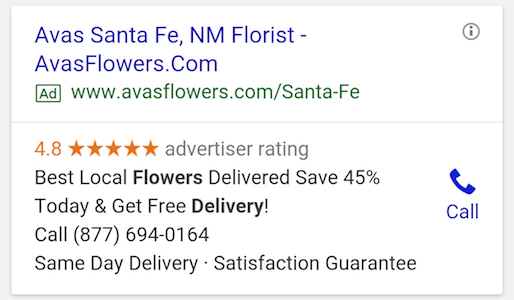 Message extensions
Message extensions are ideal because many people prefer text messaging over calling. This type of extension display on mobile devices, and only to devices capable of sending and receiving text messages. With just one tap of a button, consumers can tap an icon on your search ad and contact you directly by text.
You can add Message extensions at the account, campaign, ad group, or ad level.
App extensions
App extensions will only appear if the user is on a mobile device. The link is located below the ad's text or to the right:

Depending on your device, when you click the CTA button, it directs you to your appropriate app downloading service (App Store or Google Play). However, if your primary goal is to drive app downloads, app promotion ads (which link directly to apps exclusively) may be the better option.
Callout extensions
These are additional descriptive text that allow you to "callout" features or services. Like previous examples, these also increase the size of your ad giving you an additional line of benefit-oriented text.
Callout extensions separate by a dot in the screenshot below:

Structured snippet extensions
Finally, structured snippet extensions are identified by a colon, as demonstrated below with sport sunglasses, lifestyle sunglasses, PRIZM sunglasses: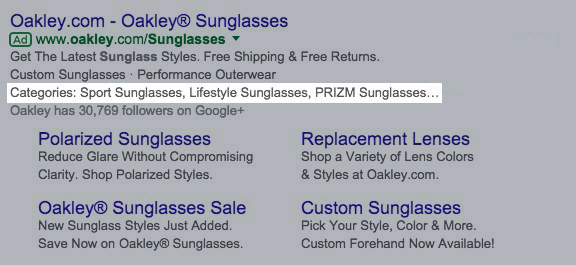 Price extensions
Price extensions allow you to better showcase your services, products, and pricing, by linking search users directly to those sections of your site. They appear below text ads on both desktop and mobile, displaying as a set of up to 8 cards that people can view to see different options and prices: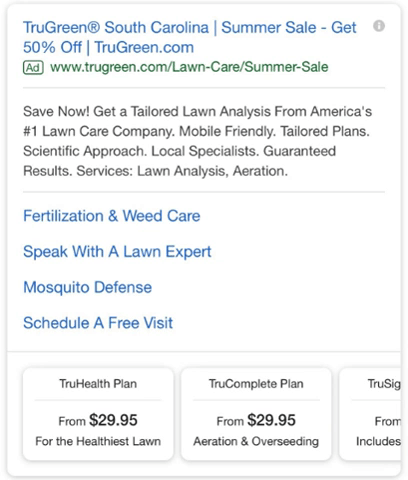 Promotion extensions
Promotion extensions enable you to highlight your sales and promotions for people searching for the best offers. They appear below your ad, marked by a price tag icon, or the special occasion in bold copy. The extension also displays up to 2 lines of informational text about your promotion: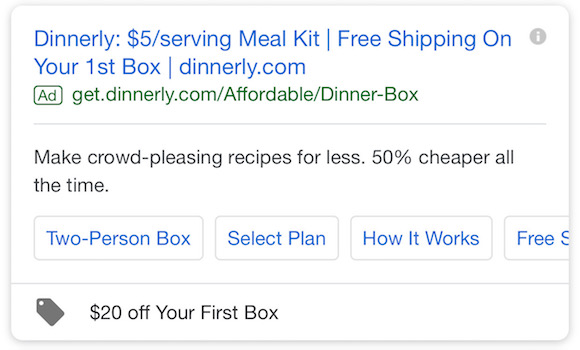 When someone clicks or taps on the extension, it directs them to the special offer on your site or post-click landing page.
Google Ads provides a complete list of occasions and dates that are available for promotion extensions.
Automated Google Ads extensions
Automated extensions are added automatically when Google Ads predicts they'll improve your campaign's performance. No setup is required for these, so they're not displayed as options when creating manual extensions.
You'll notice that most of the following extensions are also available in the manual format.
Automated call extensions
This is the same as the manual call extension, but doesn't require any setup when creating your campaign. If your website indicates that one of your business goals is getting people to call you, Google Ads may automatically add the call extension for prospects to call your business.
Automated message extensions
Same thing here, the only difference between this and the manual message extension above is that this extension is added by Google Ads automatically when your website indicates that one of your business goals includes receiving text messages.
Dynamic sitelink extensions
Sitelinks are an automatic extension format that allow prospects to quickly get to the right place on your website just by clicking a deep link on your dynamic search ad:

Dynamic structured snippet extensions
This extension may automatically show on your ad when your post-click landing page also matches the search:

Automated location extensions
When your website includes specific location information (address, map, etc.), Google may automatically add the location extension to your ad so search users find your business easier.
Seller ratings extensions
Seller ratings are an automated extension that showcases a business' high ratings. To add this extension, Google gathers ratings from various reputable sources that aggregate business reviews.
This extension displays below text ads, showing your rating on a scale of 1-5 (alongside 5 stars) and the total number of reviews that generated the rating. Sometimes Google also provides some type of qualifier to describe why you received the rating:
Google lead form extensions
Lead form extensions allow for quick capture of user information during searches for your company, products, or services on Google, eliminating the need for redirecting prospects to a landing page page for conversion.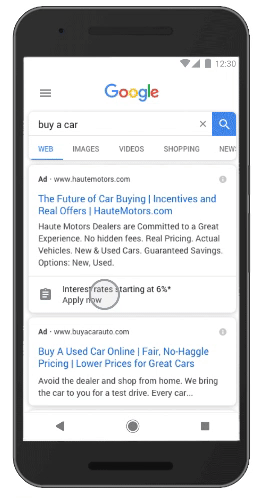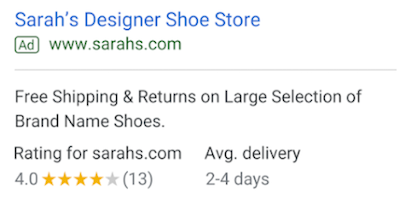 Since seller ratings are designed to help advertisers improve ad performance and earn more qualified leads, they typically only appear when a business has at least 150 unique reviews and an average rating of at least 3.5 stars.
Dynamic callout extensions
If your post-click landing page mentions relevant, useful information, Google may automatically show that information with the ad text as dynamic callouts. In this example, Google highlighted: "25 years of experience," "Book online," and "Certified technicians:"

Boost traffic and conversions with Google Ads extensions
Although ad extensions are an advanced feature, they are easy to set up and can significantly increase your click-through rate, post-click landing page views, and ultimately conversions.
To turn ad clicks into conversions, create dedicated, fast-loading post-click pages for every offer. See how to provide all of your audiences with unique post-click landing pages by signing up for an Instapage Enterprise demo today.