It's essential to leverage effective digital marketing strategies that capture their attention and drive them to your business. Why? Because 97% of buyers use the Internet to search for their dream properties. One powerful strategy that can significantly enhance your real estate marketing efforts is by leveraging landing pages.
Landing pages provide a tailored experience for your potential clients, allowing you to showcase your properties, highlight unique selling points, and capture valuable lead information. They serve as entry points that guide visitors towards taking desired actions, whether it's signing up for a newsletter, scheduling a property viewing, or requesting more information. By incorporating a landing page strategy into your marketing mix, you can maximize your reach, generate quality leads, and ultimately boost your real estate business.
In this blog post, we explore five ways effective landing pages can elevate your real estate marketing game. You'll discover how to effectively connect with potential buyers, make a lasting impression, and transform leads into valuable deals, all with high converting real estate landing pages. Let's dive in!
Tactic 1: Use Eye-Catching, High-Quality Images and/or Video in the Hero Section
Visual content has a significant impact on buyer engagement and can influence their decision-making process. This is a crucial step in building a successful real estate landing page, so invest in professional photography and videography that captures the essence and beauty of the property.
Ways to leverage images and videos on high converting Real Estate landing pages:
Include Lifestyle imagery. Incorporate lifestyle-oriented images or videos that depict residents enjoying the property and its surroundings. This helps potential buyers envision themselves living in the property.
Embed a Video Tour. This video can provide a walkthrough of the property that highlights its key features, room layouts, and amenities. Ensure the video is professionally produced, visually appealing, and concise to maintain viewers' interest and deliver a compelling introduction to the property.
Add Text to Images to Engage and Inform. Pair eye-catching images or videos with concise and compelling captions that convey the property's unique selling points or highlight special features.
Tactic 2: Tailor campaigns to specific buyer personas
It's important to show that you understand your audience's specific needs and preferences; segment your landing pages based on buyer personas such as first-time homebuyers, luxury property seekers, or commercial real estate investors.
Ways to create personalized high converting real estate landing pages:
Leverage audience data to personalize messaging. For example, first-time home buyers versus seasoned commercial real estate visitors will engage with different messaging and calls to action.
Include interactive elements. Adding virtual tours, a mortgage calculator, or even something as simple as an image slider can help engage and inform potential buyers.
Utilize dynamic content to show different messaging or images based on visitors' location, interests, or browsing behavior.
Tactic 3: Provide detailed property information
The more information about the property you provide (room dimensions, floor plans, nearby amenities, neighborhood highlights, etc.), the better educated your potential buyers will be when they contact you. Creating a real estate landing page that keeps visitors on-site instead of searching on Google builds trust and increases engagement.
Ways to create detailed Real Estate landing pages:
Leverage slide-out information panels. These will display additional details when visitors click on specific property features or points of interest, which allows you to pack in a lot of information without overwhelming the potential buyer. This can include information about appliances, fixtures, flooring, or any other notable features.
Include a comparative market analysis (CMA) section. This is valuable information that a buyer may seek outside of your landing page (and away from your call to action!)if it is not readily available. Include details such as recent sales or property values in the area that help potential buyers understand the property's value and how it compares to similar properties.
Integrate walkability scores and transportation options. Display the distance to nearby public transportation, walkabi ty ratings, or biking routes to give visitors an understanding of the property's location advantages.
Tactic 4: Optimize for search engines
Use relevant keywords in your landing pages' headlines, copy, meta tags, and image alt tags to improve search engine visibility and increase organic traffic.
Ways to create optimized Real Estate landing pages:
Optimize image alt tags. As mentioned above, images play a crucial role in your real estate landing page, so it's important to leverage them further by adding descriptive and keyword-rich alt tags. Alt tags not only improve accessibility for visually impaired users but also provide search engines with valuable (and search-able!) information about the content of the images.
Create unique page titles. Using targeted keywords, craft unique and descriptive page titles that accurately reflect the content and purpose of your real estate landing page. Keep the title length within 60 characters to ensure it is displayed fully in search engine results.
Enhance meta descriptions. Again, using targeted keywords, write compelling and concise meta descriptions that summarize the content of your landing page. Be sure to use themnaturally, as it can affect click-through rates from search engine results pages. Aim to keep the meta description length within 160 characters.
Tactic 5: Leverage retargeting campaigns
Implement retargeting campaigns to reach out to visitors who have shown interest in your landing page but haven't converted.. Just because they left your landing page doesn't mean they aren't interested–maybe they weren't sure of the property, wanted to shop around, or were otherwise distracted. By retargeting, you remind them of the property or offer they viewed and encourage them to take the next step.
Here are some retargeting ideas to re-engage Real Estate landing page visitors:
Define your retargeting segments. Segment your audience based on their engagement with your landing page. You can create segments for visitors who viewed specific properties, initiated contact, or added properties to their favorites list, which helps you tailor your retargeting campaigns' messaging.
Use email retargeting. If you have captured visitors' email addresses, send personalized emails featuring properties or offerings similar to what they previously viewed. You can also provide valuable content, such as market updates, tips for home buyers, or new property listings, to nurture their interest and keep your brand top-of-mind.
Test and optimize your retargeting efforts. Continuously monitor the performance of your retargeting campaigns by tracking metrics such as click-through rates, conversion rates, and cost per acquisition. Experiment with different ad variations, audience segments, and retargeting strategies to optimize your campaigns and achieve the best results.
Don't miss out on the opportunity to boost your real estate business with landing pages! Start implementing these five powerful tactics today and witness the transformative impact they can have on your marketing efforts. Get ready to attract more qualified leads, stand out from the competition, and close more deals in the dynamic world of real estate.
Are you ready to elevate your real estate marketing game with high-converting landing pages? Sign up today for a 14-day trial and see the impact Instapage has on your campaign results!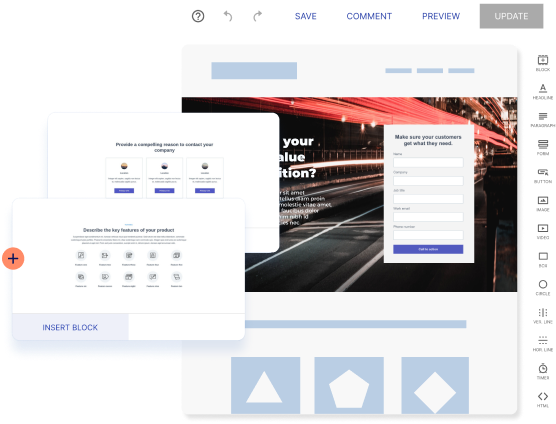 Try the world's most advanced landing page platform with a risk-free trial.