Google's reach with traditional ads may extend worldwide, but local searches have always been popular. Consider Google Maps and Google My Business listings, for example. The search engine giant knows how crucial local searches have become and are expanding their advertising options accordingly.
One of the best ways businesses advertise their local brand and service is with Google Local Services ads.
What are Google Local Services ads?
Local Services ads show at the top of search results when users search for certain services in specific geographic areas. These ads allow businesses to directly receive leads through phone calls and message requests, and display only company name, review rating, city, phone number, and hours of operation: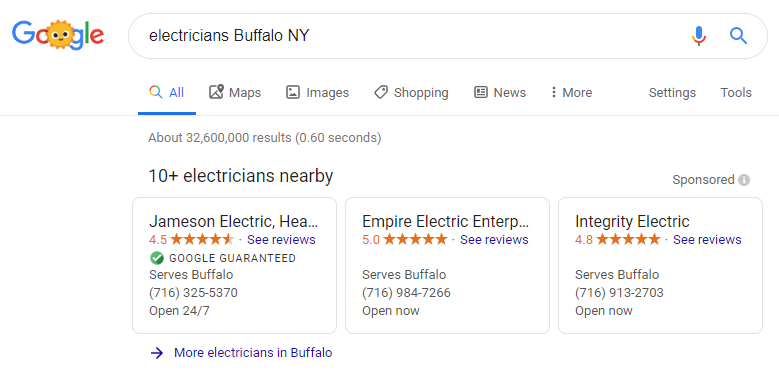 On occasion, the formatting may change because Google will adjust it to include more or less information to help attract more leads. What's more, Local Services ads by Google are available on desktop, mobile, and tablet.
Notice the "10+ electricians nearby" and "More electricians in Buffalo" above and below the ads. If searchers click on these, they're taken to a separate results page where they'll see a larger list of all participating local services businesses: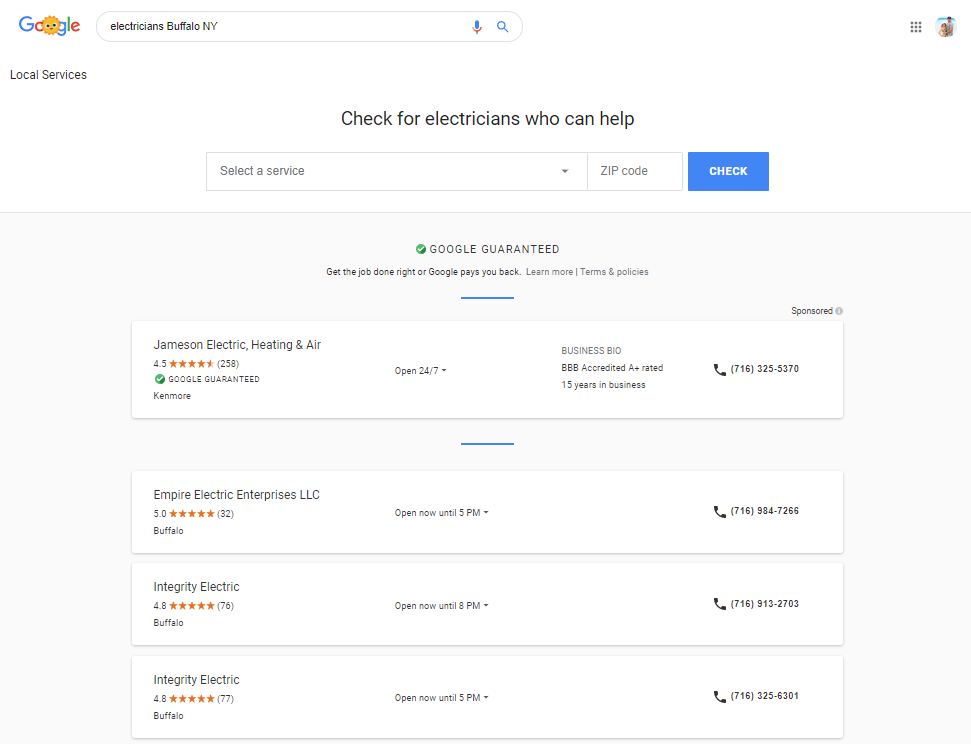 They'll also see a drop-down menu of relevant services next to a zip code search box: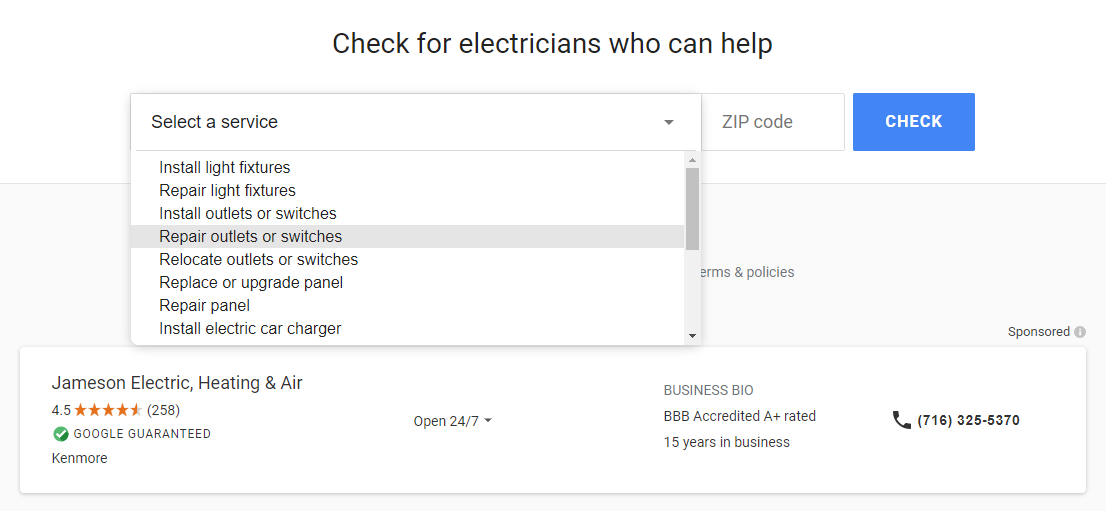 This allows prospects to narrow in on the service they need to find the most relevant service provider.
While any participating business can appear on the full list page, you should know how to optimize your chances of getting found in the first few spots on the first page (more on this later).
It's also important to know that Local Services ads (LSAs) are available only for certain service categories and areas. In the United States, for example, LSAs are only available to:
Locksmiths
Plumbers
Electricians
HVAC services
Carpet cleaners
House cleaners
Garage door services
Variety of other home services
You can check for your business' service and location eligibility on the ad signup page.
A brief history of Local Services ads
Initially called "Home Services ads" and beginning as a beta test in San Francisco in 2015, businesses were required to complete a screening process to ensure relevant insurance and licensing requirements were met. On top of that, employees required criminal background checks.
When looking for a contractor through Home Service ads, for example, consumers could either call a business directly or select up to three to request individual quotes for comparison.
Google expanded and rebranded the program in 2017. Markets outside of California could participate, and the ads were renamed "Local Services ads."
The look and process have changed — a consumer no longer has the option to request an online quote from a single business or select multiple businesses to request simultaneous quotes. Now, the only way to contact the business to compare service quotes is to call or request a message response from them.
However, one constant has remained: Businesses must still pass Google's screening process to be considered "Google Guaranteed" and earn the green digital badge (more on this below). They must verify that they:
Have valid license and insurance policies
Hire employees only after performing background checks
Serve customers at their homes
This instills immense trust in prospects looking for a distinct service — and that's only one of LSA's benefits.
6 benefits of Local Services ads
1. Advertisers pay per lead — not click
With LSA, you only pay for converted leads related to your business or services you offer; not by click like many other ad formats. Lead prices may vary depending on your location, job type, and type of lead. They tend to range from $5 for locksmith leads in a few markets, to $139 for water damage restoration lead in Tampa — but the average cost overall one study found is approximately $24 per lead.
Every lead received counts toward your budget, and any lead received after you've reached your monthly max will be credited back to your account. This way, you'll never pay more than your monthly max. You can even dispute leads you're charged for if you believe they aren't valid, and these will also be credited back.
2. Businesses are Google Guaranteed
This is the green checkmark alongside "Google Guarantee":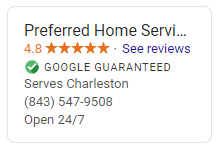 Not only does this badge help build a great reputation online, but it also indicates a satisfaction guarantee backed by Google. If any customer who hires a "Google Guaranteed" business through a Local Services ad isn't satisfied with work quality, Google will cover claims up to the job invoice amount (with a lifetime cap of $2,000).
3. Expanded reach beyond traditional search ads
Google's Local Service ads sit at the very top of the search results — above both traditional search ads and organic listings: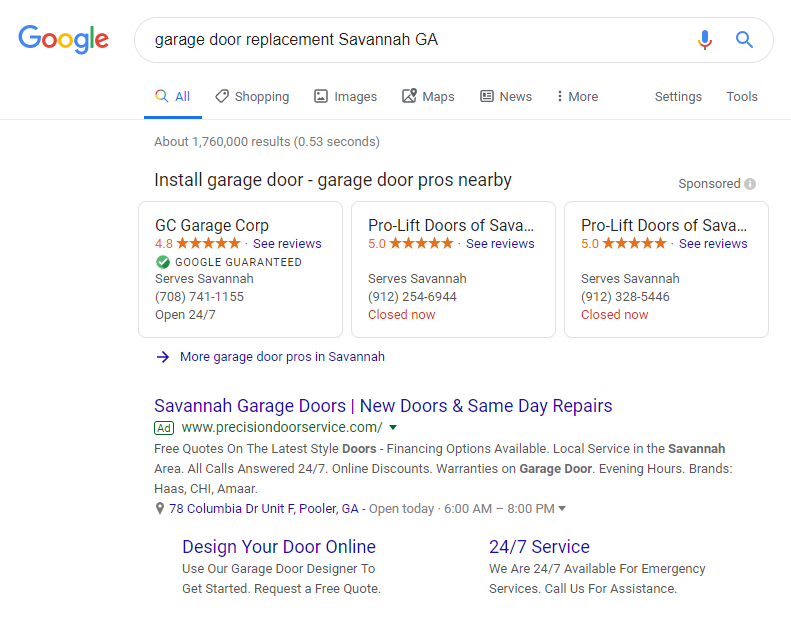 This is because LSAs aren't meant to replace the reach of either one of these, but rather expand the reach beyond them.
4. Included in voice search responses
Local Service ads are powered by Google Assistant. This is crucial because since 2016, over 20% of all searches come from voice search, and by 2020, that number could reach nearly 50%.
This is also extremely important because your customers may not be able to open a new tab and type a search query if they're caught in the middle of a crisis requiring professional home services.
5. No keywords to manage
Google's Local Service Ads don't require keywords because they automatically trigger with a customer's search for one of thousands of search terms relevant to your business. Searches can be as broad as "HVAC":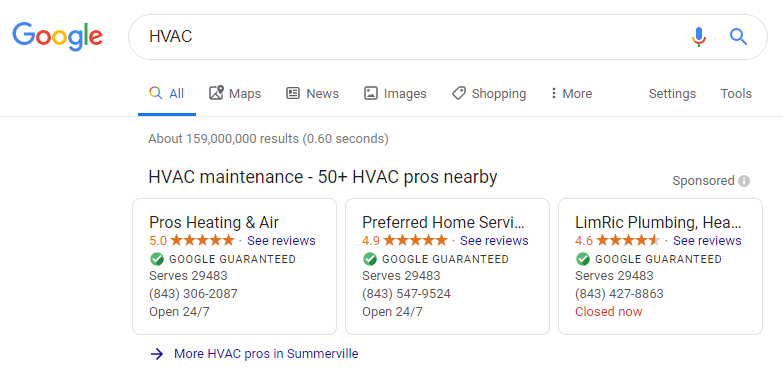 Or specific as "air conditioner stopped working":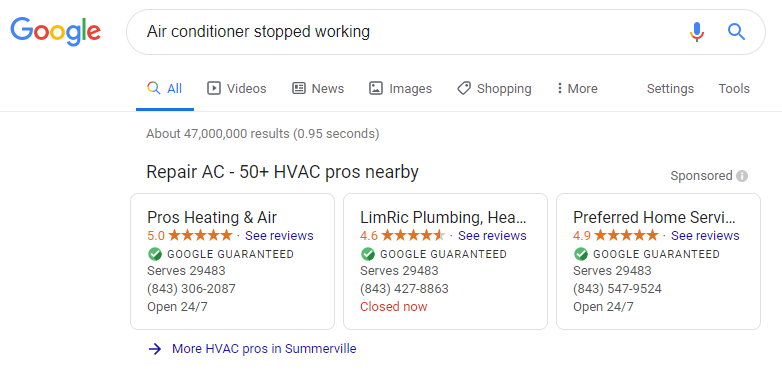 The ad will automatically be generated and created using information from your business bio and profile.
6. Easy campaign management
Businesses can manage their ads through the Local Services app. This enables them to:
Reply to messages
Track bookings
Manage leads
Manage campaigns and budgets
View ad performance
Monitor ratings
The app also sends an email and push notification to the business so they can quickly respond to leads and turn them into customers.
How to set up Local Services ads
Step one is to confirm your eligibility. If you're eligible, you'll need to create an account to manage your ads. (Note: LSA are managed separate from other ads in the Google platform, which is why you'll need to create this new account.)
Next, create your business profile so Google can determine which searches to match your business to. Here, you can edit:
Your weekly budget (based on the number of new customers you want each week)
Your business hours
Your service areas
Your job types
Although you're not actually designing the ad yourself — and therefore, don't have to worry about design best practices — there are still several to keep in mind to ensure high ad rank. This is critical since there's still a limited amount of space on the SERP for these ads (up to 3 on Desktop, 2 on Mobile, and 1 via the Google Assistant), and you'll need a high ad rank to ensure your listing shows.
Unlike traditional search ads where a high Quality Score is required to rank high, Google considers the following factors to calculate your Local Services ad rank:
Proximity to potential customers' locations
Business hours
Responsiveness to customer inquiries and requests
Ready to run a Google Local Services ad?
Considering the priority placement and expanded reach, the ability to pay per lead with no additional costs, and the easy management, LSA are a no brainer (if you're eligible). Even if you're not — with the fast expansion of these ads — now would be a good time to master them so you can consider them moving forward.
To create the most optimized ad on Google or any other advertising platform, download the Instapage Digital Advertising Reference guide for the most up-to-date information on ad types, specs, and examples.