When deciding where to run PPC campaigns, Google Ads is typically top of mind for all advertisers. Yet, many find themselves weighing the pros and cons of other common platforms such as Bing vs. Google or even Facebook vs. Google.
What about Google vs. Yelp advertising, though? Yelp is used by millions of consumers every day to make purchase decisions, so the channel can't just be ignored.
Although the concept behind Google and Yelp advertising is the same — both are PPC platforms intended to help businesses reach audiences, drive traffic, and increase sales — they also possess unique features and benefits.
Here are a few you'll want to consider before selecting one over the other.
An overview of Google vs. Yelp advertising
Ad types
Google Ads takes the lead right off the bat with this category since there are many campaign types and ad formats to choose from.
Google campaign types include:
Search Network campaign
Display Network campaign
Ad formats include:
Text
Responsive
Image
App promotion
Video
Product shopping and showcase shopping
Call-only
Here you can see which ad formats are available with each campaign type: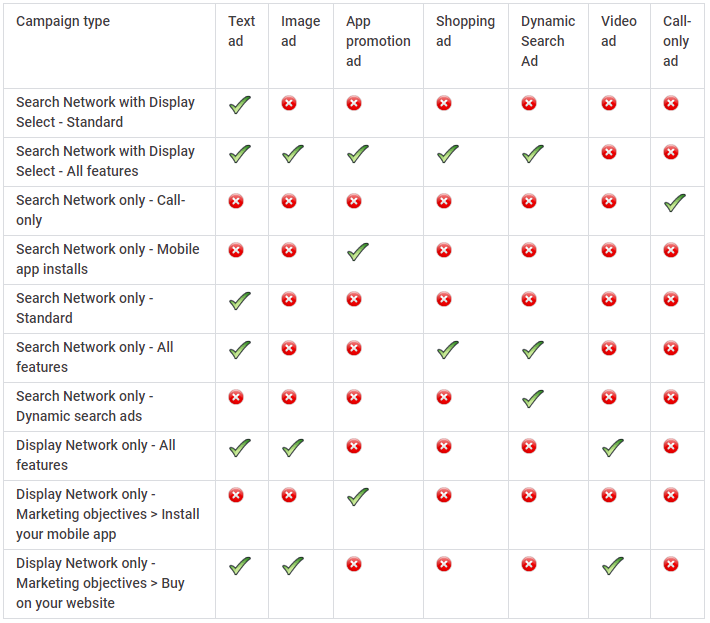 Yelp doesn't offer this wide range of ad formats — just a simple, standard search ad However, in March 2018, they did release a Custom Ads feature, allowing advertisers to set custom text and choose which photos and review snippets potential customers see when they view the ad — something they couldn't do previously.
Similar to Google search ads, Yelp ads display above organic search results on both desktop and mobile: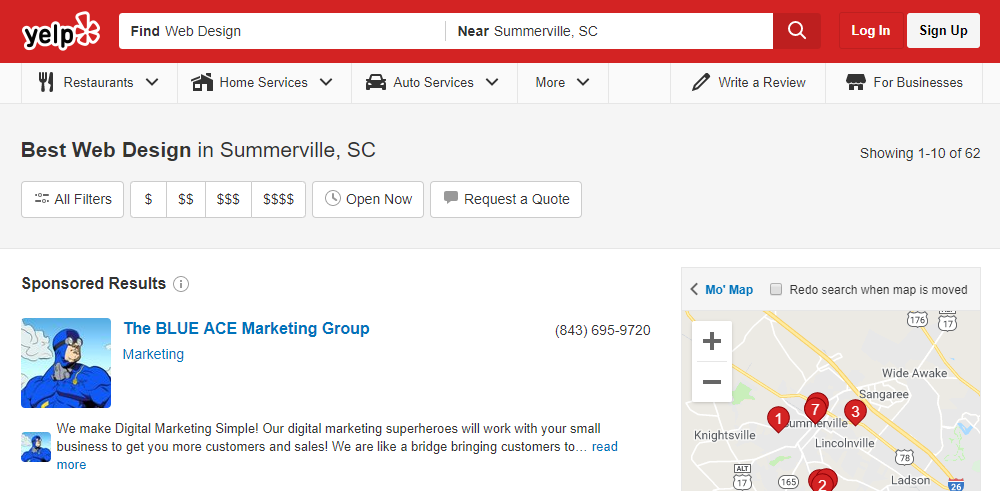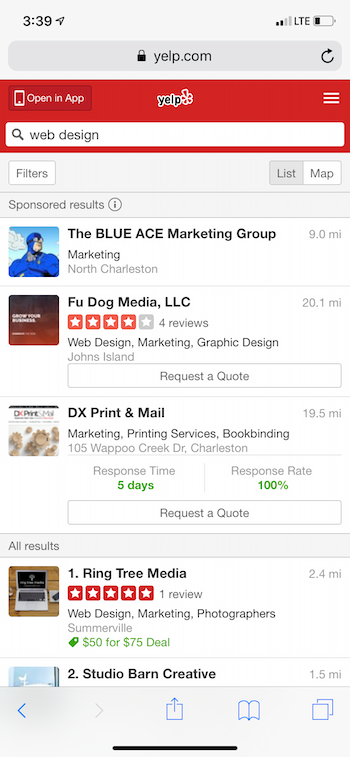 Yelp ads can also appear on competitors' pages across desktop and mobile. This can be incredibly beneficial because someone considering a competitor might see your ad last minute and have a change of heart. It gives you the opportunity to step in and win over your competitors' prospects.
Audience
Google is one of the primary places people go to begin researching online, handling 2+ trillion searches per year — the equivalent to over 5 billion searches per day.
Yelp only gets about 178 million unique monthly visitors, across both desktop and mobile, so if it's reach you're looking for, Google is the better option.
However, Yelp certainly has its advantages in this category — especially with regards to user intent.
User intent
Most of those 178 million users visit Yelp to find great local businesses, as they've already decided what they need and are now simply trying to discover who can best provide it to them.
For example, a high-intent search for "graphic design" in the Charleston, SC area produced this Yelp ad: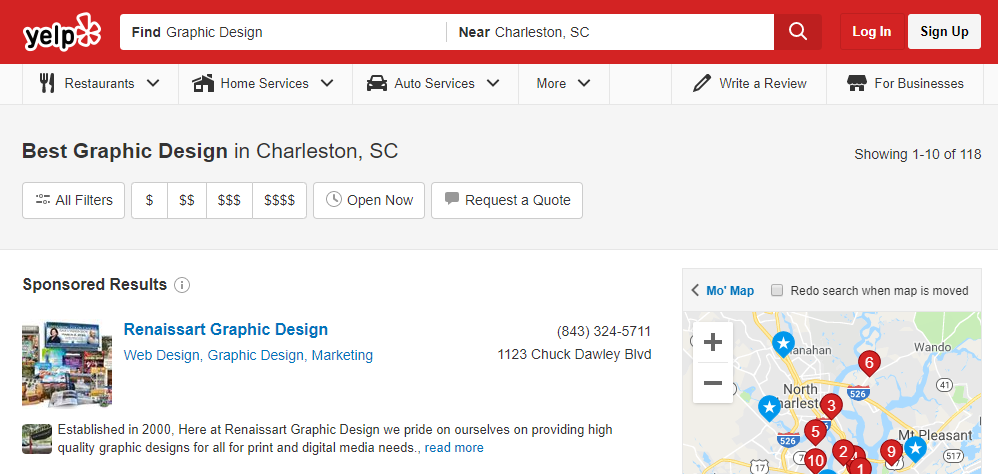 People rarely use Yelp to conduct research or learn more about a product or service as they do on Google. Instead, they use the platform when they're high-intent, at the bottom of the sales funnel, and ready to make a purchase. In fact:
82% of users use the Yelp site or app when they're already intent on making a purchase.
92% of users make a purchase after visiting Yelp and 79% of them make that purchase within a week: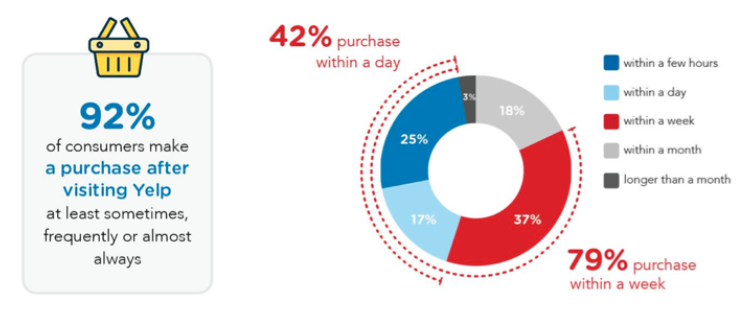 So in sum — Google users have more search/keyword intent, while Yelp users have more purchase intent.
Need more? Zach Hendrix, co-founder of GreenPal lawn service, says that after testing Facebook, Google, Pinterest, Twitter, and Instagram advertising, his business has found the best ROI with Yelp Ads:
We find the traffic we get from Yelp page ads converts 67% of the time into a paying customer, and we simply cannot top this on any other paid channels. Traffic we get from Yelp is solely people at the bottom of the purchase-making process. They have read your reviews, they have read about your business, and they are qualified and ready to buy.
Demographics
Another interesting aspect of Yelp vs. Google to consider is Yelp's user demographics, which are more narrow than Google's:
About half of Yelp users have an income greater than $100k per year
81% of Yelp users have a college background
Nearly 70% of Yelp users are age 18-54
For most businesses, the combination of Yelp's user intent and demographics represents an ideal customer — young, wealthy, and looking to spend money.
Industry
Over 29 million local businesses are listed on Yelp, and every day, Yelp connects millions of consumers to these local businesses. For specific industries — businesses such as home service professionals, doctors, and dentists offices tend to have the highest potential for ROI success when advertising on Yelp.
In addition, these 8 business categories are often reviewed on Yelp:
Restaurants and food service
Local retailers
Nightlife
Entertainment (comedy clubs, music venues, theaters)
Auto services (repair, detailing, dealers, parking, towing)
Health and fitness
Beauty services
General services (phone and computer repair, dry cleaning, pet grooming)
Any business that falls into one of these B2C categories should consider Yelp ads to help build their customer base. As a B2B company, however, you'd probably have better advertising results on Google.
Targeting options
Google
Keyword selection in Google Ads (with broad match, negative keywords, long-tail keywords, keyword research tools, etc.) is one of the major advantages of advertising on Google instead of Yelp. This allows advertisers to target prospects throughout the entire buying cycle.
For example, bidding on broad keyword search terms like "student loan forgiveness" will show your ad to prospects at the earlier stages of the research process: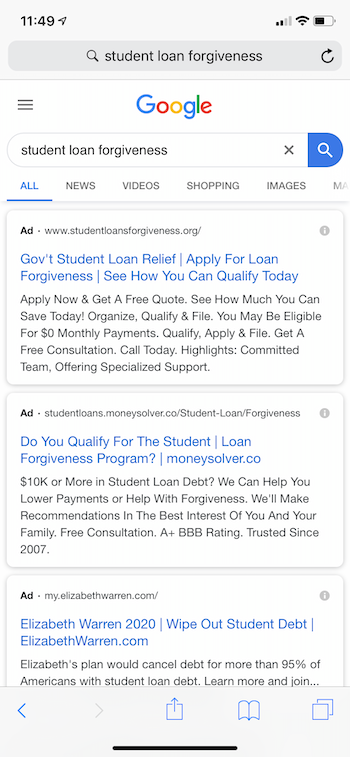 This customer may not be ready to apply for student loan forgiveness yet, but might still be interested in knowing if they could even qualify, or what it could mean for them financially.
Keyword targeting is something that Yelp doesn't even offer. The platform shows your ads in your industry/niche, but advertisers cannot select the types of keyword queries to appear. Not only that but since there is little flexibility and keyword targeting doesn't exist (like Google's broad match), the industry someone searches for could be too irrelevant to yours to even appear.
The same "student loan forgiveness" search performed on Google may not produce any results on Yelp, depending on the prospect's location: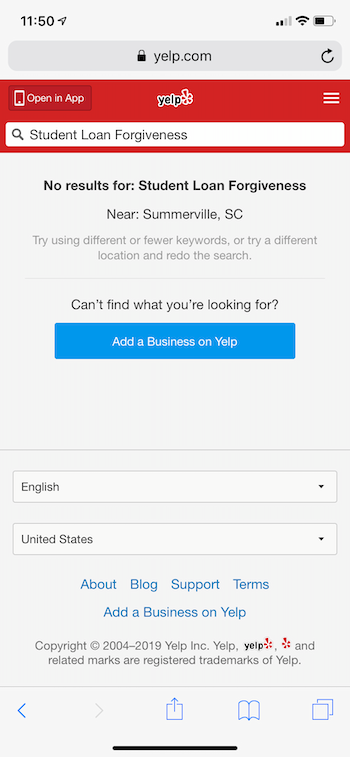 Retargeting is another factor to consider in the Google Ads vs. Yelp Ads faceoff since a majority of visitors don't convert on the first website visit. That's fine if you're using Google Remarketing because you can target those people for up to a year to bring them back to your site — but you can't do this with Yelp.
Yelp sends a low percentage of people through to your website or post-click landing page anyway because they want to keep traffic exclusive to the platform. So ad clicks lead to Yelp business pages, and only then can prospects visit external web pages.
So what targeting options does Yelp offer?
Yelp
Yelp allows you to choose what general industry or niche category your ads show.
In July 2018, Yelp also announced a new Distance Targeting feature allowing companies to choose where to show ads relative to the business's physical location. Specifically, how far away from their business they want to show ads: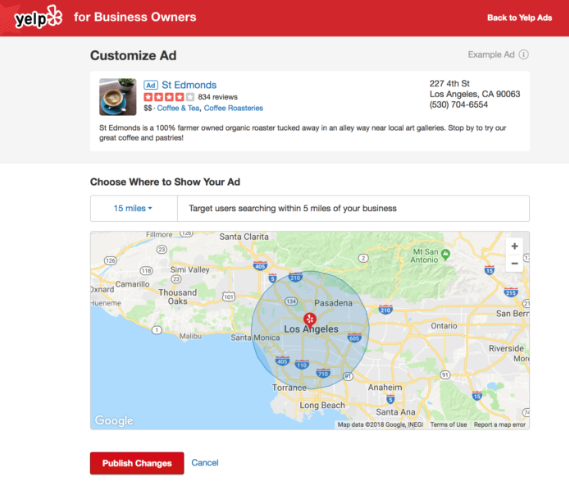 So which platform wins targeting options? Google, because Yelp is limited to industry and location.
Analytics capabilities
Google Analytics provides tons of great data, including:
Audience reports — visitor demographics, interests, location, language, behavior, device.
Acquisition reports — traffic, channels, mediums/sources, etc.
Behavior reports — top website pages, top entry/exit pages, search terms, site speed, etc.
Conversions — website conversions, path to conversion, etc.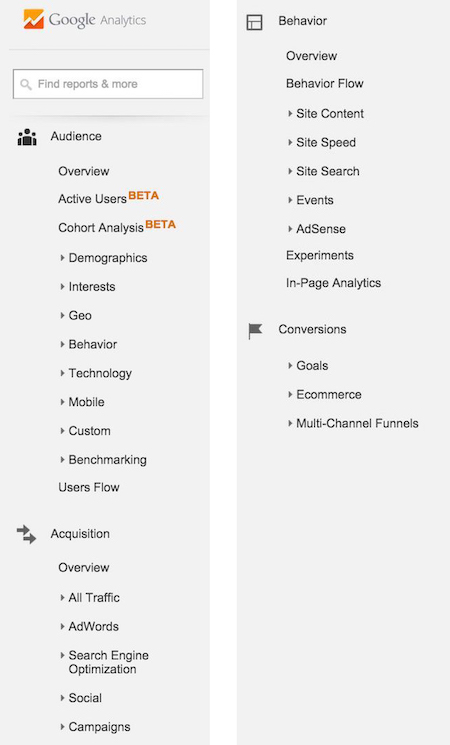 Comparatively, Yelp doesn't provide quite as much data. However, you can track:
Traffic to your Business Page (including views from mobile devices) over 30 days, 12 months, and 24 month periods.
User engagement (with the "Customer Leads" feature) including when a Yelp user has recently called your business, mapped directions to your business, or clicked through to your website.
Lead generation revenue (with the "Revenue Estimate" tool) by multiplying the customer leads your business receives from Yelp with the average revenue per customer for a business like yours, based on a 2013 BCG study of US businesses.
Although Yelp doesn't offer keyword targeting, it does provide the ability to see keywords someone used when your ad was shown: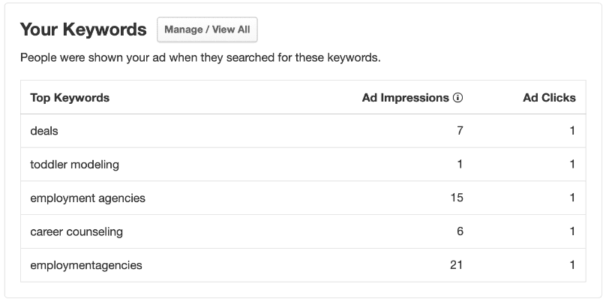 This allows for better control over where you spend your budget because if you see your ad showing for irrelevant searches, you can block it and prevent it from happening again: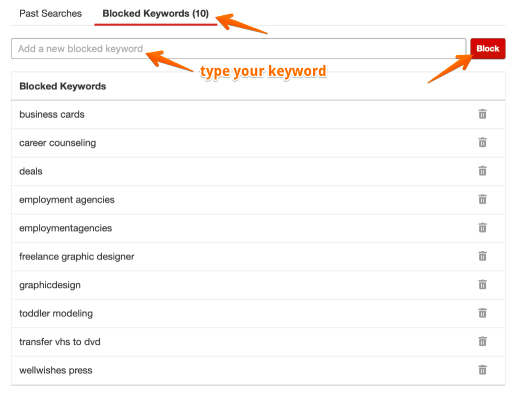 The only problem with the feature is that you can only block a keyword after it has been clicked on, so you've already lost budget as a result.
Cost
Google's auction system is designed so that you pay the lowest CPC possible to maintain your ad position. Its smart pricing system actually reduces the CPC if it believes a click is less likely to lead to a conversion. The average CPC on Google Ads is $2.69 for search and $0.63 for display.
With Yelp advertising, there's no real-time auction ensuring you pay the minimum. For most of these campaigns, CPC is usually in the $3 – $4 range.
Yelp's PPC platform generally has a higher-than-average CPA compared to other paid search platforms like Google Ads. In fact, one auto repair company ended up with a cost per lead on Yelp that was 3.3x higher compared to Google Ads.
Google vs. Yelp: What will it be?
Comparing different advertising tools and networks, and deciding where to spend budget, is a should be a careful selection process. There is no right or wrong answer. Google Ads may be top-of-mind with paid ads, but Yelp has its benefits too.
It simply depends on which one performs best for you, so let this information help guide you in your decision making. If you have enough budget, the two can work even more powerfully together. For additional information on advertising platforms, specs, and targeting options, refer to the Digital Advertising Reference Guide.