It's common knowledge among most digital advertisers that PPC metrics and industry benchmarks are key to understanding their success.
However, to perform better than competitors in such a mobile-first world, they must also ask themselves:
What's a good click-through rate for my mobile ads?
What percentage of my ads should be converting on mobile devices?
How much should all of this cost on mobile?
To answer these questions, here are the latest Google Ads mobile benchmarks across a variety of industries — for both Search and Display — in four key metrics:
Average mobile click-through rate (CTR)
Average mobile cost per click (CPC)
Average mobile conversion rate (CVR)
Average mobile cost per action (CPA)
(Note: These mobile advertising benchmarks are from WordStream, based on a sample of 20,000+ US-based accounts. "Averages" are technically median figures to account for outliers. Data is here: https://www.wordstream.com/blog/ws/2018/08/13/
google-ads-mobile-benchmarks)
Average mobile click-through rate in Google Ads by industry
The average mobile click-through rate across all industries is 4.10% on the Search Network, and 0.60% on Display: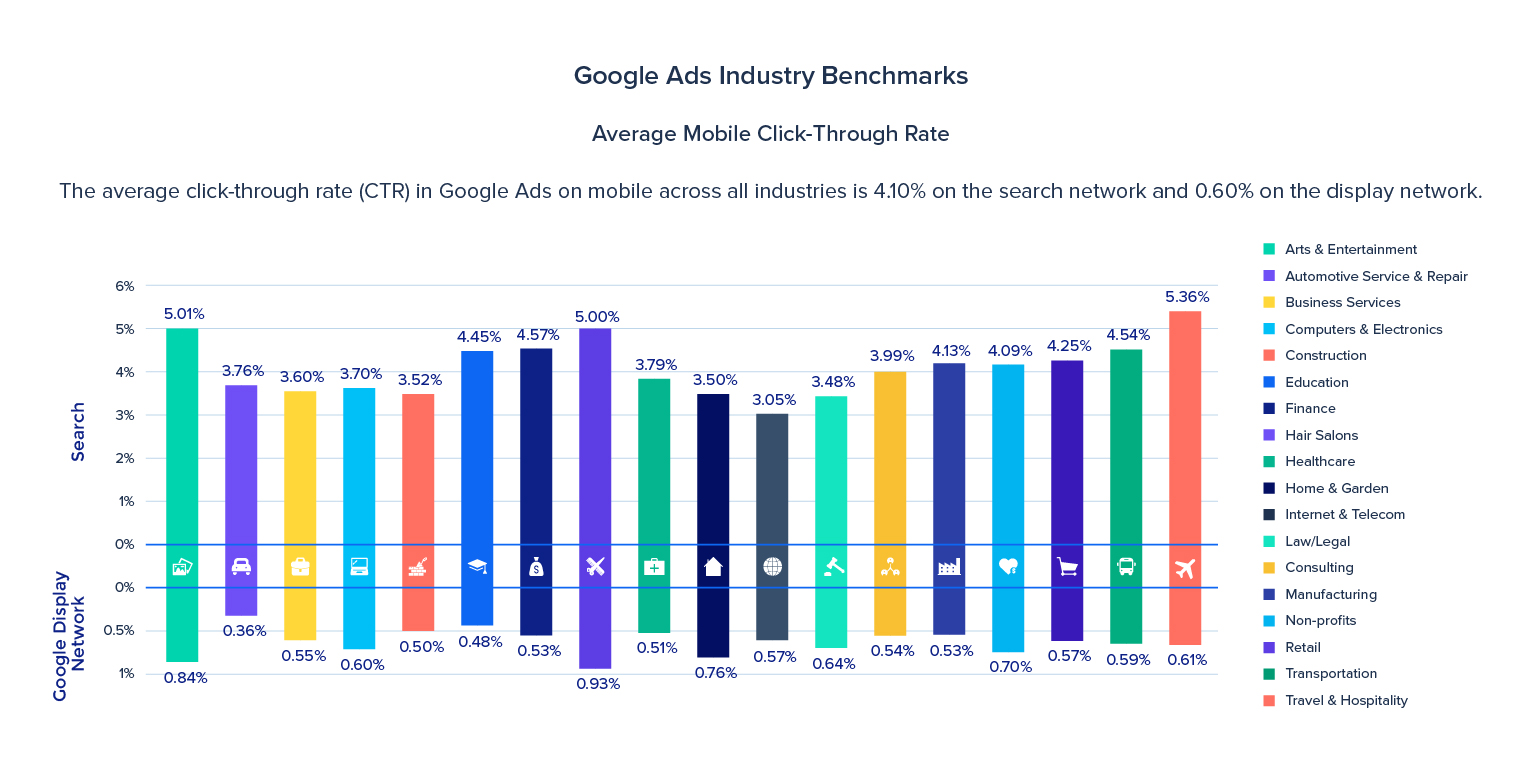 These mobile CTR benchmarks are almost 1% lower and 0.1% higher (respectively) than the benchmarks for both mobile and desktop combined, which are 5.06% (Search) and 0.50% (Display).
The travel & hospitality industry has the highest mobile CTR on the Search Network, at 5.36%. Arts & entertainment (5.01%) and hair salons (5.00%) aren't far behind, ranking second- and third-highest for Search CTR.
On the GDN, hair salons and arts & entertainment remain the leaders for high mobile CTR, but now travel & hospitality falls just above average.
Something to note, though, is that these three industries are the only verticals with above-average mobile CTRs on both Search and Display.
Conversely, internet & telecom has the lowest mobile CTR on the Search Network, while automotive service & repair takes last place on Display (0.36). In both locations, auto service & repair, business services, construction, healthcare, internet & telecom, and consulting all suffer from below-average CTRs.
What does the data tell us?
The three above-average CTRs could be because these are all niches that demand advertisers to leverage highly attractive creative:
Hair salons — men, women, and kids with different hairstyles
Travel & hospitality — appealing vacation destinations, luxury hotels, etc.
Arts & entertainment — music concerts, movie previews, and more
The low CTRs could be because of the opposite — these industries don't have as much room or ability to leverage visually appealing creative. For example, there are fewer image options for internet & telecom or construction.
In addition, a whole variety of factors impact CTR, including ad copy, CTAs, ad extensions, and more. Yet, one of the greatest influencers is audience targeting. So if your CTR is suffering, it could mean your targeting requires some revising. You may not be using the right keywords, or your campaigns might not be appropriately segmented.
Google Ads Smart Bidding can help with both of these things. The feature tracks all visible and hidden user behavior signals from every search and click, cross-references those signals with performance data, and then adjusts bids to meet your selected target audience. In short, it's a machine learning process that helps boost CTR.
Average mobile cost per click in Google Ads by industry
The average mobile CPC across industries on Google Ads is $2.67 for Search and $0.60 for Display: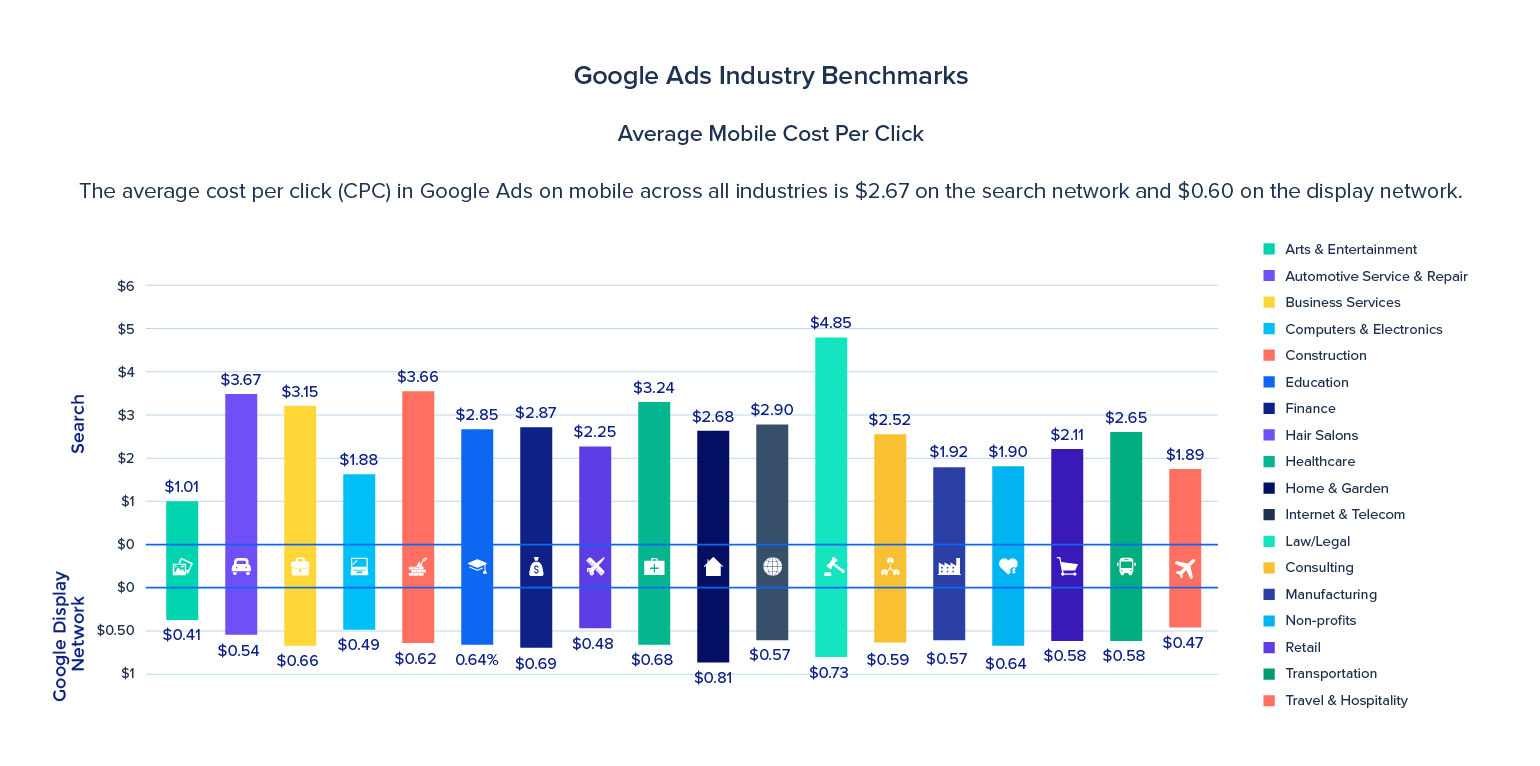 Just like the desktop-inclusive Google Ads benchmarks, the law/legal industry has the highest mobile CPC on the Search Network, at $4.85 — over $1 more than the next highest CPC (automotive service & repair).
This makes sense since law is one of the most common topics represented in the top 50 most expensive keywords, according to Serpstat's own study: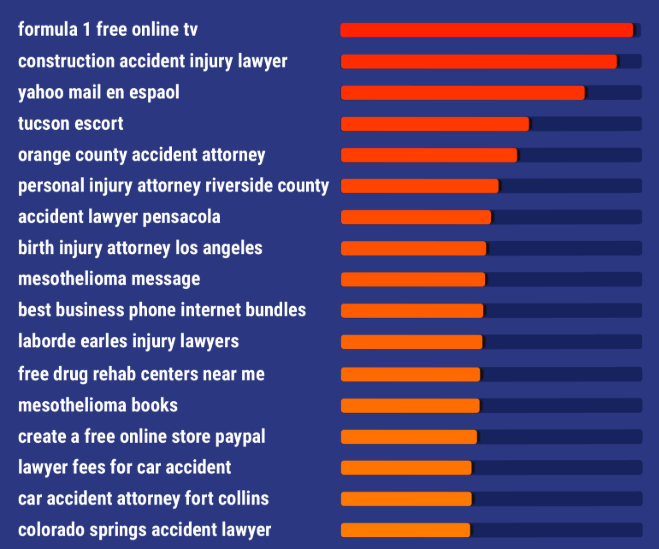 Arts & entertainment boasts the lowest CPC of $1.01, which is still higher than the highest industry average on the Display Network ($0.81 for home & garden).
When you compare these mobile benchmarks to the desktop equivalents, there's not much difference. Mobile-only is just slightly more expensive than desktop and mobile combined in terms of industry-wide CPCs.
What does the data tell us?
CPC helps determine the financial success of your PPC campaigns. Yet, ROI is determined by how much you're paying for clicks and by the quality you're getting for that investment. Therefore, you want to identify and target clicks that are both inexpensive and valuable.
To do this, you may have to:
Improve your Quality Score — Accounts with scores of 6 or higher are granted a 16-50% decrease in CPC, whereas accounts with a score of 4 or lower see a 25-400% increase.
Expand keywords — Adding new relevant keywords to your campaigns can improve the distribution of your budget substantially. Viewing the search terms report can help with this because these are terms people have already found you by searching.
Refine keywords — Eliminating irrelevant or overpriced clicks — and continually designating negative keywords — helps control your average cost per click by filtering out traffic from searchers that are unlikely to convert.
Average mobile conversion rates in Google Ads by industry
On the Search Network, the average mobile CVR across all industries is 3.48%, and on the GDN — only 0.72%: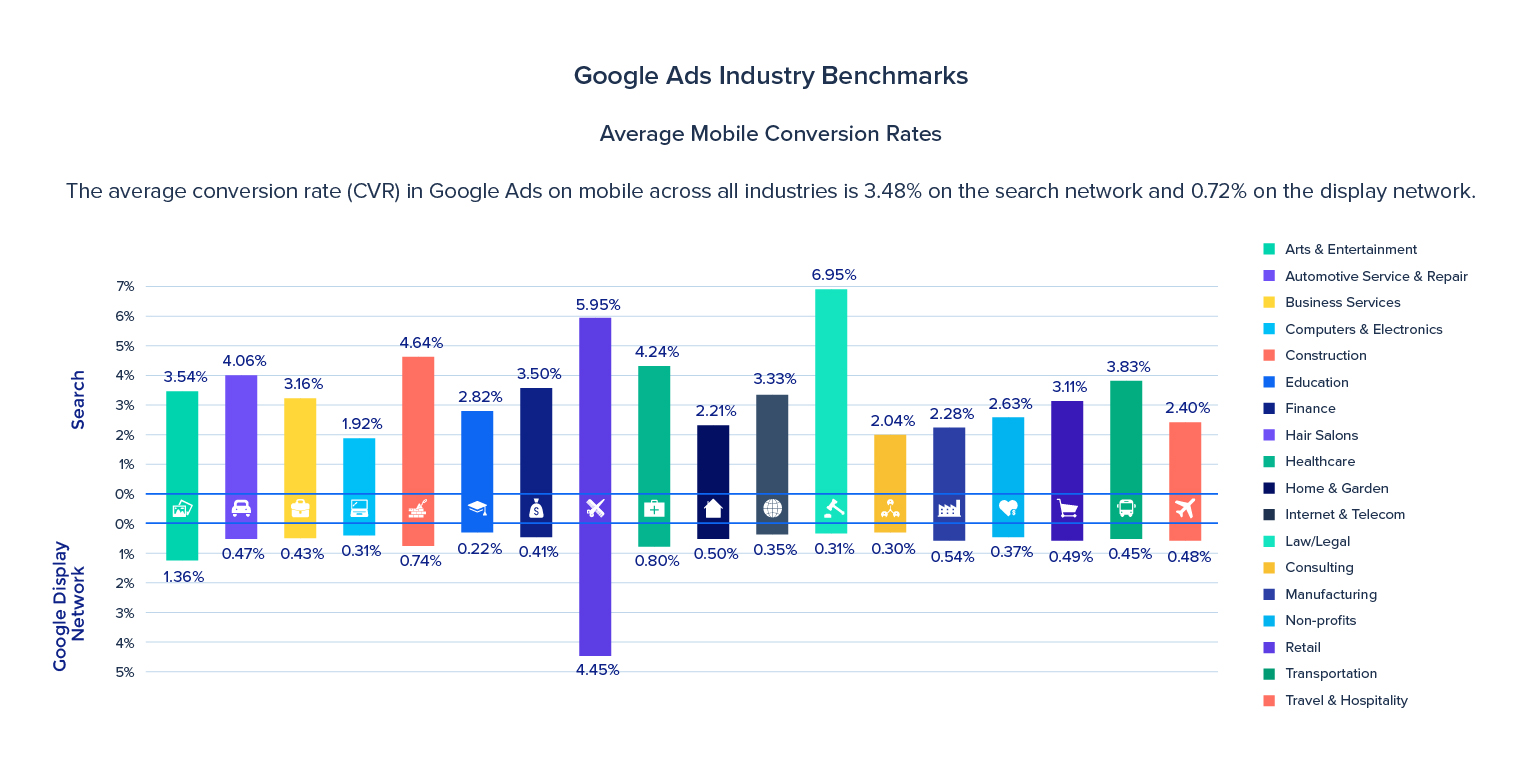 The most prominent observation here is that hair salon mobile conversion rates are substantially higher than those in any other industry on the Display Network — over 3x as high as the next highest for Display, and more than the overall Search average.
On Search, law/legal experienced the highest mobile CVR of 6.95% (this industry was an above-average outlier in the desktop-inclusive data as well, second only to the vehicle industry). Hair salons had the second-highest CVR of 5.95%, and construction was third — still well above average — at 4.64%.
The computers & electronics and consulting industries fall into the bottom three average CVRs on both Search and Display.
The reason for this could be because users searching for law/legal services already know what they're looking for — so once they click an ad, their purchase intent is high for those services. Meanwhile, those looking for computers and electronics, or consulting services, may require a bit more browsing and comparison shopping.
What does the data tell us?
Compared to the desktop-inclusive data, mobile conversion rates are slightly lower — and neither are too impressive.
This could be a sign that most advertisers are ignoring the post-click landing page — especially in those industries with below-average CVRs: business services, computers & electronics, education, home & garden, internet & telecom, consulting, manufacturing, nonprofits, retail, and travel & hospitality.
It's likely that all of these industries need to pay more attention to conversion optimization techniques, like post-click automation. PCA helps advertisers visualize the advertising funnel, deliver 1:1 personalized experiences at scale, and create message matched post-click landing pages to maximize conversions.
Average mobile cost per action in Google Ads by industry
For Search, the average mobile CPA across all industries on Google Ads is $80.89. It's much higher than that on the Display network, at $148.68: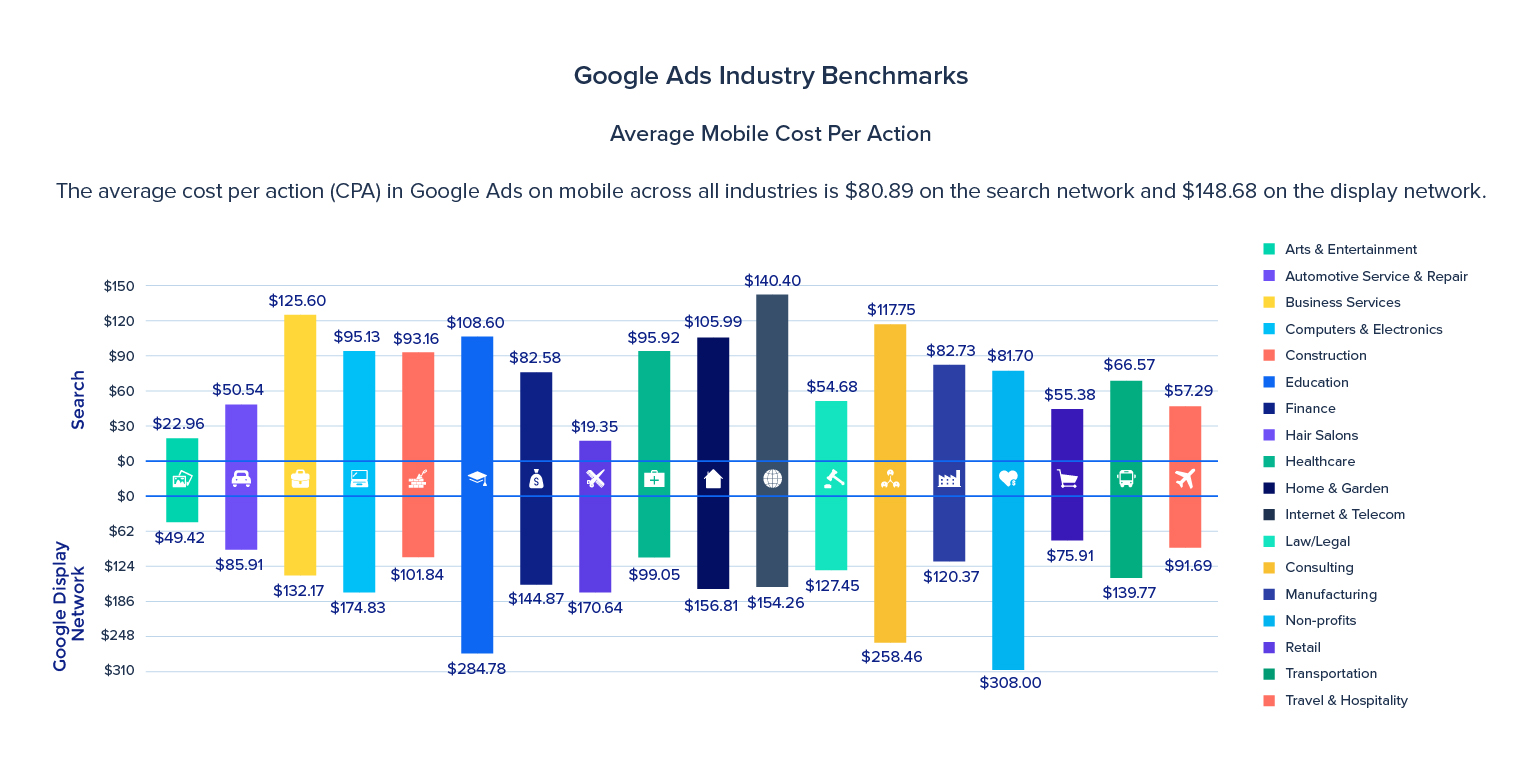 The range in CPA benchmarks across industries is the most dramatic among the four metrics:
On Search, there's a difference of $121.05 between the highest and lowest CPA (internet & telecom versus hair salons)
On Display, a difference of $258.58 (nonprofits versus arts & entertainment)
Between the highest and lowest CPA across both Search and Display, a difference of $288.65 (nonprofits on display versus hair salons on search)
If you compare this graph to the conversion rate, you'll notice that there's an inverse relationship between CVR and CPA — so industries with low CVRs typically see higher CPAs, and vice versa. For example, the hair salon industry was an extreme outlier with the highest CVR on display, but it was only 5th in CPA.
Notice how nonprofits have below-average conversion rates on Display but have the highest CPA. This isn't ideal, but there could be some logic behind it. For instance, nonprofits are likely showing ads more frequently and getting clicks, but not converting right away. Whereas for-profit industries such as legal, computers, healthcare, convert their clicks sooner and not having to spend more budget in the long run to get people to take action.
CPAs are much higher on mobile devices than on desktop and mobile combined, where they are $56.11 on Search and $90.80 on Display.
What does the data tell us?
When comparing the Google Ads mobile benchmarks to the desktop benchmarks, mobile ads have higher metrics all around.
CPC and CPA are higher on both Search and Display, while CTR and CVR are higher on the Display Network, but lower on Search. This is because mobile browsing behavior and search intent are much different than desktop.
People on mobile devices, for example, could have higher purchase intent. They may already know exactly what they need, and only click-through when they're sure they're ready to take action.
It could also be because of advanced mobile targeting, tracking people's mobile usage and behaviors, and advertising to them accordingly.
How do your metrics compare?
In a mobile-first world, it's essential to your paid ad campaign success — and ultimately your business' success — to know the Google Ads mobile benchmarks. If your metrics don't compare favorably, it could mean your campaigns aren't optimized for mobile. If they do, it likely means you've optimized your pre-click experience with relevant keywords, offers, and ad creatives.
Either way, be sure to follow up your make your post-click landing page match. Create personalized pages with AMP to improve all of your mobile campaign metrics.
Get an Instapage AMP Demo
See how quick and easy it is to create AMP
post-click pages in Instapage.