BenchmarkBench
Each month, on average, 1,300 people worldwide ask Google, "What is a good CTR?" Beyond CTR, though, digital marketers want to know:
"What is a good cost per click?"
"Average conversion rate for my industry?"
"What is the average cost per action in Google Ads?
Digital marketers crave these answers because knowing key PPC metrics, industry benchmarks, and how to interpret them allows advertisers and agencies to understand their success relative to competitors.
Below are the latest Google Ads benchmarks, based on a sample of accounts advertising on Google's Search and Display networks.
(Note: The Google benchmarks below are from WordStream, and "averages" are median figures to account for outliers. Data is available here: https://marketing.wordstream.com/WSContentDLPaidFacebookConsiderationPPC
GoogleAdsBenchmarks.html)
Average click-through rate in Google Ads Benchmarks by industry
The Google Ads average CTR across all industries is 5.06% for search, with a high of 7.83% in the travel & tourism industry, and a low of 3.27% for law & government: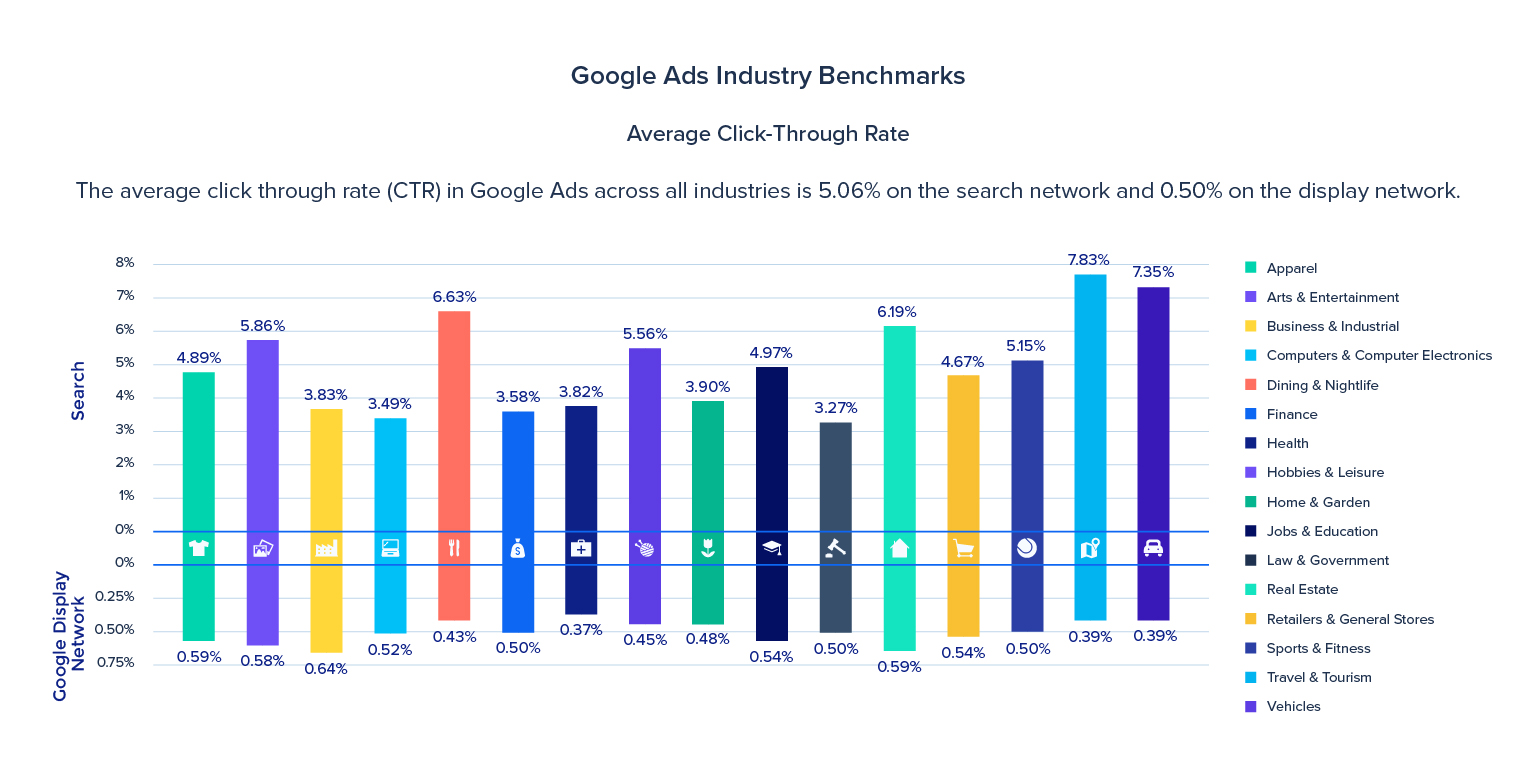 Other industries with high search CTR benchmarks include vehicles (7.35%), dining & nightlife (6.63%), and real estate (6.19%). On the low end with law & government — computers & computer electronics (3.49%) and finance (3.58%).
Meanwhile, on the Display Network, the Google Ads average CTR across all industries was only 0.50%, with business & industrial having a high of 0.64%, and health with the lowest at 0.37%.
The difference between the average CTR on Search and GDN was drastic in some industries (the highest Display Network average didn't even reach the lowest Search Network average). Despite the major differences, both the average CTR for display ads and search ads were higher than previous years.
What does the data tell us?
While your offer ad copy, CTAs, ad extensions, and a whole host of other factors impacts your CTR, one of the greatest influencers is audience targeting.
Consider this: You show intrest in an agency's PPC services, but they continuously send you information on their SEO resources. You're probably going to ignore their ads no matter how persuasive the copy, creative, etc. because that's not the product or service you need.
If you're CTR is suffering, it could mean your targeting is off, and you're not choosing the right keywords or other criteria. It could also mean you need to get more specific and utilize segmented marketing campaigns.
Google Ads Smart Bidding can help with this by tracking all visible and hidden user behavior signals from every search and click, cross-referencing those signals with performance data, and then increasing or decreasing bids to meet your selected target. Ultimately, this machine learning process helps immensely to boost CTR.
Average cost per click in Google Ads Benchmarks by industry
The average Google Ads cost per click across all industries is $2.41 for search and $0.59 for display: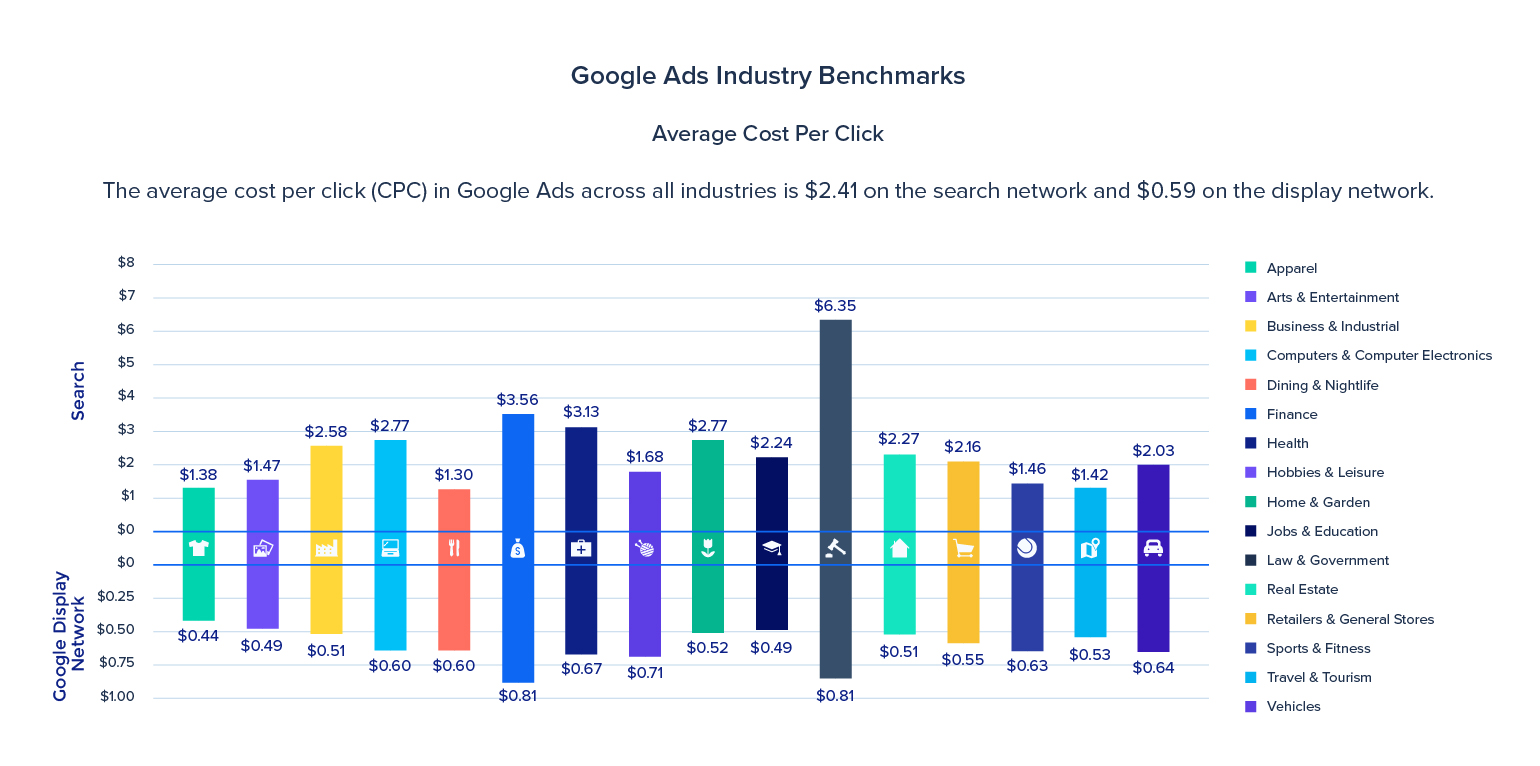 While the average cost per click for search was $2.41, many industries paid less for their clicks, including apparel ($1.38), arts & entertainment ($1.47), hobbies & leisure ($1.68), jobs & education ($2.24), real estate ($2.27), retailers & general stores ($2.16), sports & fitness ($1.46), travel & tourism ($1.42), and vehicles ($2.03).
The outlier of them all on the Search Network is law & government because their ad clicks cost the most at $6.35 per click.
Law & government are tied for the most expensive on the GDN as well, right next to finance, both costing $0.81 per click. However, most industries have relatively inexpensive CPCs on the Display Network. Apparel, arts & entertainment, and jobs & education, for example, all fall below $0.50 per click.
What does the data tell us?
CPC is important because it determines the financial success of your PPC campaigns.
However, your ROI is determined by how much you're paying for clicks. And by the quality you're getting for that investment. So you want to identify and target clicks that are both inexpensive and valuable.
There are two primary ways to do this:
Increase your Quality Score — Accounts with scores of 6 or higher are granted a 16-50% decrease in CPC, whereas accounts with a score of 4 or lower see a 25-400% increase.
Expand and refine keywords — Adding new relevant and valuable keywords to your campaigns — while simultaneously eliminating irrelevant or overpriced clicks. Continually designating negative keywords helps control your average cost per click by filtering out traffic from searchers that are highly unlikely to convert.
Average conversion rates in Google Ads by industry
Conversion rate by industry showed a lot of diversity in range. While the average rate across all industries was 4.40% for search and 0.57% for display, the outliers were extreme: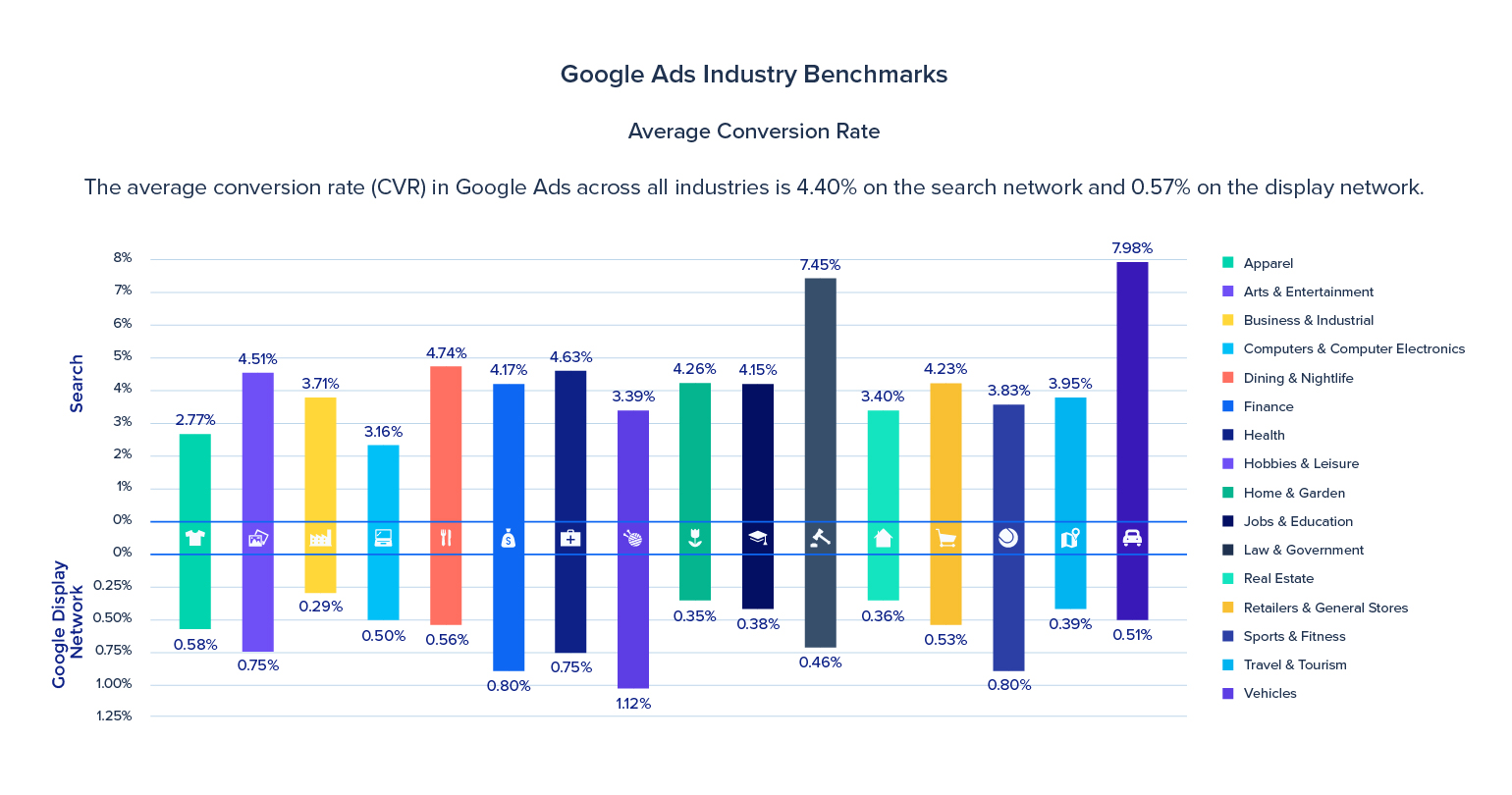 For example, while a majority of the industries fall between 4.0% and 5.0% on the Search Network, both law & government (7.45%) and vehicles (7.98%) enjoy the highest conversion rates.
Now let's compare this to the Display Network, which has significantly lower conversion rates.
The highest GDN conversion rate (1.12% for hobbies & leisure) doesn't reach the lowest Search Network conversion rate (2.77% for apparel).
What does the data tell us?
Compared to the 2015 data, search conversion rates have risen slightly, but display conversion rates have fallen — and neither are too impressive.
This could be a sign that most advertisers are ignoring the post-click experience and need to pay more attention to conversion optimization techniques, like post-click automation.
Instapage customers, for instance, enjoy about 4x better conversion rates than the industry average, mainly due to optimizing the post-click experience.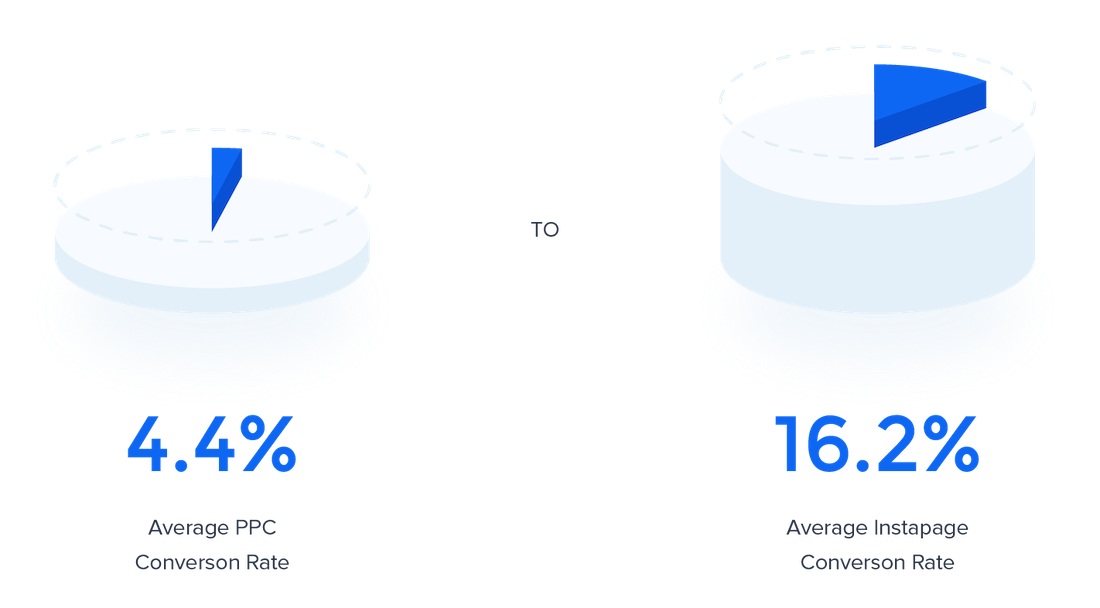 Average cost per action in Google Ads by industry
The average CPA in Google Ads across all industries is $56.11 for search and $90.80 for display network — the first time the Search Network had a lower average than the GDN: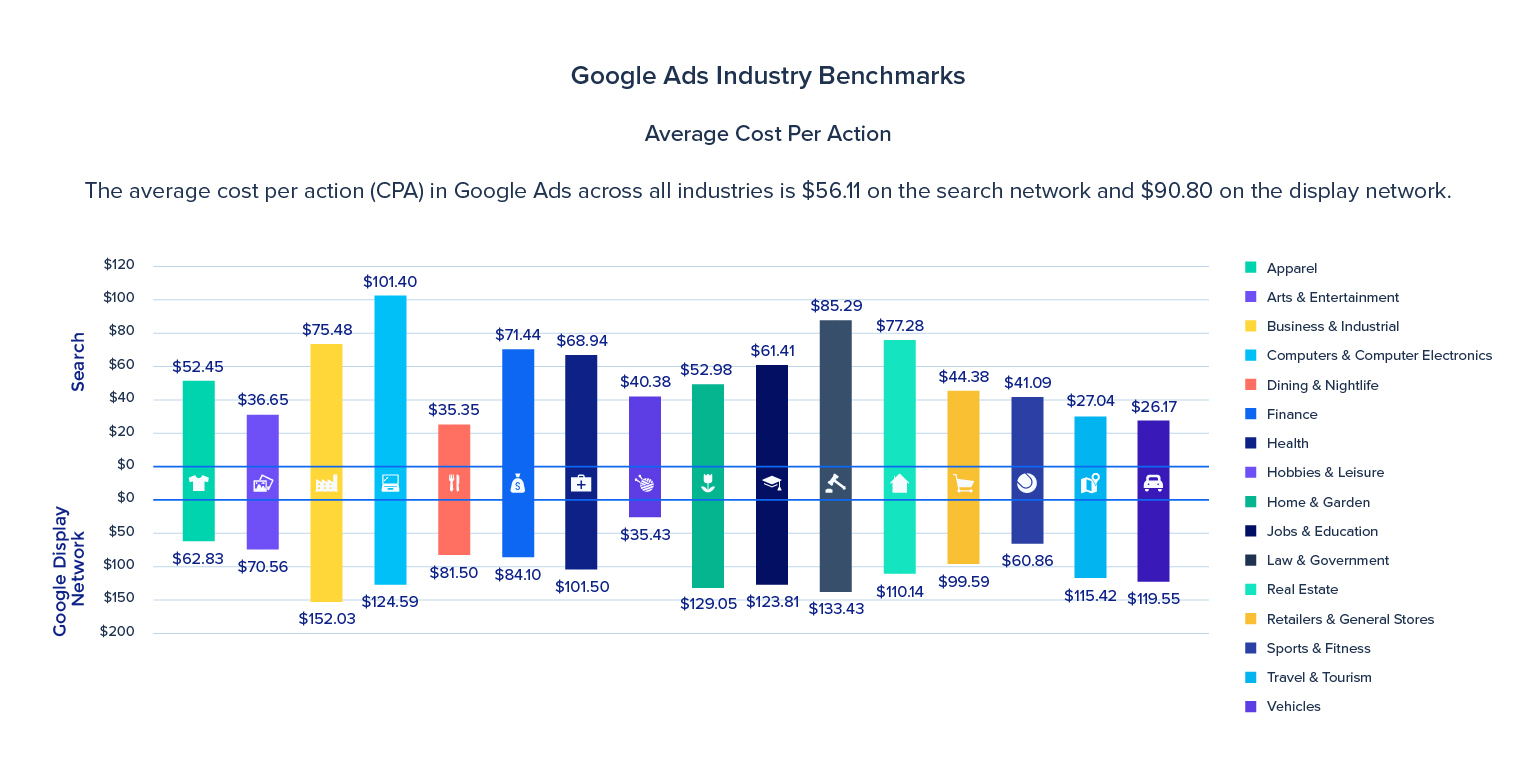 When looking at the average cost per acquisition on the Display Network, over $115 separated the highest and lowest industry averages, with business & industrial at a high of $152.03 and hobbies & leisure at a low of $35.43.
On the Search Network, the computers & computer electronics industry had the highest average CPA at $101.40, while the vehicles industry had the lowest at $26.17.
Several industries face average CPAs over $100:
On search — computers & computer electronics
On display — business & industrial, computers & computer electronics, health, home & garden, jobs & education, law & government, real estate, travel & tourism, and vehicles
What does the data tell us?
Although the average CPA on the search network is actually lower now than it was several years ago. Costs in advertising have been and are expected to continue rising over time.
Did you notice how the CPA graph is the only one that includes display averages higher than search averages? Why is it that most of the GDN data is much lower than search?
The main reason is people have higher intent on the Search Network. They actively conduct searches based on specific keywords because they already know exactly what they're looking for.
On the Display Network, users are passive searchers. Since they may not be looking for anything specific. They have lower intent, which typically leads to lower click-through rates, conversion rates, cost per click, etc.
How do you measure up?
Knowing the Google Ads benchmarks is essential because if your metrics don't compare favorably — or at least keep pace with the average — that means there's room for improvement.
Be sure to optimize your pre-click experience with relevant keywords, creative, offers, ads, etc. — and your post-click experience with personalized pages — to improve all of your campaign metrics. See how to do that at scale with an Instapage Enterprise demo.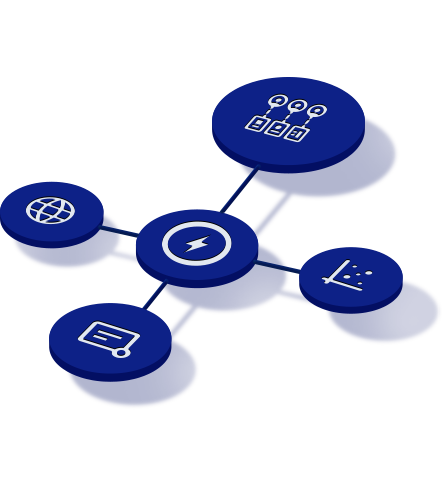 See the Instapage Enterprise Plan in Action.
Demo includes AdMap™, Personalization, AMP,
Global Blocks, heatmaps & more.