For digital marketing and advertising agencies, the most essential tool for converting strangers into clients isn't a business card or portfolio, but an elevator pitch.
Picture this: you see your ideal client at a conference or while prospecting online. In either case, you want to convince them that their business would benefit from partnering with you. You need a short, compelling way to engage their interest and eventually close the deal. A compelling elevator pitch starts the conversation.
What is an elevator pitch?

Of the many elevator pitch templates available, most can be broken down into the following parts:
What product or service you offer
Who your product or service is for
How you are different from your competitors
When delivered in person, the ideal length is 20 to 30 seconds — or about as long as an elevator ride — all while speaking steadily and clearly.
These components are a good place to start, but are not the only things you need for a successful pitch. Below is a pitch from an SEO agency that was sent to writer James Johnson at SERPed, a company that sells a suite of SEO tools: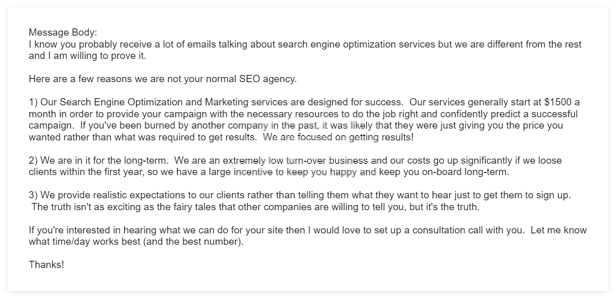 Although the pitch answers all the "who, what, why" questions, it rubbed James the wrong way for a few reasons:
The pitch is too focused on the agency's needs (like the price of their services) and not on the prospective client's needs
The claims are too wordy and not compelling enough to convince the prospect
The SEO agency wastes time touting to be "designed for success" and "focused on getting results" without delivering examples of quantifiable results that could actually set it apart from other agencies
The sender relies too much on industry jargon and fails to explain what SEO can actually achieve for the prospective client's business
Spelling errors, such as "loose" instead of "lose," fail to instill much confidence that this is a competent and detail-oriented SEO agency
To create an elevator pitch that won't be ignored, start by shifting the focus away from selling yourself outright. Empathizing with your prospect's needs, respecting their time, and making your pitch personal are effective ways to sell your agency without any gimmicks.
Below, you'll find a twist on the traditional elevator pitch template that prioritizes your ideal client while highlighting the value you provide. Each step is designed to take your pitch from good to great. Lastly, you'll learn when and how to deliver your pitch so that it never falls on deaf ears.
How to write an elevator pitch
Some tips to help you craft a powerful elevator pitch for your agency:
1. Open with a compelling result or statistic
In 2013, Microsoft conducted a study that calculated the average attention span of adults online, then compared it to data from 2000. They concluded that the average adult in 2013 had an attention span of eight seconds, down from twelve seconds in 2000: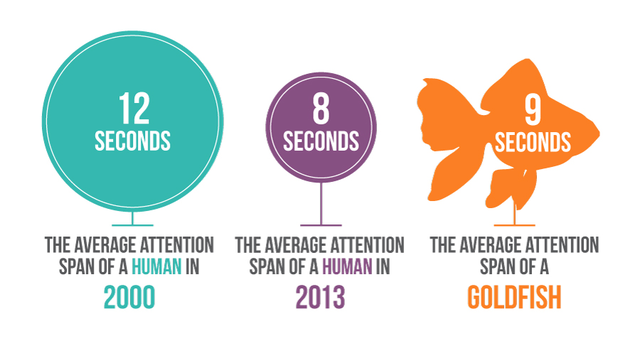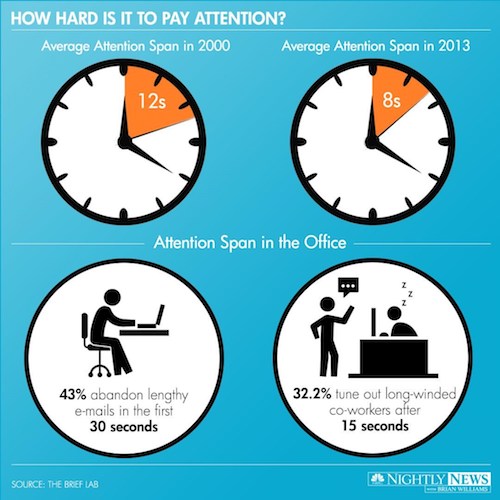 With only eight seconds to grab and hold someone's attention, you must open with a hook that gives them no choice but to listen to the remaining 22 seconds of your pitch.
For example "We're a content marketing agency for businesses" is a lot less powerful than "We produce blogs, videos, and other digital content that increases sales for our clients by 50 percent."
The most effective hooks address your prospect's pain points. As a digital marketing or advertising agency, you'll want to focus on how your service can increase their bottom line.
2. Differentiate yourself from the competition
Include a unique selling proposition (USP) to help your prospect make distinctions between you all other agencies. This is not the same thing as your niche — like being a marketing agency for intellectual property lawyers on the East Coast. Rather, it's about the benefits you offer that other agencies within your niche may not.
For example, many full-service design agencies exist in New Orleans, but as seen in the menu of services below, Deep Fried Advertising takes it a step further by providing digital marketing strategies and management.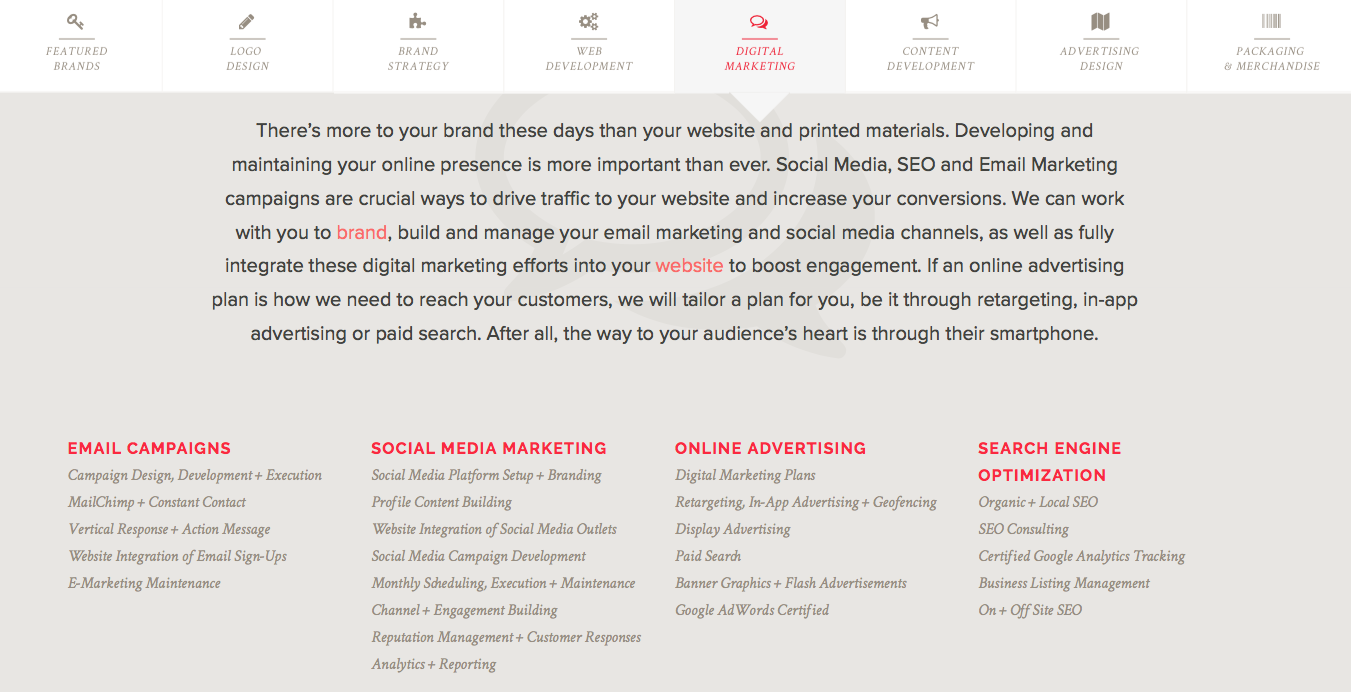 If, like Deep Fried Advertising, your agency offers additional services that other agencies within your niche don't, then highlight them in your pitch. Get creative when thinking about the products or customer service experiences you provide that others don't, such as mobile app post-click landing page development or your willingness to travel for in-person consultations.
3. Eliminate jargon
Although services like A/B testing and CRO might be essential to your agency, don't assume your prospect fully understands what "heatmaps" are, how they work, or how they benefit their business: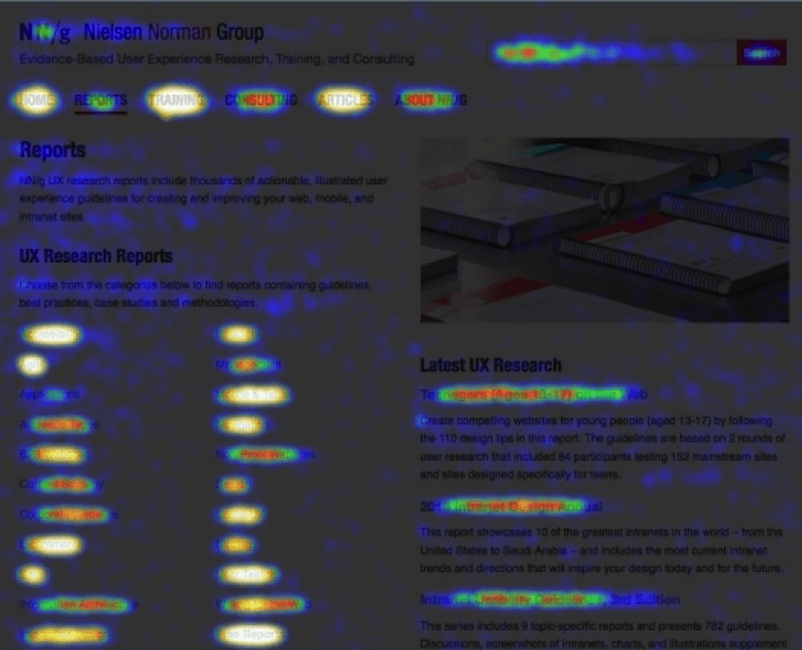 Relying too much on industry language can be off-putting and cause your audience to lose focus.
For instance, "We A/B test post-click landing pages to optimize conversion rates" is likely to lose someone a lot faster than "We create web pages designed to increase sales of your product, then test different versions of that page to find out which one generates the most sales."
If you're having difficulty rewording your pitch, ask for input from someone who represents your ideal client best. Start by delivering your original pitch, then offer a few alternatives without the jargon. See which version captures their interest most, or develop a new version based on their suggestions.
4. Use an analogy
Maybe your service or USP is so unique that rewording jargon doesn't adequately describe what you do. In that case, consider using an analogy that does the explaining for you. For example, Trello CEO Michael Pryor told CNBC that he would describe his product to others as "sticky notes on a wall."
So if you're an agency that specializes in post-click landing page design with A/B testing, you might ask your prospect to imagine a non-profit worker who is fundraising on the street, and it's your job to test which opening lines, keywords, even shirt colors will convert the most passers-by into donors.
Not only does this analogy encourage your audience to use their imagination and increase their engagement with your pitch, but it also relates to an experience they've likely had before.
5. End with a question
Nothing is worse than delivering a pitch only to be met with awkward silence. Ending on a question can both keep the conversation going and clarify how you and your audience can work together. Not just any question will do, however. Instead of asking…
"How do you see us working together?"
Consider, "What sales goals are you still trying to reach?"
The first question assumes the prospect fully understood how you can help them and are excited about doing business with you. If they aren't sure how to answer, it can be even more awkward than not asking a question at all.
Meanwhile, the second question is likely easier and more interesting for your audience to answer. It also gives you an opportunity to address one of their pain points and fill in any gaps in understanding they have about your value.
Asking the right question is as simple as thinking about your ideal client and their needs. It demonstrates your dedication to customer service and positions you as the most thoughtful and qualified solution to their needs.
When and how to make an elevator pitch
So you've crafted your amazing elevator pitch, but now what? When and how you say something is just as important as what you're saying.
Example 1
If your ideal client is an established business without much fluctuation in funds, then they may have locked in (or are scrambling to finalize) their budget for the year long before January 1st.
Time your pitch so that it lands in their lap when they're just starting to plan their budget for the next fiscal year. For some businesses, this process begins as early as August, but may carry on into November or later. To be sure about your window, consider reaching out to someone in a supporting role that can give you a more definite timeline.
Example 2
Another time to pitch would be when that business has just come into an additional source of funding. This is especially true of startups.
In this instance, it pays to begin your research well in advance by searching for and keeping your eye on startup funding reports. If there is a particular company you'd like to work with, following its key players on social media is another way to be the first know if or when they come into a great deal.
When you're sure that your ideal client is financially primed to consider an offer, think carefully about how you're going to approach them.
Additional tips
If you're speaking in person with someone who might be an ideal client, open the conversation by identifying a shared interest, preferably one that is not related to your business. This is especially true if you're in a casual setting and not at a networking event.
Discussing a shared interest can put both you and the other person at ease, allowing the conversation to progress naturally. Chances are this will eventually open up the discussion so you can make your actual pitch.
Pitching to someone online is not all that different from doing it in person.
Instead of immediately jumping into their inbox, start by engaging with them on social media. Leave comments on their posts that aren't strictly about business, then leverage that connection in a later email. This method can also help provide greater insight into their business needs so that you can tailor your pitch before sending it.
Leading into your pitch too quickly can come off as rude and reinforce a possible prospect's belief that you are there to increase your bottom line and not theirs. Whether pitching in person or online, demonstrating a genuine interest in their needs is the best method for starting a lasting partnership.
The elevator pitch is the first step to growing your agency
When you lead off your pitch with relevant data, tailor it to meet a potential client's needs, and speak in terms they understand, you set yourself up to sign a new client.
However, to consistently attract and retain big-ticket clients, you'll also need systems in place that elevate your customer experience, streamline your billing process, and hire the right talent that helps you deliver promised results.
Designing these systems can be a challenge, especially if you'd rather spend more time in your area of expertise (i.e., creating great digital marketing products) and less time testing what systems work and what don't.
Fortunately, many time-tested strategies exist for growing your agency — from customer acquisition to sending the bill and upselling your next product — used by seasoned agencies within the industry.
Aside from crafting your best elevator pitch, sign up for an Instapage Enterprise demo today.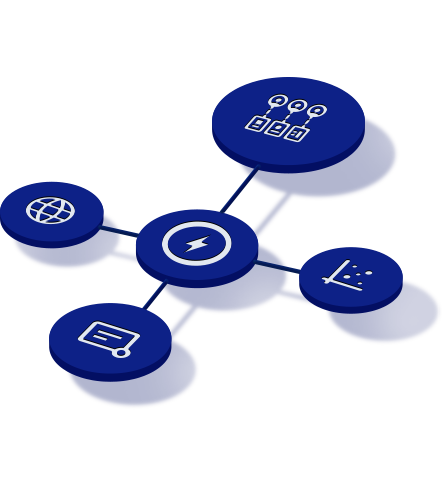 See the Instapage Enterprise Plan in Action.
Demo includes AdMap™, Personalization, AMP,
Global Blocks, heatmaps & more.