When people search Google, they're looking for something specific, which is part of the reason why an optimized AdWords display URL is vital for attracting attention with paid search ads. Search users are telling you what information they want, and this is how you let them know whether or not you can provide that information.
What is a display URL?
A display URL is a web address that users can see in PPC search ads. Although not active links, they provide users an idea of where they'll arrive after they click the ad.
As seen in this Domo AdWords ad, the green "www.domo.com/" next to the Ad indicator is the display URL:

(Note: Bing Ads also shows the display URL in search results. However, it's displayed in bold text. You can see the differences in the two formats in this article.)
An AdWords display URL must meet specific guidelines and should be optimized by following a few best practices. Let's review those, starting with character limits.
How many characters are in a Google AdWords display URL?
Originally, the AdWords display URL limit was 35 characters for desktop ads, and 20 characters for WAP mobile ads. Anything longer than this would show an ellipsis because only the first 35 or 20 characters were shown, respectively.
Since January 31, 2017, when Google introduced expanded text ads to replace the old ad format — AdWords automatically extracts the domain from the final URL. Advertisers can add up to two path fields, with up to 15 characters, to enhance the display URL (more on this next).
Additional AdWords display URL guidelines
Along with a root domain name that matches the final URL domain, AdWords display URLs can also have path fields (or folders or files) and subdomains (or prefixes).
Path fields
As long as the full display URL stays within the AdWords display URL character limit, path fields can be added to the root domain name, like this: www.rootdomain.com/pathfield.
Here's an AdWords ad, in which "instantmagazine" is the root domain, and "digital" and "publications" are both path fields:

Subdomains/prefixes
Subdomains can also be included, preceding the root domain as a prefix, like this: www.subdomain.rootdomain.com.
In this example, "admail" is the root domain, with "app" serving as the subdomain:

AdWords display URL best practices
Increasing the relevancy and details of PPC ads leads to higher-quality click-throughs and more conversions. Following this best practices list can help you do just that.
Reinforce keywords
Subdomains and path fields should be used to reinforce your campaign's keywords, and to let prospects know your ad is relevant to their search, and the resulting post-click landing page will be too.
To demonstrate, a Google search for "all-in-one marketing" produced this paid ad. Marketing360 added path fields "MultiChannel" and "Marketing" following the root domain, providing evidence that the ad is relevant to the search terms:

Title case
Although root domains and subdomains are always displayed in lowercase, the first letter in each word of a path field can be capitalized. Using title case makes them more visible to search engine users, again, letting them know that the ad is relevant to the search, and the post-click landing page will be relevant to the ad:

Specify details
When advertising a specific product or service, it's important to include as many details in the path field as possible (up to the character limit), letting searchers know that the ad is going to direct them to a post-click landing page that has exactly what they're looking for. In addition to driving highly-targeted traffic, this also reduces wasted ad clicks because searchers can see what's not being offered as well.
Here's a Google search for "website chatbot":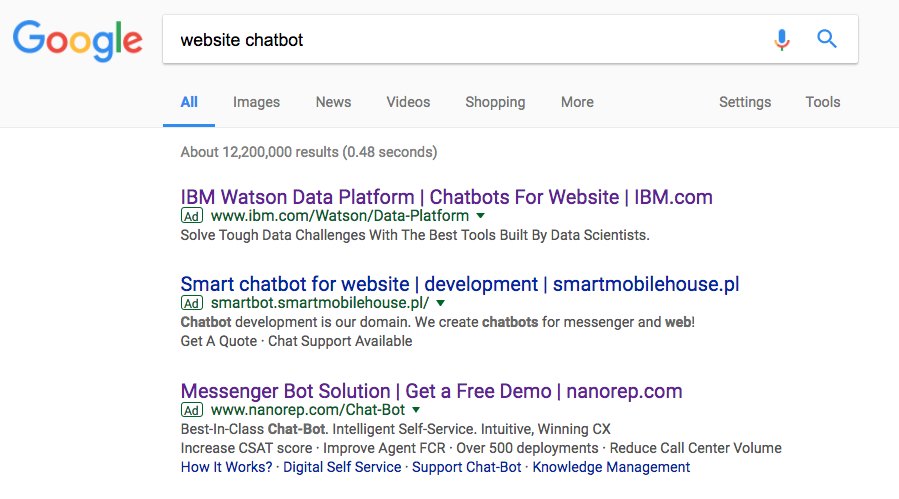 Take a look at the third search result. Notice how well the search query matches the ad, including the display URL? The root domain "nanorep" tells prospects that they'll be directed to a chat bot web page, and the path field "Chat-Bot" lets them know that the Nanorep post-click landing page will be highly relevant to what they're looking for: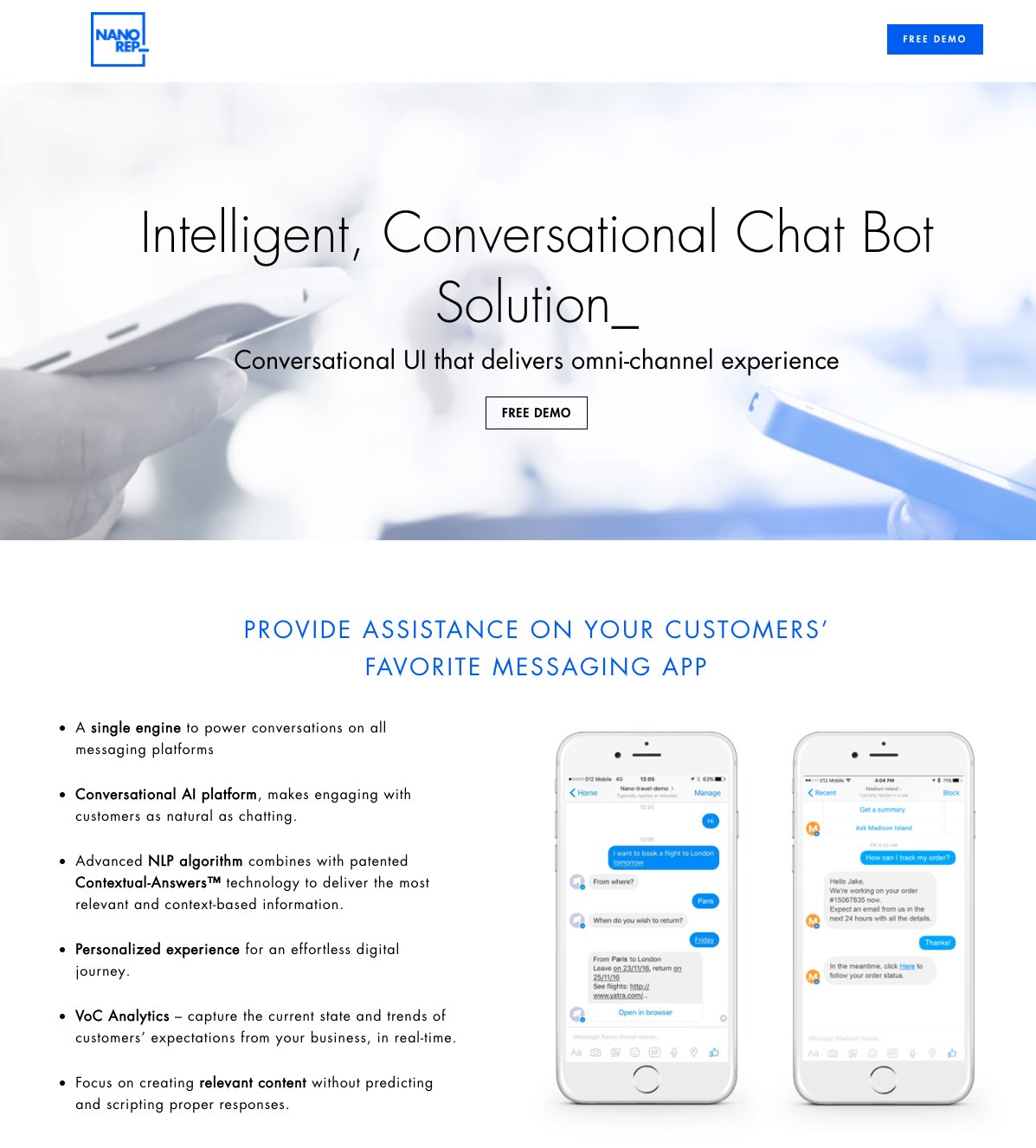 Changes to AdWords display URLs with expanded text ads
With Google's new expanded text ads in effect, advertisers should be aware of some important changes to display URLs.
1. Display URL domains now come directly from final URL domains
Before, advertisers had to enter their display URL, along with either their final URL or destination URL when creating their ad: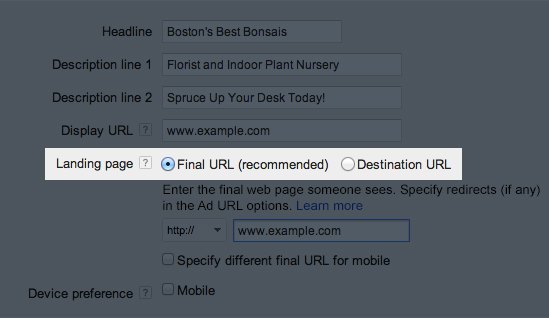 With expanded text ads, destination URLs were retired and final URLs became the only option. This means AdWords now uses your final URL domain as your ad's display URL domain, so if your final URL is www.domain.com/path1/path2/, your display URL will automatically show as www.domain.com.
The difference between a final and display URL on AdWords
To review, a display URL is the green URL that appears directly below your ad headline on search engine results pages. It typically resembles your site's homepage URL, but it's not hyperlinked.
A final URL, aka the post-click landing page URL, is the actual web address of the page people reach when they click your ad.
Final URLs tends to be longer and more specific than display URLs, because they're made up of the domain from your final URL, plus any path fields you've added. So, if your display URL is www.domain.com, your final URL might be www.domain.com/pathfield.
Furthermore, final URLs are not shown in your ads because the display URL is shown instead.
2. Display URLs can include up to two path fields
Optional path fields can be added to display URLs to give prospects an idea of where they'll be taken when they click your ad. With expanded text ads, up to two optional path fields can be added, supporting up to 15 characters each. The path field text doesn't necessarily have to be part of your website's URL, but it should at least be related to your post-click landing page content.
More display URL AdWords examples
Now that we've discussed all the details, let's review more examples.
MicroStrategy's ad only shows the root domain. Unfortunately, without a subdomain or any path fields, users have less of an idea where they'll go after clicking the ad:

Valpak added a subdomain to their display URL but without path fields, it still doesn't imply much about the post-click landing page it leads to:

Intercom's ad shows a root domain and two path fields to let searchers know more specifically where they'll end up after clicking:

Autopilot takes it one step further using title case in the path fields to make it more obvious:

Lastly, this Business-Intelligence ad has a fully optimized display URL with a root domain, subdomain, and two relevant path fields using title case:

Optimize your display URL for increased relevancy
There is no doubt that optimizing your display URLs can make a dramatic, positive impact on your AdWords campaign performance. By creating ads that provide optimal user experiences, you'll likely increase your Quality Scores, get higher ad placement, and lower your CPC.
It doesn't stop there, though — the post-ad click experience is just as important as the ad itself, so you must create personalized post-click landing pages that are equally as engaging and optimized.
At Instapage, our post-click optimization platform allows marketing teams, agencies, and enterprises to quickly and easily create personalized post-click landing pages for each ad campaign. Sign up for an Enterprise demo today.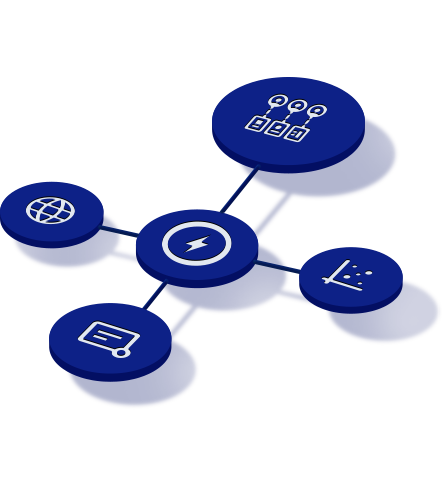 See the Instapage Enterprise Plan in Action.
Demo includes AdMap™, Personalization, AMP,
Global Blocks, heatmaps & more.