The COVID-19 pandemic has influenced our daily lives in more ways than expected. Social distancing is a common term around the world, retail operations have closed their doors, remote work has increased exponentially, digital and search ad budgets are taking a hit, and uncertainty abound.
Although daily routines and work-life are disrupted now, things will improve, and as part of the digital advertising community, we just need to adapt to the changing conditions. For the digital advertiser, what does it all mean?
Note: much of the data in today's post originated from our friends at WordStream.
What trends are happening?
As brands try to keep up with the effect of COVID-19, a few digital advertising trends are emerging.
"COVID-19" is dominating new searches
It's not surprising that users are turning to Google for answers about the Coronavirus. Google Trends data shows that COVID-19 searches in the United States peaked in March:
Google is banning bad ads
With the spike in COVID-19 searches, Google is blocking all ads that are capitalizing on the virus that promote phishing, conspiracy theories, malware, and misinformation. Such ads that sell home testing kits or surgical masks that claim to protect you from Coronavirus.
Google also announced it would not allow ads promoting the acquisition, renewal, replacement, or retrieval of government documents, including passports, visas, and driver licenses. The search giant is also helping the World Health Organization (WHO) and other government authorities run public service announcements ads to educate the general public.
Facebook is banning ads that promote a COVID-19 cure
The social advertising platform is banning ads that promise to cure or prevent the Coronavirus or attempt to create a sense of urgency about necessities, like sanitizers or toilet paper.
Facebook's advertising revenue is taking a huge hit
Facebook ads are seeing a decrease in revenue as there is reduced spending in travel, retail, consumer packaged goods, and entertainment, which represents 30% to 45% of Facebook's total revenue.
Amazon is reducing their Google ad spend
Since the end of January, Amazon has been gradually reducing its Google Ads spend and, as of March 11, has nearly turned it off completely. Instead, they are focusing on fulfilling consumer demands for household items who are self-isolating at home. To meet the demand, the ecommerce giant is expected to hire an additional 100,000 workers.
Mobile search traffic decreased by about 25% in March
While Google search ad traffic is falling across all devices, the decrease was felt more profoundly on mobile and tablet devices than on desktop. Since Monday, March 16, mobile traffic has consistently been down an average of 24%: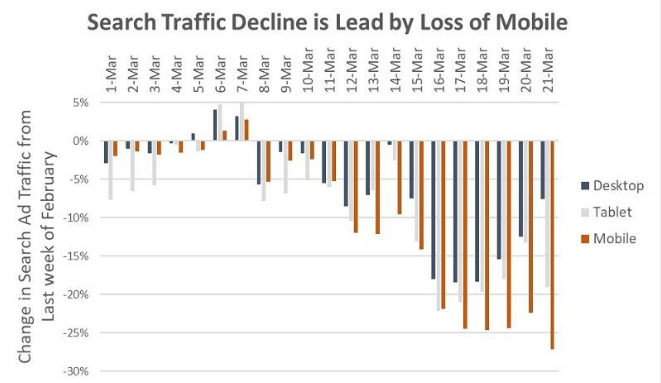 Cross network opportunities are growing
Internet usage is up by 50% since Coronavirus was deemed a pandemic and more people working from home. From the beginning of March, Google search and Shopping has seen a decrease. However, GDN and YouTube have become advertisers' best friends as traffic grew by 13% and 21%, respectively: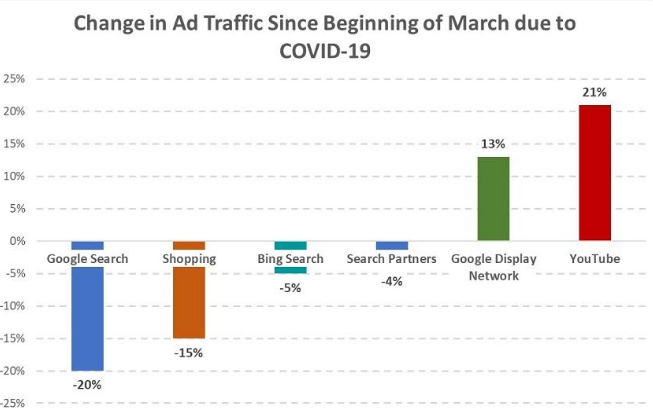 Advertising revenues are shifted from events to digital
Brands involved with tradeshows and events that have since been cancelled for an indefinite time period are moving their budgets to PPC to make up for lost leads. This bodes well for brands that implement post-click landing pages for their digital ad campaigns.
What does the data say?
Unequivocally, the biggest concern during the pandemic is public health, which is why many communities around the globe are practicing social distancing. Unfortunately, this has put some industries at more risk:
Travel and tourism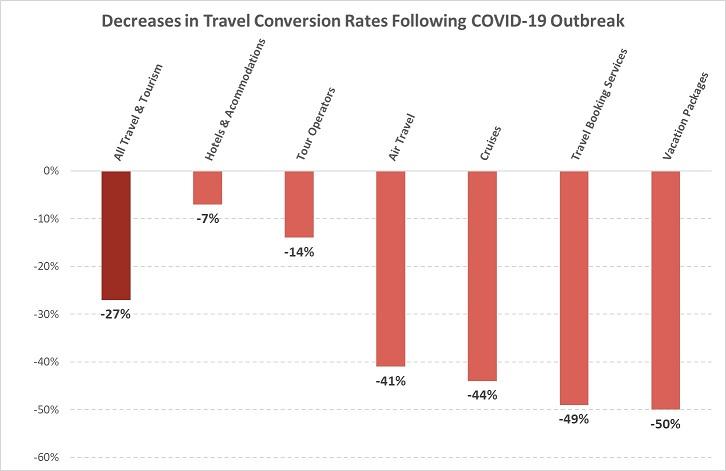 With far fewer travelers, airlines are scrambling to rebook flights and refund reservations, cruise companies are experiencing massive declines, Airbnb offering credits for users postponing plans — the list goes on. This leads to the next trend on the list…
Conferences
Many brands rely on event marketing, and event cancellations are negatively impacting these brands. Since the COVID-19 outbreak, event marketers have noticed a 33% reduction in conversions as more events continue to cancel.
Building and construction
The uncertainty of the future is causing a decline in the advertising of the industry: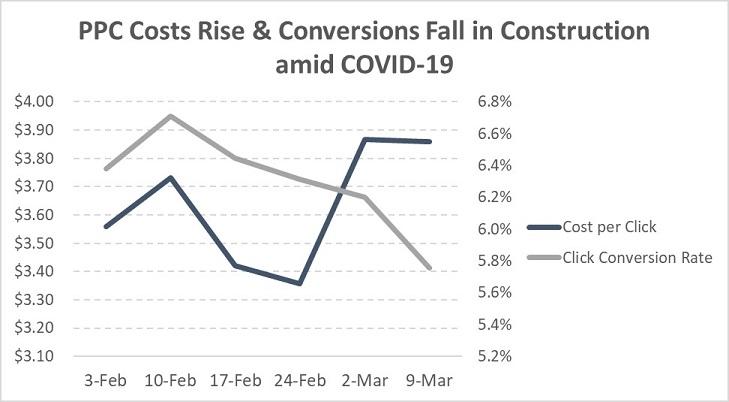 Industrial and manufacturing
Costs per click for the industry have increased 5%, conversion rates are declining, and there's a 13% decrease in search traffic: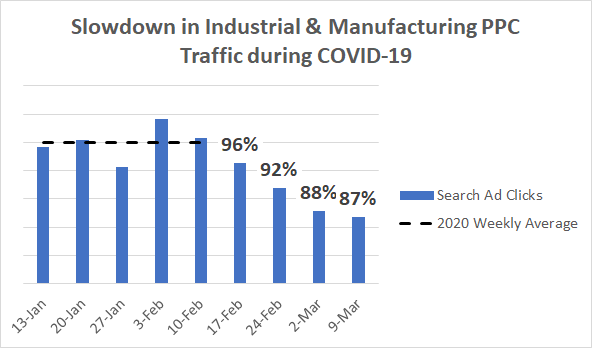 It's not all bad news
The following industries have seen an increased volume/performance during the pandemic.
Non-profit and charities
The industry has seen a 10% increase in search ad impressions, a 23% increase in search ad conversions, and a 20% increase in search ad conversion rate.
Health and medical
Health and medical advertisers are seeing an increase in online sales, with ad clicks and conversion rates both significantly higher than usual: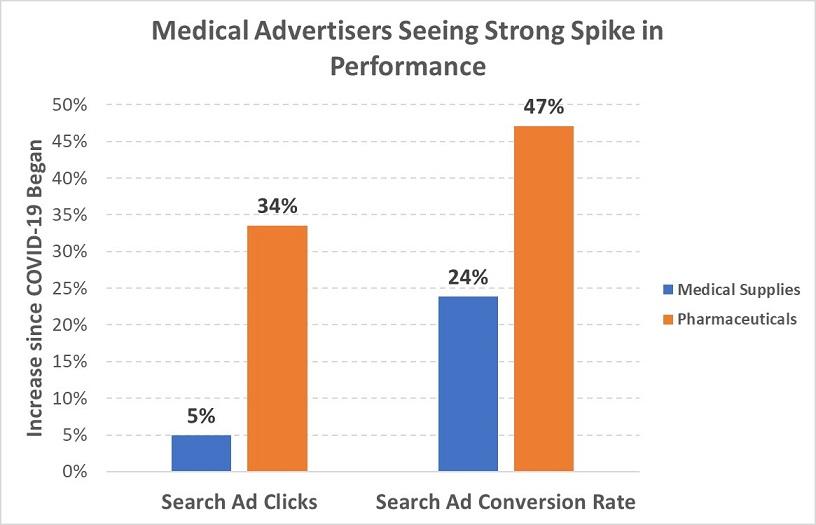 Finance
The finance industry usually has some of the most expensive keywords and a high cost per click. Currently, CPCs are falling to relieve some pressure from a normally competitive industry. Many advertisers are also noticing increased CTRs and CVRs as well: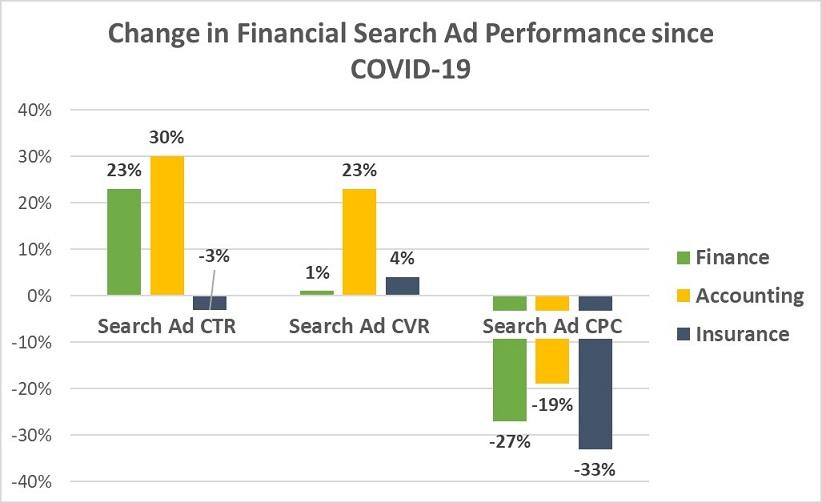 On-demand media
With many consumers stuck at home, demand for entertainment is at an all-time high: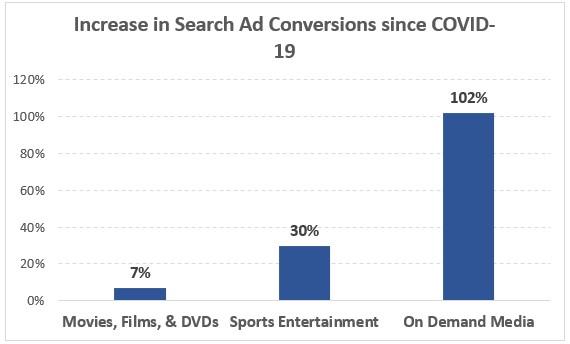 What are industry experts saying?
Here's what advertising industry experts have to say about the pandemic and its effect on businesses.
Natalie Barreda, T-Mobile
In the short term, I think the uncertainty about how to move forward is going to cause marketers to spend a lot of time doing contingency planning. On a similar note, consumer behavior is different right now than it would normally be; we're already hearing about the impacts on the travel and hospitality industry.

I think these industries are going to have to find ways to encourage consumers to think past this current situation, into a hopefully COVID-19 free world.
Frederick Vallaeys, Optmyzr
If we come to a point where we must avoid stores or other public places, it could boost ecommerce, especially for CPG, and those purchases we can't postpone by a few weeks. That would, of course, have a big impact on digital marketers who could compete for the purchases of consumers who are not frequent online shoppers.
Tony Verre, The Integer Group
What I see as short-to-mid range impacts (1 – 4 months) for ecommerce specifically — we're already starting to see it across major marketplaces like Amazon — is a massive increase in online orders as people avoid person-to-person contact of in-store retail. Not only for disinfectant and cleaning supplies but all goods and services: grocery delivery, everyday item delivery, etc.

The long-term effect of this massive increase in online orders, in my opinion, will create stress on the logistics system that will cause both marketplaces and DTCs to renege on 1 and 2-day deliveries, and could potentially grind the system to a temporary halt as delivery windows stretch back out to pre-Prime days of 5 to 7-day windows.
Dana Tan, Under Armour
...there is definitely an impact on face to face meetings. I am also wondering what the conference scene will look like for the rest of the year. I imagine attendance may be down. And what does Coronavirus mean for ecommerce new product line releases and supply chain?

I don't think we know the answer to that one yet. While there is certainly diversity in the industry, the Coronavirus is no longer isolated to a few countries.
Tips on how to improve your ad campaigns
Put these six tips into practice to make a positive impact on ad campaigns.
1. Don't use "COVID-19" in your ads
Avoid using the term in your ads because even if you're not using it as a means of profit-seeking, Google is coming down hard on ads mentioning the term. So, you can expect to have zero search volume for applicable ads. It's best to avoid the term and look for alternatives, such as "stay at home" or "stay safe" for your ads.
2. Add "Coronavirus" and "COVID-19" as negative keywords
Doing this will stop your campaigns from reaching irrelevant panicked searchers.
3. Pause ad messaging that goes against social distancing
Analyze your ad creatives, and if you find messaging that goes against the social distancing protocol, pause these ads for now (i.e., people holding hands, concerts or events, families on vacation, etc.).
4. Focus on your post-click landing pages
With internet usage up by as much as 50%, your target audience is likely at home online looking for solutions. This is the perfect opportunity for you to focus on post-click landing pages. Ensure you're segmenting audiences and creating post-click landing pages at scale to make most of these uncertain times.
Post-click landing pages are essential at establishing first impressions and keeping people focused on your offer. So, the more you can make an immediate, positive impression, the better chance you have at converting them.
5. Show remarketing campaigns some love
With increased user browsing, this is the perfect time to re-engage with visitors and get them back to buy with incentives like free shipping and special promotions. TOMS extends returns and urges people to stay at home and wear their comfy slippers: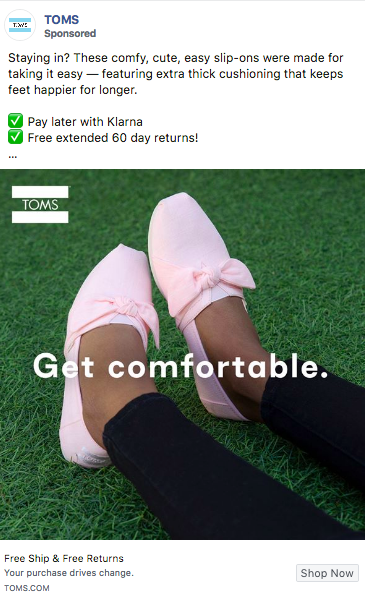 6. Add a Coronavirus exclusion list for Google Ads
Excluding placements allow you to stop your ads from showing on those places. For example, you can exclude websites or domains that aren't appropriate for your brand. In light of the Coronavirus, you can exclude your ads from appearing on news sites or URLs that relate to COVID-19. You can browse through the exclusion list here.
Prepare for the future, pay attention to post-click landing pages
Even during these uncertain times, try and keep a positive attitude and remember things will improve. Review the six tips above as you analyze your campaigns and be sure to provide relevancy in both ads and post-click landing pages.
In particular, look at your post-click pages, ascertain what needs changing and make the updates. Have you segmented your pages for each audience? Are they personalized for target audiences? Can you make those changes on a massive scale?
Discover how to create unique post-click landing pages at scale by signing up for an Instapage Enterprise demo today.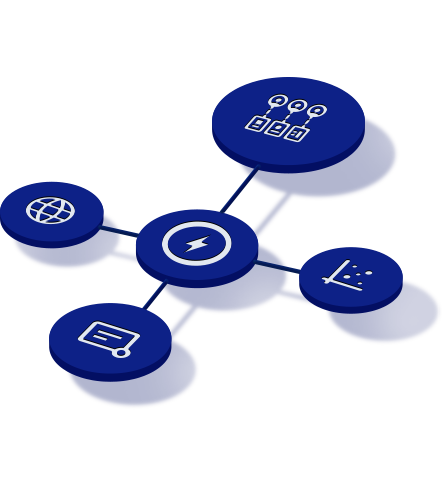 See the Instapage Enterprise Plan in Action.
Demo includes AdMap™, Personalization, AMP,
Global Blocks, heatmaps & more.