The health and wellness industry continues to rise, according to the Global Wellness Institute, with the industry now worth $4.2 trillion. Which means businesses are competing to engage prospects and convert them for their offers.
Seeing every ad as a conversion opportunity and connecting it to a dedicated landing page is the most proven way to convert prospects and lower your ad spend. This involves conveying the same narrative in pre- and post-click landing page experiences.
Beachbody does this particularly well, as the company connects ads to relevant landing page experiences to persuade customers to sign up for their workout programs. Let's review how the fitness company leverages Facebook and Google ads.
Free trial membership display ad
Beachbody uses this Facebook image ad to promote their free trial membership: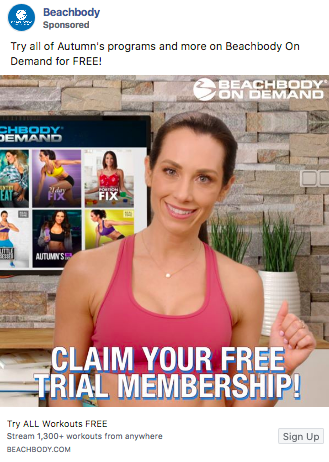 The headline states clicking the ad allows the prospect to claim a free trial membership. Next, the copy highlights that members can stream 1,300+ workouts, and the "Sign Up" CTA button tells prospects what to expect after clicking through the ad.
Clicking the ad takes prospects to this post-click page: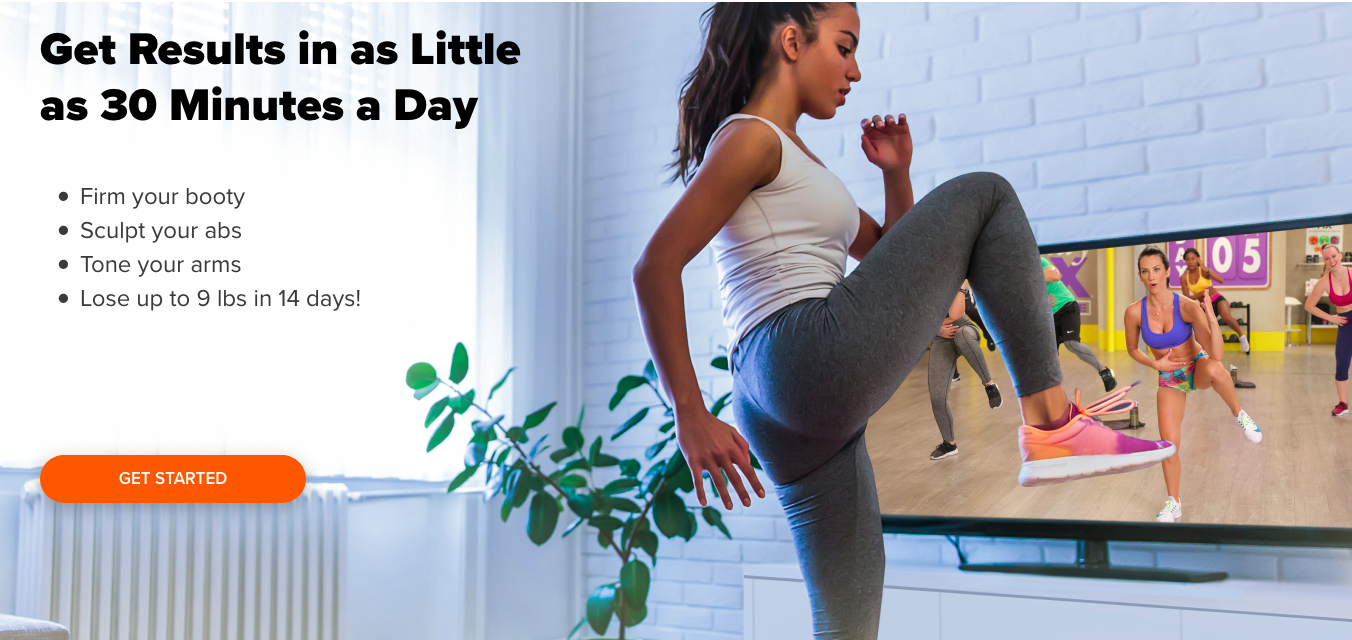 The headline describes what the Beachbody program can help customers achieve by just spending 30 minutes a day following the regimen.
The bullet points add more detail to everything the program can help customers achieve.
The background image showcases a woman following a Beachbody program from her house. This allows customers to visualize that they can do the same once they "Get Started" with Beachbody.
The customer testimonials feature transformation photos of previous customers and compare how much weight they've lost using Beachbody. This adds social proof to the offer and helps persuade customers to start the program: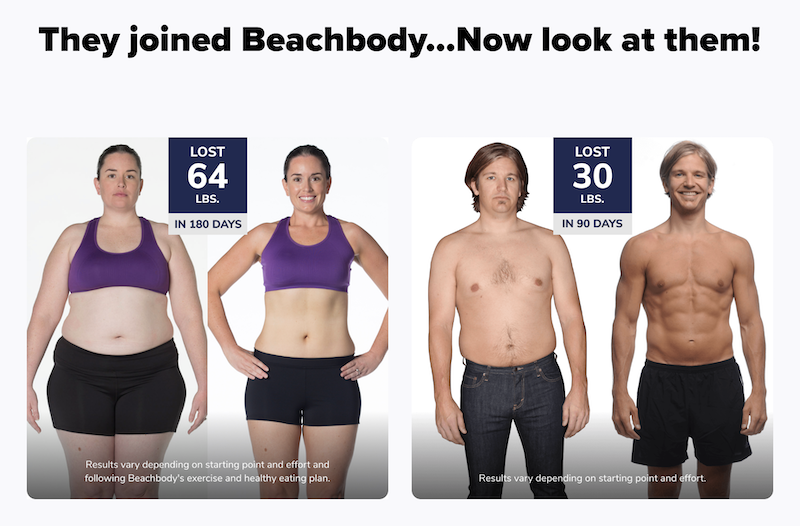 The workout program section allows prospects to select different Beachbody programs. Every program directs users to a dedicated post-click page designed as a free trial page for that specific program: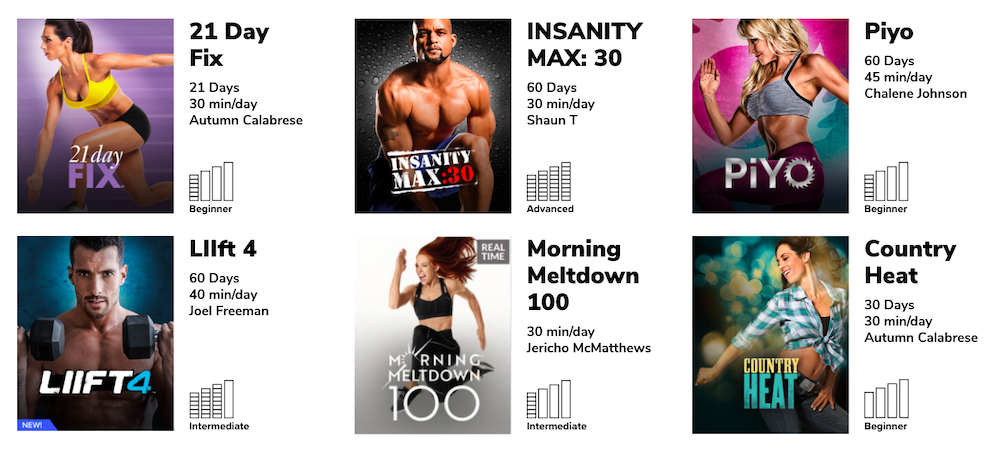 The 14-day free trial offer includes a CTA button that prospects can click to get started: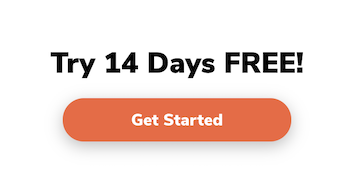 The Getting Started section showcases how easy it is to use Beachbody programs by following the three steps:

The BBB accredited business and DSA badge add credibility to the offer and make the user feel safer about signing up for the offer:

Beachbody uses dedicated experiences for different workout programs
Beachbody offers its customers multiple types of workout experiences based on intensity levels and the number of days it can take users to achieve results.
The landing pages mostly follow the same format and persuade customers to choose the program by telling them:
What the program is: The first few sections of each page describe what the program entails, how the workout helps customers slim down, how many days the program takes to complete, and what intensity level the user should expect the workout.
How the program works: Which exercises come into play to help users lose weight and tone up. Each post-click page also showcases how easy it is to stream the Beachbody workout on the device of the customers' choice.
Why should prospects sign up for the program: Every post-click page features customer testimonials that showcase why the program works. By seeing real results of real people, users are more likely to sign up for the workout.
Let's see how the fitness service uses dedicated ads and post-click pages to promote different workouts.
Country Heat program Facebook ad
This ad features a customer success story that encourages users to click through: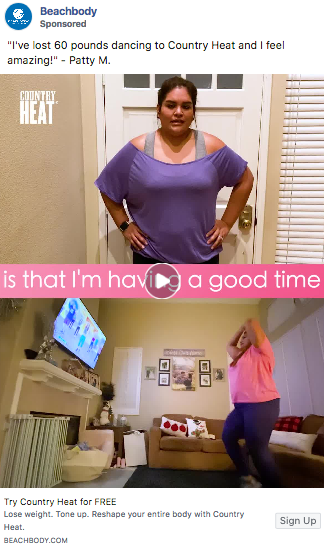 The ad directs them to the dedicated Country Heat post-click landing page experience: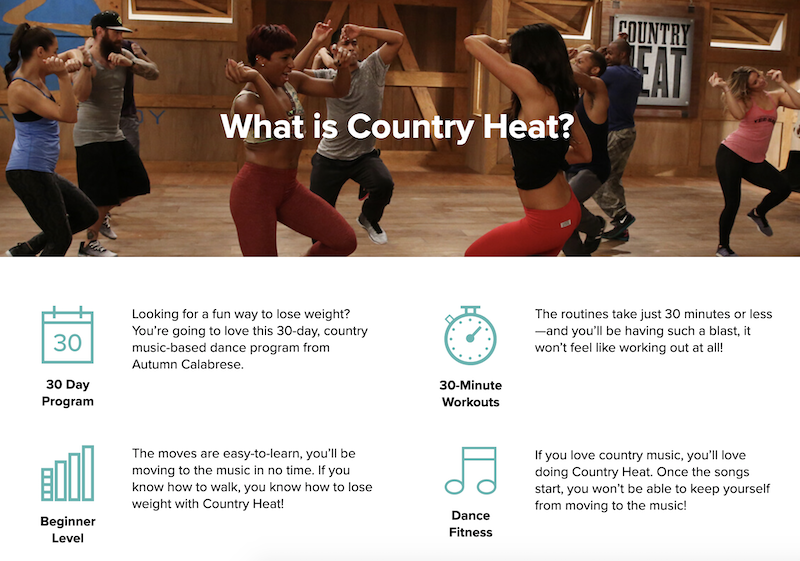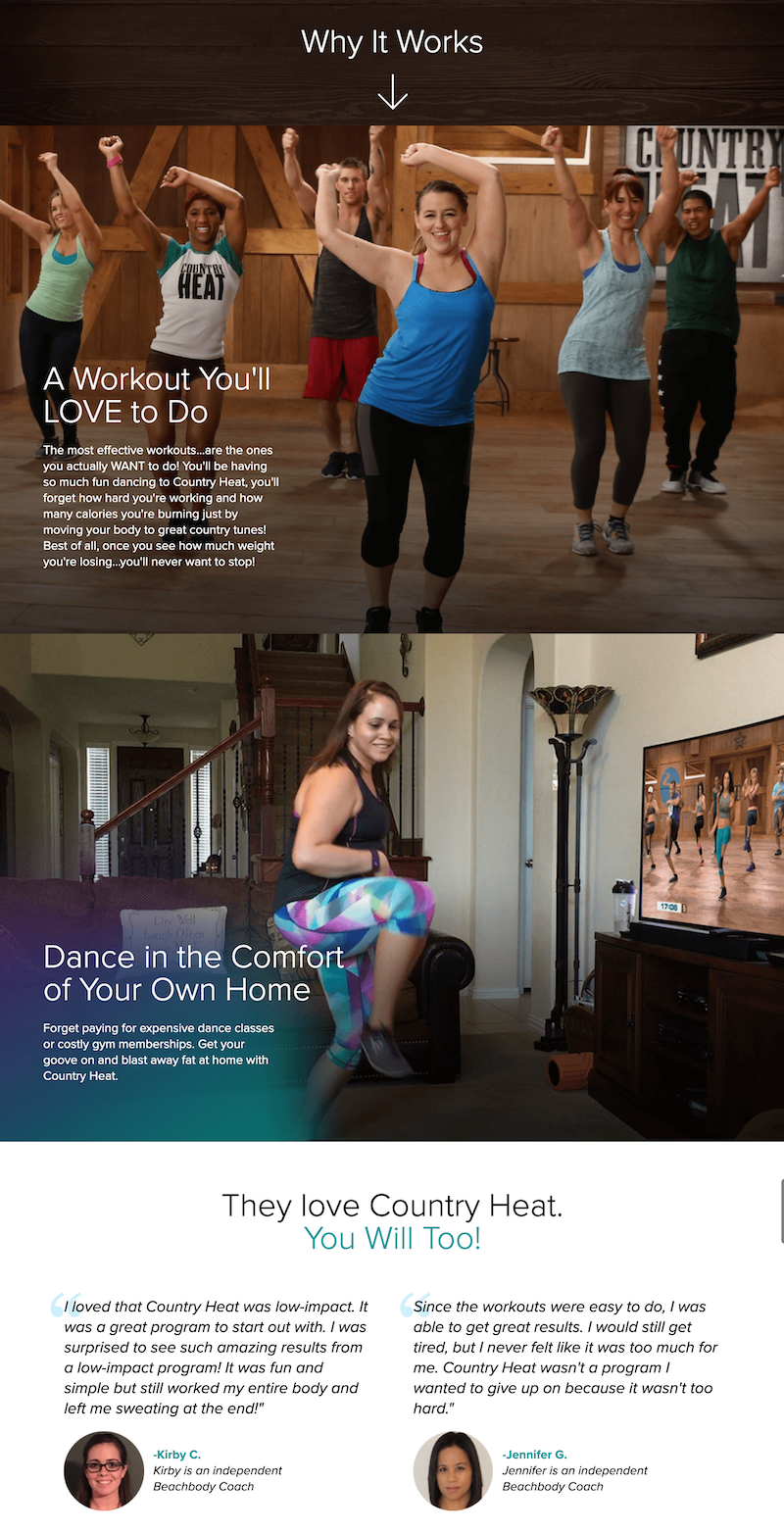 Morning Meltdown program ad
This ad highlights that users only have to spend 20-30 minutes to lose weight and they can try all workouts for free: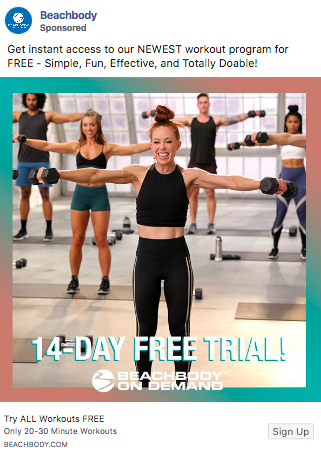 Clicking this ad directs prospects to this post-click page that answers the following questions about the program.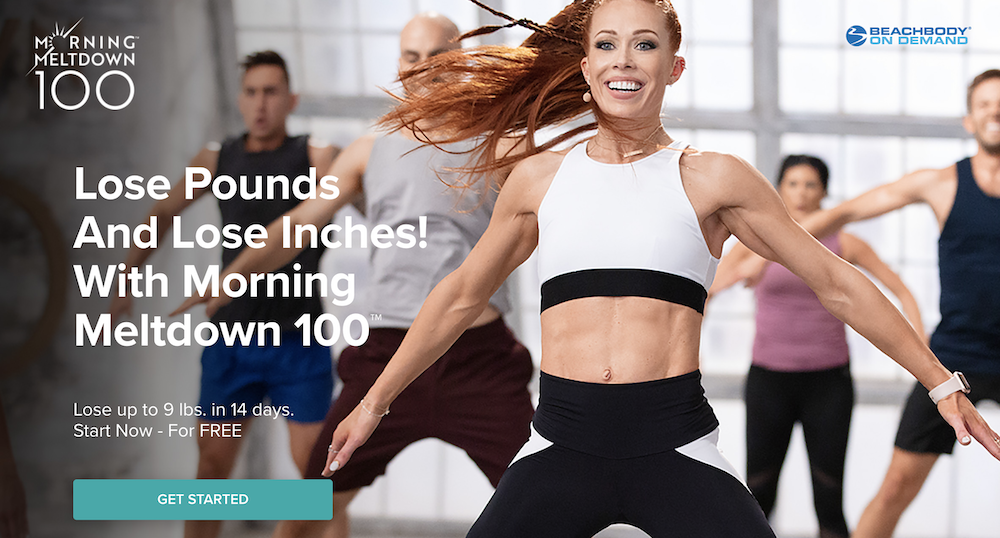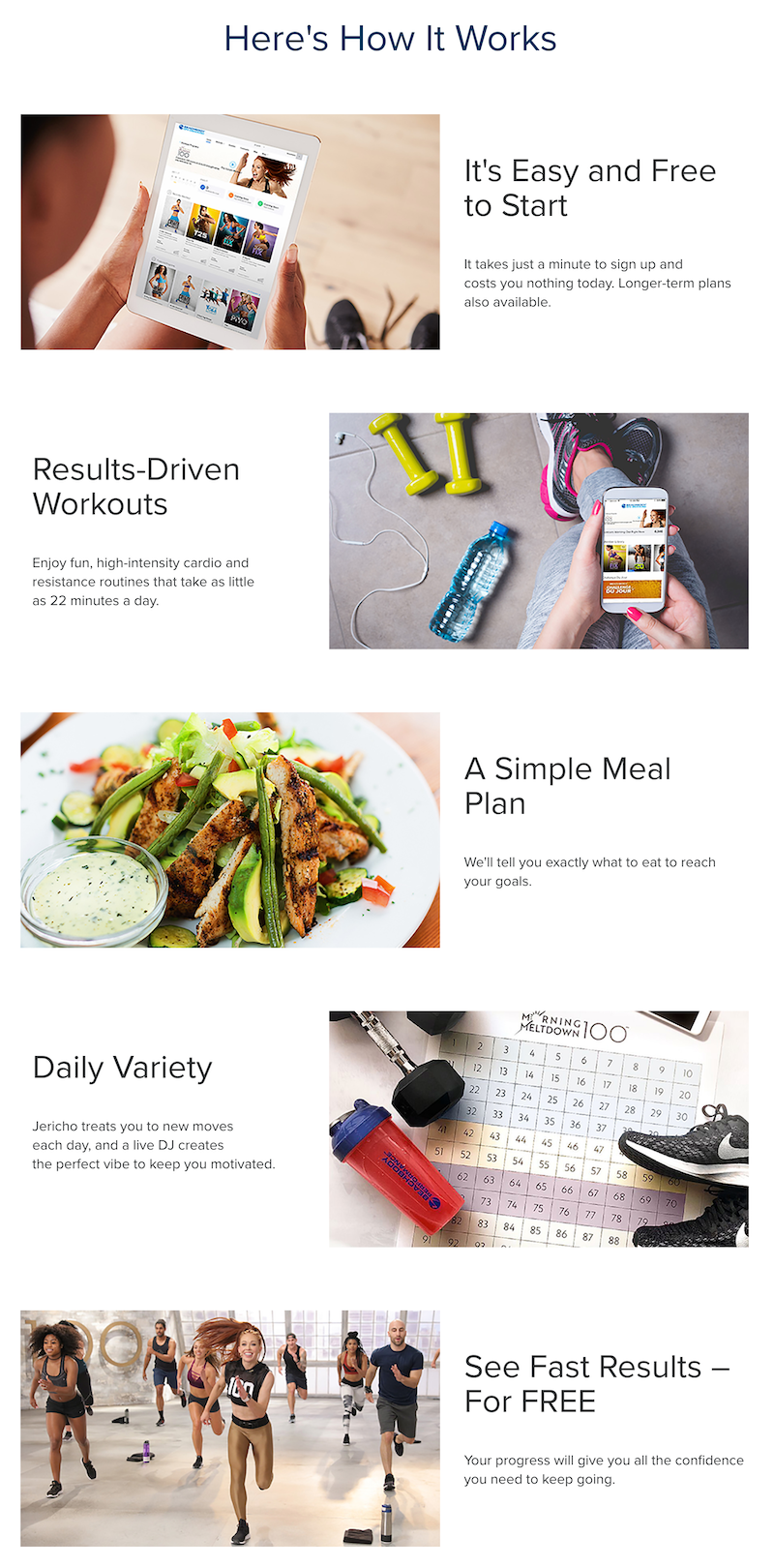 Why prospects should sign up: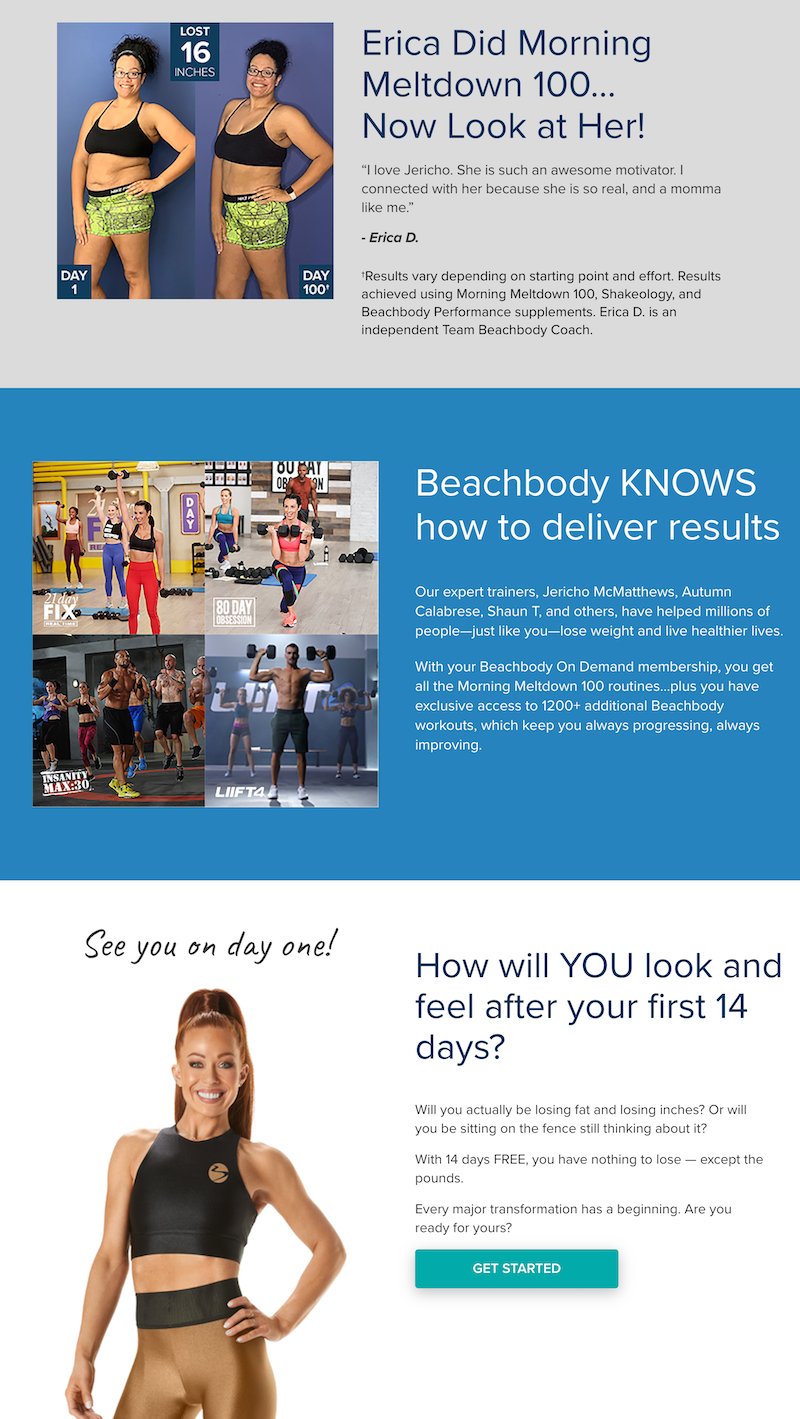 PiYo program ad
Searching Google for "PiYo" a user may see this Beachbody ad. It describes what types of workouts are included in the program and promises the user 24/7 expert help and a money-back guarantee: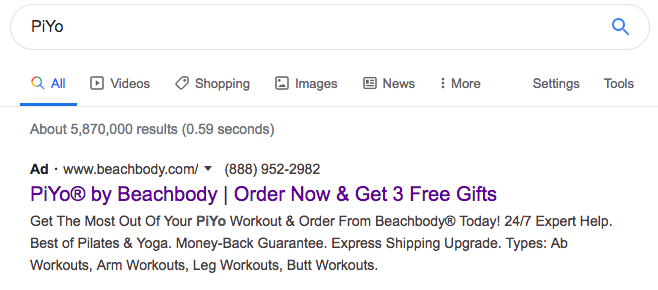 The paid search ad directs prospects to this post-click page which answers all the questions about the program, which can potentially persuade them to sign up: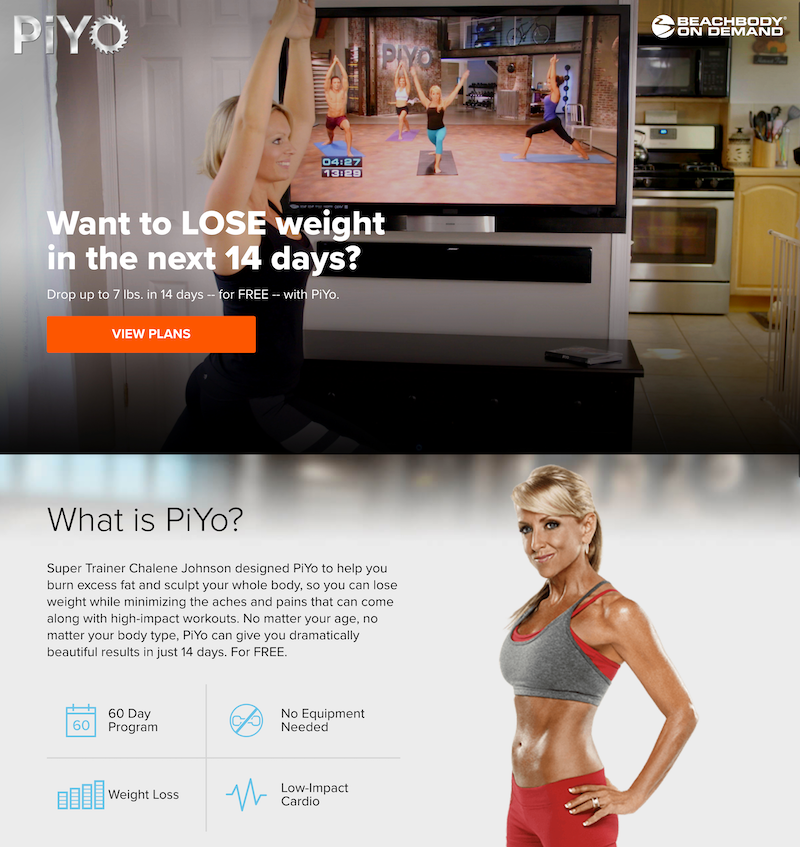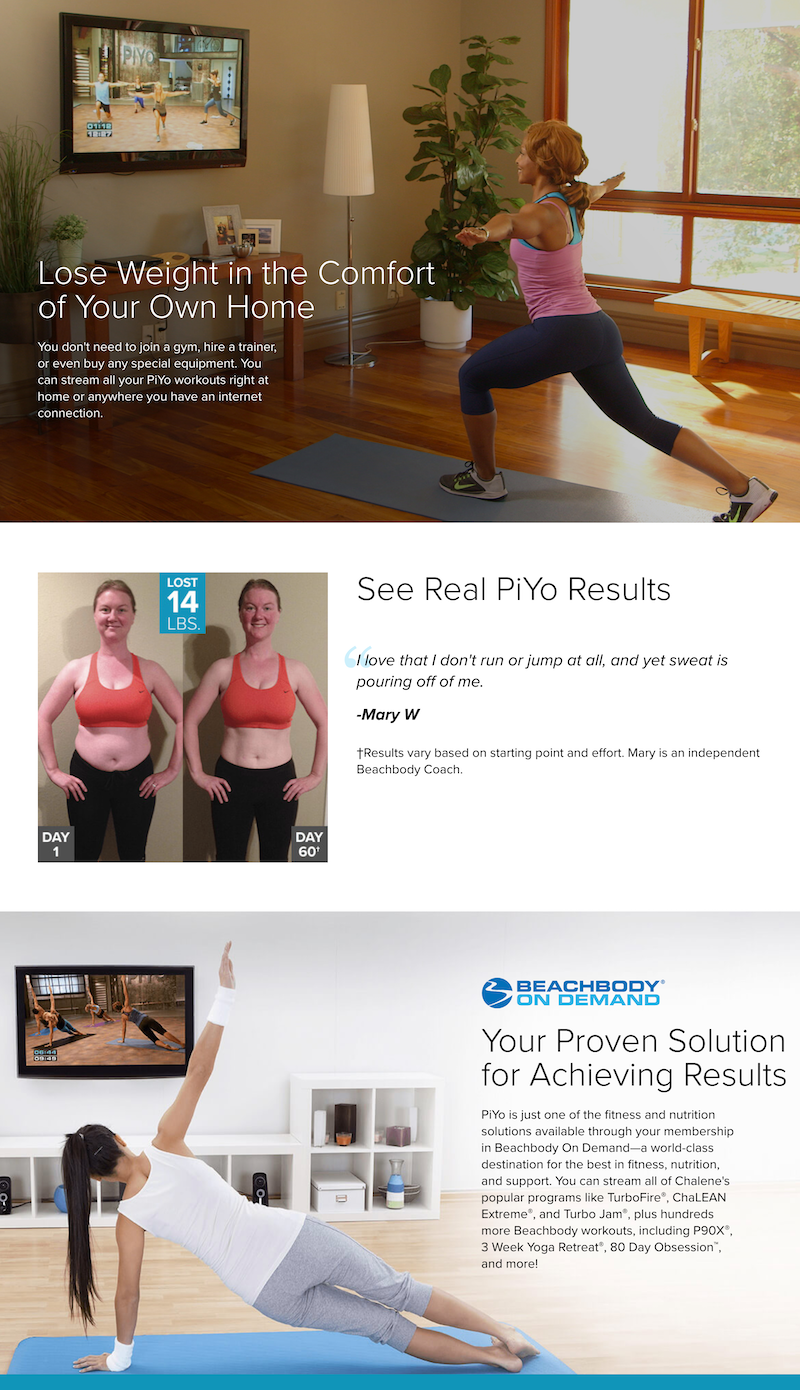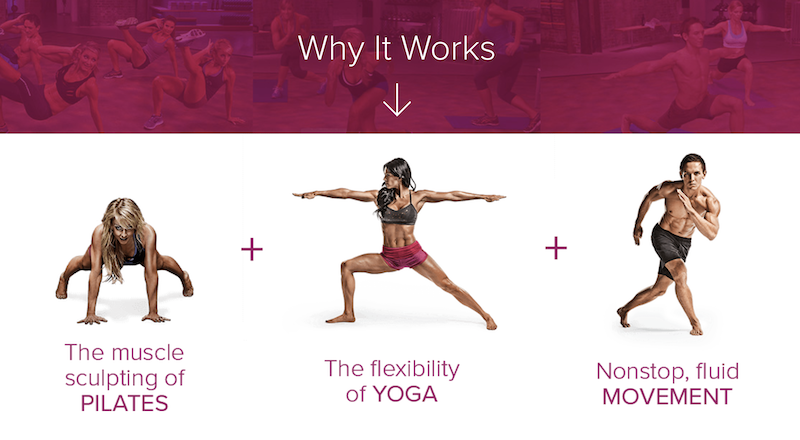 Beachbody Google search ad
It's common for businesses to connect their homepages to brand name search ads because a user searching for a brand name is looking for an overview of the business.
Homepages, however, are meant to be browsing experiences and aren't primarily focused on conversions. Beachbody does something out of the box with their brand search ad: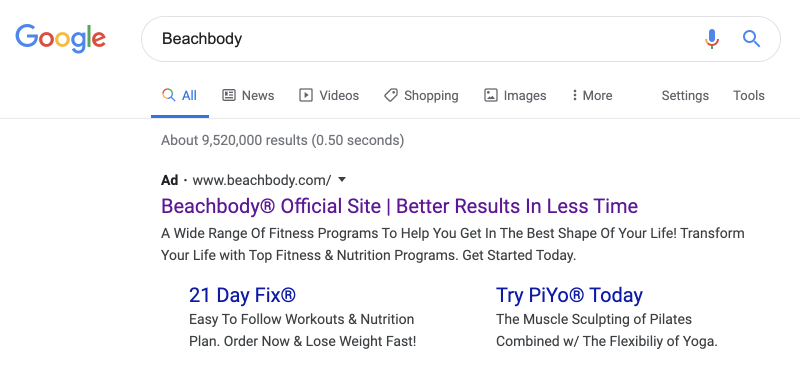 Instead of sending users to their generic homepage, they send them to their 14-day free trial page (already analyzed at the start of the post):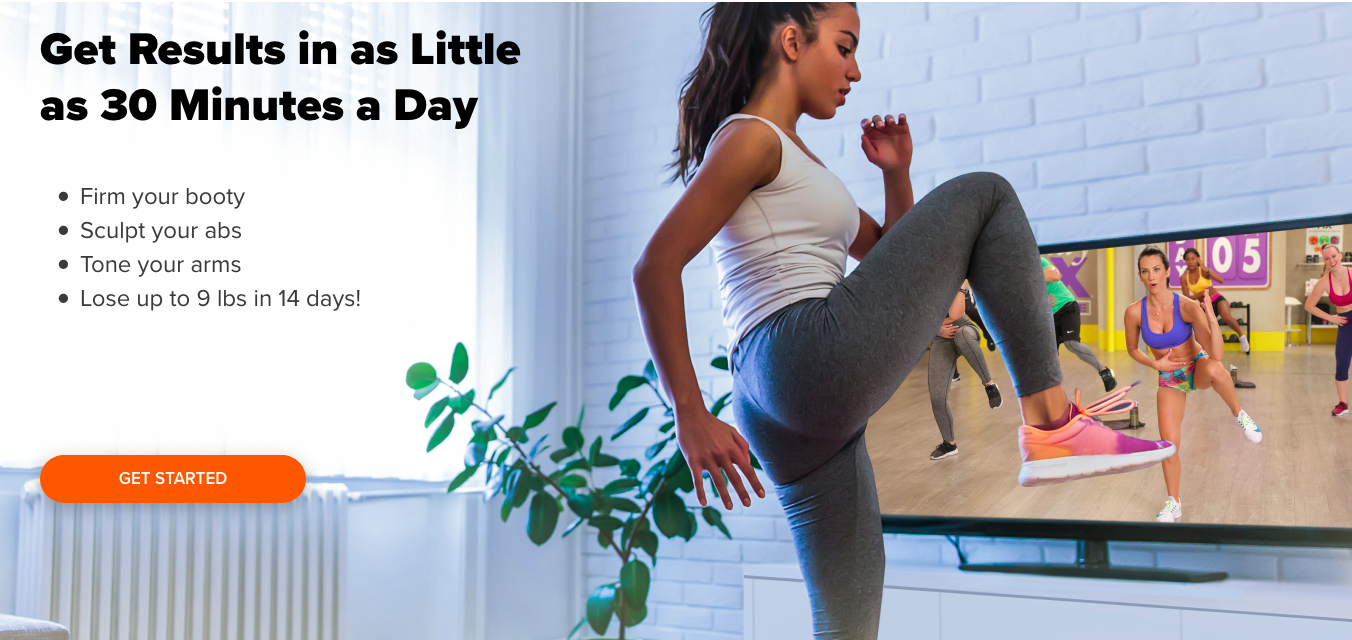 Another interesting thing to note, the homepage link redirects to the same free trial page, which means Beachbody isn't missing out on any conversion opportunities.
Don't miss out on conversion opportunities
To ensure your ads convert, always connect every ad to a meaningful, personalized experience by creating a dedicated landing page for every offer.
Here are a few more fitness landing page examples by Tonal.
See how to provide personalized landing pages at scale by signing up for an Instapage Enterprise demo.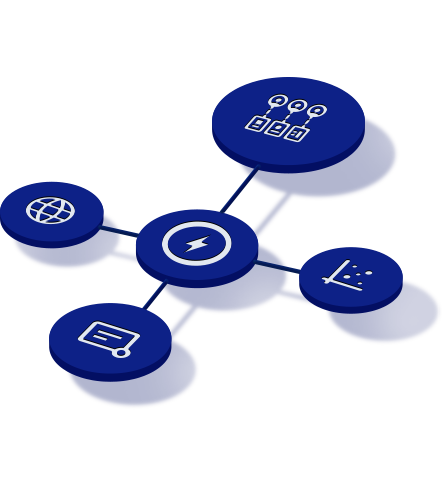 See the Instapage Enterprise Plan in Action.
Demo includes AdMap™, Personalization, AMP,
Global Blocks, heatmaps & more.