PPC advertising is all about getting your offer in front of the right person at the right time, which is why AdWords demographic targeting should be integral to your digital ad campaigns.
Yet even though most digital advertisers know that AdWords offers many targeting capabilities, some are unaware that demographic targeting exists along with its inherent benefits. In fact, despite being one of the most valuable AdWords features, it's one of the most underutilized.
What is demographic targeting?
Demographic targeting provides digital advertisers with an effective way to narrow down their audience to those who are likely to be within specific demographic groups (age, gender, parental status, income). More on this later.
In addition to narrowing down your digital audience, Google AdWords demographic targeting enables brands to adjust their bids, ad copy, and post-click landing pages for specific, relevant groups. That means this technique is not only useful for search campaigns, but also for improving prospects' overall ad experience.
How does demographic targeting work?
When a consumer is signed into their Google account, Google can find his or her demographics from user settings and activity on Google properties. Consumers can edit their demographic information in Ads Settings: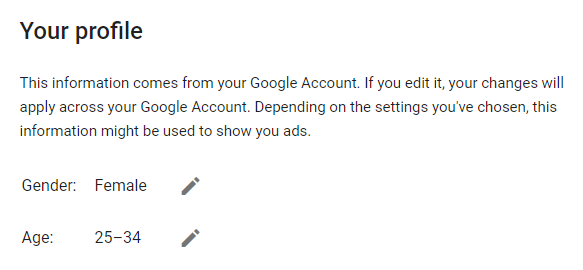 Demographic information can also be collected from websites that consumers have shared this specific information, like social networking sites.
When people are not signed into their Google Account, demographic information may still be inferred based on their activity from Google properties or the Display Network. For example, when people browse YouTube, or various Display Network sites, Google can store a "cookie" in the user's web browser. That browser can then be associated with certain demographic categories, based on the sites that were visited.
Mobile app demographics
Mobile app demographic targeting also uses an advertising identifier, this time linked to a consumer's mobile device to remember which apps they've used. Again, the identifier can be associated with a demographic category based on the mobile user's web browsing and app activities.
AdWords demographic targeting options
Targeting for search, display, and video ads include the following categories:
Age range
When your offer is aimed at a specific age, AdWords offers the following seven age ranges:
18-24
25-34
35-44
45-54
55-64
65 or more
Unknown
Upon conducting a search for "education programs", I was presented these paid search ads: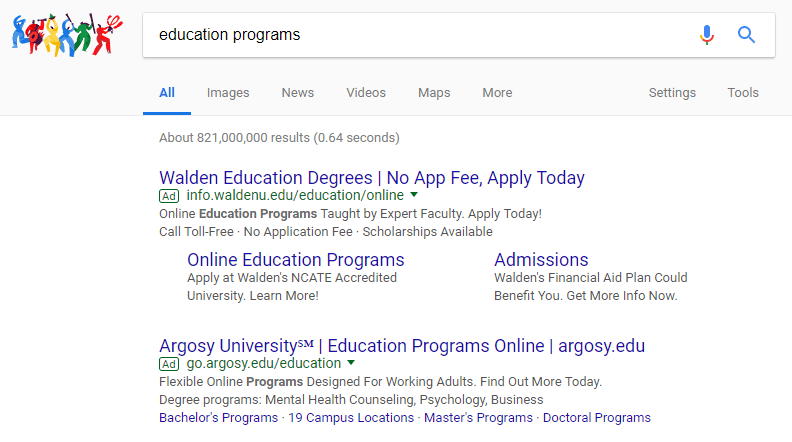 Since my age range is set within my Google account settings, I was provided with age-specific search results for my query — both related to online, continuing education programs for working adults.
Gender
When targeting prospects by gender, advertisers can select:
When I searched "clothing stores," it's clear that AdWords recognized that I'm female. Notice how all of the search results are aimed at women (aside from the last one, which is gender-neutral):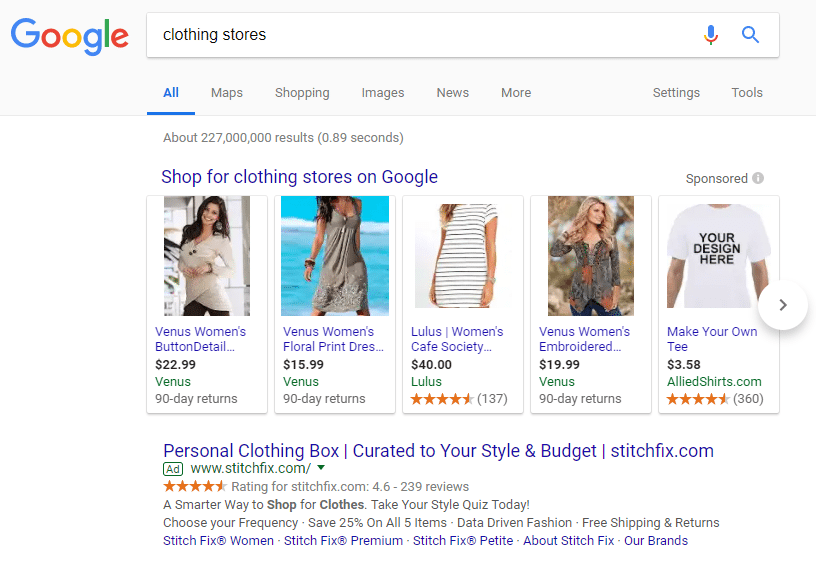 Here's another example of gender targeting. I searched for "leather boots" and saw these results: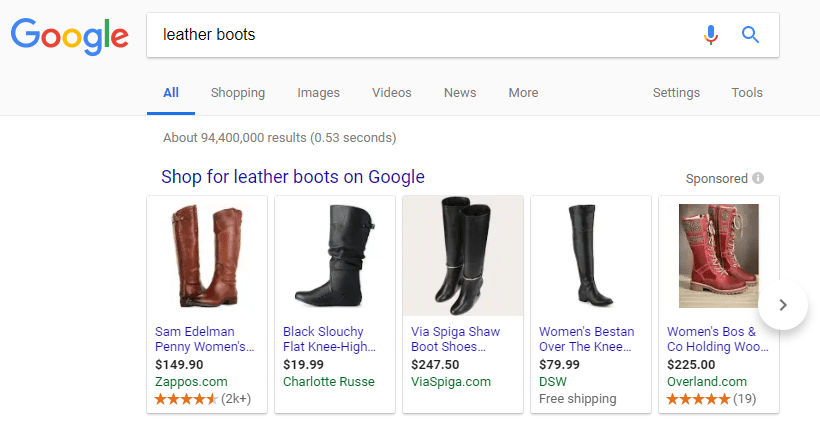 Again, it's evident that AdWords knew my gender because these are all women's leather boots. It's likely that the search results would be completely different if a male conducted the same search.
Household income
Income level targeting is actually location targeting based on household income. This gives advertisers the ability to adjust bid levels based on people they identify as living within a certain geographical area (currently only available in the U.S., Japan, Australia, and New Zealand). For those areas, AdWords offers the following income ranges:
Top 10%
11-20%
21-30%
31-40%
41-50%
Lower 50%
Unknown
Demographic targeting options for display and video campaigns can also include:
Parental status
Using the Family Link app, parents can create a Google Account for their children under 13. While ads can't target children under 13, they can target the parents. Parental status groups include:
Parent
Not a parent
Unknown
A quick search for "learning apps" produced this ad: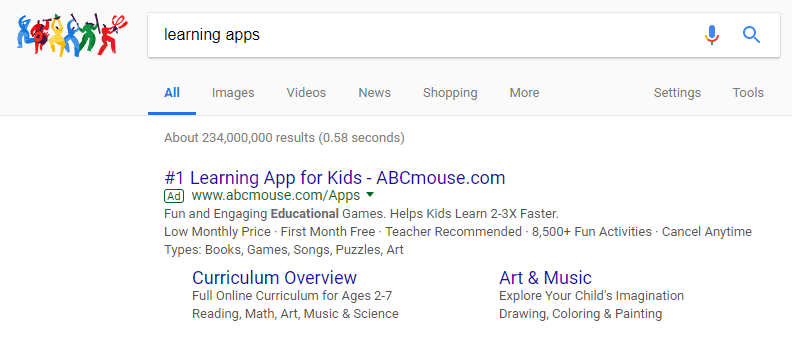 Although I could have been presented with a wide variety of ads for adult-focused learning apps (language learning apps, how-to apps, etc.), I was shown this ABCmouse ad because Google recognized that I am a parent.
What does the "Unknown" category mean?
It's impossible for AdWords to determine, or even infer, the demographics of all internet users, so "Unknown" refers to those people whose age, gender, parental status, or household income haven't been identified. This may include users who are under the age of 18, as well as those who are gender non-binary.
Additionally, some websites on the Display Network opt out of demographic targeting, which expands the "Unknown" category even more. If you want your ads to appear on those sites, you must leave the "Unknown" category selected (more on this below).
Best practices of AdWords demographic targeting
1. Exclude demographic groups
Often referred to as negative targeting, excluding people based on demographic categories prevents your ads from displaying in front of irrelevant, uninterested audiences. Naturally, this greatly helps increase the efficiency of your digital advertising campaigns.
2. Customize your bids
If you choose to show your ads to everyone without excluding any demographic groups, you can still place higher or lower bids for certain demographic groups. But, before making bid adjustments, it's best to let the data accrue with a 0% bid modifier. Then, once data has accrued and more insights provided, you can begin making bid adjustments, focusing on your best-performing categories.
3. Create unique campaigns
With the data from your bid adjustments, consider creating a unique "Target and Bid" campaign. If you're simply layering different demographics bids into a single campaign, it's considered "bid only" — meaning you pay more or less to target a select demographic, rather than exclusively showing ads to them.
"Target and Bid," on the other hand, allows you to only show ads to searchers who meet your demographic criteria, and to control the settings and ad spend separately from other demographics.
Using the "Target and bid" strategy, ROI Revolution saw a 42% increase in conversion rate and 21% decrease in cost-per-acquisition in the first month the campaign was live.
4. Don't exclude the "Unknown" category
40% of searchers fall into the "Unknown" category for both age and gender. That means nearly half of the search population for those demographics is not identified by Google and excluding this demographic group could severely limit your ads' potential.
"Unknown" is selected by default because you can reach a wider audience this way. Only exclude "Unknown" if you're sure you want to restrict your campaign to a narrower audience. Furthermore, keep in mind demographic targeting can be (and should be) combined with other targeting strategies to further amplify your advertising efforts.
How to set demographic targeting in AdWords
After signing into your AdWords account, follow these steps:
In the page menu on the left, click "Campaigns".
Select the name of the campaign to which you want to add demographic targeting.
Select the name of the ad group to which you want to add demographic targeting.
In the page menu on the left, click "Demographics".
Along the top of the page, choose the demographic category you want to target.
Check the boxes next to the specific demographic groups you want to target.
Click the "Edit" drop-down in the blue banner along the top of the table, and then select "Enable". Note: To exclude certain demographic groups, select Exclude from ad group.
Use AdWords demographic targeting to find ideal customers
Of the many AdWords targeting options available, demographic targeting may be one of the most underrated because it helps you hone in on your ideal customers. It has its shortcomings but those don't outweigh the benefits of implementing the feature in AdWords campaigns.
Highly targeted ads are only one part of the equation, and optimizing the post-click landing page is equally as important. To do that, it's best to use a platform capable of doing just that, like the Instapage post-click automation platform. With AdMap, 1:1 Personalization, built-in collaboration, pixel-perfect designs & more, no other solution can compare. Sign up for an Instapage Enterprise demo today.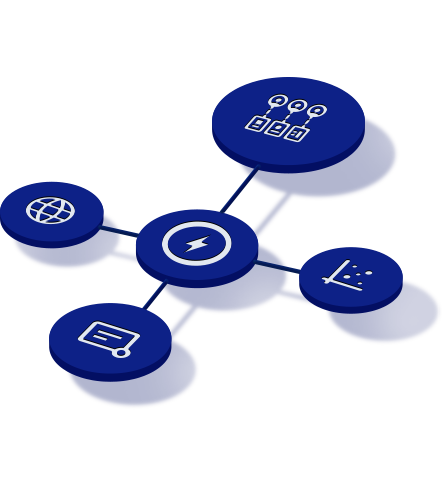 See the Instapage Enterprise Plan in Action.
Demo includes AdMap™, Personalization, AMP,
Global Blocks, heatmaps & more.