Scoring an email address is a slam dunk for marketers. We do everything in our power to convince prospects to fork over their emails — from gating our whitepapers to offering blog subscriptions to requiring webinar registration.
Once we've obtained this precious information, we enroll prospects in lengthy email nurturing programs, flooding them with information in hopes that they'll eventually be smitten with our products and convert.
There's a problem with this strategy. According to MailChimp, the average email open rate is below 25% so despite all of your painstaking efforts to collect their email address, three-quarters of your prospect pool isn't even reading them!
But honestly, can you blame them?
I, for one, am an email marketer's greatest nightmare. I get slammed with so many promotional emails that the vast majority go straight to my junk folder. Aggressive email marketing programs will cause me to disengage, even with companies that genuinely interest me.
The reality is, most of us have a low threshold for sales emails, meaning the method becomes inefficient after a pretty limited number of emails. When this happens, marketers feel like this when our email efforts generate only a handful of new clients: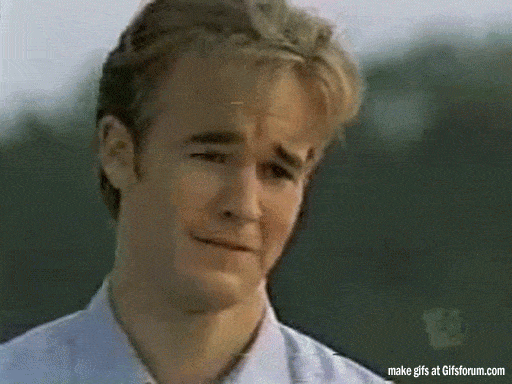 Wait — don't despair! All that effort that was still worth your while.
Rather than solely using emails for email nurturing programs, you can now get even more out of them with Customer Match campaigns.
What is AdWords Customer Match?
Customer Match gives advertisers the ability to create and target (or exclude) their very own user lists simply by uploading prospects' email addresses. Advertisers can apply these lists to Search, Gmail or YouTube campaigns and create customized experiences based on the user's attributes.
This is a super-subtle way to nurture prospects when they're actively looking for you or subjects related to your brand. Kind of cool, right?
Here are three ways you can start using Customer Match in your PPC campaigns.
1. Familiarizing new prospects with your brand
We work tirelessly to introduce people to our brand and encourage them to engage with it. Convincing people to complete the first action feels like a major win (e.g. download a white paper, attend a webinar or give us their business card at an event). Yet, far too few of these top-of-the-funnel prospects turn into paying customers.
The problem with this top-of-the-funnel crew is that they don't know much about you. They may recognize your name from their initial interaction with you, but they don't really know your brand.
We run into this with WordStream all of the time.
New prospects know that we're some marketing software company, but they don't realize that we specialize in paid search and social ads. When they look for a solution to help them with online advertising, they don't search for "WordStream"; they search for terms like "PPC marketing help:"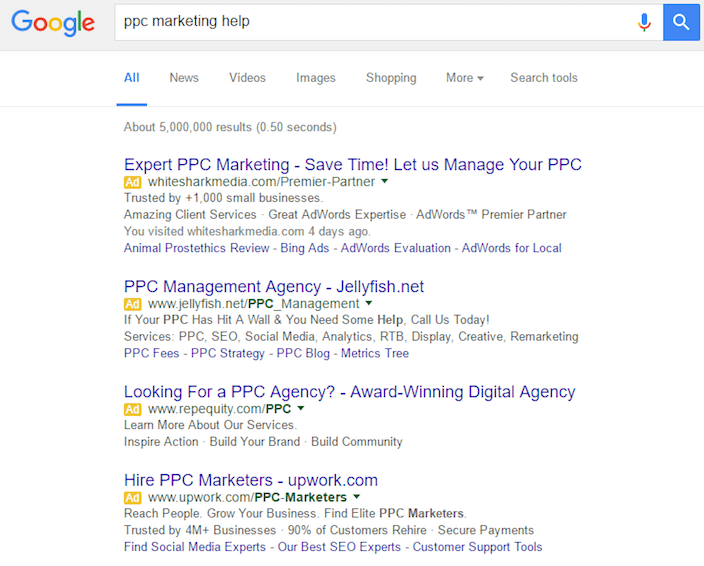 There is a ton of competition for "PPC marketing help." WordStream's ad didn't even show for this search phrase, which means that we might lose our newly acquired lead to one of these guys! That said, it probably wouldn't be wise to set sky-high bids for a generic keyword phrase such as "PPC Marketing help."
We'd blow through our budget far too quickly.
This is where Customer Match comes in handy. We can break out our new leads' emails and upload them as a Customer Match segmentation. For this list, you can bid on more generic terms, and since ads are only served to a select audience, it's not nearly as risky.
To set up Customer Match, create a remarketing list using customer emails by clicking the "Campaigns" tab and then the "Audiences" list item in the left margin: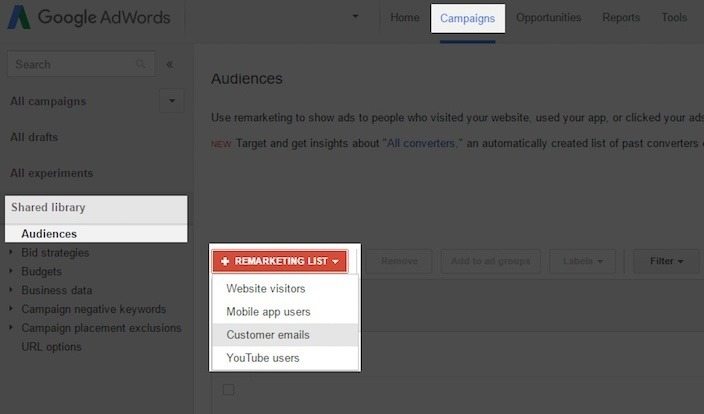 Not only can we prioritize these top-of-the-funnel prospects with AdWords Customer Match, but we can also create ads that are customized to the searcher. If your list uploads are super-segmented — e.g. white paper downloads, webinar attendees, and in-person events — then you can create hyper-customized copy based on their past interests and activities.
In the example below, the list of emails is for attendees we met at HeroConf this year. For this list, we're only uploading prospect emails that we met at the event, so we'd likely refer to the event in our ad copy: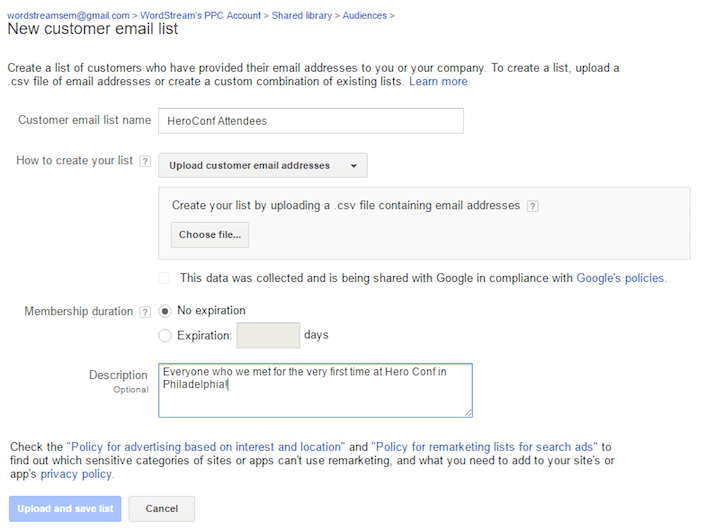 If you've gone the simpler route and just uploaded one "new prospects" list, then it's probably best to create informative, brand-heavy ads to ensure these prospects know all about you and what you do!
You can expand your efforts to reach even more new prospects by generating similar audiences to those on your lists. Keep in mind; you'll only be eligible to use this if you've uploaded more than 5,000 emails that have been processed and matched to Google users.
2. Give mid & low-funnel prospects the nudge to convert
We're all too familiar with those pesky, mid-to-low-funnel prospects who we just can't get over the hump to buy. These are the guys who are playing with our hearts. They engage with us repeatedly — they've attended multiple webinars, have already completed a free trial, and have even chatted on the phone with a sales representative. Yet, when it comes to submitting credit card information, they're suddenly hit with a case of cold feet.
After we've dedicated all of this time and money to "woo" these prospects, there's no way we're giving in! Why not leverage Customer Match to give this group an extra nudge toward a conversion?
For these prospects, up the ante even further.
Bid up on your keywords to ensure that you're nailing a top position and showing your ad in one of the best formats possible (remember, ad rank influences ad format nowadays). High visibility will ensure that your brand remains top-of-mind for this group of prospects.
Moreover, avoid showing generic ads to these prospects because they already know who you are and what you do! Instead, create ads that speak directly to their sales objections. Take the time to survey prospects who don't convert and chat with your sales team to understand why people hesitate to purchase your products.
For example, here at WordStream, many of the people we talk with are concerned that the software is too complicated for them. So, we tout our free, comprehensive training programs in our ad copy:

If you're feeling bullish, take Amanda West-Bookwalter's advice and ask them to convert directly within your ad copy. To sweeten this bold request, try extending a special incentive offer like free shipping or a new customer discount.
3. Get more out of your existing customers
Don't underestimate the immense value your existing customers hold. You've already won this subset over once, so why stop there? Reconnect with these people and convince them to make yet another purchase. After all, retaining customers is easier than acquiring new customers and helps increase your customer lifetime value.
The cool thing about this feature is that you're nurturing these customers subtly without making them feel as though they're heavily targeted by your brand. (There's nothing people hate more than being harassed by salespeople after making a purchase!)
Depending on your business model, your implementation of this strategy will vary. For example, if you sell products by subscription or provide services that people need on a regular basis, you may wish to segment your lists by customer lifecycle and create your campaigns accordingly. That way, if they're searching for your keywords when their renewal period is approaching, you can serve them ads encouraging to enlist for another subscription period.
On the other hand, if you sell items that are one-time only purchases, it would make more sense to use Customer Match to cross-sell complementary products.
In this scenario, you'd segment your lists by product purchased so you could customize your ads to feature appropriate, corresponding items. For example, if you sell smartphones, you may segment your lists by iPhone, Android, and Samsung buyers. That way, you can cross-sell them charging devices for their respective phone model.
Finally, if you're advertising products that people can repeatedly purchase (like clothing) you can go in-depth with Customer Match. Segment your lists by products that they've displayed an affinity for and serve ads notifying them of new models and sales promotions.
About the Author
Erin Sagin is a PPC Evangelist and Community Manager at WordStream. She was named the 3rd Most Influential PPC Expert of 2015 by PPC Hero. When she's able to take a break from paid search, you'll find her practicing her hula-hooping skills or planning her next trip to Latin America. You can follow Erin on Twitter.