Getting impressions and winning clicks on Google Ads continues to be a pain point for digital advertisers to generate attention and new business. And while advertisers can pay their way to the top (literally), why spend the maximum budget when there are alternative methods to get more clicks.
Increased ad visibility and a higher ROI from Google advertising can be as simple as improving ad relevance, aka keyword relevance. We'll explain how to increase ad relevance, but first, a definition is in order.
What does ad relevance mean?
Google defines relevance as how closely an ad campaign matches a user's search, determined by the relationship between keywords, ads, and landing page.
Ad relevance, or keyword relevance, refers explicitly to how closely your keywords relate to your ads.
For example, a Google search for "CRM for real estate" showed this ad:

The ad relevance here is strong because the search keywords are found directly in the ad headline.
Relevance and ad relevance go hand-in-hand because:
Your keywords should always match your ads
Your ads should always match the corresponding landing page
All of these things should always match a user's search
(Note: Bing defines ad relevance the same way, so if Bing Ads is your platform of choice (or you're using both), this article can help you too.)
How relevance is measured
There are three possible keyword relevance statuses:
Above average
Average
Below average
Having an "average" or "above average" status indicates you have no major issues with your keyword relevance compared to all other keywords across Google Ads. The closer the connection between keyword and ad copy, the higher the keyword relevance (vice versa).
This ad that appeared with a search for "digital marketing for lawyers" (as well as the example above) likely has an "average" or "above average" status because the keywords match the ad very closely:

"Below average" means your ad or keyword may not be specific enough, or that your ad group covers too many topics. This often occurs when ads are copied from one ad group to another without editing and tailoring keywords to the ad copy for the new ad group.
Here's an example that probably has a "below average" status because it appeared with a search for "marketing automation for small businesses," yet it's targeted to agencies:

Why is ad relevance important?
In short, higher ad relevance = higher Quality Score = lower cost-per-click.
On both Google and Bing, Quality Score is partly measured by relevance: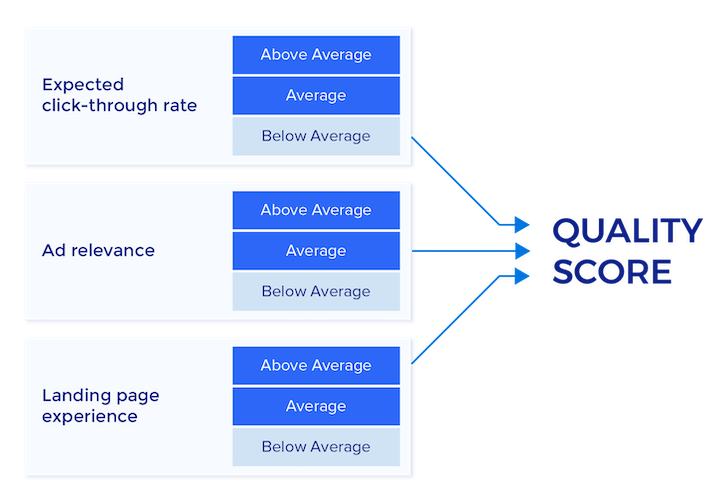 A low Quality Score means your ad, keywords, and landing page are viewed as irrelevant, while a high Quality Score means that your ad, keywords, and landing page are relevant. (In addition to relevance, many other factors contribute to Quality Score, so it is possible to have a high Quality Score and low ad relevance, or vice versa.)
So what does having a higher Quality Score mean? Ultimately, it can mean a lower CPC.
This is because the Google Ads auction is partly based on relevance to encourage advertisers to create relevant ad campaigns (that's what searchers want). A highly relevant ad with a high Quality Score is generally granted a higher position on the results page. Naturally, this will earn you more clicks for the same budget — and a lower CPC.
Now, the big question: What can you do to make your ads more relevant to searchers?
How to increase ad relevance on Google Ads
Here are several tips, directly from Google:
1. Create specific ad groups
Each ad group should focus on a distinct product or service because being specific is one way to be more relevant.
For instance, if you're an all-in-one digital marketing solution that offers a variety of advertising tools, you should create a different ad group for each of those tools — one for email marketing, one for content marketing, etc.
Salesforce does this with their campaigns. This Bing ad highlights the company as an email marketing solution, specifically: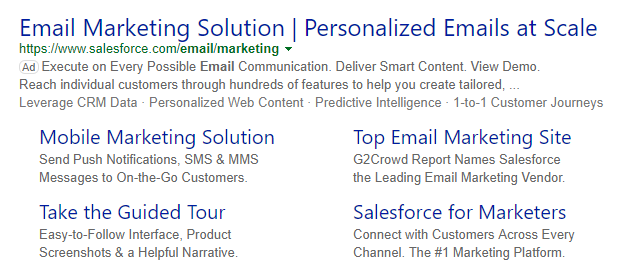 This is important because if someone is searching for an email marketing solution, they're more likely to click this ad, instead of a generic irrelevant ad.
2. Select keywords carefully
Include keywords that directly relate to the precise theme of your ad group and landing page, plus close variants of those keywords. As a guideline, include about 5-20 keywords per ad group.
Keep in mind, it's often more practical to bid on long-tail keywords, rather than single words because leads visiting your page from long-tail searches tend to be more qualified. For instance, if you're a social media marketing company promoting your new scheduling feature, use a long tail phrase such as "social media marketing scheduling tool" instead of "social media marketing."
You may receive fewer impressions and traffic from longer phrases, but the quality will be higher because your offer is more relevant to what they're looking for.
3. Include keywords in your ad text
When people see their search terms in ad text, it shows them the ad is relevant to their search. Therefore, it's best practice to include top keywords in your ad text — especially in the headline and one of the description lines.
In this example, one of Zoho's main longtails might be "sales analytics software," so it's included in both the headline and description.

Adding a keyword to the display URL (like Zoho did with "analytics") is another way to include keywords in your ad text and increase relevance.
4. Keep ads simple, yet compelling
Rather than overwhelming viewers with an abundance of copy, highlight the unique characteristics of your product or service that make it stand out from the competition.
Then add a strong CTA with personalized copy that encourages users to click, and tells them exactly what they'll be doing. "Get the Ebook Today" is more persuasive than "Download."
5. Send traffic to a relevant landing page
Remember, relevance is partly dependent upon landing page relevance — which means your ad's content must match your post-ad click landing page content.
In addition to implementing message match between your ad and landing page, be sure to design pages specific for each ad group. Also ensure your page delivers what the ad promised, includes top keywords, and excludes missing keywords.
6. Test multiple ads
Experiment with different offers, keywords, ad copy, etc. to see what performs best for your advertising goals. Google Ads helps with this by automatically rotating ads within an ad group to continuously show the best performing ads.
Reviewing your ad performance and A/B testing your campaigns regularly can help you figure out the best ways to keep your ads relevant and achieve your marketing goals.
Get the most out of your ad spend by improving ad relevance
Improving ad relevance is well worth the effort since it results in overall campaign improvement — higher Quality Score, better ad position, and lower cost-per-click.
For more details on creating the most optimized, relevant ad, refer to the Instapage Digital Advertising Reference guide complete with up to date ad specs and targeting options. You can also sign up today for a 14-day trial and see the impact Instapage has on your campaign results!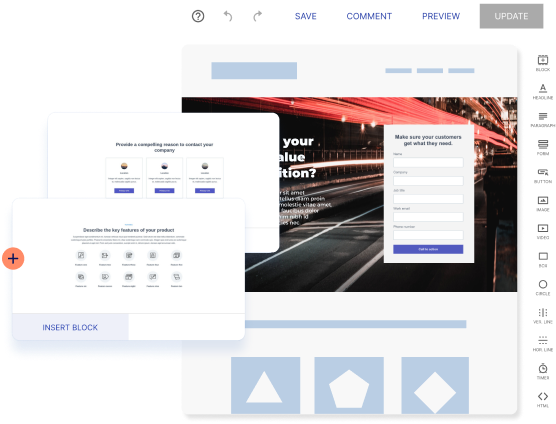 Try the world's most advanced landing page platform with a risk-free trial.