Google display ad benchmarks show that targeted campaigns underperform with a paltry 0.09% click-through rate. It doesn't have to be that way for digital marketers though when strategies like account-based advertising exist.
In fact, one analysis showed that account based-advertising campaigns focusing on fewer than 25 accounts generate 400% more clicks than campaigns targeting more than 300 accounts. So how is it that a smaller audience can generate that much interest? A detailed definition is warranted.
What is account based advertising?
Account-based advertising uses digital ad campaigns to target highly-relevant accounts with the most revenue potential.
In comparison to demand generation, account-based marketing is often described as a flipped funnel approach since it inverts the standard demand generation planning process, and targets the account level, rather than individual leads only: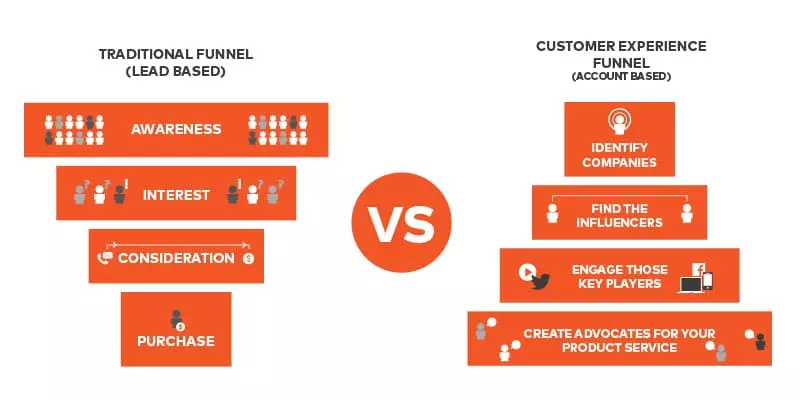 Demand generation (left funnel above) typically begins with the content (what), and then the best method to promote that content is determined (how), including which channels (where) and audience segments will be a good fit (who).
In contrast, account based advertising (right funnel above) begins with defining a specific audience at the account level (who). Once target accounts are identified, the best content for that audience can be determined (what), as well as the method (how) and channels (where) that will allow the best connection to those accounts.
Furthermore, traditional demand gen efforts focus more on lead quantity whereas account based advertising focuses on exposure quality — who is seeing your content.
More on account based ad targeting
Personalization is key to successful account-based marketing campaigns, but naturally, this requires significant knowledge about the market, industry, and specific accounts in question.
Personalization is more than just segmenting. Instead of delivering content that's likely to be relevant to demographically or behaviorally similar individuals, account-based advertisers deliver content that is relevant to a company's firmographics and circumstances.
Since this strategy involves advertisers risking so much on such a small audience, it's a depth versus breadth approach to marketing. Not only does it require a significant investment of time and resources, but it also presents a legitimate risk. They must be entirely confident they've chosen the right accounts to target, and that their content will be valuable to those accounts.
(For an in-depth look at the ins and outs, and how precise targeting can increase your ROI, watch the replay of our webinar with RollWorks).
Benefits of account-based advertising
Aligns sales and marketing
Account based advertising extends your sales strategy into marketing, which is a huge benefit because when both departments are focused on the account level, it's easier to sync and coordinate messaging, qualification standards, and reporting techniques. Ultimately, this helps create higher quality relationships with accounts before passing them to sales.
More proactive
Typical forms of advertising — Google Ads, website retargeting, and CRM retargeting — are considered reactive, meaning they are limited to only those people who search for your keywords or visit your website. While still valuable, these approaches ignore a huge segment of your target audience and leave you with very little control over prospects unless they come directly to you. You also can't reach an entire buying committee — only individuals.
Conversely, account-based advertising is a proactive approach to targeted display advertising by reaching an entire buying committee, including contacts that haven't visited your website and not currently in your CRM.
This account-based ad was displayed at the top of a Digital Dealer article:

When members of prospective accounts click the ad, they see this post-click landing page: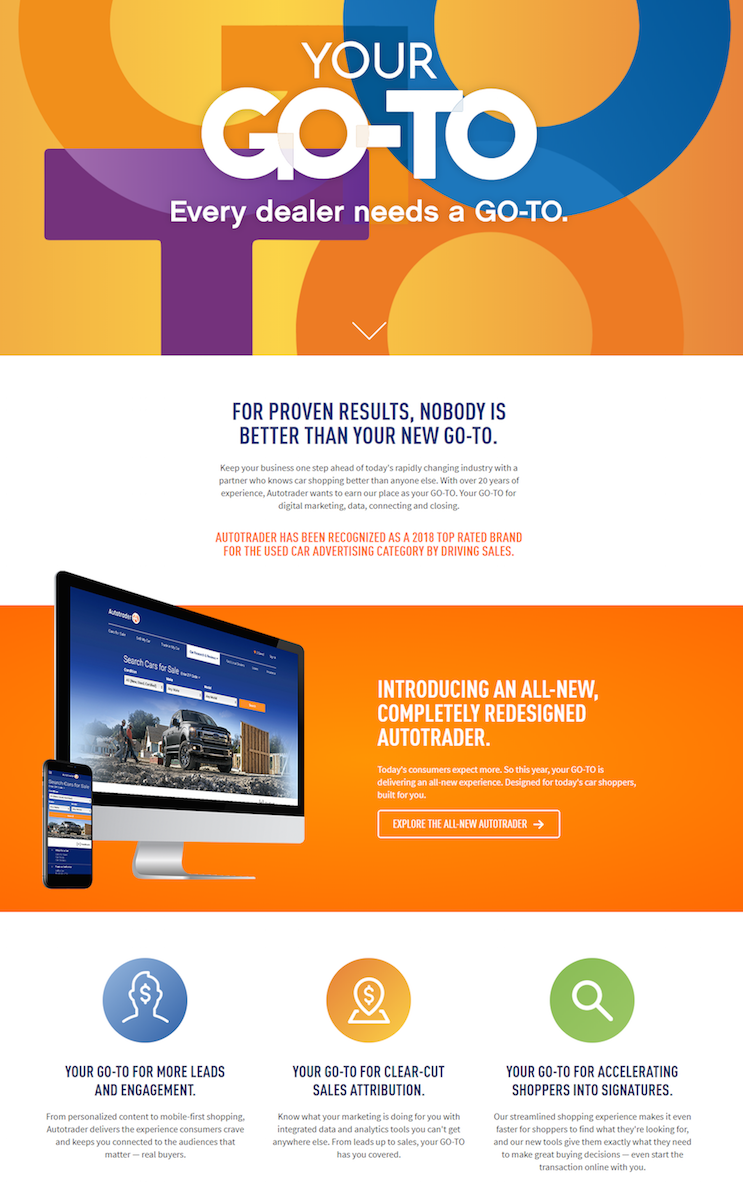 With proactive, account based advertising campaigns like this one, you as the advertiser, get to decide which buyer personas at which specific accounts you want to engage with — and no contact information is necessary.
Allows you to reach an influential audience
According to Gartner, there are typically eight to ten stakeholders involved in a complex sales cycle or decision-making process, which is why it's imperative you reach the entire decision-making committee. Account based advertising allows you to engage those hard-to-reach stakeholders, like C-level executives and other key influencers, who likely won't make the time or effort to visit your website or download content like other individual leads will. Proactive account based advertising offers you the chance to reach them directly on their terms because it doesn't require them visiting your website or going out of their way.
Complements email marketing
MailChimp reports that the average open rate for software companies in 2013 was 32.6%, and as of February 2017, it dropped to 20.95%. With the volume of emails flooding inboxes every day, people are less inclined to open any marketing emails.
Unlike email marketing, account-based advertising is a less-invasive, outbound marketing approach that cannot be opted out of like email newsletter subscriptions. Since prospects in your target accounts are already spending significant time in their inboxes, an account-based tool enables you to insert your brand and message in front of those contacts where they already spend time.
Common account-based advertising companies and methods
There are many account-based advertising companies for mid-sized companies to choose from, some of which include the following highly-rated platforms:
LeanData Lead2Account Matching Engine
Demandbase
Engagio
Seismic
Terminus
DataFox
Followed by the next tier:
EverString
Groove
D&B Hoovers
Marketo ABM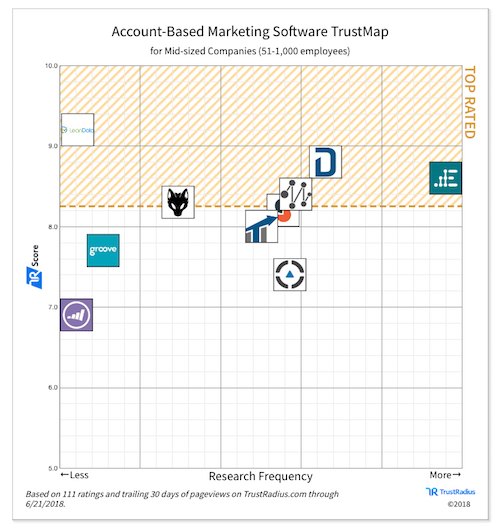 So how do these software solutions work? How do they target ads to specific accounts? There are three primary methods:
1. Targeting IP addresses
This was one of the earliest account-based advertising methods to serve ads. In 2012, IP data started to see widespread interest and usage, and now the advertising is often purchased from a broad range of sites. While IP targeting can reach a target company, reaching everyone in a large organization — when you are only concerned with decision makers — can quickly become a waste of resources.
Since few advertisers want to make that kind of investment into an individual account, IP-based advertising methods are being increasingly paired with additional targeting methods, from third-party audience data to contextual targeting. This allows advertisers to focus their investments not only on the companies but the decision makers within those companies.
2. Onboarding offline databases
A more recent method involves starting with large B2B databases and matching them through various data providers. This allows you to start with a list of individuals at the target companies, and then narrow it down depending on your select criteria. The catch is, you are limited to the data your provider has available.
Since the reach is more limited, some providers also include IP targeting to increase scale. Naturally, this means some of the precise targeting is lost, which was the benefit of this approach in the first place.
3. Targeting social media profiles
With social media platforms possessing so much of users' personal information already, they make perfect avenues for serving highly-targeted account based ads. LinkedIn, for example, is one social platform that has made it easier than ever to run account-based ads, like this one:
Both the ad and the post-click landing page below make it clear that this campaign is directed at marketing teams that aim to improve their data-driven campaigns: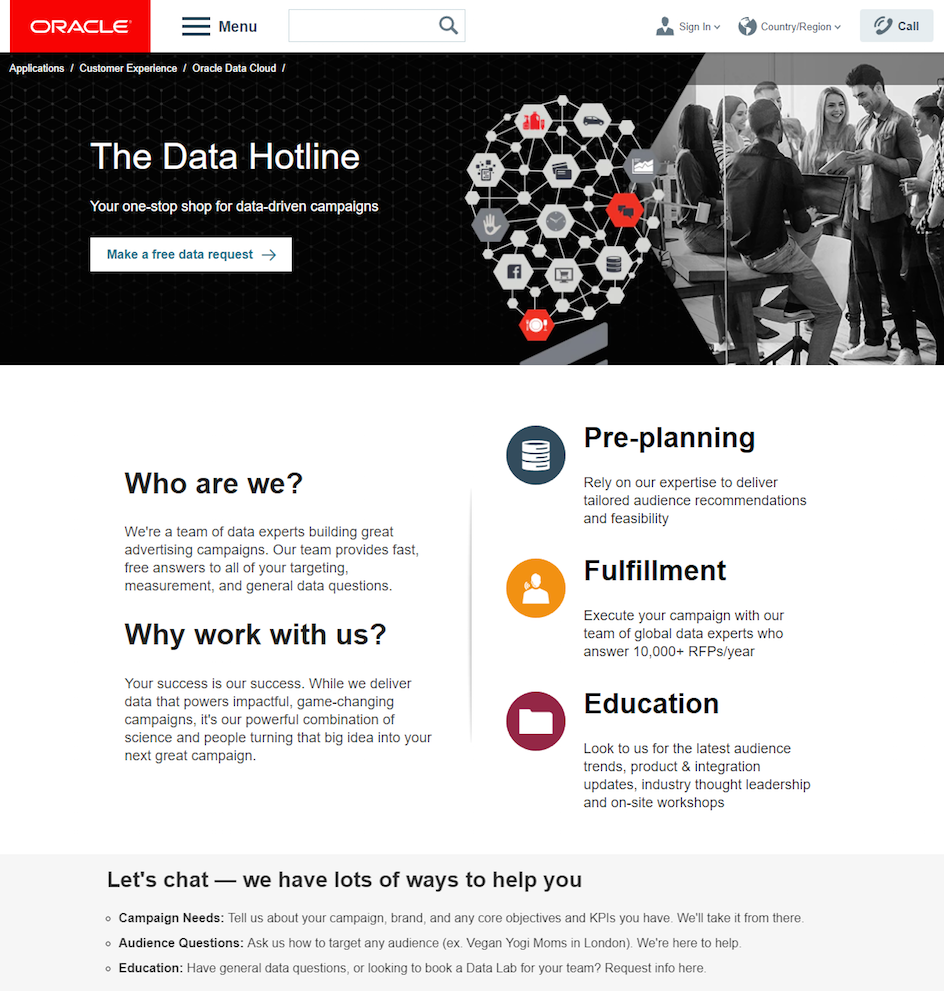 Of course, Facebook is an option as well but with limitations. Although it's more cost-effective than other networks, building account lists on Facebook is still a manual and tedious process.
Make the most of your strategy
Prioritizing exposure quality instead of lead quantity alone is what separates account based advertising from other types of advertising. Part of a fine-tuned strategy includes an optimized post-click landing page because that is where the conversion happens. After all, you wouldn't want all the time, budget, and targeting efforts to fall flat.
To establish that great post-click landing page, advertisers deserve a post-click optimization platform suitable to meet their needs. Combine that with the most comprehensive reference guide for digital ad specs and you have the makings of a repeatable account-based advertising strategy.