How Do You Set Up Remarketing Campaigns?
Last updated on November 28, 2017
Three main platforms are available for remarketing campaigns: Google AdWords, Facebook, and Bing Ads. This chapter will provide an overview of how you can begin remarketing campaigns on each platform.
Remarketing with Google AdWords
When you run Google AdWords remarketing campaigns, your ads receive the most exposure across the internet. The Google Display Network Reach in the US is incredibly high, reaching over 92% of visitors across millions of websites, videos, and devices: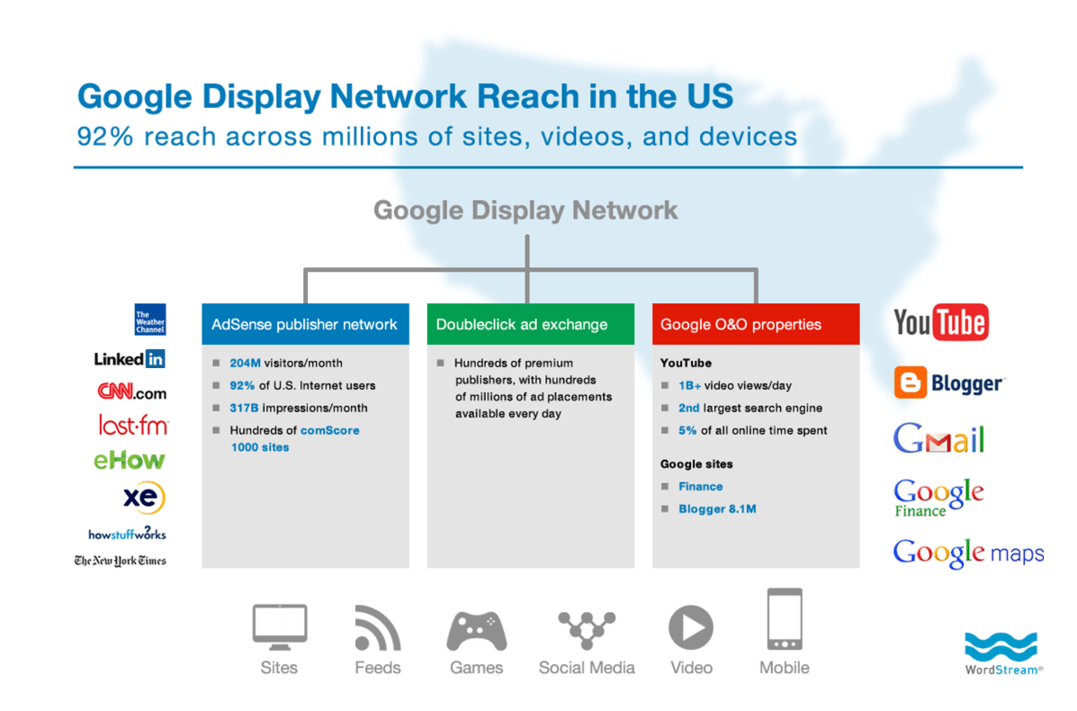 Follow these steps to successfully set up your remarketing campaign in Google AdWords:
Sign-in to your AdWords account.
Click the 'Shared Library' option.
Click 'Audiences'.
Click 'Set-up Remarketing'.
Click 'View AdWords Tag for websites'.
Select and copy the provided remarketing tag code, the tag will work for both mobile and desktop websites.
Place the tag code at the bottom of the website pages you want to use for your campaign.
Save and publish your page.
You can check if your tag is working properly with the help of 'Google Tag Assist'.
Click 'Continue'
Click 'Return to Audiences'
Within a few days your tag will start collecting the cookies of your website visitors, and the 'All Visitors' list in your account will begin to fill up.
When setting up your campaign, a few things you should take into consideration:
Creating Customized Lists
Google AdWords automatically creates a remarketing list for you, which consists of all visitors who arrive on your tagged pages. However, you have the option to create your own customized lists to deliver better targeted ads:

By adding rules for your customized lists you're telling Google which visitors should be shown which specific ads. Doing this helps you create targeted ads, which have a higher click through rate. For example, you can create a separate list for people who visit your Resource Center or Support page, and show them ads that highlight your support team.
You should also set the membership duration to suit your individual campaigns. Membership duration refers to the period of time a visitor stays on your list, of which the default membership duration is 30 days. However, you have the option to prolong this duration to a maximum of 540 days.
Run Tests
To ensure the efficiency of your remarketing campaigns, it's important you run the following tests:
Ad Testing: Experiment with different ad messaging for the various audience lists you have created. Test ad copy and call to action button copy to see which combination produces the highest click-through rate.
Custom Combination Testing: Try a different combination of membership duration with different audience lists, and see which audience responds well to each time duration.
Frequency Cap Testing: Test the frequency with which you're displaying your ads.
Bid Testing: Monitor your bids for costs, impression share, and ROI and adjust accordingly.
post-click landing page Testing: The messaging on the post-click landing page you connect with your remarketing ads is very important. Test your copy and design to see which combination brings in the most conversions.
When you run remarketing campaigns with Google AdWords you have the option to run the following types of campaigns:
Standard Remarketing: Showing ads to past visitors as they visit Display Network websites and use Display Network applications.
Dynamic Remarketing: The ads shown to visitors include specific products or services that they looked through on your website.
Remarketing for Mobile Apps: Show ads to visitors who have either used your mobile app or mobile website.
Remarketing Lists for Ads: Show ads to visitors as they do follow-up searches for what they need on Google.
Video Remarketing: Show ads to visitors who have viewed your YouTube videos.
Email List Remarketing: Upload a list of your customers' email addresses, and when these visitors browse through different websites, they can see your display ads.
Google AdWords remarketing campaigns offer you the chance of reaching out to a vast number of visitors on multiple websites across the internet.
Remarketing with Facebook
To get started with your Facebook remarketing campaign you must have a Facebook account for Business ads. Once you've signed up for an account, you'll find the option to select Audiences in the Facebook Ads Manager.
You should select the "Custom Audiences" option for remarketing as this allows you to reach out to visitors who have already been on your website with relevant ads.
From the list of Custom Audiences select the "Website Traffic" option — this lets you create a list of people who visit your website or view specific web pages: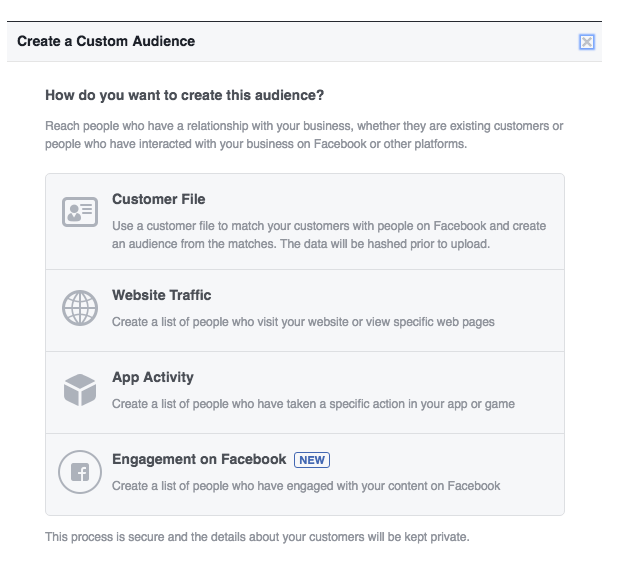 Now you can select the audience you want to target your remarketing ads from the drop-down menu in the "Website Traffic" tab. You have the following audience options:
Anyone who visits your website
People who visit specific pages
People visiting specific pages but not others
People who haven't visited in a certain amount of time
Custom combination
You can set a target date range for each audience option you select. 30 days is the default date range that you are given, however, you can increase the duration depending on the lifecycle of your remarketing offer.
After you've selected your audience options, Facebook gives you a pixel tracking code known as the Facebook Pixel that you place on your website in order to track visitors who come to your website: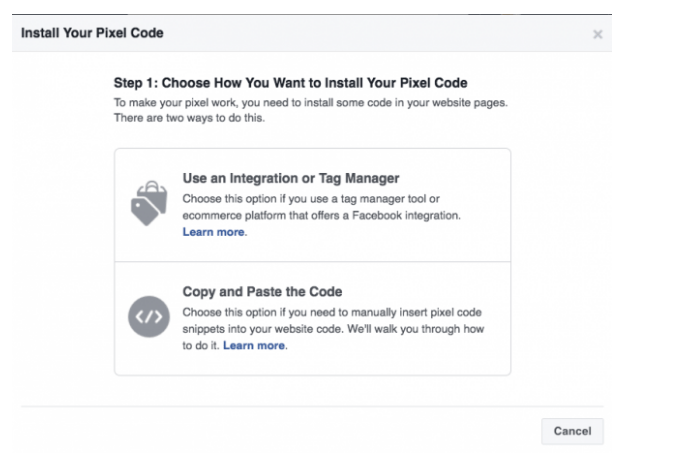 Facebook remarketing campaigns offer the following advantages:
Track Conversions: The Facebook Pixel lets you gather data on how people interact with other websites after viewing yours. You can track customer behavior across different devices, which helps you refine your ad strategy and run better, more informed campaigns.
Serve Dynamic Ads: You can serve visitors ads that carry specific information about their website visit. Personalized ads have a higher click-through rate since they are created specifically for the visitor.
Create Lookalike Audiences: You can run remarketing campaigns for Lookalike Audiences (people who have similar interests and demographics to visitors who have visited your website). This can help you expand your visitor base.
Use Custom Conversions: Custom conversions use URL rules based on specific URLS or URL keywords. For example, instead of tracking a standard event, or all visits to a certain webpage, you can choose to track visitors for a specific section of a page. This helps you create further segments of your audience and create more targeted ads: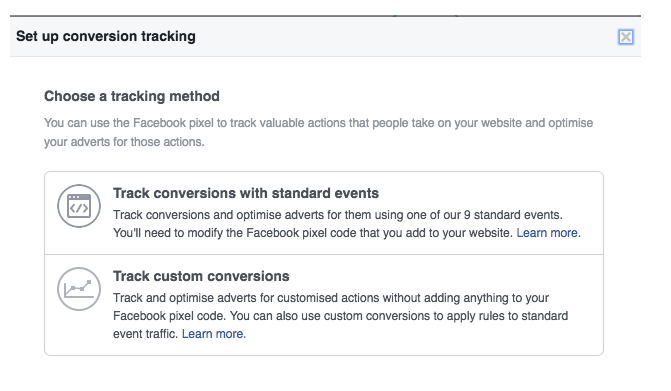 Running your remarketing campaigns on Facebook allow you to track conversions on your Facebook ads and optimize ads based on the data that you gather from your campaigns. Create a targeted audience for future ads based on the data that you've collected and remarket successfully to qualified and prospective leads.
The bonus point of using the Facebook Pixel for remarketing campaigns is that it can also be used to serve remarketing ads to your visitors on Instagram.
Remarketing with Bing Ads
You can reconnect with visitors who have left your website without performing an action by creating your remarketing campaigns on Bing Ads.
The network allows you to track visitors that visit your website with Universal Event Tracking (UET). All you need to do to start off your campaign is place the UET on the website pages you want to track. You can then create marketing lists of audiences who have performed certain actions on the website in order to segment them into lists.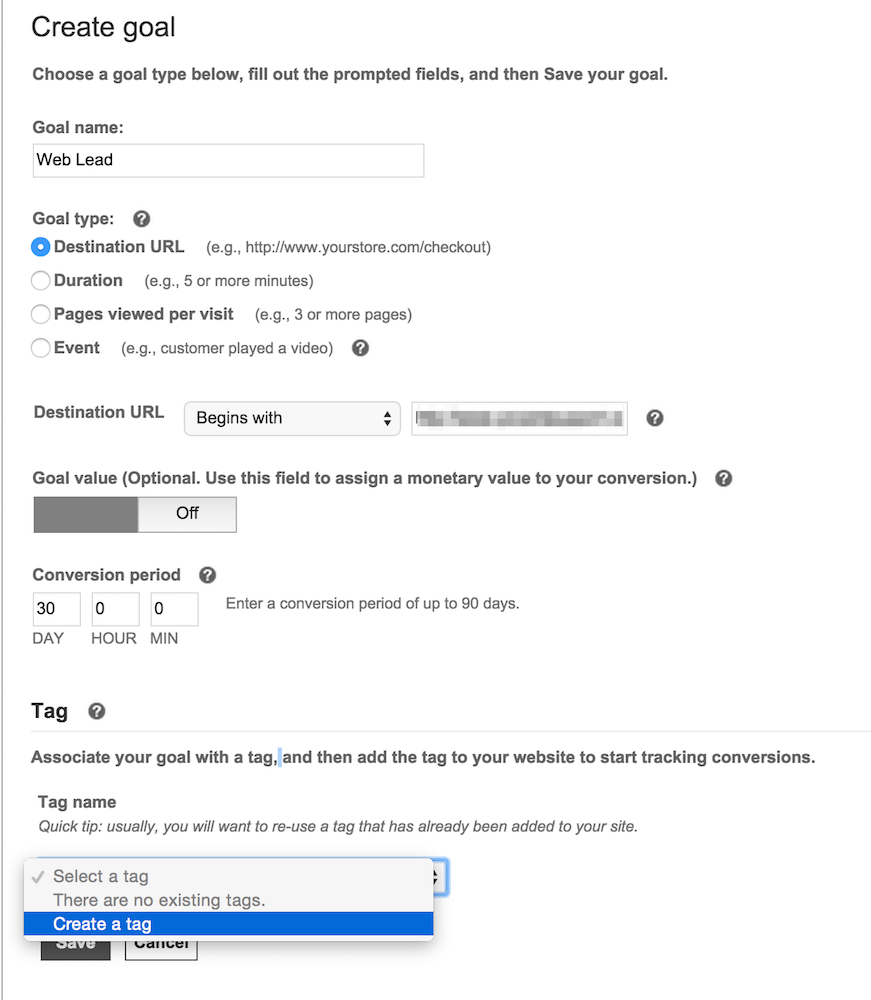 The next step involves associating your remarketing lists to ad groups and optimizing and keywords on the search network. The ads you create for your remarketing campaign should be personalized for each audience segment, and they should be connected to relevant post-click landing pages.
Whether you choose to run remarketing campaigns on Google AdWords, Facebook, or Bing the ads you create for your campaigns must be optimized and they should always be connected to relevant post-click landing pages.
Click through to chapter 5 to learn how you can optimize your remarketing ads and post-click landing pages.