Evolution of Smartphone Market
Last updated on November 28, 2017
We take smartphones for granted rarely giving a second thought to how simple our lives are because of this device that fits in our pocket and the palm of our hand. Not only do the phones make it easier to communicate with others; but we can also manage our calendars, shop online, and even confirm travel plans by just tapping the screen.
For marketers, though, smartphones provide an opportunity to convert visitors into customers on their mobile devices at any point during the day. With smartphones, marketers now have the perfect gateway to present their visitors with tailored messages — increasing the likelihood for conversions.
It wasn't always this easy to get your marketing messages in front of a targeted audience, though. Prior to smartphones, landline phones reigned supreme and the primary marketing methods were television, radio, newspapers, print ads, etc.
Traditional marketing (aka outbound marketing) did allow marketers to promote offers, but targeting your audience was harder than we enjoy today. This meant you had to cast a wide net and reach the maximum number of people often using impersonal methods.
The digital revolution started with the invention of transistors by Bardeen, Brattain, and Shockley in 1947. The electronic fabrication technology in the transistors accelerated the process of storing memory on tiny silicon chips.
The world saw the likes of the first smartphone when IBM launched Simon Personal Communicator in 1992. Simon had a monochrome touchscreen, a stylus, and a charging base unit. However, it wasn't considered a smartphone. Nokia entered the market in 1996 with the Nokia 9000 communicator which had a QWERTY keyboard.
The Nokia 9000 wasn't officially called a smartphone, although it had the capability to browse the web, email, and fax. Japanese firm NTT DoCoMo released the first smartphone; the phone ran on i-mode, which provided data transmission speeds of up to 9.6 kbit/s.
In June 2007, Apple released the first iPhone. Later in 2008 Google joined the market with Android OS-based smartphones, with the HTC Dream phone.
What improved with each new smartphone was the user's' capability to do remarkable things with the device. They didn't just have the option to browse websites, but they could, in reality, buy things online, with a tap on the screen — which meant they could accomplish many tasks virtually, which wasn't possible a decade prior.
Smartphones have made the seemingly impossible tasks, possible.
In the following paragraphs, we're going to delve into the smartphone world — discussing the various company providers and their growth in the smartphone market.
Primary Smartphone Company Providers
There are five primary smartphone company providers:
Apple
Samsung
Huawei
Lenovo
Xiaomi
The table below describes the smartphone market share and shipment (in millions) according to the data by IDC for July 2015: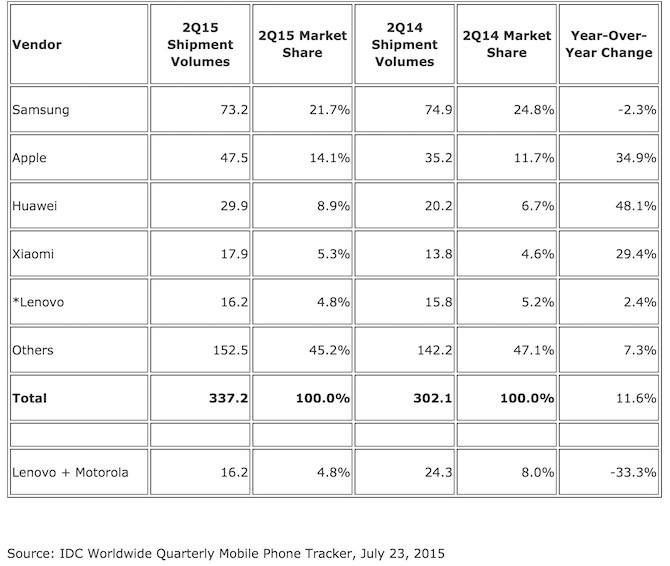 IDC also released smartphone market share data for August 2015:

Primary Smartphone Operating Systems
A Smartphone Operating System (Mobile OS) is a software platform which allows application programs or apps to run on mobile devices, enhancing the phone's functionality. Mobile OS are designed to run on smartphones, tablets, PDAs and other handheld devices.
Your Mobile OS determines which third party applications are used on your device, along with identifying the functions and features available on your phone such as Wireless Application Protocol, text messaging, keyboards, etc.
The following is a list of all the mobile operating systems:
Android (Google)
iPhone iOS (Apple)
Bada (Samsung)
Windows Mobile (Microsoft)
Blackberry OS
Symbian (Nokia)
MeeGo (Nokia and Intel)
WebOs (Palm/HP)
Palm (Garnet)
As of August 2015, the worldwide smartphone OS market share looked something like this: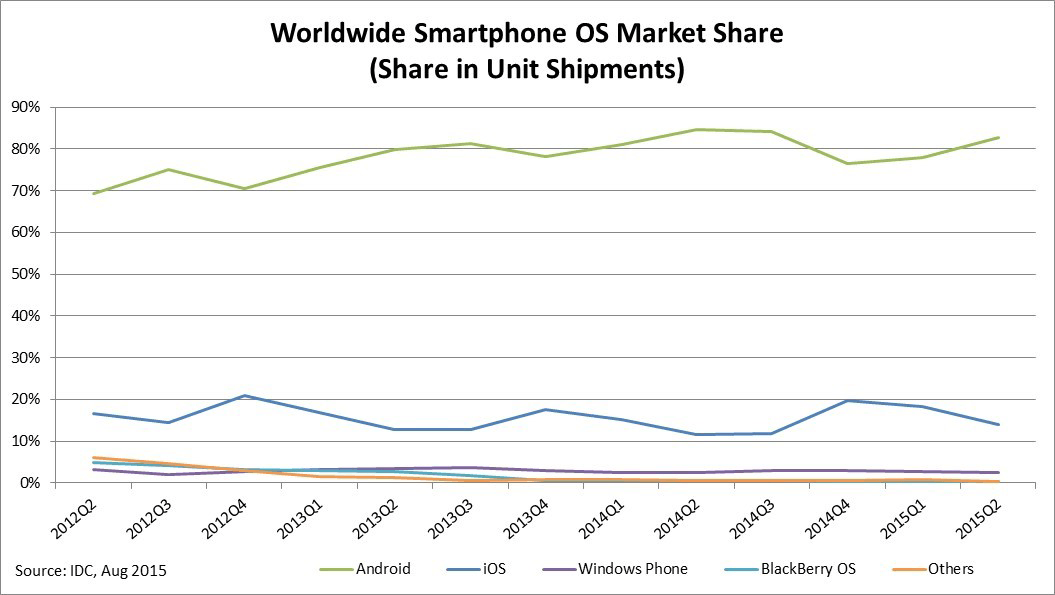 Android is dominating the smartphone market, with other operating systems lagging behind in the smartphone race.
Mobile Network Operators
In the United States, the following four network operators have the largest share of the market:
AT&T
Sprint
T-Mobile
Verizon
Other notable mobile network operators in the United States are US Cellular, C Spire, Shentel, and Ntelos.
The wireless carrier metrics for Q2 of 2016 were as followed: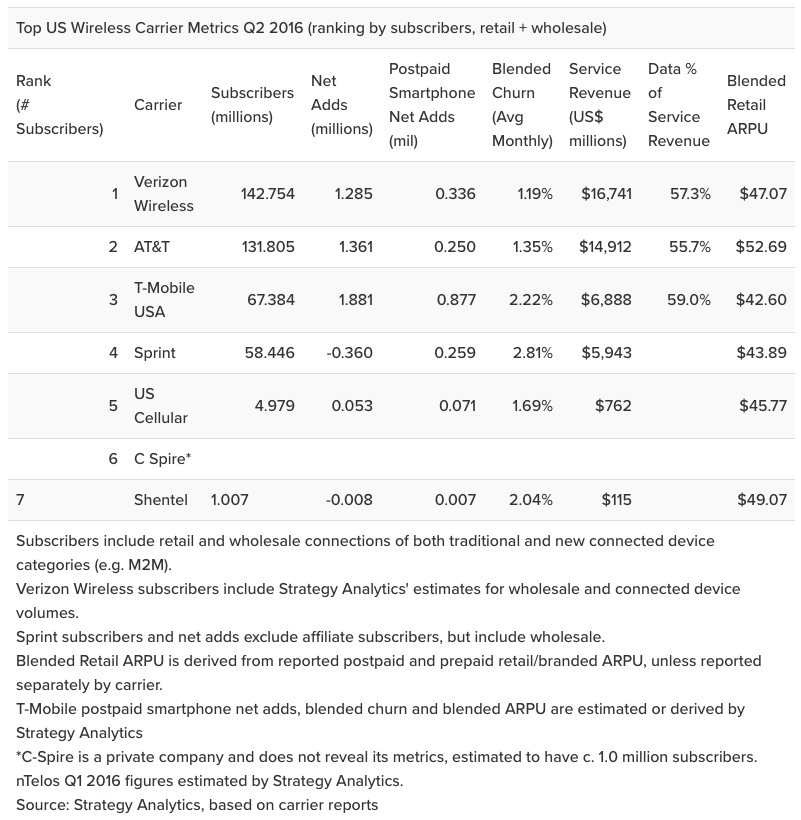 And a graph that displays the historical trends in the wireless industry (since Q3 2012):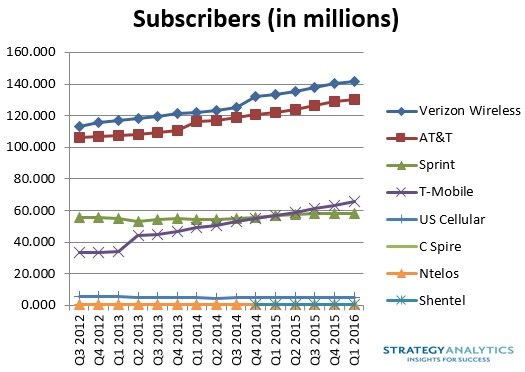 Smartphone Market Share
According to Gartner, in Q1 of 2016 worldwide smartphone sales grew 3.9%. China's smartphone vendors are closing in on the race, while Apple registered its first double-digit decline.
2016 saw smartphone sales driven by the demand for low-cost solutions in emerging markets such as China and South Korea.
Two Chinese brands; Huawei and Xiaomi ranked within the top five for worldwide smartphone vendors in the first quarter of 2015 — representing 11% of the market. The first quarter of 2016 saw three Chinese brands, Huawei, Oppo, and Xiaomi smartphone sales increase by 20%.
The table below shows worldwide smartphone market share in the first quarter of 2016: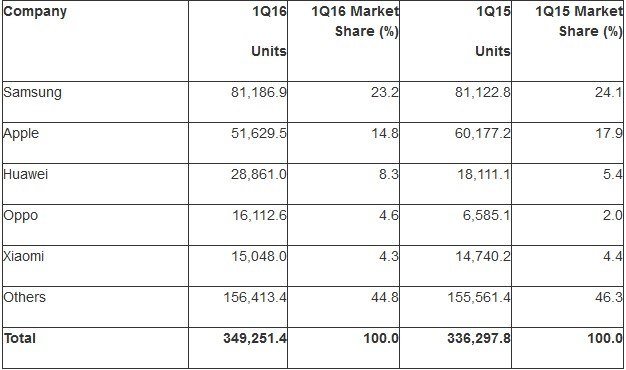 Mobile Browser Trends
Everyday smartphone users use their devices to access various websites to shop, communicate via social media, leave reviews, etc., and they do all of this via web browsers.
So, before we begin discussing how important it is for you to create mobile post-click landing pages, let's take a look at the market share for Internet browsers in 2016.
According to Statista, Safari is leading the charge for web browsers, with Chrome coming in second: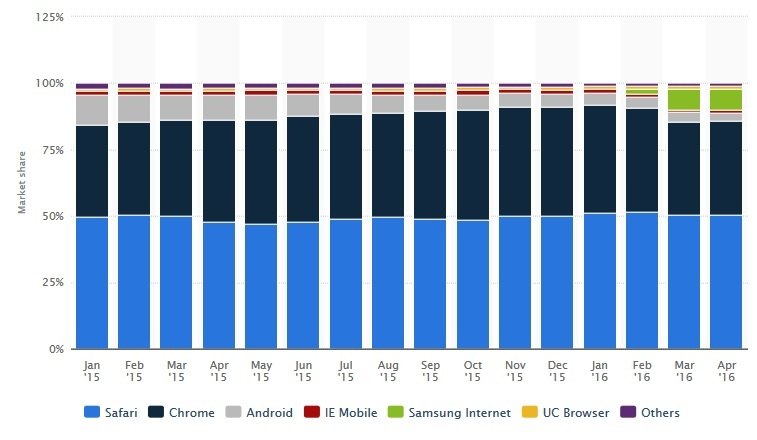 With Facebook's Internet.org and Google's Loon project, the use of mobile is only expected to increase in the next ten years, no matter where you live. So, if all your visitors aren't on mobile right now, they will be in the coming future – it's better if you prepare your marketing for the mobile marketing world of the future.
The following chapters of this guide will explain the importance of mobile apps and mobile-optimized post-click landing pages. Plus, we elaborate why as a marketer you need to go mobile if you want to stay relevant in modern-day marketing.