Marketers choose Google Ads as their primary advertising platform because the platform has the ability to create targeted ads tailored specifically to reach their potential customers. To get the most out of your advertising spend, it's important you create a dedicated landing page for every ad campaign you launch.
Let's take a deeper look into the personalization capabilities of the ad platform.
Google Ads Personalization Capabilities
With its advanced audience targeting, dynamic ad customization, personalized ad extensions, and data-driven optimization features, Google Ads sets itself apart from other ad platforms in terms of personalization capabilities. By leveraging the power of personalization, advertisers can create more relevant and impactful campaigns that resonate with their target audience and micro-audiences, driving better engagement, conversions, and business growth.
Google Ads takes audience targeting to new heights by leveraging its vast user data and sophisticated algorithms. Through their suite of tools, advertisers can tap into diverse targeting options, such as demographics, interests, behaviors, and even specific intent signals. These capabilities allow advertisers to create highly tailored campaigns that resonate with their target audience. While other ad platforms may offer audience targeting features, Google Ads' extensive reach and data-driven approach give it a clear advantage in personalization.
Google Ads target the right audience
Because of the personalization tools that Google offers, the only people who see a Google Ads Campaign ad are people who search Google for a specific keyword or keyword phrase. That means, unlike a billboard, an ad is only shown to people to whom it's relevant. For example, if you search Google for "Instagram Scheduler," any result that comes up with the bolded "Sponsored" box next to it is a Google Ads ad attached to a specific campaign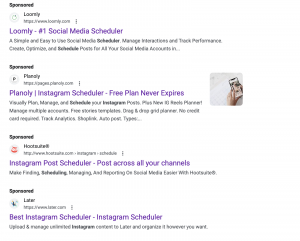 Through a bidding system and "Quality Score," businesses can show ads to people who search for terms relevant to their line of work. And these sponsored results have a lot of power. Why? Well, 65% of people click on Google Ads when they want to make a purchase. They're a great method of driving targeted traffic to your landing pages (if you create them the right way). If you create them the wrong way, Google will penalize you by lowering your ad Quality Score.
What is Quality Score?
When you run a Google Ads campaign for a specific search term, you're essentially promising web searchers you have what they're looking for on your landing page. Whether or not you deliver on that promise affects your ad Quality Score. Quality Score is a diagnostic tool that tells you how well your ad quality compares to other advertisers. The score is measured on a scale from 1-10 and is available at the keyword level.
A higher Quality Score means that your ad and landing page are more relevant to someone searching for your keyword, compared to other advertisers.
How do you calculate Quality Score?
Quality Score takes into account:
Expected click-through rate: Expected CTR is a keyword-related factor that measures how likely it is someone will click your ad when searching for the keyword associated with it.
Ad relevance: Ad relevance, like estimated CTR, is related to your keyword. In this case, though, it's more focused on ensuring your ad copy relevant to the keywords in your ad group.
Landing page user experience: When Google measures your landing page experience, it's measuring "how relevant and useful your website's landing page will be to people who click your ad." According to Google, your page should be "clear and useful" and "related to your keyword and what customers are searching for
Let's experiment with a search of our own, and we'll walk through three different examples of Google Ads that populate after searching: "Instagram Scheduler" and walk through what may be raising (or lowering) their Google Quality Score.
Example 1: Later:
Let's start off with an example from Later, when you search for an "Instagram Scheduler," the platform claims they have the best Instagram Scheduler:

The first thing that you notice is that there's no mention of Instagram above the page fold. You'll have to scroll below the fold to find your first mention of Instagram. In fact, they seem to focus more on themselves as a complete social media scheduler instead of any particular dedication to Instagram.
If a visitor is searching for an Instagram scheduler, clicks on Later's ad, and arrives at the page, their first observation may be that Later might not include an Instagram support option. Can you schedule stories? Are there any analytics? Does it support stories and grid posts? These questions aren't answered in the hero section.
Instead of digging deeper to find out the answers to these questions, visitors may instead hit the back button, not bothering to keep scrolling on a landing page that doesn't contain the information they're searching for. A landing page like the one above may contribute to a lower quality score from Google because it's not as relevant to the keywords "Instagram Scheduler"
Example 2: Loomly:
Let's move on to the next search result from Loomly. They take a slightly different approach when it comes to creating their Google Ads. They do not mention Instagram directly in their ad (although it is one of the top results on the keyword), and this may help their Google Quality score. How? Let's find out.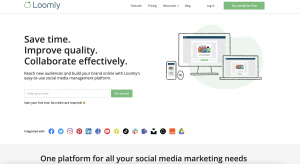 Similar to Later's landing page, the visitor can see that Loomly is a holistic solution that offers support for several different social media platforms. However, because the ad didn't focus only on Instagram, the visitor may be prepared for this. And, as a bonus point, they include a mock-up of the Instagram platform and the Instagram logo in the hero section to highlight that, yes, Instagram is supported.
This may make a visitor feel more confident about scrolling through and learning more about Loomly's Instagram integration. But, it still isn't wholly focused on Instagram, so they may return to their search page. While the Google Quality Score may not be as negatively affected as Later's, it may still suffer as it doesn't focus enough on Instagram.
Example 3: Hootsuite:
Finally, we reach Hootsuite whose ad-to-page relevancy is spot-on.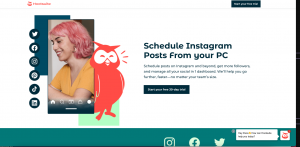 Hootsuite's landing page repeats the main draw from not only the visitor's search but Hootsuite's ad and specifically mentions "Schedule Instagram Posts" in the headline and hero section. While Hootsuite highlights in the sub-header text and with icons on the page, the other social media channels they support the focus is on Instagram.
Message matching like this is hugely important to providing a great landing page experience for potential customers and also helps significantly in trying to improve or maintain a high Google Quality Score.
But only message matching is not enough
It's not enough to just message match. To deliver a great user experience, your landing page needs to be easily usable and organized. A great way to do that is by using relevant Ads Assets for each of your campaigns.
For example, searching on mobile for "Instagram Scheduler" highlights Later's proactive use of multiple assets, such as viewing pricing or getting a free trial. The landing page for that ad would be optimized for mobile, with several click-to-call CTAs.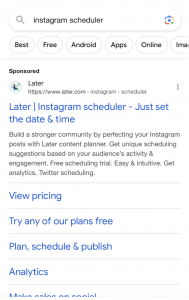 In short, Google values personalized results, and they reward advertisers who don't just send all of their ad traffic to the homepage. The more specific you make your ads, the higher your Google Quality Score, and the higher your Google Quality Score, the higher your ROAS is going to be. And that's exactly why every campaign (and every audience) needs its own personalized landing page.
To avoid losing out on any future search traffic, make sure you optimize your PPC landing pages and create an individual one for each one of your Ads campaigns.
Start leveling up your ROAS by signing up for Instapage.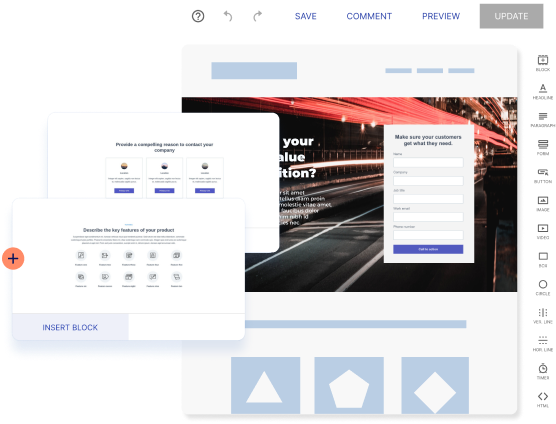 Try the world's most advanced landing page platform with a risk-free trial.