Have you ever left the theater when the movie was awful and you couldn't waste any more time sitting there? I have, too.
Why am I talking about movie theaters when this article is about Google Ads and post-click landing pages?
Your post-click landing page campaign is like a movie and you can't afford to have people walking out on you.
Both movies and post-click landing pages need to be visually appealing and engaging to draw people in (enter the shinyu movie trailers and the loud, colorful display ads). Both are also judged by their audiences in two main parts: The pre and post trailer for the movie; and the pre and post ad experience for your post-click landing page.
Creating an optimized post-click landing page isn't enough to generate and keep visitors on your page for them to convert. You need to work on both sides (Google Ads campaign and post-click landing page) to generate leads.
We recently covered strategies that get you free post-click landing page traffic. Now it's time we shine some light on paid advertising channels, particularly Google Ads and the Do's and Dont's that come along with it.
The Importance of Paid Advertising
Organic search results use a more subtle strategy to make the sale than paid advertising does. Paid ads are more direct about selling you on a product or service.
Even with that, paid ads are critical for advertisers. They account for 64.6% of clicks when people are searching online to specifically purchase something using high intent keywords. Plus, "on average the ads on the top of the page and also the top 3 on the right side of the page attract about 25% of clicks" from searchers.
So, paid ads are not only important, but they have a better chance of someone clicking through on your ad to your post-click landing page.
Why?
When a searcher clicks a PPC ad they know they are immediately going to go where they want to go. At least that's the hope with optimized PPC ads.
How Google Ads Works
Google Ads is the giant when it comes to paid advertising, with millions of businesses worldwide investing time and significant money with the search engine and advertisers can enjoy these benefits.
Google Ads helps you reach new customers and grow your business based on building campaigns, bidding on keywords, and matching your ad to a post-click landing page.
Landing page Elements of Google Ads
For you to achieve a high quality score, you need to create a relevant and engaging post-click landing page experience, which is where most post-click landing pages fall short.
Your Google Ads post-click landing page should contain:
An engaging, relevant headline (this should match very closely with your ad's headline)
A supportive tagline
Copy featuring a list of benefits (not just features)
Trust symbols in the form of customer badges or testimonials
A clear and contrasting call-to-action
A lead capture form (the form fields depend on the offer the page is promoting)
An image that either shows context of use or something that appeals to the visitors' emotional side
With those elements in mind, let's analyze two post-click landing pages and their corresponding ads to explain what's right and what's wrong as far as the ad and post-click landing page are concerned.
Google Ads post-click landing page Examples
I searched for the term "social media scheduling" and these are the results provided to me: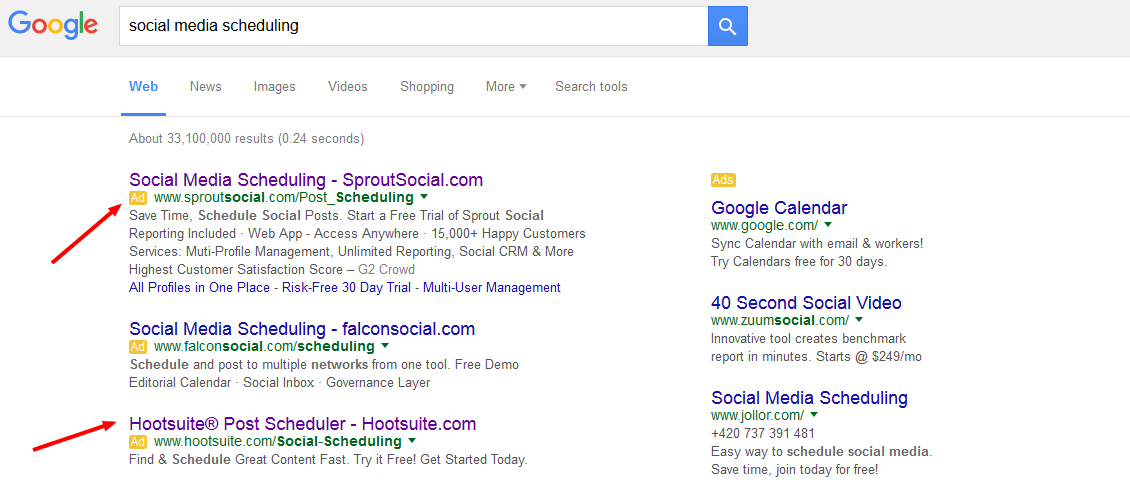 I chose to click on the Sprout Social and Hootsuite ads because I was already familiar with both of these brands.
Let's first analyze the Sprout Social ad and post-click landing page. This is their ad: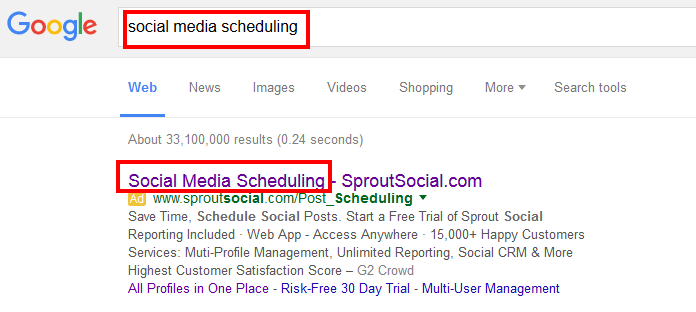 The keyword relevance is spot-on. Plus, the ad tells me the service has over 15,000 happy customers and a 30-day risk-free trial. I then click on their ad and come to the post-click landing page you see here: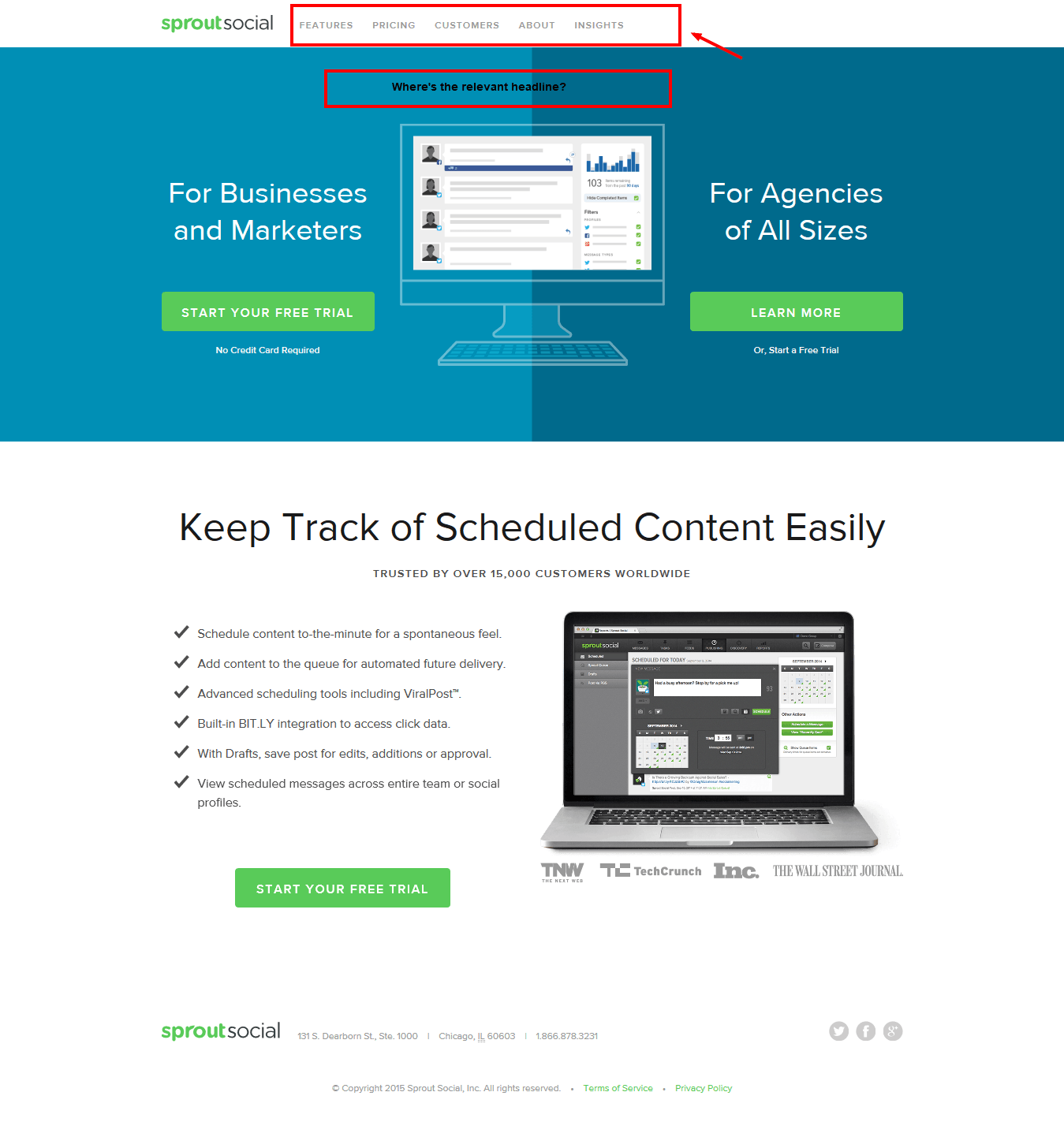 One of the first things you see on the post-click landing page are navigation links at the top of the page. These are considered "exit routes" because they provide additional options for the visitor to click and leave your post-click landing page. Why would you spend good money on ads and give your visitors an escape route away from your page?
The page is also missing an engaging and relevant headline. I came here looking for social media scheduling but the keyword is absent from the page.
The CTA buttons are clear and contrasting, and the copy is displayed in easy-to-read points, but the lack of a relevant headline and the presence of navigation links are definitely not recommended.
Moving on to Hootsuite … Here is their ad:

The ad headline says "Post Scheduler," which is good because I typed in a query for "social media scheduling." This is the corresponding post-click landing page attached with the ad: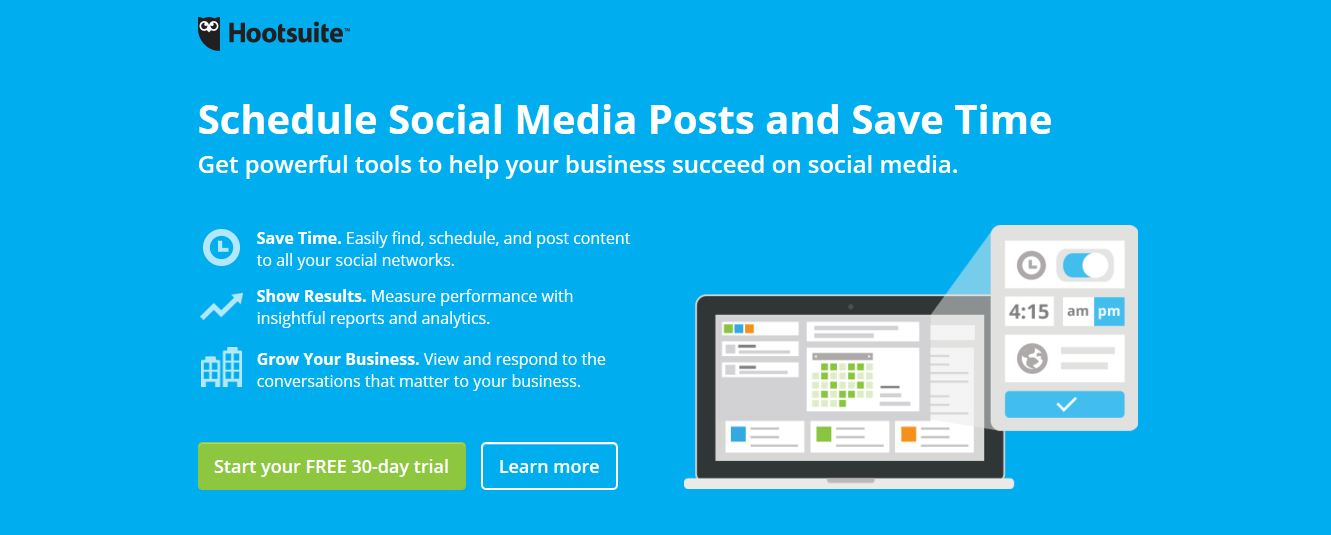 This is an example of a perfect PPC post-click landing page, and here's why:
The headline is clear and relevant
The copy consist of bullet points with helpful imagery
CTA buttons use contrasting colors
Customer badges further down the page provide much needed social proof
Can you see the difference between the two examples above? Do you better understand the suggested elements of a good Ads ad and it's respective post-click landing page?
Quick Recap:
Aim for a high quality score
Optimize your post-click landing page with the necessary elements
Message matching from ad to post-click landing page is strongly encouraged
Keep user intent in mind
User intent is the mindset of the user when he or she is entering a keyword into the search engine. It's also how you determine what your user is thinking when he or she types a certain keyword phrase into Google. Think of keywords based on user intent and connect those keywords to relevant message matched post-click landing pages. Find out which specific keywords resonate with buying intent. Target those keywords properly with your post-click landing pages, and overall PPC campaigns.
Finally, one of the worst things you can do to your PPC campaigns is including too many keywords into one ad group. In fact, having more than twenty keywords in a single ad group may make your search-to-ad message match hard to achieve. So an alternative strategy is to test ad groups that only have one keyword. As Search Engine Land explains, "… single-keyword ad groups enable search marketers to maximize a significant share of clicks, conversions, and revenue while only optimizing for a small subset of isolated keywords."
Now that you have a solid action plan for your Google Ads ad and post-click landing page, the next step is to create your post-click landing page. You can create a perfectly optimized PPC post-click landing page with Instapage, sign up for an Instapage Enterprise demo today.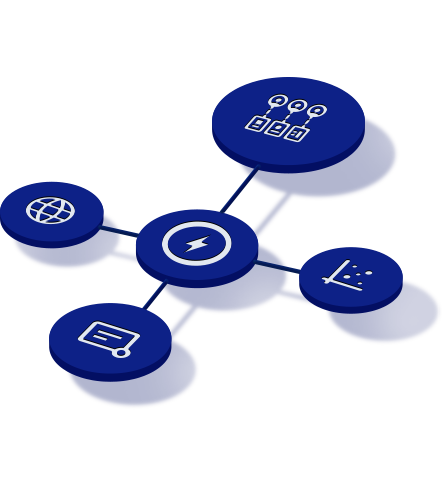 See the Instapage Enterprise Plan in Action.
Demo includes AdMap™, Personalization, AMP,
Global Blocks, heatmaps & more.