A successful post-click landing page is a combination of many different factors. Colors, copywriting, layout, and the quality of your traffic all play a role in how well your post-click landing page converts. You can, and should, implement proven copywriting tactics, psychological principles, and other well-known techniques to boost your chances of convincing visitors to take action.
There are also a few lesser-known persuasive elements worth adding to your post-click landing page. They're powerful, and they're hiding in a place that few people think to look: Social media.
The magic of social listening
Social listening is all about using social media to learn more about your audience. You're "listening" to the conversations going on about your brand and industry on social media, and turning them into actionable steps that improve your marketing efforts.
Unfortunately, a lot of businesses miss out on the benefits of social listening because they only use platforms like Facebook and Twitter to publish content and nothing else. They don't take the time to sit back and listen to what their audience is saying.
For the brands that do engage in some level of social listening, it usually starts and ends with monitoring brand keywords. For instance, they may have alerts set up for when someone tags them on social media or uses their company name in a hashtag. That's a great start, but social listening involves a lot more.
It goes beyond just monitoring what's being said. Social listening is about taking things a step further to analyze the conversations being had.
It's also not just about monitoring brand keywords. You should monitor industry-related keywords as well. For instance, a personal trainer would benefit from monitoring mentions of keywords like "healthy eating" or "lose weight." Conversations going on about these topics would be extremely valuable and could help the trainer learn more about what their audience is interested in.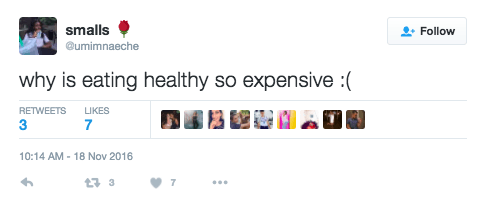 Okay, that all sounds good, but how is it going to help you make better post-click landing pages?
Two words — "pain points."
Finding pain points on social media
When people feel frustrated or just want to vent, it's pretty common for them to head to social media. Long Instagram captions, Twitter rants, and Facebook posts filled with exclamation points aren't fun when they're directed at your business. But they can provide valuable insight when you're trying to better understand what your audience does and doesn't like.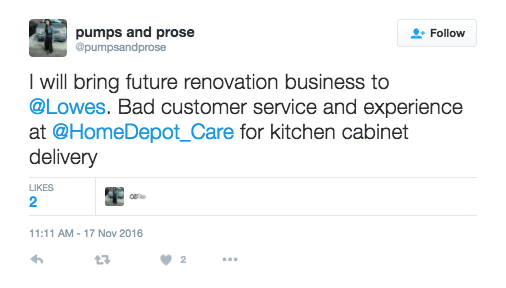 In this example, Lowe's could take a note to mention that they offer superior customer service and convenient delivery option on their post-click landing page.
For every person that decides to voice their frustrations on social media, there are thousands of others that feel the same way. Your job is to incorporate those pain points into your post-click landing pages. Addressing those issues in your content will help your message resonate better with your target audience.
It's not just about finding irate customers. You can also use social listening to find people asking questions which are just as valuable.

When you see the same questions pop up over and over again, think about ways you can answer them on your post-click landing pages. Consider including a "Frequently asked questions" section, or just adjusting your copy to be more explanational. Your customers should never have to ask the same question about your business twice.
Putting social listening into action
Now that you know what social listening is and how it can improve your post-click landing page content, let's walk through how to implement social listening to uncover some hidden pain points you may have overlooked.
Step 1: Create a keyword list
First, you need to identify some keywords and phrases you want to monitor.
Start with the obvious things like @mentions, but don't forget to monitor untagged mentions of your brand too (including common misspellings). On Twitter, 30% of Tweets mentioning a brand don't include their Twitter handle.
So if you're only monitoring mentions of your handle, you're missing out on a big chunk of conversations.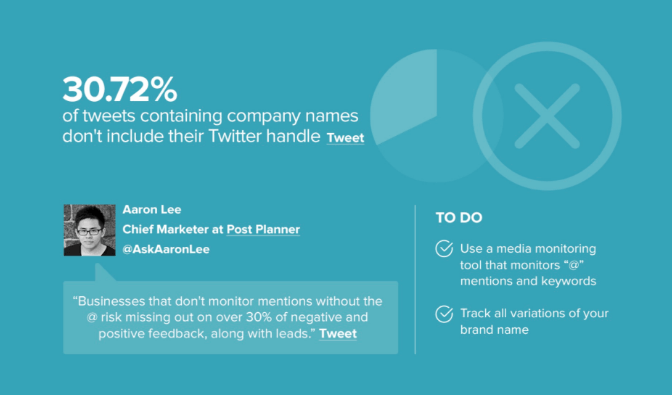 Beyond just looking at your brand name, you also want to use phrases related to your industry like the personal trainer example I mentioned earlier.
If you're a retailer, you'll want to monitor conversations involving some of your popular products. For instance, Microsoft is likely monitoring Xbox, Surface, and their other popular products.
Figure out what keywords are important to your company, and the phrases people would use when talking about your industry. Then organize them into a list.
You don't need a list of 100 keywords. Start small with about 5-10 at first.
Step 2: Set up your keyword monitoring
Now you have your list of keywords, but how are you going to track all of it? You have two options:
Manually track conversations
Use a tool
Manually Monitoring Keywords
For manual tracking, you're just going to use the search function of the social network you're monitoring.
Twitter has a great advanced search feature that lets you narrow down what you're looking for: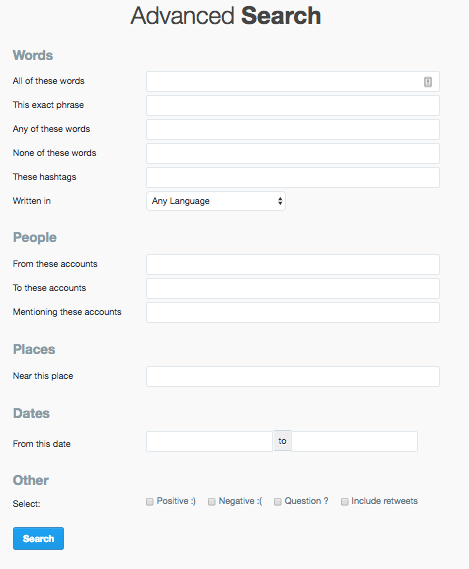 Facebook's search feature will let you see public conversations going on about keywords you relevant to your business. Search a term and get personalized results that prioritize content from your friends, groups you're in, and pages you follow:

Instagram also has a search feature, but unfortunately, it only searches hashtags. That means if someone mentions one of the keywords you're tracking without using a hashtag, you won't see it in Instagram's search results.
The bright side is that Instagram doesn't only search the caption. You can see if someone mentioned one of the hashtags you're monitoring in a comment, too: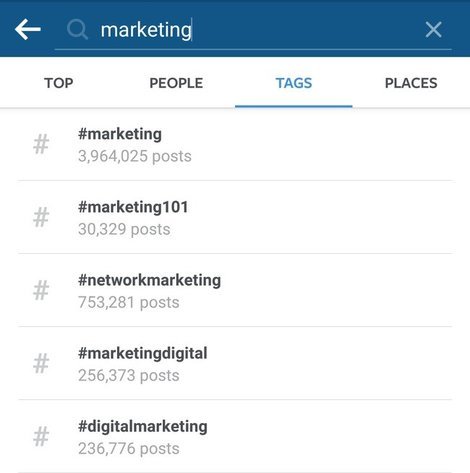 If you're tracking everything manually, staying organized can be a little difficult. Have somewhere to store all of the messages so you can refer to them later. Grab links to the Tweet or post and put them all in a spreadsheet with a note about what they're about.
That's the downside to relying on the native social media apps for social listening. It's not easy to keep records of everything. Remember, we're gathering this information to use on our post-click landing pages, so just looking at it once isn't very helpful.
This is when tools can come in handy.
Here are a few different options.
Sprout Social
There are a lot of different tools with social listening functionality. Sprout Social (the company I work for) has built-in social listening tools that allow you to monitor conversations and tag them to take action on later. You can also see detailed reporting on how often your searches are mentioned, hashtags analytics and a lot of other useful data: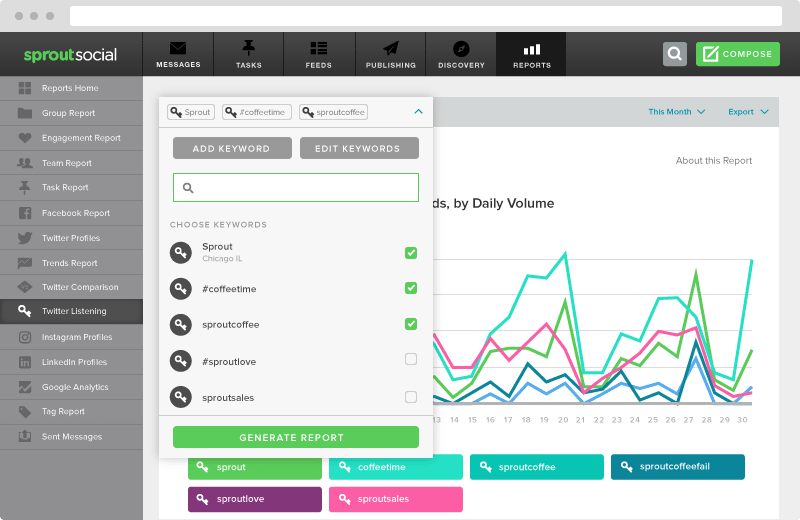 Social Mention
Social Mention is a free tool that lets you search over 100 social networking sites. Think of it as a search engine for social networks. It doesn't allow you to filter out to specific networks, but it does allow you to search based on the type of content. For instance, choosing microblogs will search sites like Twitter, and bookmarks shows conversations on sites like Reddit: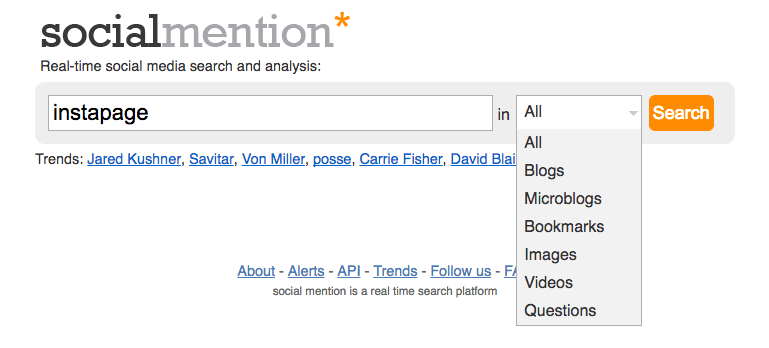 Meltwater
Meltwater is another free listening tool that's particularly helpful for Twitter. Enter your keyword, select a search term, and even set filters. You can search Tweets by URL, hashtags and text.
Plus, you can search blogs. While they're not the same as social networks, people mentioning your specified keywords or brand name can give you some helpful insight you can use for your post-click landing pages:

Step 3: Start tracking
Once you've chosen your tool, you can start regularly monitoring your target keywords and gathering information. Remember, you're specifically looking for pain points, questions, and other tidbits you can use to improve the content on your post-click landing page.
Here's an example of a Tweet that could be helpful for a local coffee shop. Since price is an obvious issue for coffee drinkers, a cafe could promote the fact that it serves high-quality coffee that's affordable: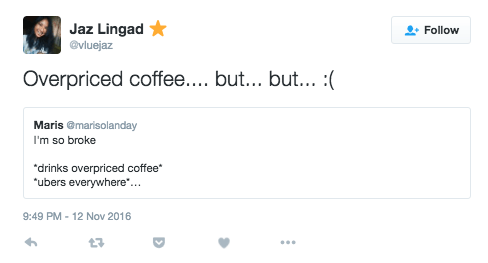 Keep a record of all the info you gather so you can quickly reference it when it's time to create your post-click landing page.
Putting it together on your post-click landing page
You've identified keywords, set up your social listening campaign, and learned all about your audience's biggest struggles. Now it's time to take all this information and use it to improve your post-click landing pages.
Your headline
The first place to look for improvements is in your headline. Does it speak directly to your audience? Does it address a challenge or promise a benefit? If not, look for ways to work some of the most frequently mentioned pain points in your headline to draw people in.
This WalkMe post-click landing page does a great job of appealing to a pain point of Salesforce users — training videos: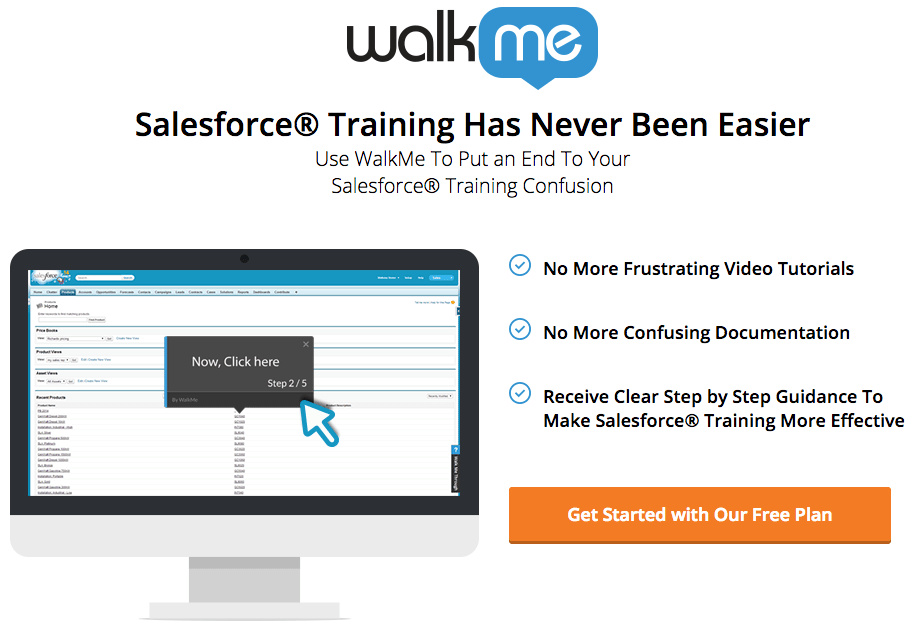 Language
Speaking directly to your audience means using their language. I'm talking less about their native language (English, Portuguese, etc.) and more about the way they speak.
For instance, if they describe a particular challenge as frustrating, you could use language like "Are you frustrated with…?" on your post-click landing page.
With this approach, your audience feels like you're talking directly to them, instead of just reading a sales page.
Images
Visuals are an important part of any post-click landing page. With a little creativity, you can convey everything you learned from social listening, visually.
For instance, if you sell running shoes and see a lot of Tweets about people complaining about finding the right fit, you could include visuals on your post-click landing page of people struggling to get their shoe to fit. Or you could have graphics that show how easy it is to find the best fitting running shoe.
Flower delivery company H.Bloom uses visuals throughout their post-click landing page to showcase how great their products are, which is much more powerful than simply using text: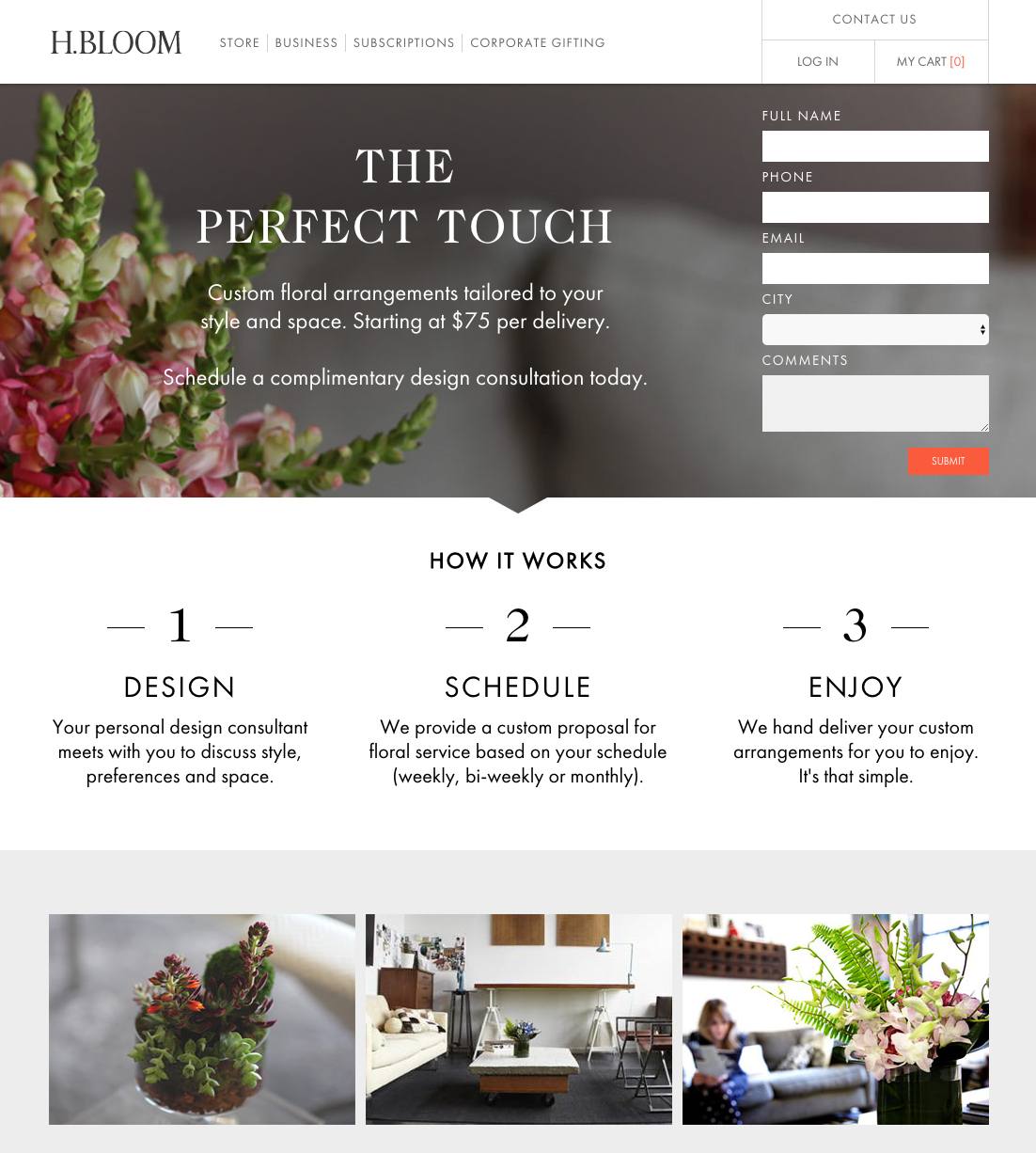 Social proof
People are more likely to buy a product if they've seen other people have bought it. They're more likely to download an ebook if they've seen other people have downloaded it.
When you see that a bunch of people have taken a particular action, you follow suit because you assume it's the "right" thing to do. It's called social proof, and it can supercharge your post-click landing pages.
You can implement social proof into your post-click landing pages by embedding Tweets, Facebook and Instagram posts. Through social listening, you probably came across some posts from people praising your brand or products. Including those in your post-click landing pages gives viewers more confidence in what you're offering.
Your unique selling proposition (USP)
A unique selling proposition is what sets your brand apart from the competition. It's what makes you stand out. Zipongo's USP is that their service makes it easier and more affordable to eat healthy based on your diet preferences. So they made sure to highlight that on their post-click landing page by making it the first statement you see:

If your USP aligns with a pain point you found through your social listening, weave that message throughout your copy, images, and headline so it's crystal clear.
Benefits
The benefits of your offer should be highlighted throughout your post-click landing page. Instead of using what you think the benefits are, use the pain points you uncovered through social listening and explain how your offering solves those problems.
That way you're speaking directly to the issues and challenges your audience has. Taking this approach will also help you avoid making the mistake of only listing the features of your offering instead of explaining the actual benefits people will get from it.
Less broadcasting, more listening
Social listening is powerful. Switching your view of social media from "how can I get more traffic?" to "what is my audience saying?" is a game-changer for a lot of companies.
You can get a lot of insight from social media that you'd otherwise have no way of getting. Use all that information and the tactics above to start crafting better post-click landing pages built to convert. Sign-up for an Instapage Enterprise demo today.
About the author
Dominique Jackson is an SEO specialist for Sprout Social, a leading provider of social media analytics, advocacy, and engagement solutions for business. Follow Sprout on Twitter @SproutSocial for more social media marketing tips and tactics.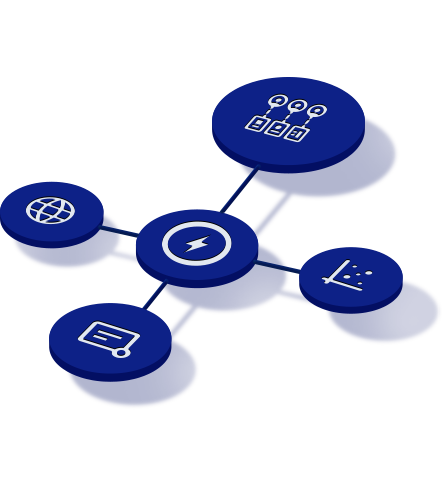 See the Instapage Enterprise Plan in Action.
Demo includes AdMap™, Personalization, AMP,
Global Blocks, heatmaps & more.