The idea of online personalization is nothing new. However, just because it has come a long way, doesn't mean it has reached its full potential.
The incredible evolution of advertising has shown us that the opportunities for personalized advertising are essentially endless. So not only should you be practicing existing strategies; you must also recognize what is still possible with personalization.
This article will examine how web personalization is used primarily as a major marketing tool and how it can mean different to various marketing team members — both basic and more advanced strategies.
What is personalization in marketing?
Advertising personalization uses data points — insights into who a customer is — to increase an ad's relevancy. These can be simple insights (such as basic demographic information; or more specific like niche interest, buying intent, and behavioral patterns). Either way, it's precise one-to-one marketing: a brand making a consumer feel that they are speaking directly to them, and addressing their unique needs.
With a plethora of online personalization tactics available, where do you start though? Here are a few examples of what it means to various digital markers, and how to implement some basic and more advanced strategies.
Personalization for 4 major digital marketers
1. What is personalization in PPC marketing?
PPC marketers understand that web personalization is essential to their ads because PPC ads account for 64.6% of clicks when people search online. And since you're paying for each one of these clicks, you can't afford to waste a single one.
Basic
Message matching your ad to your post-click landing page lets visitors know that the page is relevant to the ad upon arrival, and reinforces the overall message in their minds.
Citi accomplishes message match by using the same color scheme, similar copy, and including "Citi Premier Card" in both locations: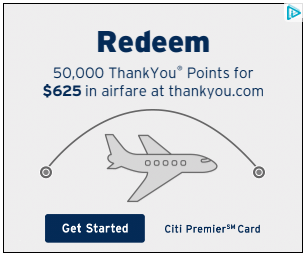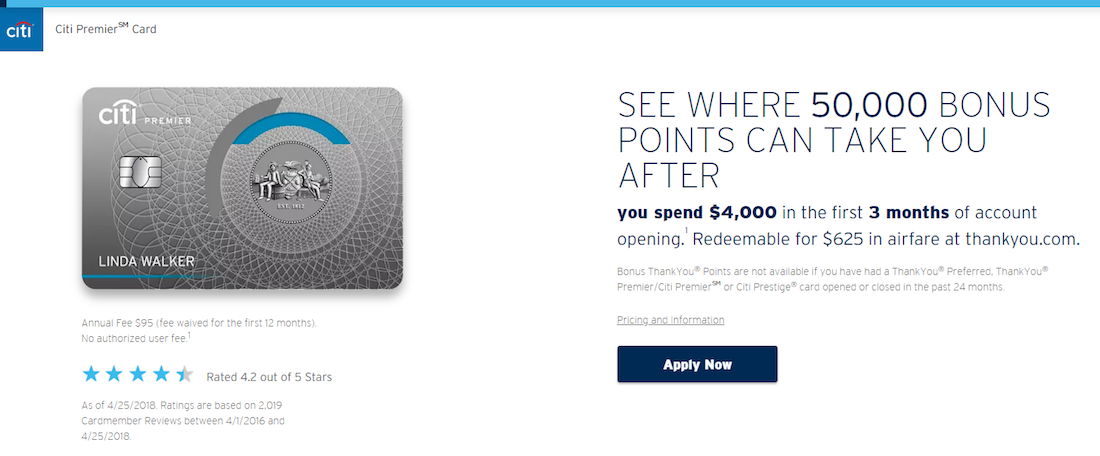 Message match is especially important with retargeting campaigns. Retargeting is one of the first steps to personalized PPC campaigns, because 96% of users leave a website without converting, and it takes nearly half of consumers 2-4 visits before making a purchase.
You can implement standard retargeting, which is showing your ads to users who previously visited your website. You can also use dynamic remarketing, which shows previous visitors not only your ads but also ads related to the products and services they viewed on your website.
Message match and retargeting are not advanced practices though. Both are so commonly used among PPC marketers that they're considered basic personalization today.
Advanced
Gone are the days of targeting users only by keywords. Now marketers can target their audience by demographics, life events, purchase intent, behavioral patterns, and more. In fact, many PPC marketers agree that 2019 will see a decrease in keyword targeting and an increase in audience targeting.
Elite SEM's Aaron Levy believes 2019 will be the death of keyword targeting, as advertisers shift focus away from match types and terms, and toward context and people instead:
It's been a long time coming. Search engines have given us too many additional levers to handle along with keywords. I believe next year will be the beginning of the end for keywords as a primary search lever.
Christi Olson, Head of Evangelism for Search at Microsoft isn't quite as extreme in her beliefs, but still predicts a significant rise in audience targeting:
What will continue to separate the best-in-class search marketers from the average Joes will be how audience data is are segmented and implemented via an audience targeting strategy. The key to success in 2019 and beyond will be to create a detailed strategy of the various audience types and audiences lists and how you can layer them (with positive and negative bid types) to shape your paid search strategy.
Purna Virji, Senior Manager of Global Engagement at Microsoft, also suggests focusing more on creating and optimizing customer segments:
Drill down in them even further, so your ad messaging can be as relevant and feel as personalized as possible. This will be hugely important in 2019!
One way PPC marketers are engaging in personalized audience targeting is with geo-customizers in ad copy. These work similar to ad customizers where ads are automatically updated. But geo-customizers specifically update ads based on a user's physical location or a location of interest.
Setting up the ad customizer feed looks like this: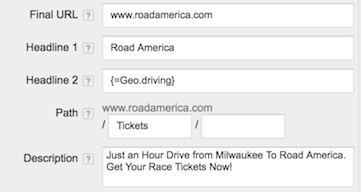 And the Google Ad looks like this to a searcher from Milwaukee:

When WordStream's Senior Paid Search Strategist, Nic D'Amato, tested out this feature with his client POP Yachts, they saw a 30% increase in CTR during a particularly slow point in the season. They also saw a 13% increase in click conversion rate and a 50% decrease in CPA over a two week period.
2. What personalization means for demand generation marketing
Demand generation marketing has experienced major change over the last eight years. Numerous tools and techniques have rapidly shifted the scope of demand generation, making it far more personalized than before.
Basic
Content creation emerged as a key component of demand generation when marketers realized that offering valuable content in exchange for prospect data was successful in generating leads. These marketers use segmented lists and CRMs to collect:
Leads from events and conferences
New user signups
Leads who downloaded gated assets or attended a webinar
To demonstrate, this two-step opt-in Adobe post-click landing page captures leads by offering a digital marketing report in exchange for people's personal information: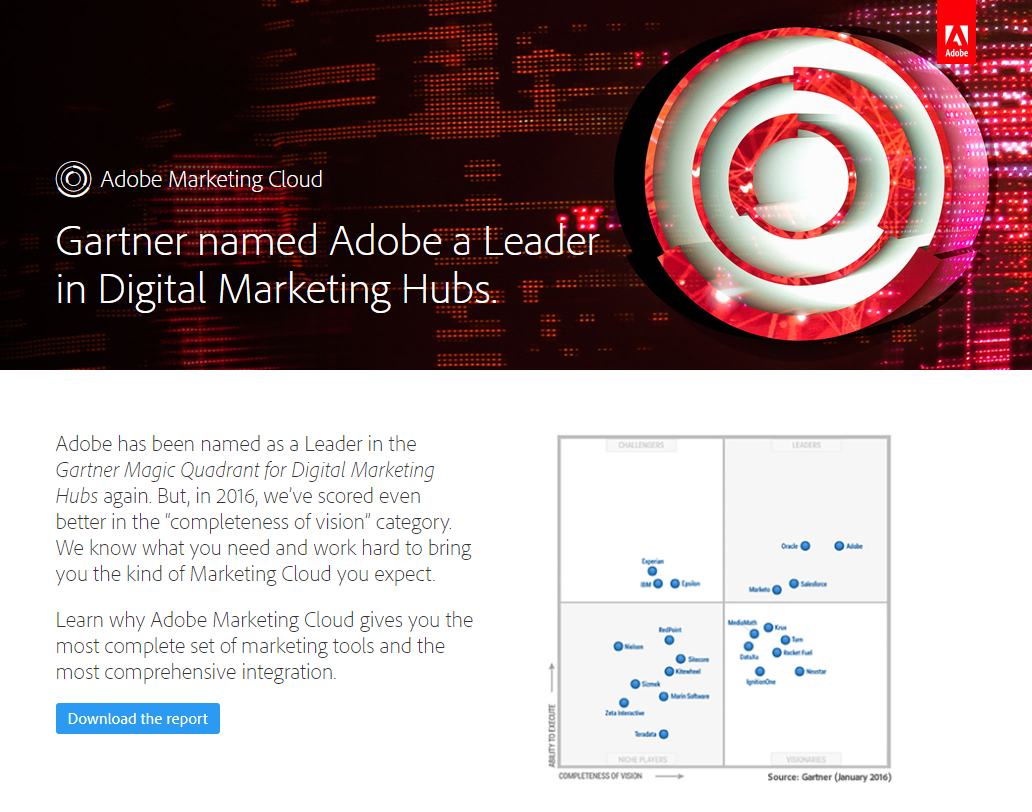 Some digital marketers feel that gating content is an undesirable trade-off, though. With gated content behind forms, the number of leads may increase, but engagement decreases, which sacrifices the overall reach, brand awareness, and credibility. This trade-off makes it evident that demand generation and lead generation aren't the same thing. Demand generation is the process of getting people interested in what you have to offer, while lead generation is the process of turning that interest into names and contact info to follow up with.
This means marketers must focus on more than just generating leads alone. They must include both demand gen and lead gen into their marketing strategy.
Advanced
As with everything else in this article, to make demand gen more effective, it should be personalized. This enables it to serve as both demand gen and lead gen, all in one, touching all points of the sales funnel with a close eye on what engagement leads to further down the funnel.
For example, beyond building brand awareness, you must build awareness among an audience with a keen interest in your product or service. This way, there's a much higher chance you'll turn those people into leads, sales, and revenue.
One platform that has seen an increase in personalized demand generation is LinkedIn. Matched Audiences have dramatically improved demand gen strategies by enabling marketers to distinguish between different phases of the buyer journey and segment prospects based on their level of awareness and interest. Here, custom targeting allows them to reach previous website visitors, existing contacts, and target accounts in a personalized manner.
3. What personalization means for ecommerce marketing
During the Super Bowl, brands — including ecommerce brands — will spend $5 million on a single 30-second ad — or $166,667 per second. These ads are a great way to gain max exposure in a very short time, but how beneficial can the ad be if it isn't targeted and personalized to a specific audience?
In fact, both Gen X and Millennial consumers in particular say they'll happily share their personal data in exchange for personalized offers that match their needs: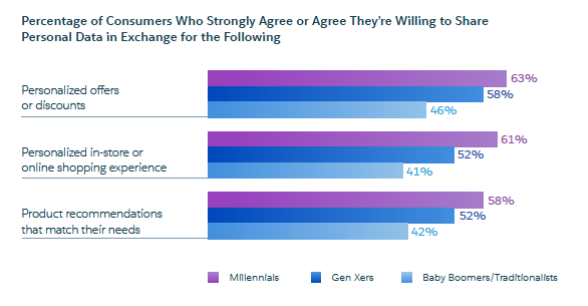 So what are ecommerce marketers doing to personalize the shopping experience?
Basic
Today's ecommerce marketers can take advantage of personalized retargeting, similar to PPC marketers.
Consider Amazon or Target, for example. If someone signs in, browses around and then leaves the site, you can hit them with a retargeting campaign — an ad containing products similar to what they were looking for, or an email with a price drop notification.
If that same consumer adds items to their cart but then leaves without purchasing, you can retarget them with a reminder of what they left behind, encouraging them to complete the purchase.
Advanced
Once a consumer makes a purchase, sending an order confirmation email can be more personalized with additional products: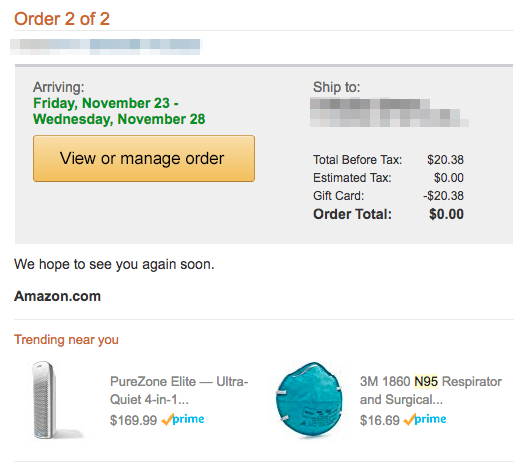 Notice the "Trending near you" section at the bottom. Both the air purifier and respiratory mask are personalized because Amazon recognizes the San Francisco shipping address, and knows that many bay area residents are ordering these products due to the wildfire smoke.
This extreme online personalization process is possible because of the billions of data points businesses can access today.
4. What is personalization in email marketing?
One-size-fits-all email messaging is a thing of the past. Modern marketers leverage web personalization in their email campaigns so recipients feel that the messages are custom-made for them.
Basic
First name tokens are a great example of basic personalized email marketing, either in the subject line or the email itself: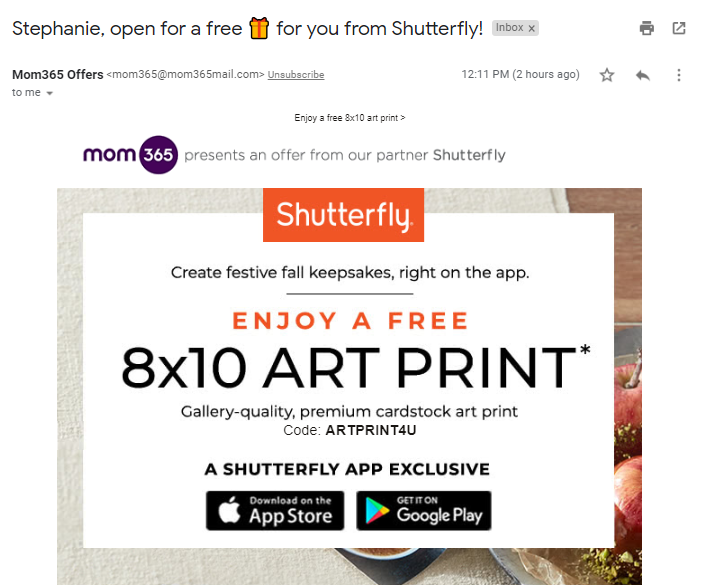 This immediately grabs a person's attention, and makes the email appear less like a mass email campaign. Yet, consumers aren't impressed by this anymore. Now they expect more from brands.
Advanced
Dynamic content allows you to determine who sees what content within an email, so you can show different content blocks to various audience segments, all within the same email campaign: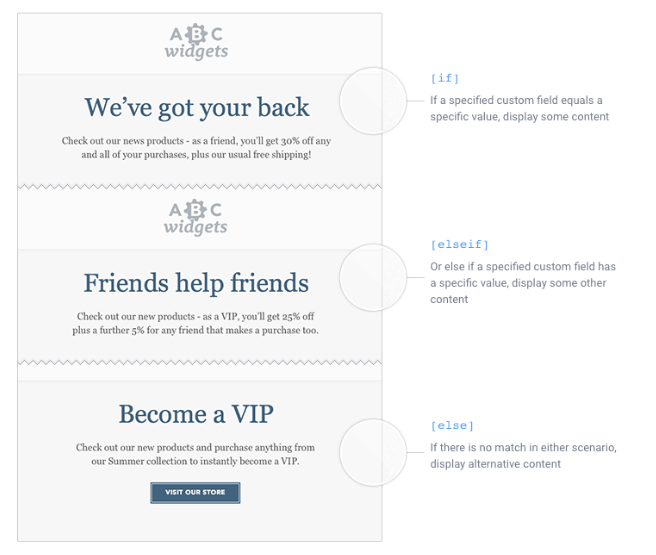 Email marketing vendors like Campaign Monitor allow users to implement dynamic content without having to create multiple emails. It's all done within a single campaign, by creating multiple versions of the same email, personalized for different sets of subscribers based on their data points.
The future of personalization
Since GDPR came into effect in May 2018, many brands are making another shift. They're transitioning more towards contextual targeting — connecting with users in a way that respects their privacy but still provides value. So rather than making consumers feel that their privacy is being violated, advertisers are attempting to further understand and cater to what users actually need.
For instance, imagine if we could personalize an ebook download based on how much people budget for Google Ads? Or if an employee could be shown an Uber ad while checking Facebook after working late in the city? Or if a mother could be targeted with an ad for Grubhub while browsing dinner options from her couch?
This level of extreme personalization may sound like too much wishful thinking, but it's certainly not. Rapid advances in AI and machine learning are opening many doors into the future of personalized advertising.
Frederick Vallaeys, CEO of Optmyzr says that we see a massive trend toward more automation from the big engines:
Google said its search ads should be 'ads that work for everyone' and they mean it. They believe automation makes it possible for more businesses to be successful search marketers so we'll see more 'smart' features from Google, and Bing will follow in lock-step.
Ben Wood, Digital Director of Hallam agrees, and also expects Google Ads to continue to improve their built-in automation features:
It's approaching the point where it's best to lean into Google automation tools rather than shun them in favor of third-party tools. It's no secret that Google wants advertisers to use their automated bidding strategies in campaigns, by increasing the number of data points used as part of their bidding strategies.
Purna Virji, Senior Manager of Global Engagement at Microsoft points out the advances in AI and machine learning allows marketers to free up time by letting the machines do the heavy lifting. This, in turn, enables them to focus more on personalizing their efforts:
If you spend a lot of time on repetitive tasks such as bid tracking, or reporting, you can start to automate it even further, so you can spend more time on where it really counts: your customers.
Increased personalized advertising will also come from integrating more personal smart devices and rising choice-driven content (e.g., Netflix, Facebook, Amazon, Google). In particular, smartphone advertising will increase due to the pervasiveness, highly personal nature, and amount of time people spend looking at these "second screens."
Overall, the rapidly evolving variation of machine learning and AI-driven tools and technologies will provide digital marketers with more insight to help segment audiences. This will be based not just on a profile or behavioral data, but also on predictive algorithms that anticipate their needs and interests throughout the entire buyer journey.
What does personalization mean to you?
Marketers must constantly meet their audiences' changing expectations, and the only way to do that is with personalized, relevant content, delivered in a seamless, non-invasive way. That's why it's critical to stay up to date on new marketing technologies and strategies, designed specifically for extreme personalization.
Ensuring your audience's post-click landing page is optimized is just as important. Provide them with a dedicated, personalized post-click landing page, and other ways to provide relevancy with the guide below.