It's hard to get through your fresh-made, life-affirming cup of joe while reading the morning news without hearing of one atrocity after another. And while that can be disheartening, a beautiful and uplifting side effect of all this negativity is that it's driving people to become activists for perhaps the first time in their lives.
As people become more involved in campaigning for change, they want to see brands take a stand and support something greater than corporate profits. And they're willing to put their wallets where their beliefs are.
Increasingly, consumers are showing more loyalty to brands that go beyond providing them with just a product or service and advocate for the same values and beliefs they hold. Customers want to see their favorite companies declare their politics boldly, make meaningful moves toward becoming eco-friendly, and pay their workers fairly.
In response to new consumer buying habits, brands are becoming more vocal on issues. Taking a stand, however, opens brands up to potential public backlash, so businesses must act carefully.
Before we look at what brands have successfully taken a stand and those whose attempts at activism fell flat, let's start by defining what we mean by brand activism.
Brand activism, the fine art of standing up for something
Brand activism is when a company seeks to have an impact on a social, economic, environmental, or political problem. Companies might actively engage on behalf of an issue because it aligns with their core values and founder's vision for the company, for good publicity, to help their businesses' bottom line, or for any number of other reasons.
Businesses can further their cause by making a public announcement, lobbying, donating money to specific groups, volunteering, or making a statement through their marketing and advertising campaigns.
The tricky part in today's highly contentious political climate is ensuring your brand is seen as authentic in its activism.
Making a statement is no longer enough, consumers want to see meaningful action that supports your stand on the issue. Otherwise, your brand comes off as hypocritical, and you'll look like an opportunist trying to take advantage of the situation.
Think before taking a stance
Before taking a position, your company will want to ask itself some questions:
What issue aligns with our company's core values?
Do our company actions, statements, and product/service support or contradict our position?
What is the potential impact of our brand getting involved in political or cultural issues — both negative and positive?
What does our customer base care about?
Will consumers think our company is authentic and passionate about the cause we support?
Will this cause us to raise prices and will our customers be willing to pay more? Will this help to attract new customers?
Will getting more involved and taking a stand make our employees more engaged and attract better talent?
These questions can help guide you in deciding whether your brand should become active in supporting a cause and choosing what issue is right for your company to get involved with. Above all, make sure that you choose a cause that's true to your brand, that you're consistent with your position, and that you backup your stance with meaningful action and support.
Choosing the right issue matters
Choosing an issue relevant to your company will impact how the public reacts to your brand activism. A good example of this is how people responded to two different campaigns that Starbucks recently ran. One was overwhelmingly ridiculed; the other received a mostly positive response.
In 2015, the Starbucks 'Race Together' campaign received public backlash and mockery for what many saw as an insincere gesture. Starbucks CEO, Howard Schultz, wanted to spark discussion about the topic of race following the shootings of Michael Brown and Eric Garner, two unarmed black men, and the civil unrest that followed. They announced that Starbucks baristas would write #racetogether on cups and engage customers in a discussion on race relations if they asked about it.
Some people viewed the #racetogether campaign as misguided, questioning how a meaningful conversation about race could be held at a busy Starbucks, while others saw it as an opportunistic marketing ploy. There was so much negativity on Twitter that their SVP of Global Communications Corey duBrowa deleted his account.
Some examples of the backlash: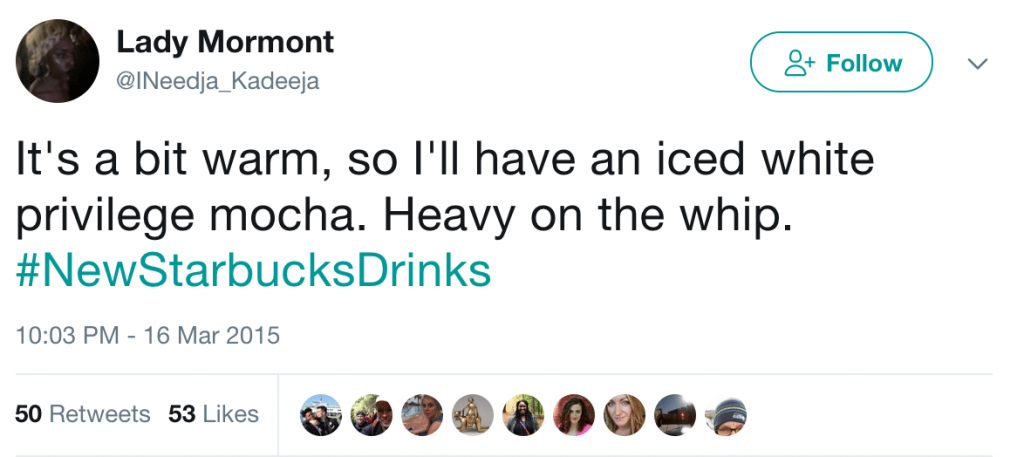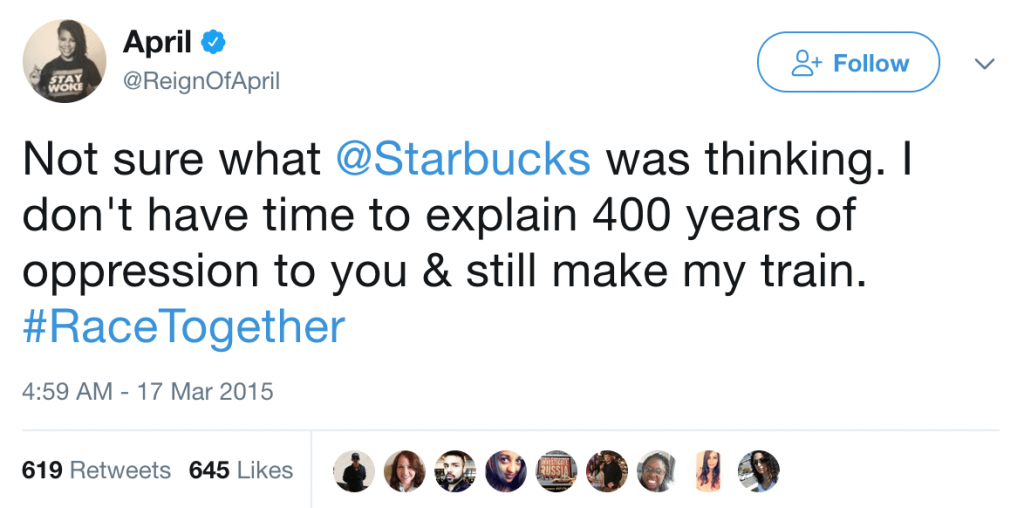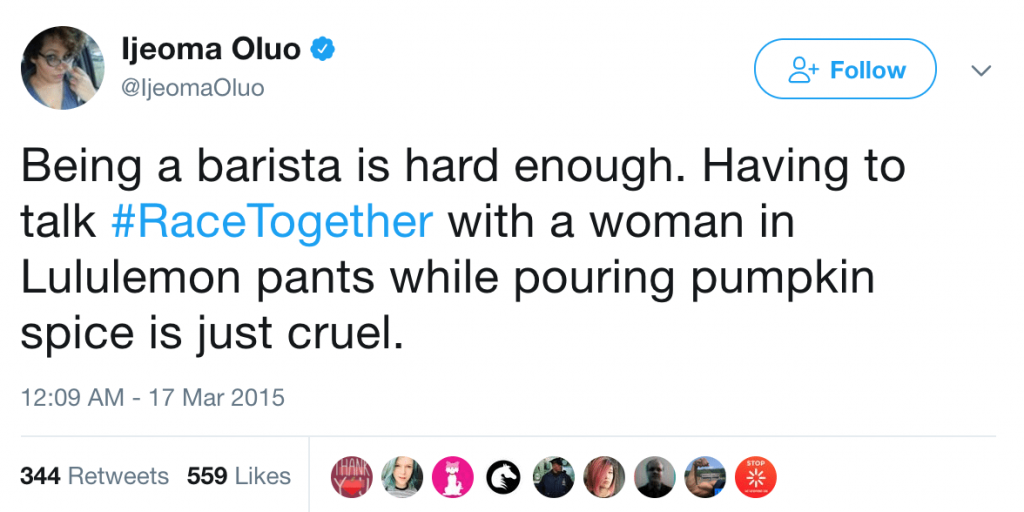 Conversely, another Starbucks campaign fared much better in the public eye. Schultz announced, just two days after Trump's immigration order, a commitment to hire 10,000 refugees globally over the next five years.
While it faced some backlash from people, who ignorantly asked why Starbucks wasn't doing the same for veterans (Starbucks already made the same pledge to hire 10,000 veterans back in 2013 and has hired over 8,800 so far), it also received much praise and support from customers.
An example of opposition to Starbucks: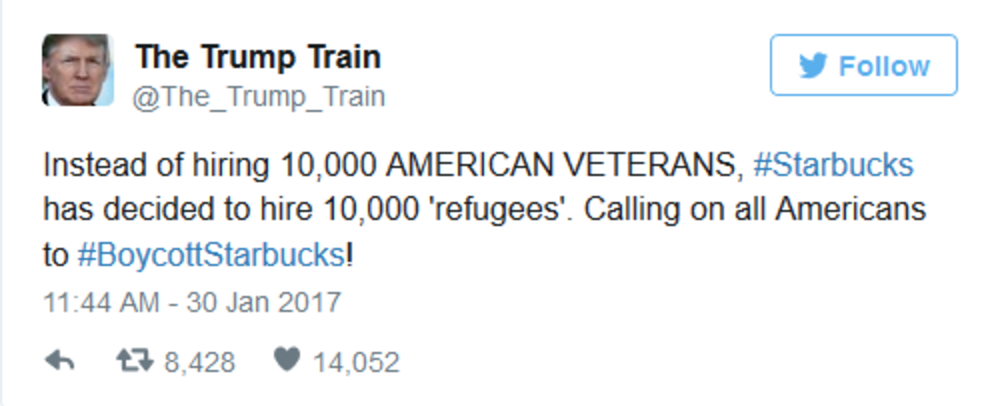 Examples of support for Starbucks: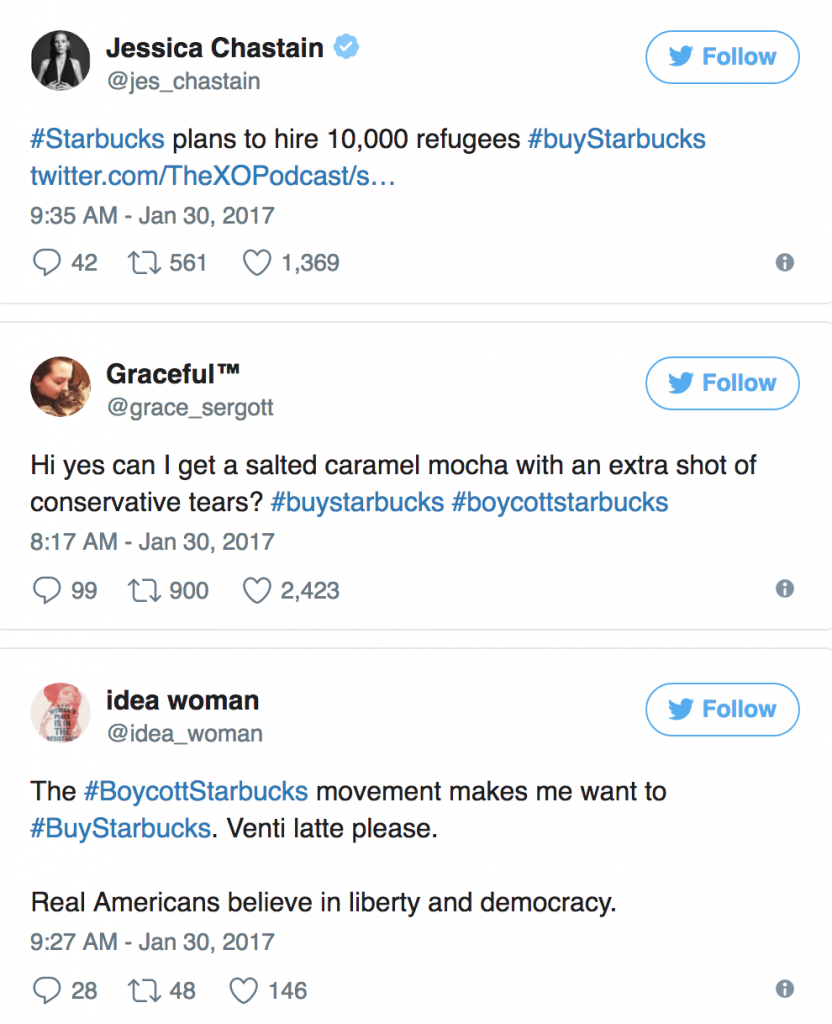 So why did these two Starbucks campaigns have such different reactions?
There are some factors, including the shift in public perception on the need for brands to get involved. For some, the #racetogether campaign was hard to swallow coming from a white billionaire, and the campaign didn't put any real action behind the sentiment. #racetogether didn't pledge to hire a certain number of minorities or give money to the NAACP, like the pledge to hire 10,000 refugees did.
What can happen if you don't take a stance
Knowing how wrong it can go if a company makes a public statement of support or condemnation on an issue, it can be tempting to think it's best to remain neutral. But that's not always the case.
Daniel Korschun of Drexel University found:

Consumers find it hypocritical for a company that claims to be 'guided by core values' to then withhold its position on a political issue. The implication appears to be that the company is hiding something and therefore trying to deceive its customer base. Conversely, reinforcing expectations may forge trust and enhance relationships with customers.
An excellent example of this is the #DeleteUber campaign that caused over 200,000 people to delete the Uber app after the company continued to operate its service to JFK airport (and turned off surge pricing) during the taxi strike protesting Trump's Muslim ban.
People were outraged that Uber CEO Travis Kalanick didn't outright condemn Trump's immigration order when Uber has positioned itself as a bold company, unafraid to voice its opinion. The order was especially controversial for Uber because a good number of its drivers were affected by the order and Kalanick was on Trump's business advisory board.
While Uber's stance felt muddled and its business was impacted negatively, Lyft received public praise for opposing the order and donating one million dollars to the ACLU. That day Lyft beat Uber in App Store downloads for the first time, showing that taking a stand can positively impact business as well.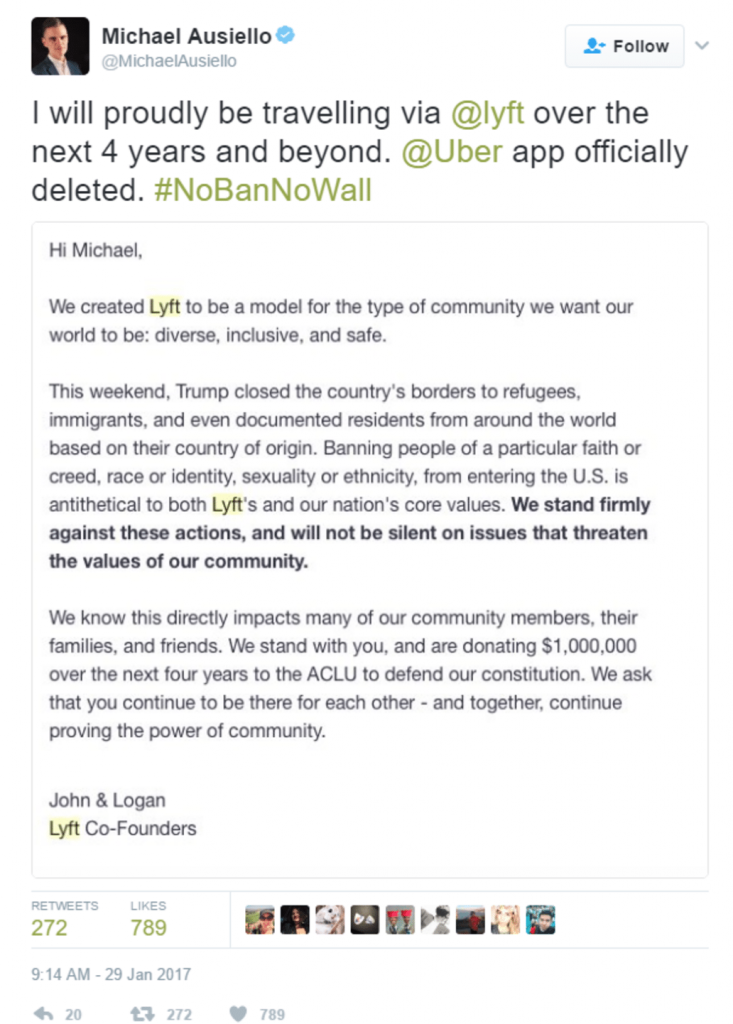 Benefits of brand activism
Besides, you know, making our world a better place, brand activism can have a positive impact on your business' bottom line. Actively supporting a cause can help you build loyalty and cultivate lifelong customers who share your values. When people associate buying from a brand with supporting their values, it creates an emotional tie that goes beyond product quality or price.
One way to maximize your impact and increase customer engagement is to build a dedicated post-click landing page for your cause. On this page, you can put your public statement, the steps your company is taking to address/support the issue, and a form to collect email addresses so that you can keep people who are interested in your campaign's progress updated.
Below is an example from Patagonia. They created a 'take action' post-click landing page for their campaign to help save Bears Ears National Monument. It urges people to contact the Department of Interior to let their voices be heard and includes check boxes so people can click to receive emails from Patagonia and text messages about protecting public lands.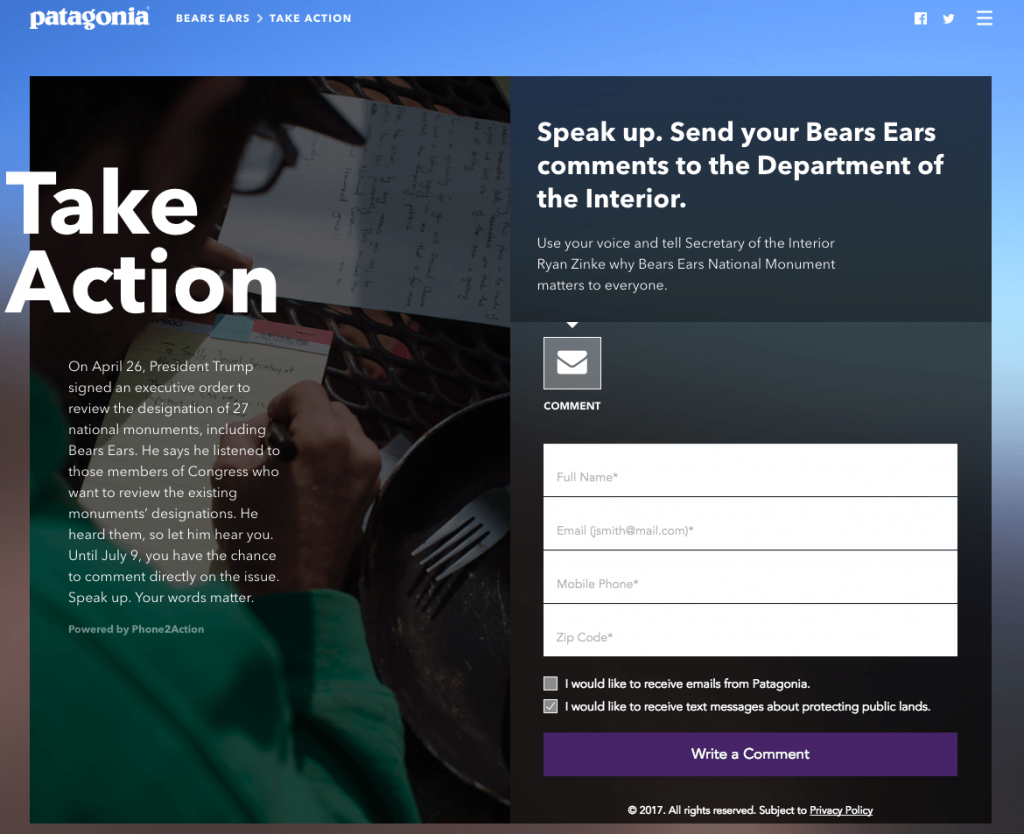 Patagonia is furthering their mission of protecting our planet with this push to save our national monuments, while also collecting more leads for their email list. Business success and successfully campaigning for meaningful political and cultural change don't have to be mutually exclusive.
Is taking a stance right for your company?
Your company needs to start asking itself a question Starbucks CEO Howard Schultz asked in addressing Spelman College:
What should the role be for a for-profit, public company in [this] world?
While brands are still figuring out how to answer that, it's becoming harder and harder to stay neutral, and businesses are increasingly being called upon to 'fight the good fight.' So think about where your company stands on the hot-button issues of our day. You might decide that it's better to stay neutral on the issues, but you should be prepared to defend your position if called upon to do so.
Build awareness of your brand activism efforts
If you think brand activism is right for your company, after deciding on what issue is right for your brand and how you plan to take a stand, you'll need to promote your efforts.
An important way to generate awareness of your cause and garner more support for your efforts is to create a dedicated post-click landing page. Expand your positive impact by signing up for an Instapage Enterprise demo today.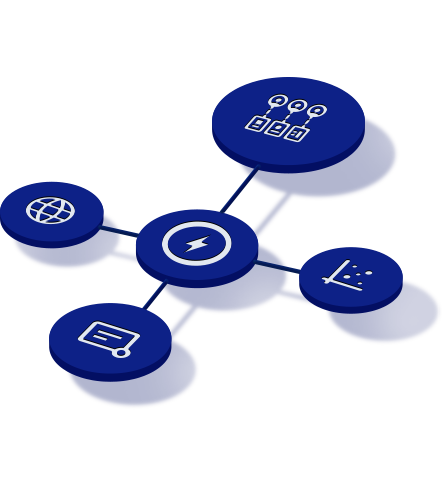 See the Instapage Enterprise Plan in Action.
Demo includes AdMap™, Personalization, AMP,
Global Blocks, heatmaps & more.