You've heard the maxim that the quality of your leads is much more important than the quantity. This is especially the case when it comes to account-based marketing (ABM). Account-based marketing is a strategy that focuses on nurturing a small set of high-quality leads instead of attempting to generate or engage the masses.
Account-based marketing works from inside out
Traditional marketing involves creating content designed to draw as many people as possible to your brand. Account-based marketing flips that concept on its head. Instead of trying to reach the widest possible audience with broader content, account-based marketing uses very narrow, personalized content to focus on a select number of specific customer accounts.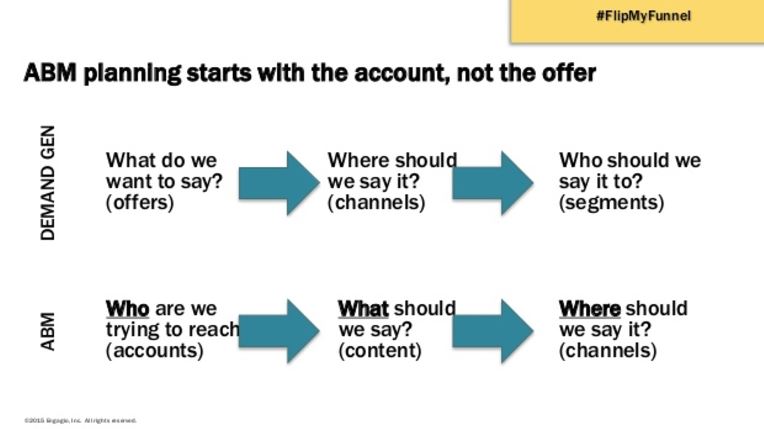 One of the biggest goals of account-based marketing is to strike a personal chord with your clearly defined audience — typically a few targeted accounts that have the potential to generate significant business on an ongoing basis.
This B2B strategy has been gaining significant attention over the past few years, with 27 percent of marketing survey respondents saying they were dedicating up to 30 percent of their total marketing budget to account-based marketing in 2016 — up from 19 percent in 2015.
Google Trends similarly shows an increased interest in account-based marketing, particularly over the past two years:
Despite the repeated remarks of account-based marketing thought-leader David Raab, who stresses that account-based marketing "is a strategy, not a technology," a number of account-based marketing software and technology vendors are already on the scene. Raab notes important tools of the trade include:
Data and predictive modeling to identify accounts you wish to target.
Campaign engines to create messages.
Execution systems to deliver messages.
Analytical systems to measure and evaluate results.
Raab profiles 40 different account-marketing vendors in his guide, and the most popular for account-based marketing execution reviewed by users on G2 Crowd include:
Azalead
Demandbase
Engagio
Madison Logic
Sendbloom
Terminus

Account-based marketing a big benefit for B2B
Account-based marketing is particularly important for B2B, but two words sum its importance best: increased revenue.
Engagio notes that the highly personal and personalized conversations are what make account-based marketing so much more effective — and profitable — than traditional outbound or even inbound marketing.
Account-based marketing additionally has the power to overcome B2B companies' greatest problems including:
Poor conversion rates
Over-emphasis on campaign vanity metrics such as Facebook likes (which may look dazzling but often don't mean much.)
Lack of alignment and communication between marketing and sales
Reasons to implement an account-based marketing strategy are to:
Improve conversion rates by specifically targeting the buying committee of accounts that already fit with your product or services
Track meaningful metrics such as account engagement and progression
Align marketing and sales by focusing on the overall needs of the targeted accounts
Customer retention is another beneficial byproduct of account-based marketing, with ABM incorporating multiple customer retention strategies. These include:
Making it personal.
Using your relationship to build trust.
Anticipating issues to eliminate problems before they occur.
Going that extra mile by paying acute attention to customer wants and needs.
Creating your own account-based marketing strategy
Account-based marketing is focused on specific accounts, so it's crucial to identify which of your accounts has the greatest potential to grow and develop. Because ABM is focused on personalizing content and directly engaging clients, it's essential to determine how to best engage those accounts.
Keeping these factors in mind can help you move smoothly through the six-step process Demandbase recommends for account-based marketing success.
1. Identify your high-value accounts.
It's easy to go down your account list and cherry-pick the best revenue earners over the past year, but that shouldn't be the only criteria that put accounts into the high-value category. You want to pinpoint accounts that are most likely to use your product, fit your business culture, investments and budget, interests, and business relationship networks.
2. Attract those high-value accounts to your site.
Next move is to attract your targeted accounts to your website. Some proven ways to draw them in are focused ad campaigns, post-click landing pages, and personalized messages.
3. Engage those accounts with personalized experiences.
Once key stakeholders are on your site, you need to continue the conversation by creating relevant, highly personalized experiences. By focusing on speaking directly to their pain points and needs, they are much more likely to convert.
4. Convert those accounts to sales.
Account-based marketing campaigns are integral for conversions and ensuring you're reaching and driving your high-quality leads to the specific solutions. Automated systems such as email campaigns can work here, provided you ensure each campaign is specifically targeting the unique pain points and needs of the selected accounts.
5. Close the deals.
Account-based marketing technologies can help you gather information and insights on the key players within each account. Knowing who the purchasing team members are (and what drives them to act) can help personalize your outreach and ensure your conversations are meaningful, relevant, and effective.
6. Measure your account-specific results.
Instead of focusing on vanity metrics (such as registered users, likes, downloads, and page views) that do nothing for the bottom line, account-based marketing focuses on metrics that matter. You'll gain insights into what's happening within specific accounts at each stage of your funnel. Marketers can see where their efforts panned out, or where they can need to amend, adjust, or revise their account-based marketing tactics.
How post-click landing pages fit into account-based marketing
post-click landing pages can be an extremely effective tool for your account-based marketing strategy, particularly if you combine post-click landing page design best practices with account-based marketing best practices, including personalization and solving specific problems.
post-click landing page personalization
One of the top account-based marketing tactics is personalization, which you can do by gathering insights on the key players in your target account and then using those insights.
When first-time users land on the luxury travel site Secret Escapes below, they're treated to a post-click landing page listing the hottest current deals. When visitors return, they land on a page that showcased destinations based on popularity, season, or the hottest deal of the moment.
Secret Escapes noticed this tactic wasn't converting, so the company decided to personalize post-click landing pages based on behavioral search metrics. The company did this by looking at:
Last three search terms that brought visitors to the Secret Escapes website
What type of sale that particular visitor most frequently reviewed
PPC keywords that drew the visitor to the site. If visitors clicked a PPC ad for "spa weekend," for instance, once they joined Secret Escapes, they would see sales focused around those particular keywords for a certain number of days.
What destinations visitors searched for when on the Secret Escape website to serve the desired destinations for return visitors logged into their accounts.
Instead of seeing the hottest deals of the moment on the Secret Escape homepage, visitors who clicked on a PPC ad or members who searched for destinations with the keywords of "New York" might see something like this on the homepage: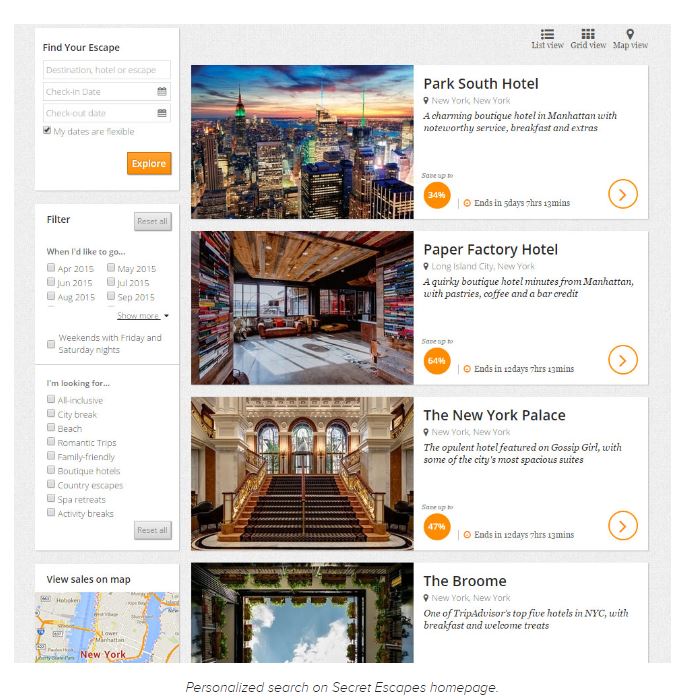 This type of post-click landing page personalization increased completed purchases by 210 percent. These same tactics can be used with account-based marketing. While you may not be tracking the vacation destinations your accounts are seeking, you can personalize post-click landing pages based on factors such as job titles, role within the company, or behaviors and interests other than vacation spots.
post-click landing pages for solving specific problems
When getting to know specifically targeted accounts, you're getting to know their specific problems. With this knowledge, you can use your post-click landing pages to address and offer equally as specific solutions.
Microsoft accomplished this with a post-click landing page focusing on the top three challenges companies face when adopting the Internet of Things (IoT). While Microsoft did create a blog around the topic, the blog post ran through the challenges and solutions quickly. Prospects that needed more information were directed to the post-click landing page inviting them to an on-demand webinar that explored the challenges in greater depth.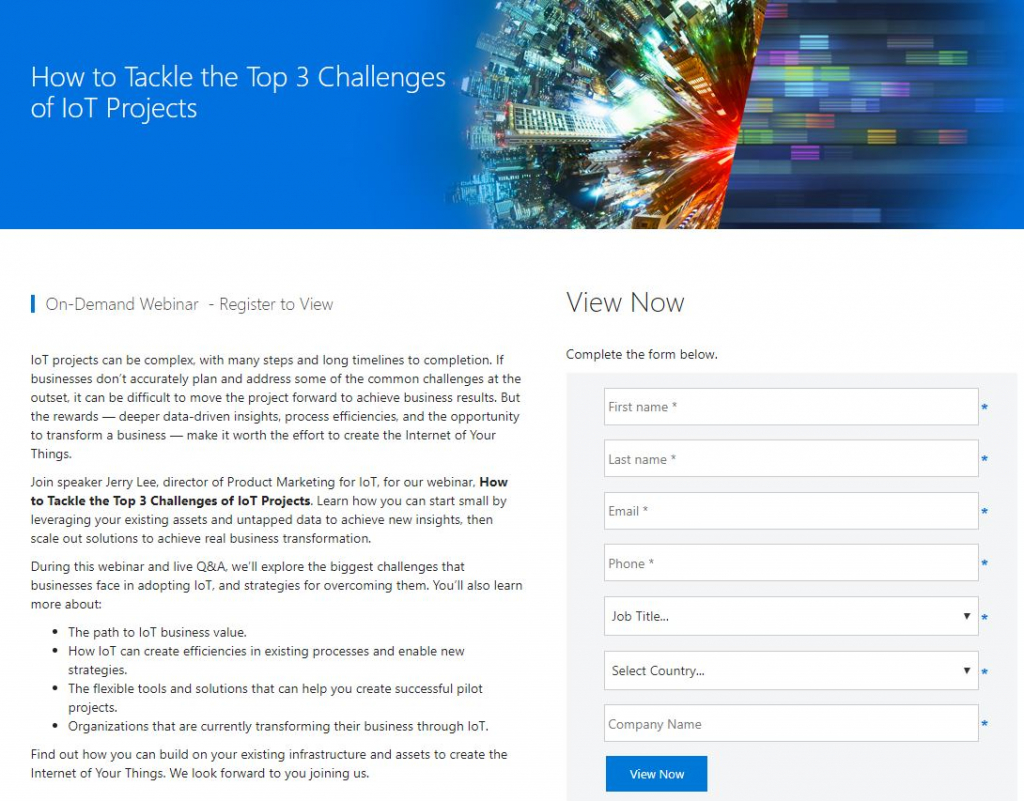 The page serves up account-based marketing examples of providing specific solutions as well as instant gratification by filling out the form and hitting the "View Now" button.
WordStream, a company that specializes in online marketing software and PPC ad management, is another company that used post-click landing pages as a problem-solving tactic.is. A post-click landing page was created that offered a unique solution to the longtime challenge of effectively competing with Google Ads — without resorting to the obvious solution of increasing your bids.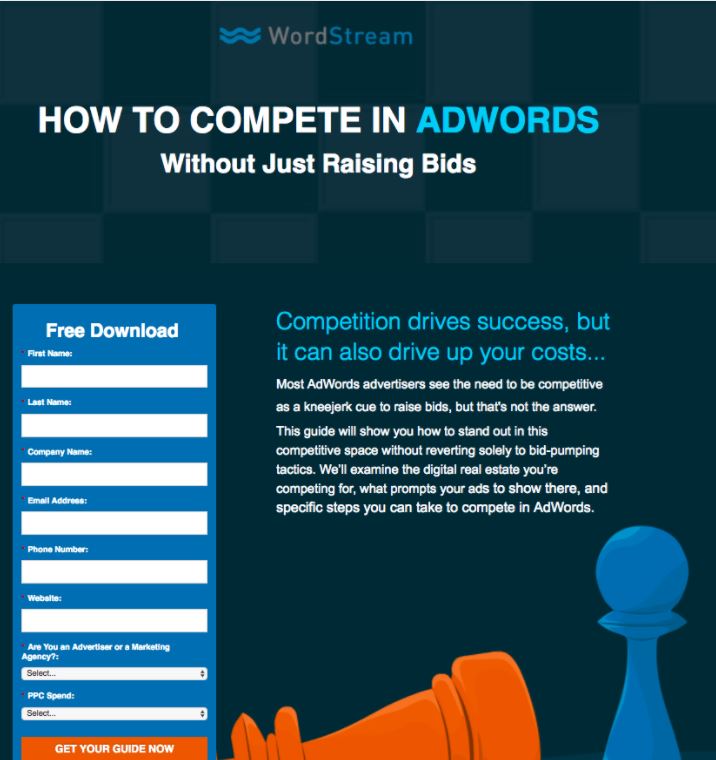 Additional account-based marketing best practices
While getting personal and solving specific problems are two hallmarks of account-based marketing, Advertising Age notes several other ABM tactics that make the best practices list. These include:
Consistent storytelling with a universal storyline should be woven through every aspect of your account-based marketing content and campaigns. A consistent storyline helps prospects feel comfortable and more inclined to trust.
Offering prospects guarantees such as a free risk assessment if they tried the product for six weeks. Clients then take note of the ROI they generated in six weeks from using the product, which would naturally prompt them to keep using it throughout the entire company.
Leverage post-click landing pages for your next account-based marketing campaign
Account-based marketing is gaining momentum and with good reason. This B2B strategy increases trust and builds relationships with potentially high-value accounts that can generate additional business for years to come.
Account-based marketing best practices include solving specific problems, aligning sales with marketing, and by focusing on the account to achieve your marketing goals. Thanks to the flexibility of and ability to employ various strategies on post-click landing pages, they can play a major role in account-based marketing success.
You too can create hyper-targeted campaigns and incorporate personalization into your ABM strategy, sign up for an Instapage Enterprise demo today.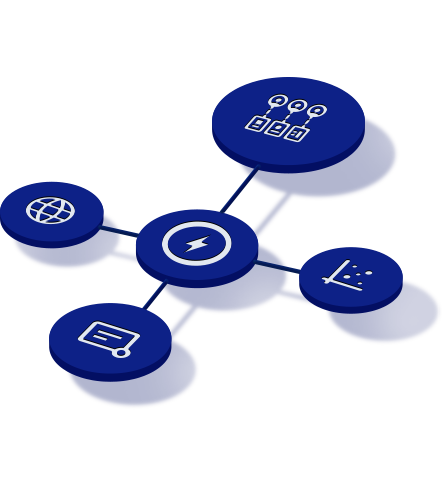 See the Instapage Enterprise Plan in Action.
Demo includes AdMap™, Personalization, AMP,
Global Blocks, heatmaps & more.