Until now Facebook, Twitter, and Instagram have been most business owners' first choice in social media marketing platforms. It may be time to change this mindset, though, as Pinterest is becoming many brands' new best business marketing friend.
Aside from being a favorite pastime for the 100 million Pinterest users, it's also perfect for businesses trying to target certain audiences.
Believe it or not, there are currently over 500,000 businesses with Pinterest Business accounts and the platform has recently seen a 27% increase in accounts created by Fortune 500 companies. And it's not a mystery as to why since Pinterest pins are 100 times more shareable than tweets!
Take a look at why Pinterest is ideal for brands to use as an advertising platform, and how companies use the platform, with post-click landing pages, to grow their businesses.
What is a Pinterest post-click landing page?
A Pinterest post-click landing page is a standalone page that visitors land on after clicking an ad from Pinterest. This type of page uses elements like images, testimonials, and persuasive copy to convince its visitors to convert on an offer.
A quick look at Pinterest demographics and statistics
Let's take a look at some important Pinterest user demographics. Then, we'll discuss some of the most outstanding statistics, regarding both user activity and company pages.
Pinterest demographics
It's essential for your business to know exactly who your target audience is, as well as who uses Pinterest the most — because if your target audience isn't on the platform, then why bother advertising there at all?
Here are some essential Pinterest demographics to consider:
85% of Pinterest users are female
Knowing that the majority of Pinterest users are females helps you target your advertising efforts by tailoring the messages to women (for the most part).
Although if your business is aimed primarily towards men, Pinterest may not be the best social media platform as part of your marketing campaigns. If this is the case, Facebook or Twitter may be a better choice, as these platforms are skewed a bit more toward males.
60% of Pinterest users are in the U.S., but international growth in 2015 was 135%
This is great news for brands targeting US-based markets, as the majority of Pinterest users are from the United States. The statistic is also really encouraging for those brands who are targeting international markets, as international growth rates on Pinterest are booming. If these trends continue, there should be a relatively even mixture of US-based and international Pinterest users in the near future, and this will be great for sharing and spreading cultures.
40% of U.S. Pinterest users are 18-24 years old
This age group is the largest age group of American users on Pinterest. The main reason for this is that Pinterest is primarily used for planning, and as it turns out, young adults love to plan. They use Pinterest for planning big life events such as weddings, buying a house, having children, etc. It's also a great place for them to plan smaller, everyday activities like how they're going to dress in the fall and what they're going to have for dinner tomorrow night.
Conversely, the smallest age group on Pinterest is age 50 and above, so if this is your target market, your efforts are probably better spent elsewhere.
Pinterest business-related statistics
About 75% of Pinterest users…
Have purchased something from or because of Pinterest. Although other social media platforms have more monthly active users than Pinterest, there is no denying that Pinterest is still incredibly influential on its users. The fact that nearly three-fourths of users buy something from a Pinterest link (or simply because they saw something on the platform) proves that promoting on Pinterest can be worth your while.
This leads us to the next point…
Companies that post 5 times per day enjoy the most success
Some businesses may choose to post more or less, but studies have shown that it's ideal to post exactly five times per day. Any less than five and you're likely not sharing enough content, which means you're not increasing brand awareness enough, and viewers probably won't even recall the content that you did share. Any more than five and people can quickly feel bombarded and overwhelmed by your posts, and choose to unfollow you.
By 2018, about 84% of marketing communication will be done using visual mediums.
The chart below shows the top B2C content marketing tactics used in 2016, of which photos and videos rank among the top four (infographics is not far behind). This goes to show how powerful visual mediums are to your marketing campaigns. What's more, 55% of content marketers say they plan to prioritize creating and using visual content in the near future.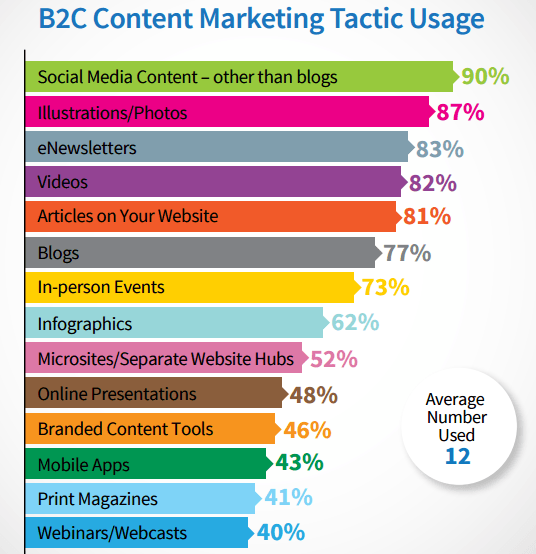 75% of saved Pins come from businesses.
On other social media platforms, most users don't want to see content from businesses unless it is extremely relevant to their personal interests. This is because people typically use the majority of other networks simply for socializing, and they view business content as disruptive and "pushy" when they aren't looking for it specifically.
Pinterest users, on the other hand, love business content and actually enjoy spending their social media time searching for and engaging with business content, purposefully. This could be a reason why three-quarters of all saved pins come directly from businesses.
83% of active users prefer to follow a brand, rather than a celebrity.
This is likely because Pinterest is highly focused on food, fashion, lifestyle, and anything DIY-related. With all of the brands on Pinterest that specialize in any one of these things, it should come as no surprise that Pinterest users would rather follow brands than celebrities. Although following celebrities may be a common activity on other social media platforms, it's not a high priority for Pinterest users.
A closer look at Pinterest advertising
To advertise on Pinterest, businesses must set up a Pinterest business account and then create Promoted Pins. Promoted Pins are pins paid for by marketers in order to be seen by more people — increasing awareness, engagement, and traffic.
Promoted Pins allow advertisers to reach their audience by targeting certain demographics and contextual factors when setting up their Pinterest campaign. By reaching their target audience, marketers then have the opportunity to convert prospects into leads, sales, and profit.
To really make the most of your Promoted Pins, you should always have the pins link to a post-click landing page, as this will help to convert prospects into leads. In other words, give them the best place to "land" after clicking on your Pinterest ad. Just be sure to make your Pinterest post-click landing page engaging and persuasive by using images, testimonials, and strong, convincing copy.
It's also important to keep in mind that Pinterest is a visual, image-based platform made especially for visually appealing brands. Therefore, it only makes sense that your Pinterest ads and Pinterest post-click landing pages be visually appealing as well.
How do brands use Pinterest post-click landing pages?
In this section, we will take a look at how current brands are using Pinterest ads to drive post-click landing page traffic, as well as how they use Pinterest post-click landing pages to increase brand awareness and sales.
Bonfire is a custom apparel company that allows people to design and sell shirts and hoodies for fundraising. They use the Pinterest ad below (image 1) to drive traffic to their click-through post-click landing page (image 2). The ad represents the brand well because it displays a custom t-shirt design and highlights the main benefit of using their service (fundraising). Once visitors click the CTA button, they are sent to this click-through post-click landing page: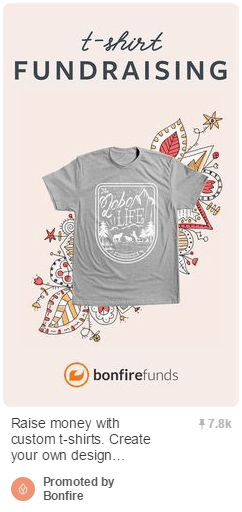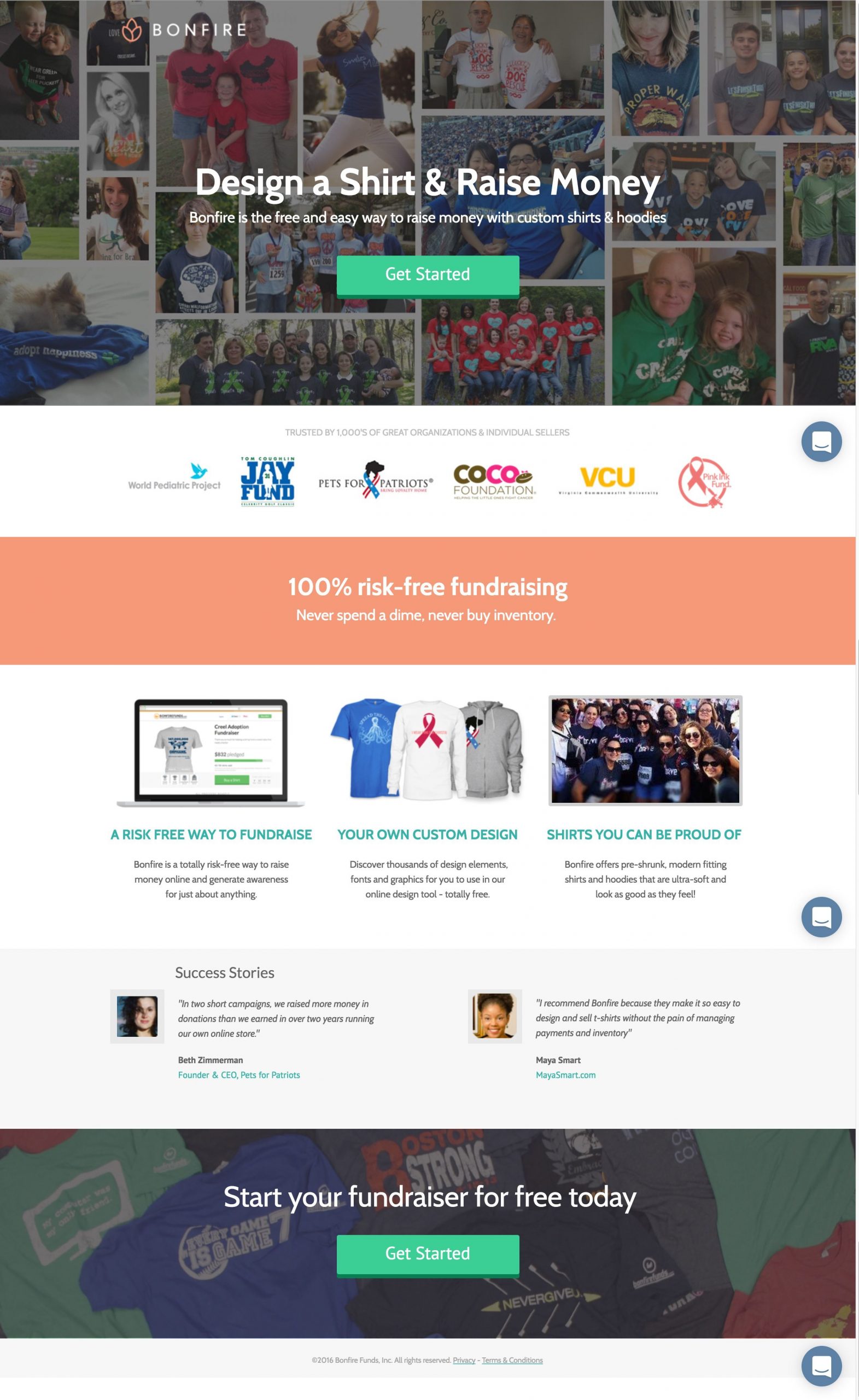 What the page does well:
Bonfire's logo is not linked to their homepage. By not linking the logo, Bonfire keeps attention on the page and the CTA button.
The headline effectively explains Bonfire's value proposition.
"Free" is used in the subheadline, which appeals to our innate desire to get something for nothing.
Two cooperating CTA buttons provide visitors multiple options to click-through to the next page and start their fundraising campaign.
Customer badges from brands such as the World Pediatric Project and Pets for Patriots help establish trust for Bonfire.
Customer testimonials, complete with picture and organization, also act as trust signals because they highlight a different aspect of Bonfire (raising money and the freedom of not having to manage payments or inventory).
The small blue chat button in the bottom right corner opens up a chat window on this page. Because the window opens on this page, rather than directing the user to a new page, it does not act as an exit link.
What could be A/B tested:
The CTA copy could be improved with personalized copy. "Get Started" isn't as persuasive as, say, "Start My Fundraising Campaign."
An arrow visual cue pointing to each CTA button would draw even more attention to the page goal. This design element is something to A/B test because the page has a lot of visuals so anything that directs the visitor's attention to either green button, the better.
2. Live Contact Leads
Live Contact Leads is a service specializing in live transfer lead generation. They pride themselves on finding customers who are actively interested in your product or service and then transfer them directly to you so you can pitch your product or service. On Pinterest they use this ad below to drive traffic to their free consultation post-click landing page: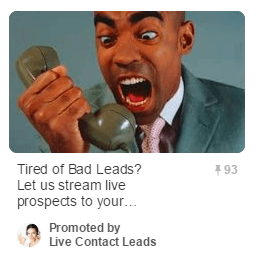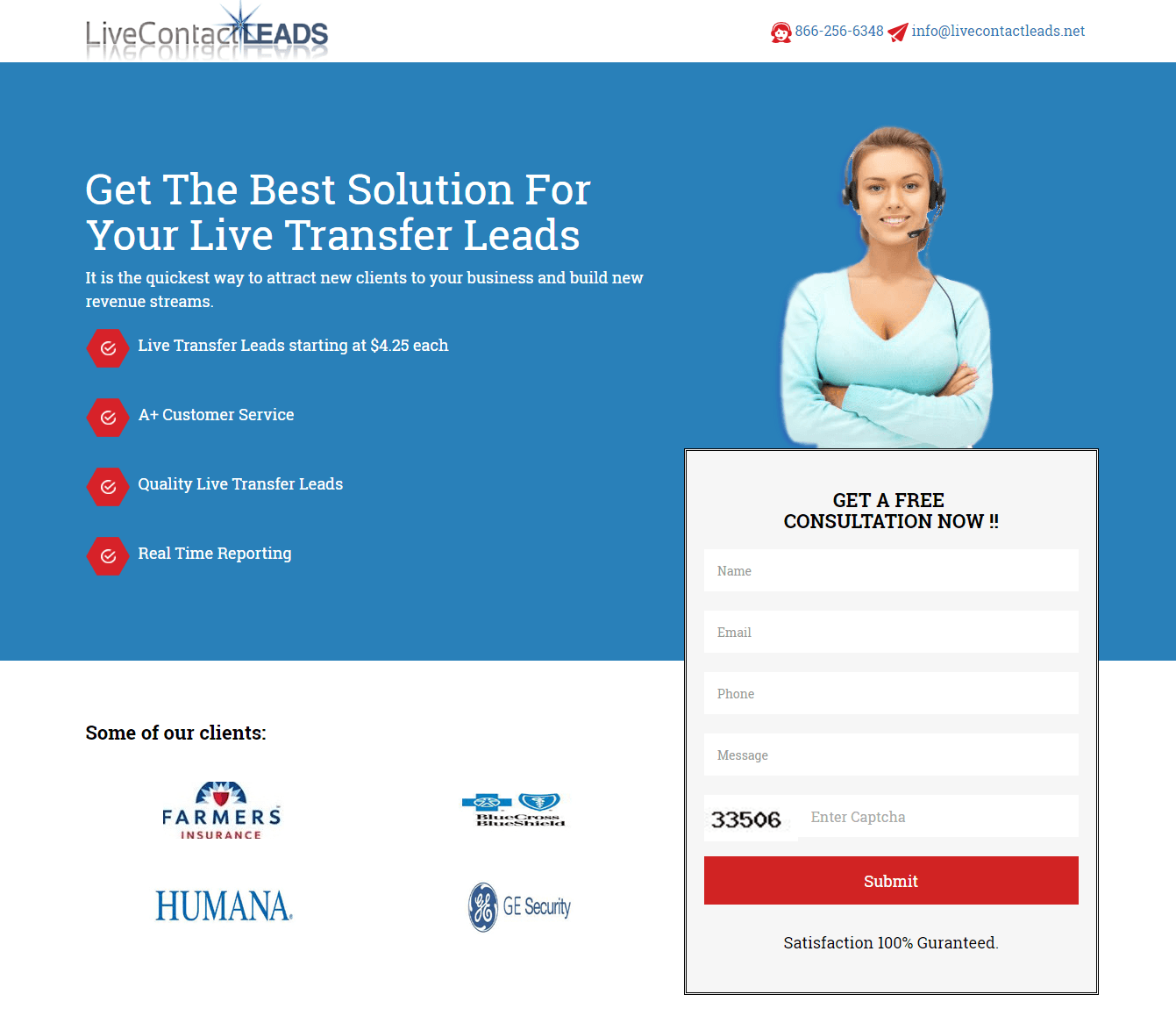 What the page does well:
The phone number is click-to-call, which helps speed up the process for prospects to get in touch with Live Contact Leads. By doing this, prospects don't have to wait for the company to contact them after they've submitted the form, because they can talk with them right then and there.
Customer badges from brands such as Farmers Insurance, Blue Cross Blue Shield, and General Electric help to establish trust for the company.
Customer testimonials also act as trust signals because they highlight different positive aspects of Live Contact Leads. However, using animations and a faceless avatar make us skeptical these customers are real.
The short form is quick and easy for prospects to complete.
"Free" is used in the form's title, which helps encourage visitors to complete the form and receive their consultation.
What could be A/B tested:
Numerous exit links in the header (email link) and footer of the page (social media buttons and brand name) provide ways for visitors to leave the page without first submitting the form.
The "Submit" CTA copy is one of the worst words to use on a button. Changing the copy to something like, "Get My Free Consultation," is more persuasive and likely to generate more leads.
The CTA button color is okay, but it doesn't stand out as much as it would if it were, say, orange.
Why is there a question mark after "What our clients say?" If the testimonials are real, Live Contact Leads would be more definitive and remove the question mark.
The customer badges look distorted and cut off, which takes away some of the legitimacy of these brands using Live Contact Leads.
This marketing campaign is designed to get people to download a report containing free tools to build a successful online business. The campaign consists of three distinct elements, including a Promoted Pin on Pinterest and a lead capture page that prospects land on after clicking the Promoted Pin. Once the visitors clicks the CTA button a two-step opt-in form displays where visitors can submit their name and email to redeem the free report (image 3):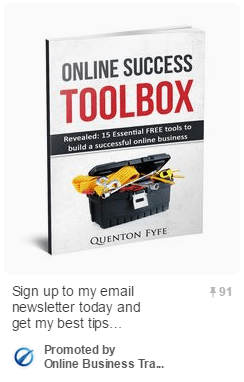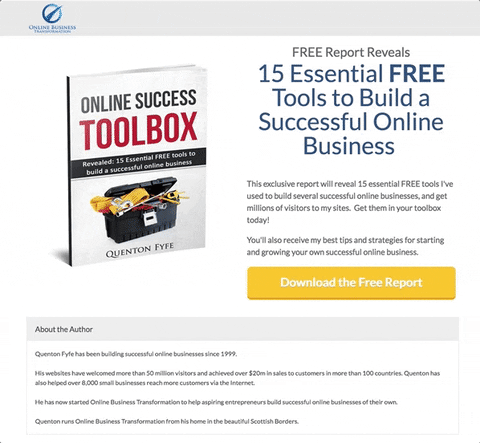 What the page does well:
The word "Free" is used all over the post-click landing page and two-step opt-in form, which is extremely appealing because everybody likes getting something for nothing.
Zero exit links means visitors have only one action to take on the page: Download the free report. Although the company logo is hyperlinked, it doesn't take visitors off the page; it simply reloads the page.
The same image is used on the page as with the Promoted Pin, which shows prospects exactly what they'll be getting by converting.
Instant gratification is offered on the pop up form, as the heading clearly states that the free report will be sent instantly after form submission.
The extremely short form is very quick and easy for prospects to fill out, making them more likely to do so.
The CTA button color stands out on both the post-click landing page and the form. Additionally, the CTA copy is persuasive, as it uses the enticing word "free" again.
What could be A/B tested:
Who is Quenton Fyfe? A headshot of him would add a human element to his brand and this Online Success Toolbox.
The About the Author section isn't really necessary, especially because he switches to the third person, whereas he used the first person in the post-click landing page copy.
Missing testimonials could really add to the credibility of the offer and encourage more downloads.
How many toolkits have been downloaded to date? Including a counter could help increase conversions significantly.
Get started creating your own Pinterest post-click landing pages
Pinterest advertising, especially with Promoted Pins, can be an easy and effective way to grow brand awareness, increase engagement, and drive traffic, leads, and sales. As is the case with any advertising platform, it's important that you target the right audience with your Pinterest ads, and monitor the performance of your efforts throughout the entire campaign.
Advertising with Promoted Pins isn't the only step you need to take, though. Setting up Pinterest post-click landing pages is just as important to your marketing success, as they are specifically designed for converting traffic from Pinterest ads.
To turn ad clicks into conversions, create dedicated, fast-loading post-click pages for every offer. See how to provide all of your audiences with unique post-click landing pages by signing up for an Instapage Enterprise Demo today.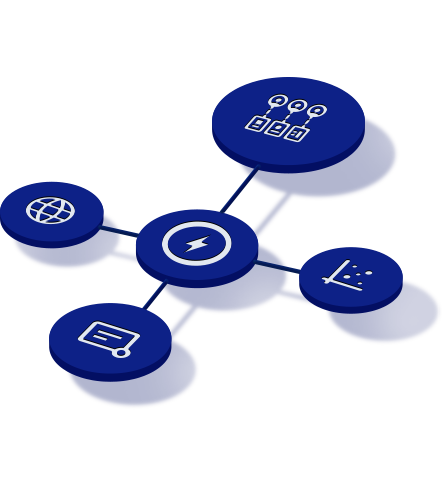 See the Instapage Enterprise Plan in Action.
Demo includes AdMap™, Personalization, AMP,
Global Blocks, heatmaps & more.