As a mortgage company your target audience ranges from home buyers to savvy interest rate shoppers – prospects who are looking for offers to finance their homes.
How do you convince them to use your service for their needs? By creating segmented ads and connecting them to dedicated mortgage landing pages that have the power to convince users to convert for your offer.
So, what exactly is a mortgage landing page? Let's find out.
What is a mortgage landing page?
Mortgage landing pages are pages that visitors are sent to after they've clicked your ad. The dedicated pages showcase the offer highlighted in the ad and ideally have a combination of optimized elements (more on this later) making the user more likely to convert.
Unlike mortgage website homepages, which are created for a browsing experience, mortgage post-click pages are dedicated to promoting a single offer.
Citibank's mortgage landing page is a perfect example of what an optimized page should look like.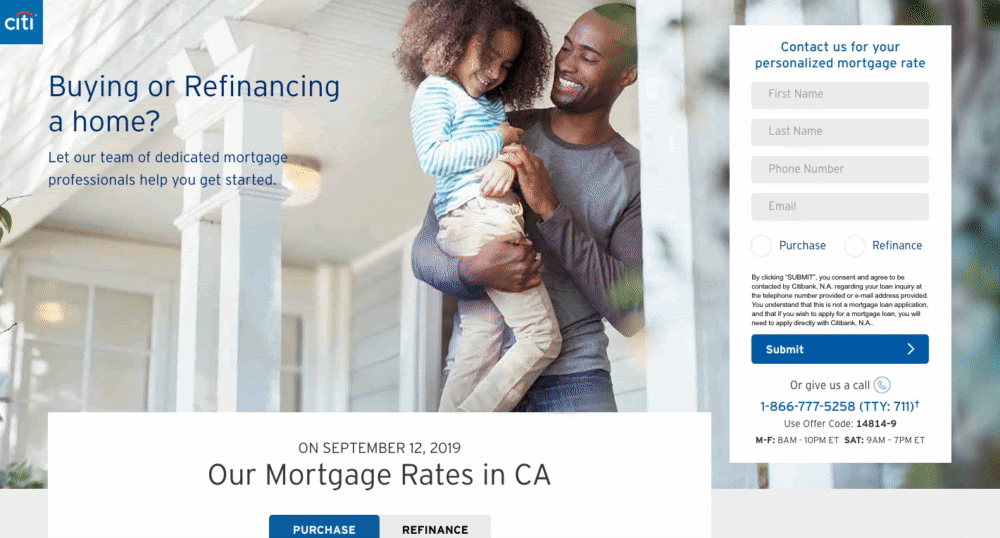 The page headline comes straight to the point and asks whether the user is looking for a mortgage to buy or refinance their home.
The mortgage rate table gives them the opportunity to glance through the rate and APR.
The copy tells them reasons why they should trust Citibank for their mortgage.
The lead capture form is easy to fill out and the user can use the purchase or refinance option based on their needs.
Now that we've established what a mortgage post-click page is, let's discuss why your company needs one.
Why does your company need one?
Since mortgage is a big ticket item, users will likely shop around for the best rate and choose a lending institution they feel comfortable with. When your pre-click and post-click advertising have the same message, it reassures the user of your credibility and they are more likely to convert for your offer.
For example, contrast the Citibank mortgage page featured above with the following Large Mortgage Loans post click landing page:
Here is the ad Large Mortgage Loans uses, the ad headline specifically talks about New York Mortgages and mentions offering loans of over £500K.

This is the page users are sent to post-click: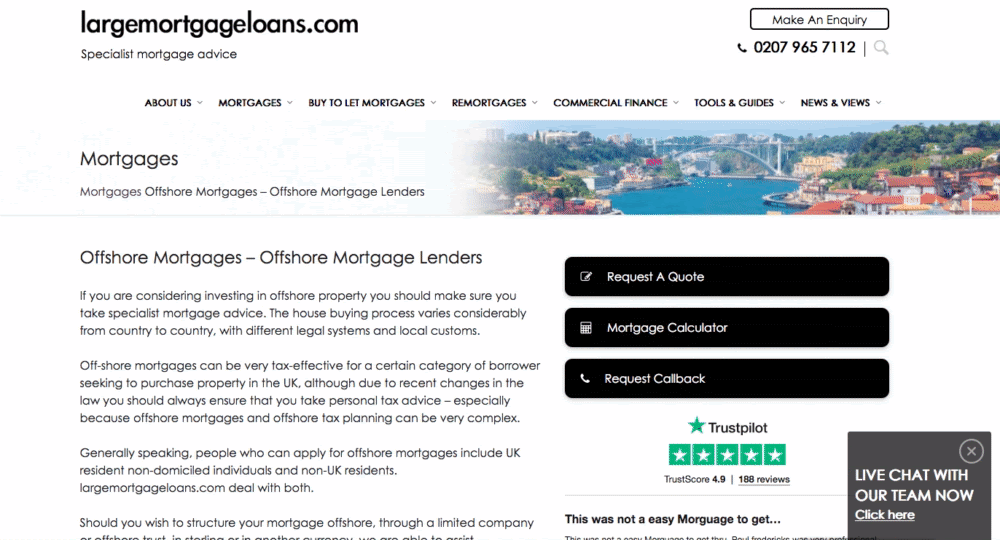 This of course is not a dedicated or optimized page, the first indication of that is in the headline which has no mention of New York or of the mortgage amount showcased in the ad. The Call to Action button doesn't call out to the users and to make matters worse, the page is designed with so much clutter that it's hard to go through it.
Post-click landing pages offer an easy path for visitors to find what they came for, while providing mortgage companies with an opening to start the conversation (i.e. generate a lead and start building a relationship).
Let's now see how you can promote your pages, and when you should promote them.
How to generate traffic to your pages?
The best way to drive traffic to your page is through online advertising, specifically paid ads. You have the option of using several advertising platforms, the best thing would be to test multiple platforms at first and ascertain where your ad and page get the most traction. You can then focus advertising dollars on that platform.
Use the following advertising platforms to generate traffic to mortgage landing pages:
1. Google Ads: Google Ads allows advertisers to create online ads to promote their product/services to their target audiences. The Google Ads platform runs on Pay-Per-Click (PPC) advertising i.e. you have to pay every time a visitor clicks an ad. Google Ads enables you to advertise to a local and global audience and reach your target audience at the right time with multiple targeting options.
2. Facebook Ads: Facebook has an increasing number of users, this combined with Facebook Ads' ability to target your target audience based on numerous variables makes the platform a no-brainer to run your mortgage advertising campaigns. Facebook allows advertisers to target users by location, demographics, age, gender, interests, behavior, and much more.
3. Bing Ads: Bing Ads is a powerful search advertising tool that is designed to get ads in front of your target audience. Bing ads appear on search networks such as Bing, Yahoo, AOL, within Windows devices, and within Windows apps. The ad network offers less competition, cheaper CPCs than Google Ads, more control over search partner targeting, and advanced social extensions.
Along with understanding which advertising platform to create your real estate mortgage landing pages on, it's also vital you know when you should promote the pages.
When to promote the pages?
To ensure you get a positive ROI on your mortgage campaigns, it's important you promote the pages at these key times:
Prime months for housing movement: This is especially true in northern climates because housing activity tends to slow down during the winter months.
Low federal interest rates: These times encourage both new home buying and refinancing of existing mortgages. Use online analysis tools to track current and projected rates and compare loan type trends in different geographic locations.
You now know what a mortgage landing page is, why you need one, and how and when you should promote them. It's now time to see what best practices you need to implement on the page to ensure it has the power to convince users.
Best practices to create your page
Your mortgage post-click page should have the following best practices to improve its chances of converting users.
Message match: Your pre-click and post-click landing page should tell the same story, so user expectations are met and users can convert.
Social proof: The page should feature social proof either in the form of customer testimonials, customer badges, or even statistics that showcase that your service works.
Credibility: Trust is extremely important in this industry, your mortgage page needs to be credible. You can instill credibility on your page by featuring a warranty seal, a privacy policy link, a Terms of Use line, a phone number, or a live chat tab.
Let's see how Quicken Loans' mortgage ad and post-click page measures up against the best practices listed above.
The Quicken Loans ad headline talks about saving big while buying a home. The ad offers to calculate your potential savings to help you save.

This is the page users are directed to post-click: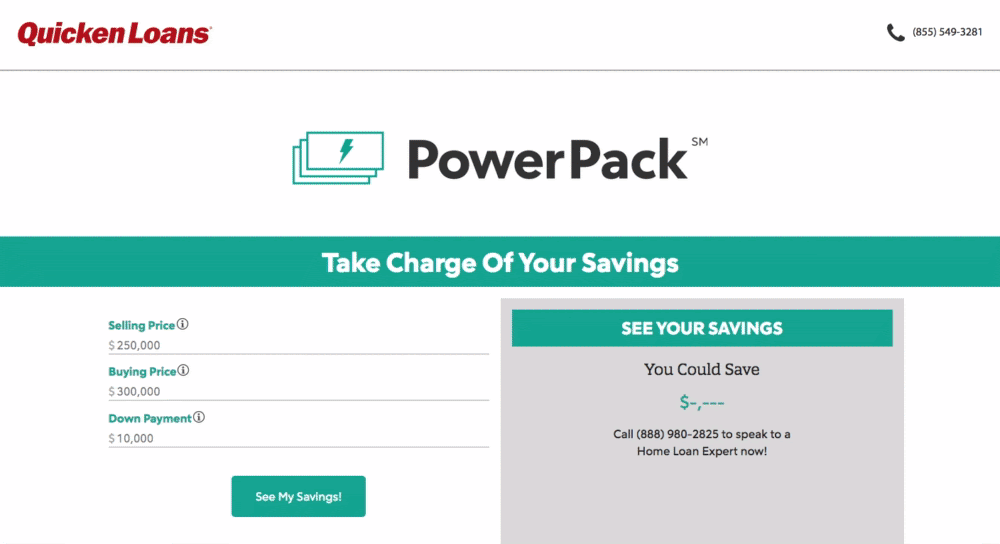 Message match: The message in the pre-click and post-click landing pages is the same – buy a home and save big. The headline, "take charge of your savings" lets the user see they've come to the right place after the ad. The ad talks about calculating your savings, and the page features a calculator for that. The copy also shows users how they can "sell', "buy", and "save".
Social proof: The page features awards the company has won in customer satisfaction, and a Fortune 100 Best Companies to Work For badge.
Credibility: The page includes a BBB accredited badge, a link to the privacy and security page, and their phone number.
Mortgage landing pages help you convert users into customers
Connecting your mortgage ads with dedicated post-click pages improves your chances of converting users into customers because the pages put your offer in the spotlight. This is not the case if you connect your homepage or any other website page with your ad.
Optimize your pages and personalize them for each audience segment to see the best conversion results. Don't know how to personalize your page? Request for an Instapage demo here.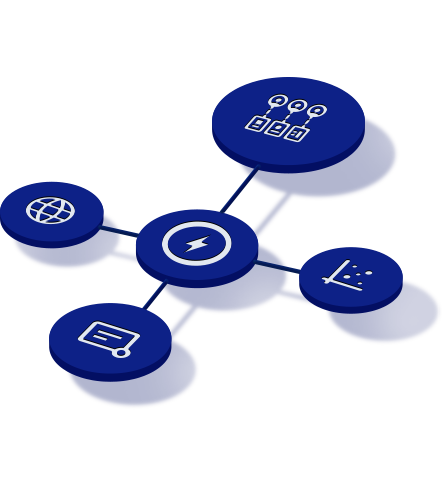 See the Instapage Enterprise Plan in Action.
Demo includes AdMap™, Personalization, AMP,
Global Blocks, heatmaps & more.