In digital marketing, no other piece of prospect information is as coveted as the email address. With an email address, marketers can begin the lead nurturing process and send relevant, targeted content to the recipient while gradually moving them from one stage to the next down the marketing funnel.
While all post-click landing pages should ask visitors for their email address, the question is: How can you convince them to give it up?
The answer: a lead magnet.
What is a lead magnet?
A lead magnet (aka gated content) is a valuable offer or incentive — usually a content download, demo, or free trial — behind a post-click landing page. Marketers provide online users this content in exchange for their contact information (email address at the very least). Lead magnets are one of the most powerful marketing assets that brands have because of their ability to generate business leads.
There are many lead magnet examples you can offer throughout the marketing funnel; just make sure the content is targeted to prospects at the appropriate stage of the buyer's journey. Otherwise, you could end up with low conversion rates by offering a product demo to someone who is still in the awareness stage, for example. In the end, though, the overall purpose of a lead magnet is to build your email list, develop a loyal audience, generate leads, and convert those leads into customers.
How to create a lead magnet
Some of you reading this article may have the preconceived notion that lead magnets must be extensive pieces of content, but that's not necessarily true. These gated assets can be short downloads — like Top 10 post-click landing page A/B Testing Tips — and still be just as effective collecting leads as a 50-page white paper.
To generate maximum leads, it must be:
Comprehensible and easy to digest; and
Valuable enough for prospects to pay for it if you asked them to
Next, we'll discuss the lead magnet checklist with five steps to follow. Let's examine each step:
1. Identify your target customer
Before anything else, you must identify your buyer persona — who your offer is targeting. Your magnet needs to be extremely relevant and specific to the wants and needs of your target customer. If it's not, they'll lose trust in your brand and your content could eliminate you from their purchasing consideration in the future.
2. Choose your value proposition
Once you've decided who to target, you must provide a compelling reason for them to redeem the offer — your value proposition. Instead of trying to create a product or service you think might be useful, identify a problem that your target audience already faces and provide them with a solution. Find out what they already do want or need, and use that as your selling point.
3. Choose the format
Lead magnets come in many formats but it's important to note that different types are typically offered at the various stages of the marketing funnel and buyer's journey. For example, HubSpot recommends the following content during the buyer's journey: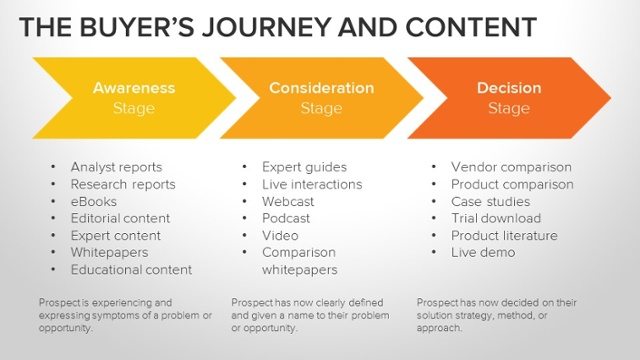 Their diagram is not the definitive structure for mapping content to the journey; it's simply their opinion. In general, though, during the awareness stage, prospects are experiencing some problem and are actively searching for solutions to that problem. This stage is all about educating the audience about your brand and generating brand awareness. Here, offers generally convert best with short lead capture forms where prospects don't need to provide too many personal details.
At this stage, some of the most common lead magnets include:
Blog subscriptions
Gated blog posts
Tip lists
Ebooks
Reports
BusinessBlocks created an ebook lead magnet for the awareness stage of their buyer's journey. Since prospects are likely just beginning to search for small business tips at this stage, the ebook gated behind a 3-field form is ideal: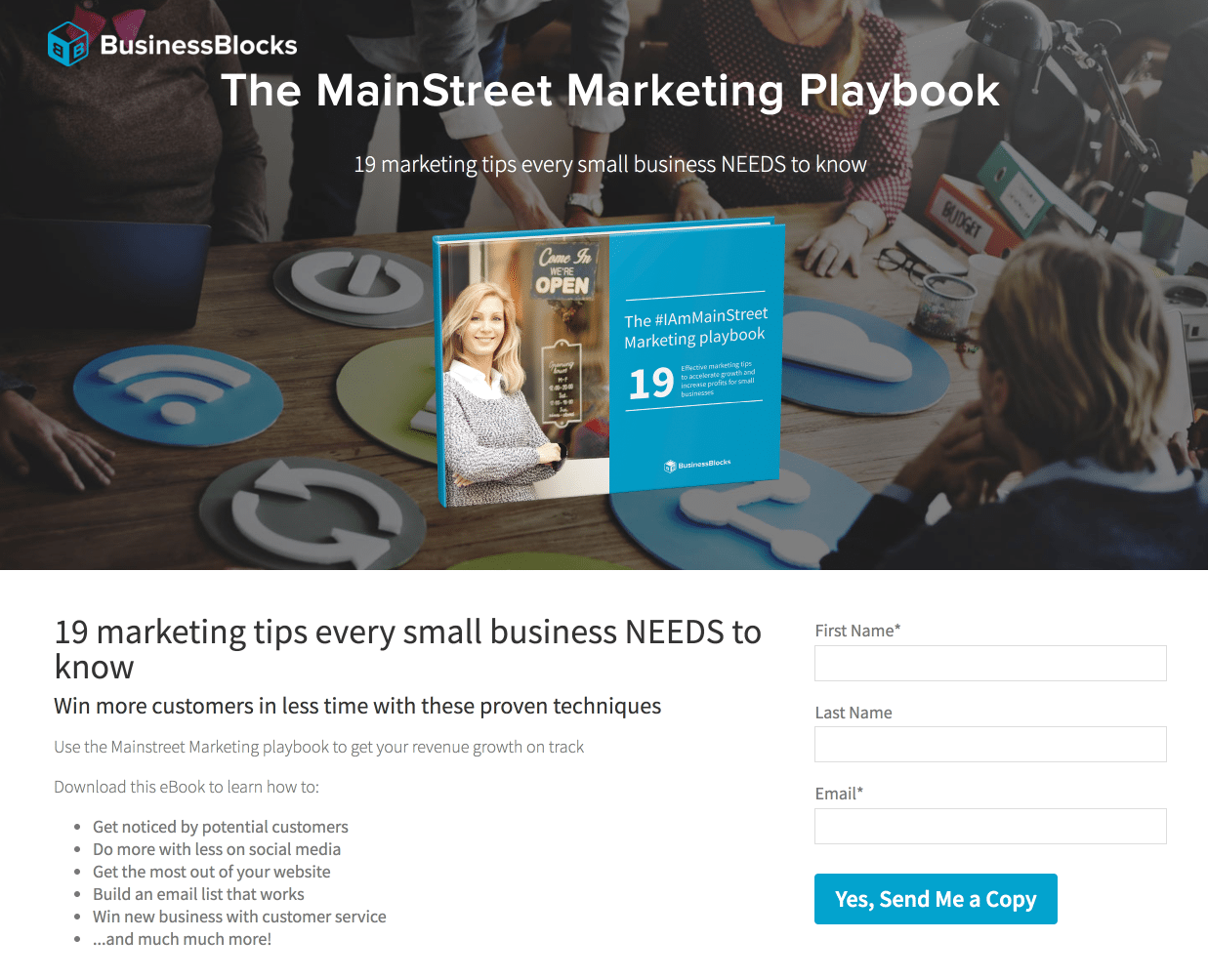 Once prospects have found a few brands that could potentially solve their problem, they begin to evaluate the best fit. Here, marketers attempt to qualify prospects even more by requesting additional details beyond name and email address.
In the consideration stage, these are:
Case studies
White papers
Webinars
Podcasts
Video
Free samples
Below is a lead magnet example from Kapost, offering their webinar on B2B marketing success. This type of content is perfect for the consideration stage because prospects are aware of their options and beginning to consider who is best for solving their problem. Webinars (live or on-demand) allow companies to show prospects a closer, more detailed look at why they should purchase from them: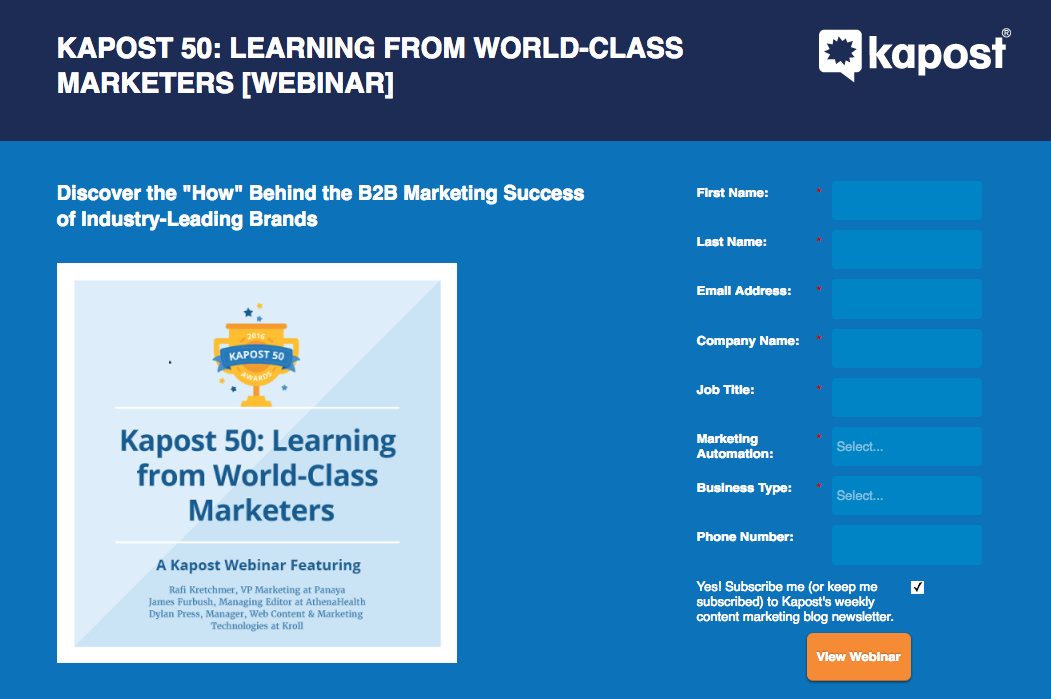 Getting to the decision stage is the ultimate goal for marketers. Prospects have searched out potential solutions, evaluated their options, and are looking to buy. Knowing this, marketers pull out all the stops and qualify prospects even further by requesting more information.
The most frequently offered magnets in this stage are:
Consultations
Coupons/discounts
Demos
Free trials
Onstream Media offers a free trial to seal the deal with prospects requesting nine pieces of information, part of which requires prospects create a username and password. This kind of detail wouldn't make sense for offers earlier in the buyer's journey but here in the decision stage, it is appropriate: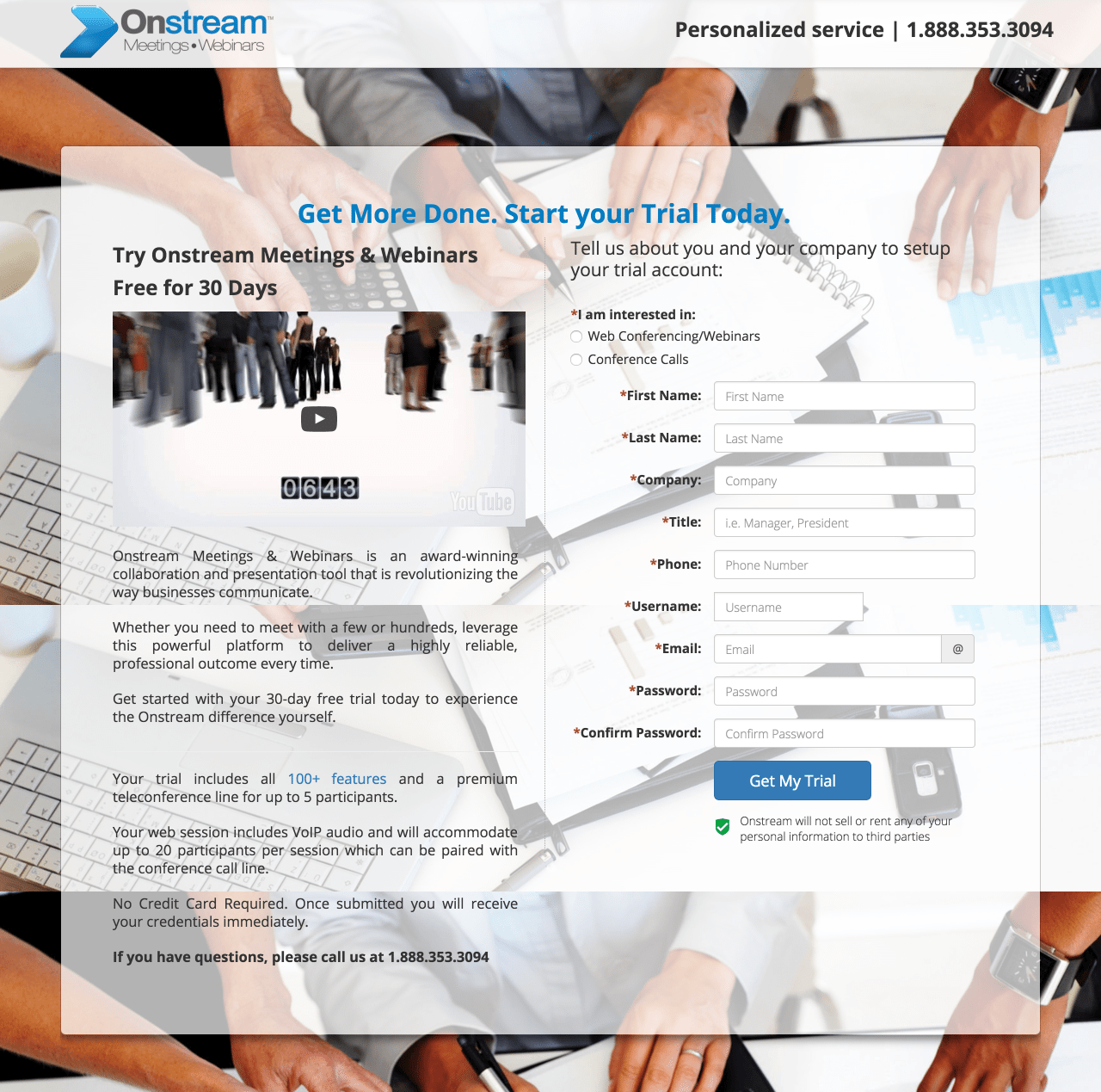 4. Create your content
Now it's time to start writing the content for your offer. Here are four tips to simplify the writing process, while still creating a highly valuable lead magnet:
Be specific. The main goal of your offer is to solve your customer's problem. By writing precise copy that answers that one question, and solves that one problem, you make it easier for your audience to read and comprehend the content.
Be unique. The best way to create an irresistible offer is to share completely original content. If the information you're offering can be found with a simple Google search, then it's not worth gating.
Be efficient. Already have blog posts or emails written? Repurpose them into your lead magnet content to save time. Just be sure to rewrite the content to fit the format you chose in the previous step.
Be authoritative. To build a strong, trusting relationship between with your prospects, they must be able to depend on you. Demonstrate that you're an expert in the field by writing with authority and certainty (avoid phrases like, "In my opinion" and "I think").
5. Promote your lead magnet
By this point, you've done most of the hard work. But your offer won't be seen until your target customers find it. So how do you increase the exposure of your offer? How do you place it directly in the path of potential buyers?
How to promote your lead magnet
Your website
A quick review of your website analytics can help you determine which page(s) is the smartest option. Some common locations include:
Your homepage on a sidebar, in a pop-up, in the footer, etc.
Your main blog index page as well as posts related to the offer.
A resource page, especially if you have multiple lead magnets. Having a dedicated page is a great centralized location for all your ebooks, white papers, tip lists, etc.
A thank you page, in which you thank people for converting, and then promote another offer.
A 404 error page directing lost visitors to your newly created offer.
Here's an example how Salesforce promotes several offers on their homepage — a free trial and a few demos: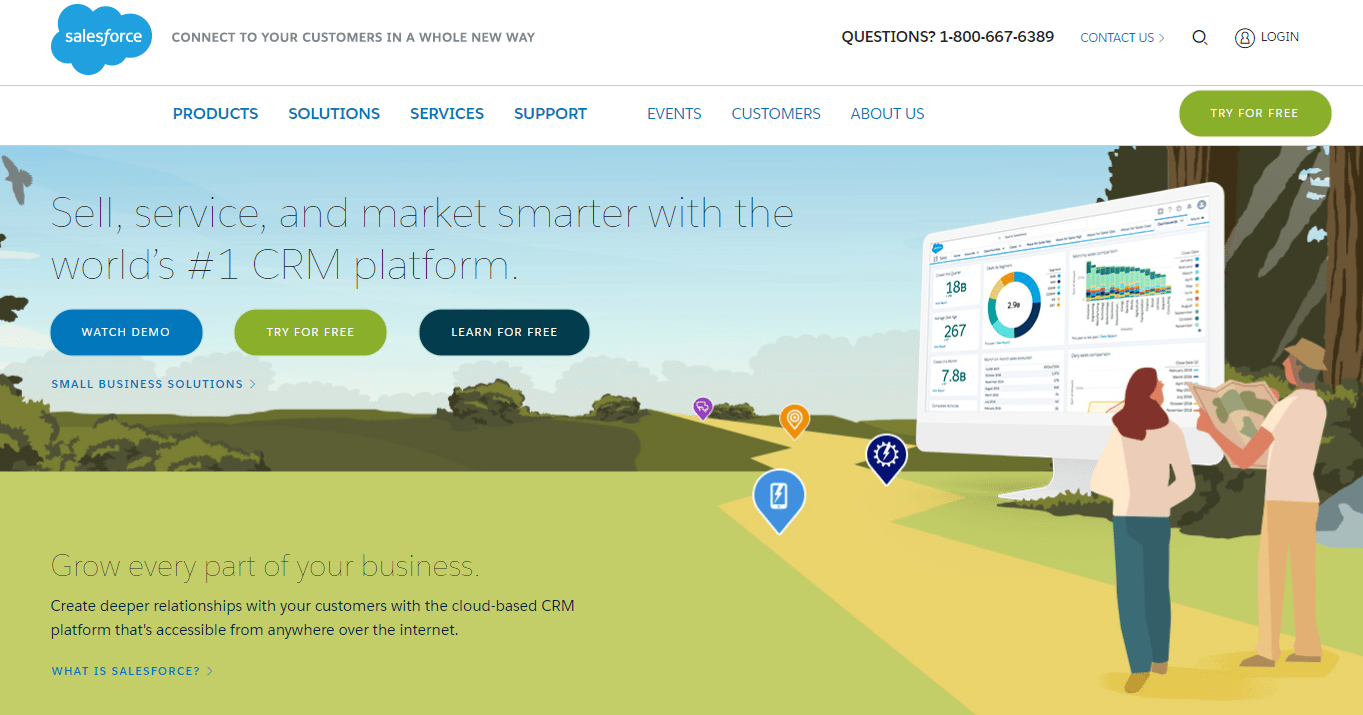 Via social media
There are many options with social media promotion, and it's not just . You can do so through the following features:
Status updates with an image and a link to your post-click landing page.
Groups on Facebook, LinkedIn, and Google+ where you can participate in discussions and include links when it is relevant.
Ads on the platforms where your audience spends the majority of their time (e.g. Twitter ads, Facebook ads, Instagram video ads, Vimeo video ads)
Special features such as Facebook tabs, Twitter moments, LinkedIn company pages, and Pinterest showcase pages.
ActiveCampaign posted this update on Facebook to offer their webinar as a lead magnet: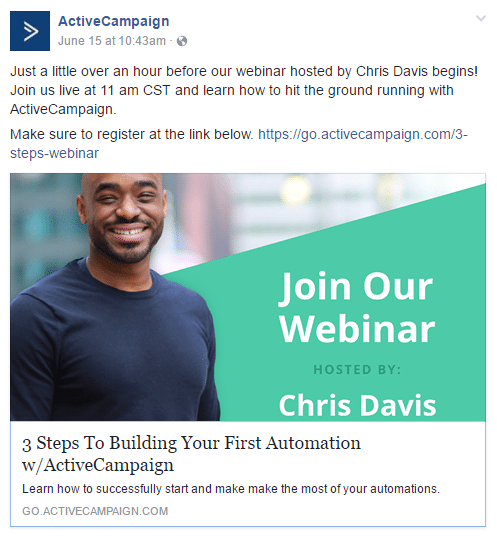 Once clicked, people go to this post-click landing page: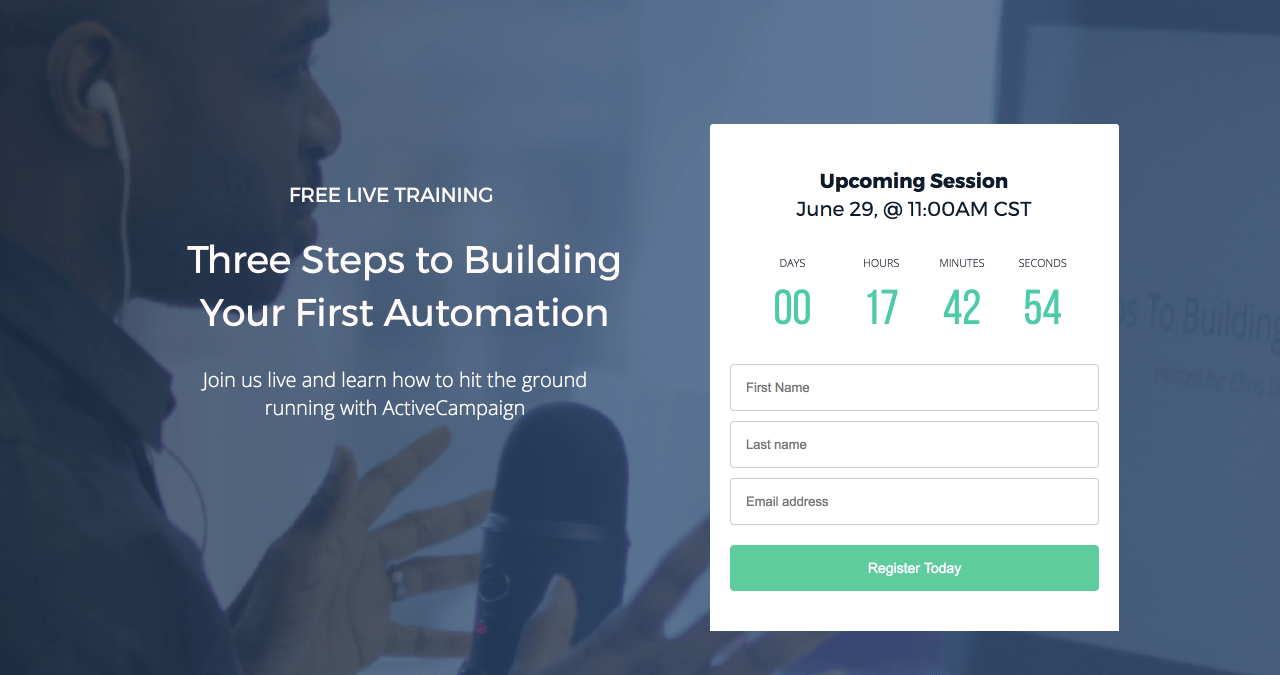 Notice how well the company uses message matching between the Facebook post and the post-click landing page. The headline for both are very similar, the color scheme is the same, and the webinar host is featured on both pieces. These are all details that provide consistency throughout the campaign, which likely increases conversions.
On content hubs
Content hubs are great for advertising your offers because people already go to find information on a variety of topics. Ideal options include:
Forums that encourage posting, interacting, asking, and answering questions (e.g. Medium).
Q&A sites where a community of users ask and answer a wide variety of questions (e.g. Quora, Yahoo! Answers, etc.).
Aggregator sites that allow users to submit news and articles, which are then ranked with a user voting system (e.g. Reddit, Inbound.org, etc.).
Anywhere else content is consumed
To maximize reach and generate as much traffic to your lead magnet post-click landing page, you gotta get creative. Here are a few more ideas to get you started:
Paid advertising. With the right budget, you can expand the reach of your offer with a variety of paid ads — PPC ads, banner ads, mobile ads, native ads, etc.
Webinars. Lead magnets can be used as an incentive for registering such as "bonus content" at the webinar's conclusion.
Podcasts. Talk about your offers on your podcasts, and if you don't have a podcast, look into being featured on someone else's.
Guest blog posts. When posting on someone else's blog, mention and/or display your lead magnet in the post when appropriate or share your offer in the comments if relevant. Just be careful with this strategy because readers may think it's too aggressive and salesy.
Email. Send personalized emails with your offer and ask contacts to share it, partner with other companies to be featured in their newsletters, link to your lead magnet post-click landing page in your email signature, and more.
To demonstrate, SharpSpring uses Google Ads to promote their 2017 Marketing Automation Comparison Guide with its corresponding post-click landing page: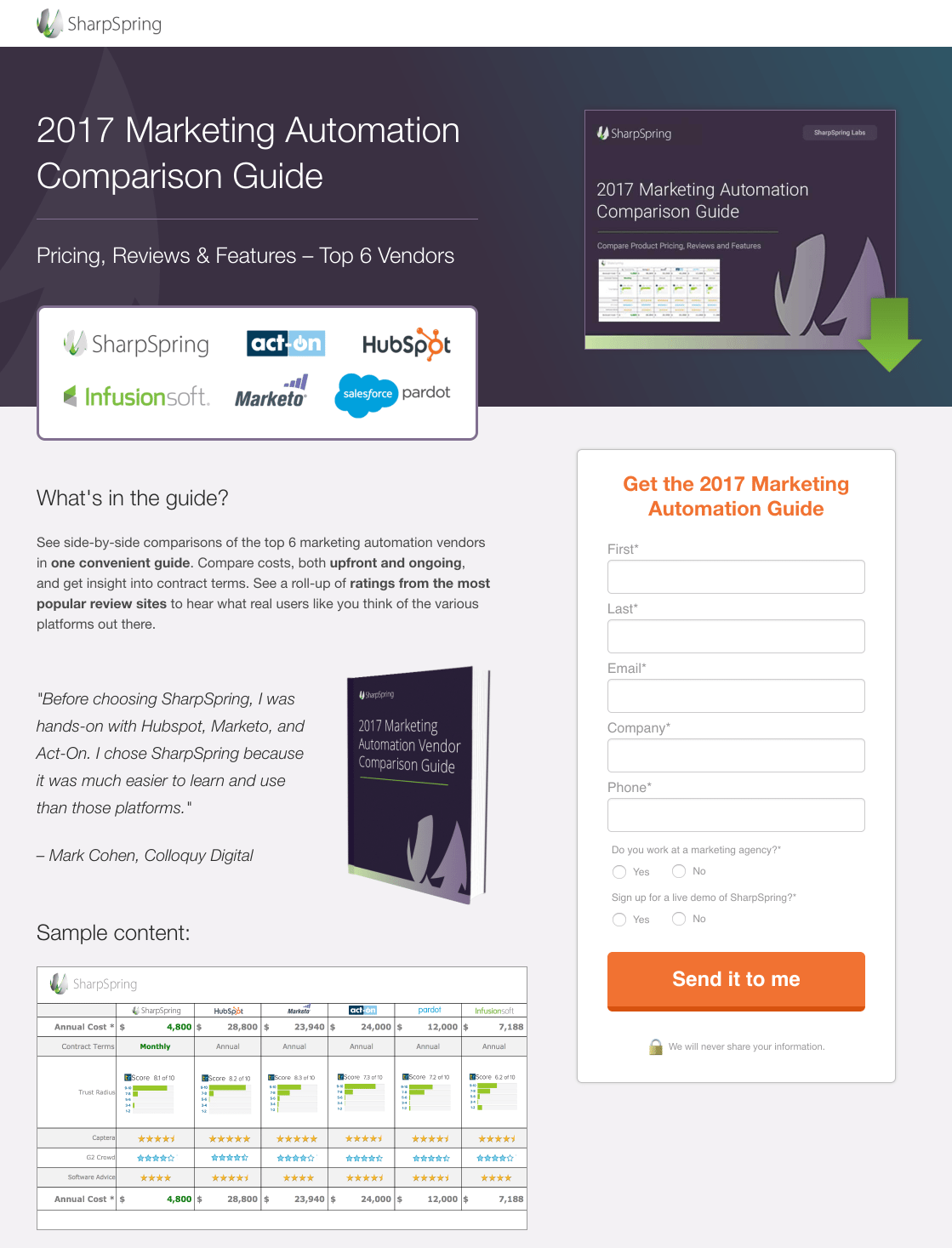 No matter how you promote it, prospects should always be sent to a lead magnet post-click landing page to redeem the offer. Then, once you've generated traffic to the page, you can utilize marketing psychology tactics to persuade them to convert.
Now it's your turn
Lead magnets are essential assets in digital marketing because they help build email lists, develop customer relationships, and increase sales. If you haven't yet made use of these powerful tools, start now.
Once you've created your lead magnet make sure you're promoting it with a professional post-click landing page with Instapage. Our 100% customizable templates and designer-friendly platform is trusted by some of the biggest brands in the world including HelloFresh, Wealthfront, and Autopilot.
Sign up for an Instapage Enterprise demo today.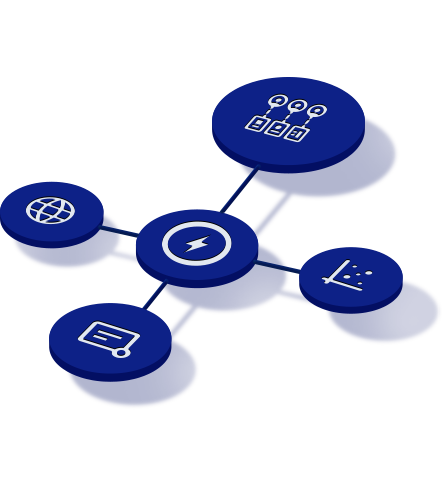 See the Instapage Enterprise Plan in Action.
Demo includes AdMap™, Personalization, AMP,
Global Blocks, heatmaps & more.