One of the major drawbacks to selling products or services on the internet is that your customers don't get a chance to give them a test drive.
Customers can't try on that bathing suit to see what they look like in it; they can't test out that mattress to see if they'll get a good night's sleep on it; and they probably won't set foot in your hotel before they book a reservation. So, on your post-click landing page, it's your job to help them fully understand the benefits of purchasing what you offer.
You could do that with a benefit-centric headline, some informational body copy, and glowing reviews. But without any photos, it would take some Stephen-King-like writing skills to keep your prospects' attention for any longer than eight seconds (not to mention it would make for one creepy post-click landing page).
It's time to stop telling your visitors what they'll get when they convert, and to start showing them.
The power of images on post-click landing pages
When it comes to absorbing information, humans are visual creatures. We can process images up to 60,000 times faster than text, and when used correctly online, images compel us to take action, to spend more time on web pages, and to share content with our social networks.
In short, images are a post-click landing page designer's best friend.
Out in the real world, it takes us one-tenth of a second to form an opinion about another person, and when it comes to websites, only half as much time. Studies show that these first impressions can last for years. Something called the "picture superiority effect" states that concepts are much more easily remembered when they're presented as images instead of text.
Knowing all this, and the fact that you're no Stephen King, it's in your best interest to start conveying the benefits of your product or service with imagery.
That's where the "hero shot" comes in.
What is a "hero shot"?
A hero shot is an image that helps prospects envision what it would be like to reap the benefits of your offer. Your prospects, in this situation, are average Joes — think Clark Kent before he steps into the phone booth. Your product or service is what transforms them into the hero.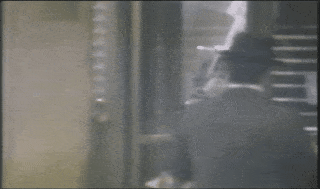 Take these two images from Tag Heuer for example:

Sure, the image on the left displays the product well, but it's the one on the right that shows who you become while wearing it.
Hero shots aren't limited strictly to the Tom Brady-springing-into-action variety. In fact, your hero shot can be of anything. The key is that it needs to help the viewer imagine themselves enjoying the benefit of your offer. (To learn how to select the best stock photos for your marketing campaigns, download this guide.)
Angie Schottmuller of Three Deep Marketing and conversion optimization service Visual Website Optimizer put together an insightful webinar about it that we highly recommend you check out.
In it, they state that to drive conversions, your hero shot needs to have a number of qualities:
1. Does your hero shot match your keyword?
To be effective, your hero shot needs to match all the media that led your prospect to your post-click landing page. This all comes back to having great message match.
For example, if I click a Google ad for a lawn care service, the page on which I land should display a photo related to lawn care, like this one from TruGreen: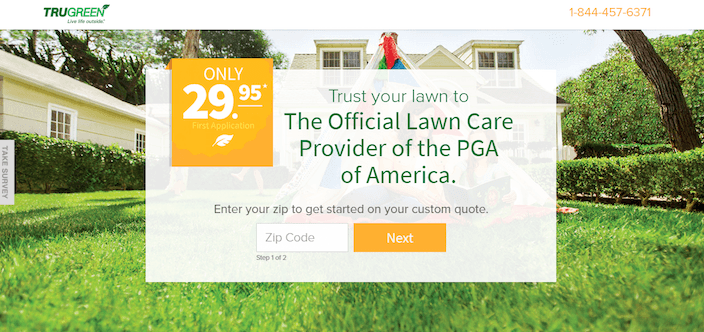 Don't you want a lawn like that? I know I do.
This photo helps me imagine the kind of neighborhood lawn hero I would transform into after hiring TruGreen to take care of my property. It enhances my desire to use the service.
The "scent trail," as Angie refers to it in the webinar, starts when your prospect sees your advertisement. If that ad is relevant to something they need, they click it.
Then, the post-click landing page they arrive on has to enhance that scent — the headline, body copy, as well as the imagery. If it does, that scent trail ends at your CTA button — where your prospect clicks to get the benefits of your offer.
2. Is your hero shot relevant?
Often landing page images surround by all kinds of informational aids — a headline above, a caption below, some body copy around. Just look at this one on FastHomeOffer's post-click landing page: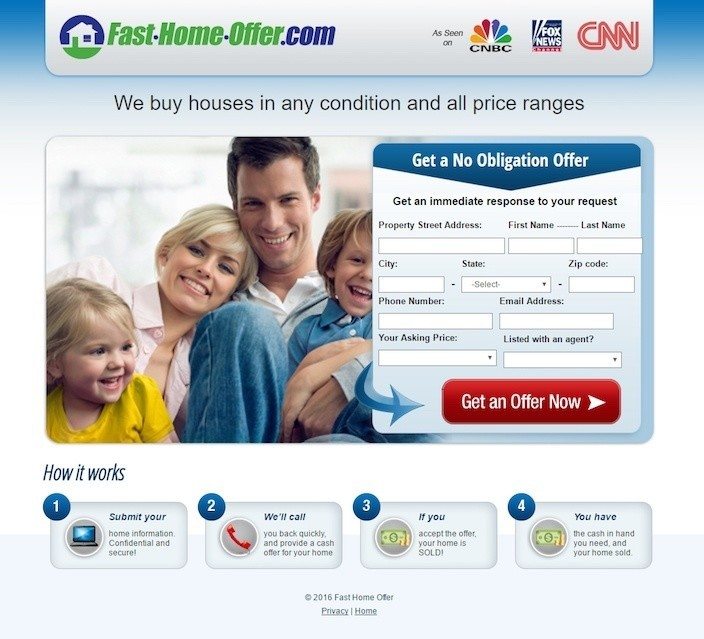 In context, the photo makes some sense, right? We're looking at a happy family who just sold their home — probably getting cozy in a new one. But — we shouldn't need to use context clues to figure out the purpose of a post-click landing page photo.
What if we removed the button, the headline, the body copy — everything else around it? Would you still be able to tell what this page was advertising based on just the photo? Let's see.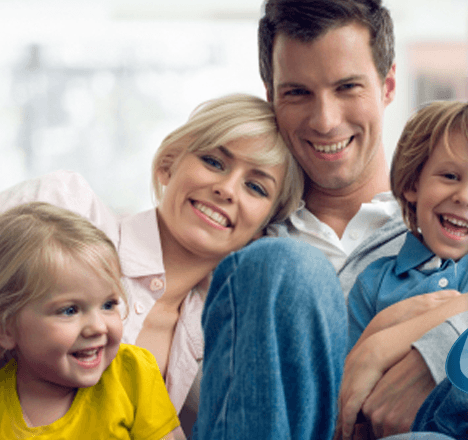 Not really. This could be advertising almost anything: life insurance, or even a home security system.
This next hero shot comes from a client of Disruptive Advertising. The first variant, shown below, advertises US veteran's home loan service using a photo of a man dressed in camouflage hugging his dog: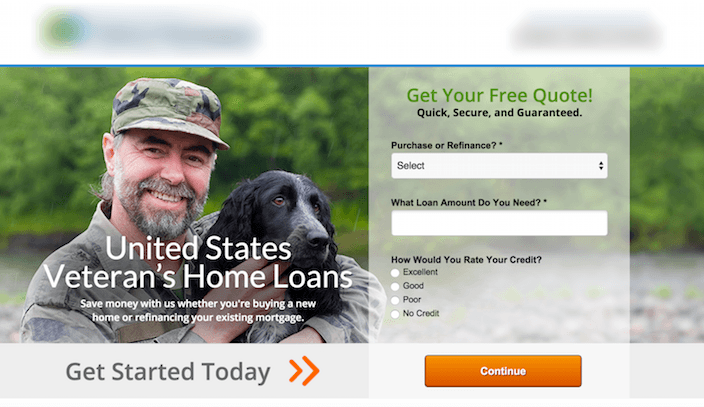 Again, in context this makes sense. All the cues on and around the image give us an idea of what the page is advertising. But remove them, and this could be an ad for dog food, couldn't it?
How about now?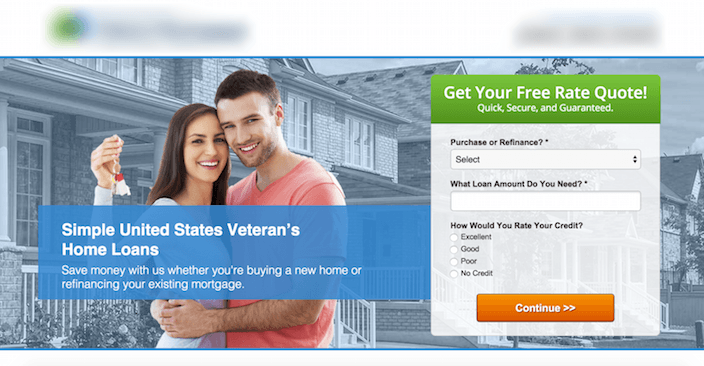 Sure, the image screams "stock photo," but it's relevant (happy couple holding keys, home in the background) — so much so that this version boosted conversion rate by 1,148%.
Okay, let's do it backward this time. What is this photo advertising?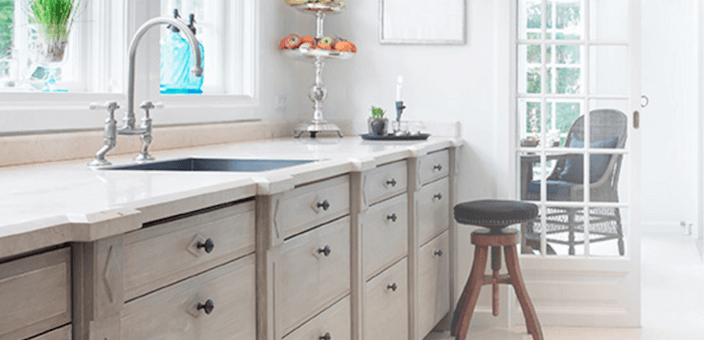 If we had to guess, we'd say maybe a real estate brokerage? Possibly an interior design firm? Or perhaps a kitchen supply store?
Wrong on all three accounts. It's advertising the "Merry Maids" cleaning service: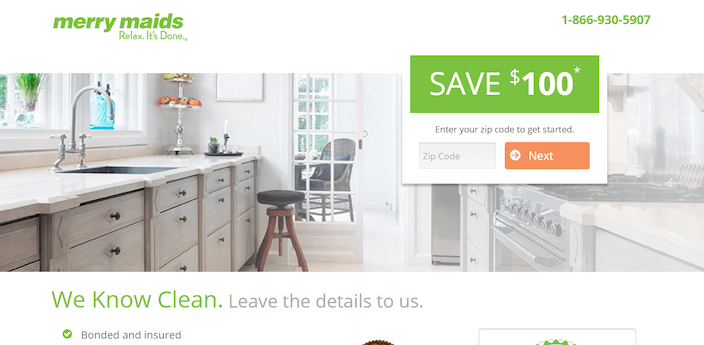 If the purpose of this image is to help us understand the benefit of hiring a cleaning service, maybe including a maid in the background along with a relaxing woman in the foreground would get the point across a bit better.
Remember: your hero shot doesn't need to have people in it, but you should always be able to tell what its purpose is without the help of visual aids like headlines, body copy, or CTA buttons.
3. What feeling are you trying to invoke?
Are the prospects who land on your page hungry for takeout? Are they searching for a supplement to help them get a better night's sleep? Knowing your customers' pain points will help you pick an image that will resonate with them.
If you're advertising a supplement that solves joint discomfort, an image of two happy customers enjoying a hike will make them want to go hiking. Well, correction — it may not make them want to hike, but seeing the photo will make them long for the days when they could, at least, be active without pain.
Don't rehash your prospects' problems by showing them a photo of what they're experiencing now, like in this back pain photo:

Instead, help them imagine a world in which their problems doesn't exist.
4. Is the rest of your page designed to support your image?
Remember earlier when we told you that your picture needs to stand alone? That it should make sense without the help of contextual aids like headlines and body copy?
While that's a great way to pick your photo, in reality, your image isn't going to be standing alone on your landing page. You should include things like testimonials, headlines, and call-to-action buttons. And that's totally fine — as long as those elements are adding value.
Some quick tips:
Write headlines below your images. Studies have shown that they get read 10% more than ones placed above images.
If you're planning on including people in your photo, consider body language. 93% of all communication is nonverbal. That means your model is going to be sending your prospects messages whether he realizes it or not.
Avoid flirtatious poses like the over-the-shoulder glance, and unfriendly ones like the arms-crossed pose.
And whatever you do, make sure your model is looking at your CTA. Eye tracking studies have shown that we tend to take visual cues from people in photos. Take a look at this heat map from Kissmetrics:

When the baby looks right, we look right. When he's staring at us, we stare back at him.
Try to steer clear of using photos of models looking directly into the camera on your post-click landing page. As you can see, our eyes don't tend to move anywhere once they've settled on another pair.
5. Is your hero shot authentic?
If there's one thing every one of us has gotten good at, it's spotting cheesy stock photos on the internet.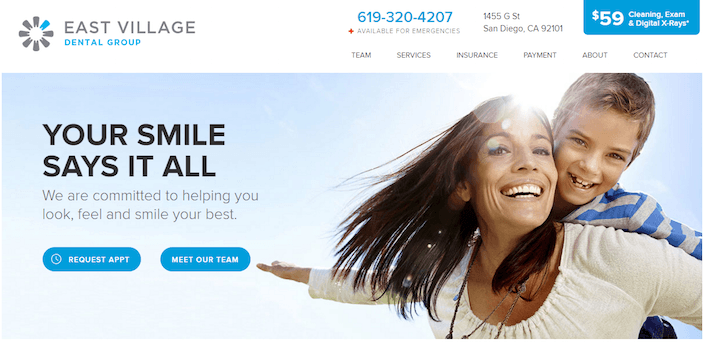 And, *sigh*, another: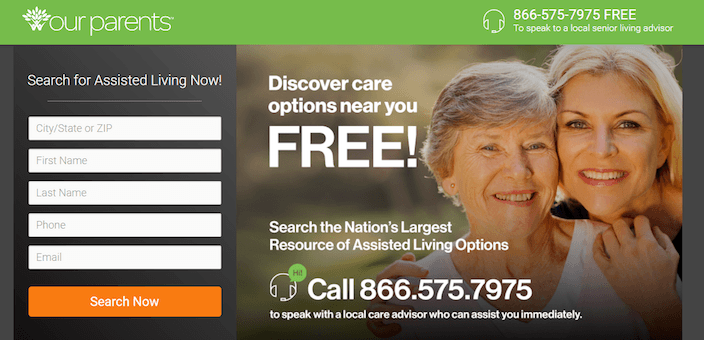 We understand you may have a subscription to a few stock photo websites because it's much easier to click a "download" button than organize an entire shoot. However, using your own photos to demonstrate the power of your product is much more effective.
Stock photos come across as generic, lazy, and impersonal — and even untrustworthy. When 67% of online shoppers say that high-quality images are "very important" to their buying choices, you can't afford to seem unprofessional or inauthentic.
Take this VWO case study for example, in which a moving company boosted their conversion rate by nearly 50% by replacing a stock photo with an image of their crew.
And if that's not convincing enough, check out this study from the team at MarketingExperiments, who found that using an image of the company's founder instead of a stock photo boosted conversions on a client post-click landing page by 35%.
The idea behind why this happens is pretty basic. Ever heard the saying "I'll believe it when I see it with my own two eyes?" Well, we tend to trust people, things, and experiences much more when they're real as opposed to staged.
On TV and on the internet we're constantly bombarded with fake videos, photos, and stories that are peddled to us as real ones. As a result, today we're more skeptical than ever. Now when we see staged, we tend to associate that with "fake" and "untrustworthy." So when you're using a stock photo as your hero shot, that's the message you're communicating to your prospects.
Are you ready to create a hero?
Hero shots are one of the most powerful forms of marketing imagery because they communicate your unique value proposition in one photo. They say to your prospect, "this is what you will become" or "these are the benefits you'll experience" when you use our product or service.
Make sure:
Your image can stand alone
Your post-click landing page design supports the shot
You help your prospects imagine a world in which their problem doesn't exist
Your hero shot matches your keyword
Your hero shot is authentic
Learn how to select the best stock photos for your campaigns by downloading the guide below. Then, easily upload your image to a post-click landing page designed to support it using Instapage's 100% customizable templates.)